Himalayan Cat Names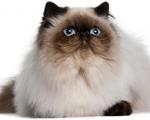 FunCatNames.com offers many Himalayan cat names to choose from when naming your own cat. You can sort these Himalayan cat names by gender and you can view their full meanings by clicking on the name. You may also rate the cat names that you like dislike most. Feel free to browse all our Himalayan cat names and add the ones you want to save for later to your own favorites list.
Annmarie
(Italian)
Variant of Mary.
Brandee
(English)
Variation of the beverage brandy used as a given name.
Bobbie
(English)
Abbreviation of Robert.
Chann
(Irish)
young wolf.
Birdie
(English)
Contemporary name meaning Little bird: birdlike.
Varney
(Celtic)
From the alder grove
Warton
(English)
From the farm by the weir
Rousskin
(French)
Red haired
Glen
(Celtic)
From the valley
Pommelraie
(French)
Lives near the apple orchard
Iain
(Scottish)
Gift from God
Luis
(German)
Famous fighter
Gottfried
(German)
Peaceful god
Dadu
Brahman sage of Ahmedabad, rejected the Vedas and Qoran; thought of Siva, Vishnu and Brahma as deified men; denounced caste and priestcraft and taught worship of One God, the Creator Preserver of all.