Exotic Cat Names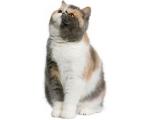 FunCatNames.com offers many Exotic cat names to choose from when naming your own cat. You can sort these Exotic cat names by gender and you can view their full meanings by clicking on the name. You may also rate the cat names that you like dislike most. Feel free to browse all our Exotic cat names and add the ones you want to save for later to your own favorites list.
Mavis
(English)
Song-thrush.
Dalila
(Hebrew)
Desired or Languishing. The Biblical Delilah tempted Samson into revealing the secret of his superhuman strength.
Katriane
(French)
Variant of Katherine. Pure.
Jessie
(Hebrew)
Wealthy: Variant of Jesse Jehovah exists.
Jenna
(English)
Modern variant of Jenny and Jennifer.
Woodrow
(English)
From the cottages in the wood. Woody: (English) Variant of Woodrow From the cottages in the wood.
Rexton
(English)
Variant of Rex chieftain: ruler. Surname.
Boyce
(French)
Lives near the wood.
Brioni
(English)
The name of a flowering vine used in folk medicine.
Carvell
(English)
From the villa by the march
Kerrick
(English)
King's rule. Surname.
Gabor
(Hebrew)
God is my strength
Baylee
(French)
Courtyard within castle walls: steward or public official. Surname or given name.
Jasmin
(Arabic)
A flower name from the older form Jessamine.
Dorrance
(Irish)
Variant of Dorran stranger.
Albertyna
(English)
Noble