Exotic Cat Names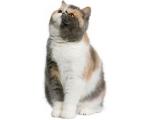 FunCatNames.com offers many Exotic cat names to choose from when naming your own cat. You can sort these Exotic cat names by gender and you can view their full meanings by clicking on the name. You may also rate the cat names that you like dislike most. Feel free to browse all our Exotic cat names and add the ones you want to save for later to your own favorites list.
Kassia
(English)
Variant of Katherine. Pure.
Micaela
(English)
Feminine of Michael gift from God.
Big Bertha
Comic book character. Large gun.
Norcross
(English)
From the north cross roads
Matilda
(German)
Strength for battle.
Pearson
(English)
Son of Pierce
Brittan
(English)
Brit. A native of Brittany: (France) or Britain: (England).
Adelina
(German)
Sweet or noble
Desiderio
(Spanish)
Desired
Stanley
(English)
Lives by the stony grove
Manda
(English)
Abbreviation of Amanda worthy of being loved.
Perceval
(English)
Valley piercer
Anwen
(Celtic)
Fair and beautiful.
Kortniey
Caring and honest.
Arend
(German)
Power of an eagle
Joyann
(French)
Rejoicing.
Camryn
(Celtic)
Bent Nose