Exotic Cat Names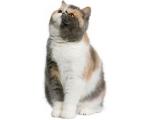 FunCatNames.com offers many Exotic cat names to choose from when naming your own cat. You can sort these Exotic cat names by gender and you can view their full meanings by clicking on the name. You may also rate the cat names that you like dislike most. Feel free to browse all our Exotic cat names and add the ones you want to save for later to your own favorites list.
Raedburne
(English)
Lives by the red stream
Kendal
(English)
Royal valley referring to Kent in England.
Darleena
(English)
From the Old English dearling: darling.
Tibeldie
(German)
Boldest
Avilon
Arthur's burial place
Nessan
(Irish)
Name of a saint
Donnel
(Scottish)
Variant of Donald great chief.
Flair
(English)
Style: verve.
Rodwell
(English)
Lives by the spring near the road
Paco
(Mexican), (Spanish)
West
(English)
West town. Surname.
Dacian
(French)
Of the nobility.
Lael
(Hebrew)
Belonging to God. Traditional male Biblical name.
Molan
(Irish)
Servant of the storm
Kristopher
(English)
Variant of Christopher. Christ bearer.