Exotic Cat Names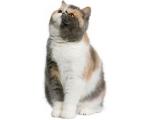 FunCatNames.com offers many Exotic cat names to choose from when naming your own cat. You can sort these Exotic cat names by gender and you can view their full meanings by clicking on the name. You may also rate the cat names that you like dislike most. Feel free to browse all our Exotic cat names and add the ones you want to save for later to your own favorites list.
Collins
(English)
Abbreviation of Nicholas people's victory.
Trumbald
(English)
Strong or bold
Bartram
(German)
Glorious raven.
Durward
(English)
Gatekeeper
Sedgeley
(English)
From the swordsman's meadow
Zach
(English)
Variant of Zachariah and Zachary.
Jainaba
(African)
Unknown
Bast
Eygptian goddess of cats
Yerik
(Hebrew)
Appointed by God
Rexton
(English)
Variant of Rex chieftain: ruler. Surname.
Caldre
(English)
Cold brook
Worden
(English)
Defender or guard
Dionna
(English)
From the sacred spring. The mythological Dione was wife to Zeus and mother of Aphrodite.
Sanersone
(English)
Alexander's son