Cat Names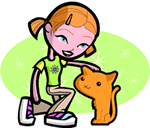 We offer 1,000's of cat names to help you choose the perfect one. Feel free to browse our unique cat names and when you find one you like you can add it to your favorites list to view later. If you have any cute cat names suggestions, please let us know. Enjoy!
Howie
(English)
Nichname for Howard noble watchman.
Leslie
(Celtic)
From the gray fortress
Renshaw
(English)
From the raven forest
Hide
(English)
From the hide
Otto
(German)
Born eighth or wealthy
Harland
(English)
Meadow of the hares. Variant of Harley. Surname.
Shipley
(English)
From the sheep meadow
Codi
(English)
Cushion. Helpful.
Nakoma
Great warrior or Great spirit
Kaci
(English)
Modern Kacie and variants are phonetic forms of the initials K.C. or variants of the Irish name Casey alert: vigorous.
Corren
(Irish)
Spear-bearer.
Reule
(French)
Famous wolf
Yul
(English)
Born at Christmas
Alayne
(Irish)
Beautiful: Dear child.
MacDhuBh
(Scottish)
Son of the blackman