Cat Names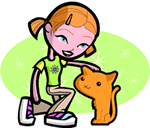 We offer 1,000's of cat names to help you choose the perfect one. Feel free to browse our unique cat names and when you find one you like you can add it to your favorites list to view later. If you have any cute cat names suggestions, please let us know. Enjoy!
Shikyna
(Hebrew)
Presence of God.
Wellington
(English)
From the wealthy estate
Kandiss
(English)
Modern variant of Candace - ancient hereditary title used by Ethiopian queens.
Austin
(French)
Variant of Augustine.
Athmore
(English)
From the moor
Kord
(English)
Cordmaker. Surname.
Legarre
(Spanish)
Reference to the Virgin Mary
Joyceanne
(English)
Cheerful: merry.
Cornelius
(Irish)
Strong willed or wise
Lynzey
Derived from Lindsay or Lindsey
Salvadora
(Spanish)
Savior
Chance
(English)
Chancellor
Daina
(English)
From Denmark. Also a variant of Daniel.
Bellangere
Son of Alexandre
Saadya
(Hebrew)
God's helper