Cat Names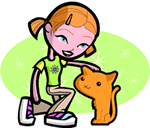 We offer 1,000's of cat names to help you choose the perfect one. Feel free to browse our unique cat names and when you find one you like you can add it to your favorites list to view later. If you have any cute cat names suggestions, please let us know. Enjoy!
Vidal
(English)
Life. Used as both surname and given name. See also Vito.
Ailein
(Scottish)
From the green meadow
Geela
(Hebrew)
Eternal joy
Blair
(Scottish)
Field of battle.
Roddric
(German)
Variant of Roderick famous ruler.
Tarek
(Arabic)
Morning star. Variant of Tariq
Tosha
(English)
Abbreviation of Natasha - the Russian form of the English Natalie Born at Christmas.
Galina
(Hebrew)
God shall redeem
Younique
She is one like no other.
Big Foot
Mysterious creature
Dusty
(English)
A fighter.
Lochness
In reference to the Loch Ness monster.
Sabria
Daughter of Cyprus.
Cynburleigh
(English)
From the royal meadow
Jose
(Spanish)
May God give increase.