Cat Names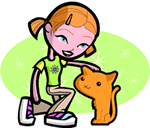 We offer 1,000's of cat names to help you choose the perfect one. Feel free to browse our unique cat names and when you find one you like you can add it to your favorites list to view later. If you have any cute cat names suggestions, please let us know. Enjoy!
Sooleawa
Silver (Algonquin)
Sabria
Daughter of Cyprus.
Kamaal
(Arabic)
Perfect, perfection. Alternate Spelling: Kamal.
Dannah
(English)
A Biblical place name: variant of Daniel God will judge.
Tyronne
(Irish)
From Owen's territory. County Tyrone in Ireland. The late actor Tyrone Power.
Carla
(Spanish)
Feminine form of Charles manly
Avshalom
(Hebrew)
Father of peace
Chaya
(Spanish)
Abbreviation for people with names ending in -ario.
Holwell
(English)
Lives by the holy spring
Tobiah
(English)
Jah is good.
Weatherly
(English)
From the wether sheep meadow
Ivan
(Hebrew)
Gift from God
Radeliffe
(English)
From the red cliff
Savannah
(Spanish)
From the open plain