Cat Names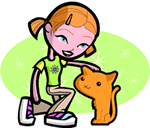 We offer 1,000's of cat names to help you choose the perfect one. Feel free to browse our unique cat names and when you find one you like you can add it to your favorites list to view later. If you have any cute cat names suggestions, please let us know. Enjoy!
Albertine
(Spanish)
Noble
Calantha
(French)
Beautiful flower
Galen
(English)
festive party.
Sallsbury
(English)
From the fortified keep
Hester
(English)
Variant of Esther.
Geralynn
(German)
Rules by the spear. Feminine of Gerald.
Kolby
(English)
Dark-skinned.
Jeralyn
(English)
Modern blend of Jerry and Marilyn.
Baldwin
(German)
Bold friend
Ezekiel
(Hebrew)
God strengthens. Biblical Ezekiel was a prophet among the captives taken to Babylon at the first fall of Jerusalem who wrote the Book of Ezekiel in captivity. See also Zeke.
Luci
(English)
light: illumination.
Chester
(English)
Lives at the camp of the soldiers.