Male Cat Names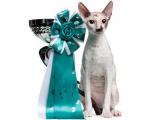 We offer 1000's of male cat names that you can browse and save to view later. There are many origins and categories to choose from to help you pick the perfect boy cat name.
Aahan
(Indian)
Dawn / Morning
Aballach
Father of Modron
Abbott
(English), (Hebrew)
Father
Abelard
(German)
Resolute
Abiram
(Hebrew)
Father of heights
Abner
(Hebrew)
Father of light. In the bible King Saul's cousin and commander of his army. Abner was a valiant warrior and clever strategist.
Abramo
(Hebrew)
Father of a multitude
Abu Bakr
(Arabic)
Companion of Muhammad
Ace
(English)
A nickname given to one who excels: also an English surname meaning noble. Unity.
Adalbert
(German)
Intelligent or noble
Adalrik
(German)
Noble friend
Adalwine
(German)
Noble friend
Adelbert
(German)
Intelligent or noble
Adhamh
(Irish)
Of the earth
Adkins
(English)
Son of Aiken