Cool Cat Names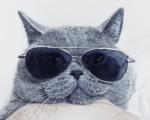 FunCatNames.com offers many cool cat names to choose from when naming your own cat. You can sort these cool cat names by gender and you can view their full meanings by clicking on the name. You may also rate the cat names that you like dislike most. Feel free to browse all our cool cat names and add the ones you want to save for later to your own favorites list.
Athena
(Greek)
Greek goddess of wisdom and war.
Carrots
(English)
Orange vegetable
Chewy
Nickname given to Chewbacca from Star Wars.
Fireworks
(English)
Colorful explosives
Hobo
(English)
Wandering one
Levi
(Hebrew)
Joined. A brand of jean.
Scoozie
(English)
mean cuddle cat
Tyger
Alternative spelling of tiger