Siamese Cat Names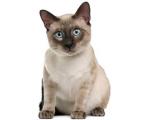 FunCatNames.com offers many Siamese cat names to choose from when naming your own cat. You can sort these Siamese cat names by gender and you can view their full meanings by clicking on the name. You may also rate the cat names that you like dislike most. Feel free to browse all our Siamese cat names and add the ones you want to save for later to your own favorites list.
Pascala
(French)
Born at Easter
Varden
(Celtic)
From the green hill
Herne
(Celtic)
Mythical hunter god
Alyse
(English)
Variant of Alice.
Jacquelyn
(French)
Feminine of Jacques derived from James and Jacob.
Jansen
(German)
Variant of the Hebrew John Jehovah has been gracious: has shown favor.
Wilford
(German)
Desires peace.
Maralyn
(English)
Blend of Marie or Mary and Lyn.
Radburt
(English)
Red haired counselor
Blaney
(Scottish)
Variant of Blaine.
Muata
Yellow jackets inside a nest (Miwok)
Geneva
(German)
Of the race of women.
Dervin
(English)
Gifted friend.
Tad
(English)
Abbreviation of Thaddeus who was one of Christ's 12 apostles.
Natania
(Hebrew)
Gift of God.
Josefina
(Spanish)
Spanish form of Josephine God shall add Feminine of Joseph.