Siamese Cat Names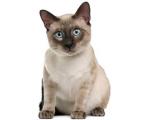 FunCatNames.com offers many Siamese cat names to choose from when naming your own cat. You can sort these Siamese cat names by gender and you can view their full meanings by clicking on the name. You may also rate the cat names that you like dislike most. Feel free to browse all our Siamese cat names and add the ones you want to save for later to your own favorites list.
Langford
(English)
Lives near the long ford
Matz
(Hebrew)
Gift from God
Cord
(English)
Variant of Cordell cordmaker.
GOlding
(English)
Son Of Gold
Juana
(Hebrew)
Gift from God
Weslee
(English)
Feminine of Wesley.
Tabitha
(Hebrew)
beauty, grace From the Aramaic word for Gazelle. Biblical - Tabitha of the New Testament (Acts 9:36) was noted for good works.
Lynne
(English)
Abbreviation of Lynnette who accompanied Sir Gareth on a knightly quest in Arthurian legend: variant of the Irish Gaelic word lann meaning house: church.
Breena
(Irish)
Fairy palace. Also variant of Brianna and Sabrina.
Kaeleigh
(English)
Variant of Kay and Kayla keeper of the keys: pure.
Delmon
(French)
Of the mountain.
Farrah
(English)
Fair-haired
Kenzie
(Scottish)
The fair one. Abbreviation of McKenzie.
Dannah
(English)
A Biblical place name: variant of Daniel God will judge.
Ogelsby
(English)
Fearsome
Guiseppie
(Hebrew)
He shall add
Derwan
(English)
Friend of the deer
Annalisa
(Hebrew)
Grace or devoted to God
Placida
(Spanish)
Tranquil