Siamese Cat Names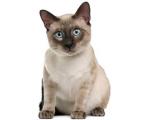 FunCatNames.com offers many Siamese cat names to choose from when naming your own cat. You can sort these Siamese cat names by gender and you can view their full meanings by clicking on the name. You may also rate the cat names that you like dislike most. Feel free to browse all our Siamese cat names and add the ones you want to save for later to your own favorites list.
Maitland
(English)
From the meadow
Adhamh
(Irish)
Of the earth
Kaela
(Hebrew)
Beloved sweetheart.
Constanza
(Spanish)
Constant
Lyndee
(English)
Variant of Linda. lime tree: linden tree: beautiful.
Fitz Walter
(English)
Son of Walter
Masselin
(French)
Little Thomas
Dieter
(German)
Gifted ruler. Variant of Diederick.
Jamia
(Scottish)
Pet form of James used as a woman's name.
Jerardo
(Spanish)
Variant of Gerard Rules by the spear.
Wayne
(English)
Craftsman
Marwin
(English)
Form of Mervin.
Emmy
(German)
Hardworking. Variant of Emily.
Garnet
(English)
A dark-red gemstone named for the pomegranate because of its color.
Suzanna
(English)
Lily. In the apocryphal Book of Tobit Susannah courageously defended herself against wrongful accusation. White lilies grew in the Biblical city of Susa in Persia.