Siamese Cat Names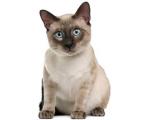 FunCatNames.com offers many Siamese cat names to choose from when naming your own cat. You can sort these Siamese cat names by gender and you can view their full meanings by clicking on the name. You may also rate the cat names that you like dislike most. Feel free to browse all our Siamese cat names and add the ones you want to save for later to your own favorites list.
Gherardo
(English)
Spear hard
Girflet
Returns Excalibur to the lake
Nimiane
The Lady of the Lake
Herbert
(German)
Illustrious warrior.
Chubby Bunny
Game to see how many marshmallows can fit in your mouth.
Derry
(Irish)
Oak grove. Surname.
Blagden
(English)
From the dark valley
Charla
(English)
Feminine variant of Charles meaning manly
Brunelle
(French)
Dark haired
Fonteyne
(French)
Fountain: water source.
Alarico
(Spanish)
Rules all
Grayson
(English)
Son of the reeve or Gray-haired: son of the Gray family: son of Gregory.
Corley
(Irish)
Variant of Corey Hill hollow.
Tonia-Javae
(French)
Worthy of praise. Beauty.
Gwenaelle
(French)
Blessed and generous.
Kiona
(Irish)
Variant of Kian. Ancient.