Siamese Cat Names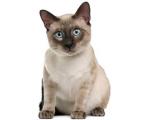 FunCatNames.com offers many Siamese cat names to choose from when naming your own cat. You can sort these Siamese cat names by gender and you can view their full meanings by clicking on the name. You may also rate the cat names that you like dislike most. Feel free to browse all our Siamese cat names and add the ones you want to save for later to your own favorites list.
Emilee
Variant of Emily. Hard worker.
Shem
(Hebrew)
Name: renown. In the bible Shem was firstnamed of Noah's three sons.
Chewy
Nickname given to Chewbacca from Star Wars.
Chaviv
(Hebrew)
Dearly loved
Harrell
(Hebrew)
Mountain of God
Wambleesha
White eagle (Sioux)
Winifrid
(German)
Peaceful friend
Leodegrance
(French)
Lion
Marty
(English)
Warrior of Mars.
Dinah
(Hebrew)
Avenged or Judged and vindicated. In the bible Dinah was Jacob's only daughter.
Sidra
Of the stars or star.
Kaelynn
(English)
Variant of Kay and Kayla. keeper of the keys: pure.
Burnell
(German)
Variant of Bernard strong as a bear.
Laquisha
(English)
Lakeisha and its variants are rhyming forms of Leticia. Joyful: happy.
Zion
(Hebrew)
The presence of God. Alternate Spelling: Zhion.
Blayze
(French)
Lisp: stutter. Blaise Pascal was a brilliant seventeenth century child prodigy: mathematician: scientist and philosopher who invented the calculating machine and hydraulic press before dying at age thirty-nine.
Burgess
(English)
Lives in town