African Cat Names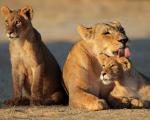 FunCatNames.com offers many african cat names to choose from when naming your own cat. You can sort these african cat names by gender and you can view their full meanings by clicking on the name. You may also rate the cat names that you like dislike most. Feel free to browse all our african cat names and add the ones you want to save for later to your own favorites list.
Aleiah
(African)
Flower, the love of the outside.. my granddaughter
Amani
(African)
African - Peace: Arabic - Wishes, Aspiration
IyiOluwa
(African)
The honor of the Lord of the universe
Jabulela
(African)
Be happy
Jainaba
(African)
Unknown
Kyan
(African)
Little King
Makenna
(African)
Happiness
Neliah
(African)
Storng willed and a vigrous spirit with a leveled mind.
OKimma
(African)
Different/One of a kind
Sha-Mia
(African)
To be of high spirit.
Thabelang Bonolo Mosa
(African)
Be happy, soft and humble
Tinotenda
(African)
Thank you
Tyrese
(African)
Talented leader of the well being.
Zulima
(African), (Arabic)
peace:tranquility. Variant of Salome or Solomon.