Ragdoll Cat Names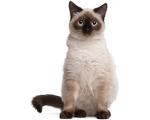 FunCatNames.com offers many Ragdoll cat names to choose from when naming your own cat. You can sort these Ragdoll cat names by gender and you can view their full meanings by clicking on the name. You may also rate the cat names that you like dislike most. Feel free to browse all our Ragdoll cat names and add the ones you want to save for later to your own favorites list.
Guendolen
(English)
White
Aubry
(English)
Rules with elf-wisdom.
Eveleen
(Irish)
Irish form of Evelina giver of life
Cayden
(Scottish)
Fighter. Spirt of Battle.
Crogher
(Irish)
Loves hounds
Blyss
(English)
Joy: cheer. Used from medieval times.
Tristin
(Celtic)
Tumult: outcry. From the Celtic name Tristan. In Arthurian legend Tristan was a Knight of the Round Table and tragic hero of the medieval tale Tristram and Isolde.
McCloud
(Scottish)
Son of the ugly man
Farrah
(English)
Fair-haired
Gino
(Italian)
Born Noble.
Safford
(English)
From the willow ford
Albertine
(Spanish)
Noble