Ragdoll Cat Names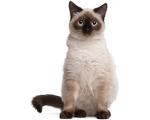 FunCatNames.com offers many Ragdoll cat names to choose from when naming your own cat. You can sort these Ragdoll cat names by gender and you can view their full meanings by clicking on the name. You may also rate the cat names that you like dislike most. Feel free to browse all our Ragdoll cat names and add the ones you want to save for later to your own favorites list.
Jonah
(Hebrew)
Dove. In the bible Jonah was on board a ship God caused to sink: sailors traditionally use the name Jonah to personify someone who brings bad luck.
Desiderio
(Spanish)
Desired
Hernandez
(Spanish)
Adventurous. Variant of Ferdinand.
Aziza
(Arabic)
Cherished: Beloved
Magdalene
(Hebrew)
From the tower
Emeraude
(French)
Emerald
Birkey
(English)
From the birch tree island
Earric
(English)
Powerful
Galahalt
Name of a prince
Luis
(German)
Famous fighter
Delisha
(English)
Variant of Latin Delicia meaning Gives pleasure.
Ominotago
Beautiful voice (Chippewa)
Xavierre
(French)
Owner of a new home
Gavrila
(Hebrew)
God gives strength
Rygeland
(English)
From the rye land
Redman
(English)
Red haired counselor
Muata
Yellow jackets inside a nest (Miwok)
Carree
(English)
Abbreviation of Carol and Caroline from the masculine Charles meaning manly