Ragdoll Cat Names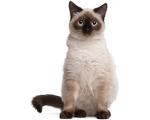 FunCatNames.com offers many Ragdoll cat names to choose from when naming your own cat. You can sort these Ragdoll cat names by gender and you can view their full meanings by clicking on the name. You may also rate the cat names that you like dislike most. Feel free to browse all our Ragdoll cat names and add the ones you want to save for later to your own favorites list.
Tod
(English)
Fox. Tod is a Scottish nickname meaning a clever or wily person.
Dallas
(Scottish)
From the waterfall
Constantia
(Spanish)
Constancy: steadfastness.
Tabitha
(Hebrew)
beauty, grace From the Aramaic word for Gazelle. Biblical - Tabitha of the New Testament (Acts 9:36) was noted for good works.
Cindia
(English)
Abbreviation of Cynthia and Lucinda.
Cortland
(French)
Courtier: court attendant.
Montie
(English)
Mountain. Abbreviation of Montague and Montgomery.
Dearborn
(English)
From the deer brook
Perzsi
(Hebrew)
Devoted to God
Bryce
(Scottish)
Speckled: Surname form of Brice.
Alize
The clouds of heaven
Washburn
(English)
From the flooding brook
Younique
She is one like no other.
Zechariah
(Hebrew)
Jehovah has remembered.