Ragdoll Cat Names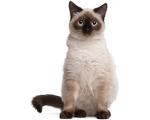 FunCatNames.com offers many Ragdoll cat names to choose from when naming your own cat. You can sort these Ragdoll cat names by gender and you can view their full meanings by clicking on the name. You may also rate the cat names that you like dislike most. Feel free to browse all our Ragdoll cat names and add the ones you want to save for later to your own favorites list.
Destinie
(English)
Certain fortune: fate. The mythological Greek god of fate.
Guadalupe
(Arabic)
Wolf valley. Biblical Mary is Mexico's Lady of Guadalupe.
Hodsone
(English)
Son of the hooded man
Tomkin
(English)
Little Tom
Skelton
(English)
From the estate on the ledge
Toran
(Scottish)
Variant of Torrence From the craggy hills. Tor is a name for a craggy hilltop and also may refer to a watchtower.
Burleigh
(English)
Lives at the castle's meadow. Fortified. See also Berlyn.
Kaeleigh
(English)
Variant of Kay and Kayla keeper of the keys: pure.
Abedabun
Sight of day (Chippewa)
Chan
(Spanish)
Nickname for John.
Banning
(English)
Son of the slayer
Nickie
(English)
Abbreviation of Nicole. Victory.
Maritza
(German)
Of the sea.