Ragdoll Cat Names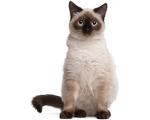 FunCatNames.com offers many Ragdoll cat names to choose from when naming your own cat. You can sort these Ragdoll cat names by gender and you can view their full meanings by clicking on the name. You may also rate the cat names that you like dislike most. Feel free to browse all our Ragdoll cat names and add the ones you want to save for later to your own favorites list.
Katrina
(German)
Variant of Katherine. Pure.
Habib
(Hebrew)
Dearly loved
Charlette
(French)
Feminine of Charles meaning manly
Lilian
(English)
Variant of Lillian derived from the flower name Lily. Symbol of innocence: purity: beauty.
Silvester
(German)
Trees: sylvan. See also Sylvester and Silvano.
Govannon
God of the forge
Tod
(English)
Fox. Tod is a Scottish nickname meaning a clever or wily person.
Brendon
(Irish)
Prince. Variant of Brendan.
Tiesha
(English)
Abbreviation of Leticia or Latisha.
Moukib
(Arabic)
Last of the prophets
Tessa
(English)
Abbreviation of Teresa which is a popular saint's name of uncertain meaning.
Beceere
(English)
Lives by the beech tree
Delmon
(French)
Of the mountain.
Cheryll
(English)
Variant of the French Cherie dear one: darling. Rhyming variant of names like Meryl and Beryl: originated early twentieth century.
Berchtwald
(German)
Bright ruler