Ragdoll Cat Names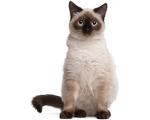 FunCatNames.com offers many Ragdoll cat names to choose from when naming your own cat. You can sort these Ragdoll cat names by gender and you can view their full meanings by clicking on the name. You may also rate the cat names that you like dislike most. Feel free to browse all our Ragdoll cat names and add the ones you want to save for later to your own favorites list.
Eliot
(Hebrew)
Jehovah is God
Penn
(English)
From the enclosure
Tab
(English)
Drummer: Abbreviation of Tabor. The biblical Mt. Tabor is a landmark mountain near Nazareth.
Nedra
(English)
Feminine of Ned.
Derek
(German)
Gifted ruler. From Theodoric.
Sasha
Helper and defender or protector of mankind.
Sumarville
(French)
From the summer estate
Beceere
(English)
Lives by the beech tree
Alva
(German)
Army of elves
Amott
(German)
Power of an eagle
Tassa
(English)
Abbreviation of Natasha - the Russian form of the English Natalie Born at Christmas.
Louisane
(German)
Renowned warrior
Barrie
(French)
Lives at the barrier
Lester
(English)
Fortified place.
Francesca
(Italian)
Free spirit.