Ragdoll Cat Names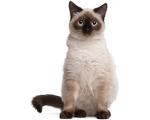 FunCatNames.com offers many Ragdoll cat names to choose from when naming your own cat. You can sort these Ragdoll cat names by gender and you can view their full meanings by clicking on the name. You may also rate the cat names that you like dislike most. Feel free to browse all our Ragdoll cat names and add the ones you want to save for later to your own favorites list.
Alys
(Spanish)
Of the nobility.
Janai
(English)
Modern name based on Jane or Jean: Based on Janai meaning God has answered.
Winetorp
(English)
From Wine's estate
Tavion
(Irish)
Variant of the word teeve hillside.
Dixie
(French)
Born tenth
Elbertine
(English)
Noble or glorious
Carilynne
(English)
Feminine variant of Charles meaning manly
Merrill
(English)
Shining sea.
Mairead
(Irish)
Name of a saint
Shaine
(Irish)
Variant of Shaun from John.
Robinette
(French)
Small robin
Helene
(French)
Variant of Helen. In mythology the abduction of Zeus's mortal daughter Helen sparked the Trojan War.
Kailynne
(English)
Variant of Kay and Kayla. keeper of the keys: pure.
Gay
(English)
Variant of Gail. Joyful. Lively Also a modern term denoting homosexuality.
EIlis
(Hebrew)
Jehovah is God