Ragdoll Cat Names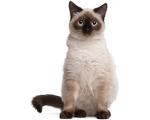 FunCatNames.com offers many Ragdoll cat names to choose from when naming your own cat. You can sort these Ragdoll cat names by gender and you can view their full meanings by clicking on the name. You may also rate the cat names that you like dislike most. Feel free to browse all our Ragdoll cat names and add the ones you want to save for later to your own favorites list.
Charlette
(French)
Feminine of Charles meaning manly
Nichol
(French)
Feminine of Nicholas people's victory.
Niallan
(Celtic)
Champion
Warton
(English)
From the farm by the weir
Niall
(Scottish)
Champion
Nicholette
Alternate Spelling: Nicolette.
Aetheston
(English)
From the noble's hill
Levi
(Hebrew)
Joined. A brand of jean.
Dorien
(English)
Descendant of Dorus. Dorian was a character in Oscar Wilde's novel The Picture of Dorian Gray who was given his wish that his portrait would age while he remained young and handsome.
Constantia
(Spanish)
Constancy: steadfastness.
Alonsa
(Spanish)
Ready or noble
Keriann
(Irish)
Dusky: dark.
Seely
(English)
From the happy meadow
Rylan
(Irish)
Island meadow.
Welburn
(English)
From the spring brook
Jax
(Spanish)
Masculine form of the Greek name Hyacinth alas.