Ragdoll Cat Names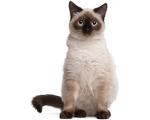 FunCatNames.com offers many Ragdoll cat names to choose from when naming your own cat. You can sort these Ragdoll cat names by gender and you can view their full meanings by clicking on the name. You may also rate the cat names that you like dislike most. Feel free to browse all our Ragdoll cat names and add the ones you want to save for later to your own favorites list.
Jonni
(English)
Modern feminine of John and Jon.
Trista
(English)
Feminine of Tristan noisy:full of sorrows and/or a rhyming variant of Christa.
Nan
(French)
Variant of Anne favor: grace.
Nethanel
(Hebrew)
Gift from God
Norville
From the north state
Novalee
Chases butterflies. Combination of Nova and Lee.
Lacy
(English)
Derived from Lacey which is a French Nobleman's surname brought to British Isles after Norman conquest.
Monty
(English)
Mountain. Abbreviation of Montague and Montgomery.
Reymond
(French)
Guards wisely.
Uaid
(Irish)
Irish form of Walter
Orwald
(English)
Spear strength
Mariquita
(Spanish)
Bitter
Kendrik
(Scottish)
Royal chieftain. Surname.