Ragdoll Cat Names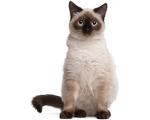 FunCatNames.com offers many Ragdoll cat names to choose from when naming your own cat. You can sort these Ragdoll cat names by gender and you can view their full meanings by clicking on the name. You may also rate the cat names that you like dislike most. Feel free to browse all our Ragdoll cat names and add the ones you want to save for later to your own favorites list.
Lir
(Celtic)
A mythical king
Annabel
(Scottish)
Beautiful grace
Pavati
Clear water (Hopi)
Picford
(English)
From the woodcutter's ford
Claudelle
(English)
Feminine of Claude.
Thane
(Scottish)
Anglo-Saxon and Scottish feudal lords' title. Shakespeare's Macbeth was Thane of Cawdor.
Davite
(Hebrew)
Cherished
Terris
(English)
Son of Terrell
Luciano
(Spanish)
Form of Luke. Light: illumination.
Driden
(English)
From the dry valley
Chas chunk a
Wave (Winnebago)
Sabria
Daughter of Cyprus.
Cherise
(English)
Blend of Cherie and Cerise. Dear one: darling
Vernell
(French)
Green: flourishing.
Kyndall
(English)
Royal valley referring to Kent in England.
Taron
(English)
Terran means Earthman. Variants are contemporary rhyming blends of Ter- plus Darin.
Ravin
Alternate Spelling: Raven.
Nuray
Moonlight, Light of Moon, or Light Moon.