Ragdoll Cat Names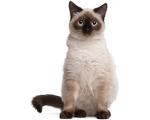 FunCatNames.com offers many Ragdoll cat names to choose from when naming your own cat. You can sort these Ragdoll cat names by gender and you can view their full meanings by clicking on the name. You may also rate the cat names that you like dislike most. Feel free to browse all our Ragdoll cat names and add the ones you want to save for later to your own favorites list.
Thorn
(English)
Town of thorns. Thornton variant. Surname.
Ryscford
(English)
Lives near the rush ford
Tully
(Irish)
Peaceful. Surname.
Bridgette
(French)
Strength. Mythological Celtic goddess of fire and poetry.
Maheloas
Lord of the Isle of Glass
Pericles
(Greek)
A man with honour
Alaska
Largest state in the U.S.
Claiborn
(English)
From the clay brook
Fabien
(French)
Derived from the Roman clan name Fabius
Scandleah
(English)
From the loud meadow
Cameron
(Scottish)
Clan name meaning Bent nose.
Irvette
(English)
Friend of the sea
Herman
(German)
Soldier. See also Harmon.
Yoana
(Spanish)
God's gift