Ragdoll Cat Names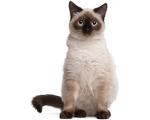 FunCatNames.com offers many Ragdoll cat names to choose from when naming your own cat. You can sort these Ragdoll cat names by gender and you can view their full meanings by clicking on the name. You may also rate the cat names that you like dislike most. Feel free to browse all our Ragdoll cat names and add the ones you want to save for later to your own favorites list.
Dannelle
(English)
Feminine variant of Daniel God will judge.
Odelyn
Little wealthy one
Alix
(French)
Variation of Alexander. Defender of mankind.
Cass
(Irish)
Curly-headed.
Lucila
(Spanish)
Diminutive form of Lucia light: illumination.
Gilroy
(Celtic)
Serves the red haired lord
Fulaton
(English)
From the people's estate
Jorcina
(English)
Variant of Georgina.
Nathanial
(Hebrew)
God has given. One of the 12 biblical apostles.
Luiza
(Spanish)
Feminine of Louis.
Lauralyn
(English)
The laurel tree or sweet bay tree symbolic of honor and victory. Old name with many variants.
Severne
(English)
Strict: restrained. Surname.
Lilibet
(English)
Blend of Lily: (the flower: innocence: purity: beauty) and Elizabeth: (My God is bountiful:God of plenty.)
Rolland
(French)
Renowned in the land. Roland was a legendary hero who served Charlemagne.
Braeden
(Irish)
Broad hillside.
Saelig
(English)
From the happy meadow
Galenka
(Hebrew)
God shall redeem
Isham
(English)
From the iron one's estate
Armstrong
(English)
Strong armed
Bosworth
(English)
Lives at the cattle enclosure
Benon
(English)
Variant of Bert - industrious.