Ragdoll Cat Names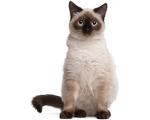 FunCatNames.com offers many Ragdoll cat names to choose from when naming your own cat. You can sort these Ragdoll cat names by gender and you can view their full meanings by clicking on the name. You may also rate the cat names that you like dislike most. Feel free to browse all our Ragdoll cat names and add the ones you want to save for later to your own favorites list.
Josefina
(Spanish)
Spanish form of Josephine God shall add Feminine of Joseph.
Bryleigh
Gracious and strong.
Tyreece
(Irish)
Derivative of the Scandinavian god of battle Tyr. Tuesday was named for Tyr.
Mariah
(English)
Variant of Latin Mary bitter
Cyrano
(French)
Cyrano de Bergerac was a seventeenth-century soldier and science-fiction writer.
Mary
(English)
Bitter. Variant of Miriam. The biblical mother of Christ. Names like Dolores and Mercedes have been created to express aspects of Mary's life and worship.
Miyu
(Japanese)
Beautiful moon
Ayasha
Little one (Chippewa)
Megane
(Celtic)
Soft and gentle
Dawn
(English)
The first appearance of daylight: daybreak. Dawn.
Laurel
(English)
The laurel tree or sweet bay tree symbolic of honor and victory. Old name with many variants.
Annmarie
(Italian)
Variant of Mary.