Ragdoll Cat Names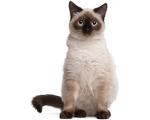 FunCatNames.com offers many Ragdoll cat names to choose from when naming your own cat. You can sort these Ragdoll cat names by gender and you can view their full meanings by clicking on the name. You may also rate the cat names that you like dislike most. Feel free to browse all our Ragdoll cat names and add the ones you want to save for later to your own favorites list.
McCloud
(Scottish)
Son of the ugly man
Loyal
(English)
Faithful: unswerving.
Jesus
(Spanish)
Named for Jesus
Trahern
(Celtic)
Strong as iron
Audrey
(English)
Noble strength: Nobility: strength.
Maelisa
(Irish)
Serves Christ
Drygedene
(English)
From the dry valley
Morly
(English)
From the meadow on the moor
MacLean
(Scottish)
Son of the servant of John
Che
(Spanish)
Abbreviation of Jose: Latin-American revolutionary Che Guevara.
Edina
(English)
Wealthy friend
Appollinaris
A cat that belonged to Mark Twain.
Blar
(Irish)
From the fields