Ragdoll Cat Names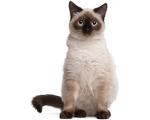 FunCatNames.com offers many Ragdoll cat names to choose from when naming your own cat. You can sort these Ragdoll cat names by gender and you can view their full meanings by clicking on the name. You may also rate the cat names that you like dislike most. Feel free to browse all our Ragdoll cat names and add the ones you want to save for later to your own favorites list.
Lindell
(English)
Lives by the linden tree valley
Aldis
(English)
From the old house
Casimiro
(Spanish)
Peaceful
Kealsea
(Irish)
Brave. Alternate Spelling: Kelsey.
Mathers
(English)
Son of Mather
Lutz
(German)
Famous fighter
Miyu
(Japanese)
Beautiful moon
Cherokee
People of a different speech. One of the largest American Indian tribes.
Armand
(German)
Protective
Heallfrith
(English)
Peaceful home
Joelle
(Hebrew)
Jehovah is God
Halifrid
(German)
Peaceful heroine
Roland
(English)
Renowned in the land. Roland was a legendary hero who served Charlemagne.
Morly
(English)
From the meadow on the moor
Creighton
(English)
Lives at the creek town
Tiesha
(English)
Abbreviation of Leticia or Latisha.