Exotic Cat Names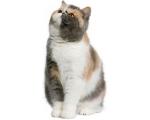 FunCatNames.com offers many Exotic cat names to choose from when naming your own cat. You can sort these Exotic cat names by gender and you can view their full meanings by clicking on the name. You may also rate the cat names that you like dislike most. Feel free to browse all our Exotic cat names and add the ones you want to save for later to your own favorites list.
Claudette
(German)
Feminine of Claude.
Carmi
(Hebrew)
Vine dresser
Kasimira
Command for peace
Tyler
(English)
Tile layer or a variant of Taylor. An English surname frequently used as a given name.
Candyce
(English)
Candace was an ancient hereditary title used by Ethiopian queens.
Malmuira
(Scottish)
Dark skinned
Howard
(English)
Chief guardian
Gertruda
(German)
From the protected farm
Estmund
(English)
Protected by God
Muira
(Scottish)
From the moor
Jacquenette
(French)
Little Jacques
Nicole
Victory of the people
Flannagan
(Irish)
Surname.
Napayshni
Strong or courageous (Sioux)
Porter
(French)
Gatekeeper
Herbert
(German)
Illustrious warrior.