Exotic Cat Names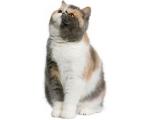 FunCatNames.com offers many Exotic cat names to choose from when naming your own cat. You can sort these Exotic cat names by gender and you can view their full meanings by clicking on the name. You may also rate the cat names that you like dislike most. Feel free to browse all our Exotic cat names and add the ones you want to save for later to your own favorites list.
Ardkill
(Irish)
From the high church
Rawley
(English)
From the roe deer meadow
Oakley
(English)
From the oak - tree meadow
Toran
(Scottish)
Variant of Torrence From the craggy hills. Tor is a name for a craggy hilltop and also may refer to a watchtower.
Gearoid
(Irish)
Spearbrave
Doran
(Irish)
Exile: Variant of Dorran stranger.
Fleming
(English)
Dutchman
Cherokee
People of a different speech. One of the largest American Indian tribes.
Squier
(English)
Shieldbearer
Vedika
(Arabic)
Consciousness, Altar: a river in India.
Quintrell
(French)
Variant of Quentin fifth. Surname.
Rickward
(English)
Strong guardian
Darolyn
(English)
Variations of Daryl meaning Dearly loved.
Gibson
(English)
Gilbert's Son