Exotic Cat Names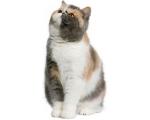 FunCatNames.com offers many Exotic cat names to choose from when naming your own cat. You can sort these Exotic cat names by gender and you can view their full meanings by clicking on the name. You may also rate the cat names that you like dislike most. Feel free to browse all our Exotic cat names and add the ones you want to save for later to your own favorites list.
Kapricia
(English)
Caprice.
Prentiss
(English)
Scholar
Donaghy
(Celtic)
Strong fighter
Erendira
(Spanish)
Name of a princess
Nicholette
Alternate Spelling: Nicolette.
Jazmina
(English)
Modern variant of Jasmine: combination of Jocelyn and the musical term jazz.
Halburt
(English)
Brilliant hero
Adela
(French)
Good humor
Fifine
(French)
Nickname for Josephine
Kitlyn
(English)
Medieval English form of the Irish Caitlin. Pure
Dikesone
(English)
Son of Dick
Hastings
(English)
Violent
Millicente
(French)
Of a thousand saints
Hecate
(Greek)
Greek goddess of fertility who later became associated with Persephone as goddess of the underworld and protector of witches
Rhodes
(English)
Lives near the crucifix
Campbell
(Scottish)
Crooked mouth