Exotic Cat Names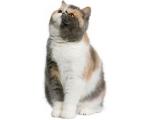 FunCatNames.com offers many Exotic cat names to choose from when naming your own cat. You can sort these Exotic cat names by gender and you can view their full meanings by clicking on the name. You may also rate the cat names that you like dislike most. Feel free to browse all our Exotic cat names and add the ones you want to save for later to your own favorites list.
Rob
(French)
Abbreviation of Robert Famed: bright: shining.
Eadwyn
(English)
Wealthy friend
Buchanan
(Scottish)
From the cannon's seat
Varden
(Celtic)
From the green hill
Jordynn
(Hebrew)
Variant of Jordan.
Gale
(English)
Lively. Joyful. Abbreviation of Abigail. Gael is a term for descendants of the ancient Celts in Scotland: Ireland and the Isle of Man.
Kane
(Celtic)
Intelligent
Hyatt
(English)
From the high gate. Surname.
Deryk
(English)
Gifted ruler. From Theodoric.
Wolfrick
(German)
Wolf ruler
Ayasha
Little one (Chippewa)
Kaelynn
(English)
Variant of Kay and Kayla. keeper of the keys: pure.
Beldane
(English)
Lives in the beautiful glen