Exotic Cat Names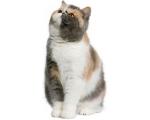 FunCatNames.com offers many Exotic cat names to choose from when naming your own cat. You can sort these Exotic cat names by gender and you can view their full meanings by clicking on the name. You may also rate the cat names that you like dislike most. Feel free to browse all our Exotic cat names and add the ones you want to save for later to your own favorites list.
Hardin
(English)
From the hare's valley
Amineh
(Arabic)
Faithful: Trustworthy.
Anarosa
(Spanish)
Grace. favor. Variant of Anna.
Roderick
(English)
Famous ruler.
Guendolen
(English)
White
Verge
Owns four acres of land
Wintanweorth
(English)
From the white one's estate
Apryl
(English)
The month April: symbolizes spring.
Rosemarie
(French)
Bitter
Devonn
(English)
Variant of the English county name Devon.
Bernard
(English)
Strong as a bear. See also Bjorn.
Viviane
The Lady of the Lake
Dealbeorht
(English)
Proud
Joceline
(French)
Medieval male name adopted as a feminine name.
Niko
(English)
Abbreviation of Nicholas. Mythological Nike was Greek goddess of victory and root origin of Nicholas.
Charla
(English)
Feminine variant of Charles meaning manly