Exotic Cat Names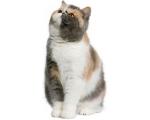 FunCatNames.com offers many Exotic cat names to choose from when naming your own cat. You can sort these Exotic cat names by gender and you can view their full meanings by clicking on the name. You may also rate the cat names that you like dislike most. Feel free to browse all our Exotic cat names and add the ones you want to save for later to your own favorites list.
Kuwanyauma
Butterfly showing beautiful wings (Hopi)
Rick
(English)
Abbreviation of Richard powerful: strong ruler.
Jessamyn
(Arabic)
A flower name from the older form Jessamine.
Deandria
(English)
Blend of Deanne: (divine) plus variants of Andrea: (masculine) and Sandra: (protector of man.)
Amayah
(Japanese)
Night rain.
Maeret
(English)
Little famous one
Vania
(Hebrew)
God's gift
Tatum
(English)
Brings joy
Kelula
(Hebrew)
Victorious
Terence
(English)
Old form of the Roman clan name Terrance.
Tallia
(Greek)
Joyful, blooming. Pronunced Tall-yuh or Tall-ee-uh. Traditional spelling Thalia, also seen as Talia and Talya.
SulliMn
(Irish)
Black eyed