Exotic Cat Names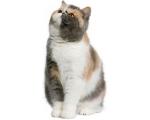 FunCatNames.com offers many Exotic cat names to choose from when naming your own cat. You can sort these Exotic cat names by gender and you can view their full meanings by clicking on the name. You may also rate the cat names that you like dislike most. Feel free to browse all our Exotic cat names and add the ones you want to save for later to your own favorites list.
Zoelie
(Greek)
Alive. Alternate Spellings: Zoe, Zoelie, Zoelle, Zoel, Zoya, Zoia
Mettabel
(Hebrew)
God's favor
Weorth
(English)
From the farm
Elgine
(Celtic)
Noble: white.
Francille
(French)
Variant of Frances meaning From France or free one.
Launder
(English)
From the grassy plain
Connell
(Celtic)
Strong in battle
Sanersone
(English)
Alexander's son
Coventina
(Celtic)
Water goddess
Ygraine
In Arthurian legend Igrayne is mother of Arthur.
Adriaan
Variant of Adrian. From Adria.
Domenick
(Italian)
Alternate Spelling: Dominick, Dominic, Domenic, Dominik.
Jessie
(Hebrew)
Wealthy: Variant of Jesse Jehovah exists.