Exotic Cat Names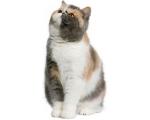 FunCatNames.com offers many Exotic cat names to choose from when naming your own cat. You can sort these Exotic cat names by gender and you can view their full meanings by clicking on the name. You may also rate the cat names that you like dislike most. Feel free to browse all our Exotic cat names and add the ones you want to save for later to your own favorites list.
Dannon
(English)
Feminine variant of Daniel God will judge.
Davia
(English)
Beloved. Feminine of David.
Adalbert
(German)
Intelligent or noble
Gibson
(English)
Gilbert's Son
Ridgely
(English)
Lives at the meadow's ridge
Wayne
(English)
Craftsman
Laycie
(French)
Derived from Lacey which is a French Nobleman's surname brought to British Isles after Norman conquest.
Dealbeorht
(English)
Proud
Alsoomse
Independent (Algonquin)
Hawly
(English)
From the hedged meadow
John-paul
(French)
Variant of the Hebrew John Jehovah has been gracious: has shown favor.
Mealcoluim
(Scottish)
Follower of Saint Columba
Barrak
(Hebrew)
Flash of lightning. In the bible the valiant fighting man Barak cooperated with the prophetess Deborah to win victory in battle against overwhelming odds.
Squier
(English)
Shieldbearer
Roddric
(German)
Variant of Roderick famous ruler.