Exotic Cat Names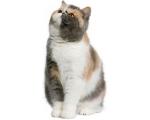 FunCatNames.com offers many Exotic cat names to choose from when naming your own cat. You can sort these Exotic cat names by gender and you can view their full meanings by clicking on the name. You may also rate the cat names that you like dislike most. Feel free to browse all our Exotic cat names and add the ones you want to save for later to your own favorites list.
Conshita
(Spanish)
Reference to the Immaculate Conception
Perzsi
(Hebrew)
Devoted to God
Nicolette
(French)
People's victory
Kuno
(German)
Honest advisor
Vittoria
(Spanish)
Victor
Giovanni
(Hebrew)
Gift from God
Keegan
(Celtic)
Son of Egan
Doughlas
(Celtic)
Dwells by the dark stream
Kiley
(Irish)
Boomerang. Variant of Kylie. Pretty.
Carilynne
(English)
Feminine variant of Charles meaning manly
Sapphire
(Hebrew)
Beautiful
Briannon
(English)
She ascends. Feminine of Brian.
Dearborn
(English)
From the deer brook
Brandee
(English)
Variation of the beverage brandy used as a given name.
Nyke
(Greek)
Victory, speed, and trimuph.
Ordwald
(English)
Spear strength
Leona
(French)
Lion: lioness. Feminine of Leon.