Exotic Cat Names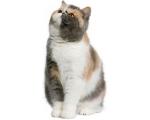 FunCatNames.com offers many Exotic cat names to choose from when naming your own cat. You can sort these Exotic cat names by gender and you can view their full meanings by clicking on the name. You may also rate the cat names that you like dislike most. Feel free to browse all our Exotic cat names and add the ones you want to save for later to your own favorites list.
Glen
(Celtic)
From the valley
Garion
(German)
Guards: guardian.
Big Girl
For a large female cat.
Madelhari
(German)
War counselor
Maryanna
(English)
Derived from Mary Bitter. Mary was the biblical mother of Christ. Names like Dolores and Mercedes have been created to express aspects of Mary's life and worship.
Nichol
(French)
Feminine of Nicholas people's victory.
Cenewyg
(English)
Bold warrior
Randel
(English)
Variants of Randolph Wolf's shield. Surname.
Terence
(English)
Old form of the Roman clan name Terrance.
Maida
(English)
Maiden: virgin.
Xavier
(Spanish)
Owns a new house
Kalan
(English)
Variant of Kay and Kayla. keeper of the keys: pure.
Robinette
(French)
Small robin
Gwenaelle
(French)
Blessed and generous.