Exotic Cat Names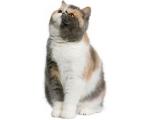 FunCatNames.com offers many Exotic cat names to choose from when naming your own cat. You can sort these Exotic cat names by gender and you can view their full meanings by clicking on the name. You may also rate the cat names that you like dislike most. Feel free to browse all our Exotic cat names and add the ones you want to save for later to your own favorites list.
Bernon
(German)
Brave as a bear
Dorothee
(English)
Variant of the Greek Dorothy meaning Gift of God.
Burne
(English)
From the brook
Shekinah
The visible Glory of God
Ronell
(English)
Rules with counsel. Form of Ronald from Reynold.
Brentan
(English)
From the steep hill
Kassie
(English)
Abbreviation of Cassandra. Unheeded prophetess. In Homer's The Iliad Cassandra's prediction of the fall of Troy was unheeded.
Thunder
(English)
Stormy tempered
Celesse
(French)
Heavenly.
MacFarlane
(Scottish)
Son of Farlan
Darby
(English)
Without envy.
Raleigh
Blessing to earth.
Harford
(English)
From the hare's ford
Cailym
(Irish)
Pillar of the church.
Burn
(English)
From the brook
Vania
(Hebrew)
God's gift