Exotic Cat Names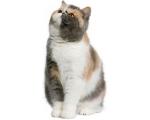 FunCatNames.com offers many Exotic cat names to choose from when naming your own cat. You can sort these Exotic cat names by gender and you can view their full meanings by clicking on the name. You may also rate the cat names that you like dislike most. Feel free to browse all our Exotic cat names and add the ones you want to save for later to your own favorites list.
Abramo
(Hebrew)
Father of a multitude
Elvina
Friend of the elves
Chance
(English)
Chancellor
Skyler
(English)
Phonetic spelling of Schuyler.
Hadon
(English)
From the heath
Caroline
(Scottish)
Feminine form of Charles manly
Crompton
(English)
From the winding farm
Adelita
(German)
Sweet or noble
Diahna
(French)
Divine. Mythological ancient Roman divinity Diana was noted for beauty and swiftness: often depicted as a huntress. Also Diana Princess of Wales.
Abbott
(English), (Hebrew)
Father
Raylen
(English)
Counselor. Variant of Raymond.
La Verne
(French)
Born in the spring
Finella
(Irish)
White shouldered
Davis
(Scottish)
David's son
Leachlainn
(Irish)
Servant
Justeene
(English)
Just: upright. Feminine of Justin.