Exotic Cat Names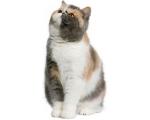 FunCatNames.com offers many Exotic cat names to choose from when naming your own cat. You can sort these Exotic cat names by gender and you can view their full meanings by clicking on the name. You may also rate the cat names that you like dislike most. Feel free to browse all our Exotic cat names and add the ones you want to save for later to your own favorites list.
Morogh
(Scottish)
Man of the sea
Appollinaris
A cat that belonged to Mark Twain.
Cruadhlaoich
(Irish)
Hunch backed
Jennilyn
(English)
Variation of Jenny which is a diminutive of Jane and Jennifer.
Merryl
(French)
Blackbird.
Lyra
(French)
Of the Iyre or song
Eriq
(French)
Variant of Scandinavian Eric ever kingly. Actor Eriq La Salle.
Onslow
(English)
From the zealous one's hill
Oakley
(English)
From the oak - tree meadow
Bartel
(Hebrew)
Ploughman
Mary
(English)
Bitter. Variant of Miriam. The biblical mother of Christ. Names like Dolores and Mercedes have been created to express aspects of Mary's life and worship.
Driskell
(Celtic)
Interpreter
Kiley
(Irish)
Boomerang. Variant of Kylie. Pretty.
Florentino
(Spanish)
Blooming
Patric
(French)
Patrician: noble. Form of Patrick.
Reynald
(German)
Counselor-ruler.
Chubby Bunny
Game to see how many marshmallows can fit in your mouth.