Exotic Cat Names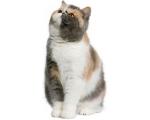 FunCatNames.com offers many Exotic cat names to choose from when naming your own cat. You can sort these Exotic cat names by gender and you can view their full meanings by clicking on the name. You may also rate the cat names that you like dislike most. Feel free to browse all our Exotic cat names and add the ones you want to save for later to your own favorites list.
Keannen
(English)
Ancient.
Trisa
(English)
Abbreviation of Patricia noble.
Hadwin
(English)
War friend
Monty
(English)
Mountain. Abbreviation of Montague and Montgomery.
Ocho
(Mexican), (Spanish)
Eight
Bridger
(English)
Lives at tbe bridge
Clyfland
(English)
From the cliff land
Rollo
(German)
Renowned in the land. Roland was a legendary hero who served Charlemagne.
Bradlee
(English)
English surnames related to Bradley Broad clearing in the wood
Keriann
(Irish)
Dusky: dark.
Perceval
(English)
Valley piercer
Alburt
(English)
Noble or bright
Alberteen
(English)
Noble
Ximen
(Hebrew)
God has heard
Washburn
(English)
From the flooding brook