Exotic Cat Names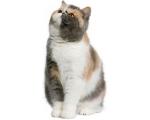 FunCatNames.com offers many Exotic cat names to choose from when naming your own cat. You can sort these Exotic cat names by gender and you can view their full meanings by clicking on the name. You may also rate the cat names that you like dislike most. Feel free to browse all our Exotic cat names and add the ones you want to save for later to your own favorites list.
McKala
(Irish)
Gift of God.
Tory
(Irish)
From the knolls
Videl
(English)
Life. Used as both surname and given name. See also Vito.
Averil
(English)
Opening buds of spring: born in April.
Harimanna
(German)
Warrior maiden
Jackie
(English), (Scottish)
God has been gracious: has shown favor. Based on John or Jacques. Used more for girls than boys.
Lunete
Servant of Laudine
Aine
(Celtic)
Fire or joy
Heather
(English)
A flowering evergreen plant that thrives on peaty barren lands as in Scotland. Heather
Apryl
(English)
The month April: symbolizes spring.
Anwen
(Celtic)
Fair and beautiful.
Najjar
(Arabic)
Carpenter
Gulliver
(English)
In reference to "Gulliver's Travels"
Matro
(Spanish)
God's gift
Sun
(Irish)
From the town by the river Boyn
Frederika
(German)
Peaceful ruler. Feminine of Frederick.
Corvin
(French)
Raven-haired.
Dayton
(English)
Surname. Variant of David beloved.
Audris
(English)
Nobility: strength.