Exotic Cat Names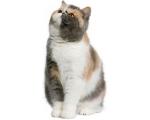 FunCatNames.com offers many Exotic cat names to choose from when naming your own cat. You can sort these Exotic cat names by gender and you can view their full meanings by clicking on the name. You may also rate the cat names that you like dislike most. Feel free to browse all our Exotic cat names and add the ones you want to save for later to your own favorites list.
Gardiner
(English)
Gardener
Gerica
(English)
Blend of Geri plus Erica.
Nate
(Hebrew)
Given. Form of Nathan.
Jerrilyn
(English)
Modern blend of Jerry and Marilyn.
Drue
(English)
Abbreviation of Andrew manly.
Ramone
(Spanish)
Form of Raymond Guards wisely.
Heaven-Leigh
One with life meaning holy and Heaven sent
Alric
(German)
Rules all. The historical Gothic king who plundered Rome in A.D. 410.
Salbatora
(Spanish)
Savior
Winwood
(English)
From Wine's forest
Dannelle
(English)
Feminine variant of Daniel God will judge.
Kailan
(English)
Variant of Kay and Kayla. keeper of the keys: pure.
Delila
(Hebrew)
Desired. Languishing. The Biblical Delilah tempted Samson into revealing the secret of his superhuman strength.
Darryll
(English)
Variations of Daryl meaning Dearly loved.
Conchobhar
(Irish)
Strong willed or wise