Exotic Cat Names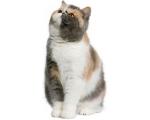 FunCatNames.com offers many Exotic cat names to choose from when naming your own cat. You can sort these Exotic cat names by gender and you can view their full meanings by clicking on the name. You may also rate the cat names that you like dislike most. Feel free to browse all our Exotic cat names and add the ones you want to save for later to your own favorites list.
Aife
(Celtic)
A great warrior woman of myth
Desyre
(English)
Variant of French Desiree.
Natania
(Hebrew)
Gift of God.
John-paul
(French)
Variant of the Hebrew John Jehovah has been gracious: has shown favor.
Shannen
(Irish)
Longest river in Ireland. Alternate Spelling: Shannon.
Terrill
(German)
Powerful.
Worden
(English)
Defender or guard
Pierson
(Irish)
Form of Piers from Peter.
Derrik
(English)
Gifted ruler. From Theodoric.
Jennay
(English)
Modern name based on Jane or Jean: Based on Janai meaning God has answered.
Peregrine
(English)
The peregrine falcon is the bird most favored in the ancient sport of falconry.
Rick
(English)
Abbreviation of Richard powerful: strong ruler.
Dina
(Hebrew)
Avenged Judged and vindicated. In the bible Dinah was Jacob's only daughter.
Trisa
(English)
Abbreviation of Patricia noble.