Exotic Cat Names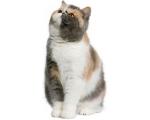 FunCatNames.com offers many Exotic cat names to choose from when naming your own cat. You can sort these Exotic cat names by gender and you can view their full meanings by clicking on the name. You may also rate the cat names that you like dislike most. Feel free to browse all our Exotic cat names and add the ones you want to save for later to your own favorites list.
Baylie
(English)
Courtyard within castle walls: steward or public official. Surname or given name.
Torion
(Irish)
Variant of Torrence From the craggy hills. Tor is a name for a craggy hilltop and also may refer to a watchtower.
Cristy
(Irish)
Abbreviation of Christine. Follower of Christ.
Marleene
(English)
Variant of Madeline Woman from Magdala.
Keane
(Celtic)
Tall and handsome
Shem
(Hebrew)
Name: renown. In the bible Shem was firstnamed of Noah's three sons.
MacMurra
(Irish)
Son of Murray
Clayson
(English)
Variant of Nicholas.
Joelle
(Hebrew)
Jehovah is God
Jakeem
(Arabic)
Raised up.
Caddaric
(English)
Battle leader
Jannina
(English)
Variant of Jeannine.
Elise
(French)
Consecrated to God Abbreviation of Elisabeth.
Fraser
(Scottish)
Strawberry flowers: Of the forest men. A major Scottish clan.
Landon
(English)
From the long hill
Cheryll
(English)
Variant of the French Cherie dear one: darling. Rhyming variant of names like Meryl and Beryl: originated early twentieth century.
Winthrop
(English)
From Wine's estate
Norman
(English)
Man of the north. Surname.
Dianne
(French)
Divine. Mythological ancient Roman divinity Diana was noted for beauty and swiftness: often depicted as a huntress. Also Diana Princess of Wales.
Roland
(English)
Renowned in the land. Roland was a legendary hero who served Charlemagne.