Exotic Cat Names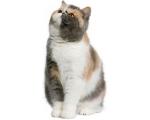 FunCatNames.com offers many Exotic cat names to choose from when naming your own cat. You can sort these Exotic cat names by gender and you can view their full meanings by clicking on the name. You may also rate the cat names that you like dislike most. Feel free to browse all our Exotic cat names and add the ones you want to save for later to your own favorites list.
Spangler
(German)
Tinsmith
Fulaton
(English)
From the people's estate
Odette
(German)
Elfin spear
Dunn
(English)
Dark skinned
Madina
(Spanish)
Woman from Magdala. Variant of Madeleine.
Zoelie
(Greek)
Alive. Alternate Spellings: Zoe, Zoelie, Zoelle, Zoel, Zoya, Zoia
Felippe
(Spanish)
Variant of Philip.
Melvon
(English)
Meaning uncertain but possibly friend of Michael.
Crosly
(English)
From the cross meadow
Kolleea
Variant for Kolee
Alburt
(English)
Noble or bright
Abequa
Stays at home (Chippewa)
Aylmer
(English)
Infamous
Rolando
(English)
Renowned in the land. Roland was a legendary hero who served Charlemagne.
Brettany
(English)
Brit. A native of England: (Britain) or France: (Brittany).
Giflet
Returns Excalibur to the lake
Dino
(English)
From the dene
Emilio
(Spanish)
Flattering
Hamlett
(German)
From the little home