Exotic Cat Names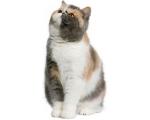 FunCatNames.com offers many Exotic cat names to choose from when naming your own cat. You can sort these Exotic cat names by gender and you can view their full meanings by clicking on the name. You may also rate the cat names that you like dislike most. Feel free to browse all our Exotic cat names and add the ones you want to save for later to your own favorites list.
Armen
(Hebrew)
High place.
Lyam
(Irish)
Form of William.
Shekinah
The visible Glory of God
Geralynn
(German)
Rules by the spear. Feminine of Gerald.
Allana
(Irish)
Dear child.
Karlesha
(German)
Womanly: strength. Feminine of Karl.
Atkinsone
(English)
Son of Aiken
Ryscford
(English)
Lives near the rush ford
Seraphina
(Hebrew)
Burning fire
Cherrelle
(French)
Variant of Cherie Dear one:darling
Erving
(English)
Friend. Variant of Irving.
Thompson
(English)
Derives from Thomas Twin.
Jeremiah
(Hebrew)
Exalted of the Lord
Hisolda
(Irish)
Irish form of Isolda
Zebediah
(Hebrew)
Gift from God
Levi
(Hebrew)
Joined. A brand of jean.