Exotic Cat Names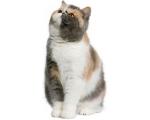 FunCatNames.com offers many Exotic cat names to choose from when naming your own cat. You can sort these Exotic cat names by gender and you can view their full meanings by clicking on the name. You may also rate the cat names that you like dislike most. Feel free to browse all our Exotic cat names and add the ones you want to save for later to your own favorites list.
Von
(German)
The prefex Von is equivalent of Van in Dutch names and of de in French names.
Mikhail
(Hebrew)
Gift from God
Mattie
(French)
Strong in war
Cyrilla
(English)
Mistress: lady. Feminine of Cyril.
MaeAdam
(Scottish)
Son of Adam
Maridith
(Celtic)
Protector of the sea.
Nikkie
(English)
Abbreviation of Nicole. Victory.
Hraefnscaga
(English)
From the raven forest
Reynald
(German)
Counselor-ruler.
Baldwin
(German)
Bold friend
Korbin
(English)
Raven-haired.
Sandor
Defender of mankind.
Drew
(English)
Abbreviation of Andrew manly.
Natania
(Hebrew)
Gift of God.
Barret
(German)
Mighty as a bear
Rand
Wolf shield. Variant of Randolph
Palmira
(Spanish)
From the city of palms