Exotic Cat Names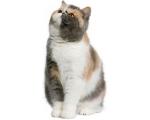 FunCatNames.com offers many Exotic cat names to choose from when naming your own cat. You can sort these Exotic cat names by gender and you can view their full meanings by clicking on the name. You may also rate the cat names that you like dislike most. Feel free to browse all our Exotic cat names and add the ones you want to save for later to your own favorites list.
Kaidan
(English)
rebel/fighter/spirit of battle
Joed
(Hebrew)
Jehovah is witness. A Biblical name.
Oakley
(English)
From the oak - tree meadow
Destrie
(English)
Variant of a French surname. American classic western film Destry Rides Again.
Alix
(French)
Variation of Alexander. Defender of mankind.
Salomeaexl
(Hebrew)
Tranquil
David
(Hebrew)
Dearly loved
Mace
(English)
A mace was a medieval weapon used by knights.
Deerward
(English)
Guardian of the deer
Illias
(Hebrew)
Jehovah is God
Chayson
(French)
Variant of Chayse or Chase. Hunter.
Torey
(Scottish)
From the craggy hills.
Merla
(French)
Blackbird.
Laverne
(French)
Woodland.