Exotic Cat Names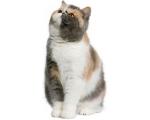 FunCatNames.com offers many Exotic cat names to choose from when naming your own cat. You can sort these Exotic cat names by gender and you can view their full meanings by clicking on the name. You may also rate the cat names that you like dislike most. Feel free to browse all our Exotic cat names and add the ones you want to save for later to your own favorites list.
Gottfried
(German)
Peaceful god
Carney
(Irish)
Victorious
Margeaux
(French)
Variant of Margaret. Pearl.
Hadwin
(English)
War friend
Alayne
(Irish)
Beautiful: Dear child.
Frimunt
(German)
Noble protector
Apollonia
(Greek)
Gift from Greek god apollo. Strong.
Lenard
(German)
Lion-bold.
Gale
(English)
Lively. Joyful. Abbreviation of Abigail. Gael is a term for descendants of the ancient Celts in Scotland: Ireland and the Isle of Man.
Lise
(Hebrew)
Devoted to God
Habib
(Hebrew)
Dearly loved
Herzeloyde
Percival's mother
Blyss
(English)
Joy: cheer. Used from medieval times.