Exotic Cat Names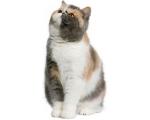 FunCatNames.com offers many Exotic cat names to choose from when naming your own cat. You can sort these Exotic cat names by gender and you can view their full meanings by clicking on the name. You may also rate the cat names that you like dislike most. Feel free to browse all our Exotic cat names and add the ones you want to save for later to your own favorites list.
Byrdene
(English)
Contemporary name meaning Little bird.
Connah
(Celtic)
Contented
Bernetta
(French)
Feminine of Bernard. St. Bernadette was canonized in 1933.
Danitza
(English)
Feminine variant of Daniel God will judge.
Ocho
(Mexican), (Spanish)
Eight
Cheney
(French)
From the oak wood
Wendall
(German)
Traveler: wanderer.
Hananel
(Hebrew)
God is gracious
Jimmy
(Hebrew)
Supplanter
Pericles
(Greek)
A man with honour
Colleem
(Irish)
A young girl.
Jessamyn
(Arabic)
A flower name from the older form Jessamine.
Kirby
(English)
Church farm.
Calvex
(English)
Shepherd
Garion
(German)
Guards: guardian.