Exotic Cat Names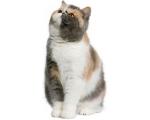 FunCatNames.com offers many Exotic cat names to choose from when naming your own cat. You can sort these Exotic cat names by gender and you can view their full meanings by clicking on the name. You may also rate the cat names that you like dislike most. Feel free to browse all our Exotic cat names and add the ones you want to save for later to your own favorites list.
Kein
(Scottish)
Ancient. Variant of Cian.
Luduvico
(German)
Famous fighter
Elbertine
(English)
Noble or glorious
Bancroft
(English)
From the bean field
Sebastien
(French)
Revered.
Margarita
(Spanish)
Pearl.
Linette
(French)
Little lion
Eskama
(Spanish)
Merciful
Moukib
(Arabic)
Last of the prophets
Caindale
(English)
From the clear river valley
Leonor
(Spanish)
Spanish form of Eleanor light
Mathers
(English)
Son of Mather
Emanuel
(Spanish)
With us is God. Variant of Hebrew name Immanuel. A biblical name-title applied to the Messiah.
Laria
(Scottish)
Serves Lawrence