Exotic Cat Names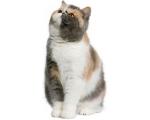 FunCatNames.com offers many Exotic cat names to choose from when naming your own cat. You can sort these Exotic cat names by gender and you can view their full meanings by clicking on the name. You may also rate the cat names that you like dislike most. Feel free to browse all our Exotic cat names and add the ones you want to save for later to your own favorites list.
Jenalee
(English)
Variation of Jenny which is a diminutive of Jane and Jennifer.
Merla
(French)
Blackbird.
Gryfflet
Killed by Lancelot
Tolan
From the taxed land
Donelle
(Irish)
Feminine form of Donal rules the world
Edmondo
(English)
Happy defender
Eldan
(English)
From the elves'valley
Kristopher
(English)
Variant of Christopher. Christ bearer.
Constanza
(Spanish)
Constant
Corri
(Irish)
Variant of Cory meaning variously - From the round hill: seething pool: ravine
Arkwright
(English)
Makes chests
Adelita
(German)
Sweet or noble
Delila
(Hebrew)
Desired. Languishing. The Biblical Delilah tempted Samson into revealing the secret of his superhuman strength.