Bengal Cat Names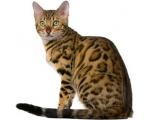 FunCatNames.com offers many Bengal cat names to choose from when naming your own cat. You can sort these Bengal cat names by gender and you can view their full meanings by clicking on the name. You may also rate the cat names that you like dislike most. Feel free to browse all our Bengal cat names and add the ones you want to save for later to your own favorites list.
Jean
(French)
Variant of John.
Arleigh
(English)
Meadow of the hare.
Harrietta
(French)
Rules the home
Meadhbh
(Irish)
Happiness or pearl
Aharman
The Evil God perpetually at war with the Good God, Ahura-Mazda or Ormuzd, the Supreme Creator as given in the Zen-davasta of the Zoroastrians.
Tunleah
(English)
From the town meadow
Mattie
(French)
Strong in war
Yaelis
(Spanish)
Combination of Joel and Yoseline. Meaning: strength of God: happy, joyful, celestial.
Johnnie
(French)
Variant of the Hebrew John Jehovah has been gracious: has shown favor.
Corley
(Irish)
Variant of Corey Hill hollow.
Maude
(French)
Strong in war
Kein
(Scottish)
Ancient. Variant of Cian.
Alistaire
(Scottish)
Variant of Alexander - defender of mankind.
Edison
(English)
Son of Edward
Aksel
(Hebrew)
Father of peace
Waldmunt
(German)
Mighty protector
Isaakios
(Hebrew)
Child of laughter
Nairne
(Scottish)
From the alder - tree river