Bengal Cat Names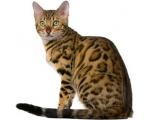 FunCatNames.com offers many Bengal cat names to choose from when naming your own cat. You can sort these Bengal cat names by gender and you can view their full meanings by clicking on the name. You may also rate the cat names that you like dislike most. Feel free to browse all our Bengal cat names and add the ones you want to save for later to your own favorites list.
Seabroc
(English)
From the brook by the sea
Jenene
(English)
Variation of Jenny which is a diminutive of Jane and Jennifer.
Stanfield
(English)
From the stony field
Loleta
(Spanish)
Feminine form of Carlos manly
Maricela
(Spanish)
Variant of Marcella Of Mars. Mars was mythological Roman god of fertility for whom the month March was named: mythologically identified with the Greek war god Ares.
Adalwine
(German)
Noble friend
Megane
(Celtic)
Soft and gentle
Loriel
(English)
Modern variant of Lora and Laurie referring to the laurel tree or sweet bay tree symbolic of honor and victory.
Heather
(English)
A flowering evergreen plant that thrives on peaty barren lands as in Scotland. Heather
Zehira
(Hebrew)
Protected
Duvessa
(Irish)
Dark beauty
Yehoshua
(Hebrew)
God's help
Curtis
(French)
Courteous
Kasimira
Command for peace