Bengal Cat Names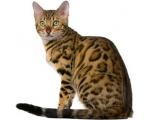 FunCatNames.com offers many Bengal cat names to choose from when naming your own cat. You can sort these Bengal cat names by gender and you can view their full meanings by clicking on the name. You may also rate the cat names that you like dislike most. Feel free to browse all our Bengal cat names and add the ones you want to save for later to your own favorites list.
Trisa
(English)
Abbreviation of Patricia noble.
Amalur
(Arabic), (Spanish)
Homeland
Wyndham
(English)
From the windy viIlage
Mercia
(English)
From Mercia: Compassion: forbearance.
Beaton
(English)
From the warrior's estate
Isham
(English)
From the iron one's estate
Charlette
(French)
Feminine of Charles meaning manly
Heardwine
(English)
Brave friend
Perceval
(English)
Valley piercer
Glen
(Celtic)
From the valley
Joleigh
(French)
Cheerful: pretty.
Whitby
(English)
From the white farm
Marvin
(Celtic)
Lives by the sea
Jayden
(English)
Heard by God.
Viviane
The Lady of the Lake
Lynessa
(English)
Variant of ancient Welsh given name. In Arthurian legend Lynette accompanied Sir Gareth on a knightly quest.
Hannah
(Hebrew)
Favor: grace. Biblical mother of the prophet Samuel.
Fitzhugh
(English)
Son of Hugh