Bengal Cat Names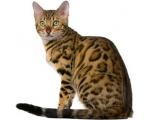 FunCatNames.com offers many Bengal cat names to choose from when naming your own cat. You can sort these Bengal cat names by gender and you can view their full meanings by clicking on the name. You may also rate the cat names that you like dislike most. Feel free to browse all our Bengal cat names and add the ones you want to save for later to your own favorites list.
Katherine
(English)
Pure. Used since third century A.D. Early Latin forms Katerina and Caterina became Katharine and Catherine. French Cateline and English Catlyn came into wider use during medieval period when variants multiplied.
Hardwin
(English)
Brave friend
Derry
(Irish)
Oak grove. Surname.
Lorette
(English)
Diminutive of Laura or Lora referring to the laurel tree or sweet bay tree symbolic of honor and victory.
Haele
(English)
Lives in the hall
Bemadette
(German)
Has the courage of a bear
Rufford
(English)
From the red ford
Fireworks
(English)
Colorful explosives
ScIymgeour
(Scottish)
Fighter
Dervin
(English)
Gifted friend.
Marilynn
(English)
Blend of Marie or Mary and Lyn.
Pranay
(Indian)
Innocent Love
Fat Albert
Character from cartoon produced by Bill Cosby
Graeme
(English)
Farm home.
Lia
(Spanish)
Is an abbreviation of names like Amalia: (hard working:industrious) and Rosalia: (Rose).