Bengal Cat Names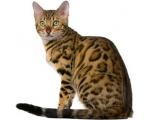 FunCatNames.com offers many Bengal cat names to choose from when naming your own cat. You can sort these Bengal cat names by gender and you can view their full meanings by clicking on the name. You may also rate the cat names that you like dislike most. Feel free to browse all our Bengal cat names and add the ones you want to save for later to your own favorites list.
Marleen
(German)
Variant of Madeline Woman from Magdala.
Blaecleah
(English)
From the dark meadow
Dyre
A dear or precious one.
Rickey
(English)
Abbreviation of Richard powerful: strong ruler.
Amy
(French)
Dearly loved: Beloved.
Michaela
(English)
Feminine of Michael gift from God.
Beverly
(English)
Woman from the beaver meadow. Beaver stream.
Vern
(English)
Surname related to Vernon alder tree grove. Also used as abbreviations of Vernon or Lavern.
MAYYADAH
(Arabic)
TO WALK WITH A STRAIGHT GAIT.(OTHER WORDS TO WALK WITH PERFECTION)
Jordell
(Hebrew)
Variant of Hebrew Jordan down flowing.
Cadha
(Scottish)
From the steep place
Athena
(Greek)
Greek goddess of wisdom and war.
Snowden
(English)
From the snowy hill
Taylor
(English)
Tailor. Surname.
Jilliann
(English)
Jove's child. Variant of Gillian from the masculine Julian.