Bengal Cat Names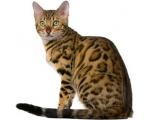 FunCatNames.com offers many Bengal cat names to choose from when naming your own cat. You can sort these Bengal cat names by gender and you can view their full meanings by clicking on the name. You may also rate the cat names that you like dislike most. Feel free to browse all our Bengal cat names and add the ones you want to save for later to your own favorites list.
Kassie
(English)
Abbreviation of Cassandra. Unheeded prophetess. In Homer's The Iliad Cassandra's prediction of the fall of Troy was unheeded.
Clust
(Celtic)
Mythical son of Clustfeinad
Lizann
(English)
Modern blend of Liz and Ann.
Fitz Hugh
(English)
Son of Hugh
Rowan
(Irish)
Red haired Surname.
Kilala
(Japanese)
One with the cats
Bernadea
(French)
Feminine of Bernard. St. Bernadette was canonized in 1933.
Caelan
(Celtic)
Victorious people.
Celyddon
(Celtic)
Mythical father of Culhwch
Nolyn
(Irish)
Renowned: noble.
Krystine
(English)
Variant of Christine. Christian.
Medwin
(English)
Strong friend
Louis
(English)
Form of Lawrence.
Elswyth
Elf from the willow trees
Warfield
(English)
From the field by the weir
Noelene
(English)
Feminine pet form of NOEL
MacMurra
(Irish)
Son of Murray