Bengal Cat Names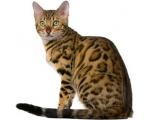 FunCatNames.com offers many Bengal cat names to choose from when naming your own cat. You can sort these Bengal cat names by gender and you can view their full meanings by clicking on the name. You may also rate the cat names that you like dislike most. Feel free to browse all our Bengal cat names and add the ones you want to save for later to your own favorites list.
Avah
(English)
Variant of medieval given names Avis and Aveline
Mitchel
(Irish)
Form of Michael Who is like God?
Shelly
From the ledge meadow
Hillock
(English)
From the small hill
Tohy
(Hebrew)
Goodness of God
Terrill
(German)
Powerful.
Chas chunk a
Wave (Winnebago)
Tamryn
(Hebrew)
Palm tree. Variant of Tamar. Biblical Tamara was daughter of King David and sister to Absalom.
Holbrook
(English)
From the brook
Cary
(Irish)
Of the dark ones.
Adelina
(German)
Sweet or noble
Jorja
(English)
Modern phonetic variant of Georgia.
Elke
(German)
Noble. Variant of Alice.
Jerron
(English)
Modern variant of Israeli Jaron cry of rejoicing.
Karoly
(French)
Joyful song
Radeliffe
(English)
From the red cliff
Fahey
(Irish)
From the green field