Bengal Cat Names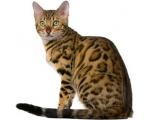 FunCatNames.com offers many Bengal cat names to choose from when naming your own cat. You can sort these Bengal cat names by gender and you can view their full meanings by clicking on the name. You may also rate the cat names that you like dislike most. Feel free to browse all our Bengal cat names and add the ones you want to save for later to your own favorites list.
Howie
(English)
Nichname for Howard noble watchman.
Gwenaelle
(French)
Blessed and generous.
Jazzalyn
(English)
Modern variant of Jasmine: combination of Jocelyn and the musical term jazz.
Norman
(English)
Man of the north. Surname.
Blar
(Irish)
From the fields
Brigidia
(Spanish)
Spanish form of Bridget strong
Maggi
(English)
Abbreviation of Margaret. A pearl.
Diahna
(French)
Divine. Mythological ancient Roman divinity Diana was noted for beauty and swiftness: often depicted as a huntress. Also Diana Princess of Wales.
Patric
(French)
Patrician: noble. Form of Patrick.
Truesdell
(English)
From the beloved one's farm
Sylvana
(English)
Variant of Latin Sylvia from the forest.
Chanel
(French)
canal: channel. The popular perfume Chanel
Kaycee
(English)
Modern Kacie and variants are phonetic forms of the initials K.C. or variants of the Irish name Casey alert: vigorous.
Idetta
(German)
Hard working
Talbot
(English)
Variant of Tal tall. Surname.
Johann
(German)
Variant of the Hebrew John Jehovah has been gracious: has shown favor.