Bengal Cat Names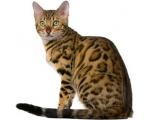 FunCatNames.com offers many Bengal cat names to choose from when naming your own cat. You can sort these Bengal cat names by gender and you can view their full meanings by clicking on the name. You may also rate the cat names that you like dislike most. Feel free to browse all our Bengal cat names and add the ones you want to save for later to your own favorites list.
Delmer
(French)
Mariner Of the sea.
Erroll
(German)
Earl: nobleman.
Adny
(English)
Lives on the noble's island
Isold
(German)
Rule of ice
Bilagaana
White person (Navajo)
Halburt
(English)
Brilliant hero
Ardel
(English)
Eager. Industrious.
Austen
(English)
Variant of Augustine.
Rob
(French)
Abbreviation of Robert Famed: bright: shining.
Buckley
(English)
Variant of Buck: male goat or deer.
Jansen
(German)
Variant of the Hebrew John Jehovah has been gracious: has shown favor.
Elishama
(Hebrew)
God hears
Atherton
(English)
Lives at the spring farm
Eveleen
(Irish)
Irish form of Evelina giver of life
Lorelei
(German)
Temptress: A rocky cliff on the Rhine river dangerous to boat passage: the Lorelei whose singing lures men to destruction.
Urbano
(Spanish)
From the city
Bryce
(Scottish)
Speckled: Surname form of Brice.
Pierson
(Irish)
Form of Piers from Peter.