Bengal Cat Names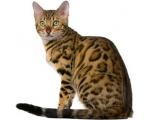 FunCatNames.com offers many Bengal cat names to choose from when naming your own cat. You can sort these Bengal cat names by gender and you can view their full meanings by clicking on the name. You may also rate the cat names that you like dislike most. Feel free to browse all our Bengal cat names and add the ones you want to save for later to your own favorites list.
Jaryl
(English)
Blend of Jar and Darell. See also Jerrell.
Onslow
(English)
From the zealous one's hill
Maddalene
(German)
Magnificent
Eadwyn
(English)
Wealthy friend
Tibault
(French)
Rule of the peop]e
Orland
(Spanish)
Renowned in the land. Form of Roland.
Candyce
(English)
Candace was an ancient hereditary title used by Ethiopian queens.
Andie
(English)
Feminine of Andrea.
Zechariah
(Hebrew)
Jehovah has remembered.
Jaleel
(Arabic)
Greatness: Godlike
Avelyn
(English)
Variant of medieval given names Avis and Aveline
Kamiko
(Japanese)
Paper Girl
Hweolere
(English)
Wheel maker
Bodicea
A queen of the Iceni Victory
Garnett
(English)
Armed with a spear
Timmy
(English)
Variant of Timothy one who honors God.