Bengal Cat Names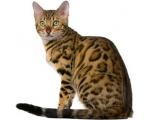 FunCatNames.com offers many Bengal cat names to choose from when naming your own cat. You can sort these Bengal cat names by gender and you can view their full meanings by clicking on the name. You may also rate the cat names that you like dislike most. Feel free to browse all our Bengal cat names and add the ones you want to save for later to your own favorites list.
Lailie
(Hebrew)
Nightfall
Thressa
(German)
Variant of Therese.
Conall
(Celtic)
Strong in battle High: mighty.
Ramirez
(Spanish)
Judicious
Abbott
(English), (Hebrew)
Father
MacMurra
(Irish)
Son of Murray
Cace
(Irish)
Variant of Casey Alert: vigorous.
Magda
(German)
Maiden: Abbreviation of Magdalena.Woman from Magdala. Reference to Biblical Mary Magdalene.
Bradan
(English)
From the broad valley
Brochan
(Scottish)
Broken
Maitena
(English)
Dearly loved
Barrie
(French)
Lives at the barrier
Coletta
(French)
Victorious. Variant of Nicolette.
Louredes
(Spanish)
Reference to the Virgin Mary
Blayze
(French)
Lisp: stutter. Blaise Pascal was a brilliant seventeenth century child prodigy: mathematician: scientist and philosopher who invented the calculating machine and hydraulic press before dying at age thirty-nine.
Tiladene
(English)
From the fertile valley
Sapphire
(Hebrew)
Beautiful
Jerod
(English)
Variant of Garrett rules by the spear.