Bengal Cat Names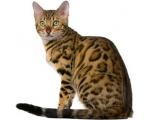 FunCatNames.com offers many Bengal cat names to choose from when naming your own cat. You can sort these Bengal cat names by gender and you can view their full meanings by clicking on the name. You may also rate the cat names that you like dislike most. Feel free to browse all our Bengal cat names and add the ones you want to save for later to your own favorites list.
Willie
(English)
Resolute: will Abbreviation of names beginning with Will-
Lucrece
(French)
From the Latin Lucretia Historically a Roman matron who committed suicide as a public protest against dishonor: from the Renaissance era - Lucrezia Borgia who was sister to Cesare Borgia.
Darerca
(Irish)
Name of a saint
Lenard
(German)
Lion-bold.
Rozomund
(German)
Noted protector
Avilon
Arthur's burial place
Wikvaya
One who brings (Hopi)
Safford
(English)
From the willow ford
Gavrila
(Hebrew)
God gives strength
Mace
(English)
A mace was a medieval weapon used by knights.
Trevonn
(English)
Fair town. Abbreviation of Trevelyan.
Lindberg
(German)
From the linden tree hill
Fudge
A chocolate confection.
Englbehrt
(German)
Bright angel
Diamond
(English)
Of high value: brilliant. The precious diamond stone.
Esmond
(English)
Protected by God