Bengal Cat Names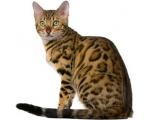 FunCatNames.com offers many Bengal cat names to choose from when naming your own cat. You can sort these Bengal cat names by gender and you can view their full meanings by clicking on the name. You may also rate the cat names that you like dislike most. Feel free to browse all our Bengal cat names and add the ones you want to save for later to your own favorites list.
Brandee
(English)
Variation of the beverage brandy used as a given name.
Ida
(English)
Diligent. A Greek mythological nymph who cared for the infant Zeus on Mt. Ida.
Kylie
(Australian)
Boomerang. Feminine form of Kyle.
Laria
(Scottish)
Serves Lawrence
Beaton
(English)
From the warrior's estate
Dewey
(English)
Place-name and surname: Welsh form of David.
Nainsi
(Irish)
Irish form of Nancy graceful
Toby
(English)
Abbreviation of the Hebrew name Tobiah meaning Jah is good.
Varden
(Celtic)
From the green hill
Amberlee
(English)
A jewel-quality fossilized resin: as a color the name refers to a warm honey shade.
Corrissa
(English)
Maiden.
Danel
(Hebrew)
God will judge
Damiean
(English)
Calm and tame.
Channing
(English)
young wolf.
Yerik
(Hebrew)
Appointed by God
Hillock
(English)
From the small hill
Lucila
(Spanish)
Diminutive form of Lucia light: illumination.