Bengal Cat Names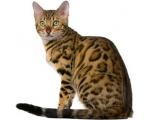 FunCatNames.com offers many Bengal cat names to choose from when naming your own cat. You can sort these Bengal cat names by gender and you can view their full meanings by clicking on the name. You may also rate the cat names that you like dislike most. Feel free to browse all our Bengal cat names and add the ones you want to save for later to your own favorites list.
Kylie
(Australian)
Boomerang. Feminine form of Kyle.
Lilibet
(English)
Blend of Lily: (the flower: innocence: purity: beauty) and Elizabeth: (My God is bountiful:God of plenty.)
Bryanne
(English)
She ascends. Feminine of Brian.
Michele
(Hebrew)
Gift from God
Heloise
(French)
French form of Louise
Iratze
(Spanish)
Reference to the Virgin Mary
Goodwyn
(English)
Good friend
Tibault
(French)
Rule of the peop]e
Delisha
(English)
Variant of Latin Delicia meaning Gives pleasure.
Jamieson
(Scottish)
Variant of Jacob Supplanter.
Elivina
(English)
Good elf
Ramzey
(Scottish)
Ram's island.
Dianne
(French)
Divine. Mythological ancient Roman divinity Diana was noted for beauty and swiftness: often depicted as a huntress. Also Diana Princess of Wales.
Dallas
(Scottish)
From the waterfall
Courtenay
(French)
Courtier: court attendant.
Hanraoi
(Irish)
Rules the home
Orlan
(German)
Renowned in the land. Form of Roland.