Bengal Cat Names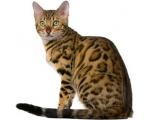 FunCatNames.com offers many Bengal cat names to choose from when naming your own cat. You can sort these Bengal cat names by gender and you can view their full meanings by clicking on the name. You may also rate the cat names that you like dislike most. Feel free to browse all our Bengal cat names and add the ones you want to save for later to your own favorites list.
Ailsa
(Hebrew)
Devoted to God
Two Ton Tessy
Nickname given to Tessie O'Shea because of her size.
Amd
(German)
Power of an eagle
Nyke
(Greek)
Victory, speed, and trimuph.
Sankalp
(Indian)
Taking a pledge. related to worship
Kierstyn
Variant of Christina, Cristina, Krystina.
Ilasha
Gental,Sensitive,Kind,Loving
Tab
(English)
Drummer: Abbreviation of Tabor. The biblical Mt. Tabor is a landmark mountain near Nazareth.
Sadler
Life will go on and on. Open-minded.
Dervin
(English)
Gifted friend.
Cherise
(English)
Blend of Cherie and Cerise. Dear one: darling
Teri
(English)
Abbreviation of Teresa which is a popular saint's name of uncertain meaning.
Keriann
(Irish)
Dusky: dark.
Gaby
(English)
Variant of Gabriela. God's able-bodied one.
Hernandez
(Spanish)
Adventurous. Variant of Ferdinand.
Lionel
(French)
Young lion.