Bengal Cat Names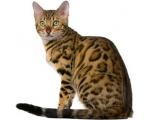 FunCatNames.com offers many Bengal cat names to choose from when naming your own cat. You can sort these Bengal cat names by gender and you can view their full meanings by clicking on the name. You may also rate the cat names that you like dislike most. Feel free to browse all our Bengal cat names and add the ones you want to save for later to your own favorites list.
Reeford
(English)
Surname. The medieval castle or landholding reeve oversaw all feudal obligations.
Kirk
(Scottish)
From the church
Valerie
(English)
Strong: valiant. Feminine of the Roman family clan name Valerius.
Keiji
(Japanese)
Cautious ruler.
Myeshia
(Arabic)
Woman: life. Variant of Aisha.
Landon
(English)
From the long hill
Weardleah
(English)
From the guardian's meadow
Caellum
(Celtic)
Brave Warrior
Aine
(Celtic)
Fire or joy
Lisabeth
(English)
Abbreviation of Elizabeth.
Cecelia
Blind. Famous bearer: The blind St. Cecilie, patron saint of music, was a talented musician.
Cundry
Woman who condemns Percival
MacPherson
(Scottish)
Son of the parson
Gildas
(Celtic)
Serves God