Bengal Cat Names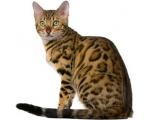 FunCatNames.com offers many Bengal cat names to choose from when naming your own cat. You can sort these Bengal cat names by gender and you can view their full meanings by clicking on the name. You may also rate the cat names that you like dislike most. Feel free to browse all our Bengal cat names and add the ones you want to save for later to your own favorites list.
Sealey
(English)
From the happy meadow
Jory
(Hebrew)
God will uplift
Kamdyn
(Scottish)
Valley.
Ocelfa
(English)
From the high plain
Iratze
(Spanish)
Reference to the Virgin Mary
Myleen
(English)
Merciful. Feminine of Myles.
Mace
(English)
A mace was a medieval weapon used by knights.
Celesse
(French)
Heavenly.
Magdalene
(Hebrew)
From the tower
Darroll
(French)
Variant of Darrel open.
Evangeline
(Greek)
Bearer of good news.
Bettine
(Hebrew)
Devoted to God
Naalyehe ya sidahi
Trader (Navajo)
Vedika
(Arabic)
Consciousness, Altar: a river in India.
Gerrard
(German)
Spear strong. See also Jerard.
Byme
(Irish)
Bear: brown.
Tremaine
(English)
From the big town.