Bengal Cat Names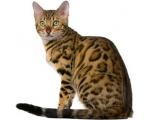 FunCatNames.com offers many Bengal cat names to choose from when naming your own cat. You can sort these Bengal cat names by gender and you can view their full meanings by clicking on the name. You may also rate the cat names that you like dislike most. Feel free to browse all our Bengal cat names and add the ones you want to save for later to your own favorites list.
Porter
(French)
Gatekeeper
Camden
From the winding valley
Scannalan
(Irish)
Scandal
Thressa
(German)
Variant of Therese.
Thorn
(English)
Town of thorns. Thornton variant. Surname.
Roger
(English)
Renowned spearman. Rogelio: (Spanish) Renowned spearman.
Izaan
(Arabic)
Obedience.
Maddy-Rose
Quest and beautiful.
Dantina
(English)
Feminine variant of Daniel God will judge.
Ravin
Alternate Spelling: Raven.
Georgia
(German)
Farmer. Feminine of George.
Roland
(English)
Renowned in the land. Roland was a legendary hero who served Charlemagne.
Yago
(Spanish)
Supplanter
EIlis
(Hebrew)
Jehovah is God
Rourke
(Irish)
An ancient given name adopted as an Irish clan name. Surname.