Bengal Cat Names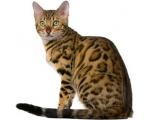 FunCatNames.com offers many Bengal cat names to choose from when naming your own cat. You can sort these Bengal cat names by gender and you can view their full meanings by clicking on the name. You may also rate the cat names that you like dislike most. Feel free to browse all our Bengal cat names and add the ones you want to save for later to your own favorites list.
Lander
(English)
From the grassy plain
IyiOluwa
(African)
The honor of the Lord of the universe
Cleveland
(English)
From the cliff land
Shamus
(Irish)
Supplanter
Bobbie
(English)
Abbreviation of Robert.
Maralyn
(English)
Blend of Marie or Mary and Lyn.
Orran
(English)
The name of an English river.
Watelford
(English)
From the hurdle ford
Lir
(Celtic)
A mythical king
Randel
(English)
Variants of Randolph Wolf's shield. Surname.
Ballindeny
(Irish)
From the town of oak wood
Picford
(English)
From the woodcutter's ford
Ocelfa
(English)
From the high plain
Jorge
(Spanish)
Spanish form of George farmer
EIlis
(Hebrew)
Jehovah is God