Bengal Cat Names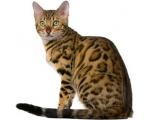 FunCatNames.com offers many Bengal cat names to choose from when naming your own cat. You can sort these Bengal cat names by gender and you can view their full meanings by clicking on the name. You may also rate the cat names that you like dislike most. Feel free to browse all our Bengal cat names and add the ones you want to save for later to your own favorites list.
Christofor
(French)
With Christ inside.
Romhilda
(German)
Glorious battle maiden
Baylie
(English)
Courtyard within castle walls: steward or public official. Surname or given name.
Gerdie
(German)
Protected
Kennedy
(Scottish)
Ugly head
Kailynne
(English)
Variant of Kay and Kayla. keeper of the keys: pure.
Calvex
(English)
Shepherd
Avivi
(Hebrew)
Innocent: Springtime.
Muhammed
(Arabic)
Variant used for Mohammad - founder of Islamic religion. praiseworthy: glorified.
Marilynn
(English)
Blend of Marie or Mary and Lyn.
Charion
Unique and desirable.
Danitza
(English)
Feminine variant of Daniel God will judge.
Sirena
(Greek)
A sweet singer or siren
Bradon
(Irish)
Broad hillside.
Bonnibelle
(Scottish)
From the French bon meaning good. In Scottish usage bonnie means pretty or charming.
Porter
(French)
Gatekeeper