Bengal Cat Names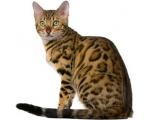 FunCatNames.com offers many Bengal cat names to choose from when naming your own cat. You can sort these Bengal cat names by gender and you can view their full meanings by clicking on the name. You may also rate the cat names that you like dislike most. Feel free to browse all our Bengal cat names and add the ones you want to save for later to your own favorites list.
Jaye
(English)
Variant of names like Jason and Jacob.
Walbrydge
(English)
From the Welshman's bridge
Fe Fe
Fe Fe means feline in Cuba.
Hanraoi
(Irish)
Rules the home
Harmen
(French)
Variant of Herman.
Stephenie
(English)
Variant of Stephanie, which is the feminine form of Stephen. From the Greek name Stephanos which means crown.
Campbell
(Scottish)
Crooked mouth
Tabitha
(Hebrew)
beauty, grace From the Aramaic word for Gazelle. Biblical - Tabitha of the New Testament (Acts 9:36) was noted for good works.
Darcy
(French)
From Arcy Dark.
Ross
(German)
Red. Surname.
Atique
Old valuable thing. Variant of Antique.
Terrell
(German)
Powerful.
Harrell
(Hebrew)
Mountain of God
Bothan
(Scottish)
From the stone house