Bengal Cat Names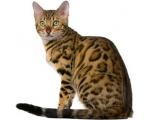 FunCatNames.com offers many Bengal cat names to choose from when naming your own cat. You can sort these Bengal cat names by gender and you can view their full meanings by clicking on the name. You may also rate the cat names that you like dislike most. Feel free to browse all our Bengal cat names and add the ones you want to save for later to your own favorites list.
Bredbeddle
The Green Knight
Eveleen
(Irish)
Irish form of Evelina giver of life
Sid
(French)
Variant of Sidney from St. Denis
Carmel
(Celtic)
From the vinyard
Miller
(English)
One who grinds grain. Occupational surname.
Cullen
(Irish)
Good-looking lad. Surname.
Nate
(Hebrew)
Given. Form of Nathan.
Montie
(English)
Mountain. Abbreviation of Montague and Montgomery.
Rabah
(Hebrew)
Fourth born
Delisha
(English)
Variant of Latin Delicia meaning Gives pleasure.
Aahan
(Indian)
Dawn / Morning
Somerton
(English)
From the summer estate
Huette
(English)
Little Hugh
Abramo
(Hebrew)
Father of a multitude