Bengal Cat Names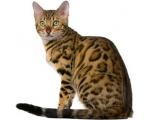 FunCatNames.com offers many Bengal cat names to choose from when naming your own cat. You can sort these Bengal cat names by gender and you can view their full meanings by clicking on the name. You may also rate the cat names that you like dislike most. Feel free to browse all our Bengal cat names and add the ones you want to save for later to your own favorites list.
Nareen
(Celtic)
Contented.
Brigham
(English)
Bridge.
Garabine
(Spanish)
Purification
Jaliyiah
Sweet and loving.
Otto
(German)
Born eighth or wealthy
Maelisa
(Irish)
Serves Christ
Hodsone
(English)
Son of the hooded man
Adalicia
(French), (German)
Of the nobility. Noble.
Tab
(English)
Drummer: Abbreviation of Tabor. The biblical Mt. Tabor is a landmark mountain near Nazareth.
Nerthus
Name of a goddess
Thurlow
(English)
From Thor's hill
Konrad
(German)
Bold adviser.
Valicia
Combination of Val and Alicia.
Nicole
Victory of the people
Niko
(English)
Abbreviation of Nicholas. Mythological Nike was Greek goddess of victory and root origin of Nicholas.