Bengal Cat Names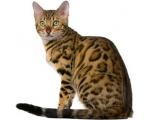 FunCatNames.com offers many Bengal cat names to choose from when naming your own cat. You can sort these Bengal cat names by gender and you can view their full meanings by clicking on the name. You may also rate the cat names that you like dislike most. Feel free to browse all our Bengal cat names and add the ones you want to save for later to your own favorites list.
Cassie
(English)
Abbreviation of Cassandra. Unheeded prophetess. In Homer's The Iliad Cassandra's prediction of the fall of Troy was unheeded.
Willard
(German)
Bold: resolute.
Darryll
(English)
Variations of Daryl meaning Dearly loved.
Ordland
(English)
From the pointed hill
Dougal
(Celtic)
Dark stranger
Chatwin
(English)
Warring friend
Alvyn
(English)
Wise friend.
Serihilde
(German)
Armored battle maiden
Monte
(English)
From the wealthy man's mountain
Darissa
(Hebrew)
Wise. Dara was a biblical descendant of Judah known for his wisdom.
Farren
(English)
Adventurous.
Adriene
(French)
From Adria the Adriatic sea region. Also means dark.