Bengal Cat Names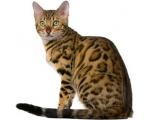 FunCatNames.com offers many Bengal cat names to choose from when naming your own cat. You can sort these Bengal cat names by gender and you can view their full meanings by clicking on the name. You may also rate the cat names that you like dislike most. Feel free to browse all our Bengal cat names and add the ones you want to save for later to your own favorites list.
Keiji
(Japanese)
Cautious ruler.
Cingeswiella
(English)
Lives at the king's spring
Broderick
(Scottish)
Brother.
Thorn
(English)
Town of thorns. Thornton variant. Surname.
Bryleigh
Gracious and strong.
Earwyn
(English)
Friend of the sea
Valerie
(English)
Strong: valiant. Feminine of the Roman family clan name Valerius.
Breac
(Scottish)
Speckled
Brady
(English)
From tbe broad island
Tabor
(Hebrew)
In the bible Mt. Tabor is a landmark mountain near Nazareth.
Edina
(English)
Wealthy friend
Washburn
(English)
From the flooding brook
Torence
(Scottish)
Variant of Torrence From the craggy hills. Tor is a name for a craggy hilltop and also may refer to a watchtower.