Bengal Cat Names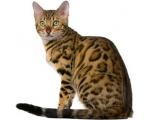 FunCatNames.com offers many Bengal cat names to choose from when naming your own cat. You can sort these Bengal cat names by gender and you can view their full meanings by clicking on the name. You may also rate the cat names that you like dislike most. Feel free to browse all our Bengal cat names and add the ones you want to save for later to your own favorites list.
Dervin
(English)
Gifted friend.
Ronell
(English)
Rules with counsel. Form of Ronald from Reynold.
Jarrett
(English)
Spear strong. Surname. Variant of Garrett.
Brittni
(English)
Originally the ancient duchy of Bretagne in France. Celtic Bretons emigrated from France to become the Bretons of England.
Brennon
(Irish)
Prince. Variant of Brendan.
Eowyn
Name of a character in J.R.R. Tolkien's Lord of the rings, The Two Towers.
Audie
(English)
Noble strength
Torrey
(English)
Derived from Victoria triumphant or the craggy hills.
Sikyahonaw
Yellow bear (Hopi)
Vareck
(English)
From the fortress
Telford
(French)
Works in iron
Rorke
(Irish)
Famous ruler
Tyrese
(African)
Talented leader of the well being.
Colemann
(English)
Dark skinned