Bengal Cat Names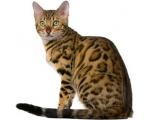 FunCatNames.com offers many Bengal cat names to choose from when naming your own cat. You can sort these Bengal cat names by gender and you can view their full meanings by clicking on the name. You may also rate the cat names that you like dislike most. Feel free to browse all our Bengal cat names and add the ones you want to save for later to your own favorites list.
Dace
(French)
Of the nobility.
Jayar
(English)
Phonetic name based on initials.
Chriselda
(German)
Strong
Terry
(English)
Abbreviation of Terrance and Terrell. Terry is also an Anglicized phonetic form of the French given name Thierry from an older Germanic name meaning powerful: ruler of the people.
Starbuck
(English)
Star deer
Willhard
(English)
Resolute or brave
Rangford
(English)
From the raven's ford
Sawyer
(English)
Saws wood
Bubba
(English)
Nickname often given to brothers.
Rosalinde
(Spanish)
Beautiful
Schaeffer
(German)
Steward.
Alarica
(German)
All ruler
Brendon
(Irish)
Prince. Variant of Brendan.
Kiarad
Generous king, the king of the hidden paradise.