Bengal Cat Names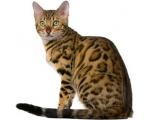 FunCatNames.com offers many Bengal cat names to choose from when naming your own cat. You can sort these Bengal cat names by gender and you can view their full meanings by clicking on the name. You may also rate the cat names that you like dislike most. Feel free to browse all our Bengal cat names and add the ones you want to save for later to your own favorites list.
Kadi
(English)
Rhyming variant of Katy or Cady.
Ardel
(English)
Eager. Industrious.
Suzanna
(English)
Lily. In the apocryphal Book of Tobit Susannah courageously defended herself against wrongful accusation. White lilies grew in the Biblical city of Susa in Persia.
Denver
(French)
Variant of the surname Danvers meaning from Anvers. Capital city of the state of Colorado in the USA.
Hrypanleah
(English)
From the shouter's meadow
Tevin
(Scottish)
Variant of Thomas twin.
Kord
(English)
Cordmaker. Surname.
Jamieson
(Scottish)
Variant of Jacob Supplanter.
Giselmaere
(English)
Famous hostage
Earric
(English)
Powerful
Amiera
(Arabic)
Princess, leader.
Raoul
(French)
Form of Ralph wolf counsel.
Madelhari
(German)
War counselor
Hilda
(German)
Noble: Warfare. In Scandinavian mythology Hildegard was a Valkyrie sent by Odin to escort battle heroes to Valhalla.
Madelena
(English)
Woman from Magdala. Variant of Madeleine. Madeleine: (English/French) Woman from Magdala.