Bengal Cat Names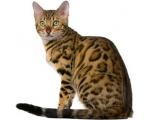 FunCatNames.com offers many Bengal cat names to choose from when naming your own cat. You can sort these Bengal cat names by gender and you can view their full meanings by clicking on the name. You may also rate the cat names that you like dislike most. Feel free to browse all our Bengal cat names and add the ones you want to save for later to your own favorites list.
Finella
(Irish)
White shouldered
Zain
(English)
Variant of Zane or John.
Big Bertha
Comic book character. Large gun.
Roddric
(German)
Variant of Roderick famous ruler.
Tiesha
(English)
Abbreviation of Leticia or Latisha.
Deana
(English)
From the valley. Variant of Diana meaning divine.
Tristen
(English)
Tumult: outcry. From the Celtic name Tristan. In Arthurian legend Tristan was a Knight of the Round Table and tragic hero of the medieval tale Tristram and Isolde.
Maheloas
Lord of the Isle of Glass
Els
(Hebrew)
Devoted to God
Willie
(English)
Resolute: will Abbreviation of names beginning with Will-
Mehetabel
(Hebrew)
God's favor
Rosalinde
(Spanish)
Beautiful
Hobard
(German)
High or bright
Jasmin
(Arabic)
A flower name from the older form Jessamine.