Bengal Cat Names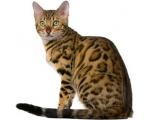 FunCatNames.com offers many Bengal cat names to choose from when naming your own cat. You can sort these Bengal cat names by gender and you can view their full meanings by clicking on the name. You may also rate the cat names that you like dislike most. Feel free to browse all our Bengal cat names and add the ones you want to save for later to your own favorites list.
Flair
(English)
Style: verve.
Sabirah
(Arabic)
Of great patience
Keaira
(Celtic)
Little dark one
Galahalt
Name of a prince
Maethelwine
(English)
Council friend
Churchill
(English)
Lives at the church hill
Britney
(English)
Originally the ancient duchy of Bretagne in France. Celtic Bretons emigrated from France to become the Bretons of England.
Bartlett
(French)
Ploughman
Mignonette
(French)
Delicate
Trisa
(English)
Abbreviation of Patricia noble.
Kinleigh
(English)
Kings meadow.
Isold
(German)
Rule of ice
Tosha
(English)
Abbreviation of Natasha - the Russian form of the English Natalie Born at Christmas.