Cat Names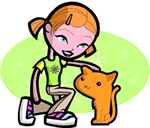 We offer 1,000's of cat names to help you choose the perfect one. Feel free to browse our unique cat names and when you find one you like you can add it to your favorites list to view later. If you have any cute cat names suggestions, please let us know. Enjoy!
Elke
(German)
Noble. Variant of Alice.
Deorward
(English)
Guardian of the deer
Tobiah
(English)
Jah is good.
Baylie
(English)
Courtyard within castle walls: steward or public official. Surname or given name.
Cibil
(English)
Variant of Sibyl: In Greek mythology a name for prophetess or fortune-teller.
Ramirez
(Spanish)
Judicious
Shaine
(Irish)
Variant of Shaun from John.
Sandy
(Scottish)
Abbreviation of Alexander defender of man.
Karren
(English)
Abbreviation of Katherine. Pure.
Guiseppie
(Hebrew)
He shall add
Bartoli
(Spanish)
Ploughman
Florence
(English)
Flowering.
Genevieve
(German)
Of the race of women. White wave