Cat Names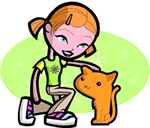 We offer 1,000's of cat names to help you choose the perfect one. Feel free to browse our unique cat names and when you find one you like you can add it to your favorites list to view later. If you have any cute cat names suggestions, please let us know. Enjoy!
Jocelynn
(English)
Medieval male name adopted as a feminine name.
Charlene
(English)
Feminine variant of Charles meaning manly
Jessie
(Hebrew)
Wealthy: Variant of Jesse Jehovah exists.
Amayah
(Japanese)
Night rain.
Faelen
(Irish)
Faelen is irish gaelic and means wolf
Tucker
(English)
Tucker of doth
Mollie
(English)
From the Gaelic Maili which is a pet form of Mary bitter.
Wielladun
(English)
From the spring hill
Arregaithel
(Scottish)
From the land of the Gauls
Kailan
(English)
Variant of Kay and Kayla. keeper of the keys: pure.
Ahote
Restless one (Hopi)
Skye
(English)
Refers to the Scottish Isle of Skye: a nature name referring to the sky.
Snowden
(English)
From the snowy hill
Eward
(German)
Strong as a boar
Ailsa
(Hebrew)
Devoted to God
Mettabel
(Hebrew)
God's favor