Cat Names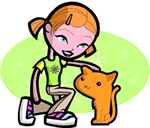 We offer 1,000's of cat names to help you choose the perfect one. Feel free to browse our unique cat names and when you find one you like you can add it to your favorites list to view later. If you have any cute cat names suggestions, please let us know. Enjoy!
Tipper
(Irish)
Nickname and variant of the Irish name Tabar meaning a well.
Jonni
(English)
Modern feminine of John and Jon.
Milosh
Glad, Pleasant, Sweet, Happy, Nice, Dear, Charming, Brings Happiness. The person everyone is glad to see.
Gherardo
(English)
Spear hard
Boudicea
A queen of the Iceni Victory
Coretta
(French)
Little maiden
Hilde
(English)
Battle maid
Shawn
(Irish)
Variant of John from Sean.
Delmon
(French)
Of the mountain.
Suthfeld
(English)
From the south field
Alastriona
(Irish)
Feminine form of Alastair avenger
Gaspara
(Spanish)
Treasure
Winwood
(English)
From Wine's forest
Fireworks
(English)
Colorful explosives
Lemuel
(Hebrew)
Dedicated to God
Tio
(Mexican), (Spanish)
Uncle