Cat Names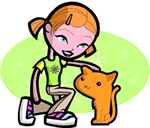 We offer 1,000's of cat names to help you choose the perfect one. Feel free to browse our unique cat names and when you find one you like you can add it to your favorites list to view later. If you have any cute cat names suggestions, please let us know. Enjoy!
Gerhard
(German)
Spear strong.
Mamie
(English)
Abbreviation of Mary and Miriam.
Bidelia
(Irish)
Protective
Cordelia
(Celtic)
Of the sea
Maritza
(German)
Of the sea.
Murchadh
(Irish)
Fighter of the sea
Silvester
(German)
Trees: sylvan. See also Sylvester and Silvano.
Amber
(Arabic)
Jewel. A jewel-quality fossilized resin: as a color the name refers to a warm honey shade.
Spelding
(English)
From the split meadow
Evony
(German)
Variant of Yvonne from Yves. Archer.
Freman
(French)
Free man: a man freed from bound servitude to an overlord. Surname.
Gorsedd
(Celtic)
From Arbeth
Javier
(Spanish)
Bright. Variant of Xavier.