Cat Names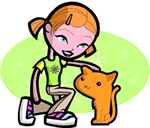 We offer 1,000's of cat names to help you choose the perfect one. Feel free to browse our unique cat names and when you find one you like you can add it to your favorites list to view later. If you have any cute cat names suggestions, please let us know. Enjoy!
Luighseach
(Irish)
Torch bringer
Erwyna
(English)
Friend of the sea
Aliceson
(English)
Son of All
Westleah
(English)
From the west meadow
Jeran
(English)
Modern variant of Israeli Jaron cry of rejoicing.
Wharton
(English)
From the estate at the hollow
Delaine
(French)
From the elder tree grove.
Branhard
(English)
Bold raven
Josee
(Hebrew)
God will add
Blondell
(English)
Fair-haired: blonde. Variation of the Spanish Blandina meaning flattering.
Curtis
(French)
Courteous
Estrellita
(Spanish)
Star.
Juana
(Hebrew)
Gift from God
Rawley
(English)
From the roe deer meadow
Menassah
(Hebrew)
Forgetful