Cat Names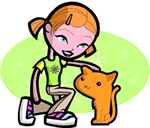 We offer 1,000's of cat names to help you choose the perfect one. Feel free to browse our unique cat names and when you find one you like you can add it to your favorites list to view later. If you have any cute cat names suggestions, please let us know. Enjoy!
Gubnat
(Irish)
Irish form of Abigail bringsjoy
Merrick
(English)
Strong ruler. Ruler of sea
Fitzgerald
(French)
Son of Gerald. Surname.
Kassia
(English)
Variant of Katherine. Pure.
Tabitha
(Hebrew)
beauty, grace From the Aramaic word for Gazelle. Biblical - Tabitha of the New Testament (Acts 9:36) was noted for good works.
Dewey
(English)
Place-name and surname: Welsh form of David.
Ardkill
(Irish)
From the high church
Terrence
(English)
Roman clan name.
Luc
(French)
Light: illumination. Form of Luke.
Dalenna
(English)
Small valley. Abbreviation of Madeline.
Illias
(Hebrew)
Jehovah is God
Jensine
(Hebrew)
God has blessed
Driskell
(Celtic)
Interpreter
Salomeaexl
(Hebrew)
Tranquil
Anakausuen
Worker (Algonquin)
Kolby
(English)
Dark-skinned.
Konner
Alternate Spelling: Conner.
Alo
Spiritual guide (Hopi)
Diandra
(English)
Blend of Deanne: (divine) plus variants of Andrea: (masculine) and Sandra: (protector of man.)
Macayle
(Scottish)
Strong-willed, fiery.