Cat Names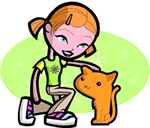 We offer 1,000's of cat names to help you choose the perfect one. Feel free to browse our unique cat names and when you find one you like you can add it to your favorites list to view later. If you have any cute cat names suggestions, please let us know. Enjoy!
Braden
(English)
Broad hillside.
Burdett
(French)
Surname used as a given name.
Morgan
(Irish)
Fighter of the sea
Willard
(German)
Bold: resolute.
Ordwald
(English)
Spear strength
Herta
(German)
Of the earth
Austin
(French)
Variant of Augustine.
Mel
(English)
Meaning uncertain but possibly friend of Michael.
Joaquina
(Hebrew)
God shall establish
Victorio
(Spanish)
Conqueror.
Bedwyr
Returns Excalibur to the Lady of the Lake
Alliss
(Spanish)
Of the nobility.
Bernetta
(French)
Feminine of Bernard. St. Bernadette was canonized in 1933.