Cat Names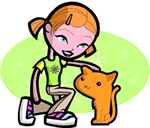 We offer 1,000's of cat names to help you choose the perfect one. Feel free to browse our unique cat names and when you find one you like you can add it to your favorites list to view later. If you have any cute cat names suggestions, please let us know. Enjoy!
Rodman
(English)
Lives by the road Guard wisely.
Sofier
(Greek)
Wise. Variant of Sophie.
Arlene
(English)
Variant of Carlene and Charlene.
Odahingum
Rippling water (Chippewa)
Abedabun
Sight of day (Chippewa)
Koltin
(German)
Coal town.
Cecelia
Blind. Famous bearer: The blind St. Cecilie, patron saint of music, was a talented musician.
Drygedene
(English)
From the dry valley
Gerhard
(German)
Spear strong.
Hanraoi
(Irish)
Rules the home
Ormond
(English)
Spear defender
Corley
(Irish)
Variant of Corey Hill hollow.
Genevieve
(German)
Of the race of women. White wave
Tashia
(English)
Abbreviation of Natasha - the Russian form of the English Natalie Born at Christmas.
Ordwald
(English)
Spear strength
Radolph
(English)
Red wolf
Hollie
(English)
The holly tree. Common name given Christmas girl babies.