Cat Names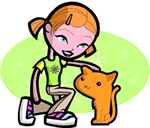 We offer 1,000's of cat names to help you choose the perfect one. Feel free to browse our unique cat names and when you find one you like you can add it to your favorites list to view later. If you have any cute cat names suggestions, please let us know. Enjoy!
Lisavet
(Hebrew)
Devoted to God
Rosa
(German)
Noted protector
Jayden
(English)
Heard by God.
Zali
(Australian)
Special
Marcas
(Scottish)
Of Mars. The Roman fertility god Mars for whom March was named.
Lamar
(French)
Of the sea.
Troi
(English)
Troy derives from the ancient Greek city of Troy: also from an Irish surname meaning soldier.
Jerrah
(Hebrew)
Jehovah has seen. A Biblical name.
Aesoburne
(English)
Lives near the ash tree brook
MacDhuBh
(Scottish)
Son of the blackman
Annabella
(Latin)
Grace and beauty, also can mean one favored of God. The name of given to several actresses and the name of King James I's daughter.
Aureliano
(Spanish)
Golden.
Burleigh
(English)
Lives at the castle's meadow. Fortified. See also Berlyn.
Adela
(French)
Good humor
Burkett
(French)
From the little stronghold