Cat Names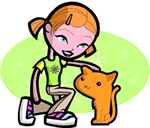 We offer 1,000's of cat names to help you choose the perfect one. Feel free to browse our unique cat names and when you find one you like you can add it to your favorites list to view later. If you have any cute cat names suggestions, please let us know. Enjoy!
Madina
(Spanish)
Woman from Magdala. Variant of Madeleine.
Marleene
(English)
Variant of Madeline Woman from Magdala.
Fatin
(Arabic)
Intelligent
Gulliver
(English)
In reference to "Gulliver's Travels"
ScIymgeour
(Scottish)
Fighter
Loraina
(French)
Derived from Lorraine which is the name of a province in France and a family name of French royalty.
Mackinzie
(English)
Ever Loving
Alastrina
(Celtic)
Defends mankind
Nycole
(French)
Same as Nicole or Nichole
Nicolai
Variant of Nicholas.
Corrie
(Irish)
Variant of Cory meaning variously - From the round hill: seething pool: ravine
Douglas
Dweller by the dark stream
Garfield
From the comic strip