Cat Names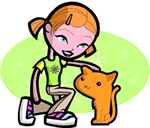 We offer 1,000's of cat names to help you choose the perfect one. Feel free to browse our unique cat names and when you find one you like you can add it to your favorites list to view later. If you have any cute cat names suggestions, please let us know. Enjoy!
Ceolbeorht
(English)
Seaman
Muireadhach
(Irish)
Lord of the sea
Ivan
(Hebrew)
Gift from God
Everard
(German)
Hardy: brave.
Rhodes
(English)
Lives near the crucifix
Florence
(English)
Flowering.
Fernando
(Spanish)
Adventurer. See also Hernando. Ferdinand: (Spanish/German) Adventurer.
Ardolph
(English)
Home loving wolf
Blaine
(Scottish)
Surname of uncertain meaning.
Atkinsone
(English)
Son of Aiken