Cat Names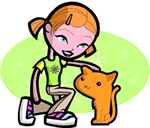 We offer 1,000's of cat names to help you choose the perfect one. Feel free to browse our unique cat names and when you find one you like you can add it to your favorites list to view later. If you have any cute cat names suggestions, please let us know. Enjoy!
Bradlee
(English)
English surnames related to Bradley Broad clearing in the wood
Cathair
(Scottish)
From the broken mossy ground
Hamilton
(French)
From the mountain town
Ephraim
(Hebrew)
Fruitful
Chayson
(French)
Variant of Chayse or Chase. Hunter.
Henry
(French)
Rules the home
Rainaa
(Spanish)
Queen: Original name Raina
Brenius
A supposed king of Britain
Kassie
(English)
Abbreviation of Cassandra. Unheeded prophetess. In Homer's The Iliad Cassandra's prediction of the fall of Troy was unheeded.
Templeton
(English)
Temple-town. This surname refers to medieval priories and settlements of the military religious order Knights-Templars.
Alexina
(English)
Helper: defender. Variation of Alexander.
Stanwick
(English)
From the stony village