Cat Names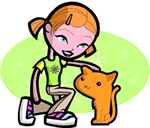 We offer 1,000's of cat names to help you choose the perfect one. Feel free to browse our unique cat names and when you find one you like you can add it to your favorites list to view later. If you have any cute cat names suggestions, please let us know. Enjoy!
Crimson
Full of love. Leader in things that need to be done.
MAYYADAH
(Arabic)
TO WALK WITH A STRAIGHT GAIT.(OTHER WORDS TO WALK WITH PERFECTION)
Macen
Protector, Guardian.
Belen
(Spanish)
Bethlehem.
Igraine
(English)
In Arthurian legend Igrayne is mother of Arthur.
Aharman
The Evil God perpetually at war with the Good God, Ahura-Mazda or Ormuzd, the Supreme Creator as given in the Zen-davasta of the Zoroastrians.
Katrina
(German)
Variant of Katherine. Pure.
Avent
(French)
Born during Advent
Wendall
(German)
Traveler: wanderer.
Kinleigh
(English)
Kings meadow.
Jaryl
(English)
Blend of Jar and Darell. See also Jerrell.
Bryssa
(Spanish)
From Briseis the woman Achilles loved in Homer's Iliad.
Marlinda
(German)
Variant of Madeline Woman from Magdala.
Christen
(English)
Variant of Christiana. Follower of Christ.
Lisha
(English)
Derived from Alicia: (sweet: honest: truth) and Felecia: (happy)
Balfour
(Scottish)
From the pastureland
Lael
(Hebrew)
Belonging to God. Traditional male Biblical name.