Cat Names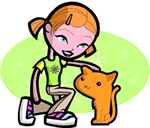 We offer 1,000's of cat names to help you choose the perfect one. Feel free to browse our unique cat names and when you find one you like you can add it to your favorites list to view later. If you have any cute cat names suggestions, please let us know. Enjoy!
Yosebe
(Hebrew)
God will multiply
Wintanweorth
(English)
From the white one's estate
Zero
The dog from Nightmare Before Christmas.
Kayleigh
(Scottish)
Warrior
Elvia
(English)
Elfin. Good elf
Bret
(French)
Brit. A native of England: (Britain) or France: (Brittany).
Pit
(English)
From the Pit
Japheth
(Hebrew)
May He grant ample room. In the bible Japheth was eldest of Noah's three sons.
Wolfrick
(German)
Wolf ruler
Shekinah
The visible Glory of God
Tod
(English)
Fox. Tod is a Scottish nickname meaning a clever or wily person.
Hagley
(English)
From the hedged enclosure