Cat Names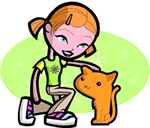 We offer 1,000's of cat names to help you choose the perfect one. Feel free to browse our unique cat names and when you find one you like you can add it to your favorites list to view later. If you have any cute cat names suggestions, please let us know. Enjoy!
Hrothrehr
(Irish)
Famous ruler
Maralyn
(English)
Blend of Marie or Mary and Lyn.
Suidhne
(Irish)
Little hero
Freman
(French)
Free man: a man freed from bound servitude to an overlord. Surname.
Parsefal
(English)
Valley piercer
Alistaire
(Scottish)
Variant of Alexander - defender of mankind.
Carree
(English)
Abbreviation of Carol and Caroline from the masculine Charles meaning manly
Ahearn
(Celtic)
Lord of the horses
Carlotta
(French)
Tiny and feminine. Also a feminine variant of Charles meaning manly
Zyana
(Hebrew)
Blessing from Heaven.
Halebeorht
(English)
Brilliant hero
Giannes
(Hebrew)
Gift from God
Clareta
(Spanish)
Brilliant
Debby
(Hebrew)
Bee. Deborah was the Biblical prophetess who summoned Barak to battle against an army of invaders. After the battle she wrote a victory song which is part of the Book of Judges.
Sara
(Arabic)
Arabic form of Sarah
Hadon
(English)
From the heath
Leesa
(Hebrew)
Variant of Lisa, Lise, Lisetta: A familiar form of Elisabeth: Consecrated to God
Fitz Adam
(English)
Son of Adam