Cat Names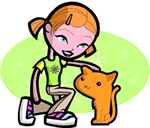 We offer 1,000's of cat names to help you choose the perfect one. Feel free to browse our unique cat names and when you find one you like you can add it to your favorites list to view later. If you have any cute cat names suggestions, please let us know. Enjoy!
Fontaine
(French)
Fountain: water source.
Luell
(English)
Famous elf
Adny
(English)
Lives on the noble's island
Nadetta
(German)
The courage of a bear
Kaylin
(English)
Variant of Kay and Kayla. keeper of the keys: pure.
Starbuck
(English)
Star deer
Bryceton
(Scottish)
Variant of Bryce.
Muireadhach
(Irish)
Lord of the sea
Bureig
(English)
Lives on the brook island
Jemimah
(Arabic)
Little dove. In the bible one of Job's three daughters known as the most beautiful women of their time: (the other two were Keziah and Keren)
Chardae
(French)
Feminine of Charles meaning manly
Fe Fe
Fe Fe means feline in Cuba.
Nolyn
(Irish)
Renowned: noble.
Montie
(English)
Mountain. Abbreviation of Montague and Montgomery.
Parker
(English)
Keeper of the forest: forest ranger. Actor Parker Stevenson.