Cat Names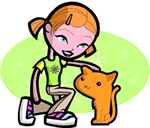 We offer 1,000's of cat names to help you choose the perfect one. Feel free to browse our unique cat names and when you find one you like you can add it to your favorites list to view later. If you have any cute cat names suggestions, please let us know. Enjoy!
Dontaye
(English)
Contemporary phonetic variant of Dante enduring.
Felicienne
(French)
Great happiness
Clarke
(English)
Cleric: secretary.
Kaycee
(English)
Modern Kacie and variants are phonetic forms of the initials K.C. or variants of the Irish name Casey alert: vigorous.
Jonetta
(English)
Modern feminine of John and Jon.
Duncan
(Scottish)
Brown warrior
Yoana
(Spanish)
God's gift
Nanci
(English)
Variant of Anne favor: grace.
Luighseach
(Irish)
Torch bringer
Hrothberta
(English)
Bright or famous
Aluin
(French)
Noble friend
Scottas
(English)
From Scotland
Valicia
Combination of Val and Alicia.
Dinah
(Hebrew)
Avenged or Judged and vindicated. In the bible Dinah was Jacob's only daughter.
Linleah
(English)
From the flax field