Cat Names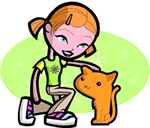 We offer 1,000's of cat names to help you choose the perfect one. Feel free to browse our unique cat names and when you find one you like you can add it to your favorites list to view later. If you have any cute cat names suggestions, please let us know. Enjoy!
Windgate
(English)
From the winding gate
Jerod
(English)
Variant of Garrett rules by the spear.
Eathellreda
(English)
Noble maiden
Addie
(French)
Variant of Adela.
Edlen
(English)
Noble waterfall
Thurstan
(English)
Thor's stone
Tristin
(Celtic)
Tumult: outcry. From the Celtic name Tristan. In Arthurian legend Tristan was a Knight of the Round Table and tragic hero of the medieval tale Tristram and Isolde.
Rollo
(German)
Renowned in the land. Roland was a legendary hero who served Charlemagne.
Japheth
(Hebrew)
May He grant ample room. In the bible Japheth was eldest of Noah's three sons.
Ida
(English)
Diligent. A Greek mythological nymph who cared for the infant Zeus on Mt. Ida.
Thurlow
(English)
From Thor's hill
Britomart
Irish warrior from Edmond spencer's poem "The Fairy Queen"
Bethseda
(Hebrew)
Merciful
Robertson
(Scottish)
Son of Robert
Toro
(Mexican), (Spanish)
Bull
Lonzo
(Spanish)
Ready: eager. Abbreviation of Alonzo.