Cat Names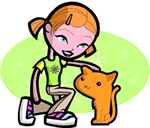 We offer 1,000's of cat names to help you choose the perfect one. Feel free to browse our unique cat names and when you find one you like you can add it to your favorites list to view later. If you have any cute cat names suggestions, please let us know. Enjoy!
Yasmina
(Arabic)
Jasmine flower.
Ivor
(English)
Archer's bow.
Jiselle
(English)
Pledge. Phonetic spelling of Giselle.
Marilynn
(English)
Blend of Marie or Mary and Lyn.
Cayleigh
(English), (Greek), (Scottish)
Pure Meadow: party: slender:
Arleigh
(English)
Meadow of the hare.
Heardwine
(English)
Brave friend
Ciara
(Irish)
Saint or Dark. Feminine of Ciaran.
Firtha
(Scottish)
Arm of the sea
Ronell
(English)
Rules with counsel. Form of Ronald from Reynold.
Valerie
(English)
Strong: valiant. Feminine of the Roman family clan name Valerius.
Jamia
(Scottish)
Pet form of James used as a woman's name.
Saidie
Courteous,faithful.
Delmer
(French)
Mariner Of the sea.
Hawly
(English)
From the hedged meadow
Guadalupe
(Arabic)
Wolf valley. Biblical Mary is Mexico's Lady of Guadalupe.
Dalan
(Irish)
Variant of Dallin blind.
Cameron
(Scottish)
Clan name meaning Bent nose.