Cat Names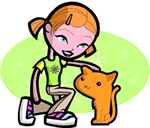 We offer 1,000's of cat names to help you choose the perfect one. Feel free to browse our unique cat names and when you find one you like you can add it to your favorites list to view later. If you have any cute cat names suggestions, please let us know. Enjoy!
Kendell
(English)
Royal valley. Surname referring to Kent in England.
Jeanetta
(French)
Little Jean
Laycie
(French)
Derived from Lacey which is a French Nobleman's surname brought to British Isles after Norman conquest.
Ena
(Irish)
Feminine form of Aidan fire
Iov
(Hebrew)
God will estahlish
Tihalt
(German)
Prince of the people
Brayden
(English)
Broad hillside.
Kiley
(Irish)
Boomerang. Variant of Kylie. Pretty.
Binga
(German)
From the kettle shaped hollow
Pueblo
(Spanish)
From the city
Meinrad
(German)
Strong advisor
Gertruda
(German)
From the protected farm
Codell
(English)
Helpful.
Villetta
(French)
From the countly estate