Cat Names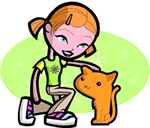 We offer 1,000's of cat names to help you choose the perfect one. Feel free to browse our unique cat names and when you find one you like you can add it to your favorites list to view later. If you have any cute cat names suggestions, please let us know. Enjoy!
Selene
Goddess of the Moon
Barrak
(Hebrew)
Flash of lightning. In the bible the valiant fighting man Barak cooperated with the prophetess Deborah to win victory in battle against overwhelming odds.
Jabba The Hut
Large creature from Star Wars
Yannic
(Hebrew)
Gods child.
Nathalia
(French)
Birthday: especially the birthday of Christ.
Kacee
(English)
Modern Kacie and variants are phonetic forms of the initials K.C. or variants of the Irish name Casey alert: vigorous.
Evette
(Hebrew)
Living one. Variant of Eve. In the bible Eve was Adam's wife and the first woman.
Leondrea
(French)
Lion: lioness. Feminine of Leon.
Sheply
From the sheep meadow
Kevay
(Irish)
Lovely and charming
Wincel
(English)
From the bend in the road
Aureliano
(Spanish)
Golden.
Birkey
(English)
From the birch tree island
Marquisa
(French)
Variant of Marquise. royalty: French royalty title.
Andreu
Alternate Spelling: Andrew.
Drummond
(Scottish)
At the ridge
Ruhdugeard
(English)
From the rough enclosure
Demasone
(English)
Judge's son