Cat Names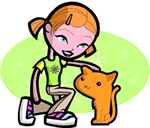 We offer 1,000's of cat names to help you choose the perfect one. Feel free to browse our unique cat names and when you find one you like you can add it to your favorites list to view later. If you have any cute cat names suggestions, please let us know. Enjoy!
Bentley
(English)
From the bent grass meadow
Kelwin
(Celtic)
From the narrow river
Bamey
(German)
Brave as a bear
Caster
(English)
From the Roman camp
Nichol
(French)
Feminine of Nicholas people's victory.
Corie
(English)
Variant of Cory meaning variously - From the round hill: seething pool: ravine
Jabulela
(African)
Be happy
Izaan
(Arabic)
Obedience.
Terran
(English)
Terran means Earthman. Variants are contemporary rhyming blends of Ter- plus Darin.
Tinotenda
(African)
Thank you
Viviane
The Lady of the Lake
Josetta
(Hebrew)
God will add
Nicole
Victory of the people
Abbott
(English), (Hebrew)
Father
Brockley
(English)
From the badger meadow