Cat Names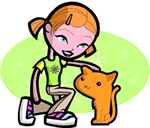 We offer 1,000's of cat names to help you choose the perfect one. Feel free to browse our unique cat names and when you find one you like you can add it to your favorites list to view later. If you have any cute cat names suggestions, please let us know. Enjoy!
Deryk
(English)
Gifted ruler. From Theodoric.
Ansell
(French)
Adherent of a nobleman
Dayne
(English)
From Denmark. Also a variant of Daniel.
Garan
(German)
Guards: guardian.
Kane
(Celtic)
Intelligent
Afrodille
(French)
Daffodil
Frank
(English)
Free: a free man. See also Francisco.
Thoraldtun
(English)
From the thunder estate
Garrin
(German)
Guards: guardian.
Elijah
(Hebrew)
Jehovah is God
Vittoria
(Spanish)
Victor
Hulk
Comic book character that could become large and green.
Makenna
(African)
Happiness
Denny
(English)
Variant of Dionysius. Dionysius is the mythological Greek god of wine responsible for growth of the vines and the originator of winemaking: (equivalent to the Roman god Bacchus.)
Aliceson
(English)
Son of All
Gunther
(German)
Battler: warrior.
Donaghy
(Celtic)
Strong fighter
Huette
(English)
Little Hugh
Mynogan
(Celtic)
Mythical father of Beli