Cat Names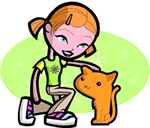 We offer 1,000's of cat names to help you choose the perfect one. Feel free to browse our unique cat names and when you find one you like you can add it to your favorites list to view later. If you have any cute cat names suggestions, please let us know. Enjoy!
Gariland
(English)
From the spear land
Othili
Little wealthy one
Amory
(English)
Brave: powerful. See also Emory.
Sarita
(Spanish)
Princess
Wattesone
(English)
Son of Walter
Noelle
(French)
Birthday. Feminine of Noel. Commonly refers to Christ's birth and Christmas festival.
Trinity
A union of three in one: the Father, the Son, and the Holy Ghost
Dougal
(Celtic)
Dark stranger
Devery
(English)
Derived from place-name Deverel.
Ayasha
Little one (Chippewa)
Aahan
(Indian)
Dawn / Morning
Lindberg
(German)
From the linden tree hill
Easter
(English)
Born at Easter
Karleigh
(German)
Womanly: strength. Feminine of Karl.