Cat Names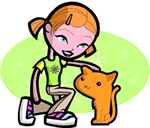 We offer 1,000's of cat names to help you choose the perfect one. Feel free to browse our unique cat names and when you find one you like you can add it to your favorites list to view later. If you have any cute cat names suggestions, please let us know. Enjoy!
Birley
(English)
From the cattle shed on the meadow
Jemimah
(Arabic)
Little dove. In the bible one of Job's three daughters known as the most beautiful women of their time: (the other two were Keziah and Keren)
Aethelweard
(English)
Noble protector
Arden
(Celtic)
Lofty: eager.
Martina
(Spanish)
Feminine of Martin warring.
Emilee
Variant of Emily. Hard worker.
Erlina
(Spanish)
Shield From the German name Herlinde
Cassie
(English)
Abbreviation of Cassandra. Unheeded prophetess. In Homer's The Iliad Cassandra's prediction of the fall of Troy was unheeded.
Scelflesh
(English)
From the edge meadow
Landon
(English)
From the long hill
Dustyn
(English)
A fighter.
Gofraidh
(Irish)
Peace from God
Daylan
(English)
Rhyming variant of Waylon - a historical blacksmith with supernatural powers.
Vincent
(English)
Conquering.
Lamorat
Brother of Percival
Zakari
(English)
Variant of Zachariah and Zachary.
Mindy
(English)
Abbreviation of Melinda.
Osbeorht
(English)
Divinely brilliant
Analena
(Spanish)
Grace. favor. Variant of Anna.
Celyddon
(Celtic)
Mythical father of Culhwch