Cat Names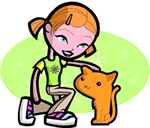 We offer 1,000's of cat names to help you choose the perfect one. Feel free to browse our unique cat names and when you find one you like you can add it to your favorites list to view later. If you have any cute cat names suggestions, please let us know. Enjoy!
Mamie
(English)
Abbreviation of Mary and Miriam.
Rashad
(Arabic)
Thinker: counselor.
Jensine
(Hebrew)
God has blessed
Faris
(English)
Iron strong.
Fitzgerald
(French)
Son of Gerald. Surname.
Ravin
Alternate Spelling: Raven.
Earwyn
(English)
Friend of the sea
Yosebe
(Hebrew)
God will multiply
Berke
(Irish)
The birch tree meadow. Also see Barclay and Burke.
Rane
(English)
Strong counselor. From the ancient personal name Ragnar.
Destrie
(English)
Variant of a French surname. American classic western film Destry Rides Again.
Mary
(English)
Bitter. Variant of Miriam. The biblical mother of Christ. Names like Dolores and Mercedes have been created to express aspects of Mary's life and worship.