Cat Names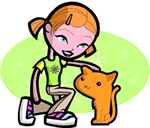 We offer 1,000's of cat names to help you choose the perfect one. Feel free to browse our unique cat names and when you find one you like you can add it to your favorites list to view later. If you have any cute cat names suggestions, please let us know. Enjoy!
Majella
(Irish)
Name of a saint
Mitchel
(Irish)
Form of Michael Who is like God?
Rosemarie
(French)
Bitter
Kelwin
(Celtic)
From the narrow river
Gillivray
(Scottish)
Servant of judgment
Barbie
(English)
Traveler from a foreign land. In Catholic custom St. Barbara is a protectress against fire and lightning.
Evert
(English)
Strong as a boar
Lincoln
(Celtic)
From the settlement by the pool
Amberlee
(English)
A jewel-quality fossilized resin: as a color the name refers to a warm honey shade.
Samoel
(Hebrew)
Name of God. Biblical prophet and judge who anointed Saul and David as kings of Israel. Sami: (Arabic) honored
Conchobhar
(Irish)
Strong willed or wise
Guinevere
Fair one. Guinevere was King Arthur's mythological queen. Jennifer derives from this name.
Skyler
(English)
Phonetic spelling of Schuyler.