Cat Names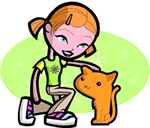 We offer 1,000's of cat names to help you choose the perfect one. Feel free to browse our unique cat names and when you find one you like you can add it to your favorites list to view later. If you have any cute cat names suggestions, please let us know. Enjoy!
Jaryl
(English)
Blend of Jar and Darell. See also Jerrell.
Elayne
Mother of Lancelot
Armon
(Hebrew)
High place.
Verdell
(French)
Green: flourishing.
Big Ben
Large clock tower in England
Rydia
(Greek)
Rose pettles on still water.
Herne
(Celtic)
Mythical hunter god
Chisholm
(Scottish)
From Chisolm
Sterling
(English)
of high quality: pure.: Also variant of a name given pre-medieval refiners of silver meaning easterner. Surname.
Howard
(English)
Chief guardian
Briza
(Spanish)
From Briseis the woman Achilles loved in Homer's Iliad.
Brentan
(English)
From the steep hill
Willhard
(English)
Resolute or brave
Inys
(Irish)
From the river island
Chianna
(French)
Variant of Cheyanne - an Algonquian tribe of the Great Plains and Capital city of Wyoming.
Emmalyn
(German)
Hardworking. Variant of Emily.
Derek
(German)
Gifted ruler. From Theodoric.
Coralee
(English)
Maiden.
Maitland
(English)
From the meadow
Aloisia
(German)
Famous fighting
Els
(Hebrew)
Devoted to God