Cat Names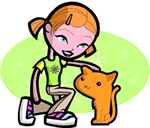 We offer 1,000's of cat names to help you choose the perfect one. Feel free to browse our unique cat names and when you find one you like you can add it to your favorites list to view later. If you have any cute cat names suggestions, please let us know. Enjoy!
Raimundo
(French)
Guards wisely.
Egon
(German)
Strong with a sword
Berford
(English)
From the barley ford
Jacquenette
(French)
Little Jacques
Govannon
God of the forge
Gala
(English)
festive party. Joyful. Abbreviation of Abigail. Gael is a term for descendants of the ancient Celts in Scotland: Ireland and the Isle of Man.
MacNeill
(Scottish)
Son of the champion
Abrianna
Mother of many nations.
Zero
The dog from Nightmare Before Christmas.
Duayna
(Irish)
Feminine of Duane.
Jilliann
(English)
Jove's child. Variant of Gillian from the masculine Julian.
Avilon
Arthur's burial place
Aretha
(Arabic)
Virtuous: excellent.
EIlis
(Hebrew)
Jehovah is God
Toran
(Scottish)
Variant of Torrence From the craggy hills. Tor is a name for a craggy hilltop and also may refer to a watchtower.