Cat Names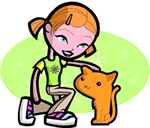 We offer 1,000's of cat names to help you choose the perfect one. Feel free to browse our unique cat names and when you find one you like you can add it to your favorites list to view later. If you have any cute cat names suggestions, please let us know. Enjoy!
Traci
(English)
Variant of Tracy from Thracia.
Cruadhlaoich
(Irish)
Hunch backed
MacKay
(Scottish)
Son of fire
Gardiner
(English)
Gardener
Caelan
(Celtic)
Victorious people.
Beceere
(English)
Lives by the beech tree
Jessie
(Hebrew)
Wealthy: Variant of Jesse Jehovah exists.
Jarlath
(Irish)
Tributary lord
Uzziye
(Hebrew)
God's strength
Carlotta
(French)
Tiny and feminine. Also a feminine variant of Charles meaning manly
Abrianna
Mother of many nations.
Ogelsby
(English)
Fearsome
Symontun
(English)
From Simon's estate
Nathraichean
(Scottish)
Snake