Cat Names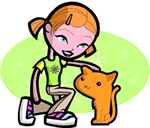 We offer 1,000's of cat names to help you choose the perfect one. Feel free to browse our unique cat names and when you find one you like you can add it to your favorites list to view later. If you have any cute cat names suggestions, please let us know. Enjoy!
Hilda
(German)
Noble: Warfare. In Scandinavian mythology Hildegard was a Valkyrie sent by Odin to escort battle heroes to Valhalla.
Mead
(English)
From the meadow
Kalil
(Arabic)
Good friend
Ballindeny
(Irish)
From the town of oak wood
Berkeley
(Irish)
The birch tree meadow. Also see Barclay and Burke.
Violetta
(French)
Little violet
Alliss
(Spanish)
Of the nobility.
Juditha
(Hebrew)
From Judea.
Leodegrance
(French)
Lion
Athdara
(Irish)
From the ford at the oak tree
Davina
(Hebrew)
Cherished
Salomeaexl
(Hebrew)
Tranquil
Mavis
(English)
Song-thrush.