Cat Names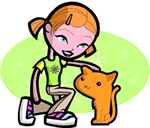 We offer 1,000's of cat names to help you choose the perfect one. Feel free to browse our unique cat names and when you find one you like you can add it to your favorites list to view later. If you have any cute cat names suggestions, please let us know. Enjoy!
Fyuree
Fiery, fiesty, passionate
Nikson
(English)
Son of Nick
Emanuel
(Spanish)
With us is God. Variant of Hebrew name Immanuel. A biblical name-title applied to the Messiah.
Tavin
(German)
A nickname for Gustav royal staff.
Kellie
Warrior or Defender
Pedro
(Spanish)
A rock. Form of Peter.
Edwyn
(English)
Wealthy friend
Lyel
(Scottish)
Surname meaning loyal.
Gann
(English)
Spear protector
Mona
Gathered of the seed of a jimson weed
Kaity
Variant of Cathrine.
Halburt
(English)
Brilliant hero
Amichai
(Hebrew)
My parents are alive
Chubbs
Club pro from "Happy Gilmore".
Fibh
(Scottish)
From Fifeshire
Kalin
(English)
Variant of Kay and Kayla. keeper of the keys: pure.
Baird
(Scottish)
From Baird
Varden
(Celtic)
From the green hill
Mirabella
(French)
Of incredible beauty