Cat Names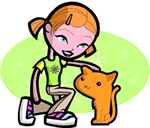 We offer 1,000's of cat names to help you choose the perfect one. Feel free to browse our unique cat names and when you find one you like you can add it to your favorites list to view later. If you have any cute cat names suggestions, please let us know. Enjoy!
Jonah
(Hebrew)
Dove. In the bible Jonah was on board a ship God caused to sink: sailors traditionally use the name Jonah to personify someone who brings bad luck.
Brentan
(English)
From the steep hill
Iliana
(Spanish)
Variant of Elena.
Breena
(Irish)
Fairy palace. Also variant of Brianna and Sabrina.
Rydia
(Greek)
Rose pettles on still water.
Hwitloc
(English)
From the white fortress
Macayle
(Scottish)
Strong-willed, fiery.
Dian
(French)
Divine. Mythological ancient Roman divinity Diana was noted for beauty and swiftness: often depicted as a huntress. Also Diana Princess of Wales.
Cathair
(Scottish)
From the broken mossy ground
Charla
(English)
Feminine variant of Charles meaning manly
Ross
(German)
Red. Surname.
Hewitt
(German)
Little Hugh
Joyelle
(French)
Rejoicing.
Bardon
(Celtic)
Minstrel: a singer-poet.