Cat Names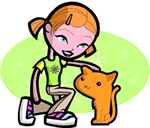 We offer 1,000's of cat names to help you choose the perfect one. Feel free to browse our unique cat names and when you find one you like you can add it to your favorites list to view later. If you have any cute cat names suggestions, please let us know. Enjoy!
Jade
(Spanish)
Jewel. Courageous and adoring.
Morrie
(English)
Dark-skinned: A Moor. Form of Maurice.
Janey
(English)
Jehovah has been gracious: has shown favor. Variant of Joan.
Kaitlan
(Irish)
Modern phonetic form of the Irish name Caitlin from Catherine meaning pure.
Myrna
(Arabic)
Myrrh: sweet oil.
Ezekiel
(Hebrew)
God strengthens. Biblical Ezekiel was a prophet among the captives taken to Babylon at the first fall of Jerusalem who wrote the Book of Ezekiel in captivity. See also Zeke.
Bartram
(German)
Glorious raven.
Chiquita
(Spanish)
Pet name meaning little girl.
Ladde
(English)
Attendant
Eldan
(English)
From the elves'valley
Andere
(Spanish)
Feminine form of Andrew manly
Norwyn
(English)
Friend of the north
Aethelweard
(English)
Noble protector
Sidell
(English)
From the wide valley