Cat Names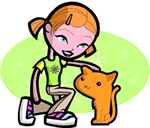 We offer 1,000's of cat names to help you choose the perfect one. Feel free to browse our unique cat names and when you find one you like you can add it to your favorites list to view later. If you have any cute cat names suggestions, please let us know. Enjoy!
Austen
(English)
Variant of Augustine.
Spenser
(English)
Dispenser: provider.
Eva
(Hebrew)
Life. Living one. Variant of Eve. In the bible Eve was Adam's wife and the first woman.
Delmer
(French)
Mariner Of the sea.
Ariela
(Hebrew)
Lioness of God
Dyanna
(French)
Divine. Mythological ancient Roman divinity Diana was noted for beauty and swiftness: often depicted as a huntress. Also Diana Princess of Wales.
Amaryah
(Hebrew)
God has promised. (derived from Amaris)
Doughboy
Pillsbury Doughboy.
Maethelwine
(English)
Council friend
Cartimandua
Name of a queen of Brigantes
Patrick
(Irish)
Patrician: noble. Romans society was divided into plebeians: (commoners) and patricians: (aristocrats). Saint Patrick - patron saint of Ireland.
Eila
(Irish)
Variant of Evelyn.
Tessa
(English)
Abbreviation of Teresa which is a popular saint's name of uncertain meaning.
Adriene
(French)
From Adria the Adriatic sea region. Also means dark.
Colleem
(Irish)
A young girl.
Deidre
(Irish)
Melancholy. A variant of the older name Deirdre In Celtic legend Deirdre died of a broken heart.
Morgana
Enchantress half sister of Arthur
Marylu
(Hebrew)
Derived from Mary Bitter. Mary was the biblical mother of Christ. Names like Dolores and Mercedes have been created to express aspects of Mary's life and worship.