Cat Names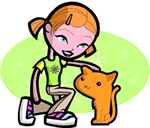 We offer 1,000's of cat names to help you choose the perfect one. Feel free to browse our unique cat names and when you find one you like you can add it to your favorites list to view later. If you have any cute cat names suggestions, please let us know. Enjoy!
Ilena
(English)
Variant of Eileen.
Tahra
(Celtic)
Earth or growth.
Zulima
(African), (Arabic)
peace:tranquility. Variant of Salome or Solomon.
Walbrydge
(English)
From the Welshman's bridge
Sheply
From the sheep meadow
Elwyna
Friend of the elves
Ardala
(Irish)
High honor
Daryll
(English)
Variations of Daryl meaning Dearly loved.
Davinia
(English)
Beloved. Feminine of David.
Mona
Gathered of the seed of a jimson weed
Florinda
(French)
Flower.
Zanetta
(Spanish)
God's gift. A saint's name.
Mundy
(Irish)
From Reamon
Oifa
(Celtic)
Mythical sister of Ove
Allred
(English)
Wise or red haired man
Annabella
(Latin)
Grace and beauty, also can mean one favored of God. The name of given to several actresses and the name of King James I's daughter.
Tomkin
(English)
Little Tom