Cat Names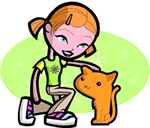 We offer 1,000's of cat names to help you choose the perfect one. Feel free to browse our unique cat names and when you find one you like you can add it to your favorites list to view later. If you have any cute cat names suggestions, please let us know. Enjoy!
Montgomery
(Scottish)
From Montgomerie
Zechariah
(Hebrew)
Jehovah has remembered.
Isidora
(Spanish)
Gifted with many ideas
Darleena
(English)
From the Old English dearling: darling.
Lynessa
(English)
Variant of ancient Welsh given name. In Arthurian legend Lynette accompanied Sir Gareth on a knightly quest.
Domenick
(Italian)
Alternate Spelling: Dominick, Dominic, Domenic, Dominik.
Hamlett
(German)
From the little home
Clodagh
(Irish)
From Clodagh
Donn
(Irish)
Brown: In mythology the Irish Donn was known as king of the underworld.
Priestly
(English)
From the priest's meadow
Celesse
(French)
Heavenly.
Isana
(German)
Strong willed
Ariela
(Hebrew)
Lioness of God
Jeannelle
(French)
Comes from the name Jean and elle meaning girl
Lia
(Spanish)
Is an abbreviation of names like Amalia: (hard working:industrious) and Rosalia: (Rose).