Cat Names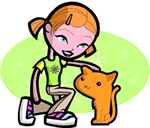 We offer 1,000's of cat names to help you choose the perfect one. Feel free to browse our unique cat names and when you find one you like you can add it to your favorites list to view later. If you have any cute cat names suggestions, please let us know. Enjoy!
Jakeem
(Arabic)
Raised up.
Tearlach
(Scottish)
Strong
Moshe
(Hebrew)
Form of Moses saved from the water.
Doughboy
Pillsbury Doughboy.
Kingston
(English)
From the king's village or estate King's field. King is one of several titles occasionally used as given names.
Clodagh
(Irish)
From Clodagh
Desiderio
(Spanish)
Desired
Bryanna
(Celtic)
She ascends. Feminine of Brian.
Warton
(English)
From the farm by the weir
Fawna
(English)
Young deer. The Greek mythological deity of fertility and nature was Fauna. She was famous for her chastity.
Konrad
(German)
Bold adviser.
Corvin
(French)
Raven-haired.
Amadeo
(Spanish)
Loves God
Daelan
(English)
Rhyming variant of Waylon - a historical blacksmith with supernatural powers.
Tad
(English)
Abbreviation of Thaddeus who was one of Christ's 12 apostles.
Morit
(Hebrew)
God teaches
Kenryk
(English)
Royal ruler