Cat Names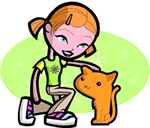 We offer 1,000's of cat names to help you choose the perfect one. Feel free to browse our unique cat names and when you find one you like you can add it to your favorites list to view later. If you have any cute cat names suggestions, please let us know. Enjoy!
Gilah
(Hebrew)
Eternal joy
Aalijah
(Hebrew)
The lord is god. Variant of Elijah.
Bradan
(English)
From the broad valley
Francille
(French)
Variant of Frances meaning From France or free one.
Galt
(English)
From the high ground
Muriel
(Celtic)
Shining sea.
Jarrett
(English)
Spear strong. Surname. Variant of Garrett.
Jemimah
(Arabic)
Little dove. In the bible one of Job's three daughters known as the most beautiful women of their time: (the other two were Keziah and Keren)
Ralston
(English)
Ralph's town Surname.
Linette
(French)
Little lion
Sagar
(English)
Wise one. Surname.
Mynogan
(Celtic)
Mythical father of Beli
Amariah
(Hebrew)
Given by God
Cortland
(French)
Courtier: court attendant.