Cat Names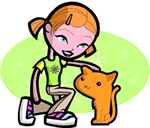 We offer 1,000's of cat names to help you choose the perfect one. Feel free to browse our unique cat names and when you find one you like you can add it to your favorites list to view later. If you have any cute cat names suggestions, please let us know. Enjoy!
Ygraine
In Arthurian legend Igrayne is mother of Arthur.
Cristofor
(Spanish)
With Christ inside.
Heather
(English)
A flowering evergreen plant that thrives on peaty barren lands as in Scotland. Heather
Chriselda
(German)
Strong
Selene
Goddess of the Moon
Alison
(Scottish)
Scottish form of Louise battle famous. Variation of Alice.
Welburn
(English)
From the spring brook
Ramirez
(Spanish)
Judicious
Bilagaana
White person (Navajo)
Waldrom
(German)
Ruling raven
Atkinsone
(English)
Son of Aiken
Evelyn
(French)
Life. A male surname in modern use as a given
Rickward
(English)
Strong guardian
Shelly
From the ledge meadow
Arthgallo
(Irish)
High honor
Ferryn
(English)
Adventurous.
Kay
(English)
Keeper of the keys:also an abbreviation of Katherine Pure. Sir Kay was one of King Arthur's knights.
Galina
(Hebrew)
God shall redeem