Cat Names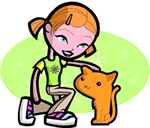 We offer 1,000's of cat names to help you choose the perfect one. Feel free to browse our unique cat names and when you find one you like you can add it to your favorites list to view later. If you have any cute cat names suggestions, please let us know. Enjoy!
Isham
(English)
From the iron one's estate
Jeane
(French)
Variant of John.
Jesika
Alternate Spelling: Jessica.
Nairne
(Scottish)
From the alder - tree river
Arick
(German)
Noble leader
Vern
(English)
Surname related to Vernon alder tree grove. Also used as abbreviations of Vernon or Lavern.
Fionnuala
(Irish)
Fair shoulders
Gordon
(English)
From the three cornered hill or From the marshes. One of Scotland's great clans. Surname.
Elise
(French)
Consecrated to God Abbreviation of Elisabeth.
Matai
(Hebrew)
Gift from God
Zane
(English)
Variant of John. American western writer Zane Grey.
Timmy
(English)
Variant of Timothy one who honors God.
Claudelle
(English)
Feminine of Claude.
Don
(Celtic)
Dark stranger
Faye
(English)
Variant of Faith. Confidence: trust: belief.