Cat Names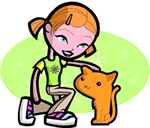 We offer 1,000's of cat names to help you choose the perfect one. Feel free to browse our unique cat names and when you find one you like you can add it to your favorites list to view later. If you have any cute cat names suggestions, please let us know. Enjoy!
Herzeloyde
Percival's mother
Riston
(English)
From the brushwood farm
Janaye
(English)
Modern name based on Jane or Jean: Based on Janai meaning God has answered.
Winthrop
(English)
From Wine's estate
Matunaagd
Fights (Algonquin)
Videl
(English)
Life. Used as both surname and given name. See also Vito.
Colby
(English)
From the black farm
Tariq
(Arabic)
Morning star. An 8th century Islamic military leader who conquered Spain for the Moors.
Codell
(English)
Helpful.
Ordland
(English)
From the pointed hill
Vern
(English)
Surname related to Vernon alder tree grove. Also used as abbreviations of Vernon or Lavern.
Othomann
(German)
Wealthy
Lianna
(English)
Daughter of the sun. Diminutive of Eliana.
Luki
(German)
Famous fighter
Neila
(English)
Feminine of Neil champion.