Cat Names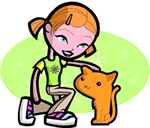 We offer 1,000's of cat names to help you choose the perfect one. Feel free to browse our unique cat names and when you find one you like you can add it to your favorites list to view later. If you have any cute cat names suggestions, please let us know. Enjoy!
Tio
(Mexican), (Spanish)
Uncle
Cohen
(German)
Allternate Spellings: Coen or Koen.Brave.
Teryn
(English)
Abbreviation of Teresa which is a popular saint's name of uncertain meaning.
Rudyard
(English)
From the rough enclosure
Sylvester
From Looney Tunes
Bayley
(English)
Courtyard within castle walls: steward or public official. Surname or given name.
Michaelyn
(Hebrew)
Variant of Michal Who is like God?
Beau/Belle
(French)
Handsome/Beautiful
Pachua
Feathered water snake (Hopi)
Zali
(Australian)
Special
Arleana
(English)
Variant of Carlene and Charlene.
Cassi
(English)
Abbreviation of Cassandra. Unheeded prophetess. In Homer's The Iliad Cassandra's prediction of the fall of Troy was unheeded.
Erasmo
(Spanish)
Friendly
Jon
(French)
Variant of John or abbreviation of Jonathan Jehovah has been gracious: has shown favor. Sometimes used in the French fashion hyphenated with a second name like Jon-Carlo or Jon-Paul