Cat Names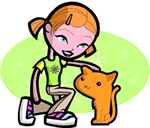 We offer 1,000's of cat names to help you choose the perfect one. Feel free to browse our unique cat names and when you find one you like you can add it to your favorites list to view later. If you have any cute cat names suggestions, please let us know. Enjoy!
Napayshni
Strong or courageous (Sioux)
Avia
(English)
Modern blend of Ava and Ana.
Blagden
(English)
From the dark valley
Citlalic
Raising Star, the first female Aztec warrior, is in Nahuatl the language of the Aztecs.
Wayne
(English)
Craftsman
Meadhbh
(Irish)
Happiness or pearl
Hwitcomb
(English)
From the white hollow
Elisa-Mae
A flower consecrated to God
Nyneve
The Lady of the Lake
Eorland
(English)
From the noblemsn's land
Abiram
(Hebrew)
Father of heights
Brennon
(Irish)
Prince. Variant of Brendan.
Leandre
(French)
Form of Leander. Lionlike man.
Milani
(Hawaiian)
Gentle Caress
Talford
(English)
Variant of Tal tall. Surname.
Trowhridge
(English)
From the tree bridge
Jerzie
(English)
Variant of Jersey.