Cat Names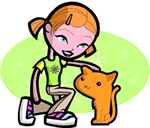 We offer 1,000's of cat names to help you choose the perfect one. Feel free to browse our unique cat names and when you find one you like you can add it to your favorites list to view later. If you have any cute cat names suggestions, please let us know. Enjoy!
Townly
(English)
From the town meadow
Robert
(Scottish)
Famed: bright: shining. 14th-century King Robert the Bruce. Robert Burns the poet.
Rousskin
(French)
Red haired
Avshalom
(Hebrew)
Father of peace
Alo
Spiritual guide (Hopi)
Leondrea
(French)
Lion: lioness. Feminine of Leon.
Ascot
(English)
Lives at the east cottage
Dannah
(English)
A Biblical place name: variant of Daniel God will judge.
Jenee
(English)
Modern name based on Jane or Jean: Based on Janai meaning God has answered.
Alsoomse
Independent (Algonquin)
Ardala
(Irish)
High honor
Cibil
(English)
Variant of Sibyl: In Greek mythology a name for prophetess or fortune-teller.
Skyrah
(English)
Eternal life, strength, love, and beauty.
Camelon
Site of Arthur's last battle
Cherise
(English)
Blend of Cherie and Cerise. Dear one: darling