Cat Names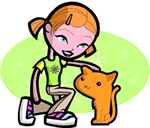 We offer 1,000's of cat names to help you choose the perfect one. Feel free to browse our unique cat names and when you find one you like you can add it to your favorites list to view later. If you have any cute cat names suggestions, please let us know. Enjoy!
Aisly
Dwells at the ash tree meadow
Fawna
(English)
Young deer. The Greek mythological deity of fertility and nature was Fauna. She was famous for her chastity.
Waleis
(English)
From Wales
Heallfrith
(English)
Peaceful home
Patric
(French)
Patrician: noble. Form of Patrick.
Cesar
(Spanish)
Long haired
Genisa
(Hebrew)
Origin: birth. Genisis is the name of the first book in the Bible. Genisia - the Virgin Mary of Turin - is a protectress invoked against drought in Catholic tradition.
Willhard
(English)
Resolute or brave
Sagirah
(Arabic)
Little one
Benjy
(English)
Abbreviation of Benjamin and Benedict.
Cadee
(Irish)
Variant of Cady meaning a rhythmic flow of sounds.
Abrianna
Mother of many nations.
Deorward
(English)
Guardian of the deer
Loralei
(German)
Variant of Lorelei meaning she whose singing lures men to destruction.
Davey
(Hebrew)
Dearly loved
Elliot
(English)
Variant of Elijah My God is Jehovah.
Daly
(English)
Small valley.
Torrey
(English)
Derived from Victoria triumphant or the craggy hills.
Fachnan
(Irish)
Name of a saint
Jennah
(English)
Modern variant of Jenny and Jennifer.