Cat Names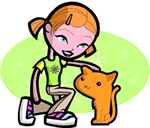 We offer 1,000's of cat names to help you choose the perfect one. Feel free to browse our unique cat names and when you find one you like you can add it to your favorites list to view later. If you have any cute cat names suggestions, please let us know. Enjoy!
Kenly
(English)
From the king's meadow
Finella
(Irish)
White shouldered
Hrypanleah
(English)
From the shouter's meadow
Yalissa
(Hebrew)
A beautifull flower.
Xalvador
(Spanish)
Savior
Bronson
(English)
Brown's son.
Brett
(English)
Brit. A native of Brittany: (France) or Britain: (England).
Ernestine
(German)
Serious: determined. Feminine of Emest
Abrianna
Mother of many nations.
Edmond
(English)
Prosperous protector.
Nakoma
Great warrior or Great spirit
Fireworks
(English)
Colorful explosives
Daniel
(Hebrew)
God is my Judge. The biblical prophet and writer of Book of Daniel was a teenager when taken to Babylon after the destruction of Jerusalem in 607 BC. He survived two death sentences: (a lions' den and a fiery furnace.): Frontiersman Daniel Boone.
Isold
(German)
Rule of ice
Clayson
(English)
Variant of Nicholas.
Balfour
(Scottish)
From the pastureland