Cat Names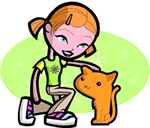 We offer 1,000's of cat names to help you choose the perfect one. Feel free to browse our unique cat names and when you find one you like you can add it to your favorites list to view later. If you have any cute cat names suggestions, please let us know. Enjoy!
Corby
(English)
Raven-haired.
Dantae
(Spanish)
Enduring. The poet Dante Alighieri wrote The Divine Comedy with its graphic description of medieval Hell known as Dante's Inferno.
Braiden
(English), (Irish)
Variation of Braden: From the Broad Valley
Alverna
(Hebrew)
Feminine of Alvin meaning wise friend.
Clarice
(English)
Variant of Claire or Clarice. Bright: shining and gentle: famous.
Elliot
(English)
Variant of Elijah My God is Jehovah.
Oldwyn
(English)
Special friend
Karlyn
(German)
Womanly: strength. Feminine of Karl.
Pearson
(English)
Son of Pierce
Tarek
(Arabic)
Morning star. Variant of Tariq
Hide
(English)
From the hide
Zebediah
(Hebrew)
Gift from God
Mal
(Hebrew)
Messenger of God
Darcy
(French)
From Arcy Dark.
Sofier
(Greek)
Wise. Variant of Sophie.
Griswalda
(German)
From the gray forest
Rico
(Spanish)
Strong ruler
Avia
(English)
Modern blend of Ava and Ana.