Cat Names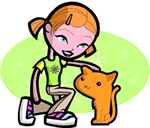 We offer 1,000's of cat names to help you choose the perfect one. Feel free to browse our unique cat names and when you find one you like you can add it to your favorites list to view later. If you have any cute cat names suggestions, please let us know. Enjoy!
Kyan
(African)
Little King
Bethanee
(Hebrew)
Variant of Bethany - a village near Jerusalem where Jesus visited Mary: Martha and Lazarus.
Elmer
(English)
Lives at the elm tree moor Famed: noble.
Chann
(Irish)
young wolf.
Crosly
(English)
From the cross meadow
Hagley
(English)
From the hedged enclosure
Annabla
(Irish)
Irish form of Annabel lovable
Donelle
(Irish)
Feminine form of Donal rules the world
Joleigh
(French)
Cheerful: pretty.
Wambleesha
White eagle (Sioux)
Gilat
(Hebrew)
Eternal joy
Kenneth
(Scottish)
Good-looking: fair.
Humberto
(Spanish)
Intelligent: Big: bright.
Kirk
(Scottish)
From the church