Cat Names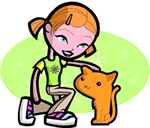 We offer 1,000's of cat names to help you choose the perfect one. Feel free to browse our unique cat names and when you find one you like you can add it to your favorites list to view later. If you have any cute cat names suggestions, please let us know. Enjoy!
Rawley
(English)
From the roe deer meadow
Atteworthe
(English)
Lives at the farmstead
Don
(Celtic)
Dark stranger
Romina
(Arabic)
From the Christian land
Staerling
(English)
A bird
Tod
(English)
Fox. Tod is a Scottish nickname meaning a clever or wily person.
Alarico
(Spanish)
Rules all
Shelly
From the ledge meadow
Susie
(English)
Lily. Variant of Hebrew Susannah. In the apocryphal Book of Tobit Susannah courageously defended herself against wrongful accusation. White lilies grew in the Biblical city of Susa in Persia.
Innes
(Scottish)
From Innes
Adelbert
(German)
Intelligent or noble
Garion
(German)
Guards: guardian.
Duane
(Irish)
Dark. Many Irish and Scottish names have the meaning dark or black.
Gaetana
(French)
From Gaete
Walter
(German)
Powerful ruler
Demasone
(English)
Judge's son
Jaquenette
(Hebrew)
Supplanter