Cat Names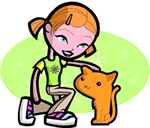 We offer 1,000's of cat names to help you choose the perfect one. Feel free to browse our unique cat names and when you find one you like you can add it to your favorites list to view later. If you have any cute cat names suggestions, please let us know. Enjoy!
Jacey
(English)
Based on the initials J.C. or an abbreviation of Jacinda.
Aife
(Celtic)
A great warrior woman of myth
Syd
(French)
Variant of Sidney from St. Denis
Aisley
(English)
Lives in the ash tree grove
Noreena
(Irish)
Variant of Nora light:honor
Kenzie
(Scottish)
The fair one. Abbreviation of McKenzie.
Norwyn
(English)
Friend of the north
Charlotte
(English)
Feminine variant of Charles meaning manly
Andeana
(Spanish)
Leaving
Shannen
(Irish)
Longest river in Ireland. Alternate Spelling: Shannon.
Franky
(English)
Diminutive of Frank Free: a free man. Frankie is occasionally used for girls.
Murrough
(Irish)
Fighter of the sea
Saul
(Hebrew)
Asked: inquired of God. The Hebrew name of the Apostle Paul.
Kesara
(Spanish)
Youthful
Etty
(English)
Abbreviation for Henrietta and Harriette.
Yelizavetam
(Hebrew)
Devoted to God
Ellenweorc
Famous courage
Matteha
Gift from God. Variant of Matthew.