Cat Names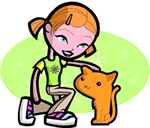 We offer 1,000's of cat names to help you choose the perfect one. Feel free to browse our unique cat names and when you find one you like you can add it to your favorites list to view later. If you have any cute cat names suggestions, please let us know. Enjoy!
Diondra
(English)
From the sacred spring. The mythological Dione was wife to Zeus and mother of Aphrodite.
Tedmond
(English)
National protector
Novalee
Chases butterflies. Combination of Nova and Lee.
Bernicia
(Spanish)
One who brings victory.
Eriq
(French)
Variant of Scandinavian Eric ever kingly. Actor Eriq La Salle.
Alric
(German)
Rules all. The historical Gothic king who plundered Rome in A.D. 410.
Fonteyne
(French)
Fountain: water source.
Els
(Hebrew)
Devoted to God
Nairne
(Scottish)
From the alder - tree river
Hobo
(English)
Wandering one
Stephenie
(English)
Variant of Stephanie, which is the feminine form of Stephen. From the Greek name Stephanos which means crown.
Carey
(Irish)
Of the dark ones.
Winwood
(English)
From Wine's forest
Bernardo
(Spanish)
Strong as a bear.
MacFarlane
(Scottish)
Son of Farlan