Cat Names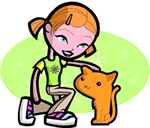 We offer 1,000's of cat names to help you choose the perfect one. Feel free to browse our unique cat names and when you find one you like you can add it to your favorites list to view later. If you have any cute cat names suggestions, please let us know. Enjoy!
Seldon
(English)
From the willow valley
Els
(Hebrew)
Devoted to God
Brandie
(English)
Variation of the beverage brandy used as a given name.
Tristen
(English)
Tumult: outcry. From the Celtic name Tristan. In Arthurian legend Tristan was a Knight of the Round Table and tragic hero of the medieval tale Tristram and Isolde.
Jaye
(English)
Variant of names like Jason and Jacob.
Toran
(Scottish)
Variant of Torrence From the craggy hills. Tor is a name for a craggy hilltop and also may refer to a watchtower.
Fitzhugh
(English)
Son of Hugh
Daylan
(English)
Rhyming variant of Waylon - a historical blacksmith with supernatural powers.
Amberlyn
(Arabic)
A jewel-quality fossilized resin: as a color the name refers to a warm honey shade.
Wambleesha
White eagle (Sioux)
Brinton
(English)
From Brinton
Jerron
(English)
Modern variant of Israeli Jaron cry of rejoicing.
Gwenyver
(Celtic)
White lady
Duncan
(Scottish)
Brown warrior
Matz
(Hebrew)
Gift from God