Cat Names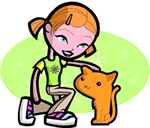 We offer 1,000's of cat names to help you choose the perfect one. Feel free to browse our unique cat names and when you find one you like you can add it to your favorites list to view later. If you have any cute cat names suggestions, please let us know. Enjoy!
Hann
(German)
Gift from God
Hlink
(English)
From the bank
Rexton
(English)
Variant of Rex chieftain: ruler. Surname.
Merlow
(English)
From the hill by the lake
Dalenna
(English)
Small valley. Abbreviation of Madeline.
Hamelstun
(English)
From the grassy estate
Tzion
(Hebrew)
Sunny mountain
Frazer
(Scottish)
Variant of Fraser of the forest men.
Sydney
(French)
Follower of Saint Denys
Brissa
(Spanish)
From Briseis the woman Achilles loved in Homer's Iliad.
Selene
Goddess of the Moon
Everard
(German)
Hardy: brave.
Avis
(English)
Refuge in battle