Cat Names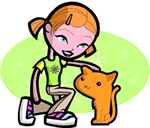 We offer 1,000's of cat names to help you choose the perfect one. Feel free to browse our unique cat names and when you find one you like you can add it to your favorites list to view later. If you have any cute cat names suggestions, please let us know. Enjoy!
Isana
(German)
Strong willed
Pat
(English)
Patrician: noble. Abbreviation of Patrick.
West
(English)
West town. Surname.
Lillian
(English)
Variant of Lillian derived from the flower name Lily. Symbol of innocence: purity: beauty.
Reginheraht
(German)
Mighty or intelligent
Perry
(French)
French form of Peter
Lindsey
(English)
From the linden tree island
Tully
(Irish)
Peaceful. Surname.
Tyfiell
(Irish)
Derivative of the Scandinavian god of battle Tyr. Tuesday was named for Tyr.
Adriaan
Variant of Adrian. From Adria.
Patton
(English)
From the warrior's town
Darick
(Irish)
Strong: oak-hearted. See also Derek.
Adolfo
(German)
Noble wolf.
Magdalene
(Hebrew)
From the tower
Gilmer
(Scottish)
Sword bearer.
Susannah
(Hebrew)
Graceful lily In the apocryphal Book of Tobit Susannah courageously defended herself against wrongful accusation. White lilies grew in the Biblical city of Susa in Persia.