Cat Names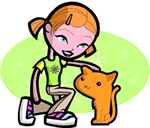 We offer 1,000's of cat names to help you choose the perfect one. Feel free to browse our unique cat names and when you find one you like you can add it to your favorites list to view later. If you have any cute cat names suggestions, please let us know. Enjoy!
Wemilat
Of wealthy parents
Trisa
(English)
Abbreviation of Patricia noble.
Dikesone
(English)
Son of Dick
Jean Baptiste
(French)
French form of John the Baptist
Falk
(German)
Surname relating to falconry.
Hugette
(French)
Feminine form of Hugh
Alena
(Celtic)
Fair: good-looking. Feminine of Allen or variant of Helen.
Bryce
(Scottish)
Speckled: Surname form of Brice.
Luki
(German)
Famous fighter
Jae
(English)
Variant of names like Jason and Jacob.
Kaleikaumaka
(Hawaiian)
Beloved child to looked upon with pride and love
Brigidia
(Spanish)
Spanish form of Bridget strong
Stancliff
(English)
From the rocky diff
Carney
(Irish)
Victorious
Malmuira
(Scottish)
Dark skinned
Firtha
(Scottish)
Arm of the sea
Hraefnscaga
(English)
From the raven forest