Cat Names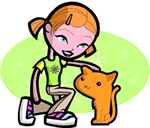 We offer 1,000's of cat names to help you choose the perfect one. Feel free to browse our unique cat names and when you find one you like you can add it to your favorites list to view later. If you have any cute cat names suggestions, please let us know. Enjoy!
Laney
(English)
Path: roadway. Variant of surnames Lane and Laine.
Lilybeth
(English)
Blend of Lily: (the flower: innocence: purity: beauty) and Elizabeth: (My God is bountiful:God of plenty.)
Jaye
(English)
Variant of names like Jason and Jacob.
Chantay
(French)
Singer:to sing
Luduvico
(German)
Famous fighter
Fredda
(German)
Peaceful ruler. Feminine of Frederick.
Jacob
(Hebrew)
Supplanter
Laren
(Scottish)
Serves Lawrence
Jerrah
(Hebrew)
Jehovah has seen. A Biblical name.
Lockwood
(English)
From the enclosed wood
Kaylin
(English)
Variant of Kay and Kayla. keeper of the keys: pure.
Harford
(English)
From the hare's ford
More
(French)
Dark skinned
Myrna
(Arabic)
Myrrh: sweet oil.
Ruark
(Irish)
Famous ruler
Gryfflet
Killed by Lancelot
Annalisa
(Hebrew)
Grace or devoted to God
Zyana
(Hebrew)
Blessing from Heaven.