Cat Names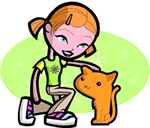 We offer 1,000's of cat names to help you choose the perfect one. Feel free to browse our unique cat names and when you find one you like you can add it to your favorites list to view later. If you have any cute cat names suggestions, please let us know. Enjoy!
Murchadh
(Irish)
Fighter of the sea
Kaleikaumaka
(Hawaiian)
Beloved child to looked upon with pride and love
Elwell
(English)
From the old spring
Ailein
(Scottish)
From the green meadow
Burn
(English)
From the brook
Cartimandua
Name of a queen of Brigantes
Breena
(Irish)
Fairy palace. Also variant of Brianna and Sabrina.
Coburn
(Scottish)
Surname and place name.
Leona
(French)
Lion: lioness. Feminine of Leon.