Cat Names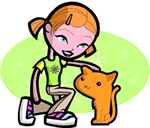 We offer 1,000's of cat names to help you choose the perfect one. Feel free to browse our unique cat names and when you find one you like you can add it to your favorites list to view later. If you have any cute cat names suggestions, please let us know. Enjoy!
Rodman
(English)
Lives by the road Guard wisely.
Layton
(English)
From the meadow farm
Genevieve
(German)
Of the race of women. White wave
Ordland
(English)
From the pointed hill
Abu Bakr
(Arabic)
Companion of Muhammad
Ailein
(Scottish)
From the green meadow
Leonardo
(Spanish)
Lion-bold. Leonardo da Vinci is considered by many to be the most brilliant and creative men who ever lived.
Lindsey
(English)
From the linden tree island
Mathilde
(German)
Mighty battle maiden
Jerric
(English)
Strong: gifted ruler. Blend of Jer- and Derrick.
Wryhta
(English)
Craftsman
Keola
(Hawaiian)
The Life
Krystine
(English)
Variant of Christine. Christian.
Melisenda
(Spanish)
Sweet
Joyann
(French)
Rejoicing.