Cat Names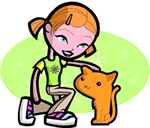 We offer 1,000's of cat names to help you choose the perfect one. Feel free to browse our unique cat names and when you find one you like you can add it to your favorites list to view later. If you have any cute cat names suggestions, please let us know. Enjoy!
Harimanna
(German)
Warrior maiden
Loriel
(English)
Modern variant of Lora and Laurie referring to the laurel tree or sweet bay tree symbolic of honor and victory.
Daryl
(English)
Dearly loved. The name Daryl for girls was made popular by actress Daryl Hannah.
Abramo
(Hebrew)
Father of a multitude
Jaylynn
(English)
Feminine variant of Jay
Edyth
(English)
Happy warfare
Manfried
(German)
Peaceful
Bailee
(French)
Courtyard within castle walls: steward or public official. Surname or given name.
Karcsi
(French)
Joyful song
Eliane
(Hebrew)
Jehovah is God
Lahela
(Hawaiian)
Variant of Rachael.
Barrak
(Hebrew)
Flash of lightning. In the bible the valiant fighting man Barak cooperated with the prophetess Deborah to win victory in battle against overwhelming odds.
Raimond
(French)
Guards wisely.
Lyvia
(English)
Life. Ancient Roman name. Abbreviation of Olivia.
Gordon
(English)
From the three cornered hill or From the marshes. One of Scotland's great clans. Surname.
Cuthbert
(English)
Noted splendor
Heloise
(French)
French form of Louise
Burgtun
(English)
From the fortress town
Philippine
(German)
Loves horses