Cat Names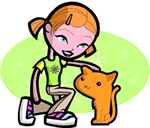 We offer 1,000's of cat names to help you choose the perfect one. Feel free to browse our unique cat names and when you find one you like you can add it to your favorites list to view later. If you have any cute cat names suggestions, please let us know. Enjoy!
Branton
(English)
Variant of Brand. Mohawk Indian Joseph Brant was a renowned strategist who fought for the British during the American Revolution: and a devout scholar who translated Christian religious works into his native Indian tongue.
Colys
(English)
Son of the dark man
Leland
(English)
From the meadow land Pasture ground.
Elgine
(Celtic)
Noble: white.
Calinda
(English)
Contemporary blend of the Italian/Greek Calandra with Linda
Azrael
(Hebrew)
God is my help.
Lacee
(French)
Derived from Lacey which is a French Nobleman's surname brought to British Isles after Norman conquest.
Barday
(Scottish)
From Berkeley
Annchi
(Chinese)
Amazing Peace, Angel
Gerica
(English)
Blend of Geri plus Erica.
Maddalene
(German)
Magnificent
Kendal
(English)
Royal valley referring to Kent in England.
Maritza
(German)
Of the sea.