Cat Names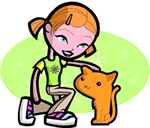 We offer 1,000's of cat names to help you choose the perfect one. Feel free to browse our unique cat names and when you find one you like you can add it to your favorites list to view later. If you have any cute cat names suggestions, please let us know. Enjoy!
Younique
She is one like no other.
Tuketu
Bear making dust (Miwok)
Dior
(French)
Related to D'Or meaning golden.
Danah
(English)
From Denmark. Also a variant of Daniel.
Leandre
(French)
Form of Leander. Lionlike man.
Barhloew
(English)
Lives on the bare hill
Noreena
(Irish)
Variant of Nora light:honor
Caindale
(English)
From the clear river valley
Tamarah
(Hebrew)
Palm tree
Annamarie
(English)
Variant of Anne. Biblical: devout woman who saw infant Jesus presented at the temple in Jerusalem.
Keaira
(Celtic)
Little dark one
Sinclair
(French)
St. Clair.
Jenee
(English)
Modern name based on Jane or Jean: Based on Janai meaning God has answered.
Emmaline
(German)
Hardworking. Variant of Emily.
Garrman
(English)
Speannan