Cat Names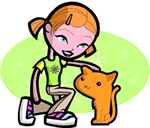 We offer 1,000's of cat names to help you choose the perfect one. Feel free to browse our unique cat names and when you find one you like you can add it to your favorites list to view later. If you have any cute cat names suggestions, please let us know. Enjoy!
Kiana
(Irish)
Variant of Kian. Ancient.
Misi
(Hebrew)
Gift from God
Mallory
(German)
Army counselor
Fanny
(English)
Pet name meaning free: variant of Frances.
Azrael
(Hebrew)
God is my help.
Speedy
fast and likes to run
Broden
(Scottish)
Reference to Castle Brodie in Scotland.
Earvin
(English)
Friend. Variant of Irving.
Bertina
(German)
Intelligent
Meldrick
(English)
From the powerful mill
Pernell
(English)
Little rock
Jaiden
Variant of Jayden (God has heard)