Cat Names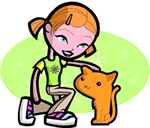 We offer 1,000's of cat names to help you choose the perfect one. Feel free to browse our unique cat names and when you find one you like you can add it to your favorites list to view later. If you have any cute cat names suggestions, please let us know. Enjoy!
Marlana
(English)
Variant of Madeline Woman from Magdala.
Hide
(English)
From the hide
Vidal
(English)
Life. Used as both surname and given name. See also Vito.
Pasclina
(French)
Born at Easter
Duncan
(Scottish)
Brown warrior
Reynald
(German)
Counselor-ruler.
May
(Scottish)
Scottish form of Margaret pearl
Genevieve
(German)
Of the race of women. White wave
Estefani
(Spanish)
Feminine of Stephan.
Braeden
(Irish)
Broad hillside.
Coinneach
(Irish)
Handsome
Gurion
(Hebrew)
My lion cub