Cat Names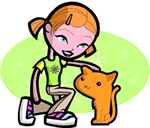 We offer 1,000's of cat names to help you choose the perfect one. Feel free to browse our unique cat names and when you find one you like you can add it to your favorites list to view later. If you have any cute cat names suggestions, please let us know. Enjoy!
Jorja
(English)
Modern phonetic variant of Georgia.
Adelita
(German)
Sweet or noble
Whitby
(English)
From the white farm
Bidelia
(Irish)
Protective
Bayley
(English)
Courtyard within castle walls: steward or public official. Surname or given name.
Upwood
(English)
From the upper forest
Casen
Alternate Spelling: Cason.
Eevee
(English)
A girl who born in chrismas eve
Raylen
(English)
Counselor. Variant of Raymond.
Alverna
(Hebrew)
Feminine of Alvin meaning wise friend.
Gwyndolin
(Celtic)
Of the white brow
Kayleigh
(Scottish)
Warrior
Rane
(English)
Strong counselor. From the ancient personal name Ragnar.
Brittan
(English)
Brit. A native of Brittany: (France) or Britain: (England).