Cat Names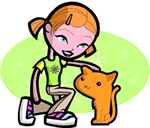 We offer 1,000's of cat names to help you choose the perfect one. Feel free to browse our unique cat names and when you find one you like you can add it to your favorites list to view later. If you have any cute cat names suggestions, please let us know. Enjoy!
Chico
(Spanish)
Boy: lad. Also Spanish abbreviation of Ezekiel.
Chere
(French)
Variant of Cherie Dear one:darling
Jabulela
(African)
Be happy
Piers
(French)
A rock. Form of Peter.
Blyss
(English)
Joy: cheer. Used from medieval times.
Kyndall
(English)
Royal valley referring to Kent in England.
Hiolair
(Irish)
Irish form of Hilary happy
Ciara
(Irish)
Saint or Dark. Feminine of Ciaran.
Alyssia
(English)
Variant of Alice.
Fe Fe
Fe Fe means feline in Cuba.
Mikella
(English)
Feminine of Michael gift from God.
Xavierre
(French)
Owner of a new home
Leonela
(French)
Lion: lioness. Feminine of Leon.
Cailey
(Greek)
Lark, musical one.
Prentiss
(English)
Scholar
Sanders
(English)
Alexander's son