Cat Names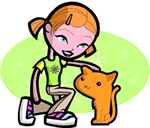 We offer 1,000's of cat names to help you choose the perfect one. Feel free to browse our unique cat names and when you find one you like you can add it to your favorites list to view later. If you have any cute cat names suggestions, please let us know. Enjoy!
Bethanee
(Hebrew)
Variant of Bethany - a village near Jerusalem where Jesus visited Mary: Martha and Lazarus.
Wacleah
(English)
From Wake's meadow
Burhford
(English)
Lives at the castle ford
Garfield
From the comic strip
Gwalchmai
(Celtic)
From Arthurian legend
Hannah
(Hebrew)
Favor: grace. Biblical mother of the prophet Samuel.
Khristian
(Greek)
Anointed, follows Christ.
Malcolm
(Celtic)
Servant of Saint Columba
Beorht
(English)
Glorious
Leona
(French)
Lion: lioness. Feminine of Leon.
Ronell
(English)
Rules with counsel. Form of Ronald from Reynold.
Iva
(French)
From the yew tree
Gerri
(English)
Modern form of Gerry.
Teri
(English)
Abbreviation of Teresa which is a popular saint's name of uncertain meaning.