Cat Names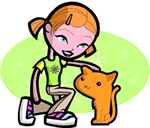 We offer 1,000's of cat names to help you choose the perfect one. Feel free to browse our unique cat names and when you find one you like you can add it to your favorites list to view later. If you have any cute cat names suggestions, please let us know. Enjoy!
Hisolda
(Irish)
Irish form of Isolda
Speedy
fast and likes to run
Constance
(English)
Constancy: steadfastness.
Barbie
(English)
Traveler from a foreign land. In Catholic custom St. Barbara is a protectress against fire and lightning.
Kiahna
(Irish)
Variant of Kian. Ancient.
Hrothrehr
(Irish)
Famous ruler
Hellekin
French lover of Morgan le Fay
Bevis
(French)
From Beauvais
Emma
(German)
Whole: complete. Universal
Torrey
(English)
Derived from Victoria triumphant or the craggy hills.
Clarke
(English)
Cleric: secretary.
Adkins
(English)
Son of Aiken
Chalmer
(Scottish)
Rules the home
Willy
(English)
Diminutive of William or any names begining with Will- : Resolute protector: will.
Morgana
Enchantress half sister of Arthur
Jacob
(Hebrew)
Supplanter