Cat Names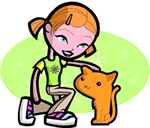 We offer 1,000's of cat names to help you choose the perfect one. Feel free to browse our unique cat names and when you find one you like you can add it to your favorites list to view later. If you have any cute cat names suggestions, please let us know. Enjoy!
Hann
(German)
Gift from God
Reeford
(English)
Surname. The medieval castle or landholding reeve oversaw all feudal obligations.
Cavana
(Irish)
From Cavan
Erchanhardt
(German)
Sacred
Volker
(German)
People's guard
Caroline
(Scottish)
Feminine form of Charles manly
Edelina
(English)
Spoils of war.
Farnham
(English)
From the fern field
Jamie
(Hebrew)
Supplanter
Watelford
(English)
From the hurdle ford
Derwan
(English)
Friend of the deer
Maelisa
(Irish)
Serves Christ
Dempster
(English)
Judicious
Honoratas
(Spanish)
Honor
Lucrece
(French)
From the Latin Lucretia Historically a Roman matron who committed suicide as a public protest against dishonor: from the Renaissance era - Lucrezia Borgia who was sister to Cesare Borgia.
Alanza
(Spanish)
Ready for battle. Feminine of Alonzo.
Atkinsone
(English)
Son of Aiken