Cat Names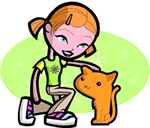 We offer 1,000's of cat names to help you choose the perfect one. Feel free to browse our unique cat names and when you find one you like you can add it to your favorites list to view later. If you have any cute cat names suggestions, please let us know. Enjoy!
Herzeloyde
Percival's mother
Jessamyn
(Arabic)
A flower name from the older form Jessamine.
Jaye
(English)
Variant of names like Jason and Jacob.
Averill
(English)
Wild boar
Amber
(Arabic)
Jewel. A jewel-quality fossilized resin: as a color the name refers to a warm honey shade.
Chelinde
Tristan's grandmother
Gordon
(English)
From the three cornered hill or From the marshes. One of Scotland's great clans. Surname.
Dalziel
(Scottish)
From the little field
Jaira
(Hebrew)
Feminine of Jairus.
Timothy
(English)
One who honors God. The biblical Timothy was the young Christian to whom Paul wrote. Let no man look down on your youth.
Banning
(English)
Son of the slayer
Etty
(English)
Abbreviation for Henrietta and Harriette.
Wilford
(German)
Desires peace.
Shekinah
The visible Glory of God
Mada
(Irish)
From Mathilda