Cat Names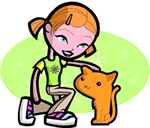 We offer 1,000's of cat names to help you choose the perfect one. Feel free to browse our unique cat names and when you find one you like you can add it to your favorites list to view later. If you have any cute cat names suggestions, please let us know. Enjoy!
Farrin
(Irish)
The land. Also used for girIS.
Churchill
(English)
Lives at the church hill
Chaseyn
Variant of Chase.
Sherbourn
(English)
From the clear brook
Frederic
(French)
Peaceful ruler.
Conall
(Celtic)
Strong in battle High: mighty.
Garnett
(English)
Armed with a spear
Beau/Belle
(French)
Handsome/Beautiful
Travers
(French)
From the crossroads
Elwold
(English)
Old Welshman
Grisella
(German)
Gray: gray-haired. Italian author Giovanni Boccaccio's used the name for an exceptionally patient fictional wife - thus the expression patience of Griselda.
Brett
(English)
Brit. A native of Brittany: (France) or Britain: (England).
Cace
(Irish)
Variant of Casey Alert: vigorous.
Baldwin
(German)
Bold friend
Miyu
(Japanese)
Beautiful moon