Cat Names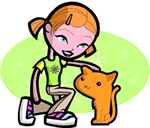 We offer 1,000's of cat names to help you choose the perfect one. Feel free to browse our unique cat names and when you find one you like you can add it to your favorites list to view later. If you have any cute cat names suggestions, please let us know. Enjoy!
Jarrett
(English)
Spear strong. Surname. Variant of Garrett.
Jerad
(Hebrew)
Descending. A pre-flood Biblical name. The character Jared on the late Sixties TV western The Big Valley.
Aharman
The Evil God perpetually at war with the Good God, Ahura-Mazda or Ormuzd, the Supreme Creator as given in the Zen-davasta of the Zoroastrians.
Veniamin
(Hebrew)
Son of the right hand
Jopie
(Hebrew)
God will multiply
Anoushka
(Indian)
Lightning.
Travon
(English)
Fair town. Abbreviation of Trevelyan.
Ogelsby
(English)
Fearsome
Kerrick
(English)
King's rule. Surname.
Brett
(English)
Brit. A native of Brittany: (France) or Britain: (England).
Karoly
(French)
Joyful song
Caroliana
(English)
Feminine variant of Charles meaning manly