Cat Names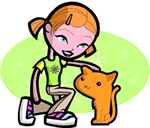 We offer 1,000's of cat names to help you choose the perfect one. Feel free to browse our unique cat names and when you find one you like you can add it to your favorites list to view later. If you have any cute cat names suggestions, please let us know. Enjoy!
Emmalyn
(German)
Hardworking. Variant of Emily.
Dunley
(English)
From the hill meadow
Gliona
(Irish)
From the Greek Cleone daughter of a river god
Caitrin
(Irish)
Variant of Katherine meaning pure
Henry
(French)
Rules the home
Paul
(English)
Little. Biblical apostle and evangelist Paul's letters to early Christians comprise many New Testament books.
Monty
(English)
Mountain. Abbreviation of Montague and Montgomery.
Carree
(English)
Abbreviation of Carol and Caroline from the masculine Charles meaning manly
MacAuliffe
(Irish)
Son of Olaf
Karleigh
(German)
Womanly: strength. Feminine of Karl.
Nelda
(English)
By the alder tree
Jilliann
(English)
Jove's child. Variant of Gillian from the masculine Julian.
Terciero
(Spanish)
Born third
Reynard
(German)
Mighty and brave Strong counselor.
Brandee
(English)
Variation of the beverage brandy used as a given name.