Cat Names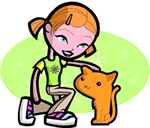 We offer 1,000's of cat names to help you choose the perfect one. Feel free to browse our unique cat names and when you find one you like you can add it to your favorites list to view later. If you have any cute cat names suggestions, please let us know. Enjoy!
Cordelia
(Celtic)
Of the sea
Mandel
(French)
Makes garments
Jordynn
(Hebrew)
Variant of Jordan.
Athmore
(English)
From the moor
Sikyahonaw
Yellow bear (Hopi)
Keiran
(Irish)
Dusky: dark-haired.
Dedrick
(German)
People's ruler
Jenarae
(English)
Variation of Jenny which is a diminutive of Jane and Jennifer.
Victorio
(Spanish)
Conqueror.
Ellee
(English)
Abbreviation of Eleanor and Ellen.
Randel
(English)
Variants of Randolph Wolf's shield. Surname.
Gordana
(Scottish)
Heroic
Keyon
(English)
Guiding, leading. Alternate Spellings: Kieon, Key.
Mick
(English)
Abbreviation of Michael and Micah Who is like God?
Camelon
Site of Arthur's last battle
Rudyard
(English)
From the rough enclosure
Bannan
(German)
Commander