Cat Names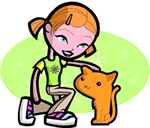 We offer 1,000's of cat names to help you choose the perfect one. Feel free to browse our unique cat names and when you find one you like you can add it to your favorites list to view later. If you have any cute cat names suggestions, please let us know. Enjoy!
Keiran
(Irish)
Dusky: dark-haired.
Garvin
(English)
Friend with a spear
Flynn
(Irish)
Son of a red-haired man. Surname.
Rosston
(German)
Red. Surname.
Stephenie
(English)
Variant of Stephanie, which is the feminine form of Stephen. From the Greek name Stephanos which means crown.
Eldrian
(English)
Old/wise ruler.
Krystalyn
(English)
Variant of Crystal. Sparkling. K from the Greek spelling of krystallos.
Thorn
(English)
Town of thorns. Thornton variant. Surname.
Chubbs
Club pro from "Happy Gilmore".
Archie
(English)
Valuable: bold.
Franky
(English)
Diminutive of Frank Free: a free man. Frankie is occasionally used for girls.
Augusteen
(Irish)
Feminine form of Augustine great
Georgia
(German)
Farmer. Feminine of George.
Dina
(Hebrew)
Avenged Judged and vindicated. In the bible Dinah was Jacob's only daughter.
Fraser
(Scottish)
Strawberry flowers: Of the forest men. A major Scottish clan.