Cat Names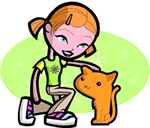 We offer 1,000's of cat names to help you choose the perfect one. Feel free to browse our unique cat names and when you find one you like you can add it to your favorites list to view later. If you have any cute cat names suggestions, please let us know. Enjoy!
Darick
(Irish)
Strong: oak-hearted. See also Derek.
Thane
(Scottish)
Anglo-Saxon and Scottish feudal lords' title. Shakespeare's Macbeth was Thane of Cawdor.
Alaska
Largest state in the U.S.
Celestiel
(French)
Heavenly.
Enoch
(Hebrew)
Trained and dedicated. In the bible Enoch was father of Methuselah: the oldest living man named in the Bible.
Myleen
(English)
Merciful. Feminine of Myles.
Kedric
(English)
Gift of splendor. Form of Cedric.
Kuno
(German)
Honest advisor
Hampton
(English)
Place-name and surname.
Autumn
(English)
Born in the fall: The fall season.
Hugette
(French)
Feminine form of Hugh
Jemal
(Arabic)
Handsome. Variant of Jamal. JERALD: (English) Variant and surname form of Gerald Rules by the spear.
Alvyn
(English)
Wise friend.
Pascala
(French)
Born at Easter
Jonni
(English)
Modern feminine of John and Jon.
Skipper
(English)
Captain
Bayley
(English)
Courtyard within castle walls: steward or public official. Surname or given name.
Deon
(English), (French)
Abbreviation of Dionysius.
Burhford
(English)
Lives at the castle ford