Cat Names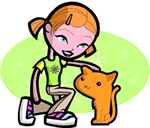 We offer 1,000's of cat names to help you choose the perfect one. Feel free to browse our unique cat names and when you find one you like you can add it to your favorites list to view later. If you have any cute cat names suggestions, please let us know. Enjoy!
Donelle
(Irish)
Feminine form of Donal rules the world
Jeovana
(English)
Feminine of Giovanni: variant of Jovana.
Tamryn
(Hebrew)
Palm tree. Variant of Tamar. Biblical Tamara was daughter of King David and sister to Absalom.
Jaran
(English)
Modern variant of Israeli Jaron cry of rejoicing.
Veniamin
(Hebrew)
Son of the right hand
Marlowe
(English)
Variant of Marlene Woman from Magdala.
Miyu
(Japanese)
Beautiful moon
Sheelah
(Irish)
Irish form of Cecilia blind
Charmain
(French)
One of Cleopatra's attendants in Shakespeare's Antony and Cleopatra was named Charmian.
Shad
(English)
Short form of the Biblical Shadrach: one of three young Hebrew men who survived being cast into a fiery furnace.
Optimus
Optimus Prime from Transformers
Cuddles
(English)
To hug or embrace.
Chan
(Spanish)
Nickname for John.
Edison
(English)
Son of Edward
Norville
From the north state