Cat Names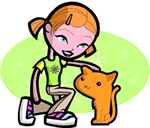 We offer 1,000's of cat names to help you choose the perfect one. Feel free to browse our unique cat names and when you find one you like you can add it to your favorites list to view later. If you have any cute cat names suggestions, please let us know. Enjoy!
Ashlyn
(English)
Meadow of ash trees.
Hwitcomb
(English)
From the white hollow
Kurt
(German)
Honest advisor
Ranica
(Hebrew)
Lovely tune
Wendall
(German)
Traveler: wanderer.
Burnell
(German)
Variant of Bernard strong as a bear.
Rudyard
(English)
From the rough enclosure
Vareck
(English)
From the fortress
Fernando
(Spanish)
Adventurer. See also Hernando. Ferdinand: (Spanish/German) Adventurer.
Setanta
(Celtic)
Mythical son of Sualtam
Grayson
(English)
Son of the reeve or Gray-haired: son of the Gray family: son of Gregory.
Idelisa
(Celtic)
Bountiful.
Amberlee
(English)
A jewel-quality fossilized resin: as a color the name refers to a warm honey shade.
Toriana
(English)
Derived from Victoria triumphant.