Cat Names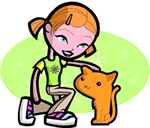 We offer 1,000's of cat names to help you choose the perfect one. Feel free to browse our unique cat names and when you find one you like you can add it to your favorites list to view later. If you have any cute cat names suggestions, please let us know. Enjoy!
Albertine
(Spanish)
Noble
Elbertine
(English)
Noble or glorious
Kilala
(Japanese)
One with the cats
Gilroy
(Celtic)
Serves the red haired lord
Efrem
(Hebrew)
Doubly fruitful. Form of Hebrew Ephraim
Yalissa
(Hebrew)
A beautifull flower.
Tatum
(English)
Brings joy
Wagner
(German)
Wagon maker
Edelina
(English)
Spoils of war.
Jehane
(French)
Feminine form of Jean
Ogilvie
(Scottish)
From the high peak
Chetwyn
(English)
From the cottage on the winding path
Madisyn
(English)
Good. Variant of Madison.