Cat Names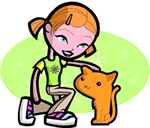 We offer 1,000's of cat names to help you choose the perfect one. Feel free to browse our unique cat names and when you find one you like you can add it to your favorites list to view later. If you have any cute cat names suggestions, please let us know. Enjoy!
Laurenz
(German)
From the place of the laurel trees.
Morgana
Enchantress half sister of Arthur
Kieli
(Hawaiian)
Heavenly garden.
Marlynn
(English)
Feminine of Marlon: Variant of Marlene Woman from Magdala.
Elynn
(English)
Variant of Helen. Means Light or most beautiful woman
Wharton
(English)
From the estate at the hollow
Seldon
(English)
From the willow valley
Finella
(Irish)
White shouldered
Caroline
(Scottish)
Feminine form of Charles manly
Culloden
(Scottish)
From the nook of the marsh
Kolby
(English)
Dark-skinned.
Alese
(German)
Beautiful soul.
Braedyn
(English)
Broad Hill
Ripley
From Hrypa's meadow
Bradlee
(English)
English surnames related to Bradley Broad clearing in the wood
Raleigh
Blessing to earth.
Matei
(Hebrew)
Gift from God.
Inda
(English)
The country India.
Kenzie
(Scottish)
The fair one. Abbreviation of McKenzie.