Cat Names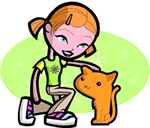 We offer 1,000's of cat names to help you choose the perfect one. Feel free to browse our unique cat names and when you find one you like you can add it to your favorites list to view later. If you have any cute cat names suggestions, please let us know. Enjoy!
Shaniyah
Pretty as a blooming blossom.
Brentley
(English)
Hilltop. Variant of Brent.
Lenard
(German)
Lion-bold.
Arndell
(English)
From the eagle's dell
Matz
(Hebrew)
Gift from God
Josalynn
(French)
Medieval male name adopted as a feminine name.
Binga
(German)
From the kettle shaped hollow
Marjolaina
(French)
Flower
Clementina
(Spanish)
Merciful
Treoweman
(English)
Loyal
Mariah
(English)
Variant of Latin Mary bitter
Josee
(Hebrew)
God will add
Alandra
(Spanish)
Variant of Alexandra defender of mankind.
Webbeleah
(English)
From the weaver's meadow