Cat Names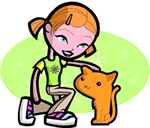 We offer 1,000's of cat names to help you choose the perfect one. Feel free to browse our unique cat names and when you find one you like you can add it to your favorites list to view later. If you have any cute cat names suggestions, please let us know. Enjoy!
Ximen
(Hebrew)
God has heard
Dewey
(English)
Place-name and surname: Welsh form of David.
Deke
(English)
Dusty one: servant.
Cingeswiella
(English)
Lives at the king's spring
Mackenna
(Scottish)
Child of the handsome one.
Jerryl
(English)
Strong: open-minded. Blend of Jerold and Darell.
Che
(Spanish)
Abbreviation of Jose: Latin-American revolutionary Che Guevara.
Lisabeth
(English)
Abbreviation of Elizabeth.
Fay
(French)
Fairy Variant of Faith. Confidence: trust: belief.
Burgess
(English)
Lives in town
Leona
(French)
Lion: lioness. Feminine of Leon.
Michelle
(French)
Feminine of Michael gift from God.
Beall
(English)
Handsome.