Cat Names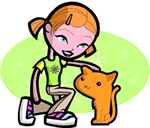 We offer 1,000's of cat names to help you choose the perfect one. Feel free to browse our unique cat names and when you find one you like you can add it to your favorites list to view later. If you have any cute cat names suggestions, please let us know. Enjoy!
Omat
(Irish)
The color of olive
Mallory
(German)
Army counselor
Maethelwine
(English)
Council friend
Hadon
(English)
From the heath
Lorette
(English)
Diminutive of Laura or Lora referring to the laurel tree or sweet bay tree symbolic of honor and victory.
Wattesone
(English)
Son of Walter
Bryssa
(Spanish)
From Briseis the woman Achilles loved in Homer's Iliad.
Ami
(French)
Dearly loved
Paolo
(Italian)
Small, a form of Paul
Burgess
(English)
Lives in town
Daganya
(Hebrew)
Ceremonial grain
Morit
(Hebrew)
God teaches
Glen
(Celtic)
From the valley
Jorge
(Spanish)
Spanish form of George farmer