Cat Names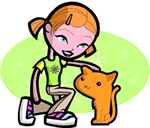 We offer 1,000's of cat names to help you choose the perfect one. Feel free to browse our unique cat names and when you find one you like you can add it to your favorites list to view later. If you have any cute cat names suggestions, please let us know. Enjoy!
Matei
(Hebrew)
Gift from God.
Jabba The Hut
Large creature from Star Wars
Thornley
(English)
From the thorny meadow
Evelynne
(English)
Form of Evelyn. Life.
Norberaht
(German)
Bright heroine
Kiahna
(Irish)
Variant of Kian. Ancient.
Phoenix
(Greek)
Mystical Bird, Purple
Jocelynn
(English)
Medieval male name adopted as a feminine name.
Vaiveahtoish
Alights on the cloud (Cheyenne)
Katelinn
(English)
Medieval English form of the Irish Caitlin. Pure
Amadeo
(Spanish)
Loves God
Leveret
(French)
Young rabbit
Odahingum
Rippling water (Chippewa)
Leyla
(Arabic)
Born at night.
Eldan
(English)
From the elves'valley
Tabitha
(Hebrew)
beauty, grace From the Aramaic word for Gazelle. Biblical - Tabitha of the New Testament (Acts 9:36) was noted for good works.
Alsandair
(Irish)
Defender of man