Cat Names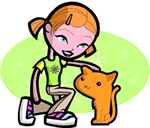 We offer 1,000's of cat names to help you choose the perfect one. Feel free to browse our unique cat names and when you find one you like you can add it to your favorites list to view later. If you have any cute cat names suggestions, please let us know. Enjoy!
Jenene
(English)
Variation of Jenny which is a diminutive of Jane and Jennifer.
Ailbe
(German)
Intelligent or noble
Shaw
(English)
From the shady grove
Elmore
(English)
Lives at the elm tree moor
Roderik
(English)
Famous ruler.
Harimanna
(German)
Warrior maiden
Galenka
(Hebrew)
God shall redeem
Jennifer
(English)
Fair one. Variant of Guinevere. In Arthurian Mythology Guinevere was Arthur's queen.
Dalziel
(Scottish)
From the little field
Richie
(Spanish)
Variant of Richard.
Medwin
(English)
Strong friend
Conchobar
(Celtic)
Mythical hero
Fayza
(Arabic)
Successful: Winner, Victorious. Alternate spelling: Faiza
Nathan
(Hebrew)
Gift from God
Sadler
Life will go on and on. Open-minded.
Leesa
(Hebrew)
Variant of Lisa, Lise, Lisetta: A familiar form of Elisabeth: Consecrated to God