Cat Names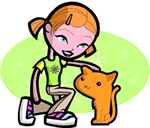 We offer 1,000's of cat names to help you choose the perfect one. Feel free to browse our unique cat names and when you find one you like you can add it to your favorites list to view later. If you have any cute cat names suggestions, please let us know. Enjoy!
Dorothee
(English)
Variant of the Greek Dorothy meaning Gift of God.
Adelbert
(German)
Intelligent or noble
Hilde
(English)
Battle maid
Faithe
(English)
Faithful
Loralei
(German)
Variant of Lorelei meaning she whose singing lures men to destruction.
Cindia
(English)
Abbreviation of Cynthia and Lucinda.
Fergusson
(Scottish)
Son of the first choice
Roswell
(German)
Horse mighty
Mylnburne
(English)
From the mill stream
Nahcomence
Oldbark antelope (Cheyenne)
Darrah
(Hebrew)
Wise. Dara was a biblical descendant of Judah known for his wisdom.
Stockhart
(English)
Hardy tree
Ailsa
(Hebrew)
Devoted to God
Feldon
(English)
From the field estate
Salhtun
(English)
Lives near the willow farm
Therese
(French)
Variant of Theresa which is the name of two popular saints Teresa of Avila and Therese of Lisieux. Meaning uncertain although possibly a Greek place name.
Baron
(French)
A title of nobility used as a given name.
Christianna
(Greek)
Same as Christina/Christopher
Ocho
(Mexican), (Spanish)
Eight