Cat Names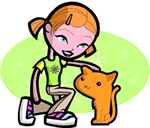 We offer 1,000's of cat names to help you choose the perfect one. Feel free to browse our unique cat names and when you find one you like you can add it to your favorites list to view later. If you have any cute cat names suggestions, please let us know. Enjoy!
Tariq
(Arabic)
Morning star. An 8th century Islamic military leader who conquered Spain for the Moors.
Sruthair
(Irish)
From the stream
Orrin
(English)
The name of an English river.
Perry
(French)
French form of Peter
Wilbert
(German)
Resolute or brilliant
Iain
(Scottish)
Gift from God
Jaskirit
(Indian)
Praises of the Lord.
Kayah
Wise child. (Japanese meaning: a resting place). Variant of Kaya (Philippino for ability, power, aptitude or capable)
Shay
(Irish)
Variant of Shea courteous. Surname.
Ansell
(French)
Adherent of a nobleman
Pernell
(English)
Little rock
Jarrel
(English)
Blend of Jar and Darell. See also Jerrell.
Carmi
(Hebrew)
Vine dresser
Tyler
(English)
Tile layer or a variant of Taylor. An English surname frequently used as a given name.
Lacy
(English)
Derived from Lacey which is a French Nobleman's surname brought to British Isles after Norman conquest.
Dinorah
(Hebrew)
Judged and vindicated. In the bible Dinah was Jacob's only daughter.