Cat Names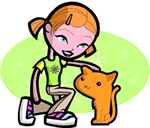 We offer 1,000's of cat names to help you choose the perfect one. Feel free to browse our unique cat names and when you find one you like you can add it to your favorites list to view later. If you have any cute cat names suggestions, please let us know. Enjoy!
Ophelie
(French)
Serpentine
LAngley
(French)
Englishman
Charmayne
(French)
One of Cleopatra's attendants in Shakespeare's Antony and Cleopatra was named Charmian.
Lazzaro
(Hebrew)
God will help
Heloise
(French)
French form of Louise
Minetta
(French)
Form of Williamina
Liza
(Hebrew)
Devoted to God
Kortniey
Caring and honest.
Glaedwine
(English)
Happy friend
Audra
(English)
Noble strength
Maci
(English)
Derived from medieval male form of Matthew.
Robert
(Scottish)
Famed: bright: shining. 14th-century King Robert the Bruce. Robert Burns the poet.
Jerron
(English)
Modern variant of Israeli Jaron cry of rejoicing.
Dita
(Spanish)
Abreviation of Edith.
Maitane
(English)
Dearly loved
Ximen
(Hebrew)
God has heard
Adron
(English)
From Adria.: (Adriatic sea region.)
Tristen
(English)
Tumult: outcry. From the Celtic name Tristan. In Arthurian legend Tristan was a Knight of the Round Table and tragic hero of the medieval tale Tristram and Isolde.