Cat Names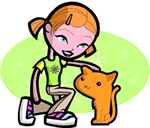 We offer 1,000's of cat names to help you choose the perfect one. Feel free to browse our unique cat names and when you find one you like you can add it to your favorites list to view later. If you have any cute cat names suggestions, please let us know. Enjoy!
Seanan
(Irish)
Little old wise one
Margarita
(Spanish)
Pearl.
Jordan
(Hebrew)
Flowing down
Salbatora
(Spanish)
Savior
Laquisha
(English)
Lakeisha and its variants are rhyming forms of Leticia. Joyful: happy.
Clyfland
(English)
From the cliff land
Rolando
(English)
Renowned in the land. Roland was a legendary hero who served Charlemagne.
Magda
(German)
Maiden: Abbreviation of Magdalena.Woman from Magdala. Reference to Biblical Mary Magdalene.
Kathleen
(Irish)
Innocent
David
(Hebrew)
Dearly loved
Keannen
(English)
Ancient.
Mariner
(Celtic)
Lives by the sea
Alexandre
(French)
French form of Alexander
Chelsey
(English)
Place name: a London district.
Izaan
(Arabic)
Obedience.
Adolfo
(German)
Noble wolf.
Bocleah
(English)
Lives at the buck meadow