Cat Names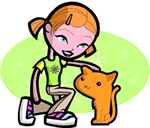 We offer 1,000's of cat names to help you choose the perfect one. Feel free to browse our unique cat names and when you find one you like you can add it to your favorites list to view later. If you have any cute cat names suggestions, please let us know. Enjoy!
Fitz Adam
(English)
Son of Adam
Constanza
(Spanish)
Constant
Nainsi
(Irish)
Irish form of Nancy graceful
Autumn
(English)
Born in the fall: The fall season.
Luciano
(Spanish)
Form of Luke. Light: illumination.
Anniah
(Hebrew)
Gracious God.
Leonela
(French)
Lion: lioness. Feminine of Leon.
Bancroft
(English)
From the bean field
Destinee
(French)
Certain fortune: fate. The mythological Greek god of fate.
Jesus
(Spanish)
Named for Jesus
Jeannelle
(French)
Comes from the name Jean and elle meaning girl
Borden
(English)
From the boar valley
Ulrica
(German)
Mistress of all
Broderick
(Scottish)
Brother.
Jerryl
(English)
Strong: open-minded. Blend of Jerold and Darell.
Zulema
(Hebrew)
peace:tranquility. Variant of Salome or Solomon.
Magdalene
(Hebrew)
From the tower
Kingston
(English)
From the king's village or estate King's field. King is one of several titles occasionally used as given names.
Barnaby
(English)
Son of comfort.