Cat Names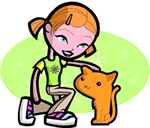 We offer 1,000's of cat names to help you choose the perfect one. Feel free to browse our unique cat names and when you find one you like you can add it to your favorites list to view later. If you have any cute cat names suggestions, please let us know. Enjoy!
Kippie
(English)
From the pointed hill
Conrado
(Spanish)
Spanish form of Conrad able counsel
Adkins
(English)
Son of Aiken
Heallfrith
(English)
Peaceful home
Josie
(Hebrew)
God will add
Bilagaana
White person (Navajo)
Cavana
(Irish)
From Cavan
Laine
(English)
From the long meadow
Jarrad
(English)
Variant of the French name Gervaise spearman.
Maggi
(English)
Abbreviation of Margaret. A pearl.
Banning
(English)
Son of the slayer
Thurstan
(English)
Thor's stone