Cat Names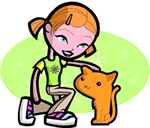 We offer 1,000's of cat names to help you choose the perfect one. Feel free to browse our unique cat names and when you find one you like you can add it to your favorites list to view later. If you have any cute cat names suggestions, please let us know. Enjoy!
Garrson
(English)
Son of Gar
Brooke
(English)
Lives by the stream
Lamorat
Brother of Percival
Maude
(French)
Strong in war
Charmain
(French)
One of Cleopatra's attendants in Shakespeare's Antony and Cleopatra was named Charmian.
Daney
(English)
From Denmark. Also a variant of Daniel.
Alyson
(French)
Variation of Alice.
Kerra
(Irish)
Dusky: dark.
Dionna
(English)
From the sacred spring. The mythological Dione was wife to Zeus and mother of Aphrodite.
Gaylen
(English)
festive party.
Diego
(Spanish)
Supplanter
Rosston
(German)
Red. Surname.
Colemann
(English)
Dark skinned
Raydon
(French)
Counselor. Variant of Raymond.
Nathan
(Hebrew)
Gift from God
Lynne
(English)
Abbreviation of Lynnette who accompanied Sir Gareth on a knightly quest in Arthurian legend: variant of the Irish Gaelic word lann meaning house: church.
MaeAdam
(Scottish)
Son of Adam
Kyan
(African)
Little King
Alleffra
(French)
Cheerful