Cat Names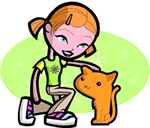 We offer 1,000's of cat names to help you choose the perfect one. Feel free to browse our unique cat names and when you find one you like you can add it to your favorites list to view later. If you have any cute cat names suggestions, please let us know. Enjoy!
Kagen
(Irish)
A thinker: fiery. Form of Hugh.
Johnn
(English)
Variant of the Hebrew John Jehovah has been gracious: has shown favor.
Marlynn
(English)
Feminine of Marlon: Variant of Marlene Woman from Magdala.
Rolando
(English)
Renowned in the land. Roland was a legendary hero who served Charlemagne.
Orrin
(English)
The name of an English river.
Kathlynn
(Irish)
Variant of Caitlin derived from Katherine. Pure.
Jarlath
(Irish)
Tributary lord
Ross
(German)
Red. Surname.
Elynn
(English)
Variant of Helen. Means Light or most beautiful woman
Wymer
(English)
Famous in battle
Calinda
(English)
Contemporary blend of the Italian/Greek Calandra with Linda
Kelby
(German)
Dark: dark-haired.
Thane
(Scottish)
Anglo-Saxon and Scottish feudal lords' title. Shakespeare's Macbeth was Thane of Cawdor.
Darissa
(Hebrew)
Wise. Dara was a biblical descendant of Judah known for his wisdom.
Osbeorht
(English)
Divinely brilliant
Evangeline
(Greek)
Bearer of good news.
Apollonia
(Greek)
Gift from Greek god apollo. Strong.