Cat Names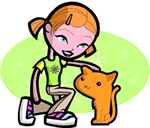 We offer 1,000's of cat names to help you choose the perfect one. Feel free to browse our unique cat names and when you find one you like you can add it to your favorites list to view later. If you have any cute cat names suggestions, please let us know. Enjoy!
Juditha
(Hebrew)
From Judea.
Sigfrieda
(German)
Victorious
Iain
(Scottish)
Gift from God
Josalynn
(French)
Medieval male name adopted as a feminine name.
Bannan
(German)
Commander
Norman
(English)
Man of the north. Surname.
Jacy
(English)
Based on the initials J.C. or an abbreviation of Jacinda.
Clarke
(English)
Cleric: secretary.
Tawnya
(Irish)
A green field: the warm sandy color of a lion's coat.
Samoel
(Hebrew)
Name of God. Biblical prophet and judge who anointed Saul and David as kings of Israel. Sami: (Arabic) honored
Troi
(English)
Troy derives from the ancient Greek city of Troy: also from an Irish surname meaning soldier.
Andrian
(English)
Manly: brave. Modern variant of Andrew.