Cat Names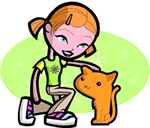 We offer 1,000's of cat names to help you choose the perfect one. Feel free to browse our unique cat names and when you find one you like you can add it to your favorites list to view later. If you have any cute cat names suggestions, please let us know. Enjoy!
Eowyn
Name of a character in J.R.R. Tolkien's Lord of the rings, The Two Towers.
Kaydience
Variant of Cadence.
Crosly
(English)
From the cross meadow
Britney
(English)
Originally the ancient duchy of Bretagne in France. Celtic Bretons emigrated from France to become the Bretons of England.
Dany
(English)
Feminine variant of Daniel God will judge.
Guinevere
Fair one. Guinevere was King Arthur's mythological queen. Jennifer derives from this name.
Shaddock
(English)
Shad fish
Adkins
(English)
Son of Aiken
Wyligby
(English)
From the willow farm
Kendrick
(Scottish)
Royal chieftain. Surname.
Kassia
(English)
Variant of Katherine. Pure.
Goddard
(German)
Hard spear
Kuwanyauma
Butterfly showing beautiful wings (Hopi)
Penton
(English)
From the enclosed farm
MacFarlane
(Scottish)
Son of Farlan
Sheelah
(Irish)
Irish form of Cecilia blind