Cat Names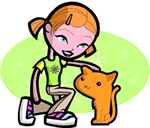 We offer 1,000's of cat names to help you choose the perfect one. Feel free to browse our unique cat names and when you find one you like you can add it to your favorites list to view later. If you have any cute cat names suggestions, please let us know. Enjoy!
Jankia
(Hebrew)
Gift from God
Bayard
(English)
Auburn-haired.
WyIfrid
(English)
Friend of peace
Wyligby
(English)
From the willow farm
Jessamyn
(Arabic)
A flower name from the older form Jessamine.
Big Girl
For a large female cat.
Wymer
(English)
Famous in battle
Tyfiell
(Irish)
Derivative of the Scandinavian god of battle Tyr. Tuesday was named for Tyr.
Jannina
(English)
Variant of Jeannine.
Laciann
(English)
Derived from Lacey which is a French Nobleman's surname brought to British Isles after Norman conquest.
Zane
(English)
Variant of John. American western writer Zane Grey.
Shikyna
(Hebrew)
Presence of God.
Picford
(English)
From the woodcutter's ford
Humberto
(Spanish)
Intelligent: Big: bright.
Blar
(Irish)
From the fields
Kasper
(German)
A treasured secret.
Daveen
(English)
Beloved. Feminine of David.
Ximen
(Hebrew)
God has heard