Cat Names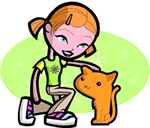 We offer 1,000's of cat names to help you choose the perfect one. Feel free to browse our unique cat names and when you find one you like you can add it to your favorites list to view later. If you have any cute cat names suggestions, please let us know. Enjoy!
Alliss
(Spanish)
Of the nobility.
Rousskin
(French)
Red haired
Brianna
(Celtic)
She ascends. Feminine of Brian.
Nikkie
(English)
Abbreviation of Nicole. Victory.
Muna
Overflowing spring (Hopi)
Winthrop
(English)
From Wine's estate
Laren
(Scottish)
Serves Lawrence
Jansen
(German)
Variant of the Hebrew John Jehovah has been gracious: has shown favor.
Davina
(Hebrew)
Cherished
Willard
(German)
Bold: resolute.
Seabroc
(English)
From the brook by the sea
Luciano
(Spanish)
Form of Luke. Light: illumination.