Cat Names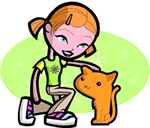 We offer 1,000's of cat names to help you choose the perfect one. Feel free to browse our unique cat names and when you find one you like you can add it to your favorites list to view later. If you have any cute cat names suggestions, please let us know. Enjoy!
Renshaw
(English)
From the raven forest
Jeffrey
(English)
Peaceful. Variant of Geoffrey. The three-syllable spelling alternate Jeffery has been used since medieval times. See also Geoffrey.
Jenee
(English)
Modern name based on Jane or Jean: Based on Janai meaning God has answered.
Modred
Son/nephew of Arthur
Mandel
(French)
Makes garments
Deanna
(English)
From the valley Variant of Diana meaning divine.
Prydwyn
Name of Arthur's ship
Audreana
(English)
Nobility: strength.
Janicia
(English)
Variant of Jane.
Aharman
The Evil God perpetually at war with the Good God, Ahura-Mazda or Ormuzd, the Supreme Creator as given in the Zen-davasta of the Zoroastrians.
Laquisha
(English)
Lakeisha and its variants are rhyming forms of Leticia. Joyful: happy.
Courtenay
(French)
Courtier: court attendant.
Lee
(English)
Meadow. Surname or given name.
Slaton
(English)
From the valley farm