Cat Names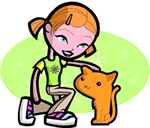 We offer 1,000's of cat names to help you choose the perfect one. Feel free to browse our unique cat names and when you find one you like you can add it to your favorites list to view later. If you have any cute cat names suggestions, please let us know. Enjoy!
Danila
(Hebrew)
God will judge
Aonghus
(Scottish)
Unnaturally strong
Jonah
(Hebrew)
Dove. In the bible Jonah was on board a ship God caused to sink: sailors traditionally use the name Jonah to personify someone who brings bad luck.
Riccardo
(German)
Powerful ruler
Kayleigh
(Scottish)
Warrior
Faeryn
(English)
From the fairies.
Candyce
(English)
Candace was an ancient hereditary title used by Ethiopian queens.
Derik
(English)
Gifted ruler. From Theodoric.
Darrick
(Irish)
Strong: oak-hearted. See also Derek.
Gubnat
(Irish)
Irish form of Abigail bringsjoy
Chalmer
(Scottish)
Rules the home
Lyonesse
(Celtic)
Little lion
EIlis
(Hebrew)
Jehovah is God
Keola
(Hawaiian)
The Life
Robby
(French)
Abbreviation of Robert Famed: bright: shining.