Cat Names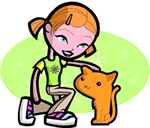 We offer 1,000's of cat names to help you choose the perfect one. Feel free to browse our unique cat names and when you find one you like you can add it to your favorites list to view later. If you have any cute cat names suggestions, please let us know. Enjoy!
Jaskirit
(Indian)
Praises of the Lord.
Ranica
(Hebrew)
Lovely tune
Severne
(English)
Strict: restrained. Surname.
Ulicia
(Irish)
Feminine form of Ulik
Cayden
(Scottish)
Fighter. Spirt of Battle.
Westleah
(English)
From the west meadow
Traci
(English)
Variant of Tracy from Thracia.
Rawley
(English)
From the roe deer meadow
Patton
(English)
From the warrior's town
Jonni
(English)
Modern feminine of John and Jon.
Tuketu
Bear making dust (Miwok)
Rollo
(German)
Renowned in the land. Roland was a legendary hero who served Charlemagne.
Eburhardt
(German)
Strong as a boar
Charlotte
(English)
Feminine variant of Charles meaning manly
Brinton
(English)
From Brinton
Emmett
(English)
Male variant of Emma: a premedieval girl's given name.
Carlton
(English)
Free men's town.