Cat Names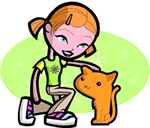 We offer 1,000's of cat names to help you choose the perfect one. Feel free to browse our unique cat names and when you find one you like you can add it to your favorites list to view later. If you have any cute cat names suggestions, please let us know. Enjoy!
Burton
(English)
From the fortified town
Collin
(English)
Abbreviation of Nicholas people's victory.
Kermichil
(Scottish)
From Michael's fortress
Rousskin
(French)
Red haired
Jeovana
(English)
Feminine of Giovanni: variant of Jovana.
Doron
(English)
Variant of Dorran stranger.
Maddy-Rose
Quest and beautiful.
Kesara
(Spanish)
Youthful
Suffield
(English)
From the south field
Tamryn
(Hebrew)
Palm tree. Variant of Tamar. Biblical Tamara was daughter of King David and sister to Absalom.
Willow
(English)
Slender:graceful. From the willow tree noted for slender graceful branches and leaves.
Kieran
(Celtic)
Dark skinned
Becky
(English)
Abbreviation of Rebecca.
Corissa
(English)
Maiden.
Amalia
(English)
Industrious. Striving.