Cat Names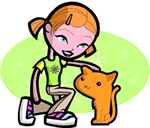 We offer 1,000's of cat names to help you choose the perfect one. Feel free to browse our unique cat names and when you find one you like you can add it to your favorites list to view later. If you have any cute cat names suggestions, please let us know. Enjoy!
Aine
(Celtic)
Fire or joy
Calysta
(Greek)
Most beautiful. Alternate Spelling: Calista.
Hagrid
Character from Harry Potter.
Hanson
Son of Hans (also Hansen, Hanssen, and Hansson)
Nessan
(Irish)
Name of a saint
Dillan
(Celtic)
Sea God. Variant of Dylan
Cherise
(English)
Blend of Cherie and Cerise. Dear one: darling
Nathalia
(French)
Birthday: especially the birthday of Christ.
Atique
Old valuable thing. Variant of Antique.
Eadwyn
(English)
Wealthy friend
Bilagaana
White person (Navajo)
Latesha
(English)
Modern form of medieval name Letitia. Joyful:happy.
Chayson
(French)
Variant of Chayse or Chase. Hunter.
Andere
(Spanish)
Feminine form of Andrew manly
Yaelis
(Spanish)
Combination of Joel and Yoseline. Meaning: strength of God: happy, joyful, celestial.
Edgardo
(Spanish)
Fortunate and powerful.
Norberte
(German)
Bright heroine
Allred
(English)
Wise or red haired man
Lalla
(Spanish)
Abbreviation of Eulalie well-spoken.