Cat Names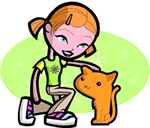 We offer 1,000's of cat names to help you choose the perfect one. Feel free to browse our unique cat names and when you find one you like you can add it to your favorites list to view later. If you have any cute cat names suggestions, please let us know. Enjoy!
Jacolin
(Irish)
One who glides with beauty
Branton
(English)
Variant of Brand. Mohawk Indian Joseph Brant was a renowned strategist who fought for the British during the American Revolution: and a devout scholar who translated Christian religious works into his native Indian tongue.
Girflet
Returns Excalibur to the lake
Sabria
Daughter of Cyprus.
Dorrance
(Irish)
Variant of Dorran stranger.
Leslie
(Celtic)
From the gray fortress
Ace
(English)
A nickname given to one who excels: also an English surname meaning noble. Unity.
Gavan
(Scottish)
White hawk. From the medieval name Gawain. See also Gwayne.
Corazana
(Spanish)
Heart.
Orrin
(English)
The name of an English river.
Emmett
(English)
Male variant of Emma: a premedieval girl's given name.
Candi
(Spanish)
Variant of Candida. Bright: glowing white.
Neill
(Irish)
Champion Form of Neil.
Thressa
(German)
Variant of Therese.