Cat Names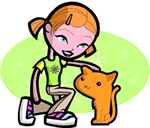 We offer 1,000's of cat names to help you choose the perfect one. Feel free to browse our unique cat names and when you find one you like you can add it to your favorites list to view later. If you have any cute cat names suggestions, please let us know. Enjoy!
Luc
(French)
Light: illumination. Form of Luke.
John-paul
(French)
Variant of the Hebrew John Jehovah has been gracious: has shown favor.
Galt
(English)
From the high ground
Manfried
(German)
Peaceful
Mignonette
(French)
Delicate
Cundry
Woman who condemns Percival
Lia
(Spanish)
Is an abbreviation of names like Amalia: (hard working:industrious) and Rosalia: (Rose).
Willie
(English)
Resolute: will Abbreviation of names beginning with Will-
Carla
(Spanish)
Feminine form of Charles manly
Kadience
Variant of Cadence.
Jinni
(English)
Variation of Jenny which is a diminutive of Jane and Jennifer.
Mandel
(French)
Makes garments