Cat Names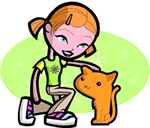 We offer 1,000's of cat names to help you choose the perfect one. Feel free to browse our unique cat names and when you find one you like you can add it to your favorites list to view later. If you have any cute cat names suggestions, please let us know. Enjoy!
Kathlynn
(Irish)
Variant of Caitlin derived from Katherine. Pure.
Genisa
(Hebrew)
Origin: birth. Genisis is the name of the first book in the Bible. Genisia - the Virgin Mary of Turin - is a protectress invoked against drought in Catholic tradition.
Atherton
(English)
Lives at the spring farm
Galenka
(Hebrew)
God shall redeem
Newman
(English)
Newcomer
Tariq
(Arabic)
Morning star. An 8th century Islamic military leader who conquered Spain for the Moors.
Kalan
(English)
Variant of Kay and Kayla. keeper of the keys: pure.
Estefani
(Spanish)
Feminine of Stephan.
Robbie
(English)
Abbreviation of Robert Famed: bright: shining.
Deerward
(English)
Guardian of the deer
Tormey
(Irish)
Thunder spirit
Tedmond
(English)
National protector
Gliona
(Irish)
From the Greek Cleone daughter of a river god
Audrey
(English)
Noble strength: Nobility: strength.
Nitzanah
(Hebrew)
Blossom
Ailsa
(Hebrew)
Devoted to God