Cat Names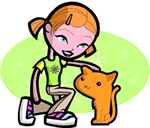 We offer 1,000's of cat names to help you choose the perfect one. Feel free to browse our unique cat names and when you find one you like you can add it to your favorites list to view later. If you have any cute cat names suggestions, please let us know. Enjoy!
Genevieve
(German)
Of the race of women. White wave
Brigidia
(Spanish)
Spanish form of Bridget strong
Trowhridge
(English)
From the tree bridge
Mirla
(French)
Blackbird.
Elvina
Friend of the elves
Glaedwine
(English)
Happy friend
Leron
(French)
The circle.
Bronson
(English)
Brown's son.
Daniel-Sean
The Lord alone is my judge.
Chisholm
(Scottish)
From Chisolm
Leachlainn
(Irish)
Servant
Cristofor
(Spanish)
With Christ inside.