Cat Names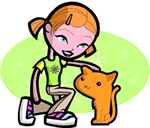 We offer 1,000's of cat names to help you choose the perfect one. Feel free to browse our unique cat names and when you find one you like you can add it to your favorites list to view later. If you have any cute cat names suggestions, please let us know. Enjoy!
Riikka
Variant of Fredrica, Fredric. Peaceful ruler.
Brucie
(French)
Forest sprite
Redman
(English)
Red haired counselor
Dixie
(French)
Born tenth
Dinah
(Hebrew)
Avenged or Judged and vindicated. In the bible Dinah was Jacob's only daughter.
Muriel
(Celtic)
Shining sea.
Jesus
(Spanish)
Named for Jesus
Tate
(Irish)
Pleasant and bright. Measure of land. Surname.
Brayden
(English)
Broad hillside.
Johannah
(Hebrew)
Variant of Joan
Shaylon
(Irish)
Variant of Shea courteous.
Beorhttun
(English)
From the fortified town
Stephan
(French)
Crown: wreath. Variant of Stephen.