Cat Names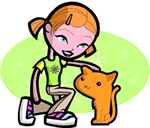 We offer 1,000's of cat names to help you choose the perfect one. Feel free to browse our unique cat names and when you find one you like you can add it to your favorites list to view later. If you have any cute cat names suggestions, please let us know. Enjoy!
Miller
(English)
One who grinds grain. Occupational surname.
Merrill
(English)
Shining sea.
Jelani
(Arabic)
Mighty or powerful.
Elvy
(English)
Elf warrior
Tatum
(English)
Brings joy
Jamia
(Scottish)
Pet form of James used as a woman's name.
Hettie
(French)
From Henrietta. Rules her household.
Saadya
(Hebrew)
God's helper
Anushka
(Hebrew)
Favored one.
Merewode
(English)
From the lake forest
Carney
(Irish)
Victorious
Bronson
(English)
Brown's son.
Gabriele
(Hebrew)
God is my strength
Helene
(French)
Variant of Helen. In mythology the abduction of Zeus's mortal daughter Helen sparked the Trojan War.
Randolph
(English)
House wolf: protector. Mythological wolf was esteemed for courage.
Rhodes
(English)
Lives near the crucifix