Cat Names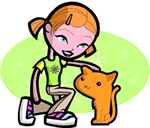 We offer 1,000's of cat names to help you choose the perfect one. Feel free to browse our unique cat names and when you find one you like you can add it to your favorites list to view later. If you have any cute cat names suggestions, please let us know. Enjoy!
Marylu
(Hebrew)
Derived from Mary Bitter. Mary was the biblical mother of Christ. Names like Dolores and Mercedes have been created to express aspects of Mary's life and worship.
Leota
(German)
Of the people
Ramirez
(Spanish)
Judicious
Gilat
(Hebrew)
Eternal joy
Ashwyn
(English)
Spear friend
Jacy
(English)
Based on the initials J.C. or an abbreviation of Jacinda.
Liza
(Hebrew)
Devoted to God
Tedmond
(English)
National protector
Crispin
(English)
Curly-haired. The 3rd century martyr St. Crispin is known as patron of shoemakers.
Seldon
(English)
From the willow valley
Christanne
(English)
Variant of Christian.
Kaelynn
(English)
Variant of Kay and Kayla. keeper of the keys: pure.
Bairrfhionn
(Celtic)
Marksman
Chione
Daughter of the Nile.
Mayme
(English)
Abbreviation of Mary and Miriam.