Cat Names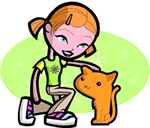 We offer 1,000's of cat names to help you choose the perfect one. Feel free to browse our unique cat names and when you find one you like you can add it to your favorites list to view later. If you have any cute cat names suggestions, please let us know. Enjoy!
Banning
(English)
Son of the slayer
Nyneve
The Lady of the Lake
Eberhardt
(German)
Strong as a boar
Celia
Little heavenly one
Dalila
(Hebrew)
Desired or Languishing. The Biblical Delilah tempted Samson into revealing the secret of his superhuman strength.
Nuray
Moonlight, Light of Moon, or Light Moon.
Jerrilyn
(English)
Modern blend of Jerry and Marilyn.
Marcela
(Spanish)
Warring
Ryscford
(English)
Lives near the rush ford
Alexondra
Defender of man.
Deziree
(French)
Variant of Desiree meaning The one desired.
Aloisia
(German)
Famous fighting
Dawn
(English)
The first appearance of daylight: daybreak. Dawn.
Kelwin
(Celtic)
From the narrow river
Barret
(German)
Mighty as a bear
Renae
(German)
Renae: To be born again