Cat Names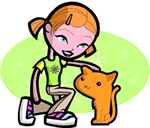 We offer 1,000's of cat names to help you choose the perfect one. Feel free to browse our unique cat names and when you find one you like you can add it to your favorites list to view later. If you have any cute cat names suggestions, please let us know. Enjoy!
Aethelisdun
(English)
From the noble's hill
Verge
Owns four acres of land
Courtenay
(French)
Courtier: court attendant.
Renae
(German)
Renae: To be born again
Bethseda
(Hebrew)
Merciful
Chianna
(French)
Variant of Cheyanne - an Algonquian tribe of the Great Plains and Capital city of Wyoming.
Alsandair
(Irish)
Defender of man
Ashlan
(Australian)
Unknown
Albertine
(Spanish)
Noble
Bryleigh
Gracious and strong.
Ardella
(English)
Warm: Eager. Industrious.
Joby
(Hebrew)
Variant of Job persecuted
Chisholm
(Scottish)
From Chisolm
Eadmund
(English)
Happy defender