Cat Names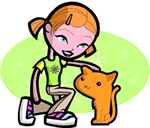 We offer 1,000's of cat names to help you choose the perfect one. Feel free to browse our unique cat names and when you find one you like you can add it to your favorites list to view later. If you have any cute cat names suggestions, please let us know. Enjoy!
Derwyn
(English)
Friend of the deer
Salbatora
(Spanish)
Savior
Wambleesha
White eagle (Sioux)
Humberto
(Spanish)
Intelligent: Big: bright.
Hagaleah
(English)
From the hedged meadow
Jenifer
Variant of Jennifer common in Cornwall. Derived from Guinevere. In Arthurian Mythology Guinevere was Arthur's queen.
Mitchell
(English)
Form of Michael Who is like God?
Marque
(French)
Of Mars: the god of war.
Maitane
(English)
Dearly loved
Clayson
(English)
Variant of Nicholas.
Mamie
(English)
Abbreviation of Mary and Miriam.
Emiko
(Japanese)
Smiling blessed beautiful child.
Modred
Son/nephew of Arthur
Jonathen
Variant of Jonathan.
Hussain
(Arabic)
Good. The founder of Shiite Islam was named Hussein.
Veniamin
(Hebrew)
Son of the right hand
Rourke
(Irish)
An ancient given name adopted as an Irish clan name. Surname.