Cat Names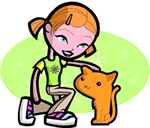 We offer 1,000's of cat names to help you choose the perfect one. Feel free to browse our unique cat names and when you find one you like you can add it to your favorites list to view later. If you have any cute cat names suggestions, please let us know. Enjoy!
Ibrahim
(Arabic)
Arabic form of Abraham
Andrea
(Spanish)
Feminine form of Andrew manly
Coolie
(Irish)
Hound of Ulster
Alden
(English)
Wise friend or from the old manor
Eleanor
(English)
Shining light. Variant of Helen.
Crandell
(English)
From the crane valley
Charly
(English)
Modern form of Charles meaning manly
Christy
(English)
Variant of Christiana. Follower of Christ.
Hwitloc
(English)
From the white fortress
Leyla
(Arabic)
Born at night.
Frank
(English)
Free: a free man. See also Francisco.
Bernon
(German)
Brave as a bear