Cat Names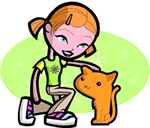 We offer 1,000's of cat names to help you choose the perfect one. Feel free to browse our unique cat names and when you find one you like you can add it to your favorites list to view later. If you have any cute cat names suggestions, please let us know. Enjoy!
Fayza
(Arabic)
Successful: Winner, Victorious. Alternate spelling: Faiza
Ariela
(Hebrew)
Lioness of God
Leondrea
(French)
Lion: lioness. Feminine of Leon.
Lockwood
(English)
From the enclosed wood
Fletcher
(Scottish)
Maker of arrows
Big Ben
Large clock tower in England
Amabelle
(French)
Lovable
Garreth
Gentle. Modest and brave Sir Gareth was a legendary knight of King Arthur's Round Table.
Malmuira
(Scottish)
Dark skinned
Lucina
(German)
Illumination. Mythological Roman goddess of childbirth and giver of first light to newborns. Also refers to Mary as Lady of the Light.
Brandelyn
(English)
Variation of the beverage brandy used as a given name.