Cat Names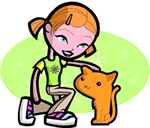 We offer 1,000's of cat names to help you choose the perfect one. Feel free to browse our unique cat names and when you find one you like you can add it to your favorites list to view later. If you have any cute cat names suggestions, please let us know. Enjoy!
Kayne
(Celtic)
Intelligent
LAngley
(French)
Englishman
Frazer
(Scottish)
Variant of Fraser of the forest men.
Zyana
(Hebrew)
Blessing from Heaven.
Alric
(German)
Rules all. The historical Gothic king who plundered Rome in A.D. 410.
Lancelot
(French)
Servant
Arundhati
(Indian)
Goddess of the sky, stars and night time.
Tory
(Irish)
From the knolls
Earwyn
(English)
Friend of the sea
Celestiel
(French)
Heavenly.
ScIymgeour
(Scottish)
Fighter
Jacy
(English)
Based on the initials J.C. or an abbreviation of Jacinda.
Chubby Bunny
Game to see how many marshmallows can fit in your mouth.
Howie
(English)
Nichname for Howard noble watchman.
Paolo
(Italian)
Small, a form of Paul
Jacolin
(Irish)
One who glides with beauty