Cat Names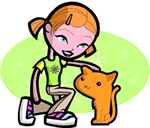 We offer 1,000's of cat names to help you choose the perfect one. Feel free to browse our unique cat names and when you find one you like you can add it to your favorites list to view later. If you have any cute cat names suggestions, please let us know. Enjoy!
Carlton
(English)
Free men's town.
Erma
(German)
Complete. War goddess
Jiselle
(English)
Pledge. Phonetic spelling of Giselle.
Loraina
(French)
Derived from Lorraine which is the name of a province in France and a family name of French royalty.
Montaigu
(French)
From the pointed hill
Joyceanne
(English)
Cheerful: merry.
Andrea
(Spanish)
Feminine form of Andrew manly
Edsel
(German)
Noble: bright.
Dickson
(English)
Variant of Dick from Richard strong ruler.
Bowyn
(Celtic)
Son of Owen
Norwyn
(English)
Friend of the north
Kelwin
(Celtic)
From the narrow river
Chubby Bunny
Game to see how many marshmallows can fit in your mouth.