Cat Names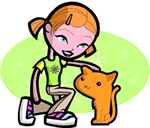 We offer 1,000's of cat names to help you choose the perfect one. Feel free to browse our unique cat names and when you find one you like you can add it to your favorites list to view later. If you have any cute cat names suggestions, please let us know. Enjoy!
Reilly
(Irish)
Surname. Rye. Form of Ryley.
Hann
(German)
Gift from God
France
(English)
Modern variants of Frances meaning From France or free one.
Edgardo
(Spanish)
Fortunate and powerful.
Albert
(German)
Intelligent or noble
Spangler
(German)
Tinsmith
Yannic
(Hebrew)
Gods child.
Maddalene
(German)
Magnificent
Thurl
(Irish)
Strong fort.
Raynor
(English)
Strong counselor. From the ancient personal name Ragnar.
Morit
(Hebrew)
God teaches
Zechariah
(Hebrew)
Jehovah has remembered.
Loraina
(French)
Derived from Lorraine which is the name of a province in France and a family name of French royalty.
Thurstan
(English)
Thor's stone