Cat Names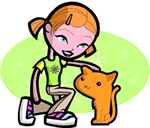 We offer 1,000's of cat names to help you choose the perfect one. Feel free to browse our unique cat names and when you find one you like you can add it to your favorites list to view later. If you have any cute cat names suggestions, please let us know. Enjoy!
Bartel
(Hebrew)
Ploughman
Fionnuala
(Irish)
Fair shoulders
Conshita
(Spanish)
Reference to the Immaculate Conception
Citlalic
Raising Star, the first female Aztec warrior, is in Nahuatl the language of the Aztecs.
Deonna
(English)
Variant of Diana meaning divine.
Stancliff
(English)
From the rocky diff
Selene
Goddess of the Moon
Erving
(English)
Friend. Variant of Irving.
Derry
(Irish)
Oak grove. Surname.
Emmy
(German)
Hardworking. Variant of Emily.
Carleigh
(German)
Freeholder (dignity for life)
Patric
(French)
Patrician: noble. Form of Patrick.
Eleanor
(English)
Shining light. Variant of Helen.
Sagirah
(Arabic)
Little one
Carmeline
(Hebrew)
Golden