Cat Names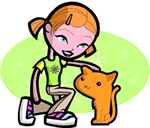 We offer 1,000's of cat names to help you choose the perfect one. Feel free to browse our unique cat names and when you find one you like you can add it to your favorites list to view later. If you have any cute cat names suggestions, please let us know. Enjoy!
Parsefal
(English)
Valley piercer
Sruthair
(Irish)
From the stream
Dawneshia
Combination of Kyeshia (Great joy) and Dawn (Awakening).
Vidal
(English)
Life. Used as both surname and given name. See also Vito.
Jennilyn
(English)
Variation of Jenny which is a diminutive of Jane and Jennifer.
Fynballa
(Irish)
Fair shoulders
Etty
(English)
Abbreviation for Henrietta and Harriette.
Jimmy
(Hebrew)
Supplanter
Branton
(English)
Variant of Brand. Mohawk Indian Joseph Brant was a renowned strategist who fought for the British during the American Revolution: and a devout scholar who translated Christian religious works into his native Indian tongue.
Akeila
(Russian)
From the Arabic name Akilah meaning Wise: Bright: smart.
Frederika
(German)
Peaceful ruler. Feminine of Frederick.
Boudicea
A queen of the Iceni Victory
Lalla
(Spanish)
Abbreviation of Eulalie well-spoken.
Paul
(English)
Little. Biblical apostle and evangelist Paul's letters to early Christians comprise many New Testament books.
Imogen
(Celtic)
An image. Image of her mother. Blameless/innocent.
Tempest
(English)
Turbulent: stormy.