Cat Names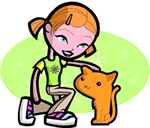 We offer 1,000's of cat names to help you choose the perfect one. Feel free to browse our unique cat names and when you find one you like you can add it to your favorites list to view later. If you have any cute cat names suggestions, please let us know. Enjoy!
Audris
(English)
Nobility: strength.
Wardell
(English)
From the guardian's hill
Dorrin
(Irish)
Variant of Dorran stranger.
Breena
(Irish)
Fairy palace. Also variant of Brianna and Sabrina.
Jopie
(Hebrew)
God will multiply
Alonsa
(Spanish)
Ready or noble
Tahra
(Celtic)
Earth or growth.
Stevon
(English)
Variant of Stephen Crown: wreath.
Dinah
(Hebrew)
Avenged or Judged and vindicated. In the bible Dinah was Jacob's only daughter.
Kedric
(English)
Gift of splendor. Form of Cedric.
Brooke
(English)
Lives by the stream
Izreal
(Hebrew)
Ruling with the Lord
Gabriel
(Spanish)
God is my strength
Eisa
(Arabic)
Arabic form of Jesus