Cat Names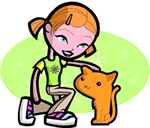 We offer 1,000's of cat names to help you choose the perfect one. Feel free to browse our unique cat names and when you find one you like you can add it to your favorites list to view later. If you have any cute cat names suggestions, please let us know. Enjoy!
Ivan
(Hebrew)
Gift from God
Iratze
(Spanish)
Reference to the Virgin Mary
Galahalt
Name of a prince
Tanton
(English)
From the quiet river farm
Latesha
(English)
Modern form of medieval name Letitia. Joyful:happy.
Jerico
(Spanish)
City of the moon. Variant of Hebrew Jericho.
Collin
(English)
Abbreviation of Nicholas people's victory.
Cailym
(Irish)
Pillar of the church.
Janaye
(English)
Modern name based on Jane or Jean: Based on Janai meaning God has answered.
Arleana
(English)
Variant of Carlene and Charlene.
Trentin
(English)
Refers to the English river Trent. Surname.
Karleigh
(German)
Womanly: strength. Feminine of Karl.
Alarica
(German)
All ruler
Marybell
(English)
Derived from Mary Bitter. Mary was the biblical mother of Christ. Names like Dolores and Mercedes have been created to express aspects of Mary's life and worship.
Burgtun
(English)
From the fortress town
Gallagher
(Irish)
Surname.
Dorothee
(English)
Variant of the Greek Dorothy meaning Gift of God.
Shimshon
(Hebrew)
Bright sun
Odahingum
Rippling water (Chippewa)