Cat Names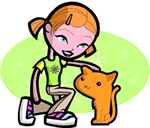 We offer 1,000's of cat names to help you choose the perfect one. Feel free to browse our unique cat names and when you find one you like you can add it to your favorites list to view later. If you have any cute cat names suggestions, please let us know. Enjoy!
Alvah
(Hebrew)
Exalted one: Sublime. Alvah was a biblical place and tribal name.
Dubhglas
(Scottish)
From the darkwater
Jorcina
(English)
Variant of Georgina.
Alys
(Spanish)
Of the nobility.
Alleffra
(French)
Cheerful
Lornell
(Scottish)
Form of Lawrence.
Alarica
(German)
All ruler
Elswyth
Elf from the willow trees
Nuray
Moonlight, Light of Moon, or Light Moon.
Earwyn
(English)
Friend of the sea
Deana
(English)
From the valley. Variant of Diana meaning divine.
Jon
(French)
Variant of John or abbreviation of Jonathan Jehovah has been gracious: has shown favor. Sometimes used in the French fashion hyphenated with a second name like Jon-Carlo or Jon-Paul
Inda
(English)
The country India.
Lir
(Celtic)
A mythical king
Big Girl
For a large female cat.
MacNeill
(Scottish)
Son of the champion
Clovis
(French)
Name of a king