Cat Names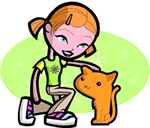 We offer 1,000's of cat names to help you choose the perfect one. Feel free to browse our unique cat names and when you find one you like you can add it to your favorites list to view later. If you have any cute cat names suggestions, please let us know. Enjoy!
Bailee
(French)
Courtyard within castle walls: steward or public official. Surname or given name.
Ashwyn
(English)
Spear friend
Patton
(English)
From the warrior's town
Hart
(English)
Stag Strong: brave. Surname.
Mal
(Hebrew)
Messenger of God
Bilagaana
White person (Navajo)
Roane
(Irish)
Red-haired: red.
Eburhardt
(German)
Strong as a boar
Elwell
(English)
From the old spring
Sumarville
(French)
From the summer estate
Allred
(English)
Wise or red haired man
Lise
(Hebrew)
Devoted to God
Jory
(Hebrew)
God will uplift
Hussain
(Arabic)
Good. The founder of Shiite Islam was named Hussein.
West
(English)
West town. Surname.
Diego
(Spanish)
Supplanter
MAYYADAH
(Arabic)
TO WALK WITH A STRAIGHT GAIT.(OTHER WORDS TO WALK WITH PERFECTION)