Cat Names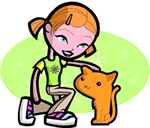 We offer 1,000's of cat names to help you choose the perfect one. Feel free to browse our unique cat names and when you find one you like you can add it to your favorites list to view later. If you have any cute cat names suggestions, please let us know. Enjoy!
Marlana
(English)
Variant of Madeline Woman from Magdala.
Kapricia
(English)
Caprice.
Windgate
(English)
From the winding gate
Jasper
(English)
Master of the treasure
Jilly
(English)
Abbreviation of Jillian or Gillian. Jove's child.
Jopie
(Hebrew)
God will multiply
Gordon
(English)
From the three cornered hill or From the marshes. One of Scotland's great clans. Surname.
Piers
(French)
A rock. Form of Peter.
Shey
(Irish)
Variant of Shea courteous.
Bradon
(Irish)
Broad hillside.
Aurick
(English)
Noble valor
Charlita
(French)
Feminine of Charles meaning manly
Nicholette
Alternate Spelling: Nicolette.
Devlon
(Irish)
Misfortune.
Jenee
(English)
Modern name based on Jane or Jean: Based on Janai meaning God has answered.
Agnese
(Spanish)
Spanish form of Agnes pure
Bethseda
(Hebrew)
Merciful
Gerhard
(German)
Spear strong.