Cat Names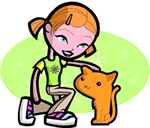 We offer 1,000's of cat names to help you choose the perfect one. Feel free to browse our unique cat names and when you find one you like you can add it to your favorites list to view later. If you have any cute cat names suggestions, please let us know. Enjoy!
Aisley
(English)
Lives in the ash tree grove
Yitzchak
(Hebrew)
Humorous
Gearoid
(Irish)
Spearbrave
Garrson
(English)
Son of Gar
Arielle
(French)
Lion of God.
Boell
(German)
Hill dweller.
Kuno
(German)
Honest advisor
Nikson
(English)
Son of Nick
Alvar
(Spanish)
Truth-speaker or guardian.
Carmi
(Hebrew)
Vine dresser
Jennifer
(English)
Fair one. Variant of Guinevere. In Arthurian Mythology Guinevere was Arthur's queen.
John-paul
(French)
Variant of the Hebrew John Jehovah has been gracious: has shown favor.
Davynn
(English)
Beloved. Feminine of David.
Roderick
(English)
Famous ruler.