Cat Names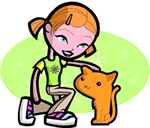 We offer 1,000's of cat names to help you choose the perfect one. Feel free to browse our unique cat names and when you find one you like you can add it to your favorites list to view later. If you have any cute cat names suggestions, please let us know. Enjoy!
Avshalom
(Hebrew)
Father of peace
Laciann
(English)
Derived from Lacey which is a French Nobleman's surname brought to British Isles after Norman conquest.
Gottfried
(German)
Peaceful god
Oliphant
(Scottish)
Great strength
Tyrell
(Irish)
Derivative of the Scandinavian god of battle Tyr. Tuesday was named for Tyr.
Ashley
Dwells at the ash tree meadow
Tohy
(Hebrew)
Goodness of God
Melisenda
(Spanish)
Sweet
Chaseyn
Variant of Chase.
Trinetta
(French)
Little innocent
Fyuree
Fiery, fiesty, passionate
Victorio
(Spanish)
Conqueror.
Judeana
(Hebrew)
From Judea.
Ellder
(English)
From the elder tree
Aldis
(English)
From the old house
Florinda
(French)
Flower.
Bradon
(Irish)
Broad hillside.