Cat Names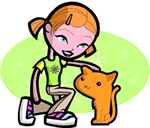 We offer 1,000's of cat names to help you choose the perfect one. Feel free to browse our unique cat names and when you find one you like you can add it to your favorites list to view later. If you have any cute cat names suggestions, please let us know. Enjoy!
Cass
(Irish)
Curly-headed.
Ciara
(Irish)
Saint or Dark. Feminine of Ciaran.
Osryd
(English)
Divine counselor
Blyss
(English)
Joy: cheer. Used from medieval times.
Gertrut
(German)
From the protected farm
Wilmer
(German)
Resolute or famous
Henrietta
(French)
Keeper of the hearth. Rules her household. Feminine of Henry.
Meldrick
(English)
From the powerful mill
Karl
(English)
a man: variant of Carl.
Sagirah
(Arabic)
Little one
Larry
(English)
Abbreviation of Lawrence or Laurence often used as an independent name.
Thornley
(English)
From the thorny meadow
Sherwin
Quick as the wind
Lucca
(Italian)
Bringer of light.
Amaryah
(Hebrew)
God has promised. (derived from Amaris)