Cat Names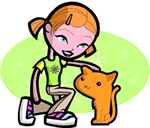 We offer 1,000's of cat names to help you choose the perfect one. Feel free to browse our unique cat names and when you find one you like you can add it to your favorites list to view later. If you have any cute cat names suggestions, please let us know. Enjoy!
Kuwanyauma
Butterfly showing beautiful wings (Hopi)
Kamaal
(Arabic)
Perfect, perfection. Alternate Spelling: Kamal.
Stoney
(English)
Nickname based on the word stone. Stone
Karalan
Combination of Karen and Allan
Dariell
(French)
Variant of Darrel open.
Tatum
(English)
Brings joy
Marley
(English)
Marshy meadow. Also Variant of Marlene Woman from Magdala.
Wright
(English)
Craftsman
Cadi
(Irish)
Variant of Cady meaning a rhythmic flow of sounds.
Aloha
(Hawaiian)
Hello, or Goodbye
Walmond
(German)
Mighty protector
Kaylee
(English)
Variant of Katherine. Pure. Variant of Kay and Kayla keeper of the keys: pure.
Minetta
(French)
Form of Williamina
Brioni
(English)
The name of a flowering vine used in folk medicine.