Cat Names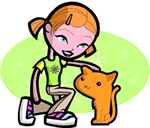 We offer 1,000's of cat names to help you choose the perfect one. Feel free to browse our unique cat names and when you find one you like you can add it to your favorites list to view later. If you have any cute cat names suggestions, please let us know. Enjoy!
Kaelynn
(English)
Variant of Kay and Kayla. keeper of the keys: pure.
Heardwine
(English)
Brave friend
Riccardo
(German)
Powerful ruler
Doughboy
Pillsbury Doughboy.
Brayden
(English)
Broad hillside.
Kiarad
Generous king, the king of the hidden paradise.
Inghean
(Scottish)
Daughter
Pat
(English)
Patrician: noble. Abbreviation of Patrick.
Keriann
(Irish)
Dusky: dark.
Cesar
(Spanish)
Long haired
Denisse
(French)
Feminine of Denis from the Greek name Dionysus.
Brooke
(English)
Lives by the stream
MacLean
(Scottish)
Son of the servant of John
Slaton
(English)
From the valley farm
Rusty
(English)
Nickname for a red-haired person.
Georg
(German)
German form of George
Tedrick
(German)
Variant of the old German name Theodoric ruler of the people.