Cat Names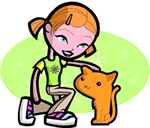 We offer 1,000's of cat names to help you choose the perfect one. Feel free to browse our unique cat names and when you find one you like you can add it to your favorites list to view later. If you have any cute cat names suggestions, please let us know. Enjoy!
Luc
(French)
Light: illumination. Form of Luke.
Baylee
(French)
Courtyard within castle walls: steward or public official. Surname or given name.
Emmanuelle
(Hebrew)
Faith
Gavan
(Scottish)
White hawk. From the medieval name Gawain. See also Gwayne.
Pit
(English)
From the Pit
Crompton
(English)
From the winding farm
Penarddun
(Celtic)
Mythical daughter of Beli
Seosamh
(Hebrew)
God will multiply
Milani
(Hawaiian)
Gentle Caress
Fontaine
(French)
Fountain: water source.
Christanne
(English)
Variant of Christian.
Olivier
(French)
From the olive tree