Cat Names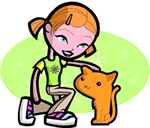 We offer 1,000's of cat names to help you choose the perfect one. Feel free to browse our unique cat names and when you find one you like you can add it to your favorites list to view later. If you have any cute cat names suggestions, please let us know. Enjoy!
Tzion
(Hebrew)
Sunny mountain
Bryce
(Scottish)
Speckled: Surname form of Brice.
Worden
(English)
Defender or guard
Sheelah
(Irish)
Irish form of Cecilia blind
Sabirah
(Arabic)
Of great patience
Mariela
Beloved and illuminated.
Jamia
(Scottish)
Pet form of James used as a woman's name.
Lyonesse
(Celtic)
Little lion
Deon
(English), (French)
Abbreviation of Dionysius.
Trevyn
(English)
Fair town. Abbreviation of Trevelyan.
Lomahongva
Beautiful clouds arising (Hopi)
Kristalena
(English)
Variant of Crystal. Sparkling. K from the Greek spelling of krystallos.
Magdalene
(Hebrew)
From the tower