Cat Names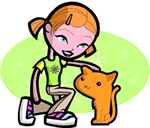 We offer 1,000's of cat names to help you choose the perfect one. Feel free to browse our unique cat names and when you find one you like you can add it to your favorites list to view later. If you have any cute cat names suggestions, please let us know. Enjoy!
Frank
(English)
Free: a free man. See also Francisco.
Graine
Taken from Igraine
Arick
(German)
Noble leader
Morrie
(English)
Dark-skinned: A Moor. Form of Maurice.
Trowhridge
(English)
From the tree bridge
Humberto
(Spanish)
Intelligent: Big: bright.
Avia
(English)
Modern blend of Ava and Ana.
Janey
(English)
Jehovah has been gracious: has shown favor. Variant of Joan.
Elliston
(English)
Variant of Elias from Elijah My God is Jehovah.
Britomart
Irish warrior from Edmond spencer's poem "The Fairy Queen"
Brettany
(English)
Brit. A native of England: (Britain) or France: (Brittany).
Brentley
(English)
Hilltop. Variant of Brent.