Cat Names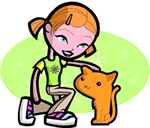 We offer 1,000's of cat names to help you choose the perfect one. Feel free to browse our unique cat names and when you find one you like you can add it to your favorites list to view later. If you have any cute cat names suggestions, please let us know. Enjoy!
Allana
(Irish)
Dear child.
Leyla
(Arabic)
Born at night.
Big Ben
Large clock tower in England
Cedrina
(English)
Modern feminine of Cedric.
Starbuck
(English)
Star deer
Kinleigh
(English)
Kings meadow.
Legarre
(Spanish)
Reference to the Virgin Mary
Mealcoluim
(Scottish)
Follower of Saint Columba
Duayna
(Irish)
Feminine of Duane.
Lizbeth
(Hebrew)
Devoted to God
Davidson
(English)
Surname. Variant of David beloved.