Cat Names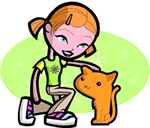 We offer 1,000's of cat names to help you choose the perfect one. Feel free to browse our unique cat names and when you find one you like you can add it to your favorites list to view later. If you have any cute cat names suggestions, please let us know. Enjoy!
Cherelle
(French)
Variant of Cherie Dear one:darling
Cadence
(French)
Rhythmic
Jeran
(English)
Modern variant of Israeli Jaron cry of rejoicing.
Rosemarie
(French)
Bitter
Earwyn
(English)
Friend of the sea
Gustava
(Spanish)
Staff of the gods
Clementina
(Spanish)
Merciful
Dougal
(Celtic)
Dark stranger
Lisha
(English)
Derived from Alicia: (sweet: honest: truth) and Felecia: (happy)
Luciano
(Spanish)
Form of Luke. Light: illumination.
Generosa
(Spanish)
Generous
Squier
(English)
Shieldbearer
Ilasha
Gental,Sensitive,Kind,Loving