Cat Names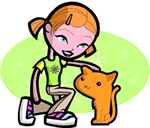 We offer 1,000's of cat names to help you choose the perfect one. Feel free to browse our unique cat names and when you find one you like you can add it to your favorites list to view later. If you have any cute cat names suggestions, please let us know. Enjoy!
Nuray
Moonlight, Light of Moon, or Light Moon.
Cassi
(English)
Abbreviation of Cassandra. Unheeded prophetess. In Homer's The Iliad Cassandra's prediction of the fall of Troy was unheeded.
Abelard
(German)
Resolute
Willy
(English)
Diminutive of William or any names begining with Will- : Resolute protector: will.
Romina
(Arabic)
From the Christian land
Gerwalt
(German)
Mighty with a spear
Kelwin
(Celtic)
From the narrow river
Jennay
(English)
Modern name based on Jane or Jean: Based on Janai meaning God has answered.
Aleiah
(African)
Flower, the love of the outside.. my granddaughter
Waleis
(English)
From Wales
Lorence
(English)
Modern usage. From the place of the laurel trees.
Avis
(English)
Refuge in battle
Elishia
(French)
Abbreviation of Elisabeth.
Alissa
(English)
Variant of Alice.
Bela
(Hebrew)
Destruction
Millman
(English)
Mill worker