Cat Names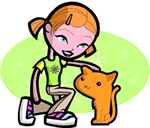 We offer 1,000's of cat names to help you choose the perfect one. Feel free to browse our unique cat names and when you find one you like you can add it to your favorites list to view later. If you have any cute cat names suggestions, please let us know. Enjoy!
Kaden
(German)
German surname which is derived from a place-name meaning fen (marshy land)
Aegelmaere
(English)
Infamous
Stilwell
From the tranquil stream
Ciara
(Irish)
Saint or Dark. Feminine of Ciaran.
Kaydience
Variant of Cadence.
Adelina
(German)
Sweet or noble
Chanel
(French)
canal: channel. The popular perfume Chanel
Tawnia
(Irish)
A green field: the warm sandy color of a lion's coat.
Herta
(German)
Of the earth
Galina
(Hebrew)
God shall redeem
Rick
(English)
Abbreviation of Richard powerful: strong ruler.
Kirwyn
(Celtic)
Dark skinned
Pedro
(Spanish)
A rock. Form of Peter.
Walbrydge
(English)
From the Welshman's bridge
Barry
(Irish)
Fair-haired.