Cat Names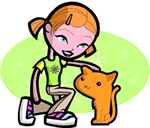 We offer 1,000's of cat names to help you choose the perfect one. Feel free to browse our unique cat names and when you find one you like you can add it to your favorites list to view later. If you have any cute cat names suggestions, please let us know. Enjoy!
Bowyn
(Celtic)
Son of Owen
Reynald
(German)
Counselor-ruler.
Westcot
(English)
From the west cottage
Durwyn
(English)
Friend of the deer
Yalissa
(Hebrew)
A beautifull flower.
Atherton
(English)
Lives at the spring farm
Bardo
(English)
Variant of Bartholomew often used as a surname.
Landon
(English)
From the long hill
Anarosa
(Spanish)
Grace. favor. Variant of Anna.
Charlotte
(English)
Feminine variant of Charles meaning manly
Linleah
(English)
From the flax field
Thorp
(English)
From the village
Ocvran
Father of Guinevere
Jackie
(English), (Scottish)
God has been gracious: has shown favor. Based on John or Jacques. Used more for girls than boys.
Alvis
(English)
All-knowing.
Layton
(English)
From the meadow farm
Lindisfarne
(English)
From Lindisfarne
Otto
(German)
Born eighth or wealthy