Cat Names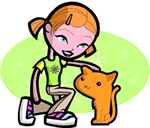 We offer 1,000's of cat names to help you choose the perfect one. Feel free to browse our unique cat names and when you find one you like you can add it to your favorites list to view later. If you have any cute cat names suggestions, please let us know. Enjoy!
Mehetabel
(Hebrew)
God's favor
Vohkinne
Roman nose (Cheyenne)
Stewart
(Scottish)
Steward. A medieval steward was charged with the care of castle and estate affairs. Surname.
Sonnie
(English)
Son. A nickname and given name.
Kathy
(English)
Form of the Greek Catherine meaning pure. Variant of Katherine.
Bartoli
(Spanish)
Ploughman
Kevinn
(Irish)
Handsome child. Variant of Kevin.
Reynald
(German)
Counselor-ruler.
Kaleikaumaka
(Hawaiian)
Beloved child to looked upon with pride and love
Mitchell
(English)
Form of Michael Who is like God?
Brittni
(English)
Originally the ancient duchy of Bretagne in France. Celtic Bretons emigrated from France to become the Bretons of England.
Dustyn
(English)
A fighter.
Malleville
(French)
From Malleville