Cat Names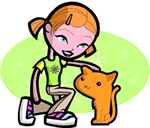 We offer 1,000's of cat names to help you choose the perfect one. Feel free to browse our unique cat names and when you find one you like you can add it to your favorites list to view later. If you have any cute cat names suggestions, please let us know. Enjoy!
Delaine
(French)
From the elder tree grove.
Hollie
(English)
The holly tree. Common name given Christmas girl babies.
Barron
(English)
Warrior: Variant of the title Baron.
Kelula
(Hebrew)
Victorious
Cradawg
(Celtic)
Mythical son of Bran
Vidal
(English)
Life. Used as both surname and given name. See also Vito.
Simson
(Hebrew)
Son of Simon
Jaime
(Spanish)
Supplanter
Celia
Little heavenly one
Beruriah
(Hebrew)
Selected by God
Dallas
(Scottish)
From the waterfall
Bertina
(German)
Intelligent
Mei-Yin
(Chinese)
Very beautiful or beauty.
Mel
(English)
Meaning uncertain but possibly friend of Michael.