Cat Names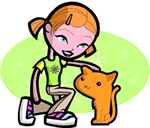 We offer 1,000's of cat names to help you choose the perfect one. Feel free to browse our unique cat names and when you find one you like you can add it to your favorites list to view later. If you have any cute cat names suggestions, please let us know. Enjoy!
Shiloh
(Hebrew)
The one to whom it belongs. In the bible Shiloh is a prophetic name for the Messiah: Also Shiloh is significant as the site of a crucial battle in the American Civil War.
Dervin
(English)
Gifted friend.
Bethseda
(Hebrew)
Merciful
Hollie
(English)
The holly tree. Common name given Christmas girl babies.
Christianna
(Greek)
Same as Christina/Christopher
Verge
Owns four acres of land
Sawyer
(English)
Saws wood
Marlynn
(English)
Feminine of Marlon: Variant of Marlene Woman from Magdala.
Circehyll
(English)
Lives at the church hill
Morrie
(English)
Dark-skinned: A Moor. Form of Maurice.
Querida
(Spanish)
Beloved
Lizbeth
(Hebrew)
Devoted to God
Tavion
(Irish)
Variant of the word teeve hillside.
Kirwyn
(Celtic)
Dark skinned
Salomeaexl
(Hebrew)
Tranquil
Clayson
(English)
Variant of Nicholas.
Hartley
(English)
From the stag's meadow
Fitzgerald
(French)
Son of Gerald. Surname.
Garadyn
(English)
From the three cornered hill