Cat Names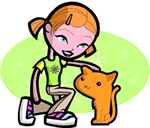 We offer 1,000's of cat names to help you choose the perfect one. Feel free to browse our unique cat names and when you find one you like you can add it to your favorites list to view later. If you have any cute cat names suggestions, please let us know. Enjoy!
Jasper
(English)
Master of the treasure
Deylin
(English)
Rhyming variant of Waylon - a historical blacksmith with supernatural powers.
Aharman
The Evil God perpetually at war with the Good God, Ahura-Mazda or Ormuzd, the Supreme Creator as given in the Zen-davasta of the Zoroastrians.
Trahern
(Celtic)
Strong as iron
Juggernaut
Large comic book character.
Marlinda
(German)
Variant of Madeline Woman from Magdala.
Thibaud
(French)
Rule of the peop]e
Koby
(German)
Dark: dark-haired.
Raedburne
(English)
Lives by the red stream
Susie
(English)
Lily. Variant of Hebrew Susannah. In the apocryphal Book of Tobit Susannah courageously defended herself against wrongful accusation. White lilies grew in the Biblical city of Susa in Persia.
Ardene
(English)
Warm:. Eager: Lofty.
Maslin
(French)
Little Thomas
Pascala
(French)
Born at Easter
Broden
(Scottish)
Reference to Castle Brodie in Scotland.
EIlis
(Hebrew)
Jehovah is God
Kaden
(German)
German surname which is derived from a place-name meaning fen (marshy land)