Cat Names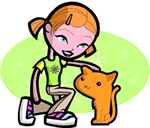 We offer 1,000's of cat names to help you choose the perfect one. Feel free to browse our unique cat names and when you find one you like you can add it to your favorites list to view later. If you have any cute cat names suggestions, please let us know. Enjoy!
Emmy
(German)
Hardworking. Variant of Emily.
Evita
(Spanish)
Spanish form of Eve
Joceline
(French)
Medieval male name adopted as a feminine name.
Fenella
(Scottish)
Scottish form of Finola
Russ
(English)
Form of Rufus Red-haired.
Beamard
(Irish)
Brave as a bear
Firtha
(Scottish)
Arm of the sea
Jodie
(English)
Feminine of nickname for Joseph and Jude.
Johann
(German)
Variant of the Hebrew John Jehovah has been gracious: has shown favor.
Querida
(Spanish)
Beloved
Marsden
(English)
From the marsh valley