Cat Names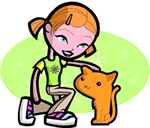 We offer 1,000's of cat names to help you choose the perfect one. Feel free to browse our unique cat names and when you find one you like you can add it to your favorites list to view later. If you have any cute cat names suggestions, please let us know. Enjoy!
Friedrick
(German)
Nickname variant of Frederick peaceful ruler.
Redd
(Scottish)
Redheaded. Surname.
Armstrong
(English)
Strong armed
Filicia
(French)
Great happiness
Falk
(German)
Surname relating to falconry.
Vittoria
(Spanish)
Victor
Leondrea
(French)
Lion: lioness. Feminine of Leon.
Iain
(Scottish)
Gift from God
Abbott
(English), (Hebrew)
Father
Jordon
(French)
Variant of Hebrew Jordan down flowing.
Berkeley
(Irish)
The birch tree meadow. Also see Barclay and Burke.
Galina
(Hebrew)
God shall redeem
Raydon
(French)
Counselor. Variant of Raymond.
Welsie
(English)
From the west
Berchtwald
(German)
Bright ruler
Nikson
(English)
Son of Nick