Cat Names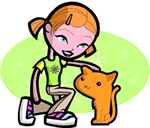 We offer 1,000's of cat names to help you choose the perfect one. Feel free to browse our unique cat names and when you find one you like you can add it to your favorites list to view later. If you have any cute cat names suggestions, please let us know. Enjoy!
Earwyn
(English)
Friend of the sea
Brooke
(English)
Lives by the stream
Cecelia
Blind. Famous bearer: The blind St. Cecilie, patron saint of music, was a talented musician.
Collins
(English)
Abbreviation of Nicholas people's victory.
Cedrina
(English)
Modern feminine of Cedric.
Pericles
(Greek)
A man with honour
Mantotohpa
Four bears (Cheyenne)
Leilah
(Arabic)
Born at night.
Mindy
(English)
Abbreviation of Melinda.
Genevie
(German)
Of the race of women.
Jansen
(German)
Variant of the Hebrew John Jehovah has been gracious: has shown favor.
Jaimi
(Scottish)
Pet form of James used as a woman's name.
Ansell
(French)
Adherent of a nobleman
Humberto
(Spanish)
Intelligent: Big: bright.
Garnet
(English)
A dark-red gemstone named for the pomegranate because of its color.
Constance
(English)
Constancy: steadfastness.
Odiana
(German)
Elfin spear
Abigall
(Hebrew)
Fathers joy. Alternate Spellings: Abegale, Abgail, Abigale.