Cat Names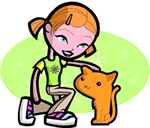 We offer 1,000's of cat names to help you choose the perfect one. Feel free to browse our unique cat names and when you find one you like you can add it to your favorites list to view later. If you have any cute cat names suggestions, please let us know. Enjoy!
Teryn
(English)
Abbreviation of Teresa which is a popular saint's name of uncertain meaning.
Tedrick
(German)
Variant of the old German name Theodoric ruler of the people.
Thibaud
(French)
Rule of the peop]e
Maitena
(English)
Dearly loved
Matz
(Hebrew)
Gift from God
Lyel
(Scottish)
Surname meaning loyal.
Amarissa
(Hebrew)
Given by God
Penarddun
(Celtic)
Mythical daughter of Beli
Jonetta
(English)
Modern feminine of John and Jon.
Hisolda
(Irish)
Irish form of Isolda
Jerron
(English)
Modern variant of Israeli Jaron cry of rejoicing.
Hulbert
(German)
Graceful
Putnam
Dwells by the pond
Lyndee
(English)
Variant of Linda. lime tree: linden tree: beautiful.
Audrick
(German)
Noble friend
Harland
(English)
Meadow of the hares. Variant of Harley. Surname.
Parsefal
(English)
Valley piercer