Cat Names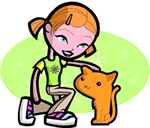 We offer 1,000's of cat names to help you choose the perfect one. Feel free to browse our unique cat names and when you find one you like you can add it to your favorites list to view later. If you have any cute cat names suggestions, please let us know. Enjoy!
Trevian
(English)
Fair town. Abbreviation of Trevelyan.
Gerri
(English)
Modern form of Gerry.
Ariane
(French)
Variant of Greek Mythological Ariadne who aided Theseus to escape from the Cretan labyrinth.
Kiley
(Irish)
Boomerang. Variant of Kylie. Pretty.
Vareck
(English)
From the fortress
Janene
(English)
Variant of Jeannine.
Fabien
(French)
Derived from the Roman clan name Fabius
Oso
(Mexican), (Spanish)
Bear
Donzel
(Spanish)
Abbreviation of Donatello gift from God.
Kamryn
(Scottish)
Variant of Cameron
Gillermo
(Spanish)
Variant of William Resolute protector.
Corie
(English)
Variant of Cory meaning variously - From the round hill: seething pool: ravine
Casey
(Irish)
Alert: vigorous.
Kaitlyn
(Irish)
Modern phonetic form of the Irish name Caitlin from Catherine meaning pure.