Cat Names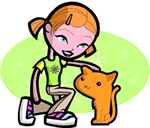 We offer 1,000's of cat names to help you choose the perfect one. Feel free to browse our unique cat names and when you find one you like you can add it to your favorites list to view later. If you have any cute cat names suggestions, please let us know. Enjoy!
Alese
(German)
Beautiful soul.
Jonni
(English)
Modern feminine of John and Jon.
Idoia
(Spanish)
Reference to the Virgin Mary
Britomart
Irish warrior from Edmond spencer's poem "The Fairy Queen"
Heloise
(French)
French form of Louise
Aethelflaed
Sister of King Edward
Stok
(English)
From the tree stump
Justyna
Justice, honest, fair, rightful according to a german calendar, there is a name day on September 26
Ahtunowhiho
One who lives below (Cheyenne)
Konner
Alternate Spelling: Conner.
Howard
(English)
Chief guardian
Adelle
(French)
Of the nobility. Noble.
Hiolair
(Irish)
Irish form of Hilary happy
Grisella
(German)
Gray: gray-haired. Italian author Giovanni Boccaccio's used the name for an exceptionally patient fictional wife - thus the expression patience of Griselda.
Krystalyn
(English)
Variant of Crystal. Sparkling. K from the Greek spelling of krystallos.