Cat Names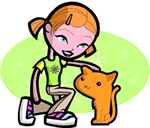 We offer 1,000's of cat names to help you choose the perfect one. Feel free to browse our unique cat names and when you find one you like you can add it to your favorites list to view later. If you have any cute cat names suggestions, please let us know. Enjoy!
Amiram
(Hebrew)
Of lofty people
Lynne
(English)
Abbreviation of Lynnette who accompanied Sir Gareth on a knightly quest in Arthurian legend: variant of the Irish Gaelic word lann meaning house: church.
Niallan
(Celtic)
Champion
Arnett
(English)
Little eagle
Josephina
(French)
Feminine of Joseph.
Cibil
(English)
Variant of Sibyl: In Greek mythology a name for prophetess or fortune-teller.
Phoenix
(Greek)
Mystical Bird, Purple
Leondrea
(French)
Lion: lioness. Feminine of Leon.
Mildrid
(English)
Mild of strength
Thorp
(English)
From the village
Ardala
(Irish)
High honor
Bredbeddle
The Green Knight
Johnnie
(French)
Variant of the Hebrew John Jehovah has been gracious: has shown favor.
Whitby
(English)
From the white farm
Merryl
(French)
Blackbird.
Charline
(French)
Feminine of Charles meaning manly