Cat Names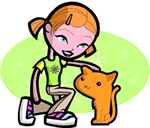 We offer 1,000's of cat names to help you choose the perfect one. Feel free to browse our unique cat names and when you find one you like you can add it to your favorites list to view later. If you have any cute cat names suggestions, please let us know. Enjoy!
Joslyn
(English)
Medieval male name adopted as a feminine name.
Jenine
(French)
Diminutive form of Jane or Jeanne.
Ricadene
(English)
Lives in the ruler
Wintanweorth
(English)
From the white one's estate
Chadwick
(English)
From the warrior's town
Dina
(Hebrew)
Avenged Judged and vindicated. In the bible Dinah was Jacob's only daughter.
Lucius
(English)
Form of Luke. Light: illumination.
Nikkie
(English)
Abbreviation of Nicole. Victory.
Morvyn
(Celtic)
Lives by the sea
Squier
(English)
Shieldbearer
Bethanna
(Arabic)
From the house of Gods grace.
Eames
(Irish)
Prosperous protector. Variant of Edmund.
Roger
(English)
Renowned spearman. Rogelio: (Spanish) Renowned spearman.
Corri
(Irish)
Variant of Cory meaning variously - From the round hill: seething pool: ravine
Eowyn
Name of a character in J.R.R. Tolkien's Lord of the rings, The Two Towers.
Honoratas
(Spanish)
Honor
Rangford
(English)
From the raven's ford
Arik
(English)
Sacred ruler