Cat Names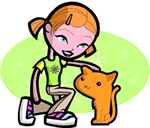 We offer 1,000's of cat names to help you choose the perfect one. Feel free to browse our unique cat names and when you find one you like you can add it to your favorites list to view later. If you have any cute cat names suggestions, please let us know. Enjoy!
Steele
(English)
Hard: durable.
Fitz Walter
(English)
Son of Walter
Terry
(English)
Abbreviation of Terrance and Terrell. Terry is also an Anglicized phonetic form of the French given name Thierry from an older Germanic name meaning powerful: ruler of the people.
Garwin
(English)
Friend with a spear
Brandyce
(English)
Variation of the beverage brandy used as a given name.
Ranit
(Hebrew)
Lovely tune
Dinah
(Hebrew)
Avenged or Judged and vindicated. In the bible Dinah was Jacob's only daughter.
Carol
(French)
Song of happiness
Charly
(English)
Modern form of Charles meaning manly