Cat Names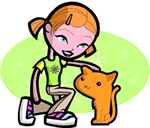 We offer 1,000's of cat names to help you choose the perfect one. Feel free to browse our unique cat names and when you find one you like you can add it to your favorites list to view later. If you have any cute cat names suggestions, please let us know. Enjoy!
Abra
(Arabic), (Hebrew)
Arabic: Lesson. Hebrew: Mother of many.
Sanbourne
(English)
From the sandy brook
Herzeloyde
Percival's mother
Iliana
(Spanish)
Variant of Elena.
Fawna
(English)
Young deer. The Greek mythological deity of fertility and nature was Fauna. She was famous for her chastity.
Kendell
(English)
Royal valley. Surname referring to Kent in England.
Coinneach
(Irish)
Handsome
Russ
(English)
Form of Rufus Red-haired.
Ravin
Alternate Spelling: Raven.
Shaniyah
Pretty as a blooming blossom.
Jacolin
(Irish)
One who glides with beauty
Freman
(French)
Free man: a man freed from bound servitude to an overlord. Surname.
Mynogan
(Celtic)
Mythical father of Beli