Cat Names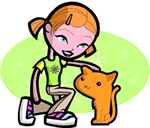 We offer 1,000's of cat names to help you choose the perfect one. Feel free to browse our unique cat names and when you find one you like you can add it to your favorites list to view later. If you have any cute cat names suggestions, please let us know. Enjoy!
Suthfeld
(English)
From the south field
Richie
(Spanish)
Variant of Richard.
Aonghus
(Scottish)
Unnaturally strong
Molli
(Irish)
From the Gaelic Maili which is a pet form of Mary bitter.
Brandee
(English)
Variation of the beverage brandy used as a given name.
Aballach
Father of Modron
Jurre
(Hebrew)
God will uplift
Genna
(English)
Variant of Jenny. White wave.
Bonnibelle
(Scottish)
From the French bon meaning good. In Scottish usage bonnie means pretty or charming.
Alhrik
(English)
Sacred ruler
Trude
(German)
Fighting woman
Becky
(English)
Abbreviation of Rebecca.
Nadine
(French)
From Nada Variant of Nadia.
Uriyah
(Hebrew)
god is my light