Cat Names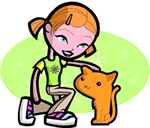 We offer 1,000's of cat names to help you choose the perfect one. Feel free to browse our unique cat names and when you find one you like you can add it to your favorites list to view later. If you have any cute cat names suggestions, please let us know. Enjoy!
Imara
Female version of Imre
Caellum
(Celtic)
Brave Warrior
Sagirah
(Arabic)
Little one
Krynn
(English)
Caring and loving
Jaliyiah
Sweet and loving.
Salhtun
(English)
Lives near the willow farm
Esmond
(English)
Protected by God
Kathy
(English)
Form of the Greek Catherine meaning pure. Variant of Katherine.
Lael
(Hebrew)
Belonging to God. Traditional male Biblical name.
Aurkena
(Spanish)
Present
Stocwiella
(English)
From the tree stump spring
Eadward
(English)
Wealthy guardian
Danita
(English)
Feminine variant of Daniel God will judge.
Jankia
(Hebrew)
Gift from God