Cat Names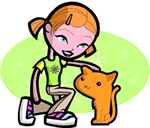 We offer 1,000's of cat names to help you choose the perfect one. Feel free to browse our unique cat names and when you find one you like you can add it to your favorites list to view later. If you have any cute cat names suggestions, please let us know. Enjoy!
Herzeloyde
Percival's mother
Aracely
(Spanish)
Altar of heaven.
Aubrey
(English)
Rules with elf-wisdom.
Ahmad
(Arabic)
Much praised. One of many names of the prophet Muhammad.
Oliveria
(Spanish)
Affectionate
Devona
(Celtic)
Divine one
Omat
(Irish)
The color of olive
Denisse
(French)
Feminine of Denis from the Greek name Dionysus.
Scannalan
(Irish)
Scandal
Carilynne
(English)
Feminine variant of Charles meaning manly
Sruthair
(Irish)
From the stream
Roddy
(English)
Variant of Roderick famous ruler.
Thoraldtun
(English)
From the thunder estate
Tedrick
(German)
Variant of the old German name Theodoric ruler of the people.
Cameron
(Scottish)
Clan name meaning Bent nose.
Chancellor
(English)
Chancellor
Gaukroger
(English)
Roger the clumsy