Cat Names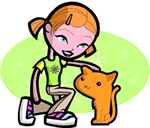 We offer 1,000's of cat names to help you choose the perfect one. Feel free to browse our unique cat names and when you find one you like you can add it to your favorites list to view later. If you have any cute cat names suggestions, please let us know. Enjoy!
Henrietta
(French)
Keeper of the hearth. Rules her household. Feminine of Henry.
Alvyn
(English)
Wise friend.
Nimiane
The Lady of the Lake
Trinity
A union of three in one: the Father, the Son, and the Holy Ghost
Arama
(Spanish)
Reference to the Virgin Mary
Arleigh
(English)
Meadow of the hare.
Hananel
(Hebrew)
God is gracious
Faelen
(Irish)
Faelen is irish gaelic and means wolf
Cherokee
People of a different speech. One of the largest American Indian tribes.
Wambleesha
White eagle (Sioux)
Marvin
(Celtic)
Lives by the sea
Salhtun
(English)
Lives near the willow farm
Fontaine
(French)
Fountain: water source.