Cat Names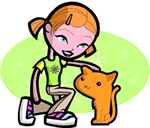 We offer 1,000's of cat names to help you choose the perfect one. Feel free to browse our unique cat names and when you find one you like you can add it to your favorites list to view later. If you have any cute cat names suggestions, please let us know. Enjoy!
Amineh
(Arabic)
Faithful: Trustworthy.
Dacian
(French)
Of the nobility.
Orland
(Spanish)
Renowned in the land. Form of Roland.
Thurlow
(English)
From Thor's hill
Kortniey
Caring and honest.
Ordwald
(English)
Spear strength
Rorke
(Irish)
Famous ruler
Harland
(English)
Meadow of the hares. Variant of Harley. Surname.
Garnell
(French)
Keeper of grain. Surname.
Hastings
(English)
Violent
Cairbre
(Celtic)
Charioteer
Jonas
(Hebrew)
Gift from God
Osryd
(English)
Divine counselor