Cat Names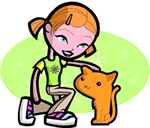 We offer 1,000's of cat names to help you choose the perfect one. Feel free to browse our unique cat names and when you find one you like you can add it to your favorites list to view later. If you have any cute cat names suggestions, please let us know. Enjoy!
Anakausuen
Worker (Algonquin)
Wilbur
(English)
From the strong fortress Willful: bright.
Daveen
(English)
Beloved. Feminine of David.
Marque
(French)
Of Mars: the god of war.
Korbin
(English)
Raven-haired.
Vern
(English)
Surname related to Vernon alder tree grove. Also used as abbreviations of Vernon or Lavern.
Villetta
(French)
From the countly estate
Maryl
(French)
Blackbird.
Jarrel
(English)
Blend of Jar and Darell. See also Jerrell.
Baylie
(English)
Courtyard within castle walls: steward or public official. Surname or given name.
Dian
(French)
Divine. Mythological ancient Roman divinity Diana was noted for beauty and swiftness: often depicted as a huntress. Also Diana Princess of Wales.
Sheelah
(Irish)
Irish form of Cecilia blind
Abramo
(Hebrew)
Father of a multitude
Maslin
(French)
Little Thomas