Cat Names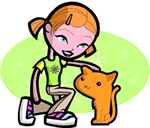 We offer 1,000's of cat names to help you choose the perfect one. Feel free to browse our unique cat names and when you find one you like you can add it to your favorites list to view later. If you have any cute cat names suggestions, please let us know. Enjoy!
Darroll
(French)
Variant of Darrel open.
Juggernaut
Large comic book character.
Alvyn
(English)
Wise friend.
Athena
(Greek)
Greek goddess of wisdom and war.
Cherokee
People of a different speech. One of the largest American Indian tribes.
Nitzanah
(Hebrew)
Blossom
Renfield
(English)
From the raven's field
Britomart
Irish warrior from Edmond spencer's poem "The Fairy Queen"
Gilleabart
(Scottish)
Pledge
Corley
(Irish)
Variant of Corey Hill hollow.
Nico
(English)
Abbreviation of Nicholas. Mythological Nike was Greek goddess of victory and root origin of Nicholas.
Marleina
(English)
Variant of Madeline Woman from Magdala.
Emmy
(German)
Hardworking. Variant of Emily.
Jannina
(English)
Variant of Jeannine.