Cat Names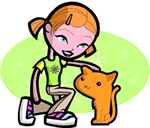 We offer 1,000's of cat names to help you choose the perfect one. Feel free to browse our unique cat names and when you find one you like you can add it to your favorites list to view later. If you have any cute cat names suggestions, please let us know. Enjoy!
Emmy
(German)
Hardworking. Variant of Emily.
Damiean
(English)
Calm and tame.
Talya
(Hebrew)
Dew of heaven
Louredes
(Spanish)
Reference to the Virgin Mary
Aescby
(English)
From the ash tree farm
Madena
(Spanish)
Woman from Magdala. Variant of Madeleine.
Leona
(French)
Lion: lioness. Feminine of Leon.
Gwenhwyfach
Guinevere's sister
Cass
(Irish)
Curly-headed.
Joaquina
(Hebrew)
God shall establish
Frimunt
(German)
Noble protector
Nataleigh
(French)
Born at Christmas.
Sidonia
(Hebrew)
Captivates
Goldwyn
(English)
Golden friend
Geela
(Hebrew)
Eternal joy
Hugi
(English)
Intelligent