Cat Names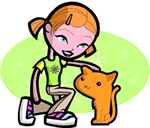 We offer 1,000's of cat names to help you choose the perfect one. Feel free to browse our unique cat names and when you find one you like you can add it to your favorites list to view later. If you have any cute cat names suggestions, please let us know. Enjoy!
Torrey
(English)
Derived from Victoria triumphant or the craggy hills.
Cuddles
(English)
To hug or embrace.
Christanne
(English)
Variant of Christian.
Caitlin
(Irish)
Variant of Katherine meaning pure
Monty
(English)
Mountain. Abbreviation of Montague and Montgomery.
Silvester
(German)
Trees: sylvan. See also Sylvester and Silvano.
Kortniey
Caring and honest.
Tammie
(English)
Abbreviation of Thomasina and Tamara.
Aethelisdun
(English)
From the noble's hill
Devry
(English)
Derived from place-name Deverel.
Darek
(German)
Gifted ruler. From Theodoric.
Jenay
(English)
Modern name based on Jane or Jean: Based on Janai meaning God has answered.
Erlina
(Spanish)
Shield From the German name Herlinde
Gabrielle
(French)
God's able-bodied one. Feminine of Gabriel.
Lacina
(French)
Derived from Lacey which is a French Nobleman's surname brought to British Isles after Norman conquest.
Galina
(Hebrew)
God shall redeem
Iain
(Scottish)
Gift from God
Coriann
(English)
Variant of Cory meaning variously - From the round hill: seething pool: ravine