Cat Names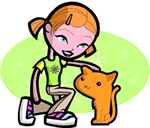 We offer 1,000's of cat names to help you choose the perfect one. Feel free to browse our unique cat names and when you find one you like you can add it to your favorites list to view later. If you have any cute cat names suggestions, please let us know. Enjoy!
Kiona
(Irish)
Variant of Kian. Ancient.
Audra
(English)
Noble strength
Freowine
(English)
Noble friend
Brianna
(Celtic)
She ascends. Feminine of Brian.
Lionel
(French)
Young lion.
Marleen
(German)
Variant of Madeline Woman from Magdala.
Dacian
(French)
Of the nobility.
Hester
(English)
Variant of Esther.
Jozlyn
(French)
Medieval male name adopted as a feminine name.
Trevian
(English)
Fair town. Abbreviation of Trevelyan.
Johannah
(Hebrew)
Variant of Joan
Galen
(English)
festive party.
Berkeley
(Irish)
The birch tree meadow. Also see Barclay and Burke.
Cherokee
People of a different speech. One of the largest American Indian tribes.
Ward
(Irish)
Bard. Surname.
Mary
(English)
Bitter. Variant of Miriam. The biblical mother of Christ. Names like Dolores and Mercedes have been created to express aspects of Mary's life and worship.
Piers
(French)
A rock. Form of Peter.