Cat Names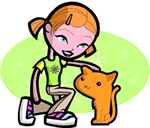 We offer 1,000's of cat names to help you choose the perfect one. Feel free to browse our unique cat names and when you find one you like you can add it to your favorites list to view later. If you have any cute cat names suggestions, please let us know. Enjoy!
Kerrick
(English)
King's rule. Surname.
Orlin
(German)
Renowned in the land. Form of Roland.
Ladde
(English)
Attendant
Rodwell
(English)
Lives by the spring near the road
Jaran
(English)
Modern variant of Israeli Jaron cry of rejoicing.
Aubree
(English)
Rules with elf-wisdom.
Selwin
(English)
Good friend
Nathalia
(French)
Birthday: especially the birthday of Christ.
Kiona
(Irish)
Variant of Kian. Ancient.
Krystalyn
(English)
Variant of Crystal. Sparkling. K from the Greek spelling of krystallos.
Kristen
(English)
Variant of Christiana. Follower of Christ.
Kalin
(English)
Variant of Kay and Kayla. keeper of the keys: pure.
Perzsi
(Hebrew)
Devoted to God
Claudine
(English)
Feminine of Claude.
Waleis
(English)
From Wales