Cat Names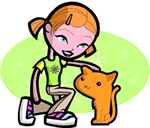 We offer 1,000's of cat names to help you choose the perfect one. Feel free to browse our unique cat names and when you find one you like you can add it to your favorites list to view later. If you have any cute cat names suggestions, please let us know. Enjoy!
Flynn
(Irish)
Son of a red-haired man. Surname.
Athalia
(Spanish)
Guardtower
Usbeorn
(English)
Divine warrior
Kaycee
(English)
Modern Kacie and variants are phonetic forms of the initials K.C. or variants of the Irish name Casey alert: vigorous.
Blar
(Irish)
From the fields
Cayleigh
(English), (Greek), (Scottish)
Pure Meadow: party: slender:
Alvar
(Spanish)
Truth-speaker or guardian.
Toran
(Scottish)
Variant of Torrence From the craggy hills. Tor is a name for a craggy hilltop and also may refer to a watchtower.
Cadence
(French)
Rhythmic
Breena
(Irish)
Fairy palace. Also variant of Brianna and Sabrina.
Whitley
(English)
From the white meadow