Cat Names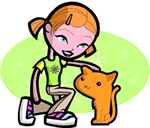 We offer 1,000's of cat names to help you choose the perfect one. Feel free to browse our unique cat names and when you find one you like you can add it to your favorites list to view later. If you have any cute cat names suggestions, please let us know. Enjoy!
Riccardo
(German)
Powerful ruler
Ashwyn
(English)
Spear friend
Athalia
(Spanish)
Guardtower
Warton
(English)
From the farm by the weir
Kelven
(Celtic)
River man.
Arleen
(English)
Variant of Carlene and Charlene.
Montgomery
(Scottish)
From Montgomerie
Rayhourne
(English)
From the deer's stream
Hann
(German)
Gift from God
Autumn
(English)
Born in the fall: The fall season.
Torran
(Irish)
Variant of Torrence From the craggy hills. Tor is a name for a craggy hilltop and also may refer to a watchtower.
Louisane
(German)
Renowned warrior
Nedra
(English)
Feminine of Ned.
Cherry
(English)
The fruit-bearing cherry tree.