Cat Names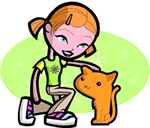 We offer 1,000's of cat names to help you choose the perfect one. Feel free to browse our unique cat names and when you find one you like you can add it to your favorites list to view later. If you have any cute cat names suggestions, please let us know. Enjoy!
Lyndsey
(English)
A lake: a place of linden trees.
Oldwyn
(English)
Special friend
Seabroc
(English)
From the brook by the sea
Pavati
Clear water (Hopi)
Evie
(Hebrew)
Living one. Variant of Eve. In the bible Eve was Adam's wife and the first woman.
Farrah
(English)
Fair-haired
Marlynn
(English)
Feminine of Marlon: Variant of Marlene Woman from Magdala.
Chevelle
Bold and beautiful.
Merryl
(French)
Blackbird.
OKimma
(African)
Different/One of a kind
Christianna
(Greek)
Same as Christina/Christopher
Madisyn
(English)
Good. Variant of Madison.
Jabulela
(African)
Be happy
Maricela
(Spanish)
Variant of Marcella Of Mars. Mars was mythological Roman god of fertility for whom the month March was named: mythologically identified with the Greek war god Ares.
Jennyfer
(Celtic)
White wave
Dantae
(Spanish)
Enduring. The poet Dante Alighieri wrote The Divine Comedy with its graphic description of medieval Hell known as Dante's Inferno.
Kendall
(English)
Royal valley. Surname referring to Kent in England.
Jyl
(English)
Abbreviation of Jillian or Gillian. Jove's child.
Rexton
(English)
Variant of Rex chieftain: ruler. Surname.
Keola
(Hawaiian)
The Life
Genna
(English)
Variant of Jenny. White wave.