Cat Names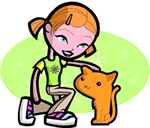 We offer 1,000's of cat names to help you choose the perfect one. Feel free to browse our unique cat names and when you find one you like you can add it to your favorites list to view later. If you have any cute cat names suggestions, please let us know. Enjoy!
Enrico
(Italian)
Ruler of the household
Dania
(English)
From Denmark. Also a feminine variant of Daniel God will judge.
Fifi
(French)
Nickname for Josephine
Ariane
(French)
Variant of Greek Mythological Ariadne who aided Theseus to escape from the Cretan labyrinth.
Cayleigh
(English), (Greek), (Scottish)
Pure Meadow: party: slender:
Kerrigan
(Irish)
Dusky: dark A surname.
Abra
(Arabic), (Hebrew)
Arabic: Lesson. Hebrew: Mother of many.
Mikko
(English)
Abbreviation of Michaela:Micaela: Mikaela: Mikayla: Mychaela: Mikella. Feminine of Michael gift from God.
Halebeorht
(English)
Brilliant hero
Misi
(Hebrew)
Gift from God
Marvella
(French)
Miracle
Burkett
(French)
From the little stronghold
Darrell
(French)
Open. Dates back to the eleventh century as both surname and given name.
Angelino
(Spanish)
Messenger. Biblical name for spirit messengers God sends men.
Adny
(English)
Lives on the noble's island
Phoenix
(Greek)
Mystical Bird, Purple
Ernest
(English)
Serious: determined.