Cat Names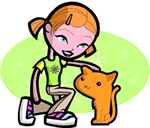 We offer 1,000's of cat names to help you choose the perfect one. Feel free to browse our unique cat names and when you find one you like you can add it to your favorites list to view later. If you have any cute cat names suggestions, please let us know. Enjoy!
Frazer
(Scottish)
Variant of Fraser of the forest men.
Chelsie
(English)
Place name: a London district.
Alexandre
(French)
French form of Alexander
Donel
(Scottish)
All ruler
Generosa
(Spanish)
Generous
Ilena
(English)
Variant of Eileen.
Aekerman
(English)
Man of oak
Patrick
(Irish)
Patrician: noble. Romans society was divided into plebeians: (commoners) and patricians: (aristocrats). Saint Patrick - patron saint of Ireland.
Pasclina
(French)
Born at Easter
Scottas
(English)
From Scotland
Montaigu
(French)
From the pointed hill
Layton
(English)
From the meadow farm
Deandria
(English)
Blend of Deanne: (divine) plus variants of Andrea: (masculine) and Sandra: (protector of man.)
Alberteen
(English)
Noble
Moketaveto
Black kettle (Cheyenne)