Cat Names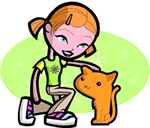 We offer 1,000's of cat names to help you choose the perfect one. Feel free to browse our unique cat names and when you find one you like you can add it to your favorites list to view later. If you have any cute cat names suggestions, please let us know. Enjoy!
Jenarae
(English)
Variation of Jenny which is a diminutive of Jane and Jennifer.
Kurt
(German)
Honest advisor
Daegal
Dweller by the dark stream
Bernadea
(French)
Feminine of Bernard. St. Bernadette was canonized in 1933.
Milosh
Glad, Pleasant, Sweet, Happy, Nice, Dear, Charming, Brings Happiness. The person everyone is glad to see.
Auberta
(French)
Feminine variant of Albert.
Joelle
(Hebrew)
Jehovah is God
Burnell
(German)
Variant of Bernard strong as a bear.
Erendira
(Spanish)
Name of a princess
Coolie
(Irish)
Hound of Ulster
Gilah
(Hebrew)
Eternal joy
Tyronne
(Irish)
From Owen's territory. County Tyrone in Ireland. The late actor Tyrone Power.
Shiloh
(Hebrew)
The one to whom it belongs. In the bible Shiloh is a prophetic name for the Messiah: Also Shiloh is significant as the site of a crucial battle in the American Civil War.
Jayden
(English)
Heard by God.
Lear
(English)
Shakespearian king
Daelan
(English)
Rhyming variant of Waylon - a historical blacksmith with supernatural powers.