Cat Names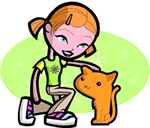 We offer 1,000's of cat names to help you choose the perfect one. Feel free to browse our unique cat names and when you find one you like you can add it to your favorites list to view later. If you have any cute cat names suggestions, please let us know. Enjoy!
Cherelle
(French)
Variant of Cherie Dear one:darling
Maddy-Rose
Quest and beautiful.
Taneli
(Hebrew)
Judged by God
Neliah
(African)
Storng willed and a vigrous spirit with a leveled mind.
Baylee
(French)
Courtyard within castle walls: steward or public official. Surname or given name.
Gedaliah
(Hebrew)
God has made great
Ricadene
(English)
Lives in the ruler
Emanuel
(Spanish)
With us is God. Variant of Hebrew name Immanuel. A biblical name-title applied to the Messiah.
Amadeo
(Spanish)
Loves God
Big Bertha
Comic book character. Large gun.
Emilee
Variant of Emily. Hard worker.
Carree
(English)
Abbreviation of Carol and Caroline from the masculine Charles meaning manly
Andie
(English)
Feminine of Andrea.
Jaskirit
(Indian)
Praises of the Lord.