Cat Names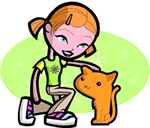 We offer 1,000's of cat names to help you choose the perfect one. Feel free to browse our unique cat names and when you find one you like you can add it to your favorites list to view later. If you have any cute cat names suggestions, please let us know. Enjoy!
Kaelynn
(English)
Variant of Kay and Kayla. keeper of the keys: pure.
Ariel
(Hebrew)
Lioness of God. Biblical name for Jerusalem. Used by Shakespeare for a mischevious spirit in The Tempest.
Chriselda
(German)
Strong
Omat
(Irish)
The color of olive
Penarddun
(Celtic)
Mythical daughter of Beli
Tassa
(English)
Abbreviation of Natasha - the Russian form of the English Natalie Born at Christmas.
Aleeyah
(Hebrew)
the asender
Bamey
(German)
Brave as a bear
Stocwiella
(English)
From the tree stump spring
Treoweman
(English)
Loyal
Kippie
(English)
From the pointed hill
Marybell
(English)
Derived from Mary Bitter. Mary was the biblical mother of Christ. Names like Dolores and Mercedes have been created to express aspects of Mary's life and worship.
Everhard
(English)
Strong as a boar
Norberaht
(German)
Bright heroine
Doran
(Irish)
Exile: Variant of Dorran stranger.
Townly
(English)
From the town meadow