Cat Names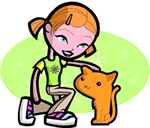 We offer 1,000's of cat names to help you choose the perfect one. Feel free to browse our unique cat names and when you find one you like you can add it to your favorites list to view later. If you have any cute cat names suggestions, please let us know. Enjoy!
Kendall
(English)
Royal valley. Surname referring to Kent in England.
Sonnie
(English)
Son. A nickname and given name.
Dalila
(Hebrew)
Desired or Languishing. The Biblical Delilah tempted Samson into revealing the secret of his superhuman strength.
Rickward
(English)
Strong guardian
Josee
(Hebrew)
God will add
Kezia
(Hebrew)
Cassia: sweet-scented spice. Keziah was one of Job's three fair daughters in the bible.
Bailee
(French)
Courtyard within castle walls: steward or public official. Surname or given name.
Daryl
(English)
Dearly loved. The name Daryl for girls was made popular by actress Daryl Hannah.
Troi
(English)
Troy derives from the ancient Greek city of Troy: also from an Irish surname meaning soldier.
Inoceneia
(Spanish)
Innocent
Hugette
(French)
Feminine form of Hugh
Jordell
(Hebrew)
Variant of Hebrew Jordan down flowing.
Coventina
(Celtic)
Water goddess
Orran
(English)
The name of an English river.
Sealey
(English)
From the happy meadow
Atique
Old valuable thing. Variant of Antique.
Constantia
(Spanish)
Constancy: steadfastness.