Cat Names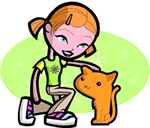 We offer 1,000's of cat names to help you choose the perfect one. Feel free to browse our unique cat names and when you find one you like you can add it to your favorites list to view later. If you have any cute cat names suggestions, please let us know. Enjoy!
Lauralyn
(English)
The laurel tree or sweet bay tree symbolic of honor and victory. Old name with many variants.
Mylnburne
(English)
From the mill stream
Eljin
(Celtic)
Noble: white.
Kaeli
(English)
Variant of Kay and Kayla keeper of the keys: pure.
Nikson
(English)
Son of Nick
Ayden
(Irish)
Fiery. Alternate Spelling: Aiden.
Godfrey
(Irish)
Peace from God
Sruthair
(Irish)
From the stream
Joan
(English)
Feminine of John.
Madelon
(French)
Woman from Magdala. Variant of Madeleine.
Jannina
(English)
Variant of Jeannine.
Denzell
(English)
Variant of Denzel - a place in Cornwall.
Antonie
(German)
Priceless
Dorien
(English)
Descendant of Dorus. Dorian was a character in Oscar Wilde's novel The Picture of Dorian Gray who was given his wish that his portrait would age while he remained young and handsome.
Elynn
(English)
Variant of Helen. Means Light or most beautiful woman