Cat Names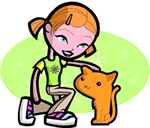 We offer 1,000's of cat names to help you choose the perfect one. Feel free to browse our unique cat names and when you find one you like you can add it to your favorites list to view later. If you have any cute cat names suggestions, please let us know. Enjoy!
Perzsi
(Hebrew)
Devoted to God
Courtlyn
(English)
Courtly: courteous.
Pierrel
(English)
Little rock
Warton
(English)
From the farm by the weir
Mattie
(French)
Strong in war
Garson
(German)
Spear-fortified town.
Morrissey
(Irish)
Choice of the sea
Gerwalt
(German)
Mighty with a spear
Jae
(English)
Variant of names like Jason and Jacob.
Justeene
(English)
Just: upright. Feminine of Justin.
Luduvico
(German)
Famous fighter
Cyrilla
(English)
Mistress: lady. Feminine of Cyril.
Karalan
Combination of Karen and Allan
Lillian
(English)
Variant of Lillian derived from the flower name Lily. Symbol of innocence: purity: beauty.
La Verne
(French)
Born in the spring