Cat Names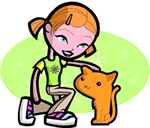 We offer 1,000's of cat names to help you choose the perfect one. Feel free to browse our unique cat names and when you find one you like you can add it to your favorites list to view later. If you have any cute cat names suggestions, please let us know. Enjoy!
Emma
(German)
Whole: complete. Universal
Alissa
(English)
Variant of Alice.
Hugi
(English)
Intelligent
Maryon
(English)
Variant of Mary bitter often used as English surname.
Mimi
(French)
Form of Williamina
Enoch
(Hebrew)
Trained and dedicated. In the bible Enoch was father of Methuselah: the oldest living man named in the Bible.
Garnell
(French)
Keeper of grain. Surname.
Uriel
(Hebrew)
God is my light
Calantha
(French)
Beautiful flower
Eward
(German)
Strong as a boar
Bardan
(English)
Lives near the boar's den