Cat Names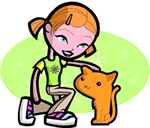 We offer 1,000's of cat names to help you choose the perfect one. Feel free to browse our unique cat names and when you find one you like you can add it to your favorites list to view later. If you have any cute cat names suggestions, please let us know. Enjoy!
Farrin
(Irish)
The land. Also used for girIS.
Trahern
(Celtic)
Strong as iron
Napayshni
Strong or courageous (Sioux)
Chere
(French)
Variant of Cherie Dear one:darling
Bertie
(English)
Variant of Bert - industrious.
Josslyn
Happy, Joyful. Alternate Spelling: Jocelyn, Jocelynn, Jocelyne.
Tallia
(Greek)
Joyful, blooming. Pronunced Tall-yuh or Tall-ee-uh. Traditional spelling Thalia, also seen as Talia and Talya.
Bitya
(Hebrew)
Daughter of God
Coraline
(English)
From the semi-precious sea growth coral
Loriel
(English)
Modern variant of Lora and Laurie referring to the laurel tree or sweet bay tree symbolic of honor and victory.
Renne
(French)
To rise again.
Archard
(French)
Powerful
Nan
(French)
Variant of Anne favor: grace.