Cat Names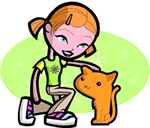 We offer 1,000's of cat names to help you choose the perfect one. Feel free to browse our unique cat names and when you find one you like you can add it to your favorites list to view later. If you have any cute cat names suggestions, please let us know. Enjoy!
Leveret
(French)
Young rabbit
Sheply
From the sheep meadow
Gedaliah
(Hebrew)
God has made great
Enkoodabooaoo
One who lives alone (Algonquin)
Jenneva
(English)
Phonetic variant of Genevieve.
Jenna
(English)
Modern variant of Jenny and Jennifer.
Torence
(Scottish)
Variant of Torrence From the craggy hills. Tor is a name for a craggy hilltop and also may refer to a watchtower.
Brandelyn
(English)
Variation of the beverage brandy used as a given name.
Johnson
(English)
Variant of the Hebrew John Jehovah has been gracious: has shown favor.
Aghna
(Irish)
Irish form of Agnes
Winwood
(English)
From Wine's forest
Nico
(English)
Abbreviation of Nicholas. Mythological Nike was Greek goddess of victory and root origin of Nicholas.
Ansell
(French)
Adherent of a nobleman
Wardell
(English)
From the guardian's hill
Vohkinne
Roman nose (Cheyenne)
Josslyn
Happy, Joyful. Alternate Spelling: Jocelyn, Jocelynn, Jocelyne.