Cat Names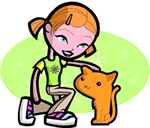 We offer 1,000's of cat names to help you choose the perfect one. Feel free to browse our unique cat names and when you find one you like you can add it to your favorites list to view later. If you have any cute cat names suggestions, please let us know. Enjoy!
Beadu
(English)
Warrior maid
Leilah
(Arabic)
Born at night.
Oletha
(English)
Light: nimble.
Tonia-Javae
(French)
Worthy of praise. Beauty.
Ilasha
Gental,Sensitive,Kind,Loving
Doughlas
(Celtic)
Dwells by the dark stream
Iain
(Scottish)
Gift from God
Christy
(English)
Variant of Christiana. Follower of Christ.
Kenrick
(Scottish)
Royal chieftain. Surname.
Jakoba
(German)
Feminine form of Jakoh
Letitia
(English)
Modern form of medieval name Letitia. Joyful:happy.
Vern
(English)
Surname related to Vernon alder tree grove. Also used as abbreviations of Vernon or Lavern.
Watelford
(English)
From the hurdle ford