Cat Names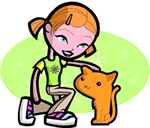 We offer 1,000's of cat names to help you choose the perfect one. Feel free to browse our unique cat names and when you find one you like you can add it to your favorites list to view later. If you have any cute cat names suggestions, please let us know. Enjoy!
Hastings
(English)
Violent
Nicolai
Variant of Nicholas.
Edyth
(English)
Happy warfare
Barday
(Scottish)
From Berkeley
Brighton
(English)
Covered bridge.
Rhodes
(English)
Lives near the crucifix
Greyson
(English)
Gray-haired: son of the Gray family: son of Gregory.
Saelig
(English)
From the happy meadow
Nan
(French)
Variant of Anne favor: grace.
Lorette
(English)
Diminutive of Laura or Lora referring to the laurel tree or sweet bay tree symbolic of honor and victory.
Apryl
(English)
The month April: symbolizes spring.
Lacy
(English)
Derived from Lacey which is a French Nobleman's surname brought to British Isles after Norman conquest.
Jozlyn
(French)
Medieval male name adopted as a feminine name.
Kalin
(English)
Variant of Kay and Kayla. keeper of the keys: pure.
Alverna
(Hebrew)
Feminine of Alvin meaning wise friend.