Cat Names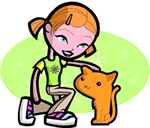 We offer 1,000's of cat names to help you choose the perfect one. Feel free to browse our unique cat names and when you find one you like you can add it to your favorites list to view later. If you have any cute cat names suggestions, please let us know. Enjoy!
Dos
(Mexican), (Spanish)
Two
Orlin
(German)
Renowned in the land. Form of Roland.
Thunder
(English)
Stormy tempered
Hild
(English)
Battle maid
Aescby
(English)
From the ash tree farm
Shaddock
(English)
Shad fish
Abrianna
Mother of many nations.
Chakwaina
One who cries (Hopi)
Hulk
Comic book character that could become large and green.
Parsefal
(English)
Valley piercer
Matunaagd
Fights (Algonquin)
Carlton
(English)
Free men's town.
Annabella
(Latin)
Grace and beauty, also can mean one favored of God. The name of given to several actresses and the name of King James I's daughter.
Toran
(Scottish)
Variant of Torrence From the craggy hills. Tor is a name for a craggy hilltop and also may refer to a watchtower.
Byrdene
(English)
Contemporary name meaning Little bird.