Cat Names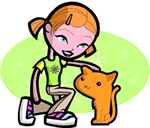 We offer 1,000's of cat names to help you choose the perfect one. Feel free to browse our unique cat names and when you find one you like you can add it to your favorites list to view later. If you have any cute cat names suggestions, please let us know. Enjoy!
Scandleah
(English)
From the loud meadow
Campbell
(Scottish)
Crooked mouth
Chianna
(French)
Variant of Cheyanne - an Algonquian tribe of the Great Plains and Capital city of Wyoming.
Alistaire
(Scottish)
Variant of Alexander - defender of mankind.
Toro
(Mexican), (Spanish)
Bull
Shiloh
(Hebrew)
The one to whom it belongs. In the bible Shiloh is a prophetic name for the Messiah: Also Shiloh is significant as the site of a crucial battle in the American Civil War.
Keyon
(English)
Guiding, leading. Alternate Spellings: Kieon, Key.
Delton
(English)
From the town in the valley.
Toby
(English)
Abbreviation of the Hebrew name Tobiah meaning Jah is good.
Lyvia
(English)
Life. Ancient Roman name. Abbreviation of Olivia.
Barnet
(English)
Of honorable birth.
Teddy
(English)
Abbreviation of Theodore.
Wilbur
(English)
From the strong fortress Willful: bright.
Thressa
(German)
Variant of Therese.
Ogilvie
(Scottish)
From the high peak
Noland
(Irish)
Renowned: noble.