Cat Names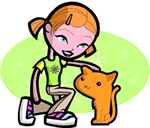 We offer 1,000's of cat names to help you choose the perfect one. Feel free to browse our unique cat names and when you find one you like you can add it to your favorites list to view later. If you have any cute cat names suggestions, please let us know. Enjoy!
Nerthus
Name of a goddess
Humberto
(Spanish)
Intelligent: Big: bright.
Beaton
(English)
From the warrior's estate
Natania
(Hebrew)
Gift of God.
Gertrut
(German)
From the protected farm
Cameron
(Scottish)
Clan name meaning Bent nose.
Hardwin
(English)
Brave friend
Mona
Gathered of the seed of a jimson weed
Aballach
Father of Modron
Chatlie
(English)
Modern form of Charles meaning manly
Crimson
Full of love. Leader in things that need to be done.
Elvina
Friend of the elves
Conley
(Irish)
Ardent or wise
Akim
(Hebrew)
God will establish
Jacee
(English)
Based on the initials J.C. or an abbreviation of Jacinda.