Cat Names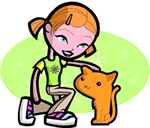 We offer 1,000's of cat names to help you choose the perfect one. Feel free to browse our unique cat names and when you find one you like you can add it to your favorites list to view later. If you have any cute cat names suggestions, please let us know. Enjoy!
Rayce
(English)
Counselor. Variant of Raymond.
Kassia
(English)
Variant of Katherine. Pure.
Manuela
(Hebrew)
God is among us
Chester
(English)
Lives at the camp of the soldiers.
Yaelis
(Spanish)
Combination of Joel and Yoseline. Meaning: strength of God: happy, joyful, celestial.
Mirla
(French)
Blackbird.
Charmain
(French)
One of Cleopatra's attendants in Shakespeare's Antony and Cleopatra was named Charmian.
Daniel
(Hebrew)
God is my Judge. The biblical prophet and writer of Book of Daniel was a teenager when taken to Babylon after the destruction of Jerusalem in 607 BC. He survived two death sentences: (a lions' den and a fiery furnace.): Frontiersman Daniel Boone.
Stephenie
(English)
Variant of Stephanie, which is the feminine form of Stephen. From the Greek name Stephanos which means crown.
Agnese
(Spanish)
Spanish form of Agnes pure