Cat Names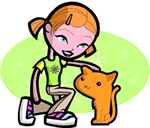 We offer 1,000's of cat names to help you choose the perfect one. Feel free to browse our unique cat names and when you find one you like you can add it to your favorites list to view later. If you have any cute cat names suggestions, please let us know. Enjoy!
Scottas
(English)
From Scotland
Clintwood
(English)
hillside.
Jaran
(English)
Modern variant of Israeli Jaron cry of rejoicing.
Matro
(Spanish)
God's gift
Chanel
(French)
canal: channel. The popular perfume Chanel
Heloise
(French)
French form of Louise
Edelina
(English)
Spoils of war.
Roger
(English)
Renowned spearman. Rogelio: (Spanish) Renowned spearman.
Gilia
(Hebrew)
Eternal joy
Neakail
(Scottish)
Victorious people
Chevelle
Bold and beautiful.
Lynzey
Derived from Lindsay or Lindsey