Cat Names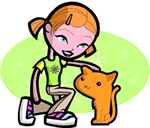 We offer 1,000's of cat names to help you choose the perfect one. Feel free to browse our unique cat names and when you find one you like you can add it to your favorites list to view later. If you have any cute cat names suggestions, please let us know. Enjoy!
Lia
(Spanish)
Is an abbreviation of names like Amalia: (hard working:industrious) and Rosalia: (Rose).
Joslyn
(English)
Medieval male name adopted as a feminine name.
Ascot
(English)
Lives at the east cottage
Big N'
In reference to the Big N' Tasty hamburger.
Dyanna
(French)
Divine. Mythological ancient Roman divinity Diana was noted for beauty and swiftness: often depicted as a huntress. Also Diana Princess of Wales.
Aurkena
(Spanish)
Present
Kippie
(English)
From the pointed hill
Abra
(Arabic), (Hebrew)
Arabic: Lesson. Hebrew: Mother of many.
Jenneva
(English)
Phonetic variant of Genevieve.
Branton
(English)
Variant of Brand. Mohawk Indian Joseph Brant was a renowned strategist who fought for the British during the American Revolution: and a devout scholar who translated Christian religious works into his native Indian tongue.
Candide
(French)
Bright: glowing white. Also sweet.
Brenda
(Irish)
Little raven or Beacon on the hill. Feminine of Brendan.
Elmore
(English)
Lives at the elm tree moor
Blythe
(English)
Blithe: lighthearted: cheerful
Cyrilla
(English)
Mistress: lady. Feminine of Cyril.
Zoa
(Greek)
Life. Variant of Zoe.
Haele
(English)
Lives in the hall
Fifine
(French)
Nickname for Josephine