Cat Names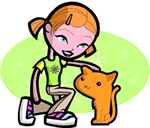 We offer 1,000's of cat names to help you choose the perfect one. Feel free to browse our unique cat names and when you find one you like you can add it to your favorites list to view later. If you have any cute cat names suggestions, please let us know. Enjoy!
Jazzmyn
(Arabic)
A flower name from the older form Jessamine.
Averil
(English)
Opening buds of spring: born in April.
Tavin
(German)
A nickname for Gustav royal staff.
Penarddun
(Celtic)
Mythical daughter of Beli
Caoimhghin
(Celtic)
Gentle
Kristiane
(English)
Variant of Christine. Christian.
Lyel
(Scottish)
Surname meaning loyal.
Wilbur
(English)
From the strong fortress Willful: bright.
Jenna
(English)
Modern variant of Jenny and Jennifer.
Alejandro
(Spanish)
Defends mankind. Spanish form of Alexander.
Jaleel
(Arabic)
Greatness: Godlike
Brigidia
(Spanish)
Spanish form of Bridget strong
Aureliano
(Spanish)
Golden.
Othili
Little wealthy one
Ansel
(German)
God's protection.
Lacene
(French)
Derived from Lacey which is a French Nobleman's surname brought to British Isles after Norman conquest.