Cat Names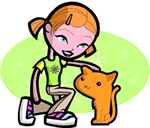 We offer 1,000's of cat names to help you choose the perfect one. Feel free to browse our unique cat names and when you find one you like you can add it to your favorites list to view later. If you have any cute cat names suggestions, please let us know. Enjoy!
Shad
(English)
Short form of the Biblical Shadrach: one of three young Hebrew men who survived being cast into a fiery furnace.
Fredda
(German)
Peaceful ruler. Feminine of Frederick.
Tommy Boy
From the movie by the same name.
Eilene
(Irish)
Variant of Evelyn.
Amalur
(Arabic), (Spanish)
Homeland
Basil
(English)
Royal: kingly.
Husam al Din
(Arabic)
Sword of faith
Apollonia
(Greek)
Gift from Greek god apollo. Strong.
Tiesha
(English)
Abbreviation of Leticia or Latisha.
Aesctun
(English)
From the ash tree farm
Haig
(English)
From the hedged enclosure
Yannic
(Hebrew)
Gods child.
Faux Pas
(French)
Social blunder
Jaymie
(Scottish)
Pet form of James used as a woman's name.
Ordwald
(English)
Spear strength