Cat Names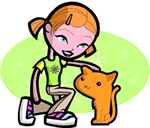 We offer 1,000's of cat names to help you choose the perfect one. Feel free to browse our unique cat names and when you find one you like you can add it to your favorites list to view later. If you have any cute cat names suggestions, please let us know. Enjoy!
Dympna
(Irish)
Name of a saint
Lachlan
(Scottish)
From the land of lakes.
Auberta
(French)
Feminine variant of Albert.
Magnild
(German)
Strong battle maiden
Isham
(English)
From the iron one's estate
Prescott
(English)
From the Priest's dwelling
Delane
(French)
From the elder tree grove.
Wincel
(English)
From the bend in the road
Jocelina
(French)
Medieval male name adopted as a feminine name.
Elisa-Mae
A flower consecrated to God
Aretha
(Arabic)
Virtuous: excellent.
Syd
(French)
Variant of Sidney from St. Denis
Orran
(English)
The name of an English river.