Cat Names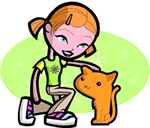 We offer 1,000's of cat names to help you choose the perfect one. Feel free to browse our unique cat names and when you find one you like you can add it to your favorites list to view later. If you have any cute cat names suggestions, please let us know. Enjoy!
Natania
(Hebrew)
Gift of God.
Alissa
(English)
Variant of Alice.
Rowland
(French)
Renowned in the land. Roland was a legendary hero who served Charlemagne.
Sapphire
(Hebrew)
Beautiful
Bubba
(English)
Nickname often given to brothers.
Athelward
(English)
Noble protector
Merrick
(English)
Strong ruler. Ruler of sea
Muna
Overflowing spring (Hopi)
Rosemunda
(German)
Noted protector
Genevieve
(German)
Of the race of women. White wave
Graeme
(English)
Farm home.
Edwardson
(English)
Son of Edward
Diondra
(English)
From the sacred spring. The mythological Dione was wife to Zeus and mother of Aphrodite.
Brenda
(Irish)
Little raven or Beacon on the hill. Feminine of Brendan.
Ahearn
(Celtic)
Lord of the horses
Janet
(Hebrew)
Gift from God
Konner
Alternate Spelling: Conner.