Cat Names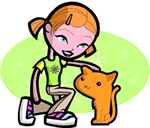 We offer 1,000's of cat names to help you choose the perfect one. Feel free to browse our unique cat names and when you find one you like you can add it to your favorites list to view later. If you have any cute cat names suggestions, please let us know. Enjoy!
Marwin
(English)
Form of Mervin.
Jenneva
(English)
Phonetic variant of Genevieve.
Glen
(Celtic)
From the valley
Gaukroger
(English)
Roger the clumsy
Estmund
(English)
Protected by God
Matthias
(Hebrew)
Gift from God
Lacina
(French)
Derived from Lacey which is a French Nobleman's surname brought to British Isles after Norman conquest.
Aesoburne
(English)
Lives near the ash tree brook
Delton
(English)
From the town in the valley.
LAngley
(French)
Englishman
Tuketu
Bear making dust (Miwok)
Reilly
(Irish)
Surname. Rye. Form of Ryley.
Radburt
(English)
Red haired counselor
Rourke
(Irish)
An ancient given name adopted as an Irish clan name. Surname.
Blaecleah
(English)
From the dark meadow