Cat Names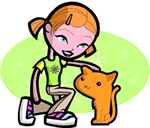 We offer 1,000's of cat names to help you choose the perfect one. Feel free to browse our unique cat names and when you find one you like you can add it to your favorites list to view later. If you have any cute cat names suggestions, please let us know. Enjoy!
Chayson
(French)
Variant of Chayse or Chase. Hunter.
Muhammed
(Arabic)
Variant used for Mohammad - founder of Islamic religion. praiseworthy: glorified.
Audrianna
(English)
Nobility: strength.
Eldrian
(English)
Old/wise ruler.
Murchadh
(Irish)
Fighter of the sea
Rafal
(Hebrew)
God's healer
Bellangere
Son of Alexandre
Windgate
(English)
From the winding gate
Mitchel
(Irish)
Form of Michael Who is like God?
Nelwyna
(English)
Bright friend
Dorothee
(English)
Variant of the Greek Dorothy meaning Gift of God.
Arend
(German)
Power of an eagle
Worden
(English)
Defender or guard
Moriel
(Hebrew)
God teaches
Ellyce
(English)
Variant of Elias which is the Greek form of Elijah.
Lorimer
(English)
Saddle maker
Jamille
(Arabic)
Variant of Jameelah. Beautiful