Cat Names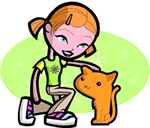 We offer 1,000's of cat names to help you choose the perfect one. Feel free to browse our unique cat names and when you find one you like you can add it to your favorites list to view later. If you have any cute cat names suggestions, please let us know. Enjoy!
Darrell
(French)
Open. Dates back to the eleventh century as both surname and given name.
Harmen
(French)
Variant of Herman.
Ila
(French)
From the island
Pendragon
From the dragon's enclosed land
Tio
(Mexican), (Spanish)
Uncle
Brenius
A supposed king of Britain
Terris
(English)
Son of Terrell
Perro
(Mexican), (Spanish)
Dog
Susie
(English)
Lily. Variant of Hebrew Susannah. In the apocryphal Book of Tobit Susannah courageously defended herself against wrongful accusation. White lilies grew in the Biblical city of Susa in Persia.
Colys
(English)
Son of the dark man
Raynor
(English)
Strong counselor. From the ancient personal name Ragnar.
Westleah
(English)
From the west meadow