Cat Names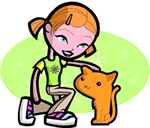 We offer 1,000's of cat names to help you choose the perfect one. Feel free to browse our unique cat names and when you find one you like you can add it to your favorites list to view later. If you have any cute cat names suggestions, please let us know. Enjoy!
Skelton
(English)
From the estate on the ledge
Carey
(Irish)
Of the dark ones.
Mairead
(Irish)
Name of a saint
Cadillac
Brand of luxury car.
Edmondo
(English)
Happy defender
Monte
(English)
From the wealthy man's mountain
Janey
(English)
Jehovah has been gracious: has shown favor. Variant of Joan.
Durward
(English)
Gatekeeper
Evette
(Hebrew)
Living one. Variant of Eve. In the bible Eve was Adam's wife and the first woman.
Teetonka
Talks too much (Sioux)
Callum
(Scottish)
Bald dove
Jacolin
(Irish)
One who glides with beauty
Kassia
(English)
Variant of Katherine. Pure.