Cat Names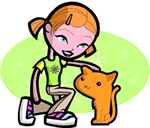 We offer 1,000's of cat names to help you choose the perfect one. Feel free to browse our unique cat names and when you find one you like you can add it to your favorites list to view later. If you have any cute cat names suggestions, please let us know. Enjoy!
Aundre
(English)
Manly: brave. Modern variant of Andrew.
Katriane
(French)
Variant of Katherine. Pure.
Marybell
(English)
Derived from Mary Bitter. Mary was the biblical mother of Christ. Names like Dolores and Mercedes have been created to express aspects of Mary's life and worship.
Yannic
(Hebrew)
Gods child.
Evony
(German)
Variant of Yvonne from Yves. Archer.
Morgana
Enchantress half sister of Arthur
Ozzy LeBron
(English)
Gods Divine Power
Raimond
(French)
Guards wisely.
Mariner
(Celtic)
Lives by the sea
EIlis
(Hebrew)
Jehovah is God
Matei
(Hebrew)
Gift from God.
Hallie
(English)
From the Hall.
Kestrel
(French)
Little hawk.
Deeandra
(English)
Blend of Deanne: (divine) plus variants of Andrea: (masculine) and Sandra: (protector of man.)
Carree
(English)
Abbreviation of Carol and Caroline from the masculine Charles meaning manly
Atique
Old valuable thing. Variant of Antique.
Clarissant
Sister of Gawain