Cat Names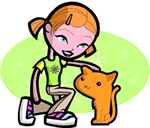 We offer 1,000's of cat names to help you choose the perfect one. Feel free to browse our unique cat names and when you find one you like you can add it to your favorites list to view later. If you have any cute cat names suggestions, please let us know. Enjoy!
Edmundo
(Spanish)
Wealthy protector
Danel
(Hebrew)
God will judge
Maslin
(French)
Little Thomas
Whitney
From the white island
Jeanetta
(French)
Little Jean
Corrie
(Irish)
Variant of Cory meaning variously - From the round hill: seething pool: ravine
Anarosa
(Spanish)
Grace. favor. Variant of Anna.
Lonnell
(English)
Young lion.
Lamorat
Brother of Percival
Tyronne
(Irish)
From Owen's territory. County Tyrone in Ireland. The late actor Tyrone Power.
Mel
(English)
Meaning uncertain but possibly friend of Michael.
Terika
(English)
Abbreviation of Teresa which is a popular saint's name of uncertain meaning.
Brunelle
(French)
Dark haired
Dayton
(English)
Surname. Variant of David beloved.
Alvar
(Spanish)
Truth-speaker or guardian.