Cat Names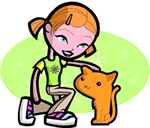 We offer 1,000's of cat names to help you choose the perfect one. Feel free to browse our unique cat names and when you find one you like you can add it to your favorites list to view later. If you have any cute cat names suggestions, please let us know. Enjoy!
Creighton
(English)
Lives at the creek town
Carney
(Irish)
Victorious
Daney
(English)
From Denmark. Also a variant of Daniel.
Calvex
(English)
Shepherd
Cindia
(English)
Abbreviation of Cynthia and Lucinda.
Zarah
(Hebrew)
Day's awakening
Tony
(English)
highly praiseworthy. Abbreviation of Anthony and its variants used since medieval times as an independent name.
Erroll
(German)
Earl: nobleman.
Aenedleah
(English)
From the awe inspiring one's meadow
Nethanel
(Hebrew)
Gift from God
Korbin
(English)
Raven-haired.
Barbie
(English)
Traveler from a foreign land. In Catholic custom St. Barbara is a protectress against fire and lightning.
Nixon
(English)
Abbreviation of Nicholas. Mythological Nike was Greek goddess of victory and root origin of Nicholas.
Gwyndolin
(Celtic)
Of the white brow
Kolleea
Variant for Kolee
Kamrin
(English)
Modern variant of Cameron used for girls.
Laycie
(French)
Derived from Lacey which is a French Nobleman's surname brought to British Isles after Norman conquest.