Cat Names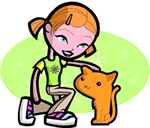 We offer 1,000's of cat names to help you choose the perfect one. Feel free to browse our unique cat names and when you find one you like you can add it to your favorites list to view later. If you have any cute cat names suggestions, please let us know. Enjoy!
Hodsone
(English)
Son of the hooded man
Launder
(English)
From the grassy plain
Chico
(Spanish)
Boy: lad. Also Spanish abbreviation of Ezekiel.
Rodric
(Scottish)
Famous ruler.
Kailene
(English)
Variant of Kay and Kayla. keeper of the keys: pure.
Denni
(English)
Combination of Deana: (divine) and Dina: (from the valley: avenged).
Kitlyn
(English)
Medieval English form of the Irish Caitlin. Pure
Aine
(Celtic)
Fire or joy
Clarke
(English)
Cleric: secretary.
Khaled
(Arabic)
Eternal, immortal
Troye
(English)
Troy derives from the ancient Greek city of Troy: also from an Irish surname meaning soldier.
Wynthrop
(English)
From Wine's estate
Therese
(French)
Variant of Theresa which is the name of two popular saints Teresa of Avila and Therese of Lisieux. Meaning uncertain although possibly a Greek place name.
Blar
(Irish)
From the fields