Cat Names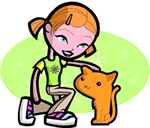 We offer 1,000's of cat names to help you choose the perfect one. Feel free to browse our unique cat names and when you find one you like you can add it to your favorites list to view later. If you have any cute cat names suggestions, please let us know. Enjoy!
Daney
(English)
From Denmark. Also a variant of Daniel.
Charlotte
(English)
Feminine variant of Charles meaning manly
Dadu
Brahman sage of Ahmedabad, rejected the Vedas and Qoran; thought of Siva, Vishnu and Brahma as deified men; denounced caste and priestcraft and taught worship of One God, the Creator Preserver of all.
Alastriona
(Irish)
Feminine form of Alastair avenger
Kelby
(German)
Dark: dark-haired.
Roman
(Spanish)
From Rome
Bast
Eygptian goddess of cats
Yishai
(Indian)
Gift (father of King David)
Genisa
(Hebrew)
Origin: birth. Genisis is the name of the first book in the Bible. Genisia - the Virgin Mary of Turin - is a protectress invoked against drought in Catholic tradition.
Bemelle
(German)
Variant of Bernard - strong as a bear.
Leann
(English)
Derived from an Irish Gaelic of Helen: (light:beautiful woman): variant of Liana: (youthful:bond).