Cat Names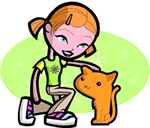 We offer 1,000's of cat names to help you choose the perfect one. Feel free to browse our unique cat names and when you find one you like you can add it to your favorites list to view later. If you have any cute cat names suggestions, please let us know. Enjoy!
Nella
(English)
Abbreviation of Eleanor shining light.
Laine
(English)
From the long meadow
Adny
(English)
Lives on the noble's island
Chianna
(French)
Variant of Cheyanne - an Algonquian tribe of the Great Plains and Capital city of Wyoming.
Akeila
(Russian)
From the Arabic name Akilah meaning Wise: Bright: smart.
Peppi
(German)
Petitioner
Karalan
Combination of Karen and Allan
Perceval
(English)
Valley piercer
Perzsi
(Hebrew)
Devoted to God
Diego
(Spanish)
Supplanter
Chubbs
Club pro from "Happy Gilmore".
Norice
(French)
Caretaker
Sheelah
(Irish)
Irish form of Cecilia blind