Cat Names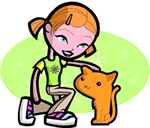 We offer 1,000's of cat names to help you choose the perfect one. Feel free to browse our unique cat names and when you find one you like you can add it to your favorites list to view later. If you have any cute cat names suggestions, please let us know. Enjoy!
Maida
(English)
Maiden: virgin.
Rosa
(German)
Noted protector
Cadha
(Scottish)
From the steep place
Osryd
(English)
Divine counselor
Hettie
(French)
From Henrietta. Rules her household.
Montgomery
(Scottish)
From Montgomerie
Remo
(English)
Abbreviation of Remington.
Keiran
(Irish)
Dusky: dark-haired.
Shikyna
(Hebrew)
Presence of God.
Coventina
(Celtic)
Water goddess
Ila
(French)
From the island
Swain
(English)
Knight's attendant
Duran
(French)
Firm: enduring.
Therese
(French)
Variant of Theresa which is the name of two popular saints Teresa of Avila and Therese of Lisieux. Meaning uncertain although possibly a Greek place name.
Lionel
(French)
Young lion.
Keiji
(Japanese)
Cautious ruler.
Dariell
(French)
Variant of Darrel open.