Cat Names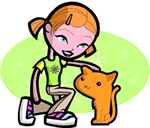 We offer 1,000's of cat names to help you choose the perfect one. Feel free to browse our unique cat names and when you find one you like you can add it to your favorites list to view later. If you have any cute cat names suggestions, please let us know. Enjoy!
Delmon
(French)
Of the mountain.
Lunete
Servant of Laudine
Corby
(English)
Raven-haired.
Brendon
(Irish)
Prince. Variant of Brendan.
Fingula
(Celtic)
Mythical daughter of Lyr
Radburt
(English)
Red haired counselor
Beorht
(English)
Glorious
Lyonesse
(Celtic)
Little lion
Holwell
(English)
Lives by the holy spring
Barclay
From the birch meadow
Yitzchak
(Hebrew)
Humorous
Yedidyah
(Hebrew)
Beloved by God
Lynne
(English)
Abbreviation of Lynnette who accompanied Sir Gareth on a knightly quest in Arthurian legend: variant of the Irish Gaelic word lann meaning house: church.
Heathcliff
(English)
From the heath cliff