Cat Names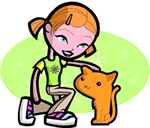 We offer 1,000's of cat names to help you choose the perfect one. Feel free to browse our unique cat names and when you find one you like you can add it to your favorites list to view later. If you have any cute cat names suggestions, please let us know. Enjoy!
Kendal
(English)
Royal valley referring to Kent in England.
Hweolere
(English)
Wheel maker
Teagan
(English)
Good-looking.
Osryd
(English)
Divine counselor
Charlotte
(English)
Feminine variant of Charles meaning manly
Candyce
(English)
Candace was an ancient hereditary title used by Ethiopian queens.
Hagrid
Character from Harry Potter.
Alison
(Scottish)
Scottish form of Louise battle famous. Variation of Alice.
Watson
(English)
Son of Walter
Aonghus
(Scottish)
Unnaturally strong
Elliston
(English)
Variant of Elias from Elijah My God is Jehovah.
Rhodes
(English)
Lives near the crucifix
Aleeyah
(Hebrew)
the asender
Elgine
(Celtic)
Noble: white.
Farnham
(English)
From the fern field
Zackary
(English)
Variant of Zachariah and Zachary.