Cat Names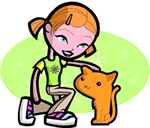 We offer 1,000's of cat names to help you choose the perfect one. Feel free to browse our unique cat names and when you find one you like you can add it to your favorites list to view later. If you have any cute cat names suggestions, please let us know. Enjoy!
Cairbre
(Celtic)
Charioteer
Tessa
(English)
Abbreviation of Teresa which is a popular saint's name of uncertain meaning.
Aretha
(Arabic)
Virtuous: excellent.
Alarico
(Spanish)
Rules all
Lamorat
Brother of Percival
Beau/Belle
(French)
Handsome/Beautiful
Michaela
(English)
Feminine of Michael gift from God.
Jessie
(Hebrew)
Wealthy: Variant of Jesse Jehovah exists.
Emmy
(German)
Hardworking. Variant of Emily.
Corbin
(English)
Raven-haired.
Crissie
(Scottish)
Abbreviation of Christine. Follower of Christ.
Brayden
(English)
Broad hillside.
Reeford
(English)
Surname. The medieval castle or landholding reeve oversaw all feudal obligations.
Hanraoi
(Irish)
Rules the home
Avia
(English)
Modern blend of Ava and Ana.