Cat Names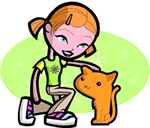 We offer 1,000's of cat names to help you choose the perfect one. Feel free to browse our unique cat names and when you find one you like you can add it to your favorites list to view later. If you have any cute cat names suggestions, please let us know. Enjoy!
Ike
(Hebrew)
Variant of Hebrew Isaac Laughter.
Austin
(French)
Variant of Augustine.
Deegan
(Irish)
Black-haired.
Crogher
(Irish)
Loves hounds
Brenius
A supposed king of Britain
Luci
(English)
light: illumination.
Jocelina
(French)
Medieval male name adopted as a feminine name.
Barnet
(English)
Of honorable birth.
Hamlett
(German)
From the little home
Denzell
(English)
Variant of Denzel - a place in Cornwall.
Joby
(Hebrew)
Variant of Job persecuted
Koltin
(German)
Coal town.
Squier
(English)
Shieldbearer
Rainhard
(German)
Strong judgment
Yosebe
(Hebrew)
God will multiply