Cat Names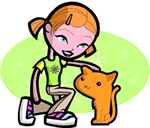 We offer 1,000's of cat names to help you choose the perfect one. Feel free to browse our unique cat names and when you find one you like you can add it to your favorites list to view later. If you have any cute cat names suggestions, please let us know. Enjoy!
Collins
(English)
Abbreviation of Nicholas people's victory.
Eljin
(Celtic)
Noble: white.
Annamarie
(English)
Variant of Anne. Biblical: devout woman who saw infant Jesus presented at the temple in Jerusalem.
Huntingtun
(English)
From the hunting farm
Carlisle
(English)
From the walled City
Delice
(English)
Variant of Latin Delicia meaning Gives pleasure.
Debrah
(Hebrew)
Bee. Deborah was the Biblical prophetess who summoned Barak to battle against an army of invaders. After the battle she wrote a victory song which is part of the Book of Judges.
Peer
(German)
A rock. Form of Peter.
Arwen
(Celtic)
Variant of Arwenna. Muse.
Monte
(English)
From the wealthy man's mountain
Fitzhugh
(English)
Son of Hugh
Edlen
(English)
Noble waterfall
Susannah
(Hebrew)
Graceful lily In the apocryphal Book of Tobit Susannah courageously defended herself against wrongful accusation. White lilies grew in the Biblical city of Susa in Persia.
Oakley
(English)
From the oak - tree meadow
Auberta
(French)
Feminine variant of Albert.
Codell
(English)
Helpful.
Heaven-Leigh
One with life meaning holy and Heaven sent
Basil
(English)
Royal: kingly.