Cat Names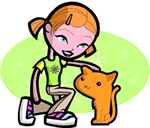 We offer 1,000's of cat names to help you choose the perfect one. Feel free to browse our unique cat names and when you find one you like you can add it to your favorites list to view later. If you have any cute cat names suggestions, please let us know. Enjoy!
Corissa
(English)
Maiden.
Cadi
(Irish)
Variant of Cady meaning a rhythmic flow of sounds.
Domenick
(Italian)
Alternate Spelling: Dominick, Dominic, Domenic, Dominik.
Chione
Daughter of the Nile.
Geraldina
(English)
Rules by the spear. Feminine of Gerald.
Leodegrance
(French)
Lion
Wakefield
(English)
From Wake's field
Darissa
(Hebrew)
Wise. Dara was a biblical descendant of Judah known for his wisdom.
Sylvana
(English)
Variant of Latin Sylvia from the forest.
Cenewyg
(English)
Bold warrior
Jemimah
(Arabic)
Little dove. In the bible one of Job's three daughters known as the most beautiful women of their time: (the other two were Keziah and Keren)
Caster
(English)
From the Roman camp
Raoul
(French)
Form of Ralph wolf counsel.
Leona
(French)
Lion: lioness. Feminine of Leon.
Hephzibah
(Hebrew)
She is my delight
Winthrop
(English)
From Wine's estate
Desiderio
(Spanish)
Desired
Alexondra
Defender of man.