Cat Names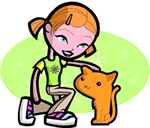 We offer 1,000's of cat names to help you choose the perfect one. Feel free to browse our unique cat names and when you find one you like you can add it to your favorites list to view later. If you have any cute cat names suggestions, please let us know. Enjoy!
Josefina
(Spanish)
Spanish form of Josephine God shall add Feminine of Joseph.
Charo
(Spanish)
Nickname for Rosario. Variant of Rosa.
Chevelle
Bold and beautiful.
Brandyce
(English)
Variation of the beverage brandy used as a given name.
Donnell
(Scottish)
Variant of Donald great chief.
Phoenix
(Greek)
Mystical Bird, Purple
Fallon
(Irish)
In charge.
Colton
(English)
From the dark town
Thornley
(English)
From the thorny meadow
Gedaliah
(Hebrew)
God has made great
Elvy
(English)
Elf warrior
Ansell
(French)
Adherent of a nobleman
Zach
(English)
Variant of Zachariah and Zachary.
Dolores
(Spanish)
Sorrows. A reference to the Virgin Mary as Mary of the sorrows.
Kaeli
(English)
Variant of Kay and Kayla keeper of the keys: pure.
Andie
(English)
Feminine of Andrea.