Cat Names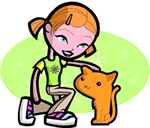 We offer 1,000's of cat names to help you choose the perfect one. Feel free to browse our unique cat names and when you find one you like you can add it to your favorites list to view later. If you have any cute cat names suggestions, please let us know. Enjoy!
Derebourne
(English)
From the deer brook
Onslow
(English)
From the zealous one's hill
Chelsey
(English)
Place name: a London district.
Brodrick
(Scottish)
Brother.
Ayasha
Little one (Chippewa)
Tiladene
(English)
From the fertile valley
Yelizavetam
(Hebrew)
Devoted to God
Mace
(English)
A mace was a medieval weapon used by knights.
Shipley
(English)
From the sheep meadow
Burleigh
(English)
Lives at the castle's meadow. Fortified. See also Berlyn.
Vidal
(English)
Life. Used as both surname and given name. See also Vito.
Drummond
(Scottish)
At the ridge
Karlyn
(German)
Womanly: strength. Feminine of Karl.
Valicia
Combination of Val and Alicia.
Trista
(English)
Feminine of Tristan noisy:full of sorrows and/or a rhyming variant of Christa.
Elspeth
(Scottish)
Variant of Elisabeth.
Myrna
(Arabic)
Myrrh: sweet oil.