Cat Names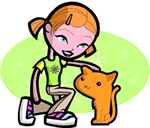 We offer 1,000's of cat names to help you choose the perfect one. Feel free to browse our unique cat names and when you find one you like you can add it to your favorites list to view later. If you have any cute cat names suggestions, please let us know. Enjoy!
Bello
(Mexican), (Spanish)
Beautiful
Ben
(English)
Abbreviation of Benjamin and Benedict.
Tormey
(Irish)
Thunder spirit
Brigbam
(English)
Lives by the bridge
Uriyah
(Hebrew)
god is my light
Ahmad
(Arabic)
Much praised. One of many names of the prophet Muhammad.
Gilmer
(Scottish)
Sword bearer.
Garabine
(Spanish)
Purification
Jeane
(French)
Variant of John.
Cherry
(English)
The fruit-bearing cherry tree.
Aisley
(English)
Lives in the ash tree grove
Henrietta
(French)
Keeper of the hearth. Rules her household. Feminine of Henry.
Manolito
(Spanish)
A form of Emmanuel God is with us
Dalziel
(Scottish)
From the little field
Clementina
(Spanish)
Merciful
Bhreac
(Scottish)
Speckled