Cat Names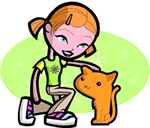 We offer 1,000's of cat names to help you choose the perfect one. Feel free to browse our unique cat names and when you find one you like you can add it to your favorites list to view later. If you have any cute cat names suggestions, please let us know. Enjoy!
Jazmina
(English)
Modern variant of Jasmine: combination of Jocelyn and the musical term jazz.
Cundry
Woman who condemns Percival
Ellyce
(English)
Variant of Elias which is the Greek form of Elijah.
Marisela
(Spanish)
Variant of Marcella Of Mars. Mars was mythological Roman god of fertility for whom the month March was named: mythologically identified with the Greek war god Ares.
Riyaaz
(Arabic)
garden of purity
Alastriona
(Irish)
Feminine form of Alastair avenger
Herbert
(German)
Illustrious warrior.
Lynnette
(French)
Little lion
Genevie
(German)
Of the race of women.
Chubbs
Club pro from "Happy Gilmore".
Rylan
(Irish)
Island meadow.
Rio
(Spanish)
River. Abbreviation of names ending with -rio.
Brunelle
(French)
Dark haired
Caellum
(Celtic)
Brave Warrior
Chaseyn
Variant of Chase.
Roswell
(German)
Horse mighty
Chione
Daughter of the Nile.