Cat Names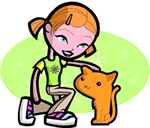 We offer 1,000's of cat names to help you choose the perfect one. Feel free to browse our unique cat names and when you find one you like you can add it to your favorites list to view later. If you have any cute cat names suggestions, please let us know. Enjoy!
Semira
(Hebrew)
From heaven
Serihilde
(German)
Armored battle maiden
Maxwell
From Maccus's pool
Jarid
(Hebrew)
He descends.
Kolby
(English)
Dark-skinned.
Janiece
(English)
Variant of Jane.
Iain
(Scottish)
Gift from God
Luki
(German)
Famous fighter
Talbot
(English)
Variant of Tal tall. Surname.
Nickolette
(English)
Serenity
Kalan
(English)
Variant of Kay and Kayla. keeper of the keys: pure.
Symontun
(English)
From Simon's estate
WyIfrid
(English)
Friend of peace
Debby
(Hebrew)
Bee. Deborah was the Biblical prophetess who summoned Barak to battle against an army of invaders. After the battle she wrote a victory song which is part of the Book of Judges.
Inaya
(Arabic)
Concern solicitude
Casimiro
(Spanish)
Peaceful