Cat Names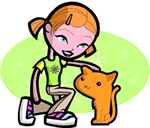 We offer 1,000's of cat names to help you choose the perfect one. Feel free to browse our unique cat names and when you find one you like you can add it to your favorites list to view later. If you have any cute cat names suggestions, please let us know. Enjoy!
Firtha
(Scottish)
Arm of the sea
Mary
(English)
Bitter. Variant of Miriam. The biblical mother of Christ. Names like Dolores and Mercedes have been created to express aspects of Mary's life and worship.
Tony
(English)
highly praiseworthy. Abbreviation of Anthony and its variants used since medieval times as an independent name.
Deke
(English)
Dusty one: servant.
Janet
(Hebrew)
Gift from God
Daracha
(Scottish)
From the oak
Hadon
(English)
From the heath
Candyce
(English)
Candace was an ancient hereditary title used by Ethiopian queens.
Shay
(Irish)
Variant of Shea courteous. Surname.
Alameda
(Spanish)
Promenade
Courtlyn
(English)
Courtly: courteous.
Chantay
(French)
Singer:to sing
Wymer
(English)
Famous in battle
Baird
(Scottish)
From Baird
Timothy
(English)
One who honors God. The biblical Timothy was the young Christian to whom Paul wrote. Let no man look down on your youth.