Cat Names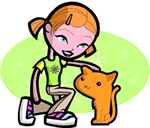 We offer 1,000's of cat names to help you choose the perfect one. Feel free to browse our unique cat names and when you find one you like you can add it to your favorites list to view later. If you have any cute cat names suggestions, please let us know. Enjoy!
Valerie
(English)
Strong: valiant. Feminine of the Roman family clan name Valerius.
Ailein
(Scottish)
From the green meadow
Aksel
(Hebrew)
Father of peace
Tab
(English)
Drummer: Abbreviation of Tabor. The biblical Mt. Tabor is a landmark mountain near Nazareth.
Keola
(Hawaiian)
The Life
Laurenz
(German)
From the place of the laurel trees.
Danah
(English)
From Denmark. Also a variant of Daniel.
Tohy
(Hebrew)
Goodness of God
Halley
(English)
From the Hall.
Kerry
(Irish)
From county Kerry
Joanie
(English)
Variant of Joan.
Darrick
(Irish)
Strong: oak-hearted. See also Derek.
Prescott
(English)
From the Priest's dwelling
Chubby Bunny
Game to see how many marshmallows can fit in your mouth.