Cat Names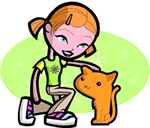 We offer 1,000's of cat names to help you choose the perfect one. Feel free to browse our unique cat names and when you find one you like you can add it to your favorites list to view later. If you have any cute cat names suggestions, please let us know. Enjoy!
Suzanna
(English)
Lily. In the apocryphal Book of Tobit Susannah courageously defended herself against wrongful accusation. White lilies grew in the Biblical city of Susa in Persia.
Piers
(French)
A rock. Form of Peter.
Davite
(Hebrew)
Cherished
Charo
(Spanish)
Nickname for Rosario. Variant of Rosa.
Herta
(German)
Of the earth
Dillan
(Celtic)
Sea God. Variant of Dylan
Oswell
(English)
Divinely powerful
Gurion
(Hebrew)
My lion cub
Earvin
(English)
Friend. Variant of Irving.
Idoia
(Spanish)
Reference to the Virgin Mary
Molli
(Irish)
From the Gaelic Maili which is a pet form of Mary bitter.
Maleah
(Hawaiian)
Hawaiian for Mary/Maria: also means pretty little girl or unique young lady
Leonela
(French)
Lion: lioness. Feminine of Leon.
Roderick
(English)
Famous ruler.
Arregaithel
(Scottish)
From the land of the Gauls
Hanraoi
(Irish)
Rules the home