Cat Names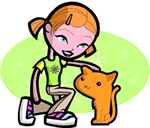 We offer 1,000's of cat names to help you choose the perfect one. Feel free to browse our unique cat names and when you find one you like you can add it to your favorites list to view later. If you have any cute cat names suggestions, please let us know. Enjoy!
Thibaud
(French)
Rule of the peop]e
Mona
Gathered of the seed of a jimson weed
Shelly
From the ledge meadow
Taron
(English)
Terran means Earthman. Variants are contemporary rhyming blends of Ter- plus Darin.
Hazell
(English)
The hazel tree:nut.
Kendyl
(English)
Royal valley referring to Kent in England.
Daryl
(English)
Dearly loved. The name Daryl for girls was made popular by actress Daryl Hannah.
Thabelang Bonolo Mosa
(African)
Be happy, soft and humble
Tate
(Irish)
Pleasant and bright. Measure of land. Surname.
Marcos
(Spanish)
Of Mars. The Roman fertility god Mars for whom March was named.
Hilde
(English)
Battle maid
Putnam
Dwells by the pond
Jankia
(Hebrew)
Gift from God
MacIver
(Scottish)
Son of an archer
Destinee
(French)
Certain fortune: fate. The mythological Greek god of fate.
Marsden
(English)
From the marsh valley
Guinevere
Fair one. Guinevere was King Arthur's mythological queen. Jennifer derives from this name.