Cat Names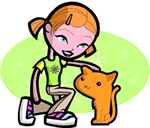 We offer 1,000's of cat names to help you choose the perfect one. Feel free to browse our unique cat names and when you find one you like you can add it to your favorites list to view later. If you have any cute cat names suggestions, please let us know. Enjoy!
Federico
(Spanish)
Spanish form of Frederick peaceful ruler
Darleena
(English)
From the Old English dearling: darling.
Hogan
(Irish)
Youth Surname.
Jasmyne
(French)
A flower name from the older form Jessamine.
Cuddles
(English)
To hug or embrace.
Magnild
(German)
Strong battle maiden
Arlo
(English)
Fortified hill
Fergusson
(Scottish)
Son of the first choice
Chester
(English)
Lives at the camp of the soldiers.
Hadon
(English)
From the heath
Reymond
(French)
Guards wisely.
Erma
(German)
Complete. War goddess
Gilleabart
(Scottish)
Pledge
Kerry
(Irish)
From county Kerry
Riston
(English)
From the brushwood farm