Cat Names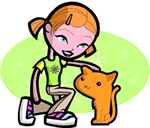 We offer 1,000's of cat names to help you choose the perfect one. Feel free to browse our unique cat names and when you find one you like you can add it to your favorites list to view later. If you have any cute cat names suggestions, please let us know. Enjoy!
Frimunt
(German)
Noble protector
Atique
Old valuable thing. Variant of Antique.
Rabah
(Hebrew)
Fourth born
Celesse
(French)
Heavenly.
Renfield
(English)
From the raven's field
Eldan
(English)
From the elves'valley
Neliah
(African)
Storng willed and a vigrous spirit with a leveled mind.
Elishia
(French)
Abbreviation of Elisabeth.
Claire
(French)
Clear. Bright
Frederic
(French)
Peaceful ruler.
Arden
(Celtic)
Lofty: eager.
Lazzaro
(Hebrew)
God will help
Camdyn
(Scottish)
From the winding valley
Chayson
(French)
Variant of Chayse or Chase. Hunter.
Dedrick
(German)
People's ruler
Weiford
(English)
From the farm by the weir