Cat Names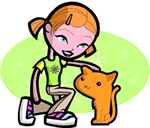 We offer 1,000's of cat names to help you choose the perfect one. Feel free to browse our unique cat names and when you find one you like you can add it to your favorites list to view later. If you have any cute cat names suggestions, please let us know. Enjoy!
Elbertine
(English)
Noble or glorious
Jaye
(English)
Variant of names like Jason and Jacob.
Artegal
(Irish)
High honor
Huldiberaht
(German)
Graceful
Rydia
(Greek)
Rose pettles on still water.
Lanice
(English)
Variant of Lana Fair: good-looking.
Merlow
(English)
From the hill by the lake
Tayler
(English)
Tailor. Surname.
Marque
(French)
Of Mars: the god of war.
Dayne
(English)
From Denmark. Also a variant of Daniel.
Suzanna
(English)
Lily. In the apocryphal Book of Tobit Susannah courageously defended herself against wrongful accusation. White lilies grew in the Biblical city of Susa in Persia.
Naalyehe ya sidahi
Trader (Navajo)
Chester
(English)
Lives at the camp of the soldiers.
Emmett
(English)
Male variant of Emma: a premedieval girl's given name.
Jeffrey
(English)
Peaceful. Variant of Geoffrey. The three-syllable spelling alternate Jeffery has been used since medieval times. See also Geoffrey.
Perceval
(English)
Valley piercer
Byrdene
(English)
Contemporary name meaning Little bird.