Cat Names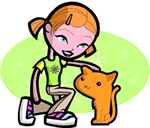 We offer 1,000's of cat names to help you choose the perfect one. Feel free to browse our unique cat names and when you find one you like you can add it to your favorites list to view later. If you have any cute cat names suggestions, please let us know. Enjoy!
Misi
(Hebrew)
Gift from God
Edwyn
(English)
Wealthy friend
Loraina
(French)
Derived from Lorraine which is the name of a province in France and a family name of French royalty.
Siannan
(Irish)
Alternate Spelling: Shannon.
Denni
(English)
Combination of Deana: (divine) and Dina: (from the valley: avenged).
Annamarie
(English)
Variant of Anne. Biblical: devout woman who saw infant Jesus presented at the temple in Jerusalem.
Arkwright
(English)
Makes chests
Alastriona
(Irish)
Feminine form of Alastair avenger
Garet
(English)
Brave with a spear
Kameron
(English)
Modern variant of Cameron used for girls.
May
(Scottish)
Scottish form of Margaret pearl
Justyna
Justice, honest, fair, rightful according to a german calendar, there is a name day on September 26
Dewey
(English)
Place-name and surname: Welsh form of David.
Brienna
(Celtic)
She ascends. Feminine of Brian.
Anjanette
(English)
Gift of God's favor. Blend of Ann and Janet.
Orland
(Spanish)
Renowned in the land. Form of Roland.