Cat Names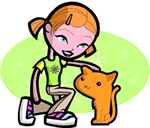 We offer 1,000's of cat names to help you choose the perfect one. Feel free to browse our unique cat names and when you find one you like you can add it to your favorites list to view later. If you have any cute cat names suggestions, please let us know. Enjoy!
Leonardo
(Spanish)
Lion-bold. Leonardo da Vinci is considered by many to be the most brilliant and creative men who ever lived.
Irvette
(English)
Friend of the sea
Deryk
(English)
Gifted ruler. From Theodoric.
Tadhg
(Celtic)
Mythical a prince of Munster
Armand
(German)
Protective
Natalio
(Spanish)
Born at Christmas
Briannon
(English)
She ascends. Feminine of Brian.
Dawneshia
Combination of Kyeshia (Great joy) and Dawn (Awakening).
Stewart
(Scottish)
Steward. A medieval steward was charged with the care of castle and estate affairs. Surname.
Hildemar
(German)
Glorious
Roman
(Spanish)
From Rome
Maelisa
(Irish)
Serves Christ
Kathleen
(Irish)
Innocent
Garet
(English)
Brave with a spear