Cat Names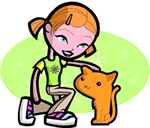 We offer 1,000's of cat names to help you choose the perfect one. Feel free to browse our unique cat names and when you find one you like you can add it to your favorites list to view later. If you have any cute cat names suggestions, please let us know. Enjoy!
Matthew
(Hebrew)
Gift of Jehovah. In the bible Mathew was one of the 12 apostles. He wrote the first gospel account of the life of Jesus.
Leota
(German)
Of the people
Peer
(German)
A rock. Form of Peter.
John-paul
(French)
Variant of the Hebrew John Jehovah has been gracious: has shown favor.
Gavin
(Scottish)
White hawk
Garan
(German)
Guards: guardian.
Jacolin
(Irish)
One who glides with beauty
Louredes
(Spanish)
Reference to the Virgin Mary
Nixon
(English)
Abbreviation of Nicholas. Mythological Nike was Greek goddess of victory and root origin of Nicholas.
Reule
(French)
Famous wolf
Steele
(English)
Hard: durable.
Josiah
(Hebrew)
Jehovah has healed. Biblical Josiah became king of Judah at eight after his father was assassinated. He ruled 31 years.
Jacee
(English)
Based on the initials J.C. or an abbreviation of Jacinda.