Cat Names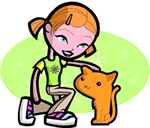 We offer 1,000's of cat names to help you choose the perfect one. Feel free to browse our unique cat names and when you find one you like you can add it to your favorites list to view later. If you have any cute cat names suggestions, please let us know. Enjoy!
Seafra
(Irish)
Peace from God
Cortland
(French)
Courtier: court attendant.
Verge
Owns four acres of land
Wilbur
(English)
From the strong fortress Willful: bright.
Josephina
(French)
Feminine of Joseph.
Hobo
(English)
Wandering one
Kamdyn
(Scottish)
Valley.
Big Ben
Large clock tower in England
Martina
(Spanish)
Feminine of Martin warring.
Adelita
(German)
Sweet or noble
Kristopher
(English)
Variant of Christopher. Christ bearer.
Kaycee
(English)
Modern Kacie and variants are phonetic forms of the initials K.C. or variants of the Irish name Casey alert: vigorous.
Willow
(English)
Slender:graceful. From the willow tree noted for slender graceful branches and leaves.
Jennay
(English)
Modern name based on Jane or Jean: Based on Janai meaning God has answered.
Valdemarr
(German)
Famous ruler
Sidonia
(Hebrew)
Captivates
Morrie
(English)
Dark-skinned: A Moor. Form of Maurice.