Cat Names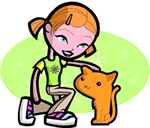 We offer 1,000's of cat names to help you choose the perfect one. Feel free to browse our unique cat names and when you find one you like you can add it to your favorites list to view later. If you have any cute cat names suggestions, please let us know. Enjoy!
Symontun
(English)
From Simon's estate
Gavan
(Scottish)
White hawk. From the medieval name Gawain. See also Gwayne.
Jolie
(French)
Cheerful: pretty.
Renshaw
(English)
From the raven forest
Lynne
(English)
Abbreviation of Lynnette who accompanied Sir Gareth on a knightly quest in Arthurian legend: variant of the Irish Gaelic word lann meaning house: church.
Attracta
(Irish)
Name of a saint
Lacene
(French)
Derived from Lacey which is a French Nobleman's surname brought to British Isles after Norman conquest.
Garred
(English)
Variant of Garret from Gerald rules by the spear.
Shelly
From the ledge meadow
Danel
(Hebrew)
God will judge
Wellington
(English)
From the wealthy estate
Gerri
(English)
Modern form of Gerry.
Gordon
(English)
From the three cornered hill or From the marshes. One of Scotland's great clans. Surname.
Bryleigh
Gracious and strong.
Lillian
(English)
Variant of Lillian derived from the flower name Lily. Symbol of innocence: purity: beauty.
Aubree
(English)
Rules with elf-wisdom.
Eleanor
(English)
Shining light. Variant of Helen.
Reign
Dominance or widespread influence