Cat Names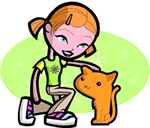 We offer 1,000's of cat names to help you choose the perfect one. Feel free to browse our unique cat names and when you find one you like you can add it to your favorites list to view later. If you have any cute cat names suggestions, please let us know. Enjoy!
Peppi
(German)
Petitioner
Erich
(German)
German form of Eric
Carol
(French)
Song of happiness
Magnild
(German)
Strong battle maiden
Volker
(German)
People's guard
Alix
(French)
Variation of Alexander. Defender of mankind.
Chantay
(French)
Singer:to sing
Jamie
(Hebrew)
Supplanter
France
(English)
Modern variants of Frances meaning From France or free one.
Laurelle
(English)
The laurel tree or sweet bay tree symbolic of honor and victory.
Woolcott
(English)
Lives in Wolfe's cottage
Alese
(German)
Beautiful soul.
Ezekiel
(Hebrew)
God strengthens. Biblical Ezekiel was a prophet among the captives taken to Babylon at the first fall of Jerusalem who wrote the Book of Ezekiel in captivity. See also Zeke.
Bentley
(English)
From the bent grass meadow
Hagaleah
(English)
From the hedged meadow
Karlitis
(French)
Strong and masculine
Sheron
(Irish)
Irish form of Geoffrey
Eliot
(Hebrew)
Jehovah is God