Cat Names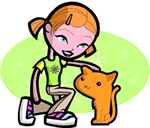 We offer 1,000's of cat names to help you choose the perfect one. Feel free to browse our unique cat names and when you find one you like you can add it to your favorites list to view later. If you have any cute cat names suggestions, please let us know. Enjoy!
Ilena
(English)
Variant of Eileen.
Buckley
(English)
Variant of Buck: male goat or deer.
Prescott
(English)
From the Priest's dwelling
Lexandra
(English)
Defender of mankind. Feminine of Alexander.
Eva
(Hebrew)
Life. Living one. Variant of Eve. In the bible Eve was Adam's wife and the first woman.
Nainsi
(Irish)
Irish form of Nancy graceful
Mariquita
(Spanish)
Bitter
Pit
(English)
From the Pit
Rainaa
(Spanish)
Queen: Original name Raina
Dominique
(French)
Of the Lord. Variant of Dominic.
Elvy
(English)
Elf warrior
Armen
(Hebrew)
High place.
Ranit
(Hebrew)
Lovely tune
Lorelei
(German)
Temptress: A rocky cliff on the Rhine river dangerous to boat passage: the Lorelei whose singing lures men to destruction.
Yalissa
(Hebrew)
A beautifull flower.
Morgan
(Irish)
Fighter of the sea
Alvarita
(Spanish)
Feminine of Alvaro meaning speaker of truth.
Whitley
(English)
From the white meadow