Cat Names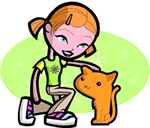 We offer 1,000's of cat names to help you choose the perfect one. Feel free to browse our unique cat names and when you find one you like you can add it to your favorites list to view later. If you have any cute cat names suggestions, please let us know. Enjoy!
Aldrick
(French)
Old or wise ruler
Abelard
(German)
Resolute
Joaquina
(Hebrew)
God shall establish
Hussain
(Arabic)
Good. The founder of Shiite Islam was named Hussein.
Roderik
(English)
Famous ruler.
Annabella
(Latin)
Grace and beauty, also can mean one favored of God. The name of given to several actresses and the name of King James I's daughter.
Lamorat
Brother of Percival
Upwood
(English)
From the upper forest
Elwell
(English)
From the old spring
Tonia-Javae
(French)
Worthy of praise. Beauty.
Zebediah
(Hebrew)
Gift from God
Maurine
(French)
Dark skinned
Luki
(German)
Famous fighter
Cayden
(Scottish)
Fighter. Spirt of Battle.