Cat Names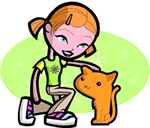 We offer 1,000's of cat names to help you choose the perfect one. Feel free to browse our unique cat names and when you find one you like you can add it to your favorites list to view later. If you have any cute cat names suggestions, please let us know. Enjoy!
Elvina
Friend of the elves
Redd
(Scottish)
Redheaded. Surname.
Taron
(English)
Terran means Earthman. Variants are contemporary rhyming blends of Ter- plus Darin.
Eriq
(French)
Variant of Scandinavian Eric ever kingly. Actor Eriq La Salle.
Slaton
(English)
From the valley farm
Brochan
(Scottish)
Broken
Nitzanah
(Hebrew)
Blossom
Bast
Eygptian goddess of cats
Kaycee
(English)
Modern Kacie and variants are phonetic forms of the initials K.C. or variants of the Irish name Casey alert: vigorous.
Shaylon
(Irish)
Variant of Shea courteous.
Delphine
(French)
A thirteenth-century French saint.
Devere
(French)
Derived from place-name Deverel.
Alo
Spiritual guide (Hopi)
Blaecleah
(English)
From the dark meadow