Cat Names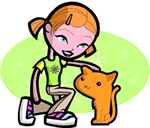 We offer 1,000's of cat names to help you choose the perfect one. Feel free to browse our unique cat names and when you find one you like you can add it to your favorites list to view later. If you have any cute cat names suggestions, please let us know. Enjoy!
Forba
(Scottish)
Headstrong
Walker
(English)
Worker in cloth.
Harford
(English)
From the hare's ford
Clintwood
(English)
hillside.
Destinie
(English)
Certain fortune: fate. The mythological Greek god of fate.
Jessamyn
(Arabic)
A flower name from the older form Jessamine.
Louredes
(Spanish)
Reference to the Virgin Mary
Tremaine
(English)
From the big town.
Renfield
(English)
From the raven's field
Elwyna
Friend of the elves
Fallon
(Irish)
In charge.
Niallan
(Celtic)
Champion
Devry
(English)
Derived from place-name Deverel.
Perzsi
(Hebrew)
Devoted to God
Nedra
(English)
Feminine of Ned.
Banning
(English)
Son of the slayer
Maritza
(German)
Of the sea.
Shareef
(Arabic)
Variant of Sharif Illustrious.
Galt
(English)
From the high ground
Fahey
(Irish)
From the green field
Garreth
Gentle. Modest and brave Sir Gareth was a legendary knight of King Arthur's Round Table.