Cat Names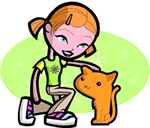 We offer 1,000's of cat names to help you choose the perfect one. Feel free to browse our unique cat names and when you find one you like you can add it to your favorites list to view later. If you have any cute cat names suggestions, please let us know. Enjoy!
Avis
(English)
Refuge in battle
Amd
(German)
Power of an eagle
Neakail
(Scottish)
Victorious people
Janet
(Hebrew)
Gift from God
Cruadhlaoich
(Irish)
Hunch backed
Adelbert
(German)
Intelligent or noble
Walter
(German)
Powerful ruler
Kaedee
(English)
Rhyming variant of Katy or Cady.
Lancdon
(English)
From the long hill slope.
Bridgette
(French)
Strength. Mythological Celtic goddess of fire and poetry.
Ronell
(English)
Rules with counsel. Form of Ronald from Reynold.
Josee
(Hebrew)
God will add
Talford
(English)
Variant of Tal tall. Surname.
Diahna
(French)
Divine. Mythological ancient Roman divinity Diana was noted for beauty and swiftness: often depicted as a huntress. Also Diana Princess of Wales.
Mariah
(English)
Variant of Latin Mary bitter
Georg
(German)
German form of George
Darneil
(English)
Hidden.
Hugi
(English)
Intelligent