Cat Names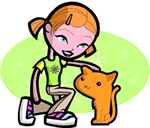 We offer 1,000's of cat names to help you choose the perfect one. Feel free to browse our unique cat names and when you find one you like you can add it to your favorites list to view later. If you have any cute cat names suggestions, please let us know. Enjoy!
Lyonesse
(Celtic)
Little lion
Inda
(English)
The country India.
Enkoodabooaoo
One who lives alone (Algonquin)
Eleanor
(English)
Shining light. Variant of Helen.
Charmain
(French)
One of Cleopatra's attendants in Shakespeare's Antony and Cleopatra was named Charmian.
Gretel
(German)
Pearl. Abbreviation of Margaret.
Odanda
(Spanish)
Famous land
Taylor
(English)
Tailor. Surname.
Ellyce
(English)
Variant of Elias which is the Greek form of Elijah.
Lyam
(Irish)
Form of William.
Kamryn
(Scottish)
Variant of Cameron
Coventina
(Celtic)
Water goddess
Rob
(French)
Abbreviation of Robert Famed: bright: shining.
Takara
(Japanese)
Precious stones or treasure.
Suffield
(English)
From the south field