Cat Names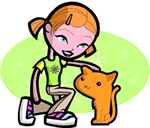 We offer 1,000's of cat names to help you choose the perfect one. Feel free to browse our unique cat names and when you find one you like you can add it to your favorites list to view later. If you have any cute cat names suggestions, please let us know. Enjoy!
Madelhari
(German)
War counselor
Stanwick
(English)
From the stony village
Britney
(English)
Originally the ancient duchy of Bretagne in France. Celtic Bretons emigrated from France to become the Bretons of England.
Emilio
(Spanish)
Flattering
Richael
(Irish)
Name of a saint
Viviane
The Lady of the Lake
Rollie
(French)
Renowned in the land. Roland was a legendary hero who served Charlemagne.
Burnell
(German)
Variant of Bernard strong as a bear.
Othili
Little wealthy one
Tyrese
(African)
Talented leader of the well being.
Dalan
(Irish)
Variant of Dallin blind.
Josepha
(Hebrew)
God will add
Wattesone
(English)
Son of Walter
Carson
(Scottish)
Surname.
Faye
(English)
Variant of Faith. Confidence: trust: belief.
Hadwin
(English)
War friend
Reule
(French)
Famous wolf