Cat Names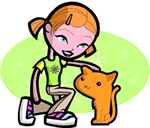 We offer 1,000's of cat names to help you choose the perfect one. Feel free to browse our unique cat names and when you find one you like you can add it to your favorites list to view later. If you have any cute cat names suggestions, please let us know. Enjoy!
Alix
(French)
Variation of Alexander. Defender of mankind.
Chubbs
Club pro from "Happy Gilmore".
Cortland
(French)
Courtier: court attendant.
Kaitlan
(Irish)
Modern phonetic form of the Irish name Caitlin from Catherine meaning pure.
Deidre
(Irish)
Melancholy. A variant of the older name Deirdre In Celtic legend Deirdre died of a broken heart.
Edsel
(German)
Noble: bright.
Colemann
(English)
Dark skinned
Lanice
(English)
Variant of Lana Fair: good-looking.
Mona
Gathered of the seed of a jimson weed
Jemimah
(Arabic)
Little dove. In the bible one of Job's three daughters known as the most beautiful women of their time: (the other two were Keziah and Keren)
Daveen
(English)
Beloved. Feminine of David.
Mariner
(Celtic)
Lives by the sea
Devonn
(English)
Variant of the English county name Devon.
Joell
(French)
Jehovah is God. Feminine of Joel.
Jelani
(Arabic)
Mighty or powerful.
Carmel
(Celtic)
From the vinyard