Cat Names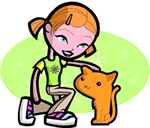 We offer 1,000's of cat names to help you choose the perfect one. Feel free to browse our unique cat names and when you find one you like you can add it to your favorites list to view later. If you have any cute cat names suggestions, please let us know. Enjoy!
Hanson
Son of Hans (also Hansen, Hanssen, and Hansson)
Barbie
(English)
Traveler from a foreign land. In Catholic custom St. Barbara is a protectress against fire and lightning.
Tipper
(Irish)
Nickname and variant of the Irish name Tabar meaning a well.
Aharman
The Evil God perpetually at war with the Good God, Ahura-Mazda or Ormuzd, the Supreme Creator as given in the Zen-davasta of the Zoroastrians.
Romina
(Arabic)
From the Christian land
Randolph
(English)
House wolf: protector. Mythological wolf was esteemed for courage.
Gildas
(Celtic)
Serves God
Dannon
(English)
Feminine variant of Daniel God will judge.
Armstrong
(English)
Strong armed
Lalla
(Spanish)
Abbreviation of Eulalie well-spoken.
Isadoro
(Spanish)
strong gift.
Daviel
(English)
Variant of David beloved.
Jennalyn
(English)
Modern variant of Jenny and Jennifer.
Alsandair
(Irish)
Defender of man
Jerryl
(English)
Strong: open-minded. Blend of Jerold and Darell.