Cat Names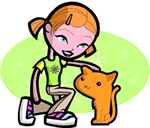 We offer 1,000's of cat names to help you choose the perfect one. Feel free to browse our unique cat names and when you find one you like you can add it to your favorites list to view later. If you have any cute cat names suggestions, please let us know. Enjoy!
Tabbart
(German)
Brilliant
Tory
(Irish)
From the knolls
Carlotta
(French)
Tiny and feminine. Also a feminine variant of Charles meaning manly
Annemarie
(German)
Bitter grace
Alia
Princess of the academics.
Charion
Unique and desirable.
Atherton
(English)
Lives at the spring farm
Jerardo
(Spanish)
Variant of Gerard Rules by the spear.
Drew
(English)
Abbreviation of Andrew manly.
Domhnull
(Scottish)
All ruler
Brettany
(English)
Brit. A native of England: (Britain) or France: (Brittany).