Cat Names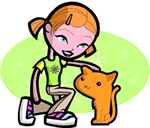 We offer 1,000's of cat names to help you choose the perfect one. Feel free to browse our unique cat names and when you find one you like you can add it to your favorites list to view later. If you have any cute cat names suggestions, please let us know. Enjoy!
Aldrick
(French)
Old or wise ruler
Ansel
(German)
God's protection.
Avery
(English)
Elf ruler or from the old ford
Shikyna
(Hebrew)
Presence of God.
Leonardo
(Spanish)
Lion-bold. Leonardo da Vinci is considered by many to be the most brilliant and creative men who ever lived.
Hweolere
(English)
Wheel maker
Duane
(Irish)
Dark. Many Irish and Scottish names have the meaning dark or black.
Kristiane
(English)
Variant of Christine. Christian.
Leopoldina
(German)
Of the people
Nixon
(English)
Abbreviation of Nicholas. Mythological Nike was Greek goddess of victory and root origin of Nicholas.
Zerlina
(Hebrew)
Beautiful dawn.
Hurit
Beautiful (Algonquin)
Arlene
(English)
Variant of Carlene and Charlene.
Braleah
(English)
From the hillslope meadow
Pedro
(Spanish)
A rock. Form of Peter.
Orlin
(German)
Renowned in the land. Form of Roland.