Cat Names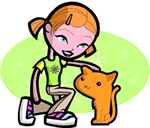 We offer 1,000's of cat names to help you choose the perfect one. Feel free to browse our unique cat names and when you find one you like you can add it to your favorites list to view later. If you have any cute cat names suggestions, please let us know. Enjoy!
Dorrance
(Irish)
Variant of Dorran stranger.
Kennedy
(Scottish)
Ugly head
Montgomery
(Scottish)
From Montgomerie
Buckley
(English)
Variant of Buck: male goat or deer.
Lael
(Hebrew)
Belonging to God. Traditional male Biblical name.
Mercia
(English)
From Mercia: Compassion: forbearance.
Emory
(German)
Joint ruler
Rangford
(English)
From the raven's ford
Kristiane
(English)
Variant of Christine. Christian.
Leana
(English)
Derived from an Irish Gaelic of Helen: (light:beautiful woman): variant of Liana: (youthful:bond).
Milagros
(Spanish)
Miracle
Stanfield
(English)
From the stony field
Raoul
(French)
Form of Ralph wolf counsel.
Calinda
(English)
Contemporary blend of the Italian/Greek Calandra with Linda
Sheelah
(Irish)
Irish form of Cecilia blind