Cat Names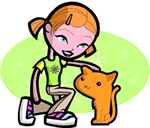 We offer 1,000's of cat names to help you choose the perfect one. Feel free to browse our unique cat names and when you find one you like you can add it to your favorites list to view later. If you have any cute cat names suggestions, please let us know. Enjoy!
Fletcher
(Scottish)
Maker of arrows
Kesegowaase
Swift (Algonquin)
Hagley
(English)
From the hedged enclosure
Byrdene
(English)
Contemporary name meaning Little bird.
Karolina
(German)
Feminine form of Karl
Kaela
(Hebrew)
Beloved sweetheart.
Conshita
(Spanish)
Reference to the Immaculate Conception
Breena
(Irish)
Fairy palace. Also variant of Brianna and Sabrina.
Jayson
(Greek)
Healer. Alternate spelling of Jason.
Torey
(Scottish)
From the craggy hills.
Edwyn
(English)
Wealthy friend
Nimiane
The Lady of the Lake
Darwin
(English)
Dear friend. Nineteenth-century naturalist Charles Darwin was the first major exponent of human evolution.
Rolland
(French)
Renowned in the land. Roland was a legendary hero who served Charlemagne.
Vedika
(Arabic)
Consciousness, Altar: a river in India.