Cat Names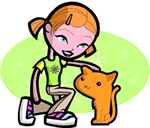 We offer 1,000's of cat names to help you choose the perfect one. Feel free to browse our unique cat names and when you find one you like you can add it to your favorites list to view later. If you have any cute cat names suggestions, please let us know. Enjoy!
Fatin
(Arabic)
Intelligent
Jarell
(English)
Blend of Jar and Darell. See also Jerrell.
Sadler
Life will go on and on. Open-minded.
Uriyah
(Hebrew)
god is my light
Azarious
(Hebrew)
God helps
Yash
(Indian)
Success or Victory
Fredda
(German)
Peaceful ruler. Feminine of Frederick.
Donovan
(Celtic)
Strong fighter
Pierson
(Irish)
Form of Piers from Peter.
Amy
(French)
Dearly loved: Beloved.
Elvina
Friend of the elves
Micaela
(English)
Feminine of Michael gift from God.
Zulima
(African), (Arabic)
peace:tranquility. Variant of Salome or Solomon.
Bardon
(Celtic)
Minstrel: a singer-poet.