Cat Names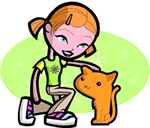 We offer 1,000's of cat names to help you choose the perfect one. Feel free to browse our unique cat names and when you find one you like you can add it to your favorites list to view later. If you have any cute cat names suggestions, please let us know. Enjoy!
Viviane
The Lady of the Lake
Magdalene
(Hebrew)
From the tower
Jyl
(English)
Abbreviation of Jillian or Gillian. Jove's child.
Leann
(English)
Derived from an Irish Gaelic of Helen: (light:beautiful woman): variant of Liana: (youthful:bond).
Jolleen
(English)
A well-established compound of Jo-
Dempster
(English)
Judicious
Gustava
(Spanish)
Staff of the gods
Garnell
(French)
Keeper of grain. Surname.
Pearson
(English)
Son of Pierce
Antonie
(German)
Priceless
Terris
(English)
Son of Terrell
Dior
(French)
Related to D'Or meaning golden.