Cat Names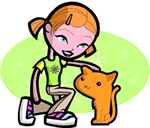 We offer 1,000's of cat names to help you choose the perfect one. Feel free to browse our unique cat names and when you find one you like you can add it to your favorites list to view later. If you have any cute cat names suggestions, please let us know. Enjoy!
Loralei
(German)
Variant of Lorelei meaning she whose singing lures men to destruction.
Natuche
(French)
Born at Christmas
Leandre
(French)
Form of Leander. Lionlike man.
Lynnette
(French)
Little lion
Bhreac
(Scottish)
Speckled
Oldwyn
(English)
Special friend
Elbertine
(English)
Noble or glorious
Landon
(English)
From the long hill
Hraefnscaga
(English)
From the raven forest
Linleah
(English)
From the flax field
Bairrfhionn
(Celtic)
Marksman