Cat Names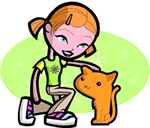 We offer 1,000's of cat names to help you choose the perfect one. Feel free to browse our unique cat names and when you find one you like you can add it to your favorites list to view later. If you have any cute cat names suggestions, please let us know. Enjoy!
Dorien
(English)
Descendant of Dorus. Dorian was a character in Oscar Wilde's novel The Picture of Dorian Gray who was given his wish that his portrait would age while he remained young and handsome.
Oscar
(English)
God's spear.
Lisabeth
(English)
Abbreviation of Elizabeth.
Joby
(Hebrew)
Variant of Job persecuted
Clintwood
(English)
hillside.
Bertie
(English)
Variant of Bert - industrious.
Adelbert
(German)
Intelligent or noble
Avelyn
(English)
Variant of medieval given names Avis and Aveline
Bohannon
(Irish)
Son of Owen.
Neely
(English)
Feminine of Neil champion.
SulliMn
(Irish)
Black eyed
Constance
(English)
Constancy: steadfastness.
Arleen
(English)
Variant of Carlene and Charlene.
Celesse
(French)
Heavenly.
Per
(German)
A rock. Form of Peter.