Cat Names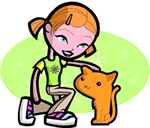 We offer 1,000's of cat names to help you choose the perfect one. Feel free to browse our unique cat names and when you find one you like you can add it to your favorites list to view later. If you have any cute cat names suggestions, please let us know. Enjoy!
Weardleah
(English)
From the guardian's meadow
Fontaine
(French)
Fountain: water source.
Hildemar
(German)
Glorious
Corazana
(Spanish)
Heart.
Connah
(Celtic)
Contented
Wellington
(English)
From the wealthy estate
Kandiss
(English)
Modern variant of Candace - ancient hereditary title used by Ethiopian queens.
Jansen
(German)
Variant of the Hebrew John Jehovah has been gracious: has shown favor.
Jenay
(English)
Modern name based on Jane or Jean: Based on Janai meaning God has answered.
Zebediah
(Hebrew)
Gift from God
Goddard
(German)
Hard spear
Sumarville
(French)
From the summer estate
Aenedleah
(English)
From the awe inspiring one's meadow
Corbin
(English)
Raven-haired.
Cumin
(Scottish)
From Comines