Cat Names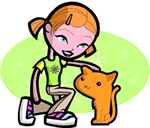 We offer 1,000's of cat names to help you choose the perfect one. Feel free to browse our unique cat names and when you find one you like you can add it to your favorites list to view later. If you have any cute cat names suggestions, please let us know. Enjoy!
Lynessa
(English)
Variant of ancient Welsh given name. In Arthurian legend Lynette accompanied Sir Gareth on a knightly quest.
Kuno
(German)
Honest advisor
Barric
(English)
Grain farm.
Selwyn
(English)
Good friend
Elspeth
(Scottish)
Variant of Elisabeth.
Denby
From the Danish settlement
Rylee
(English)
English Meadow. Variant of Riley.
Kieran
(Celtic)
Dark skinned
Mary
(English)
Bitter. Variant of Miriam. The biblical mother of Christ. Names like Dolores and Mercedes have been created to express aspects of Mary's life and worship.
Dustyn
(English)
A fighter.
Chloe
(French)
Means green shoot in Greek. This was an epithet of the Greek goddess Demeter. The name is also mentioned by Paul in one of his epistles in the New Testament
Hewitt
(German)
Little Hugh
Agnese
(Spanish)
Spanish form of Agnes pure