Cat Names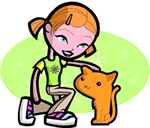 We offer 1,000's of cat names to help you choose the perfect one. Feel free to browse our unique cat names and when you find one you like you can add it to your favorites list to view later. If you have any cute cat names suggestions, please let us know. Enjoy!
Delmon
(French)
Of the mountain.
Yaelis
(Spanish)
Combination of Joel and Yoseline. Meaning: strength of God: happy, joyful, celestial.
Colt
(English)
From the dark town
Muhammed
(Arabic)
Variant used for Mohammad - founder of Islamic religion. praiseworthy: glorified.
Iain
(Scottish)
Gift from God
Cormack
(Irish)
Variant of Cormac raven's son.
Riccardo
(German)
Powerful ruler
Hlink
(English)
From the bank
Jaran
(English)
Modern variant of Israeli Jaron cry of rejoicing.
Alvyn
(English)
Wise friend.
Lemuel
(Hebrew)
Dedicated to God
Corben
(French)
Raven-haired.
Laurelle
(English)
The laurel tree or sweet bay tree symbolic of honor and victory.
Brigbam
(English)
Lives by the bridge
Weatherly
(English)
From the wether sheep meadow
Zabrina
(English)
Forms of Sabrina: a princess
Kirkly
(English)
From the church's meadow
Latimer
(French)
Interprets Latin