Cat Names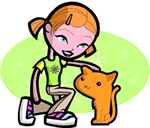 We offer 1,000's of cat names to help you choose the perfect one. Feel free to browse our unique cat names and when you find one you like you can add it to your favorites list to view later. If you have any cute cat names suggestions, please let us know. Enjoy!
Kayah
Wise child. (Japanese meaning: a resting place). Variant of Kaya (Philippino for ability, power, aptitude or capable)
Nathanial
(Hebrew)
God has given. One of the 12 biblical apostles.
Aubrin
Combination of Aubrey and Brin.
Carney
(Irish)
Victorious
Alyss
(Spanish)
Of the nobility.
Walter
(German)
Powerful ruler
Karlesha
(German)
Womanly: strength. Feminine of Karl.
Rexton
(English)
Variant of Rex chieftain: ruler. Surname.
Dannon
(English)
Feminine variant of Daniel God will judge.
Arick
(German)
Noble leader
Brooke
(English)
Lives by the stream
Dinorah
(Hebrew)
Judged and vindicated. In the bible Dinah was Jacob's only daughter.
Orlan
(German)
Renowned in the land. Form of Roland.
Cristie
(Irish)
Abbreviation of Christine. Follower of Christ.
Eloy
(German)
Famous fighter