Cat Names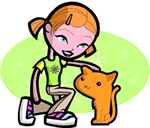 We offer 1,000's of cat names to help you choose the perfect one. Feel free to browse our unique cat names and when you find one you like you can add it to your favorites list to view later. If you have any cute cat names suggestions, please let us know. Enjoy!
Enrico
(Italian)
Ruler of the household
Nelda
(English)
By the alder tree
Kamaal
(Arabic)
Perfect, perfection. Alternate Spelling: Kamal.
Aurkena
(Spanish)
Present
Osryd
(English)
Divine counselor
Nuray
Moonlight, Light of Moon, or Light Moon.
Lacee
(French)
Derived from Lacey which is a French Nobleman's surname brought to British Isles after Norman conquest.
Gobinet
(Irish)
Irish form of Abigail bringsjoy
Norwyn
(English)
Friend of the north
Starbuck
(English)
Star deer
Osman
(English)
Godly protection.
Fearchar
(Scottish)
Dear one
Pendragon
From the dragon's enclosed land
Dian
(French)
Divine. Mythological ancient Roman divinity Diana was noted for beauty and swiftness: often depicted as a huntress. Also Diana Princess of Wales.
Gram
(English)
From the gray home
Kaycee
(English)
Modern Kacie and variants are phonetic forms of the initials K.C. or variants of the Irish name Casey alert: vigorous.
Hagaleah
(English)
From the hedged meadow