Cat Names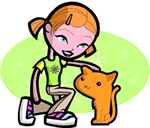 We offer 1,000's of cat names to help you choose the perfect one. Feel free to browse our unique cat names and when you find one you like you can add it to your favorites list to view later. If you have any cute cat names suggestions, please let us know. Enjoy!
Freman
(French)
Free man: a man freed from bound servitude to an overlord. Surname.
Becky
(English)
Abbreviation of Rebecca.
Udell
(English)
From the yew tree valley
Watson
(English)
Son of Walter
Hoireabard
(Irish)
Soldier
Morit
(Hebrew)
God teaches
Raynor
(English)
Strong counselor. From the ancient personal name Ragnar.
Marque
(French)
Of Mars: the god of war.
Parnel
(Irish)
Nineteenth-century Irish Nationalist Charles Parnell.
Pasclina
(French)
Born at Easter