Cat Names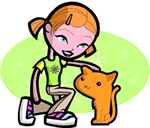 We offer 1,000's of cat names to help you choose the perfect one. Feel free to browse our unique cat names and when you find one you like you can add it to your favorites list to view later. If you have any cute cat names suggestions, please let us know. Enjoy!
Ayden
(Irish)
Fiery. Alternate Spelling: Aiden.
Ives
(English)
Archer's bow. Variant of Yves from Ivar.
Channing
(English)
young wolf.
Rylee
(English)
English Meadow. Variant of Riley.
Feldon
(English)
From the field estate
Kaedee
(English)
Rhyming variant of Katy or Cady.
Camelon
Site of Arthur's last battle
Rosa
(German)
Noted protector
Peta
Golden eagle (Black Foot)
Landon
(English)
From the long hill
Cohen
(German)
Allternate Spellings: Coen or Koen.Brave.
Amaris
(Hebrew)
Given by God
Madelhari
(German)
War counselor