Cat Names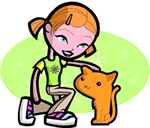 We offer 1,000's of cat names to help you choose the perfect one. Feel free to browse our unique cat names and when you find one you like you can add it to your favorites list to view later. If you have any cute cat names suggestions, please let us know. Enjoy!
Jenifer
Variant of Jennifer common in Cornwall. Derived from Guinevere. In Arthurian Mythology Guinevere was Arthur's queen.
Ricadene
(English)
Lives in the ruler
Byme
(Irish)
Bear: brown.
Udall
(English)
From the yew tree valley
Sonnie
(English)
Son. A nickname and given name.
Howard
(English)
Chief guardian
Blondene
(English)
Fair-haired: blonde. Variation of the Spanish Blandina meaning flattering.
Fonteyne
(French)
Fountain: water source.
Walden
(English)
From the Welshman's valley