Cat Names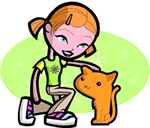 We offer 1,000's of cat names to help you choose the perfect one. Feel free to browse our unique cat names and when you find one you like you can add it to your favorites list to view later. If you have any cute cat names suggestions, please let us know. Enjoy!
Tucker
(English)
Tucker of doth
Inaya
(Arabic)
Concern solicitude
Ripley
From Hrypa's meadow
Meinrad
(German)
Strong advisor
Alexondra
Defender of man.
Natalio
(Spanish)
Born at Christmas
Stevon
(English)
Variant of Stephen Crown: wreath.
Garreth
Gentle. Modest and brave Sir Gareth was a legendary knight of King Arthur's Round Table.
Brucie
(French)
Forest sprite
Steele
(English)
Hard: durable.
Reeford
(English)
Surname. The medieval castle or landholding reeve oversaw all feudal obligations.
Keiran
(Irish)
Dusky: dark-haired.
Blondene
(English)
Fair-haired: blonde. Variation of the Spanish Blandina meaning flattering.
Janai
(English)
Modern name based on Jane or Jean: Based on Janai meaning God has answered.