Cat Names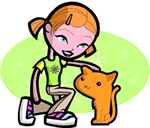 We offer 1,000's of cat names to help you choose the perfect one. Feel free to browse our unique cat names and when you find one you like you can add it to your favorites list to view later. If you have any cute cat names suggestions, please let us know. Enjoy!
Derick
(English)
Gifted ruler. From Theodoric.
Juliette
(French)
Youthful Variant of Julia. Jove's child.
Jamia
(Scottish)
Pet form of James used as a woman's name.
Colby
(English)
From the black farm
Dominica
(Irish)
Name of a saint
Jayson
(Greek)
Healer. Alternate spelling of Jason.
Ayasha
Little one (Chippewa)
Dillion
(Celtic)
Faithful
Conway
(Irish)
Hound of the plain
Hannah
(Hebrew)
Favor: grace. Biblical mother of the prophet Samuel.
Bedwyr
Returns Excalibur to the Lady of the Lake
Yosebe
(Hebrew)
God will multiply
Faris
(English)
Iron strong.
Dania
(English)
From Denmark. Also a feminine variant of Daniel God will judge.
Landon
(English)
From the long hill