Cat Names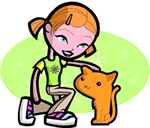 We offer 1,000's of cat names to help you choose the perfect one. Feel free to browse our unique cat names and when you find one you like you can add it to your favorites list to view later. If you have any cute cat names suggestions, please let us know. Enjoy!
Cailym
(Irish)
Pillar of the church.
Mayra
(Irish)
Variant of Maire a Gaelic form of Mary bitter.
Kortniey
Caring and honest.
Remo
(English)
Abbreviation of Remington.
Ulfred
(English)
Wolf of peace
Tavin
(German)
A nickname for Gustav royal staff.
Chochmingwu
Corn mother (Hopi)
Jenee
(English)
Modern name based on Jane or Jean: Based on Janai meaning God has answered.
Leonor
(Spanish)
Spanish form of Eleanor light
Hewitt
(German)
Little Hugh
Osbeorht
(English)
Divinely brilliant
Dariell
(French)
Variant of Darrel open.
Hawly
(English)
From the hedged meadow
Atkinsone
(English)
Son of Aiken