Cat Names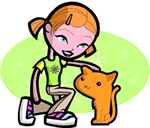 We offer 1,000's of cat names to help you choose the perfect one. Feel free to browse our unique cat names and when you find one you like you can add it to your favorites list to view later. If you have any cute cat names suggestions, please let us know. Enjoy!
Sumarville
(French)
From the summer estate
Erma
(German)
Complete. War goddess
Chelinde
Tristan's grandmother
Kahli
(English)
Modern variant of Callie.
Davinia
(English)
Beloved. Feminine of David.
Jimmy
(Hebrew)
Supplanter
Prescott
(English)
From the Priest's dwelling
Teri
(English)
Abbreviation of Teresa which is a popular saint's name of uncertain meaning.
Lyam
(Irish)
Form of William.
Davina
(Hebrew)
Cherished
Jeran
(English)
Modern variant of Israeli Jaron cry of rejoicing.
Elliot
(English)
Variant of Elijah My God is Jehovah.
Priestly
(English)
From the priest's meadow