Cat Names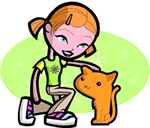 We offer 1,000's of cat names to help you choose the perfect one. Feel free to browse our unique cat names and when you find one you like you can add it to your favorites list to view later. If you have any cute cat names suggestions, please let us know. Enjoy!
Antfortas
Keeper of the grail
Courtenay
(French)
Courtier: court attendant.
Jansen
(German)
Variant of the Hebrew John Jehovah has been gracious: has shown favor.
Jeanetta
(French)
Little Jean
Federico
(Spanish)
Spanish form of Frederick peaceful ruler
Connah
(Celtic)
Contented
Lorimer
(English)
Saddle maker
Kendall
(English)
Royal valley. Surname referring to Kent in England.
Dallon
(Irish)
Variant of Dallin blind.
Cumin
(Scottish)
From Comines
Bonito
(Mexican), (Spanish)
Pretty
Winola
(German)
Gracious friend
Christien
(French)
Christian
Davis
(Scottish)
David's son