Cat Names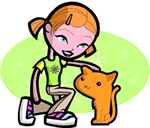 We offer 1,000's of cat names to help you choose the perfect one. Feel free to browse our unique cat names and when you find one you like you can add it to your favorites list to view later. If you have any cute cat names suggestions, please let us know. Enjoy!
Skye
(English)
Refers to the Scottish Isle of Skye: a nature name referring to the sky.
Berford
(English)
From the barley ford
Ardel
(English)
Eager. Industrious.
Farrah
(English)
Fair-haired
Andreu
Alternate Spelling: Andrew.
Scottas
(English)
From Scotland
Elgine
(Celtic)
Noble: white.
Jenalee
(English)
Variation of Jenny which is a diminutive of Jane and Jennifer.
Roland
(English)
Renowned in the land. Roland was a legendary hero who served Charlemagne.
Douglas
Dweller by the dark stream
Tamarah
(Hebrew)
Palm tree
Ellenweorc
Famous courage
Helaine
(French)
Variant of Helen. In mythology the abduction of Zeus's mortal daughter Helen sparked the Trojan War.
Nicholette
Alternate Spelling: Nicolette.
Cherry
(English)
The fruit-bearing cherry tree.