Cat Names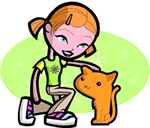 We offer 1,000's of cat names to help you choose the perfect one. Feel free to browse our unique cat names and when you find one you like you can add it to your favorites list to view later. If you have any cute cat names suggestions, please let us know. Enjoy!
Jaliyiah
Sweet and loving.
Burhford
(English)
Lives at the castle ford
Amery
(Irish)
Ridge: long hill
Marsden
(English)
From the marsh valley
Amber
(Arabic)
Jewel. A jewel-quality fossilized resin: as a color the name refers to a warm honey shade.
Trahern
(Celtic)
Strong as iron
Zackary
(English)
Variant of Zachariah and Zachary.
Mei-Yin
(Chinese)
Very beautiful or beauty.
Conley
(Irish)
Ardent or wise
Bredbeddle
The Green Knight
Bennett
(English)
Variant of Benedict.
Lorimer
(English)
Saddle maker
Alric
(German)
Rules all. The historical Gothic king who plundered Rome in A.D. 410.