Cat Names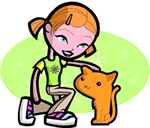 We offer 1,000's of cat names to help you choose the perfect one. Feel free to browse our unique cat names and when you find one you like you can add it to your favorites list to view later. If you have any cute cat names suggestions, please let us know. Enjoy!
Matz
(Hebrew)
Gift from God
Jennay
(English)
Modern name based on Jane or Jean: Based on Janai meaning God has answered.
Sallsbury
(English)
From the fortified keep
Herta
(German)
Of the earth
Dita
(Spanish)
Abreviation of Edith.
Albertine
(Spanish)
Noble
Kaitlan
(Irish)
Modern phonetic form of the Irish name Caitlin from Catherine meaning pure.
Bodicea
A queen of the Iceni Victory
Evonna
(French)
Variant of Yvonne from Yves. Archer.
Beorhttun
(English)
From the fortified town
Donaghy
(Celtic)
Strong fighter
Corren
(Irish)
Spear-bearer.