Cat Names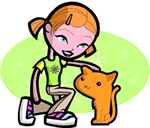 We offer 1,000's of cat names to help you choose the perfect one. Feel free to browse our unique cat names and when you find one you like you can add it to your favorites list to view later. If you have any cute cat names suggestions, please let us know. Enjoy!
Eadwiella
(English)
From the old spring
Rodric
(Scottish)
Famous ruler.
Aubrianne
(English)
Rules with elf-wisdom.
Hodsone
(English)
Son of the hooded man
Karalan
Combination of Karen and Allan
Florinda
(French)
Flower.
Jasmin
(Arabic)
A flower name from the older form Jessamine.
Willard
(German)
Bold: resolute.
Whitmore
(English)
From the white moor
Dannelle
(English)
Feminine variant of Daniel God will judge.
Carvell
(English)
From the villa by the march
Nathan
(Hebrew)
Gift from God
Keegan
(Celtic)
Son of Egan