Cat Names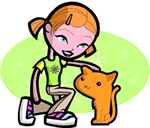 We offer 1,000's of cat names to help you choose the perfect one. Feel free to browse our unique cat names and when you find one you like you can add it to your favorites list to view later. If you have any cute cat names suggestions, please let us know. Enjoy!
Dawneshia
Combination of Kyeshia (Great joy) and Dawn (Awakening).
Cayleigh
(English), (Greek), (Scottish)
Pure Meadow: party: slender:
Jonetta
(English)
Modern feminine of John and Jon.
Rikward
(English)
Strong guardian
Mackinzie
(English)
Ever Loving
Yardley
(English)
From the enclosed meadow
Koen
(German)
Honest advisor
Deeandra
(English)
Blend of Deanne: (divine) plus variants of Andrea: (masculine) and Sandra: (protector of man.)
Lindsey
(English)
From the linden tree island
Gann
(English)
Spear protector
Wynnie
(Celtic)
White or fair
Daibheid
(Irish)
Dearly loved
Jocelina
(French)
Medieval male name adopted as a feminine name.
Lumpy
Covered with lumps.
Waeringawicum
(English)
Fortress
Kenneth
(Scottish)
Good-looking: fair.
Doron
(English)
Variant of Dorran stranger.
Bridger
(English)
Lives at tbe bridge