Cat Names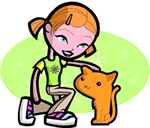 We offer 1,000's of cat names to help you choose the perfect one. Feel free to browse our unique cat names and when you find one you like you can add it to your favorites list to view later. If you have any cute cat names suggestions, please let us know. Enjoy!
Kadi
(English)
Rhyming variant of Katy or Cady.
Albertyna
(English)
Noble
Suidhne
(Irish)
Little hero
Upwood
(English)
From the upper forest
Alva
(German)
Army of elves
Jakoba
(German)
Feminine form of Jakoh
Lorelei
(German)
Temptress: A rocky cliff on the Rhine river dangerous to boat passage: the Lorelei whose singing lures men to destruction.
Kelby
(German)
Dark: dark-haired.
Tormey
(Irish)
Thunder spirit
Teodoro
(Spanish)
Spanish form of Theodore gift from God
Mercer
(French)
Merchant.
Caldre
(English)
Cold brook
Blondell
(English)
Fair-haired: blonde. Variation of the Spanish Blandina meaning flattering.
Sanbourne
(English)
From the sandy brook
Apolline
(French)
Gift from Apollo