Cat Names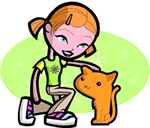 We offer 1,000's of cat names to help you choose the perfect one. Feel free to browse our unique cat names and when you find one you like you can add it to your favorites list to view later. If you have any cute cat names suggestions, please let us know. Enjoy!
Brittan
(English)
Brit. A native of Brittany: (France) or Britain: (England).
Jemimah
(Arabic)
Little dove. In the bible one of Job's three daughters known as the most beautiful women of their time: (the other two were Keziah and Keren)
Bardon
(Celtic)
Minstrel: a singer-poet.
Ahearn
(Celtic)
Lord of the horses
Falk
(German)
Surname relating to falconry.
Cortland
(French)
Courtier: court attendant.
Brody
(Scottish)
Reference to Castle Brodie in Scotland.
Chardae
(French)
Feminine of Charles meaning manly
Dominique
(French)
Of the Lord. Variant of Dominic.
Huette
(English)
Little Hugh
Lucius
(English)
Form of Luke. Light: illumination.
Earie
(Scottish)
From the east