Cat Names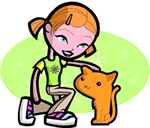 We offer 1,000's of cat names to help you choose the perfect one. Feel free to browse our unique cat names and when you find one you like you can add it to your favorites list to view later. If you have any cute cat names suggestions, please let us know. Enjoy!
Matthew
(Hebrew)
Gift of Jehovah. In the bible Mathew was one of the 12 apostles. He wrote the first gospel account of the life of Jesus.
Blake
(English)
Black or white
Charlette
(French)
Feminine of Charles meaning manly
Ricarda
(Spanish)
Rules the home
Laurenz
(German)
From the place of the laurel trees.
West
(English)
West town. Surname.
Erasmo
(Spanish)
Friendly
Avah
(English)
Variant of medieval given names Avis and Aveline
Salomeaexl
(Hebrew)
Tranquil
Tormey
(Irish)
Thunder spirit
Whitney
From the white island
Auberta
(French)
Feminine variant of Albert.
Gilroy
(Celtic)
Serves the red haired lord
Winwood
(English)
From Wine's forest
Yerik
(Hebrew)
Appointed by God