Cat Names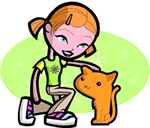 We offer 1,000's of cat names to help you choose the perfect one. Feel free to browse our unique cat names and when you find one you like you can add it to your favorites list to view later. If you have any cute cat names suggestions, please let us know. Enjoy!
Hamlett
(German)
From the little home
Teddy
(English)
Abbreviation of Theodore.
Luc
(French)
Light: illumination. Form of Luke.
Adalwine
(German)
Noble friend
Bryana
(Celtic)
She ascends. Feminine of Brian.
Dorrance
(Irish)
Variant of Dorran stranger.
Falyn
Iris. Variant of Fallon.
Laurelle
(English)
The laurel tree or sweet bay tree symbolic of honor and victory.
Clarissant
Sister of Gawain
Eburhardt
(German)
Strong as a boar
Sidell
(English)
From the wide valley
Annchi
(Chinese)
Amazing Peace, Angel
Emmanuelle
(Hebrew)
Faith
Mikko
(English)
Abbreviation of Michaela:Micaela: Mikaela: Mikayla: Mychaela: Mikella. Feminine of Michael gift from God.
Estmund
(English)
Protected by God
Jaime
(Spanish)
Supplanter
Joelle
(Hebrew)
Jehovah is God