Cat Names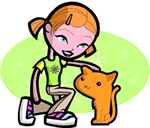 We offer 1,000's of cat names to help you choose the perfect one. Feel free to browse our unique cat names and when you find one you like you can add it to your favorites list to view later. If you have any cute cat names suggestions, please let us know. Enjoy!
Luell
(English)
Famous elf
Gulliver
(English)
In reference to "Gulliver's Travels"
Lyel
(Scottish)
Surname meaning loyal.
Enoch
(Hebrew)
Trained and dedicated. In the bible Enoch was father of Methuselah: the oldest living man named in the Bible.
Madelhari
(German)
War counselor
Zachely
(Hebrew)
Remembered by God
Chas chunk a
Wave (Winnebago)
Brigbam
(English)
Lives by the bridge
Gerdie
(German)
Protected
Jerryl
(English)
Strong: open-minded. Blend of Jerold and Darell.
Aegelmaere
(English)
Infamous
Jedidiah
(Hebrew)
Beloved of Jehovah. In the bible the blessing name Jedidiah was given King Solomon in infancy.
Sigilwig
(German)
Champion
Ami
(French)
Dearly loved