Cat Names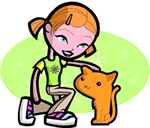 We offer 1,000's of cat names to help you choose the perfect one. Feel free to browse our unique cat names and when you find one you like you can add it to your favorites list to view later. If you have any cute cat names suggestions, please let us know. Enjoy!
Kermichil
(Scottish)
From Michael's fortress
Chisholm
(Scottish)
From Chisolm
Lincoln
(Celtic)
From the settlement by the pool
Heloise
(French)
French form of Louise
Oifa
(Celtic)
Mythical sister of Ove
Lillian
(English)
Variant of Lillian derived from the flower name Lily. Symbol of innocence: purity: beauty.
Curtis
(French)
Courteous
Jarrett
(English)
Spear strong. Surname. Variant of Garrett.
Alaska
Largest state in the U.S.
Mercia
(English)
From Mercia: Compassion: forbearance.
Ena
(Irish)
Feminine form of Aidan fire
Mimi
(French)
Form of Williamina
Kharmen
(German)
Proud and sensitive.
Atteworthe
(English)
Lives at the farmstead
Farren
(English)
Adventurous.
Elaine
Mother of Lancelot