Cat Names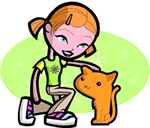 We offer 1,000's of cat names to help you choose the perfect one. Feel free to browse our unique cat names and when you find one you like you can add it to your favorites list to view later. If you have any cute cat names suggestions, please let us know. Enjoy!
Adhamh
(Irish)
Of the earth
Tamarah
(Hebrew)
Palm tree
Mealcoluim
(Scottish)
Follower of Saint Columba
Ronell
(English)
Rules with counsel. Form of Ronald from Reynold.
Yitzchak
(Hebrew)
Humorous
Shiloh
(Hebrew)
The one to whom it belongs. In the bible Shiloh is a prophetic name for the Messiah: Also Shiloh is significant as the site of a crucial battle in the American Civil War.
Lynne
(English)
Abbreviation of Lynnette who accompanied Sir Gareth on a knightly quest in Arthurian legend: variant of the Irish Gaelic word lann meaning house: church.
Juanita
(Spanish)
God's gift
Dino
(English)
From the dene
Gilah
(Hebrew)
Eternal joy
Kamlyn
(English)
Variant of names like Kamelia and Kamille.
Blaine
(Scottish)
Surname of uncertain meaning.