Cat Names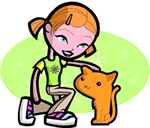 We offer 1,000's of cat names to help you choose the perfect one. Feel free to browse our unique cat names and when you find one you like you can add it to your favorites list to view later. If you have any cute cat names suggestions, please let us know. Enjoy!
Laurenz
(German)
From the place of the laurel trees.
Joyann
(French)
Rejoicing.
Radley
(English)
From the red meadow
Gregor
(Scottish)
Vigilant
Sharon
(Hebrew)
From the land of Sharon
Marleene
(English)
Variant of Madeline Woman from Magdala.
Jacee
(English)
Based on the initials J.C. or an abbreviation of Jacinda.
Vicente
(Spanish)
Conquering.
Lorimer
(English)
Saddle maker
Gerwalt
(German)
Mighty with a spear
Emanuel
(Spanish)
With us is God. Variant of Hebrew name Immanuel. A biblical name-title applied to the Messiah.
Kasimira
Command for peace
Tamryn
(Hebrew)
Palm tree. Variant of Tamar. Biblical Tamara was daughter of King David and sister to Absalom.
Hubbard
(German)
Graceful
Jaynie
(English)
Jehovah has been gracious: has shown favor. Variant of Joan.
Robinette
(French)
Small robin
Coolie
(Irish)
Hound of Ulster
Coriann
(English)
Variant of Cory meaning variously - From the round hill: seething pool: ravine