Cat Names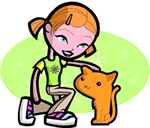 We offer 1,000's of cat names to help you choose the perfect one. Feel free to browse our unique cat names and when you find one you like you can add it to your favorites list to view later. If you have any cute cat names suggestions, please let us know. Enjoy!
Silvester
(German)
Trees: sylvan. See also Sylvester and Silvano.
Merla
(French)
Blackbird.
Harimanna
(German)
Warrior maiden
Tully
(Irish)
Peaceful. Surname.
Drummond
(Scottish)
At the ridge
Toriana
(English)
Derived from Victoria triumphant.
Rikward
(English)
Strong guardian
Habib
(Hebrew)
Dearly loved
Arlene
(English)
Variant of Carlene and Charlene.
Kindall
(Celtic)
Ruler of the Valley
Delmon
(French)
Of the mountain.
Cassi
(English)
Abbreviation of Cassandra. Unheeded prophetess. In Homer's The Iliad Cassandra's prediction of the fall of Troy was unheeded.
Hoireabard
(Irish)
Soldier
Enoch
(Hebrew)
Trained and dedicated. In the bible Enoch was father of Methuselah: the oldest living man named in the Bible.