Cat Names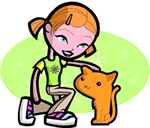 We offer 1,000's of cat names to help you choose the perfect one. Feel free to browse our unique cat names and when you find one you like you can add it to your favorites list to view later. If you have any cute cat names suggestions, please let us know. Enjoy!
Richie
(Spanish)
Variant of Richard.
Pedro
(Spanish)
A rock. Form of Peter.
Citlalic
Raising Star, the first female Aztec warrior, is in Nahuatl the language of the Aztecs.
Andere
(Spanish)
Feminine form of Andrew manly
Karalan
Combination of Karen and Allan
Darick
(Irish)
Strong: oak-hearted. See also Derek.
Arlene
(English)
Variant of Carlene and Charlene.
Lorette
(English)
Diminutive of Laura or Lora referring to the laurel tree or sweet bay tree symbolic of honor and victory.
Marlana
(English)
Variant of Madeline Woman from Magdala.
Jilly
(English)
Abbreviation of Jillian or Gillian. Jove's child.
Kaci
(English)
Modern Kacie and variants are phonetic forms of the initials K.C. or variants of the Irish name Casey alert: vigorous.
Glaedwine
(English)
Happy friend
Thorn
(English)
Town of thorns. Thornton variant. Surname.
Johnn
(English)
Variant of the Hebrew John Jehovah has been gracious: has shown favor.
Yitzchak
(Hebrew)
Humorous