Cat Names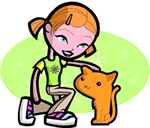 We offer 1,000's of cat names to help you choose the perfect one. Feel free to browse our unique cat names and when you find one you like you can add it to your favorites list to view later. If you have any cute cat names suggestions, please let us know. Enjoy!
Gurion
(Hebrew)
My lion cub
Mavis
(English)
Song-thrush.
Oldwyn
(English)
Special friend
Ronell
(English)
Rules with counsel. Form of Ronald from Reynold.
Kaylene
(English)
Variant of Kay and Kayla keeper of the keys: pure.
Dickson
(English)
Variant of Dick from Richard strong ruler.
Mannie
(Spanish)
A form of Emmanuel God is with us
Rollie
(French)
Renowned in the land. Roland was a legendary hero who served Charlemagne.
Sinclair
(French)
St. Clair.
Lonnell
(English)
Young lion.
Chiquita
(Spanish)
Pet name meaning little girl.
Donn
(Irish)
Brown: In mythology the Irish Donn was known as king of the underworld.