Cat Names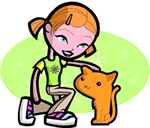 We offer 1,000's of cat names to help you choose the perfect one. Feel free to browse our unique cat names and when you find one you like you can add it to your favorites list to view later. If you have any cute cat names suggestions, please let us know. Enjoy!
Langford
(English)
Lives near the long ford
Yardley
(English)
From the enclosed meadow
Joanna
(Hebrew)
Gift from God
Omar
(Hebrew)
Speaker. 12th century Persian poet and astronomer and mathematician Omar Khayyam. Caliph Omar II made Islam an imperial power.
Genna
(English)
Variant of Jenny. White wave.
Broden
(Scottish)
Reference to Castle Brodie in Scotland.
Teagan
(English)
Good-looking.
Dariell
(French)
Variant of Darrel open.
Brentley
(English)
Hilltop. Variant of Brent.
Calysta
(Greek)
Most beautiful. Alternate Spelling: Calista.
Keezheekoni
Burning fire (Chippewa)