Cat Names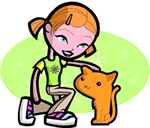 We offer 1,000's of cat names to help you choose the perfect one. Feel free to browse our unique cat names and when you find one you like you can add it to your favorites list to view later. If you have any cute cat names suggestions, please let us know. Enjoy!
Aubry
(English)
Rules with elf-wisdom.
Amd
(German)
Power of an eagle
Nerthus
Name of a goddess
Gino
(Italian)
Born Noble.
Christy
(English)
Variant of Christiana. Follower of Christ.
Grangere
(English)
Farmer
Haille
Alternate Spelling: Hailey, Hayley, Hailee.
Pinochos
(Hebrew)
Dark skinned
Ainsley
(English)
From the awe inspiring one's meadow
Daylan
(English)
Rhyming variant of Waylon - a historical blacksmith with supernatural powers.
Huldiberaht
(German)
Graceful
Rob
(French)
Abbreviation of Robert Famed: bright: shining.
Conrad
(German)
Honest advisor Brave: wise.