Cat Names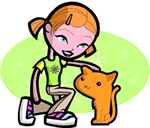 We offer 1,000's of cat names to help you choose the perfect one. Feel free to browse our unique cat names and when you find one you like you can add it to your favorites list to view later. If you have any cute cat names suggestions, please let us know. Enjoy!
Fahey
(Irish)
From the green field
Donelle
(Irish)
Feminine form of Donal rules the world
Carmi
(Hebrew)
Vine dresser
Rollie
(French)
Renowned in the land. Roland was a legendary hero who served Charlemagne.
Manfried
(German)
Peaceful
Kassia
(English)
Variant of Katherine. Pure.
Talya
(Hebrew)
Dew of heaven
Nico
(English)
Abbreviation of Nicholas. Mythological Nike was Greek goddess of victory and root origin of Nicholas.
Wakefield
(English)
From Wake's field
Sha-Mia
(African)
To be of high spirit.
Landon
(English)
From the long hill
Beth
(English)
Variation of Elizabeth. My God is bountiful:God of plenty.
Gilbert
(French)
Bright lad. Gilberto: (Spanish) Bright lad.
Romhilda
(German)
Glorious battle maiden
Tariq
(Arabic)
Morning star. An 8th century Islamic military leader who conquered Spain for the Moors.
Chantelle
(French)
Singer.
Bennett
(English)
Variant of Benedict.