Cat Names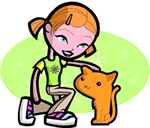 We offer 1,000's of cat names to help you choose the perfect one. Feel free to browse our unique cat names and when you find one you like you can add it to your favorites list to view later. If you have any cute cat names suggestions, please let us know. Enjoy!
Cristofor
(Spanish)
With Christ inside.
Caddaric
(English)
Battle leader
Natania
(Hebrew)
Gift of God.
Jeannelle
(French)
Comes from the name Jean and elle meaning girl
Ravin
Alternate Spelling: Raven.
Jerod
(English)
Variant of Garrett rules by the spear.
Raoul
(French)
Form of Ralph wolf counsel.
Starbuck
(English)
Star deer
Clyfland
(English)
From the cliff land
Timothy
(English)
One who honors God. The biblical Timothy was the young Christian to whom Paul wrote. Let no man look down on your youth.
Morrissey
(Irish)
Choice of the sea
Leilah
(Arabic)
Born at night.
Conway
(Irish)
Hound of the plain
Ainsley
(English)
From the awe inspiring one's meadow
Delton
(English)
From the town in the valley.