Cat Names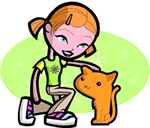 We offer 1,000's of cat names to help you choose the perfect one. Feel free to browse our unique cat names and when you find one you like you can add it to your favorites list to view later. If you have any cute cat names suggestions, please let us know. Enjoy!
Barge
Large flat-bottom boat.
Dakota
Friend: ally. Tribal name.
Ryley
(English)
Island meadow.
Hugi
(English)
Intelligent
Meridel
(English)
Mirthful: joyous. Also an abbreviation of Meredith.
Alandra
(Spanish)
Variant of Alexandra defender of mankind.
Eadwiella
(English)
From the old spring
Sagirah
(Arabic)
Little one
Shad
(English)
Short form of the Biblical Shadrach: one of three young Hebrew men who survived being cast into a fiery furnace.
Gordana
(Scottish)
Heroic
Jose
(Spanish)
May God give increase.
Zali
(Australian)
Special
Norville
From the north state
Eginhard
(German)
Strong with a sword
Valerie
(English)
Strong: valiant. Feminine of the Roman family clan name Valerius.