Cat Names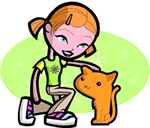 We offer 1,000's of cat names to help you choose the perfect one. Feel free to browse our unique cat names and when you find one you like you can add it to your favorites list to view later. If you have any cute cat names suggestions, please let us know. Enjoy!
Alyse
(English)
Variant of Alice.
Louisane
(German)
Renowned warrior
Eadger
(English)
Wealthy spear
Thompson
(English)
Derives from Thomas Twin.
Buckley
(English)
Variant of Buck: male goat or deer.
Johnson
(English)
Variant of the Hebrew John Jehovah has been gracious: has shown favor.
Yasmina
(Arabic)
Jasmine flower.
Alvarita
(Spanish)
Feminine of Alvaro meaning speaker of truth.
Levi
(Hebrew)
Joined. A brand of jean.
Kerry
(Irish)
From county Kerry
Mairead
(Irish)
Name of a saint
Rycroft
(English)
From the rye field
Westcot
(English)
From the west cottage
Nairne
(Scottish)
From the alder - tree river
Redman
(English)
Red haired counselor