Cat Names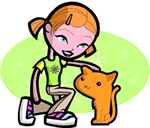 We offer 1,000's of cat names to help you choose the perfect one. Feel free to browse our unique cat names and when you find one you like you can add it to your favorites list to view later. If you have any cute cat names suggestions, please let us know. Enjoy!
Gale
(English)
Lively. Joyful. Abbreviation of Abigail. Gael is a term for descendants of the ancient Celts in Scotland: Ireland and the Isle of Man.
Parsefal
(English)
Valley piercer
Flinn
(Irish)
Son of a red-haired man.
Viviane
The Lady of the Lake
Lear
(English)
Shakespearian king
Wilbert
(German)
Resolute or brilliant
Utkarsh
(Indian)
Advancement -- to rise
Kyrkwode
(English)
From the church's forest
Jeannelle
(French)
Comes from the name Jean and elle meaning girl
Aubrianne
(English)
Rules with elf-wisdom.
Jourdaine
(English)
Variant of Hebrew Jordan down flowing.