Cat Names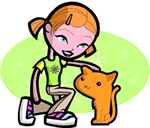 We offer 1,000's of cat names to help you choose the perfect one. Feel free to browse our unique cat names and when you find one you like you can add it to your favorites list to view later. If you have any cute cat names suggestions, please let us know. Enjoy!
Jeralyn
(English)
Modern blend of Jerry and Marilyn.
Normando
(Spanish)
Man of the north.
Nan
(French)
Variant of Anne favor: grace.
Elwold
(English)
Old Welshman
Nanine
(French)
Favor: grace. Variant of Anne.
Jett
(Hebrew)
Excellence, abundance, riches.
Onslow
(English)
From the zealous one's hill
Laine
(English)
From the long meadow
Alia
Princess of the academics.
Lael
(Hebrew)
Belonging to God. Traditional male Biblical name.
Larry
(English)
Abbreviation of Lawrence or Laurence often used as an independent name.
Javier
(Spanish)
Bright. Variant of Xavier.