Cat Names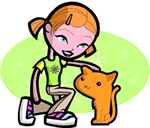 We offer 1,000's of cat names to help you choose the perfect one. Feel free to browse our unique cat names and when you find one you like you can add it to your favorites list to view later. If you have any cute cat names suggestions, please let us know. Enjoy!
Bubba
(English)
Nickname often given to brothers.
Kenly
(English)
From the king's meadow
Gherardo
(English)
Spear hard
Jacquenette
(French)
Little Jacques
Osman
(English)
Godly protection.
Rio
(Spanish)
River. Abbreviation of names ending with -rio.
Rob
(French)
Abbreviation of Robert Famed: bright: shining.
Tannere
(English)
Leather maker
Paco
(Mexican), (Spanish)
Yasmina
(Arabic)
Jasmine flower.
Jonathen
Variant of Jonathan.
Staerling
(English)
A bird
Lochlann
(Irish)
Home of the Norse
Ulfred
(English)
Wolf of peace