Cat Names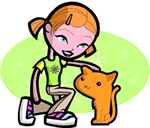 We offer 1,000's of cat names to help you choose the perfect one. Feel free to browse our unique cat names and when you find one you like you can add it to your favorites list to view later. If you have any cute cat names suggestions, please let us know. Enjoy!
Leron
(French)
The circle.
Chevelle
Bold and beautiful.
Cherelle
(French)
Variant of Cherie Dear one:darling
Larry
(English)
Abbreviation of Lawrence or Laurence often used as an independent name.
Ardene
(English)
Warm:. Eager: Lofty.
Darick
(Irish)
Strong: oak-hearted. See also Derek.
Sankalp
(Indian)
Taking a pledge. related to worship
Madena
(Spanish)
Woman from Magdala. Variant of Madeleine.
Dewey
(English)
Place-name and surname: Welsh form of David.
Hamilton
(French)
From the mountain town
Tobin
(English)
Abbreviation of the Hebrew name Tobiah meaning Jah is good.
Steele
(English)
Hard: durable.
Nadetta
(German)
The courage of a bear
Edison
(English)
Son of Edward
Otto
(German)
Born eighth or wealthy