Cat Names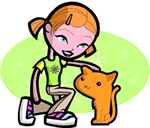 We offer 1,000's of cat names to help you choose the perfect one. Feel free to browse our unique cat names and when you find one you like you can add it to your favorites list to view later. If you have any cute cat names suggestions, please let us know. Enjoy!
Deverell
(French)
Surnames derived from place name Deverel.
Amariah
(Hebrew)
Given by God
Barry
(Irish)
Fair-haired.
Stok
(English)
From the tree stump
Chanel
(French)
canal: channel. The popular perfume Chanel
Hardin
(English)
From the hare's valley
Manda
(English)
Abbreviation of Amanda worthy of being loved.
Fifi
(French)
Nickname for Josephine
Kristalena
(English)
Variant of Crystal. Sparkling. K from the Greek spelling of krystallos.
Brennon
(Irish)
Prince. Variant of Brendan.
Murrough
(Irish)
Fighter of the sea
Jayne
(English)
Jehovah has been gracious: has shown favor. Variant of Joan.
Hanford
(English)
From the high ford
Brighton
(English)
Covered bridge.