Cat Names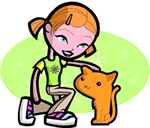 We offer 1,000's of cat names to help you choose the perfect one. Feel free to browse our unique cat names and when you find one you like you can add it to your favorites list to view later. If you have any cute cat names suggestions, please let us know. Enjoy!
Jordon
(French)
Variant of Hebrew Jordan down flowing.
Brenius
A supposed king of Britain
Zakari
(English)
Variant of Zachariah and Zachary.
Laurelle
(English)
The laurel tree or sweet bay tree symbolic of honor and victory.
Carmi
(Hebrew)
Vine dresser
Beruriah
(Hebrew)
Selected by God
Jeremiah
(Hebrew)
Exalted of the Lord
Darissa
(Hebrew)
Wise. Dara was a biblical descendant of Judah known for his wisdom.
Boyce
(French)
Lives near the wood.
Madisyn
(English)
Good. Variant of Madison.
Latimer
(French)
Interprets Latin
Therese
(French)
Variant of Theresa which is the name of two popular saints Teresa of Avila and Therese of Lisieux. Meaning uncertain although possibly a Greek place name.
Querida
(Spanish)
Beloved
Ivie
(English)
A climbing evergreen ornamental plant.
Emmett
(English)
Male variant of Emma: a premedieval girl's given name.
Emory
(German)
Joint ruler
Reeford
(English)
Surname. The medieval castle or landholding reeve oversaw all feudal obligations.