Cat Names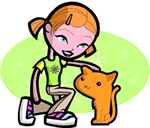 We offer 1,000's of cat names to help you choose the perfect one. Feel free to browse our unique cat names and when you find one you like you can add it to your favorites list to view later. If you have any cute cat names suggestions, please let us know. Enjoy!
Azrael
(Hebrew)
God is my help.
Westcot
(English)
From the west cottage
Germain
(French)
From Germany
Kaylan
(English)
Variant of Kay and Kayla. keeper of the keys: pure.
Jannes
(Hebrew)
Gift from God
Aureliano
(Spanish)
Golden.
Janiece
(English)
Variant of Jane.
Shamus
(Irish)
Supplanter
Wanrrick
(English)
Fortress
Kamaal
(Arabic)
Perfect, perfection. Alternate Spelling: Kamal.
Garmangahis
A goddess worshipped in Lanchester
Aksel
(Hebrew)
Father of peace
Zavier
(Arabic)
Bright, splendid.
Blythe
(English)
Blithe: lighthearted: cheerful