Cat Names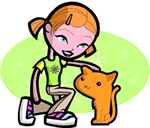 We offer 1,000's of cat names to help you choose the perfect one. Feel free to browse our unique cat names and when you find one you like you can add it to your favorites list to view later. If you have any cute cat names suggestions, please let us know. Enjoy!
Faelen
(Irish)
Faelen is irish gaelic and means wolf
Armon
(Hebrew)
High place.
Alverna
(Hebrew)
Feminine of Alvin meaning wise friend.
Amd
(German)
Power of an eagle
Jaime
(Spanish)
Supplanter
Atwell
(English)
Lives by the spring
Rydia
(Greek)
Rose pettles on still water.
Betheli
(Hebrew)
House of God
Estefani
(Spanish)
Feminine of Stephan.
Leota
(German)
Of the people
MacColl
(Scottish)
Son of Coll
Monty
(English)
Mountain. Abbreviation of Montague and Montgomery.
Kendal
(English)
Royal valley referring to Kent in England.