Cat Names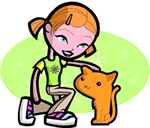 We offer 1,000's of cat names to help you choose the perfect one. Feel free to browse our unique cat names and when you find one you like you can add it to your favorites list to view later. If you have any cute cat names suggestions, please let us know. Enjoy!
Rio
(Spanish)
River. Abbreviation of names ending with -rio.
Halfrid
(German)
Peaceful heroine
Aghna
(Irish)
Irish form of Agnes
Toriana
(English)
Derived from Victoria triumphant.
Juana
(Hebrew)
Gift from God
Katherine
(English)
Pure. Used since third century A.D. Early Latin forms Katerina and Caterina became Katharine and Catherine. French Cateline and English Catlyn came into wider use during medieval period when variants multiplied.
Matthew
(Hebrew)
Gift of Jehovah. In the bible Mathew was one of the 12 apostles. He wrote the first gospel account of the life of Jesus.
Derik
(English)
Gifted ruler. From Theodoric.
Gavan
(Scottish)
White hawk. From the medieval name Gawain. See also Gwayne.
Alleffra
(French)
Cheerful
Ayasha
Little one (Chippewa)
Kerwin
(Irish)
Little dark one.
Scottas
(English)
From Scotland
Imogen
(Celtic)
An image. Image of her mother. Blameless/innocent.
Zechariah
(Hebrew)
Jehovah has remembered.
Taylor
(English)
Tailor. Surname.
Seanan
(Irish)
Little old wise one
Pranay
(Indian)
Innocent Love