Cat Names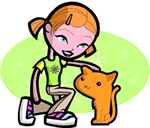 We offer 1,000's of cat names to help you choose the perfect one. Feel free to browse our unique cat names and when you find one you like you can add it to your favorites list to view later. If you have any cute cat names suggestions, please let us know. Enjoy!
Elmer
(English)
Lives at the elm tree moor Famed: noble.
Selene
Goddess of the Moon
Drygedene
(English)
From the dry valley
Eva
(Hebrew)
Life. Living one. Variant of Eve. In the bible Eve was Adam's wife and the first woman.
Talford
(English)
Variant of Tal tall. Surname.
Aretha
(Arabic)
Virtuous: excellent.
Bevan
(Celtic)
Young soldier
Florinda
(French)
Flower.
Jerzie
(English)
Variant of Jersey.
Shikyna
(Hebrew)
Presence of God.
Beall
(English)
Handsome.
Farrah
(English)
Fair-haired
Wincel
(English)
From the bend in the road