Cat Names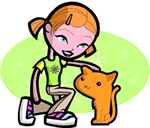 We offer 1,000's of cat names to help you choose the perfect one. Feel free to browse our unique cat names and when you find one you like you can add it to your favorites list to view later. If you have any cute cat names suggestions, please let us know. Enjoy!
Lucrece
(French)
From the Latin Lucretia Historically a Roman matron who committed suicide as a public protest against dishonor: from the Renaissance era - Lucrezia Borgia who was sister to Cesare Borgia.
Gilat
(Hebrew)
Eternal joy
Rainaa
(Spanish)
Queen: Original name Raina
Irvette
(English)
Friend of the sea
Ulicia
(Irish)
Feminine form of Ulik
Vareck
(English)
From the fortress
Eadwiella
(English)
From the old spring
Iratze
(Spanish)
Reference to the Virgin Mary
Alliss
(Spanish)
Of the nobility.
McCloud
(Scottish)
Son of the ugly man
Alyssia
(English)
Variant of Alice.
Annalisa
(Hebrew)
Grace or devoted to God
Rollie
(French)
Renowned in the land. Roland was a legendary hero who served Charlemagne.