Cat Names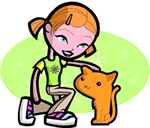 We offer 1,000's of cat names to help you choose the perfect one. Feel free to browse our unique cat names and when you find one you like you can add it to your favorites list to view later. If you have any cute cat names suggestions, please let us know. Enjoy!
Kaiser
(German)
emperor: variant of Caesar.
Ellee
(English)
Abbreviation of Eleanor and Ellen.
Hagrid
Character from Harry Potter.
Darolyn
(English)
Variations of Daryl meaning Dearly loved.
Utkarsh
(Indian)
Advancement -- to rise
Redwald
(English)
Strong counsel
Fitz Adam
(English)
Son of Adam
Cetewind
(English)
From the cottage on the winding path
Egon
(German)
Strong with a sword
Anjanette
(English)
Gift of God's favor. Blend of Ann and Janet.
Kalan
(English)
Variant of Kay and Kayla. keeper of the keys: pure.
Cathie
(English)
Form of the Greek Catherine meaning pure.
Kirby
(English)
Church farm.
Ernest
(English)
Serious: determined.
Tyrese
(African)
Talented leader of the well being.
Lacee
(French)
Derived from Lacey which is a French Nobleman's surname brought to British Isles after Norman conquest.
Dannelle
(English)
Feminine variant of Daniel God will judge.
Fanny
(English)
Pet name meaning free: variant of Frances.
Muira
(Scottish)
From the moor
Kerin
Alternate Spelling: Corinne. Maiden.