Cat Names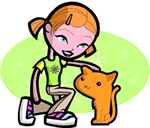 We offer 1,000's of cat names to help you choose the perfect one. Feel free to browse our unique cat names and when you find one you like you can add it to your favorites list to view later. If you have any cute cat names suggestions, please let us know. Enjoy!
Emory
(German)
Joint ruler
Jordell
(Hebrew)
Variant of Hebrew Jordan down flowing.
Jeovana
(English)
Feminine of Giovanni: variant of Jovana.
Ximen
(Hebrew)
God has heard
Omar
(Hebrew)
Speaker. 12th century Persian poet and astronomer and mathematician Omar Khayyam. Caliph Omar II made Islam an imperial power.
Zacharias
(Hebrew)
Variant of Vechariah Jehovah has remembered.
Teamhair
(Irish)
Where the kings met
Balder
(English)
Bold army
Bronson
(English)
Brown's son.
Abequa
Stays at home (Chippewa)
Hulbert
(German)
Graceful
Zero
The dog from Nightmare Before Christmas.
Chaseyn
Variant of Chase.
Delron
(French)
Of the King.
Geela
(Hebrew)
Eternal joy
Fat Albert
Character from cartoon produced by Bill Cosby
Irvine
(English)
Friend. See also Ervin.