Cat Names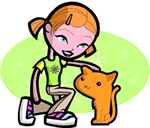 We offer 1,000's of cat names to help you choose the perfect one. Feel free to browse our unique cat names and when you find one you like you can add it to your favorites list to view later. If you have any cute cat names suggestions, please let us know. Enjoy!
Bahira
(Arabic)
Sparkling
Garnell
(French)
Keeper of grain. Surname.
Zoa
(Greek)
Life. Variant of Zoe.
Edina
(English)
Wealthy friend
Wyligby
(English)
From the willow farm
Hilda
(German)
Noble: Warfare. In Scandinavian mythology Hildegard was a Valkyrie sent by Odin to escort battle heroes to Valhalla.
Desiderio
(Spanish)
Desired
Burnell
(German)
Variant of Bernard strong as a bear.
Roger
(English)
Renowned spearman. Rogelio: (Spanish) Renowned spearman.
Nathalia
(French)
Birthday: especially the birthday of Christ.
Leslie
(Celtic)
From the gray fortress
Cibil
(English)
Variant of Sibyl: In Greek mythology a name for prophetess or fortune-teller.
Egerton
(English)
From the town on the ridge
Dominique
(French)
Of the Lord. Variant of Dominic.
Otthilde
(German)
Fortunate heroine
Gay
(English)
Variant of Gail. Joyful. Lively Also a modern term denoting homosexuality.
Lacene
(French)
Derived from Lacey which is a French Nobleman's surname brought to British Isles after Norman conquest.