Cat Names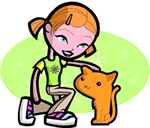 We offer 1,000's of cat names to help you choose the perfect one. Feel free to browse our unique cat names and when you find one you like you can add it to your favorites list to view later. If you have any cute cat names suggestions, please let us know. Enjoy!
Hrypanleah
(English)
From the shouter's meadow
Avelyn
(English)
Variant of medieval given names Avis and Aveline
Desiderio
(Spanish)
Desired
Glyn
(Celtic)
From the valley
Maelisa
(Irish)
Serves Christ
Montaigu
(French)
From the pointed hill
Allred
(English)
Wise or red haired man
Chaseyn
Variant of Chase.
Bronson
(English)
Brown's son.
Wilmer
(German)
Resolute or famous
Delmy
(German)
Noble protector.
Ed
(English)
Abbreviation of names beginning with Ed- like Edward and Edmond.
Aahan
(Indian)
Dawn / Morning
Luvina
(Spanish)
Derived from the Roman given name Levinia.
Valdemarr
(German)
Famous ruler