Cat Names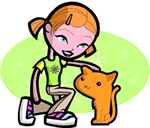 We offer 1,000's of cat names to help you choose the perfect one. Feel free to browse our unique cat names and when you find one you like you can add it to your favorites list to view later. If you have any cute cat names suggestions, please let us know. Enjoy!
Bernon
(German)
Brave as a bear
Kaedee
(English)
Rhyming variant of Katy or Cady.
Trentin
(English)
Refers to the English river Trent. Surname.
Dorien
(English)
Descendant of Dorus. Dorian was a character in Oscar Wilde's novel The Picture of Dorian Gray who was given his wish that his portrait would age while he remained young and handsome.
Dian
(French)
Divine. Mythological ancient Roman divinity Diana was noted for beauty and swiftness: often depicted as a huntress. Also Diana Princess of Wales.
Herta
(German)
Of the earth
Holdyn
(English)
From tbe hollow in the valley
Darneil
(English)
Hidden.
Keriann
(Irish)
Dusky: dark.
Egerton
(English)
From the town on the ridge
Abbott
(English), (Hebrew)
Father
Drue
(English)
Abbreviation of Andrew manly.
Heahweard
(English)
Chief guardian
Beth
(English)
Variation of Elizabeth. My God is bountiful:God of plenty.
Roderick
(English)
Famous ruler.
Ceolbeorht
(English)
Seaman
Leann
(English)
Derived from an Irish Gaelic of Helen: (light:beautiful woman): variant of Liana: (youthful:bond).
Dominica
(Irish)
Name of a saint