Cat Names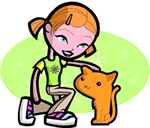 We offer 1,000's of cat names to help you choose the perfect one. Feel free to browse our unique cat names and when you find one you like you can add it to your favorites list to view later. If you have any cute cat names suggestions, please let us know. Enjoy!
Nikkie
(English)
Abbreviation of Nicole. Victory.
Daelan
(English)
Rhyming variant of Waylon - a historical blacksmith with supernatural powers.
Rawley
(English)
From the roe deer meadow
Tremaine
(English)
From the big town.
Carrots
(English)
Orange vegetable
Englbehrt
(German)
Bright angel
Nan
(French)
Variant of Anne favor: grace.
Yosebe
(Hebrew)
God will multiply
Barclay
From the birch meadow
Els
(Hebrew)
Devoted to God
Terrell
(German)
Powerful.
Garnet
(English)
A dark-red gemstone named for the pomegranate because of its color.
Aurick
(English)
Noble valor
Guadalupe
(Arabic)
Wolf valley. Biblical Mary is Mexico's Lady of Guadalupe.
Parsefal
(English)
Valley piercer