Cat Names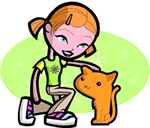 We offer 1,000's of cat names to help you choose the perfect one. Feel free to browse our unique cat names and when you find one you like you can add it to your favorites list to view later. If you have any cute cat names suggestions, please let us know. Enjoy!
Tab
(English)
Drummer: Abbreviation of Tabor. The biblical Mt. Tabor is a landmark mountain near Nazareth.
Aurick
(English)
Noble valor
Perry
(French)
French form of Peter
Sidonia
(Hebrew)
Captivates
Gilah
(Hebrew)
Eternal joy
Abigall
(Hebrew)
Fathers joy. Alternate Spellings: Abegale, Abgail, Abigale.
Jerrel
(English)
Strong: open-minded. Blend of Jerold and Darell.
Bess
(English)
Diminutive of Elizabeth.
Keegan
(Celtic)
Son of Egan
Ike
(Hebrew)
Variant of Hebrew Isaac Laughter.
Brett
(English)
Brit. A native of Brittany: (France) or Britain: (England).
Kevyn
(Irish)
Handsome child. Variant of Kevin.
Arend
(German)
Power of an eagle
Zakari
(English)
Variant of Zachariah and Zachary.