Cat Names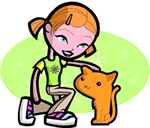 We offer 1,000's of cat names to help you choose the perfect one. Feel free to browse our unique cat names and when you find one you like you can add it to your favorites list to view later. If you have any cute cat names suggestions, please let us know. Enjoy!
Camila
(Spanish)
Attendant
Romeo
(Spanish)
From Rome
Candy
(English)
Sweet stuff
Jedidiah
(Hebrew)
Beloved of Jehovah. In the bible the blessing name Jedidiah was given King Solomon in infancy.
Ivie
(English)
A climbing evergreen ornamental plant.
Cadillac
Brand of luxury car.
Harkahome
Little robe (Cheyenne)
Wattson
(English)
Son of Walter
Mirabella
(French)
Of incredible beauty
Ardella
(English)
Warm: Eager. Industrious.
Ripley
From Hrypa's meadow
Ellee
(English)
Abbreviation of Eleanor and Ellen.
Karren
(English)
Abbreviation of Katherine. Pure.
Jenalee
(English)
Variation of Jenny which is a diminutive of Jane and Jennifer.
Cherry
(English)
The fruit-bearing cherry tree.