Cat Names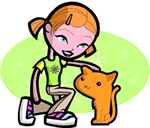 We offer 1,000's of cat names to help you choose the perfect one. Feel free to browse our unique cat names and when you find one you like you can add it to your favorites list to view later. If you have any cute cat names suggestions, please let us know. Enjoy!
Chandler
(English)
Candlemaker.
Britney
(English)
Originally the ancient duchy of Bretagne in France. Celtic Bretons emigrated from France to become the Bretons of England.
Sharon
(Hebrew)
From the land of Sharon
Novalee
Chases butterflies. Combination of Nova and Lee.
Kaylin
(English)
Variant of Kay and Kayla. keeper of the keys: pure.
OKimma
(African)
Different/One of a kind
Ephraim
(Hebrew)
Fruitful
Blondell
(English)
Fair-haired: blonde. Variation of the Spanish Blandina meaning flattering.
Clarke
(English)
Cleric: secretary.
Rollie
(French)
Renowned in the land. Roland was a legendary hero who served Charlemagne.
Abra
(Arabic), (Hebrew)
Arabic: Lesson. Hebrew: Mother of many.
Bayard
(English)
Auburn-haired.
Nico
(English)
Abbreviation of Nicholas. Mythological Nike was Greek goddess of victory and root origin of Nicholas.
Annamarie
(English)
Variant of Anne. Biblical: devout woman who saw infant Jesus presented at the temple in Jerusalem.