Cat Names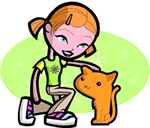 We offer 1,000's of cat names to help you choose the perfect one. Feel free to browse our unique cat names and when you find one you like you can add it to your favorites list to view later. If you have any cute cat names suggestions, please let us know. Enjoy!
Alvyn
(English)
Wise friend.
Chico
(Spanish)
Boy: lad. Also Spanish abbreviation of Ezekiel.
Daveen
(English)
Beloved. Feminine of David.
Aloisia
(German)
Famous fighting
Orwald
(English)
Spear strength
Hazell
(English)
The hazel tree:nut.
Orran
(English)
The name of an English river.
Jennay
(English)
Modern name based on Jane or Jean: Based on Janai meaning God has answered.
Northrup
(English)
From the north farm
Cuddles
(English)
To hug or embrace.
Gamaliel
(Hebrew)
God's reward
Chubby Bunny
Game to see how many marshmallows can fit in your mouth.
Anyssa
(English)
Variant of Anne or Agnes.
Perkinson
(English)
Son of Perkin