Cat Names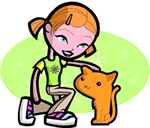 We offer 1,000's of cat names to help you choose the perfect one. Feel free to browse our unique cat names and when you find one you like you can add it to your favorites list to view later. If you have any cute cat names suggestions, please let us know. Enjoy!
Anniah
(Hebrew)
Gracious God.
Nate
(Hebrew)
Given. Form of Nathan.
Lambart
(German)
Light of land
Alima
(Arabic)
Knows dance and music: sea maiden.
Gedaliah
(Hebrew)
God has made great
Garnet
(English)
A dark-red gemstone named for the pomegranate because of its color.
Torrans
(Irish)
From the knolls
Amelie
(French)
Hard working. Industrious. Striving.
Lorelei
(German)
Temptress: A rocky cliff on the Rhine river dangerous to boat passage: the Lorelei whose singing lures men to destruction.
Brienna
(Celtic)
She ascends. Feminine of Brian.
Ashten
(English)
Town of ash trees.
Barge
Large flat-bottom boat.
Sanders
(English)
Alexander's son
Ephraim
(Hebrew)
Fruitful