Cat Names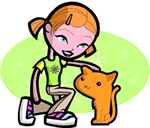 We offer 1,000's of cat names to help you choose the perfect one. Feel free to browse our unique cat names and when you find one you like you can add it to your favorites list to view later. If you have any cute cat names suggestions, please let us know. Enjoy!
Staerling
(English)
A bird
Saadya
(Hebrew)
God's helper
Usbeorn
(English)
Divine warrior
Bothan
(Scottish)
From the stone house
Dedrick
(German)
People's ruler
Maritza
(German)
Of the sea.
Evette
(Hebrew)
Living one. Variant of Eve. In the bible Eve was Adam's wife and the first woman.
Terran
(English)
Terran means Earthman. Variants are contemporary rhyming blends of Ter- plus Darin.
Amaris
(Hebrew)
Given by God
Clintwood
(English)
hillside.
Magnild
(German)
Strong battle maiden
Lexandra
(English)
Defender of mankind. Feminine of Alexander.
Jerzie
(English)
Variant of Jersey.