Cat Names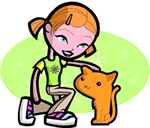 We offer 1,000's of cat names to help you choose the perfect one. Feel free to browse our unique cat names and when you find one you like you can add it to your favorites list to view later. If you have any cute cat names suggestions, please let us know. Enjoy!
Cipriano
(Spanish)
From Cyprus
Loriel
(English)
Modern variant of Lora and Laurie referring to the laurel tree or sweet bay tree symbolic of honor and victory.
Maelisa
(Irish)
Serves Christ
Brennon
(Irish)
Prince. Variant of Brendan.
Johnnie
(French)
Variant of the Hebrew John Jehovah has been gracious: has shown favor.
Luduvico
(German)
Famous fighter
Fontaine
(French)
Fountain: water source.
Terence
(English)
Old form of the Roman clan name Terrance.
Brigbam
(English)
Lives by the bridge
MacDhuBh
(Scottish)
Son of the blackman
Darroch
(Irish)
Strong: oak-hearted. See also Derek.
Josefina
(Spanish)
Spanish form of Josephine God shall add Feminine of Joseph.
Geralynn
(German)
Rules by the spear. Feminine of Gerald.