Cat Names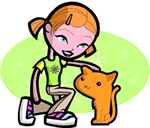 We offer 1,000's of cat names to help you choose the perfect one. Feel free to browse our unique cat names and when you find one you like you can add it to your favorites list to view later. If you have any cute cat names suggestions, please let us know. Enjoy!
Deven
(English)
Variant of the English county name Devon.
Braiden
(English), (Irish)
Variation of Braden: From the Broad Valley
Hardwin
(English)
Brave friend
Roman
(Spanish)
From Rome
Devry
(English)
Derived from place-name Deverel.
Carlton
(English)
Free men's town.
Kagen
(Irish)
A thinker: fiery. Form of Hugh.
Setanta
(Celtic)
Mythical son of Sualtam
Myeshia
(Arabic)
Woman: life. Variant of Aisha.
Brentan
(English)
From the steep hill
Joyann
(French)
Rejoicing.
Erin
(Irish)
From Ireland