Cat Names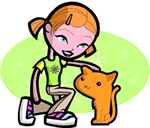 We offer 1,000's of cat names to help you choose the perfect one. Feel free to browse our unique cat names and when you find one you like you can add it to your favorites list to view later. If you have any cute cat names suggestions, please let us know. Enjoy!
Bonito
(Mexican), (Spanish)
Pretty
Linn
Dwells by the torrent
Roderic
(English)
Famous ruler.
Marque
(French)
Of Mars: the god of war.
Boyce
(French)
Lives near the wood.
Keannen
(English)
Ancient.
Dariell
(French)
Variant of Darrel open.
Parker
(English)
Keeper of the forest: forest ranger. Actor Parker Stevenson.
Gann
(English)
Spear protector
Windgate
(English)
From the winding gate
Dempster
(English)
Judicious
Garred
(English)
Variant of Garret from Gerald rules by the spear.
Idal
(English)
From the yew tree valley
Morvyn
(Celtic)
Lives by the sea