Cat Names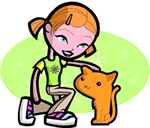 We offer 1,000's of cat names to help you choose the perfect one. Feel free to browse our unique cat names and when you find one you like you can add it to your favorites list to view later. If you have any cute cat names suggestions, please let us know. Enjoy!
Zerlina
(Hebrew)
Beautiful dawn.
Leonela
(French)
Lion: lioness. Feminine of Leon.
Heardwine
(English)
Brave friend
Marlin
(English)
A Form of Merle.
Millicente
(French)
Of a thousand saints
Tobey
(English)
Abbreviation of the Hebrew name Tobiah meaning Jah is good.
Perzsi
(Hebrew)
Devoted to God
D'Arcy
(French)
From Arcy
Valencia
Vigorous and strong.
Veronica
True image. Biblical name.
Kerra
(Irish)
Dusky: dark.
Cetewind
(English)
From the cottage on the winding path
Katelinn
(English)
Medieval English form of the Irish Caitlin. Pure
Arundhati
(Indian)
Goddess of the sky, stars and night time.