Cat Names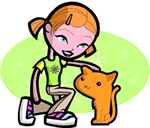 We offer 1,000's of cat names to help you choose the perfect one. Feel free to browse our unique cat names and when you find one you like you can add it to your favorites list to view later. If you have any cute cat names suggestions, please let us know. Enjoy!
Penton
(English)
From the enclosed farm
Margeaux
(French)
Variant of Margaret. Pearl.
Kinsella
(Irish)
Surname.
Joanna
(Hebrew)
Gift from God
Jacquenette
(French)
Little Jacques
Charla
(English)
Feminine variant of Charles meaning manly
Meridel
(English)
Mirthful: joyous. Also an abbreviation of Meredith.
Sherbourn
(English)
From the clear brook
Kendell
(English)
Royal valley. Surname referring to Kent in England.
Fleming
(English)
Dutchman
Valencia
Vigorous and strong.
Adalbert
(German)
Intelligent or noble
Verge
Owns four acres of land