Cat Names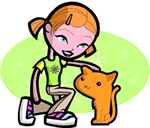 We offer 1,000's of cat names to help you choose the perfect one. Feel free to browse our unique cat names and when you find one you like you can add it to your favorites list to view later. If you have any cute cat names suggestions, please let us know. Enjoy!
Prentiss
(English)
Scholar
Redwald
(English)
Strong counsel
Maitland
(English)
From the meadow
Kaitlan
(Irish)
Modern phonetic form of the Irish name Caitlin from Catherine meaning pure.
Hannah
(Hebrew)
Favor: grace. Biblical mother of the prophet Samuel.
Leana
(English)
Derived from an Irish Gaelic of Helen: (light:beautiful woman): variant of Liana: (youthful:bond).
Sarita
(Spanish)
Princess
Nelda
(English)
By the alder tree
Adelle
(French)
Of the nobility. Noble.
Estebana
(Spanish)
Crowned with laurels
Gordon
(English)
From the three cornered hill or From the marshes. One of Scotland's great clans. Surname.
Renato
(Spanish)
To rise again.
Baldwin
(German)
Bold friend
Lancelot
(French)
Servant
Maxwell
From Maccus's pool
Tzion
(Hebrew)
Sunny mountain
Chaya
(Spanish)
Abbreviation for people with names ending in -ario.
Mackinzie
(English)
Ever Loving