Cat Names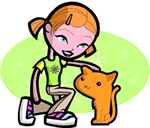 We offer 1,000's of cat names to help you choose the perfect one. Feel free to browse our unique cat names and when you find one you like you can add it to your favorites list to view later. If you have any cute cat names suggestions, please let us know. Enjoy!
Kezia
(Hebrew)
Cassia: sweet-scented spice. Keziah was one of Job's three fair daughters in the bible.
Elynn
(English)
Variant of Helen. Means Light or most beautiful woman
Lynessa
(English)
Variant of ancient Welsh given name. In Arthurian legend Lynette accompanied Sir Gareth on a knightly quest.
Kiona
(Irish)
Variant of Kian. Ancient.
Blondene
(English)
Fair-haired: blonde. Variation of the Spanish Blandina meaning flattering.
Faeryn
(English)
From the fairies.
Westleah
(English)
From the west meadow
Rolland
(French)
Renowned in the land. Roland was a legendary hero who served Charlemagne.
Kurt
(German)
Honest advisor
Innes
(Scottish)
From Innes
Hrothrehr
(Irish)
Famous ruler
Jean Baptiste
(French)
French form of John the Baptist
Mantotohpa
Four bears (Cheyenne)
Elberta
(English)
Noble or glorious
Arielle
(French)
Lion of God.