Cat Names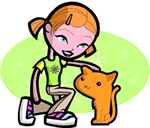 We offer 1,000's of cat names to help you choose the perfect one. Feel free to browse our unique cat names and when you find one you like you can add it to your favorites list to view later. If you have any cute cat names suggestions, please let us know. Enjoy!
Kelby
(German)
Dark: dark-haired.
Fynballa
(Irish)
Fair shoulders
Warton
(English)
From the farm by the weir
Tariq
(Arabic)
Morning star. An 8th century Islamic military leader who conquered Spain for the Moors.
Jonas
(Hebrew)
Gift from God
Thabelang Bonolo Mosa
(African)
Be happy, soft and humble
Derik
(English)
Gifted ruler. From Theodoric.
Brittni
(English)
Originally the ancient duchy of Bretagne in France. Celtic Bretons emigrated from France to become the Bretons of England.
Conrad
(German)
Honest advisor Brave: wise.
Bannan
(German)
Commander
Auberta
(French)
Feminine variant of Albert.
Anbessa
(Spanish)
A Saracen governor of Spain
Bromleigh
(English)
From the broom covered meadow
Malmuira
(Scottish)
Dark skinned
Natania
(Hebrew)
Gift of God.
Siannan
(Irish)
Alternate Spelling: Shannon.