Cat Names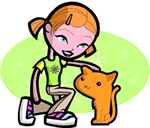 We offer 1,000's of cat names to help you choose the perfect one. Feel free to browse our unique cat names and when you find one you like you can add it to your favorites list to view later. If you have any cute cat names suggestions, please let us know. Enjoy!
Shareef
(Arabic)
Variant of Sharif Illustrious.
Aeccestane
(English)
Swordsman's stone
Lincoln
(Celtic)
From the settlement by the pool
Wilburt
(German)
Resolute or brilliant
Clareta
(Spanish)
Brilliant
Gamaliel
(Hebrew)
God's reward
Delanie
(Irish)
Challenger
Gwenhwyfach
Guinevere's sister
Dubhglas
(Scottish)
From the darkwater
Joyceanne
(English)
Cheerful: merry.
Raedburne
(English)
Lives by the red stream
Kylie
(Australian)
Boomerang. Feminine form of Kyle.
Hettie
(French)
From Henrietta. Rules her household.
Ricarda
(Spanish)
Rules the home