Cat Names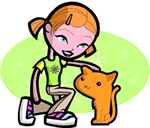 We offer 1,000's of cat names to help you choose the perfect one. Feel free to browse our unique cat names and when you find one you like you can add it to your favorites list to view later. If you have any cute cat names suggestions, please let us know. Enjoy!
Adron
(English)
From Adria.: (Adriatic sea region.)
Bartel
(Hebrew)
Ploughman
Alberteen
(English)
Noble
Raedburne
(English)
Lives by the red stream
Dalila
(Hebrew)
Desired or Languishing. The Biblical Delilah tempted Samson into revealing the secret of his superhuman strength.
Dionna
(English)
From the sacred spring. The mythological Dione was wife to Zeus and mother of Aphrodite.
Vokivocummast
White antelope (Cheyenne)
Pavati
Clear water (Hopi)
Hildemar
(German)
Glorious
Josee
(Hebrew)
God will add
Jayar
(English)
Phonetic name based on initials.
Bonny
(Scottish)
From the French bon meaning good. In Scottish usage bonnie means pretty: charming: beautiful.
Amariah
(Hebrew)
Given by God
Pernell
(English)
Little rock
Alejandro
(Spanish)
Defends mankind. Spanish form of Alexander.
Rayne
(English)
Strong counselor. From the ancient personal name Ragnar.
Irmigard
(German)
War goddess
Jacob
(Hebrew)
Supplanter