Cat Names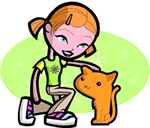 We offer 1,000's of cat names to help you choose the perfect one. Feel free to browse our unique cat names and when you find one you like you can add it to your favorites list to view later. If you have any cute cat names suggestions, please let us know. Enjoy!
Joan
(English)
Feminine of John.
Landon
(English)
From the long hill
Channon
(Irish)
young wolf.
Ashley
Dwells at the ash tree meadow
Durwyn
(English)
Friend of the deer
Ilena
(English)
Variant of Eileen.
Nimiane
The Lady of the Lake
Elvina
Friend of the elves
Mollie
(English)
From the Gaelic Maili which is a pet form of Mary bitter.
Eskama
(Spanish)
Merciful
Brun
(English)
Dark skinned
Ricarda
(Spanish)
Rules the home
Marcos
(Spanish)
Of Mars. The Roman fertility god Mars for whom March was named.
Chayson
(French)
Variant of Chayse or Chase. Hunter.
Laycie
(French)
Derived from Lacey which is a French Nobleman's surname brought to British Isles after Norman conquest.
Mariner
(Celtic)
Lives by the sea
Danitza
(English)
Feminine variant of Daniel God will judge.
Garrin
(German)
Guards: guardian.