Cat Names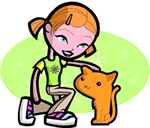 We offer 1,000's of cat names to help you choose the perfect one. Feel free to browse our unique cat names and when you find one you like you can add it to your favorites list to view later. If you have any cute cat names suggestions, please let us know. Enjoy!
Moshe
(Hebrew)
Form of Moses saved from the water.
Bette
(French)
A form of Elizabeth.
Leana
(English)
Derived from an Irish Gaelic of Helen: (light:beautiful woman): variant of Liana: (youthful:bond).
Torence
(Scottish)
Variant of Torrence From the craggy hills. Tor is a name for a craggy hilltop and also may refer to a watchtower.
Jedediah
(Hebrew)
Variant of Jedidiah Beloved of Jehovah.
Nicole
Victory of the people
Janet
(Hebrew)
Gift from God
SciIti
(Celtic)
Legendary messenger of Arthur
Karcsi
(French)
Joyful song
Toby
(English)
Abbreviation of the Hebrew name Tobiah meaning Jah is good.
Hardin
(English)
From the hare's valley
Ayden
(Irish)
Fiery. Alternate Spelling: Aiden.
Rowland
(French)
Renowned in the land. Roland was a legendary hero who served Charlemagne.
Aonghus
(Scottish)
Unnaturally strong
Japheth
(Hebrew)
May He grant ample room. In the bible Japheth was eldest of Noah's three sons.
Dorrell
(Irish)
Variant of Dorran stranger.