Cat Names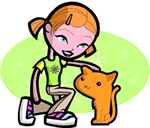 We offer 1,000's of cat names to help you choose the perfect one. Feel free to browse our unique cat names and when you find one you like you can add it to your favorites list to view later. If you have any cute cat names suggestions, please let us know. Enjoy!
Daly
(English)
Small valley.
Chayson
(French)
Variant of Chayse or Chase. Hunter.
Elisa
(Spanish)
Spanish form of Elizabeth consecrated to God
Cleonie
(Irish)
From the Greek Cleone daughter of a river god
Abramo
(Hebrew)
Father of a multitude
Megane
(Celtic)
Soft and gentle
Ladde
(English)
Attendant
Aureliano
(Spanish)
Golden.
Corrie
(Irish)
Variant of Cory meaning variously - From the round hill: seething pool: ravine
Gene
(English)
Abbreviation of Eugene Wellborn.
Hadwin
(English)
War friend
Laurel
(English)
The laurel tree or sweet bay tree symbolic of honor and victory. Old name with many variants.