Cat Names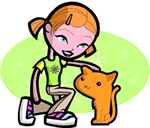 We offer 1,000's of cat names to help you choose the perfect one. Feel free to browse our unique cat names and when you find one you like you can add it to your favorites list to view later. If you have any cute cat names suggestions, please let us know. Enjoy!
Bardon
(Celtic)
Minstrel: a singer-poet.
Kirby
(English)
Church farm.
Doron
(English)
Variant of Dorran stranger.
Waylan
(English)
Variant of Wayland. The mythological Scandinavian Wayland was a blacksmith with supernatural powers. Modern singer Waylon Jennings.
Hwitcomb
(English)
From the white hollow
Geraldina
(English)
Rules by the spear. Feminine of Gerald.
Kitlyn
(English)
Medieval English form of the Irish Caitlin. Pure
Burhford
(English)
Lives at the castle ford
Melvon
(English)
Meaning uncertain but possibly friend of Michael.
Delaine
(French)
From the elder tree grove.
Eadburt
(English)
Wealthy
Neill
(Irish)
Champion Form of Neil.