Cat Names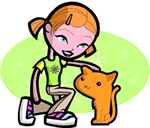 We offer 1,000's of cat names to help you choose the perfect one. Feel free to browse our unique cat names and when you find one you like you can add it to your favorites list to view later. If you have any cute cat names suggestions, please let us know. Enjoy!
Beruriah
(Hebrew)
Selected by God
Martina
(Spanish)
Feminine of Martin warring.
Nelwyna
(English)
Bright friend
Tariq
(Arabic)
Morning star. An 8th century Islamic military leader who conquered Spain for the Moors.
Shaddock
(English)
Shad fish
Verdell
(French)
Green: flourishing.
Jolee
(French)
Cheerful: pretty.
Shelly
From the ledge meadow
Bairrfhionn
(Celtic)
Marksman
Anamarie
(Spanish)
Grace. favor. Variant of Anna.
Lisha
(English)
Derived from Alicia: (sweet: honest: truth) and Felecia: (happy)
Maxwell
From Maccus's pool
Maida
(English)
Maiden: virgin.