Cat Names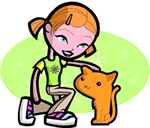 We offer 1,000's of cat names to help you choose the perfect one. Feel free to browse our unique cat names and when you find one you like you can add it to your favorites list to view later. If you have any cute cat names suggestions, please let us know. Enjoy!
Delane
(French)
From the elder tree grove.
Jarid
(Hebrew)
He descends.
Heaven-Leigh
One with life meaning holy and Heaven sent
Joed
(Hebrew)
Jehovah is witness. A Biblical name.
Kirkly
(English)
From the church's meadow
Chester
(English)
Lives at the camp of the soldiers.
Dieter
(German)
Gifted ruler. Variant of Diederick.
Ameena
(Arabic)
Trustworthy.
Tami
(English)
Abbreviation of Thomasina and Tamara.
Caitrin
(Irish)
Variant of Katherine meaning pure
Jennifer
(English)
Fair one. Variant of Guinevere. In Arthurian Mythology Guinevere was Arthur's queen.
Claudelle
(English)
Feminine of Claude.
Prentiss
(English)
Scholar
Mayra
(Irish)
Variant of Maire a Gaelic form of Mary bitter.
Goddard
(German)
Hard spear
Wintanweorth
(English)
From the white one's estate
Thorp
(English)
From the village