Cat Names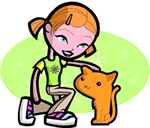 We offer 1,000's of cat names to help you choose the perfect one. Feel free to browse our unique cat names and when you find one you like you can add it to your favorites list to view later. If you have any cute cat names suggestions, please let us know. Enjoy!
Frazer
(Scottish)
Variant of Fraser of the forest men.
Dallon
(Irish)
Variant of Dallin blind.
Tamarah
(Hebrew)
Palm tree
Forester
(English)
forest-ranger Surname.
Eward
(German)
Strong as a boar
Eadwiella
(English)
From the old spring
Jedidiah
(Hebrew)
Beloved of Jehovah. In the bible the blessing name Jedidiah was given King Solomon in infancy.
Willow
(English)
Slender:graceful. From the willow tree noted for slender graceful branches and leaves.
Leonardo
(Spanish)
Lion-bold. Leonardo da Vinci is considered by many to be the most brilliant and creative men who ever lived.
Concepta
(Irish)
Refers to the Immaculate Conception
Adalbert
(German)
Intelligent or noble
Veniamin
(Hebrew)
Son of the right hand
Olivier
(French)
From the olive tree
LAngley
(French)
Englishman
Berchtwald
(German)
Bright ruler
Loriel
(English)
Modern variant of Lora and Laurie referring to the laurel tree or sweet bay tree symbolic of honor and victory.
Elishia
(French)
Abbreviation of Elisabeth.
Seldon
(English)
From the willow valley
Osbeorht
(English)
Divinely brilliant