Cat Names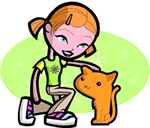 We offer 1,000's of cat names to help you choose the perfect one. Feel free to browse our unique cat names and when you find one you like you can add it to your favorites list to view later. If you have any cute cat names suggestions, please let us know. Enjoy!
D'Arcy
(French)
From Arcy
Michaelyn
(Hebrew)
Variant of Michal Who is like God?
Girflet
Returns Excalibur to the lake
Rio
(Spanish)
River. Abbreviation of names ending with -rio.
Mikko
(English)
Abbreviation of Michaela:Micaela: Mikaela: Mikayla: Mychaela: Mikella. Feminine of Michael gift from God.
Jaeden
(English)
God has heard.
Montie
(English)
Mountain. Abbreviation of Montague and Montgomery.
Barday
(Scottish)
From Berkeley
Veronica
True image. Biblical name.
Nickie
(English)
Abbreviation of Nicole. Victory.
Wilton
(English)
From the farm by the spring
Niko
(English)
Abbreviation of Nicholas. Mythological Nike was Greek goddess of victory and root origin of Nicholas.
Norberte
(German)
Bright heroine
Amalur
(Arabic), (Spanish)
Homeland
Parsefal
(English)
Valley piercer
Nahcomence
Oldbark antelope (Cheyenne)
Derrall
(English)
Variant of Darrel open.
Ascot
(English)
Lives at the east cottage
Priestly
(English)
From the priest's meadow
Augusteen
(Irish)
Feminine form of Augustine great
Sanbourne
(English)
From the sandy brook