Cat Names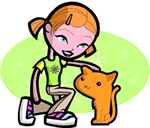 We offer 1,000's of cat names to help you choose the perfect one. Feel free to browse our unique cat names and when you find one you like you can add it to your favorites list to view later. If you have any cute cat names suggestions, please let us know. Enjoy!
Stanwick
(English)
From the stony village
Mel
(English)
Meaning uncertain but possibly friend of Michael.
Arleen
(English)
Variant of Carlene and Charlene.
Meoquanee
Wears red (Chippewa)
Aballach
Father of Modron
Deagan
Combination of Eagan and Dean.
Joleigh
(French)
Cheerful: pretty.
Volker
(German)
People's guard
Carol
(French)
Song of happiness
Stewart
(Scottish)
Steward. A medieval steward was charged with the care of castle and estate affairs. Surname.
Micaela
(English)
Feminine of Michael gift from God.
Tyler
(English)
Tile layer or a variant of Taylor. An English surname frequently used as a given name.
Arthur
(English)
Noble: courageous. Legendary sixth century King Arthur of Britain and his Round Table of knights.
Mathieu
(French)
Gift of God.