Cat Names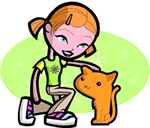 We offer 1,000's of cat names to help you choose the perfect one. Feel free to browse our unique cat names and when you find one you like you can add it to your favorites list to view later. If you have any cute cat names suggestions, please let us know. Enjoy!
Loriel
(English)
Modern variant of Lora and Laurie referring to the laurel tree or sweet bay tree symbolic of honor and victory.
Shelley
From the ledge meadow
Kirk
(Scottish)
From the church
Geneva
(German)
Of the race of women.
Shaylon
(Irish)
Variant of Shea courteous.
Byrdene
(English)
Contemporary name meaning Little bird.
Wallis
(English)
From Wales
Evan
(Celtic)
Young fighter
Avery
(English)
Elf ruler or from the old ford
Elishama
(Hebrew)
God hears
Daviel
(English)
Variant of David beloved.
Varney
(Celtic)
From the alder grove