Cat Names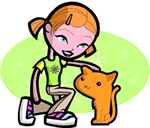 We offer 1,000's of cat names to help you choose the perfect one. Feel free to browse our unique cat names and when you find one you like you can add it to your favorites list to view later. If you have any cute cat names suggestions, please let us know. Enjoy!
Rousskin
(French)
Red haired
Skyrah
(English)
Eternal life, strength, love, and beauty.
Adela
(French)
Good humor
Jerad
(Hebrew)
Descending. A pre-flood Biblical name. The character Jared on the late Sixties TV western The Big Valley.
Winfrith
(English)
Friend of peace
Sheron
(Irish)
Irish form of Geoffrey
Belen
(Spanish)
Bethlehem.
Kestrel
(French)
Little hawk.
Lancelot
(French)
Servant
Spangler
(German)
Tinsmith
Harris
(English)
Son of Harry
Nicolai
Variant of Nicholas.
Devere
(French)
Derived from place-name Deverel.
Inaya
(Arabic)
Concern solicitude
Odanda
(Spanish)
Famous land
Madelena
(English)
Woman from Magdala. Variant of Madeleine. Madeleine: (English/French) Woman from Magdala.
MacKay
(Scottish)
Son of fire
Nixon
(English)
Abbreviation of Nicholas. Mythological Nike was Greek goddess of victory and root origin of Nicholas.