Cat Names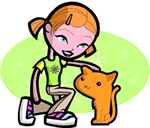 We offer 1,000's of cat names to help you choose the perfect one. Feel free to browse our unique cat names and when you find one you like you can add it to your favorites list to view later. If you have any cute cat names suggestions, please let us know. Enjoy!
Bidelia
(Irish)
Protective
Tyrell
(Irish)
Derivative of the Scandinavian god of battle Tyr. Tuesday was named for Tyr.
Fitzgerald
(French)
Son of Gerald. Surname.
Chick
(English)
a man: variant of Carl.
Adelheid
(German)
Sweet or noble
Josslyn
Happy, Joyful. Alternate Spelling: Jocelyn, Jocelynn, Jocelyne.
Gottfried
(German)
Peaceful god
Jodie
(English)
Feminine of nickname for Joseph and Jude.
Mamie
(English)
Abbreviation of Mary and Miriam.
Cristofor
(Spanish)
With Christ inside.
Sarita
(Spanish)
Princess
Welsie
(English)
From the west
Ogilvie
(Scottish)
From the high peak
Keane
(Celtic)
Tall and handsome
Jeannelle
(French)
Comes from the name Jean and elle meaning girl