Cat Names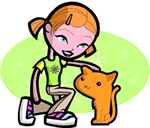 We offer 1,000's of cat names to help you choose the perfect one. Feel free to browse our unique cat names and when you find one you like you can add it to your favorites list to view later. If you have any cute cat names suggestions, please let us know. Enjoy!
Rainaa
(Spanish)
Queen: Original name Raina
Caroliana
(English)
Feminine variant of Charles meaning manly
Brandubh
(Irish)
Black raven
Gram
(English)
From the gray home
Maryon
(English)
Variant of Mary bitter often used as English surname.
Lilibet
(English)
Blend of Lily: (the flower: innocence: purity: beauty) and Elizabeth: (My God is bountiful:God of plenty.)
Aphra
(Hebrew)
Dust. Biblical place name.
Kaycee
(English)
Modern Kacie and variants are phonetic forms of the initials K.C. or variants of the Irish name Casey alert: vigorous.
Simson
(Hebrew)
Son of Simon
Norberte
(German)
Bright heroine
Jayar
(English)
Phonetic name based on initials.
Batya
(Hebrew)
Daughter of God
Athdara
(Irish)
From the ford at the oak tree