Cat Names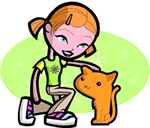 We offer 1,000's of cat names to help you choose the perfect one. Feel free to browse our unique cat names and when you find one you like you can add it to your favorites list to view later. If you have any cute cat names suggestions, please let us know. Enjoy!
Lexandra
(English)
Defender of mankind. Feminine of Alexander.
Ami
(French)
Dearly loved
Troye
(English)
Troy derives from the ancient Greek city of Troy: also from an Irish surname meaning soldier.
Duvessa
(Irish)
Dark beauty
Leona
(French)
Lion: lioness. Feminine of Leon.
Darcy
(French)
From Arcy Dark.
Breac
(Scottish)
Speckled
Jerardo
(Spanish)
Variant of Gerard Rules by the spear.
Thorp
(English)
From the village
Deeandra
(English)
Blend of Deanne: (divine) plus variants of Andrea: (masculine) and Sandra: (protector of man.)
Dinah
(Hebrew)
Avenged or Judged and vindicated. In the bible Dinah was Jacob's only daughter.
Michaelyn
(Hebrew)
Variant of Michal Who is like God?
Merrick
(English)
Strong ruler. Ruler of sea
Bethanna
(Arabic)
From the house of Gods grace.
Celyddon
(Celtic)
Mythical father of Culhwch
Atherton
(English)
Lives at the spring farm
Ardolph
(English)
Home loving wolf