Cat Names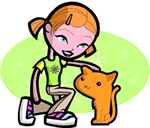 We offer 1,000's of cat names to help you choose the perfect one. Feel free to browse our unique cat names and when you find one you like you can add it to your favorites list to view later. If you have any cute cat names suggestions, please let us know. Enjoy!
Matilda
(German)
Strength for battle.
Tyeis
(French)
Son of a German
Frazer
(Scottish)
Variant of Fraser of the forest men.
Ephraim
(Hebrew)
Fruitful
Abigall
(Hebrew)
Fathers joy. Alternate Spellings: Abegale, Abgail, Abigale.
Gerardo
(Spanish)
Spanish form of Gerard spear courageous
Travon
(English)
Fair town. Abbreviation of Trevelyan.
Tyger
Alternative spelling of tiger
Bernetta
(French)
Feminine of Bernard. St. Bernadette was canonized in 1933.
Cipriano
(Spanish)
From Cyprus
Ulfred
(English)
Wolf of peace
Jumanah
(Arabic)
A silver pearl