Cat Names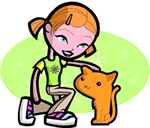 We offer 1,000's of cat names to help you choose the perfect one. Feel free to browse our unique cat names and when you find one you like you can add it to your favorites list to view later. If you have any cute cat names suggestions, please let us know. Enjoy!
Syd
(French)
Variant of Sidney from St. Denis
Deerward
(English)
Guardian of the deer
Balfour
(Scottish)
From the pastureland
Malmuira
(Scottish)
Dark skinned
Marybell
(English)
Derived from Mary Bitter. Mary was the biblical mother of Christ. Names like Dolores and Mercedes have been created to express aspects of Mary's life and worship.
Courtenay
(French)
Courtier: court attendant.
Isold
(German)
Rule of ice
Mick
(English)
Abbreviation of Michael and Micah Who is like God?
Christyn
(English)
Variant of Christian.
Elbertine
(English)
Noble or glorious
Barret
(German)
Mighty as a bear
Jennyfer
(Celtic)
White wave
Darneil
(English)
Hidden.
Whitney
From the white island
Chochmingwu
Corn mother (Hopi)
Aylmer
(English)
Infamous
Mercina
(English)
Compassion: forbearance.