Cat Names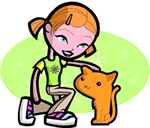 We offer 1,000's of cat names to help you choose the perfect one. Feel free to browse our unique cat names and when you find one you like you can add it to your favorites list to view later. If you have any cute cat names suggestions, please let us know. Enjoy!
Lambrett
(German)
Light of land
Crissie
(Scottish)
Abbreviation of Christine. Follower of Christ.
Alliss
(Spanish)
Of the nobility.
Jerad
(Hebrew)
Descending. A pre-flood Biblical name. The character Jared on the late Sixties TV western The Big Valley.
Corrianne
(Irish)
Variant of Cory meaning variously - From the round hill: seething pool: ravine
Gaby
(English)
Variant of Gabriela. God's able-bodied one.
Dariell
(French)
Variant of Darrel open.
Dadu
Brahman sage of Ahmedabad, rejected the Vedas and Qoran; thought of Siva, Vishnu and Brahma as deified men; denounced caste and priestcraft and taught worship of One God, the Creator Preserver of all.
Ciara
(Irish)
Saint or Dark. Feminine of Ciaran.
Weardleah
(English)
From the guardian's meadow
Remo
(English)
Abbreviation of Remington.
Darby
(English)
Without envy.
Bret
(French)
Brit. A native of England: (Britain) or France: (Brittany).
Yerik
(Hebrew)
Appointed by God
Gino
(Italian)
Born Noble.
Athena
(Greek)
Greek goddess of wisdom and war.