Cat Names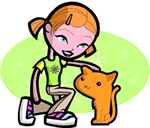 We offer 1,000's of cat names to help you choose the perfect one. Feel free to browse our unique cat names and when you find one you like you can add it to your favorites list to view later. If you have any cute cat names suggestions, please let us know. Enjoy!
Zach
(English)
Variant of Zachariah and Zachary.
Dedrick
(German)
People's ruler
Lachlan
(Scottish)
From the land of lakes.
Myrna
(Arabic)
Myrrh: sweet oil.
Matthew
(Hebrew)
Gift of Jehovah. In the bible Mathew was one of the 12 apostles. He wrote the first gospel account of the life of Jesus.
MacRae
(Scottish)
Son of grace
Charline
(French)
Feminine of Charles meaning manly
Stewart
(Scottish)
Steward. A medieval steward was charged with the care of castle and estate affairs. Surname.
Ciara
(Irish)
Saint or Dark. Feminine of Ciaran.
Dustyn
(English)
A fighter.
Celyddon
(Celtic)
Mythical father of Culhwch
Cetewind
(English)
From the cottage on the winding path
Durante
(English)
Firm: enduring.
Atteworthe
(English)
Lives at the farmstead