Cat Names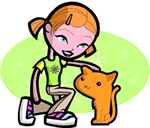 We offer 1,000's of cat names to help you choose the perfect one. Feel free to browse our unique cat names and when you find one you like you can add it to your favorites list to view later. If you have any cute cat names suggestions, please let us know. Enjoy!
Terence
(English)
Old form of the Roman clan name Terrance.
Husam al Din
(Arabic)
Sword of faith
Maleah
(Hawaiian)
Hawaiian for Mary/Maria: also means pretty little girl or unique young lady
Avis
(English)
Refuge in battle
Odelyn
Little wealthy one
Aretha
(Arabic)
Virtuous: excellent.
Kane
(Celtic)
Intelligent
Iratze
(Spanish)
Reference to the Virgin Mary
Gunther
(German)
Battler: warrior.
Toro
(Mexican), (Spanish)
Bull
Chick
(English)
a man: variant of Carl.
Amram
(Hebrew)
Rising nation
Drummond
(Scottish)
At the ridge
Lamorat
Brother of Percival