Cat Names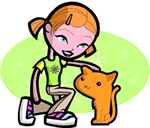 We offer 1,000's of cat names to help you choose the perfect one. Feel free to browse our unique cat names and when you find one you like you can add it to your favorites list to view later. If you have any cute cat names suggestions, please let us know. Enjoy!
Kaden
(German)
German surname which is derived from a place-name meaning fen (marshy land)
Kezia
(Hebrew)
Cassia: sweet-scented spice. Keziah was one of Job's three fair daughters in the bible.
Riston
(English)
From the brushwood farm
Barret
(German)
Mighty as a bear
Kylie
(Australian)
Boomerang. Feminine form of Kyle.
Garrin
(German)
Guards: guardian.
Sandy
(Scottish)
Abbreviation of Alexander defender of man.
MacDougal
(Scottish)
Son of Dougal
Celestiel
(French)
Heavenly.
Eliot
(Hebrew)
Jehovah is God
Irvette
(English)
Friend of the sea
Burne
(English)
From the brook
Johann
(German)
Variant of the Hebrew John Jehovah has been gracious: has shown favor.
Jeovana
(English)
Feminine of Giovanni: variant of Jovana.