Cat Names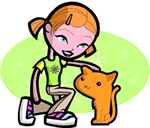 We offer 1,000's of cat names to help you choose the perfect one. Feel free to browse our unique cat names and when you find one you like you can add it to your favorites list to view later. If you have any cute cat names suggestions, please let us know. Enjoy!
Joanna
(Hebrew)
Gift from God
Arwen
(Celtic)
Variant of Arwenna. Muse.
Penarddun
(Celtic)
Mythical daughter of Beli
Lillian
(English)
Variant of Lillian derived from the flower name Lily. Symbol of innocence: purity: beauty.
Kalil
(Arabic)
Good friend
Derek
(German)
Gifted ruler. From Theodoric.
Henrietta
(French)
Keeper of the hearth. Rules her household. Feminine of Henry.
Alayne
(Irish)
Beautiful: Dear child.
Edmond
(English)
Prosperous protector.
Dudley
(English)
From the people's meadow
Shareef
(Arabic)
Variant of Sharif Illustrious.
Ayasha
Little one (Chippewa)
Melinda
(English)
Blend of Melissa and Linda.
Kerwin
(Irish)
Little dark one.
Macen
Protector, Guardian.
Seanan
(Irish)
Little old wise one