Cat Names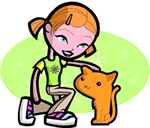 We offer 1,000's of cat names to help you choose the perfect one. Feel free to browse our unique cat names and when you find one you like you can add it to your favorites list to view later. If you have any cute cat names suggestions, please let us know. Enjoy!
Durante
(English)
Firm: enduring.
Fredda
(German)
Peaceful ruler. Feminine of Frederick.
Kagen
(Irish)
A thinker: fiery. Form of Hugh.
Mealcoluim
(Scottish)
Follower of Saint Columba
Debby
(Hebrew)
Bee. Deborah was the Biblical prophetess who summoned Barak to battle against an army of invaders. After the battle she wrote a victory song which is part of the Book of Judges.
Mace
(English)
A mace was a medieval weapon used by knights.
Janiece
(English)
Variant of Jane.
Fallon
(Irish)
In charge.
Elisa-Mae
A flower consecrated to God
Edwyn
(English)
Wealthy friend
Brandelyn
(English)
Variation of the beverage brandy used as a given name.
Aethelreda
(English)
Noble maiden
Cyrano
(French)
Cyrano de Bergerac was a seventeenth-century soldier and science-fiction writer.
Fifine
(French)
Nickname for Josephine
Aethelbeorn
(English)
Noble warrior
Roger
(English)
Renowned spearman. Rogelio: (Spanish) Renowned spearman.