Cat Names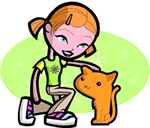 We offer 1,000's of cat names to help you choose the perfect one. Feel free to browse our unique cat names and when you find one you like you can add it to your favorites list to view later. If you have any cute cat names suggestions, please let us know. Enjoy!
Gavan
(Scottish)
White hawk. From the medieval name Gawain. See also Gwayne.
Alima
(Arabic)
Knows dance and music: sea maiden.
Connah
(Celtic)
Contented
Brooke
(English)
Lives by the stream
Caldre
(English)
Cold brook
Donel
(Scottish)
All ruler
Wharton
(English)
From the estate at the hollow
Apryl
(English)
The month April: symbolizes spring.
Delron
(French)
Of the King.
Lacene
(French)
Derived from Lacey which is a French Nobleman's surname brought to British Isles after Norman conquest.
Halifrid
(German)
Peaceful heroine
Rio
(Spanish)
River. Abbreviation of names ending with -rio.
Braedyn
(English)
Broad Hill