Cat Names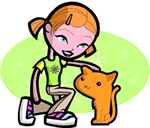 We offer 1,000's of cat names to help you choose the perfect one. Feel free to browse our unique cat names and when you find one you like you can add it to your favorites list to view later. If you have any cute cat names suggestions, please let us know. Enjoy!
Kendyl
(English)
Royal valley referring to Kent in England.
Maurice
(French)
Dark-skinned: A Moor.
Pommelraie
(French)
Lives near the apple orchard
Maeret
(English)
Little famous one
Patience
(French)
Enduring
Oletha
(English)
Light: nimble.
Carree
(English)
Abbreviation of Carol and Caroline from the masculine Charles meaning manly
LaKinzi
(English)
The special one: A gift from god.
Udell
(English)
From the yew tree valley
Caster
(English)
From the Roman camp
Matei
(Hebrew)
Gift from God.
Audie
(English)
Noble strength
Kirk
(Scottish)
From the church
Shareef
(Arabic)
Variant of Sharif Illustrious.
Emilee
Variant of Emily. Hard worker.
Ernestine
(German)
Serious: determined. Feminine of Emest