Cat Names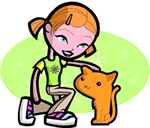 We offer 1,000's of cat names to help you choose the perfect one. Feel free to browse our unique cat names and when you find one you like you can add it to your favorites list to view later. If you have any cute cat names suggestions, please let us know. Enjoy!
Stoney
(English)
Nickname based on the word stone. Stone
Thompson
(English)
Derives from Thomas Twin.
Lazzaro
(Hebrew)
God will help
Hwitloc
(English)
From the white fortress
Egerton
(English)
From the town on the ridge
Alanza
(Spanish)
Ready for battle. Feminine of Alonzo.
Madelhari
(German)
War counselor
Charion
Unique and desirable.
Jarrad
(English)
Variant of the French name Gervaise spearman.
Bathilde
(German)
Heroine
Lilian
(English)
Variant of Lillian derived from the flower name Lily. Symbol of innocence: purity: beauty.
Gilleabart
(Scottish)
Pledge
Greyson
(English)
Gray-haired: son of the Gray family: son of Gregory.
Arndell
(English)
From the eagle's dell