Cat Names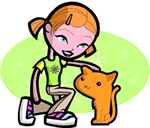 We offer 1,000's of cat names to help you choose the perfect one. Feel free to browse our unique cat names and when you find one you like you can add it to your favorites list to view later. If you have any cute cat names suggestions, please let us know. Enjoy!
Milani
(Hawaiian)
Gentle Caress
Patton
(English)
From the warrior's town
Edmundo
(Spanish)
Wealthy protector
Larry
(English)
Abbreviation of Lawrence or Laurence often used as an independent name.
Durward
(English)
Gatekeeper
Jaliyiah
Sweet and loving.
Colmcille
(Irish)
Dove of the church
Blythe
(English)
Blithe: lighthearted: cheerful
Jesus
(Spanish)
Named for Jesus
Irune
(Spanish)
Reference to the Holy Trinity
Eriq
(French)
Variant of Scandinavian Eric ever kingly. Actor Eriq La Salle.
Kathlynn
(Irish)
Variant of Caitlin derived from Katherine. Pure.
Waleis
(English)
From Wales
Gottfried
(German)
Peaceful god