Cat Names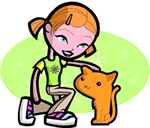 We offer 1,000's of cat names to help you choose the perfect one. Feel free to browse our unique cat names and when you find one you like you can add it to your favorites list to view later. If you have any cute cat names suggestions, please let us know. Enjoy!
Fenella
(Scottish)
Scottish form of Finola
Ocvran
Father of Guinevere
Fridwolf
(English)
Peaceful wolf
Jaryl
(English)
Blend of Jar and Darell. See also Jerrell.
Otoahhastis
Tall bull (Cheyenne)
Weorth
(English)
From the farm
Gustava
(Spanish)
Staff of the gods
Oscar
(English)
God's spear.
Tanton
(English)
From the quiet river farm
Willis
(German)
Resolute protector: will. Surname.
Alvyn
(English)
Wise friend.
Albert
(German)
Intelligent or noble
Justine
(English)
Just: upright. Feminine of Justin.
Rycroft
(English)
From the rye field