Cat Names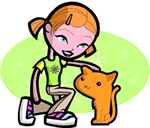 We offer 1,000's of cat names to help you choose the perfect one. Feel free to browse our unique cat names and when you find one you like you can add it to your favorites list to view later. If you have any cute cat names suggestions, please let us know. Enjoy!
Camryn
(Celtic)
Bent Nose
Arielle
(French)
Lion of God.
Roland
(English)
Renowned in the land. Roland was a legendary hero who served Charlemagne.
Deagan
Combination of Eagan and Dean.
Sean
(Irish)
Gift from God. Form of John from the French Jean.
Gertruda
(German)
From the protected farm
Ariane
(French)
Variant of Greek Mythological Ariadne who aided Theseus to escape from the Cretan labyrinth.
Dos
(Mexican), (Spanish)
Two
Govannon
God of the forge
Mitchell
(English)
Form of Michael Who is like God?
Kailynne
(English)
Variant of Kay and Kayla. keeper of the keys: pure.
Sheply
From the sheep meadow
Eberhardt
(German)
Strong as a boar
Blaine
(Scottish)
Surname of uncertain meaning.
Heaven-Leigh
One with life meaning holy and Heaven sent
Brisa
(Spanish)
From Briseis the woman Achilles loved in Homer's Iliad.