Cat Names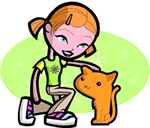 We offer 1,000's of cat names to help you choose the perfect one. Feel free to browse our unique cat names and when you find one you like you can add it to your favorites list to view later. If you have any cute cat names suggestions, please let us know. Enjoy!
Guiseppie
(Hebrew)
He shall add
Freman
(French)
Free man: a man freed from bound servitude to an overlord. Surname.
MacMurra
(Irish)
Son of Murray
Ernest
(English)
Serious: determined.
Jeralyn
(English)
Modern blend of Jerry and Marilyn.
Kim
(English)
From the royal fortress meadow
Tohy
(Hebrew)
Goodness of God
Govannon
God of the forge
Heahweard
(English)
Chief guardian
Irvine
(English)
Friend. See also Ervin.
Darleena
(English)
From the Old English dearling: darling.
Jerrah
(Hebrew)
Jehovah has seen. A Biblical name.
Jakome
(Hebrew)
Supplanter
Rorke
(Irish)
Famous ruler
Mackinzie
(English)
Ever Loving