Cat Names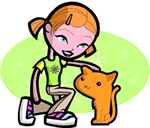 We offer 1,000's of cat names to help you choose the perfect one. Feel free to browse our unique cat names and when you find one you like you can add it to your favorites list to view later. If you have any cute cat names suggestions, please let us know. Enjoy!
Magnild
(German)
Strong battle maiden
Laquisha
(English)
Lakeisha and its variants are rhyming forms of Leticia. Joyful: happy.
Dawnika
(English)
The first appearance of daylight: daybreak.
Mayra
(Irish)
Variant of Maire a Gaelic form of Mary bitter.
Bernicia
(Spanish)
One who brings victory.
Tyeis
(French)
Son of a German
Gian
(Hebrew)
Gift from God
Gliona
(Irish)
From the Greek Cleone daughter of a river god
Oswell
(English)
Divinely powerful
Brayden
(English)
Broad hillside.
Montie
(English)
Mountain. Abbreviation of Montague and Montgomery.
Delton
(English)
From the town in the valley.
Laurelle
(English)
The laurel tree or sweet bay tree symbolic of honor and victory.
Conshita
(Spanish)
Reference to the Immaculate Conception
Charla
(English)
Feminine variant of Charles meaning manly
Nedra
(English)
Feminine of Ned.