Cat Names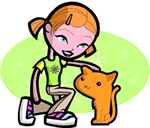 We offer 1,000's of cat names to help you choose the perfect one. Feel free to browse our unique cat names and when you find one you like you can add it to your favorites list to view later. If you have any cute cat names suggestions, please let us know. Enjoy!
Lacee
(French)
Derived from Lacey which is a French Nobleman's surname brought to British Isles after Norman conquest.
Brandie
(English)
Variation of the beverage brandy used as a given name.
Reynald
(German)
Counselor-ruler.
Amarissa
(Hebrew)
Given by God
Alastrina
(Celtic)
Defends mankind
Evonna
(French)
Variant of Yvonne from Yves. Archer.
Nuttah
My heart (Algonquin)
Lothair
(German)
Famous in battle
Sanbourne
(English)
From the sandy brook
Nella
(English)
Abbreviation of Eleanor shining light.
Elwell
(English)
From the old spring
Brittni
(English)
Originally the ancient duchy of Bretagne in France. Celtic Bretons emigrated from France to become the Bretons of England.