Cat Names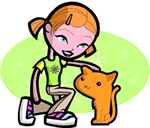 We offer 1,000's of cat names to help you choose the perfect one. Feel free to browse our unique cat names and when you find one you like you can add it to your favorites list to view later. If you have any cute cat names suggestions, please let us know. Enjoy!
Eisa
(Arabic)
Arabic form of Jesus
Gurion
(Hebrew)
My lion cub
Stanwick
(English)
From the stony village
Orford
(English)
From the cattle ford
Burney
(English)
Lives on the brook island
Toriana
(English)
Derived from Victoria triumphant.
Sagar
(English)
Wise one. Surname.
Juana
(Hebrew)
Gift from God
Aisley
(English)
Lives in the ash tree grove
Kaycee
(English)
Modern Kacie and variants are phonetic forms of the initials K.C. or variants of the Irish name Casey alert: vigorous.
Fanny
(English)
Pet name meaning free: variant of Frances.
Gard
(English)
Keeper of the garden. Surname.
Oswell
(English)
Divinely powerful
Jerel
(English)
Strong: open-minded. Blend of Jerold and Darell.
Meinrad
(German)
Strong advisor
Tobey
(English)
Abbreviation of the Hebrew name Tobiah meaning Jah is good.