Cat Names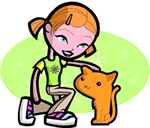 We offer 1,000's of cat names to help you choose the perfect one. Feel free to browse our unique cat names and when you find one you like you can add it to your favorites list to view later. If you have any cute cat names suggestions, please let us know. Enjoy!
Sanders
(English)
Alexander's son
Loralei
(German)
Variant of Lorelei meaning she whose singing lures men to destruction.
Galt
(English)
From the high ground
Hrothberta
(English)
Bright or famous
Rodric
(Scottish)
Famous ruler.
Volker
(German)
People's guard
Lisavet
(Hebrew)
Devoted to God
Monty
(English)
Mountain. Abbreviation of Montague and Montgomery.
Jarrad
(English)
Variant of the French name Gervaise spearman.
Winwood
(English)
From Wine's forest
Garrson
(English)
Son of Gar
Yalissa
(Hebrew)
A beautifull flower.
Herne
(Celtic)
Mythical hunter god
Gobinet
(Irish)
Irish form of Abigail bringsjoy
Gryfflet
Killed by Lancelot