Cat Names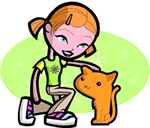 We offer 1,000's of cat names to help you choose the perfect one. Feel free to browse our unique cat names and when you find one you like you can add it to your favorites list to view later. If you have any cute cat names suggestions, please let us know. Enjoy!
Rosana
(Hebrew)
Graceful rose
Johnson
(English)
Variant of the Hebrew John Jehovah has been gracious: has shown favor.
Channon
(Irish)
young wolf.
Sharlene
(English)
Feminine variant of Charles meaning manly
Brighton
(English)
Covered bridge.
Dorrin
(Irish)
Variant of Dorran stranger.
Reign
Dominance or widespread influence
Lazzaro
(Hebrew)
God will help
Irvine
(English)
Friend. See also Ervin.
Gino
(Italian)
Born Noble.
Javier
(Spanish)
Bright. Variant of Xavier.
Roddy
(English)
Variant of Roderick famous ruler.
Warfield
(English)
From the field by the weir
Andreu
Alternate Spelling: Andrew.
Ionnes
(Hebrew)
Gift from God