Cat Names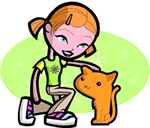 We offer 1,000's of cat names to help you choose the perfect one. Feel free to browse our unique cat names and when you find one you like you can add it to your favorites list to view later. If you have any cute cat names suggestions, please let us know. Enjoy!
Danah
(English)
From Denmark. Also a variant of Daniel.
Chandler
(English)
Candlemaker.
Caindale
(English)
From the clear river valley
Wynthrop
(English)
From Wine's estate
Clareta
(Spanish)
Brilliant
Oliveria
(Spanish)
Affectionate
Ladde
(English)
Attendant
Dalenna
(English)
Small valley. Abbreviation of Madeline.
Jacquelyn
(French)
Feminine of Jacques derived from James and Jacob.
Marvella
(French)
Miracle
Shawnette
Beautiful intellgent flower.
Derwyn
(English)
Friend of the deer