Cat Names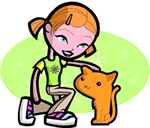 We offer 1,000's of cat names to help you choose the perfect one. Feel free to browse our unique cat names and when you find one you like you can add it to your favorites list to view later. If you have any cute cat names suggestions, please let us know. Enjoy!
Kenrick
(Scottish)
Royal chieftain. Surname.
Muhammed
(Arabic)
Variant used for Mohammad - founder of Islamic religion. praiseworthy: glorified.
Darek
(German)
Gifted ruler. From Theodoric.
Nanine
(French)
Favor: grace. Variant of Anne.
Rosalinde
(Spanish)
Beautiful
Yaelis
(Spanish)
Combination of Joel and Yoseline. Meaning: strength of God: happy, joyful, celestial.
Vedika
(Arabic)
Consciousness, Altar: a river in India.
Kassia
(English)
Variant of Katherine. Pure.
Nessan
(Irish)
Name of a saint
Ellice
(Hebrew)
Jehovah is God
Wikvaya
One who brings (Hopi)
Earie
(Scottish)
From the east
Hoireabard
(Irish)
Soldier
Oliphant
(Scottish)
Great strength
Sasha
Helper and defender or protector of mankind.