Cat Names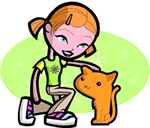 We offer 1,000's of cat names to help you choose the perfect one. Feel free to browse our unique cat names and when you find one you like you can add it to your favorites list to view later. If you have any cute cat names suggestions, please let us know. Enjoy!
Roswell
(German)
Horse mighty
Emiko
(Japanese)
Smiling blessed beautiful child.
Heloise
(French)
French form of Louise
Kirk
(Scottish)
From the church
Jenralyn
(English)
Modern blend of Jerry and Marilyn.
Caellum
(Celtic)
Brave Warrior
Heahweard
(English)
Chief guardian
Avah
(English)
Variant of medieval given names Avis and Aveline
Morrie
(English)
Dark-skinned: A Moor. Form of Maurice.
Jaira
(Hebrew)
Feminine of Jairus.
Robert
(Scottish)
Famed: bright: shining. 14th-century King Robert the Bruce. Robert Burns the poet.
Luduvico
(German)
Famous fighter
Harris
(English)
Son of Harry