Cat Names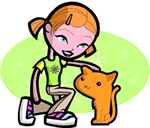 We offer 1,000's of cat names to help you choose the perfect one. Feel free to browse our unique cat names and when you find one you like you can add it to your favorites list to view later. If you have any cute cat names suggestions, please let us know. Enjoy!
Azrael
(Hebrew)
God is my help.
Letitia
(English)
Modern form of medieval name Letitia. Joyful:happy.
Jerzie
(English)
Variant of Jersey.
Skelton
(English)
From the estate on the ledge
Roddy
(English)
Variant of Roderick famous ruler.
Graeme
(English)
Farm home.
Saul
(Hebrew)
Asked: inquired of God. The Hebrew name of the Apostle Paul.
Fatin
(Arabic)
Intelligent
Placida
(Spanish)
Tranquil
Jennifer
(English)
Fair one. Variant of Guinevere. In Arthurian Mythology Guinevere was Arthur's queen.
Austin
(French)
Variant of Augustine.
Leyla
(Arabic)
Born at night.
Sheila
(Irish)
Irish form of Cecilia blind
Andrian
(English)
Manly: brave. Modern variant of Andrew.