Cat Names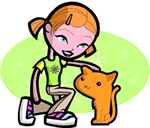 We offer 1,000's of cat names to help you choose the perfect one. Feel free to browse our unique cat names and when you find one you like you can add it to your favorites list to view later. If you have any cute cat names suggestions, please let us know. Enjoy!
Brettany
(English)
Brit. A native of England: (Britain) or France: (Brittany).
Eldrian
(English)
Old/wise ruler.
Connor
(Irish)
Strong willed or wise Hound-lover.
Garred
(English)
Variant of Garret from Gerald rules by the spear.
Beaton
(English)
From the warrior's estate
Novalee
Chases butterflies. Combination of Nova and Lee.
Britomart
Irish warrior from Edmond spencer's poem "The Fairy Queen"
Fontaine
(French)
Fountain: water source.
Fifi
(French)
Nickname for Josephine
Frankie
(English)
Diminutive of Frank Free: a free man. Frankie is occasionally used for girls.
Ciara
(Irish)
Saint or Dark. Feminine of Ciaran.
Jerod
(English)
Variant of Garrett rules by the spear.
Cahal
(Celtic)
Strong in battle
Tate
(Irish)
Pleasant and bright. Measure of land. Surname.
Ed
(English)
Abbreviation of names beginning with Ed- like Edward and Edmond.
Alsoomse
Independent (Algonquin)
Dalziel
(Scottish)
From the little field
Elfrieda
(English)
Good counselor