Cat Names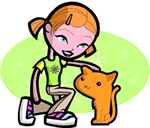 We offer 1,000's of cat names to help you choose the perfect one. Feel free to browse our unique cat names and when you find one you like you can add it to your favorites list to view later. If you have any cute cat names suggestions, please let us know. Enjoy!
Alsandair
(Irish)
Defender of man
Wincel
(English)
From the bend in the road
Joleigh
(French)
Cheerful: pretty.
Hephzibah
(Hebrew)
She is my delight
Gibson
(English)
Gilbert's Son
Clarissant
Sister of Gawain
Jana
(Irish)
Feminine form of John God is gracious
Chaviv
(Hebrew)
Dearly loved
Torean
(Irish)
Variant of Torrence From the craggy hills. Tor is a name for a craggy hilltop and also may refer to a watchtower.
Kapricia
(English)
Caprice.
Arlo
(English)
Fortified hill
Marley
(English)
Marshy meadow. Also Variant of Marlene Woman from Magdala.
Gordon
(English)
From the three cornered hill or From the marshes. One of Scotland's great clans. Surname.
Kianna
(Irish)
Variant of Kian. Ancient.