Cat Names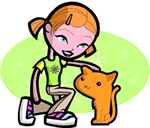 We offer 1,000's of cat names to help you choose the perfect one. Feel free to browse our unique cat names and when you find one you like you can add it to your favorites list to view later. If you have any cute cat names suggestions, please let us know. Enjoy!
Aalijah
(Hebrew)
The lord is god. Variant of Elijah.
Kenrick
(Scottish)
Royal chieftain. Surname.
Coletta
(French)
Victorious. Variant of Nicolette.
Tessa
(English)
Abbreviation of Teresa which is a popular saint's name of uncertain meaning.
Calvex
(English)
Shepherd
Sigfrieda
(German)
Victorious
Big Bertha
Comic book character. Large gun.
Janaye
(English)
Modern name based on Jane or Jean: Based on Janai meaning God has answered.
Franky
(English)
Diminutive of Frank Free: a free man. Frankie is occasionally used for girls.
Conley
(Irish)
Ardent or wise
Fay
(French)
Fairy Variant of Faith. Confidence: trust: belief.
Carew
(Celtic)
From the fortress
Rolando
(English)
Renowned in the land. Roland was a legendary hero who served Charlemagne.
Veniamin
(Hebrew)
Son of the right hand
Codi
(English)
Cushion. Helpful.