Cat Names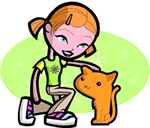 We offer 1,000's of cat names to help you choose the perfect one. Feel free to browse our unique cat names and when you find one you like you can add it to your favorites list to view later. If you have any cute cat names suggestions, please let us know. Enjoy!
Cassi
(English)
Abbreviation of Cassandra. Unheeded prophetess. In Homer's The Iliad Cassandra's prediction of the fall of Troy was unheeded.
Amadeo
(Spanish)
Loves God
Jordon
(French)
Variant of Hebrew Jordan down flowing.
Marhilda
(German)
Famous battle maiden
Davite
(Hebrew)
Cherished
Adkins
(English)
Son of Aiken
Tupper
(English)
Ram herder
Morgan
(Irish)
Fighter of the sea
Elberta
(English)
Noble or glorious
Corrissa
(English)
Maiden.
Bertina
(German)
Intelligent
Kaity
Variant of Cathrine.
Chan
(Spanish)
Nickname for John.
Keiji
(Japanese)
Cautious ruler.
Setanta
(Celtic)
Mythical son of Sualtam
Ronan
(Irish)
Little seal
Perro
(Mexican), (Spanish)
Dog