Cat Names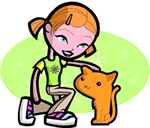 We offer 1,000's of cat names to help you choose the perfect one. Feel free to browse our unique cat names and when you find one you like you can add it to your favorites list to view later. If you have any cute cat names suggestions, please let us know. Enjoy!
Pat
(English)
Patrician: noble. Abbreviation of Patrick.
Briza
(Spanish)
From Briseis the woman Achilles loved in Homer's Iliad.
Ernestine
(German)
Serious: determined. Feminine of Emest
Averill
(English)
Wild boar
Pachua
Feathered water snake (Hopi)
Bryana
(Celtic)
She ascends. Feminine of Brian.
Oldwyn
(English)
Special friend
Akeila
(Russian)
From the Arabic name Akilah meaning Wise: Bright: smart.
Eadmund
(English)
Happy defender
Carley
(English)
A free person. A feminine form of Charles, Also see Carla, Carol and Caroline.
Claudette
(German)
Feminine of Claude.
Gearoid
(Irish)
Spearbrave
Malmuira
(Scottish)
Dark skinned
Enerstyne
(English)
Serious
Nadine
(French)
From Nada Variant of Nadia.
Jax
(Spanish)
Masculine form of the Greek name Hyacinth alas.
Laciann
(English)
Derived from Lacey which is a French Nobleman's surname brought to British Isles after Norman conquest.
Kailynne
(English)
Variant of Kay and Kayla. keeper of the keys: pure.
Lisabeth
(English)
Abbreviation of Elizabeth.
Colmcille
(Irish)
Dove of the church
Kestrel
(French)
Little hawk.