Cat Names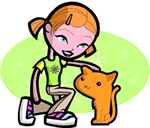 We offer 1,000's of cat names to help you choose the perfect one. Feel free to browse our unique cat names and when you find one you like you can add it to your favorites list to view later. If you have any cute cat names suggestions, please let us know. Enjoy!
Perkinson
(English)
Son of Perkin
Gann
(English)
Spear protector
Trista
(English)
Feminine of Tristan noisy:full of sorrows and/or a rhyming variant of Christa.
Amott
(German)
Power of an eagle
Baron
(French)
A title of nobility used as a given name.
Athelward
(English)
Noble protector
Beaton
(English)
From the warrior's estate
Caoimhghin
(Celtic)
Gentle
Stewart
(Scottish)
Steward. A medieval steward was charged with the care of castle and estate affairs. Surname.
Candy
(English)
Sweet stuff
Duvessa
(Irish)
Dark beauty
Shipley
(English)
From the sheep meadow
Bemelle
(German)
Variant of Bernard - strong as a bear.
Janey
(English)
Jehovah has been gracious: has shown favor. Variant of Joan.