Cat Names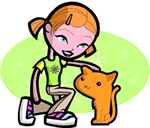 We offer 1,000's of cat names to help you choose the perfect one. Feel free to browse our unique cat names and when you find one you like you can add it to your favorites list to view later. If you have any cute cat names suggestions, please let us know. Enjoy!
Derrek
(English)
Gifted ruler. From Theodoric.
Brochan
(Scottish)
Broken
Colby
(English)
From the black farm
Aballach
Father of Modron
Norice
(French)
Caretaker
Iva
(French)
From the yew tree
Gilmer
(Scottish)
Sword bearer.
Jenneva
(English)
Phonetic variant of Genevieve.
Kelula
(Hebrew)
Victorious
Gard
(English)
Keeper of the garden. Surname.
Loring
(German)
Famous in battle
Wahchintonka
Has much Practice (Sioux)