Cat Names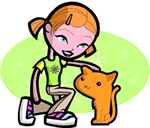 We offer 1,000's of cat names to help you choose the perfect one. Feel free to browse our unique cat names and when you find one you like you can add it to your favorites list to view later. If you have any cute cat names suggestions, please let us know. Enjoy!
Shannen
(Irish)
Longest river in Ireland. Alternate Spelling: Shannon.
Elisa-Mae
A flower consecrated to God
Jae
(English)
Variant of names like Jason and Jacob.
Donnel
(Scottish)
Variant of Donald great chief.
Lennard
(French)
Lion-bold.
Maitane
(English)
Dearly loved
Brandyce
(English)
Variation of the beverage brandy used as a given name.
Daganya
(Hebrew)
Ceremonial grain
Ailein
(Scottish)
From the green meadow
Colys
(English)
Son of the dark man
Blair
(Scottish)
Field of battle.
Kesegowaase
Swift (Algonquin)
Bridger
(English)
Lives at tbe bridge