Cat Names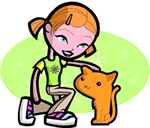 We offer 1,000's of cat names to help you choose the perfect one. Feel free to browse our unique cat names and when you find one you like you can add it to your favorites list to view later. If you have any cute cat names suggestions, please let us know. Enjoy!
Frewen
(English)
Noble friend
Osmond
(English)
Divine protector
Jacolin
(Irish)
One who glides with beauty
Eevee
(English)
A girl who born in chrismas eve
Cadha
(Scottish)
From the steep place
Gubnat
(Irish)
Irish form of Abigail bringsjoy
Kally
(English)
Modern variant of Callie.
Desiderio
(Spanish)
Desired
Gerwalt
(German)
Mighty with a spear
Mynogan
(Celtic)
Mythical father of Beli
Binga
(German)
From the kettle shaped hollow
Cohen
(German)
Allternate Spellings: Coen or Koen.Brave.
More
(French)
Dark skinned
Zehira
(Hebrew)
Protected
Dougal
(Celtic)
Dark stranger
Bartoli
(Spanish)
Ploughman
Oakley
(English)
From the oak - tree meadow