Cat Names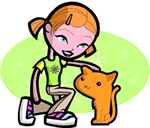 We offer 1,000's of cat names to help you choose the perfect one. Feel free to browse our unique cat names and when you find one you like you can add it to your favorites list to view later. If you have any cute cat names suggestions, please let us know. Enjoy!
Macen
Protector, Guardian.
Maile
(Hawaiian)
A vine that grows in Hawaii that is used in making leis.
Laria
(Scottish)
Serves Lawrence
Logestilla
(French)
Legend
Eathellreda
(English)
Noble maiden
Micheal
(Scottish)
Form of Michael Who is like God?
Yoana
(Spanish)
God's gift
Camelon
Site of Arthur's last battle
Quincey
(French)
From the place owned by the fifth son Fifth: derived from Roman clan name.
Von
(German)
The prefex Von is equivalent of Van in Dutch names and of de in French names.
Jolie
(French)
Cheerful: pretty.
Ciara
(Irish)
Saint or Dark. Feminine of Ciaran.
SutcIyf
(English)
From the south cliff
Penn
(English)
From the enclosure
Erma
(German)
Complete. War goddess
Josetta
(Hebrew)
God will add
Graine
Taken from Igraine