Cat Names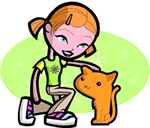 We offer 1,000's of cat names to help you choose the perfect one. Feel free to browse our unique cat names and when you find one you like you can add it to your favorites list to view later. If you have any cute cat names suggestions, please let us know. Enjoy!
Bettine
(Hebrew)
Devoted to God
Gian
(Hebrew)
Gift from God
Faqueza
(Spanish)
Weakness
Ricadene
(English)
Lives in the ruler
Nitzanah
(Hebrew)
Blossom
Dewey
(English)
Place-name and surname: Welsh form of David.
Holdyn
(English)
From tbe hollow in the valley
Edelina
(English)
Spoils of war.
Edlin
(German)
Abbreviation of names beginning with Ed-
Faye
(English)
Variant of Faith. Confidence: trust: belief.
Huldiberaht
(German)
Graceful
Mallory
(German)
Army counselor