Cat Names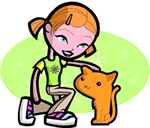 We offer 1,000's of cat names to help you choose the perfect one. Feel free to browse our unique cat names and when you find one you like you can add it to your favorites list to view later. If you have any cute cat names suggestions, please let us know. Enjoy!
Renfield
(English)
From the raven's field
Galenka
(Hebrew)
God shall redeem
Emmanuelle
(Hebrew)
Faith
Templeton
(English)
Temple-town. This surname refers to medieval priories and settlements of the military religious order Knights-Templars.
Connell
(Celtic)
Strong in battle
Maleah
(Hawaiian)
Hawaiian for Mary/Maria: also means pretty little girl or unique young lady
Novalee
Chases butterflies. Combination of Nova and Lee.
Sanbourne
(English)
From the sandy brook
Dolores
(Spanish)
Sorrows. A reference to the Virgin Mary as Mary of the sorrows.
Dominique
(French)
Of the Lord. Variant of Dominic.
Marcia
Variant of Mark. Mars, Greek God.
Davynn
(English)
Beloved. Feminine of David.
Darroll
(French)
Variant of Darrel open.
Corrie
(Irish)
Variant of Cory meaning variously - From the round hill: seething pool: ravine