Cat Names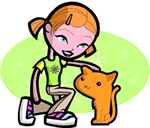 We offer 1,000's of cat names to help you choose the perfect one. Feel free to browse our unique cat names and when you find one you like you can add it to your favorites list to view later. If you have any cute cat names suggestions, please let us know. Enjoy!
Guendolen
(English)
White
Brian
(Celtic)
In use in England since the Middle Ages. Possibly connected with the Irish word for Hill, thus He ascends. Also some texts define it as Strong. 10th century Brian Boru was a high king and great national hero of Ireland.
Hagley
(English)
From the hedged enclosure
Pippin
(French)
Name of a king
Colys
(English)
Son of the dark man
Chance
(English)
Chancellor
Koen
(German)
Honest advisor
Pearson
(English)
Son of Pierce
Graeme
(English)
Farm home.
Aylmer
(English)
Infamous
Neliah
(African)
Storng willed and a vigrous spirit with a leveled mind.
Teagan
(English)
Good-looking.
Jehane
(French)
Feminine form of Jean