Cat Names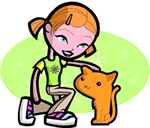 We offer 1,000's of cat names to help you choose the perfect one. Feel free to browse our unique cat names and when you find one you like you can add it to your favorites list to view later. If you have any cute cat names suggestions, please let us know. Enjoy!
Jeran
(English)
Modern variant of Israeli Jaron cry of rejoicing.
Bannan
(German)
Commander
Esmond
(English)
Protected by God
Tarek
(Arabic)
Morning star. Variant of Tariq
Oscar
(English)
God's spear.
Taicligh
(Irish)
Peaceful
Loraina
(French)
Derived from Lorraine which is the name of a province in France and a family name of French royalty.
Duane
(Irish)
Dark. Many Irish and Scottish names have the meaning dark or black.
Magdalen
(Hebrew)
From the tower
Brigidia
(Spanish)
Spanish form of Bridget strong
Tawnya
(Irish)
A green field: the warm sandy color of a lion's coat.
Vittoria
(Spanish)
Victor
Bonny
(Scottish)
From the French bon meaning good. In Scottish usage bonnie means pretty: charming: beautiful.
Hanford
(English)
From the high ford
Campbell
(Scottish)
Crooked mouth
Morrissey
(Irish)
Choice of the sea
Edlin
(German)
Abbreviation of names beginning with Ed-