Cat Names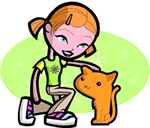 We offer 1,000's of cat names to help you choose the perfect one. Feel free to browse our unique cat names and when you find one you like you can add it to your favorites list to view later. If you have any cute cat names suggestions, please let us know. Enjoy!
Nainsi
(Irish)
Irish form of Nancy graceful
Mariela
Beloved and illuminated.
Lenard
(German)
Lion-bold.
Kinsella
(Irish)
Surname.
Gwendolen
(Celtic)
Of the white brow
Harmen
(French)
Variant of Herman.
Breac
(Scottish)
Speckled
Karmen
(Spanish)
Variant of Carmel - Fruitful orchard as Mount Carmel in Palestine.
Crissie
(Scottish)
Abbreviation of Christine. Follower of Christ.
Janiece
(English)
Variant of Jane.
Garnet
(English)
A dark-red gemstone named for the pomegranate because of its color.
Jemal
(Arabic)
Handsome. Variant of Jamal. JERALD: (English) Variant and surname form of Gerald Rules by the spear.
Mace
(English)
A mace was a medieval weapon used by knights.
Darby
(English)
Without envy.
Odiana
(German)
Elfin spear
Calysta
(Greek)
Most beautiful. Alternate Spelling: Calista.