Cat Names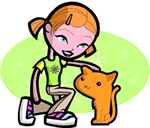 We offer 1,000's of cat names to help you choose the perfect one. Feel free to browse our unique cat names and when you find one you like you can add it to your favorites list to view later. If you have any cute cat names suggestions, please let us know. Enjoy!
Meoquanee
Wears red (Chippewa)
Takara
(Japanese)
Precious stones or treasure.
Legarre
(Spanish)
Reference to the Virgin Mary
Karma
what goes around comes around
Ulfred
(English)
Wolf of peace
Skyler
(English)
Phonetic spelling of Schuyler.
Jaimi
(Scottish)
Pet form of James used as a woman's name.
Will
(English)
Diminutive of William Resolute protector: will.
Josiah
(Hebrew)
Jehovah has healed. Biblical Josiah became king of Judah at eight after his father was assassinated. He ruled 31 years.
Jabba The Hut
Large creature from Star Wars
Nycole
(French)
Same as Nicole or Nichole
Brunelle
(French)
Dark haired
MacNeill
(Scottish)
Son of the champion
Usbeorn
(English)
Divine warrior
Hollie
(English)
The holly tree. Common name given Christmas girl babies.
Anakausuen
Worker (Algonquin)