Cat Names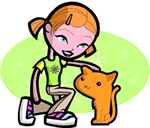 We offer 1,000's of cat names to help you choose the perfect one. Feel free to browse our unique cat names and when you find one you like you can add it to your favorites list to view later. If you have any cute cat names suggestions, please let us know. Enjoy!
Kayleigh
(Scottish)
Warrior
Troye
(English)
Troy derives from the ancient Greek city of Troy: also from an Irish surname meaning soldier.
Avidor
(Hebrew)
Father of a multitude
Victorio
(Spanish)
Conqueror.
Elvina
Friend of the elves
Fitzhugh
(English)
Son of Hugh
Coburn
(Scottish)
Surname and place name.
Mercia
(English)
From Mercia: Compassion: forbearance.
Rand
Wolf shield. Variant of Randolph
Caindale
(English)
From the clear river valley
Blimp
A large floating airship.
Jorge
(Spanish)
Spanish form of George farmer
Byrdene
(English)
Contemporary name meaning Little bird.
Kaeli
(English)
Variant of Kay and Kayla keeper of the keys: pure.
Karmen
(Spanish)
Variant of Carmel - Fruitful orchard as Mount Carmel in Palestine.