Cat Names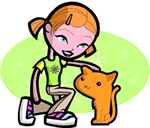 We offer 1,000's of cat names to help you choose the perfect one. Feel free to browse our unique cat names and when you find one you like you can add it to your favorites list to view later. If you have any cute cat names suggestions, please let us know. Enjoy!
Wymer
(English)
Famous in battle
Tannere
(English)
Leather maker
Alyson
(French)
Variation of Alice.
Hellekin
French lover of Morgan le Fay
Tabor
(Hebrew)
In the bible Mt. Tabor is a landmark mountain near Nazareth.
Nicolette
(French)
People's victory
Trevonn
(English)
Fair town. Abbreviation of Trevelyan.
Lisha
(English)
Derived from Alicia: (sweet: honest: truth) and Felecia: (happy)
Shelley
From the ledge meadow
Ordwald
(English)
Spear strength
Coraline
(English)
From the semi-precious sea growth coral
Reynald
(German)
Counselor-ruler.
Ernest
(English)
Serious: determined.