Cat Names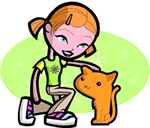 We offer 1,000's of cat names to help you choose the perfect one. Feel free to browse our unique cat names and when you find one you like you can add it to your favorites list to view later. If you have any cute cat names suggestions, please let us know. Enjoy!
Erendira
(Spanish)
Name of a princess
Govannon
God of the forge
Andrea
(Spanish)
Feminine form of Andrew manly
Lawford
(English)
From the ford at the hill
Corbin
(English)
Raven-haired.
John-paul
(French)
Variant of the Hebrew John Jehovah has been gracious: has shown favor.
Matthias
(Hebrew)
Gift from God
Annabel
(Scottish)
Beautiful grace
Lionell
(French)
Young lion.
Audreana
(English)
Nobility: strength.
Laurena
(English)
The laurel tree or sweet bay tree symbolic of honor and victory. Old name with many variants.
Thompson
(English)
Derives from Thomas Twin.
Josina
(English)
Diminutive form of Josephine.
Laine
(English)
From the long meadow
Ertha
(German)
The earth.
Japheth
(Hebrew)
May He grant ample room. In the bible Japheth was eldest of Noah's three sons.
Chaunce
(French)
fortune: a gamble. Variant of Chauncey.
Jilly
(English)
Abbreviation of Jillian or Gillian. Jove's child.