Cat Names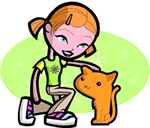 We offer 1,000's of cat names to help you choose the perfect one. Feel free to browse our unique cat names and when you find one you like you can add it to your favorites list to view later. If you have any cute cat names suggestions, please let us know. Enjoy!
Sooleawa
Silver (Algonquin)
Bourne
(English)
From the brook
Sheply
From the sheep meadow
Derrik
(English)
Gifted ruler. From Theodoric.
Udell
(English)
From the yew tree valley
Luc
(French)
Light: illumination. Form of Luke.
Alva
(German)
Army of elves
Lorelei
(German)
Temptress: A rocky cliff on the Rhine river dangerous to boat passage: the Lorelei whose singing lures men to destruction.
Cassie
(English)
Abbreviation of Cassandra. Unheeded prophetess. In Homer's The Iliad Cassandra's prediction of the fall of Troy was unheeded.
SutcIyf
(English)
From the south cliff
Sallsbury
(English)
From the fortified keep
Brisa
(Spanish)
From Briseis the woman Achilles loved in Homer's Iliad.
Francille
(French)
Variant of Frances meaning From France or free one.
Guiseppie
(Hebrew)
He shall add
Faye
(English)
Variant of Faith. Confidence: trust: belief.