Cat Names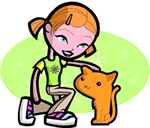 We offer 1,000's of cat names to help you choose the perfect one. Feel free to browse our unique cat names and when you find one you like you can add it to your favorites list to view later. If you have any cute cat names suggestions, please let us know. Enjoy!
Jaimi
(Scottish)
Pet form of James used as a woman's name.
Marcos
(Spanish)
Of Mars. The Roman fertility god Mars for whom March was named.
Carney
(Irish)
Victorious
Brigidia
(Spanish)
Spanish form of Bridget strong
Blaecleah
(English)
From the dark meadow
Keturah
(Hebrew)
Sacrifice. Abraham's second wife in the bible.
Sheelah
(Irish)
Irish form of Cecilia blind
Maurice
(French)
Dark-skinned: A Moor.
Bancroft
(English)
From the bean field
Gryfflet
Killed by Lancelot
Walmond
(German)
Mighty protector
Bemadette
(German)
Has the courage of a bear
Grayson
(English)
Son of the reeve or Gray-haired: son of the Gray family: son of Gregory.
Marybell
(English)
Derived from Mary Bitter. Mary was the biblical mother of Christ. Names like Dolores and Mercedes have been created to express aspects of Mary's life and worship.
Burgess
(English)
Lives in town
Ashley
Dwells at the ash tree meadow
Tony
(English)
highly praiseworthy. Abbreviation of Anthony and its variants used since medieval times as an independent name.
Pendragon
From the dragon's enclosed land
Talora
(Hebrew)
Morning's dew
Mona
Gathered of the seed of a jimson weed
Citlalic
Raising Star, the first female Aztec warrior, is in Nahuatl the language of the Aztecs.