Cat Names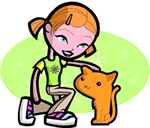 We offer 1,000's of cat names to help you choose the perfect one. Feel free to browse our unique cat names and when you find one you like you can add it to your favorites list to view later. If you have any cute cat names suggestions, please let us know. Enjoy!
Maida
(English)
Maiden: virgin.
Faris
(English)
Iron strong.
Viviane
The Lady of the Lake
Charmayne
(French)
One of Cleopatra's attendants in Shakespeare's Antony and Cleopatra was named Charmian.
Ansel
(German)
God's protection.
Ionnes
(Hebrew)
Gift from God
Amery
(Irish)
Ridge: long hill
Porter
(French)
Gatekeeper
Rayne
(English)
Strong counselor. From the ancient personal name Ragnar.
Barrie
(French)
Lives at the barrier
Leianna
(English)
Derived from an Irish Gaelic of Helen: (light:beautiful woman): variant of Liana: (youthful:bond).