Cat Names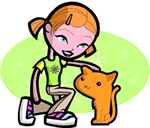 We offer 1,000's of cat names to help you choose the perfect one. Feel free to browse our unique cat names and when you find one you like you can add it to your favorites list to view later. If you have any cute cat names suggestions, please let us know. Enjoy!
Zarah
(Hebrew)
Day's awakening
Hazell
(English)
The hazel tree:nut.
Geela
(Hebrew)
Eternal joy
Marliss
(English)
Variant of Marlene Woman from Magdala.
Lir
(Celtic)
A mythical king
Makenna
(African)
Happiness
Tyronne
(Irish)
From Owen's territory. County Tyrone in Ireland. The late actor Tyrone Power.
Arden
(Celtic)
Lofty: eager.
Khya
(Australian)
Baby girl. Variant of Kia, Khia.
Niallan
(Celtic)
Champion
Roger
(English)
Renowned spearman. Rogelio: (Spanish) Renowned spearman.
Thurl
(Irish)
Strong fort.
Deana
(English)
From the valley. Variant of Diana meaning divine.
Hester
(English)
Variant of Esther.
Dedrick
(German)
People's ruler
Huldiberaht
(German)
Graceful
Chancellor
(English)
Chancellor