Cat Names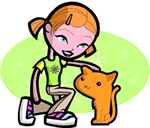 We offer 1,000's of cat names to help you choose the perfect one. Feel free to browse our unique cat names and when you find one you like you can add it to your favorites list to view later. If you have any cute cat names suggestions, please let us know. Enjoy!
Debrah
(Hebrew)
Bee. Deborah was the Biblical prophetess who summoned Barak to battle against an army of invaders. After the battle she wrote a victory song which is part of the Book of Judges.
Jeffrey
(English)
Peaceful. Variant of Geoffrey. The three-syllable spelling alternate Jeffery has been used since medieval times. See also Geoffrey.
Hannah
(Hebrew)
Favor: grace. Biblical mother of the prophet Samuel.
Kelby
(German)
Dark: dark-haired.
Inoceneia
(Spanish)
Innocent
Kamlyn
(English)
Variant of names like Kamelia and Kamille.
Patton
(English)
From the warrior's town
Abner
(Hebrew)
Father of light. In the bible King Saul's cousin and commander of his army. Abner was a valiant warrior and clever strategist.
Efrem
(Hebrew)
Doubly fruitful. Form of Hebrew Ephraim
Henrietta
(French)
Keeper of the hearth. Rules her household. Feminine of Henry.
Anwen
(Celtic)
Fair and beautiful.
Aldis
(English)
From the old house
Astolat
Lady of Shalott who kills herself for the love of Lancelot