Cat Names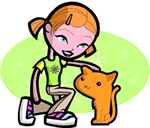 We offer 1,000's of cat names to help you choose the perfect one. Feel free to browse our unique cat names and when you find one you like you can add it to your favorites list to view later. If you have any cute cat names suggestions, please let us know. Enjoy!
Annis
(English)
Variant of Anne or Agnes.
Lamorat
Brother of Percival
Timothy
(English)
One who honors God. The biblical Timothy was the young Christian to whom Paul wrote. Let no man look down on your youth.
Townly
(English)
From the town meadow
Lacy
(English)
Derived from Lacey which is a French Nobleman's surname brought to British Isles after Norman conquest.
Atalia
(Hebrew)
God is great
Ivor
(English)
Archer's bow.
Fitzgerald
(French)
Son of Gerald. Surname.
Romhilda
(German)
Glorious battle maiden
Avia
(English)
Modern blend of Ava and Ana.
Brody
(Scottish)
Reference to Castle Brodie in Scotland.
Arleana
(English)
Variant of Carlene and Charlene.
Toriana
(English)
Derived from Victoria triumphant.
Enkoodabooaoo
One who lives alone (Algonquin)
Evanne
Combination of Eve and Anne.
Kahli
(English)
Modern variant of Callie.
Niall
(Scottish)
Champion
Lin
Dwells by the torrent