Cat Names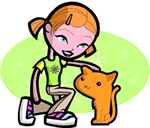 We offer 1,000's of cat names to help you choose the perfect one. Feel free to browse our unique cat names and when you find one you like you can add it to your favorites list to view later. If you have any cute cat names suggestions, please let us know. Enjoy!
Burnell
(German)
Variant of Bernard strong as a bear.
Kurt
(German)
Honest advisor
Hardwin
(English)
Brave friend
Seosamh
(Hebrew)
God will multiply
Ciara
(Irish)
Saint or Dark. Feminine of Ciaran.
Rydia
(Greek)
Rose pettles on still water.
Makaylyn
Heaven in mommys eyes
Ilasha
Gental,Sensitive,Kind,Loving
Parker
(English)
Keeper of the forest: forest ranger. Actor Parker Stevenson.
Garred
(English)
Variant of Garret from Gerald rules by the spear.
Alisanne
(English)
Variation of Alice.
Koby
(German)
Dark: dark-haired.
Ellder
(English)
From the elder tree
Deon
(English), (French)
Abbreviation of Dionysius.
Kaiser
(German)
emperor: variant of Caesar.
Alyssia
(English)
Variant of Alice.
Nanci
(English)
Variant of Anne favor: grace.
Jaliyiah
Sweet and loving.
Suthfeld
(English)
From the south field
Menassah
(Hebrew)
Forgetful