Cat Names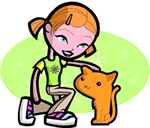 We offer 1,000's of cat names to help you choose the perfect one. Feel free to browse our unique cat names and when you find one you like you can add it to your favorites list to view later. If you have any cute cat names suggestions, please let us know. Enjoy!
Dawn
(English)
The first appearance of daylight: daybreak. Dawn.
Gillermo
(Spanish)
Variant of William Resolute protector.
Stanfield
(English)
From the stony field
Don
(Celtic)
Dark stranger
Ike
(Hebrew)
Variant of Hebrew Isaac Laughter.
Jennalyn
(English)
Modern variant of Jenny and Jennifer.
Eunice
(Hebrew)
Good Victory
Annamarie
(English)
Variant of Anne. Biblical: devout woman who saw infant Jesus presented at the temple in Jerusalem.
Mick
(English)
Abbreviation of Michael and Micah Who is like God?
Waylan
(English)
Variant of Wayland. The mythological Scandinavian Wayland was a blacksmith with supernatural powers. Modern singer Waylon Jennings.
Colbey
(French)
Dark: dark-haired.
Lilian
(English)
Variant of Lillian derived from the flower name Lily. Symbol of innocence: purity: beauty.