Cat Names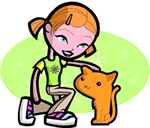 We offer 1,000's of cat names to help you choose the perfect one. Feel free to browse our unique cat names and when you find one you like you can add it to your favorites list to view later. If you have any cute cat names suggestions, please let us know. Enjoy!
Stockhart
(English)
Hardy tree
Corrissa
(English)
Maiden.
Townly
(English)
From the town meadow
Audrianna
(English)
Nobility: strength.
Jarrad
(English)
Variant of the French name Gervaise spearman.
Chriselda
(German)
Strong
Aesctun
(English)
From the ash tree farm
Lindisfarne
(English)
From Lindisfarne
Derrik
(English)
Gifted ruler. From Theodoric.
Trinity
A union of three in one: the Father, the Son, and the Holy Ghost
Tashia
(English)
Abbreviation of Natasha - the Russian form of the English Natalie Born at Christmas.
Hurit
Beautiful (Algonquin)
Vedika
(Arabic)
Consciousness, Altar: a river in India.