Cat Names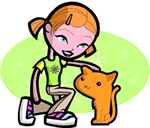 We offer 1,000's of cat names to help you choose the perfect one. Feel free to browse our unique cat names and when you find one you like you can add it to your favorites list to view later. If you have any cute cat names suggestions, please let us know. Enjoy!
Colemann
(English)
Dark skinned
Sadler
Life will go on and on. Open-minded.
Osryd
(English)
Divine counselor
Inaya
(Arabic)
Concern solicitude
Rusty
(English)
Nickname for a red-haired person.
Ilena
(English)
Variant of Eileen.
Yoana
(Spanish)
God's gift
Aisly
Dwells at the ash tree meadow
Durward
(English)
Gatekeeper
Lorayne
(French)
Derived from Lorraine which is the name of a province in France and a family name of French royalty.
Channing
(English)
young wolf.