Cat Names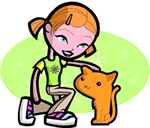 We offer 1,000's of cat names to help you choose the perfect one. Feel free to browse our unique cat names and when you find one you like you can add it to your favorites list to view later. If you have any cute cat names suggestions, please let us know. Enjoy!
Jesus
(Spanish)
Named for Jesus
Mate
(Hebrew)
Gift from God
Katrina
(German)
Variant of Katherine. Pure.
Elise
(French)
Consecrated to God Abbreviation of Elisabeth.
Josina
(English)
Diminutive form of Josephine.
Elgine
(Celtic)
Noble: white.
Matei
(Hebrew)
Gift from God.
Azarious
(Hebrew)
God helps
Karalan
Combination of Karen and Allan
Patton
(English)
From the warrior's town
Warfield
(English)
From the field by the weir
Desire
(English)
Variant of French Desiree.
Scottas
(English)
From Scotland
Rosselyn
(French)
Red haired