Cat Names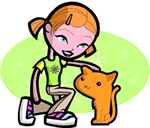 We offer 1,000's of cat names to help you choose the perfect one. Feel free to browse our unique cat names and when you find one you like you can add it to your favorites list to view later. If you have any cute cat names suggestions, please let us know. Enjoy!
Bourne
(English)
From the brook
Kuwanyauma
Butterfly showing beautiful wings (Hopi)
Keith
(Scottish)
From the battleground
Oakley
(English)
From the oak - tree meadow
Shekinah
The visible Glory of God
Tyger
Alternative spelling of tiger
Karma
what goes around comes around
Latesha
(English)
Modern form of medieval name Letitia. Joyful:happy.
Melisenda
(Spanish)
Sweet
Rusty
(English)
Nickname for a red-haired person.
Conchobhar
(Irish)
Strong willed or wise
Bardo
(English)
Variant of Bartholomew often used as a surname.
Alarico
(Spanish)
Rules all
Davynn
(English)
Beloved. Feminine of David.
Wolfrick
(German)
Wolf ruler
Gavrila
(Hebrew)
God gives strength
Becky
(English)
Abbreviation of Rebecca.