Cat Names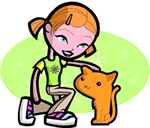 We offer 1,000's of cat names to help you choose the perfect one. Feel free to browse our unique cat names and when you find one you like you can add it to your favorites list to view later. If you have any cute cat names suggestions, please let us know. Enjoy!
Harford
(English)
From the hare's ford
Bradlee
(English)
English surnames related to Bradley Broad clearing in the wood
Fernando
(Spanish)
Adventurer. See also Hernando. Ferdinand: (Spanish/German) Adventurer.
Ozzy LeBron
(English)
Gods Divine Power
Laurelle
(English)
The laurel tree or sweet bay tree symbolic of honor and victory.
Bryceton
(Scottish)
Variant of Bryce.
Jemimah
(Arabic)
Little dove. In the bible one of Job's three daughters known as the most beautiful women of their time: (the other two were Keziah and Keren)
Shaun
(Irish)
Variant of John from Sean.
Gottfried
(German)
Peaceful god
Kendell
(English)
Royal valley. Surname referring to Kent in England.
Talbot
(English)
Variant of Tal tall. Surname.
Tempest
(English)
Turbulent: stormy.
Amara
(Spanish)
Imperishable.
Ulrica
(German)
Mistress of all
Bentley
(English)
From the bent grass meadow
Benjy
(English)
Abbreviation of Benjamin and Benedict.
Collin
(English)
Abbreviation of Nicholas people's victory.