Cat Names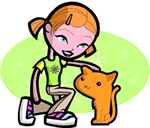 We offer 1,000's of cat names to help you choose the perfect one. Feel free to browse our unique cat names and when you find one you like you can add it to your favorites list to view later. If you have any cute cat names suggestions, please let us know. Enjoy!
Eburhardt
(German)
Strong as a boar
Dinah
(Hebrew)
Avenged or Judged and vindicated. In the bible Dinah was Jacob's only daughter.
Carree
(English)
Abbreviation of Carol and Caroline from the masculine Charles meaning manly
Kawaii
(Hawaiian)
The water
Jankia
(Hebrew)
Gift from God
Giselmaere
(English)
Famous hostage
Muhammed
(Arabic)
Variant used for Mohammad - founder of Islamic religion. praiseworthy: glorified.
Fitzgerald
(French)
Son of Gerald. Surname.
Athmore
(English)
From the moor
Abrianna
Mother of many nations.
Redd
(Scottish)
Redheaded. Surname.
Laurita
(Spanish)
The laurel tree or sweet bay tree symbolic of honor and victory.
Kathy
(English)
Form of the Greek Catherine meaning pure. Variant of Katherine.
Aethelweard
(English)
Noble protector