Cat Names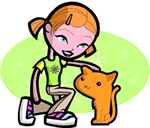 We offer 1,000's of cat names to help you choose the perfect one. Feel free to browse our unique cat names and when you find one you like you can add it to your favorites list to view later. If you have any cute cat names suggestions, please let us know. Enjoy!
Timmy
(English)
Variant of Timothy one who honors God.
Steathford
(English)
From the landing ford
Arleigh
(English)
Meadow of the hare.
Karlyn
(German)
Womanly: strength. Feminine of Karl.
Rosselyn
(French)
Red haired
Brooklynne
(English)
Water: stream.
Davis
(Scottish)
David's son
Meinrad
(German)
Strong advisor
Weslee
(English)
Feminine of Wesley.
Debby
(Hebrew)
Bee. Deborah was the Biblical prophetess who summoned Barak to battle against an army of invaders. After the battle she wrote a victory song which is part of the Book of Judges.
Lailie
(Hebrew)
Nightfall
Burn
(English)
From the brook
Chakwaina
One who cries (Hopi)
Arwen
(Celtic)
Variant of Arwenna. Muse.
Stewart
(Scottish)
Steward. A medieval steward was charged with the care of castle and estate affairs. Surname.
Parnel
(Irish)
Nineteenth-century Irish Nationalist Charles Parnell.