Cat Names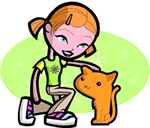 We offer 1,000's of cat names to help you choose the perfect one. Feel free to browse our unique cat names and when you find one you like you can add it to your favorites list to view later. If you have any cute cat names suggestions, please let us know. Enjoy!
Rycroft
(English)
From the rye field
Winthrop
(English)
From Wine's estate
Alayne
(Irish)
Beautiful: Dear child.
Dorothee
(English)
Variant of the Greek Dorothy meaning Gift of God.
Lanny
(English)
Abbreviation of names like Roland.
Bryana
(Celtic)
She ascends. Feminine of Brian.
Jaliyiah
Sweet and loving.
Jocelina
(French)
Medieval male name adopted as a feminine name.
Heammawihio
Wise one above (Cheyenne)
Nicole
Victory of the people
Kathlynn
(Irish)
Variant of Caitlin derived from Katherine. Pure.
Otto
(German)
Born eighth or wealthy