Cat Names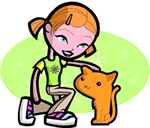 We offer 1,000's of cat names to help you choose the perfect one. Feel free to browse our unique cat names and when you find one you like you can add it to your favorites list to view later. If you have any cute cat names suggestions, please let us know. Enjoy!
Sasha
Helper and defender or protector of mankind.
Anntoin
(Irish)
Priceless
Ashten
(English)
Town of ash trees.
Estevon
(Spanish)
Variant of Stephen.
Annmarie
(Italian)
Variant of Mary.
Ivan
(Hebrew)
Gift from God
Chloe
(French)
Means green shoot in Greek. This was an epithet of the Greek goddess Demeter. The name is also mentioned by Paul in one of his epistles in the New Testament
Nickie
(English)
Abbreviation of Nicole. Victory.
Derwan
(English)
Friend of the deer
Halburt
(English)
Brilliant hero
Ridgely
(English)
Lives at the meadow's ridge
Kendall
(English)
Royal valley. Surname referring to Kent in England.
Fleming
(English)
Dutchman