Cat Names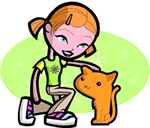 We offer 1,000's of cat names to help you choose the perfect one. Feel free to browse our unique cat names and when you find one you like you can add it to your favorites list to view later. If you have any cute cat names suggestions, please let us know. Enjoy!
Marley
(English)
Marshy meadow. Also Variant of Marlene Woman from Magdala.
Verge
Owns four acres of land
Bridger
(English)
Lives at tbe bridge
Devona
(Celtic)
Divine one
Cristofor
(Spanish)
With Christ inside.
Joed
(Hebrew)
Jehovah is witness. A Biblical name.
Celestiel
(French)
Heavenly.
Willie
(English)
Resolute: will Abbreviation of names beginning with Will-
Andreu
Alternate Spelling: Andrew.
Brett
(English)
Brit. A native of Brittany: (France) or Britain: (England).
Alison
(Scottish)
Scottish form of Louise battle famous. Variation of Alice.
Bettine
(Hebrew)
Devoted to God
Katelinn
(English)
Medieval English form of the Irish Caitlin. Pure
Edsel
(German)
Noble: bright.
Wilfredo
(English)
Desires peace.
Talford
(English)
Variant of Tal tall. Surname.