Cat Names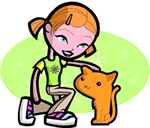 We offer 1,000's of cat names to help you choose the perfect one. Feel free to browse our unique cat names and when you find one you like you can add it to your favorites list to view later. If you have any cute cat names suggestions, please let us know. Enjoy!
Jennalyn
(English)
Modern variant of Jenny and Jennifer.
Rainhard
(German)
Strong judgment
Cheyenne
(French)
An Algonquian tribe of the Great Plains. Capital city of Wyoming.
Farleigh
(English)
From the bull pasture. Surname.
Omat
(Irish)
The color of olive
Ocho
(Mexican), (Spanish)
Eight
Alonsa
(Spanish)
Ready or noble
Webley
(English)
From the weaver's meadow
Garnell
(French)
Keeper of grain. Surname.
Arundhati
(Indian)
Goddess of the sky, stars and night time.
Farren
(English)
Adventurous.
Laurita
(Spanish)
The laurel tree or sweet bay tree symbolic of honor and victory.
Leilah
(Arabic)
Born at night.
Illias
(Hebrew)
Jehovah is God