Cat Names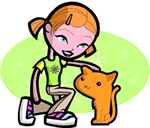 We offer 1,000's of cat names to help you choose the perfect one. Feel free to browse our unique cat names and when you find one you like you can add it to your favorites list to view later. If you have any cute cat names suggestions, please let us know. Enjoy!
Ferryn
(English)
Adventurous.
Boyce
(French)
Lives near the wood.
Cleveland
(English)
From the cliff land
Lillian
(English)
Variant of Lillian derived from the flower name Lily. Symbol of innocence: purity: beauty.
Chevelle
Bold and beautiful.
Nakoma
Great warrior or Great spirit
Tabitha
(Hebrew)
beauty, grace From the Aramaic word for Gazelle. Biblical - Tabitha of the New Testament (Acts 9:36) was noted for good works.
Generosa
(Spanish)
Generous
Two Ton Tessy
Nickname given to Tessie O'Shea because of her size.
Claudine
(English)
Feminine of Claude.
Avilon
Arthur's burial place
Etty
(English)
Abbreviation for Henrietta and Harriette.
Alden
(English)
Wise friend or from the old manor
Jolie
(French)
Cheerful: pretty.
Kennedy
(Scottish)
Ugly head
Cherokee
People of a different speech. One of the largest American Indian tribes.