Cat Names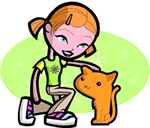 We offer 1,000's of cat names to help you choose the perfect one. Feel free to browse our unique cat names and when you find one you like you can add it to your favorites list to view later. If you have any cute cat names suggestions, please let us know. Enjoy!
Charo
(Spanish)
Nickname for Rosario. Variant of Rosa.
Dympna
(Irish)
Name of a saint
Kasa
Dressed in furs (Hopi)
Moshe
(Hebrew)
Form of Moses saved from the water.
Edyth
(English)
Happy warfare
Filicia
(French)
Great happiness
Damiean
(English)
Calm and tame.
Brianne
(Celtic)
She ascends. Feminine of Brian.
Emmaline
(German)
Hardworking. Variant of Emily.
Anyssa
(English)
Variant of Anne or Agnes.
Lauralyn
(English)
The laurel tree or sweet bay tree symbolic of honor and victory. Old name with many variants.
Jermain
(English)
Brotherly. Variant of Germaine. Singer Jermaine Jackson.
Gulliver
(English)
In reference to "Gulliver's Travels"
Charion
Unique and desirable.
Zero
The dog from Nightmare Before Christmas.
Murtaugh
(Irish)
Surname.
Ozzy LeBron
(English)
Gods Divine Power
Big N'
In reference to the Big N' Tasty hamburger.
Nathan
(Hebrew)
Gift from God