Cat Names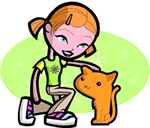 We offer 1,000's of cat names to help you choose the perfect one. Feel free to browse our unique cat names and when you find one you like you can add it to your favorites list to view later. If you have any cute cat names suggestions, please let us know. Enjoy!
Earvin
(English)
Friend. Variant of Irving.
Nerthus
Name of a goddess
Jonn
(French)
Variant of John or abbreviation of Jonathan Jehovah has been gracious: has shown favor.
Bahira
(Arabic)
Sparkling
Stancliff
(English)
From the rocky diff
Gilat
(Hebrew)
Eternal joy
Delisha
(English)
Variant of Latin Delicia meaning Gives pleasure.
Jed
(Hebrew)
Beloved by God
Woolcott
(English)
Lives in Wolfe's cottage
Danelle
(Hebrew)
God is my judge
Swain
(English)
Knight's attendant
Beldane
(English)
Lives in the beautiful glen
Kasimira
Command for peace