Cat Names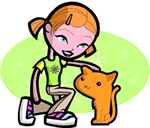 We offer 1,000's of cat names to help you choose the perfect one. Feel free to browse our unique cat names and when you find one you like you can add it to your favorites list to view later. If you have any cute cat names suggestions, please let us know. Enjoy!
Ives
(English)
Archer's bow. Variant of Yves from Ivar.
Jozlyn
(French)
Medieval male name adopted as a feminine name.
Laren
(Scottish)
Serves Lawrence
Blayze
(French)
Lisp: stutter. Blaise Pascal was a brilliant seventeenth century child prodigy: mathematician: scientist and philosopher who invented the calculating machine and hydraulic press before dying at age thirty-nine.
Heardwine
(English)
Brave friend
Elmer
(English)
Lives at the elm tree moor Famed: noble.
Watelford
(English)
From the hurdle ford
Uaid
(Irish)
Irish form of Walter
Nathalia
(French)
Birthday: especially the birthday of Christ.
Linn
Dwells by the torrent
Alyssia
(English)
Variant of Alice.
Savannah
(Spanish)
From the open plain
Gliona
(Irish)
From the Greek Cleone daughter of a river god
Arama
(Spanish)
Reference to the Virgin Mary
Rygeland
(English)
From the rye land
Prescott
(English)
From the Priest's dwelling