Cat Names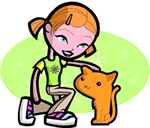 We offer 1,000's of cat names to help you choose the perfect one. Feel free to browse our unique cat names and when you find one you like you can add it to your favorites list to view later. If you have any cute cat names suggestions, please let us know. Enjoy!
Anabella
Grace and Beauty. Variant of Annabelle.
Rygeland
(English)
From the rye land
Osman
(English)
Godly protection.
Abiram
(Hebrew)
Father of heights
Teddy
(English)
Abbreviation of Theodore.
Kade
(Scottish)
From the wetlands.
Cadence
(French)
Rhythmic
Ellis
(English)
Variant of Elias from Elijah My God is Jehovah.
Dorien
(English)
Descendant of Dorus. Dorian was a character in Oscar Wilde's novel The Picture of Dorian Gray who was given his wish that his portrait would age while he remained young and handsome.
Marcas
(Scottish)
Of Mars. The Roman fertility god Mars for whom March was named.
Carlton
(English)
Free men's town.
Osmond
(English)
Divine protector
Anbessa
(Spanish)
A Saracen governor of Spain
Burgtun
(English)
From the fortress town
Burgess
(English)
Lives in town