Cat Names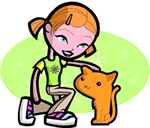 We offer 1,000's of cat names to help you choose the perfect one. Feel free to browse our unique cat names and when you find one you like you can add it to your favorites list to view later. If you have any cute cat names suggestions, please let us know. Enjoy!
GOlding
(English)
Son Of Gold
Shaniyah
Pretty as a blooming blossom.
Paien
(French)
Name of a nobleman
Pranay
(Indian)
Innocent Love
Ophelie
(French)
Serpentine
Willow
(English)
Slender:graceful. From the willow tree noted for slender graceful branches and leaves.
Linette
(French)
Little lion
Yishai
(Indian)
Gift (father of King David)
Chaney
(French)
Oak-hearted.
Jarell
(English)
Blend of Jar and Darell. See also Jerrell.
Elishia
(French)
Abbreviation of Elisabeth.
Ilasha
Gental,Sensitive,Kind,Loving
Butrus
(Arabic)
Arabic form of Peter
Inda
(English)
The country India.