Cat Names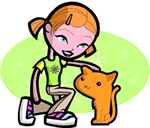 We offer 1,000's of cat names to help you choose the perfect one. Feel free to browse our unique cat names and when you find one you like you can add it to your favorites list to view later. If you have any cute cat names suggestions, please let us know. Enjoy!
Raydon
(French)
Counselor. Variant of Raymond.
Paien
(French)
Name of a nobleman
Perceval
(English)
Valley piercer
Marcia
Variant of Mark. Mars, Greek God.
Daryl
(English)
Dearly loved. The name Daryl for girls was made popular by actress Daryl Hannah.
Rimona
(Hebrew)
Pomegranate
Stanwick
(English)
From the stony village
Carolyn
(English)
Joy Also feminine variant of Charles meaning manly
Symontun
(English)
From Simon's estate
Kein
(Scottish)
Ancient. Variant of Cian.
Rickward
(English)
Strong guardian
Clayson
(English)
Variant of Nicholas.
Aphra
(Hebrew)
Dust. Biblical place name.
Faelen
(Irish)
Faelen is irish gaelic and means wolf
Abner
(Hebrew)
Father of light. In the bible King Saul's cousin and commander of his army. Abner was a valiant warrior and clever strategist.
Connah
(Celtic)
Contented