Cat Names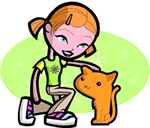 We offer 1,000's of cat names to help you choose the perfect one. Feel free to browse our unique cat names and when you find one you like you can add it to your favorites list to view later. If you have any cute cat names suggestions, please let us know. Enjoy!
Marcos
(Spanish)
Of Mars. The Roman fertility god Mars for whom March was named.
Karlin
(German)
Womanly: strength. Feminine of Karl.
Juliet
(French)
Youthful: Variant of Julia. Jove's child. Star crossed lover in the Shakespearian tragedy Romeo and Juliet.
Jelani
(Arabic)
Mighty or powerful.
Charla
(English)
Feminine variant of Charles meaning manly
Rayne
(English)
Strong counselor. From the ancient personal name Ragnar.
Lazzaro
(Hebrew)
God will help
Idal
(English)
From the yew tree valley
Lancdon
(English)
From the long hill slope.
Apolline
(French)
Gift from Apollo
Darick
(Irish)
Strong: oak-hearted. See also Derek.
Kaitlan
(Irish)
Modern phonetic form of the Irish name Caitlin from Catherine meaning pure.
Jyl
(English)
Abbreviation of Jillian or Gillian. Jove's child.
Ancelina
(French)
Handmaiden
Arregaithel
(Scottish)
From the land of the Gauls