Cat Names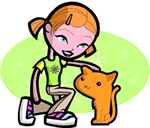 We offer 1,000's of cat names to help you choose the perfect one. Feel free to browse our unique cat names and when you find one you like you can add it to your favorites list to view later. If you have any cute cat names suggestions, please let us know. Enjoy!
Sherbourn
(English)
From the clear brook
Erendira
(Spanish)
Name of a princess
Fontaine
(French)
Fountain: water source.
Caith
(Irish)
From the battlefield
Stanley
(English)
Lives by the stony grove
Alison
(Scottish)
Scottish form of Louise battle famous. Variation of Alice.
Nokomis
Grandmother (Chippewa)
Erchanhardt
(German)
Sacred
Inoceneia
(Spanish)
Innocent
Wincel
(English)
From the bend in the road
Conall
(Celtic)
Strong in battle High: mighty.
Erasmo
(Spanish)
Friendly
Hampton
(English)
Place-name and surname.
Lorayne
(French)
Derived from Lorraine which is the name of a province in France and a family name of French royalty.
Raynor
(English)
Strong counselor. From the ancient personal name Ragnar.