Cat Names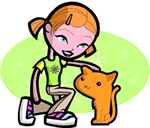 We offer 1,000's of cat names to help you choose the perfect one. Feel free to browse our unique cat names and when you find one you like you can add it to your favorites list to view later. If you have any cute cat names suggestions, please let us know. Enjoy!
Donavon
(Irish)
Brown-haired chieftain.
Watelford
(English)
From the hurdle ford
McKala
(Irish)
Gift of God.
Calibome
Various names for Arthur's sword
Joleigh
(French)
Cheerful: pretty.
Albert
(German)
Intelligent or noble
Rolando
(English)
Renowned in the land. Roland was a legendary hero who served Charlemagne.
Cedrina
(English)
Modern feminine of Cedric.
Selene
Goddess of the Moon
Zane
(English)
Variant of John. American western writer Zane Grey.
Leianna
(English)
Derived from an Irish Gaelic of Helen: (light:beautiful woman): variant of Liana: (youthful:bond).
Weardleah
(English)
From the guardian's meadow
Manuela
(Hebrew)
God is among us
Hugo
(Spanish)
Intelligent
Tommy Boy
From the movie by the same name.
Destinee
(French)
Certain fortune: fate. The mythological Greek god of fate.