Cat Names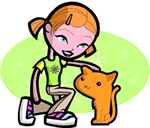 We offer 1,000's of cat names to help you choose the perfect one. Feel free to browse our unique cat names and when you find one you like you can add it to your favorites list to view later. If you have any cute cat names suggestions, please let us know. Enjoy!
Tully
(Irish)
Peaceful. Surname.
Davis
(Scottish)
David's son
Charmayne
(French)
One of Cleopatra's attendants in Shakespeare's Antony and Cleopatra was named Charmian.
Enerstyne
(English)
Serious
Izaan
(Arabic)
Obedience.
Carley
(English)
A free person. A feminine form of Charles, Also see Carla, Carol and Caroline.
Emmaline
(German)
Hardworking. Variant of Emily.
Stephan
(French)
Crown: wreath. Variant of Stephen.
Eljin
(Celtic)
Noble: white.
Maitena
(English)
Dearly loved
Jarlath
(Irish)
Tributary lord
Dantae
(Spanish)
Enduring. The poet Dante Alighieri wrote The Divine Comedy with its graphic description of medieval Hell known as Dante's Inferno.
Mantotohpa
Four bears (Cheyenne)
Martina
(Spanish)
Feminine of Martin warring.
Galenka
(Hebrew)
God shall redeem
Valicia
Combination of Val and Alicia.
Warley
(English)
From the weir meadow