Cat Names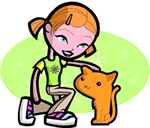 We offer 1,000's of cat names to help you choose the perfect one. Feel free to browse our unique cat names and when you find one you like you can add it to your favorites list to view later. If you have any cute cat names suggestions, please let us know. Enjoy!
Brayden
(English)
Broad hillside.
Waleis
(English)
From Wales
Scoozie
(English)
mean cuddle cat
Art
(English)
Abbreviation of Arthur - noble: courageous.
Deonna
(English)
Variant of Diana meaning divine.
Carrots
(English)
Orange vegetable
Ferryn
(English)
Adventurous.
Debby
(Hebrew)
Bee. Deborah was the Biblical prophetess who summoned Barak to battle against an army of invaders. After the battle she wrote a victory song which is part of the Book of Judges.
Brandyce
(English)
Variation of the beverage brandy used as a given name.
Koby
(German)
Dark: dark-haired.
Jonni
(English)
Modern feminine of John and Jon.
Chakwaina
One who cries (Hopi)
Romina
(Arabic)
From the Christian land
Telford
(French)
Works in iron
Sadler
Life will go on and on. Open-minded.
Fridwolf
(English)
Peaceful wolf