Cat Names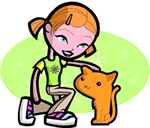 We offer 1,000's of cat names to help you choose the perfect one. Feel free to browse our unique cat names and when you find one you like you can add it to your favorites list to view later. If you have any cute cat names suggestions, please let us know. Enjoy!
Hampton
(English)
Place-name and surname.
Casimiro
(Spanish)
Peaceful
Sidell
(English)
From the wide valley
Fraser
(Scottish)
Strawberry flowers: Of the forest men. A major Scottish clan.
Rosston
(German)
Red. Surname.
Cinda
(English)
Abbreviation of Cynthia and Lucinda.
Kahli
(English)
Modern variant of Callie.
Ailbe
(German)
Intelligent or noble
Pendragon
From the dragon's enclosed land
Stevon
(English)
Variant of Stephen Crown: wreath.
Kenward
(English)
Bold guardian
Mariah
(English)
Variant of Latin Mary bitter
Abedabun
Sight of day (Chippewa)
Ferryn
(English)
Adventurous.
Muata
Yellow jackets inside a nest (Miwok)
Barrak
(Hebrew)
Flash of lightning. In the bible the valiant fighting man Barak cooperated with the prophetess Deborah to win victory in battle against overwhelming odds.