Cat Names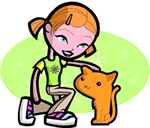 We offer 1,000's of cat names to help you choose the perfect one. Feel free to browse our unique cat names and when you find one you like you can add it to your favorites list to view later. If you have any cute cat names suggestions, please let us know. Enjoy!
Joanna
(Hebrew)
Gift from God
Sinclair
(French)
St. Clair.
Azarious
(Hebrew)
God helps
Rowland
(French)
Renowned in the land. Roland was a legendary hero who served Charlemagne.
Jonn
(French)
Variant of John or abbreviation of Jonathan Jehovah has been gracious: has shown favor.
Lia
(Spanish)
Is an abbreviation of names like Amalia: (hard working:industrious) and Rosalia: (Rose).
Medwin
(English)
Strong friend
Aesctun
(English)
From the ash tree farm
Beceere
(English)
Lives by the beech tree
Slaton
(English)
From the valley farm
Crannog
(Scottish)
Lake dweller
Ordland
(English)
From the pointed hill
Randolph
(English)
House wolf: protector. Mythological wolf was esteemed for courage.
Amariah
(Hebrew)
Given by God