Cat Names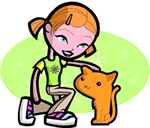 We offer 1,000's of cat names to help you choose the perfect one. Feel free to browse our unique cat names and when you find one you like you can add it to your favorites list to view later. If you have any cute cat names suggestions, please let us know. Enjoy!
Mel
(English)
Meaning uncertain but possibly friend of Michael.
Raoul
(French)
Form of Ralph wolf counsel.
Nathalia
(French)
Birthday: especially the birthday of Christ.
Dannah
(English)
A Biblical place name: variant of Daniel God will judge.
Colbey
(French)
Dark: dark-haired.
Fingula
(Celtic)
Mythical daughter of Lyr
Chubbs
Club pro from "Happy Gilmore".
Jordanna
(English)
Variant of the Hebrew Jordan. Down flowing. The river in Palestine where Jesus was baptized has been used as a given name since the Crusades.
Billie
(English)
Nickname for William resolute protector - often used as an independent name.
Dionna
(English)
From the sacred spring. The mythological Dione was wife to Zeus and mother of Aphrodite.
Kendall
(English)
Royal valley. Surname referring to Kent in England.
Carol
(French)
Song of happiness
Annis
(English)
Variant of Anne or Agnes.
Josephina
(French)
Feminine of Joseph.
Adalrik
(German)
Noble friend
Eliane
(Hebrew)
Jehovah is God
Stancliff
(English)
From the rocky diff