Cat Names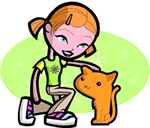 We offer 1,000's of cat names to help you choose the perfect one. Feel free to browse our unique cat names and when you find one you like you can add it to your favorites list to view later. If you have any cute cat names suggestions, please let us know. Enjoy!
Mariquita
(Spanish)
Bitter
Christofor
(French)
With Christ inside.
Kaeli
(English)
Variant of Kay and Kayla keeper of the keys: pure.
Ansell
(French)
Adherent of a nobleman
Margarita
(Spanish)
Pearl.
Ophelie
(French)
Serpentine
Coriann
(English)
Variant of Cory meaning variously - From the round hill: seething pool: ravine
Carew
(Celtic)
From the fortress
Jourdaine
(English)
Variant of Hebrew Jordan down flowing.
Jacinthe
(French)
Hyacinth.
Alayne
(Irish)
Beautiful: Dear child.
Armon
(Hebrew)
High place.
Weslee
(English)
Feminine of Wesley.
Evony
(German)
Variant of Yvonne from Yves. Archer.
Lorayne
(French)
Derived from Lorraine which is the name of a province in France and a family name of French royalty.
Sonnie
(English)
Son. A nickname and given name.
Renfield
(English)
From the raven's field