Cat Names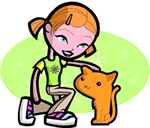 We offer 1,000's of cat names to help you choose the perfect one. Feel free to browse our unique cat names and when you find one you like you can add it to your favorites list to view later. If you have any cute cat names suggestions, please let us know. Enjoy!
Azarious
(Hebrew)
God helps
Scelflesh
(English)
From the edge meadow
Goodwyn
(English)
Good friend
Cathair
(Scottish)
From the broken mossy ground
Elrick
(English)
The king.
MacIver
(Scottish)
Son of an archer
Randolph
(English)
House wolf: protector. Mythological wolf was esteemed for courage.
Daryll
(English)
Variations of Daryl meaning Dearly loved.
Maridith
(Celtic)
Protector of the sea.
Graeme
(English)
Farm home.
Mariela
Beloved and illuminated.
Eunice
(Hebrew)
Good Victory
Fitzhugh
(English)
Son of Hugh
Luki
(German)
Famous fighter