Cat Names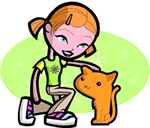 We offer 1,000's of cat names to help you choose the perfect one. Feel free to browse our unique cat names and when you find one you like you can add it to your favorites list to view later. If you have any cute cat names suggestions, please let us know. Enjoy!
Millman
(English)
Mill worker
Jokine
(Hebrew)
God shall establish
Charlette
(French)
Feminine of Charles meaning manly
Eva
(Hebrew)
Life. Living one. Variant of Eve. In the bible Eve was Adam's wife and the first woman.
Mirabella
(French)
Of incredible beauty
Kadi
(English)
Rhyming variant of Katy or Cady.
SutcIyf
(English)
From the south cliff
Aekerman
(English)
Man of oak
Mylnburne
(English)
From the mill stream
Watson
(English)
Son of Walter
Conrado
(Spanish)
Spanish form of Conrad able counsel
Maddalene
(German)
Magnificent
Wyndham
(English)
From the windy viIlage