Cat Names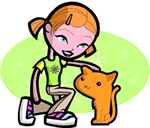 We offer 1,000's of cat names to help you choose the perfect one. Feel free to browse our unique cat names and when you find one you like you can add it to your favorites list to view later. If you have any cute cat names suggestions, please let us know. Enjoy!
Gunther
(German)
Battler: warrior.
Myeshia
(Arabic)
Woman: life. Variant of Aisha.
Cullen
(Irish)
Good-looking lad. Surname.
Elizabeth
(English)
My God is bountiful:God of plenty. Elizabeth was mother of John the Baptist in the bible. In England Queen Elizabeth I and II.One of the most frequently used names in England.
Jose
(Spanish)
May God give increase.
Alandra
(Spanish)
Variant of Alexandra defender of mankind.
Taneli
(Hebrew)
Judged by God
Bethanna
(Arabic)
From the house of Gods grace.
Joan
(English)
Feminine of John.
Clodagh
(Irish)
From Clodagh
Davite
(Hebrew)
Cherished
Cherokee
People of a different speech. One of the largest American Indian tribes.
Miel
Spanish & French for honey
Freowine
(English)
Noble friend
Arend
(German)
Power of an eagle
Nainsi
(Irish)
Irish form of Nancy graceful