Cat Names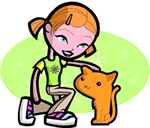 We offer 1,000's of cat names to help you choose the perfect one. Feel free to browse our unique cat names and when you find one you like you can add it to your favorites list to view later. If you have any cute cat names suggestions, please let us know. Enjoy!
Zehira
(Hebrew)
Protected
Kelwin
(Celtic)
From the narrow river
Bevis
(French)
From Beauvais
Arnett
(English)
Little eagle
Kindall
(Celtic)
Ruler of the Valley
Ellenweorc
Famous courage
Gabrielle
(French)
God's able-bodied one. Feminine of Gabriel.
Crispin
(English)
Curly-haired. The 3rd century martyr St. Crispin is known as patron of shoemakers.
Egon
(German)
Strong with a sword
Arleana
(English)
Variant of Carlene and Charlene.
Waldmunt
(German)
Mighty protector
Malerie
(Celtic)
Fruitful, flourishing.
Dakota
Friend: ally. Tribal name.
Madena
(Spanish)
Woman from Magdala. Variant of Madeleine.
Holwell
(English)
Lives by the holy spring
Miyu
(Japanese)
Beautiful moon