Cat Names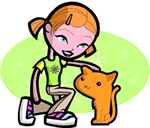 We offer 1,000's of cat names to help you choose the perfect one. Feel free to browse our unique cat names and when you find one you like you can add it to your favorites list to view later. If you have any cute cat names suggestions, please let us know. Enjoy!
Madalene
(French)
Woman from Magdala. Variant of Madeleine. Madeleine: (English/French) Woman from Magdala.
Maitland
(English)
From the meadow
Brendon
(Irish)
Prince. Variant of Brendan.
Donaghy
(Celtic)
Strong fighter
Connah
(Celtic)
Contented
Cristie
(Irish)
Abbreviation of Christine. Follower of Christ.
Jonn
(French)
Variant of John or abbreviation of Jonathan Jehovah has been gracious: has shown favor.
Huxford
(English)
From Hugh's ford
Elishia
(French)
Abbreviation of Elisabeth.
Misi
(Hebrew)
Gift from God
Big N'
In reference to the Big N' Tasty hamburger.
Di
(French)
Divine. Mythological ancient Roman divinity Diana was noted for beauty and swiftness: often depicted as a huntress. Also Diana Princess of Wales.