Cat Names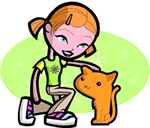 We offer 1,000's of cat names to help you choose the perfect one. Feel free to browse our unique cat names and when you find one you like you can add it to your favorites list to view later. If you have any cute cat names suggestions, please let us know. Enjoy!
Lyel
(Scottish)
Surname meaning loyal.
Alberteen
(English)
Noble
Rayhourne
(English)
From the deer's stream
Jolleen
(English)
A well-established compound of Jo-
Carmel
(Celtic)
From the vinyard
Fonteyne
(French)
Fountain: water source.
Stanwick
(English)
From the stony village
Jeanna
(French)
Variant of John.
Valicia
Combination of Val and Alicia.
Josephina
(French)
Feminine of Joseph.
Debrah
(Hebrew)
Bee. Deborah was the Biblical prophetess who summoned Barak to battle against an army of invaders. After the battle she wrote a victory song which is part of the Book of Judges.
Hild
(English)
Battle maid
Vidal
(English)
Life. Used as both surname and given name. See also Vito.
Ove
(Celtic)
Mythical daughter of Dearg
Athdara
(Irish)
From the ford at the oak tree
Maryl
(French)
Blackbird.
Nakoma
Great warrior or Great spirit