Cat Names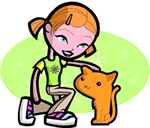 We offer 1,000's of cat names to help you choose the perfect one. Feel free to browse our unique cat names and when you find one you like you can add it to your favorites list to view later. If you have any cute cat names suggestions, please let us know. Enjoy!
Amott
(German)
Power of an eagle
Conchobar
(Celtic)
Mythical hero
Amabelle
(French)
Lovable
Kawaii
(Hawaiian)
The water
Eunice
(Hebrew)
Good Victory
Majella
(Irish)
Name of a saint
Shawn
(Irish)
Variant of John from Sean.
Tawnya
(Irish)
A green field: the warm sandy color of a lion's coat.
Innis
(Celtic)
From the island
Bridger
(English)
Lives at tbe bridge
Mathew
(Hebrew)
Gift from God