Cat Names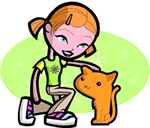 We offer 1,000's of cat names to help you choose the perfect one. Feel free to browse our unique cat names and when you find one you like you can add it to your favorites list to view later. If you have any cute cat names suggestions, please let us know. Enjoy!
Loraina
(French)
Derived from Lorraine which is the name of a province in France and a family name of French royalty.
Sylvana
(English)
Variant of Latin Sylvia from the forest.
Lochlann
(Irish)
Home of the Norse
Elvia
(English)
Elfin. Good elf
Tavin
(German)
A nickname for Gustav royal staff.
Englbehrt
(German)
Bright angel
Aesoburne
(English)
Lives near the ash tree brook
Jarrad
(English)
Variant of the French name Gervaise spearman.
Isabel
(Hebrew)
Devoted to God
Murrough
(Irish)
Fighter of the sea
Erin
(Irish)
From Ireland
Desyre
(English)
Variant of French Desiree.
Adkins
(English)
Son of Aiken