Cat Names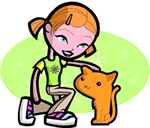 We offer 1,000's of cat names to help you choose the perfect one. Feel free to browse our unique cat names and when you find one you like you can add it to your favorites list to view later. If you have any cute cat names suggestions, please let us know. Enjoy!
McKala
(Irish)
Gift of God.
Jon
(French)
Variant of John or abbreviation of Jonathan Jehovah has been gracious: has shown favor. Sometimes used in the French fashion hyphenated with a second name like Jon-Carlo or Jon-Paul
Gram
(English)
From the gray home
Hillock
(English)
From the small hill
Aethelweard
(English)
Noble protector
Kenryk
(English)
Royal ruler
Kristopher
(English)
Variant of Christopher. Christ bearer.
Orlan
(German)
Renowned in the land. Form of Roland.
Loring
(German)
Famous in battle
Tio
(Mexican), (Spanish)
Uncle
Videl
(English)
Life. Used as both surname and given name. See also Vito.
Jenneva
(English)
Phonetic variant of Genevieve.
Larry
(English)
Abbreviation of Lawrence or Laurence often used as an independent name.
Alandra
(Spanish)
Variant of Alexandra defender of mankind.
Trevonn
(English)
Fair town. Abbreviation of Trevelyan.
Marlin
(English)
A Form of Merle.