Cat Names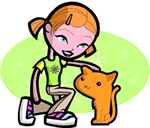 We offer 1,000's of cat names to help you choose the perfect one. Feel free to browse our unique cat names and when you find one you like you can add it to your favorites list to view later. If you have any cute cat names suggestions, please let us know. Enjoy!
Fanny
(English)
Pet name meaning free: variant of Frances.
Francesca
(Italian)
Free spirit.
Darlina
(English)
From the Old English dearling: darling.
Wattesone
(English)
Son of Walter
Letitia
(English)
Modern form of medieval name Letitia. Joyful:happy.
Troi
(English)
Troy derives from the ancient Greek city of Troy: also from an Irish surname meaning soldier.
Camden
From the winding valley
Odette
(German)
Elfin spear
Rosemunda
(German)
Noted protector
Zali
(Australian)
Special
Baldwin
(German)
Bold friend
Dione
(English)
From the sacred spring. The mythological Dione was wife to Zeus and mother of Aphrodite.
Janicia
(English)
Variant of Jane.
Chrissie
(Irish)
Abbreviation of Christine. Follower of Christ.
Charmain
(French)
One of Cleopatra's attendants in Shakespeare's Antony and Cleopatra was named Charmian.