Cat Names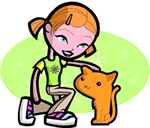 We offer 1,000's of cat names to help you choose the perfect one. Feel free to browse our unique cat names and when you find one you like you can add it to your favorites list to view later. If you have any cute cat names suggestions, please let us know. Enjoy!
Palmira
(Spanish)
From the city of palms
Camryn
(Celtic)
Bent Nose
Iva
(French)
From the yew tree
Gabor
(Hebrew)
God is my strength
Sydney
(French)
Follower of Saint Denys
Rycroft
(English)
From the rye field
Lester
(English)
Fortified place.
Maggi
(English)
Abbreviation of Margaret. A pearl.
Krynn
(English)
Caring and loving
Leodegrance
(French)
Lion
MacFarlane
(Scottish)
Son of Farlan
Lyndee
(English)
Variant of Linda. lime tree: linden tree: beautiful.
Crogher
(Irish)
Loves hounds
Tristin
(Celtic)
Tumult: outcry. From the Celtic name Tristan. In Arthurian legend Tristan was a Knight of the Round Table and tragic hero of the medieval tale Tristram and Isolde.
Taneli
(Hebrew)
Judged by God
Kirk
(Scottish)
From the church