Cat Names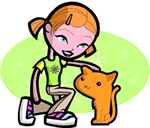 We offer 1,000's of cat names to help you choose the perfect one. Feel free to browse our unique cat names and when you find one you like you can add it to your favorites list to view later. If you have any cute cat names suggestions, please let us know. Enjoy!
Anniah
(Hebrew)
Gracious God.
Chantay
(French)
Singer:to sing
Norville
From the north state
Cumin
(Scottish)
From Comines
Ardala
(Irish)
High honor
Lionell
(French)
Young lion.
Anselmo
(German)
God's protection.
Jorja
(English)
Modern phonetic variant of Georgia.
Chochmingwu
Corn mother (Hopi)
Sapphire
(Hebrew)
Beautiful
Joanna
(Hebrew)
Gift from God
Lizbeth
(Hebrew)
Devoted to God