Cat Names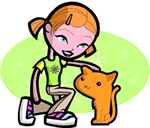 We offer 1,000's of cat names to help you choose the perfect one. Feel free to browse our unique cat names and when you find one you like you can add it to your favorites list to view later. If you have any cute cat names suggestions, please let us know. Enjoy!
Ida
(English)
Diligent. A Greek mythological nymph who cared for the infant Zeus on Mt. Ida.
Kerra
(Irish)
Dusky: dark.
Madelon
(French)
Woman from Magdala. Variant of Madeleine.
Lee
(English)
Meadow. Surname or given name.
Igraine
(English)
In Arthurian legend Igrayne is mother of Arthur.
Bryana
(Celtic)
She ascends. Feminine of Brian.
Kealsea
(Irish)
Brave. Alternate Spelling: Kelsey.
Evelynne
(English)
Form of Evelyn. Life.
Lindisfarne
(English)
From Lindisfarne
Daniel
(Hebrew)
God is my Judge. The biblical prophet and writer of Book of Daniel was a teenager when taken to Babylon after the destruction of Jerusalem in 607 BC. He survived two death sentences: (a lions' den and a fiery furnace.): Frontiersman Daniel Boone.
Roderic
(English)
Famous ruler.
Brenius
A supposed king of Britain
Silvester
(German)
Trees: sylvan. See also Sylvester and Silvano.