Cat Names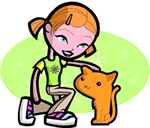 We offer 1,000's of cat names to help you choose the perfect one. Feel free to browse our unique cat names and when you find one you like you can add it to your favorites list to view later. If you have any cute cat names suggestions, please let us know. Enjoy!
Armon
(Hebrew)
High place.
Eadger
(English)
Wealthy spear
Hlink
(English)
From the bank
Slaton
(English)
From the valley farm
Braden
(English)
Broad hillside.
Jade
(Spanish)
Jewel. Courageous and adoring.
Charlette
(French)
Feminine of Charles meaning manly
Laurenz
(German)
From the place of the laurel trees.
Farren
(English)
Adventurous.
Brandie
(English)
Variation of the beverage brandy used as a given name.
Reggie
(English)
Counselor-ruler. Abbreviation of Reginald.
Skipper
(English)
Captain
Zabrina
(English)
Forms of Sabrina: a princess
Isold
(German)
Rule of ice
Neill
(Irish)
Champion Form of Neil.
Sonnie
(English)
Son. A nickname and given name.
Norcross
(English)
From the north cross roads
Butrus
(Arabic)
Arabic form of Peter
Iva
(French)
From the yew tree