Cat Names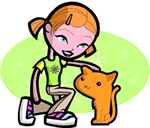 We offer 1,000's of cat names to help you choose the perfect one. Feel free to browse our unique cat names and when you find one you like you can add it to your favorites list to view later. If you have any cute cat names suggestions, please let us know. Enjoy!
Darek
(German)
Gifted ruler. From Theodoric.
Javier
(Spanish)
Bright. Variant of Xavier.
Amalur
(Arabic), (Spanish)
Homeland
Baylie
(English)
Courtyard within castle walls: steward or public official. Surname or given name.
Waldrom
(German)
Ruling raven
Fatin
(Arabic)
Intelligent
Jensine
(Hebrew)
God has blessed
Hawly
(English)
From the hedged meadow
Kallie
(English)
Modern variant of Callie.
Deonna
(English)
Variant of Diana meaning divine.
Jokine
(Hebrew)
God shall establish
Jeanetta
(French)
Little Jean
Windgate
(English)
From the winding gate
Colton
(English)
From the dark town
Fayza
(Arabic)
Successful: Winner, Victorious. Alternate spelling: Faiza
Mallory
(German)
Army counselor