Cat Names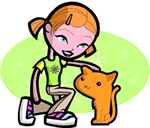 We offer 1,000's of cat names to help you choose the perfect one. Feel free to browse our unique cat names and when you find one you like you can add it to your favorites list to view later. If you have any cute cat names suggestions, please let us know. Enjoy!
Egon
(German)
Strong with a sword
Sidell
(English)
From the wide valley
Rorke
(Irish)
Famous ruler
Kamrin
(English)
Modern variant of Cameron used for girls.
Clarke
(English)
Cleric: secretary.
Destinee
(French)
Certain fortune: fate. The mythological Greek god of fate.
Gustava
(Spanish)
Staff of the gods
Ocho
(Mexican), (Spanish)
Eight
Aldtun
(English)
From the old manor
Audel
(English)
Old friend.
Kaycee
(English)
Modern Kacie and variants are phonetic forms of the initials K.C. or variants of the Irish name Casey alert: vigorous.
Broden
(Scottish)
Reference to Castle Brodie in Scotland.
Dustyn
(English)
A fighter.
Cartimandua
Name of a queen of Brigantes
Cayden
(Scottish)
Fighter. Spirt of Battle.
Brady
(English)
From tbe broad island
Conley
(Irish)
Ardent or wise