Cat Names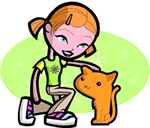 We offer 1,000's of cat names to help you choose the perfect one. Feel free to browse our unique cat names and when you find one you like you can add it to your favorites list to view later. If you have any cute cat names suggestions, please let us know. Enjoy!
Alandra
(Spanish)
Variant of Alexandra defender of mankind.
Neliah
(African)
Storng willed and a vigrous spirit with a leveled mind.
Creighton
(English)
Lives at the creek town
Carew
(Celtic)
From the fortress
Desiderio
(Spanish)
Desired
MacDougal
(Scottish)
Son of Dougal
Siannan
(Irish)
Alternate Spelling: Shannon.
Lia
(Spanish)
Is an abbreviation of names like Amalia: (hard working:industrious) and Rosalia: (Rose).
Daniel
(Hebrew)
God is my Judge. The biblical prophet and writer of Book of Daniel was a teenager when taken to Babylon after the destruction of Jerusalem in 607 BC. He survived two death sentences: (a lions' den and a fiery furnace.): Frontiersman Daniel Boone.
Jaliyiah
Sweet and loving.
Colton
(English)
From the dark town
Salvadora
(Spanish)
Savior
Ximen
(Hebrew)
God has heard
Scottas
(English)
From Scotland
Tuketu
Bear making dust (Miwok)
Waldmunt
(German)
Mighty protector
Forester
(English)
forest-ranger Surname.
Rinna
(Hebrew)
Joyous song
Deorward
(English)
Guardian of the deer