Cat Names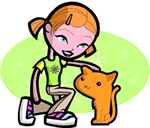 We offer 1,000's of cat names to help you choose the perfect one. Feel free to browse our unique cat names and when you find one you like you can add it to your favorites list to view later. If you have any cute cat names suggestions, please let us know. Enjoy!
Aubrin
Combination of Aubrey and Brin.
Farnham
(English)
From the fern field
Hecate
(Greek)
Greek goddess of fertility who later became associated with Persephone as goddess of the underworld and protector of witches
Scandleah
(English)
From the loud meadow
Lutz
(German)
Famous fighter
Jenine
(French)
Diminutive form of Jane or Jeanne.
Prentiss
(English)
Scholar
Minnie
(French)
Form of Williamina
Derrall
(English)
Variant of Darrel open.
Tibault
(French)
Rule of the peop]e
Fulaton
(English)
From the people's estate
Lynnette
(French)
Little lion
Kaycee
(English)
Modern Kacie and variants are phonetic forms of the initials K.C. or variants of the Irish name Casey alert: vigorous.
Ripley
From Hrypa's meadow
Lemuel
(Hebrew)
Dedicated to God
Langford
(English)
Lives near the long ford