Cat Names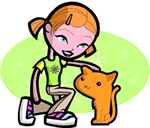 We offer 1,000's of cat names to help you choose the perfect one. Feel free to browse our unique cat names and when you find one you like you can add it to your favorites list to view later. If you have any cute cat names suggestions, please let us know. Enjoy!
Abner
(Hebrew)
Father of light. In the bible King Saul's cousin and commander of his army. Abner was a valiant warrior and clever strategist.
Kilala
(Japanese)
One with the cats
Jayden
(English)
Heard by God.
Mirabella
(French)
Of incredible beauty
Uriel
(Hebrew)
God is my light
Honoratas
(Spanish)
Honor
Enoch
(Hebrew)
Trained and dedicated. In the bible Enoch was father of Methuselah: the oldest living man named in the Bible.
Volker
(German)
People's guard
Monty
(English)
Mountain. Abbreviation of Montague and Montgomery.
Moukib
(Arabic)
Last of the prophets
Neakail
(Scottish)
Victorious people
Noreena
(Irish)
Variant of Nora light:honor
Lianna
(English)
Daughter of the sun. Diminutive of Eliana.