Cat Names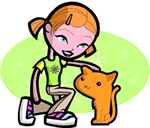 We offer 1,000's of cat names to help you choose the perfect one. Feel free to browse our unique cat names and when you find one you like you can add it to your favorites list to view later. If you have any cute cat names suggestions, please let us know. Enjoy!
Matai
(Hebrew)
Gift from God
Shimshon
(Hebrew)
Bright sun
Lillian
(English)
Variant of Lillian derived from the flower name Lily. Symbol of innocence: purity: beauty.
Lali
(Spanish)
Abbreviation of Eulalie well-spoken.
Melinda
(English)
Blend of Melissa and Linda.
Bretton
(Scottish)
Brit. A native of Brittany: (France) or Britain: (England).
Innis
(Celtic)
From the island
Bardo
(English)
Variant of Bartholomew often used as a surname.
Leonela
(French)
Lion: lioness. Feminine of Leon.
Jackie
(English), (Scottish)
God has been gracious: has shown favor. Based on John or Jacques. Used more for girls than boys.
Daly
(English)
Small valley.
Robertson
(Scottish)
Son of Robert
Lindsay
(Scottish)
A lake: a place of linden trees.
Jozlyn
(French)
Medieval male name adopted as a feminine name.
Omat
(Irish)
The color of olive
Bourne
(English)
From the brook