Cat Names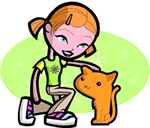 We offer 1,000's of cat names to help you choose the perfect one. Feel free to browse our unique cat names and when you find one you like you can add it to your favorites list to view later. If you have any cute cat names suggestions, please let us know. Enjoy!
Madelhari
(German)
War counselor
Jamie
(Hebrew)
Supplanter
Kamdyn
(Scottish)
Valley.
Evan
(Celtic)
Young fighter
Kaydience
Variant of Cadence.
Shaine
(Irish)
Variant of Shaun from John.
Fifi
(French)
Nickname for Josephine
Winfrith
(English)
Friend of peace
Cherokee
People of a different speech. One of the largest American Indian tribes.
Ailbe
(German)
Intelligent or noble