Cat Names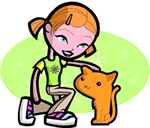 We offer 1,000's of cat names to help you choose the perfect one. Feel free to browse our unique cat names and when you find one you like you can add it to your favorites list to view later. If you have any cute cat names suggestions, please let us know. Enjoy!
Linn
Dwells by the torrent
Karcsi
(French)
Joyful song
Lincoln
(Celtic)
From the settlement by the pool
Chakwaina
One who cries (Hopi)
Caldre
(English)
Cold brook
Charmayne
(French)
One of Cleopatra's attendants in Shakespeare's Antony and Cleopatra was named Charmian.
Tadhg
(Celtic)
Mythical a prince of Munster
Mansi
Plucked flower (Hopi)
Lilybeth
(English)
Blend of Lily: (the flower: innocence: purity: beauty) and Elizabeth: (My God is bountiful:God of plenty.)
Ohcumgache
Little wolf (Cheyenne)
Lindberg
(German)
From the linden tree hill
Tammie
(English)
Abbreviation of Thomasina and Tamara.
Rylee
(English)
English Meadow. Variant of Riley.
Sinclair
(French)
St. Clair.
Timothy
(English)
One who honors God. The biblical Timothy was the young Christian to whom Paul wrote. Let no man look down on your youth.
Fleming
(English)
Dutchman
WyIfrid
(English)
Friend of peace