Cat Names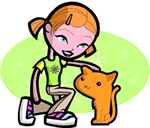 We offer 1,000's of cat names to help you choose the perfect one. Feel free to browse our unique cat names and when you find one you like you can add it to your favorites list to view later. If you have any cute cat names suggestions, please let us know. Enjoy!
Randolph
(English)
House wolf: protector. Mythological wolf was esteemed for courage.
Dantae
(Spanish)
Enduring. The poet Dante Alighieri wrote The Divine Comedy with its graphic description of medieval Hell known as Dante's Inferno.
Deryk
(English)
Gifted ruler. From Theodoric.
Mary
(English)
Bitter. Variant of Miriam. The biblical mother of Christ. Names like Dolores and Mercedes have been created to express aspects of Mary's life and worship.
Hellekin
French lover of Morgan le Fay
Marcela
(Spanish)
Warring
Tupper
(English)
Ram herder
Deegan
(Irish)
Black-haired.
Kaelynn
(English)
Variant of Kay and Kayla. keeper of the keys: pure.
Celesse
(French)
Heavenly.
Jourdaine
(English)
Variant of Hebrew Jordan down flowing.
Ryley
(English)
Island meadow.
Shaddock
(English)
Shad fish
Kaydience
Variant of Cadence.
Alhrik
(English)
Sacred ruler