Cat Names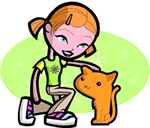 We offer 1,000's of cat names to help you choose the perfect one. Feel free to browse our unique cat names and when you find one you like you can add it to your favorites list to view later. If you have any cute cat names suggestions, please let us know. Enjoy!
Sheelah
(Irish)
Irish form of Cecilia blind
Don
(Celtic)
Dark stranger
Juana
(Hebrew)
Gift from God
Bryon
(English)
Popular variant of Brian.
Damiean
(English)
Calm and tame.
Lennard
(French)
Lion-bold.
Walbrydge
(English)
From the Welshman's bridge
Shekinah
The visible Glory of God
Chisholm
(Scottish)
From Chisolm
Wilfredo
(English)
Desires peace.
Darissa
(Hebrew)
Wise. Dara was a biblical descendant of Judah known for his wisdom.
Daviel
(English)
Variant of David beloved.
Philippine
(German)
Loves horses
Haille
Alternate Spelling: Hailey, Hayley, Hailee.
Videl
(English)
Life. Used as both surname and given name. See also Vito.
Alexina
(English)
Helper: defender. Variation of Alexander.