Cat Names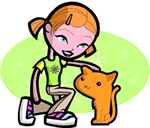 We offer 1,000's of cat names to help you choose the perfect one. Feel free to browse our unique cat names and when you find one you like you can add it to your favorites list to view later. If you have any cute cat names suggestions, please let us know. Enjoy!
Tate
(Irish)
Pleasant and bright. Measure of land. Surname.
Stanwick
(English)
From the stony village
Alameda
(Spanish)
Promenade
Daniel
(Hebrew)
God is my Judge. The biblical prophet and writer of Book of Daniel was a teenager when taken to Babylon after the destruction of Jerusalem in 607 BC. He survived two death sentences: (a lions' den and a fiery furnace.): Frontiersman Daniel Boone.
Dustyn
(English)
A fighter.
Stocwiella
(English)
From the tree stump spring
Gilburt
(English)
Trusted
Everard
(German)
Hardy: brave.
Pat
(English)
Patrician: noble. Abbreviation of Patrick.
Leann
(English)
Derived from an Irish Gaelic of Helen: (light:beautiful woman): variant of Liana: (youthful:bond).
Matthew
(Hebrew)
Gift of Jehovah. In the bible Mathew was one of the 12 apostles. He wrote the first gospel account of the life of Jesus.
Ullock
(English)
Wolf sport
Joell
(French)
Jehovah is God. Feminine of Joel.
Swain
(English)
Knight's attendant
Tyeis
(French)
Son of a German
Alvar
(Spanish)
Truth-speaker or guardian.