Cat Names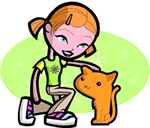 We offer 1,000's of cat names to help you choose the perfect one. Feel free to browse our unique cat names and when you find one you like you can add it to your favorites list to view later. If you have any cute cat names suggestions, please let us know. Enjoy!
Lambrett
(German)
Light of land
Bradd
(English)
Broad: wide.
Faqueza
(Spanish)
Weakness
Gerhard
(German)
Spear strong.
Gwenyver
(Celtic)
White lady
Swain
(English)
Knight's attendant
Jarlath
(Irish)
Tributary lord
Caldre
(English)
Cold brook
Tod
(English)
Fox. Tod is a Scottish nickname meaning a clever or wily person.
Cibil
(English)
Variant of Sibyl: In Greek mythology a name for prophetess or fortune-teller.
Jocelina
(French)
Medieval male name adopted as a feminine name.
Howard
(English)
Chief guardian