Cat Names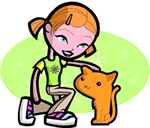 We offer 1,000's of cat names to help you choose the perfect one. Feel free to browse our unique cat names and when you find one you like you can add it to your favorites list to view later. If you have any cute cat names suggestions, please let us know. Enjoy!
Brandubh
(Irish)
Black raven
Joyann
(French)
Rejoicing.
Tolland
(English)
Owns taxed land
Robby
(French)
Abbreviation of Robert Famed: bright: shining.
Burdett
(French)
Surname used as a given name.
Rikward
(English)
Strong guardian
Adelita
(German)
Sweet or noble
Anwen
(Celtic)
Fair and beautiful.
Leland
(English)
From the meadow land Pasture ground.
Willhard
(English)
Resolute or brave
Emilee
Variant of Emily. Hard worker.