Cat Names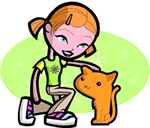 We offer 1,000's of cat names to help you choose the perfect one. Feel free to browse our unique cat names and when you find one you like you can add it to your favorites list to view later. If you have any cute cat names suggestions, please let us know. Enjoy!
Kalil
(Arabic)
Good friend
Radburt
(English)
Red haired counselor
Scoozie
(English)
mean cuddle cat
Jokine
(Hebrew)
God shall establish
Edyth
(English)
Happy warfare
Raleigh
Blessing to earth.
Ibrahim
(Arabic)
Arabic form of Abraham
Murrough
(Irish)
Fighter of the sea
Berengaria
(English)
Spearbearer maid
Darwin
(English)
Dear friend. Nineteenth-century naturalist Charles Darwin was the first major exponent of human evolution.
Alastrina
(Celtic)
Defends mankind
Fyuree
Fiery, fiesty, passionate
Mayhew
(French)
Gift of God
Leesa
(Hebrew)
Variant of Lisa, Lise, Lisetta: A familiar form of Elisabeth: Consecrated to God
Egon
(German)
Strong with a sword