Cat Names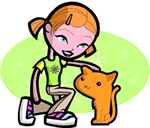 We offer 1,000's of cat names to help you choose the perfect one. Feel free to browse our unique cat names and when you find one you like you can add it to your favorites list to view later. If you have any cute cat names suggestions, please let us know. Enjoy!
Henrietta
(French)
Keeper of the hearth. Rules her household. Feminine of Henry.
Walter
(German)
Powerful ruler
Tate
(Irish)
Pleasant and bright. Measure of land. Surname.
Ciara
(Irish)
Saint or Dark. Feminine of Ciaran.
Michelle
(French)
Feminine of Michael gift from God.
Farnham
(English)
From the fern field
Giannes
(Hebrew)
Gift from God
Patrick
(Irish)
Patrician: noble. Romans society was divided into plebeians: (commoners) and patricians: (aristocrats). Saint Patrick - patron saint of Ireland.
Mohamet
(Arabic)
Variant used for Mohammad - founder of Islamic religion. praiseworthy: glorified.
Eoforwic
(English)
From the bear estate
Falyn
Iris. Variant of Fallon.
Wright
(English)
Craftsman
Jeanna
(French)
Variant of John.
Terrence
(English)
Roman clan name.