Cat Names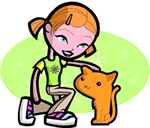 We offer 1,000's of cat names to help you choose the perfect one. Feel free to browse our unique cat names and when you find one you like you can add it to your favorites list to view later. If you have any cute cat names suggestions, please let us know. Enjoy!
Bartel
(Hebrew)
Ploughman
Jocelyn
(Hebrew)
Supplanter
Luduvico
(German)
Famous fighter
Candide
(French)
Bright: glowing white. Also sweet.
Elliston
(English)
Variant of Elias from Elijah My God is Jehovah.
Deidre
(Irish)
Melancholy. A variant of the older name Deirdre In Celtic legend Deirdre died of a broken heart.
Macayle
(Scottish)
Strong-willed, fiery.
Darick
(Irish)
Strong: oak-hearted. See also Derek.
Magnild
(German)
Strong battle maiden
Gliona
(Irish)
From the Greek Cleone daughter of a river god
Joaquina
(Hebrew)
God shall establish
Antfortas
Keeper of the grail
Lahela
(Hawaiian)
Variant of Rachael.
Jilly
(English)
Abbreviation of Jillian or Gillian. Jove's child.
Hobard
(German)
High or bright
Ike
(Hebrew)
Variant of Hebrew Isaac Laughter.