Cat Names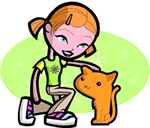 We offer 1,000's of cat names to help you choose the perfect one. Feel free to browse our unique cat names and when you find one you like you can add it to your favorites list to view later. If you have any cute cat names suggestions, please let us know. Enjoy!
Zain
(English)
Variant of Zane or John.
Chantelle
(French)
Singer.
Chadwick
(English)
From the warrior's town
Darby
(English)
Without envy.
Clarice
(English)
Variant of Claire or Clarice. Bright: shining and gentle: famous.
Encarnacion
(Spanish)
Reference to the Incarnation
Alvarita
(Spanish)
Feminine of Alvaro meaning speaker of truth.
La Verne
(French)
Born in the spring
Crannog
(Scottish)
Lake dweller
Laurita
(Spanish)
The laurel tree or sweet bay tree symbolic of honor and victory.
Matei
(Hebrew)
Gift from God.
Mick
(English)
Abbreviation of Michael and Micah Who is like God?
Reynard
(German)
Mighty and brave Strong counselor.
Teetonka
Talks too much (Sioux)
Pit
(English)
From the Pit