Cat Names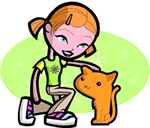 We offer 1,000's of cat names to help you choose the perfect one. Feel free to browse our unique cat names and when you find one you like you can add it to your favorites list to view later. If you have any cute cat names suggestions, please let us know. Enjoy!
Nareen
(Celtic)
Contented.
Amiera
(Arabic)
Princess, leader.
Rimona
(Hebrew)
Pomegranate
Garreth
Gentle. Modest and brave Sir Gareth was a legendary knight of King Arthur's Round Table.
Geoff
(English)
Peaceful. Abbreviation of Geoffrey.
Lionell
(French)
Young lion.
Hoireabard
(Irish)
Soldier
Oxnatun
(English)
From the ox farm
Albert
(German)
Intelligent or noble
Mead
(English)
From the meadow
Laren
(Scottish)
Serves Lawrence
Brody
(Scottish)
Reference to Castle Brodie in Scotland.
Blythe
(English)
Blithe: lighthearted: cheerful
Robby
(French)
Abbreviation of Robert Famed: bright: shining.
Renato
(Spanish)
To rise again.
Adalicia
(French), (German)
Of the nobility. Noble.