Cat Names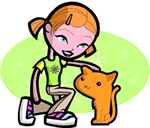 We offer 1,000's of cat names to help you choose the perfect one. Feel free to browse our unique cat names and when you find one you like you can add it to your favorites list to view later. If you have any cute cat names suggestions, please let us know. Enjoy!
Armand
(German)
Protective
Edison
(English)
Son of Edward
Tiesha
(English)
Abbreviation of Leticia or Latisha.
Loleta
(Spanish)
Feminine form of Carlos manly
Von
(German)
The prefex Von is equivalent of Van in Dutch names and of de in French names.
Bryssa
(Spanish)
From Briseis the woman Achilles loved in Homer's Iliad.
Beorht
(English)
Glorious
Jasmin
(Arabic)
A flower name from the older form Jessamine.
Bureig
(English)
Lives on the brook island
Byme
(Irish)
Bear: brown.
Blyss
(English)
Joy: cheer. Used from medieval times.
Otthilde
(German)
Fortunate heroine
Urbano
(Spanish)
From the city
Haille
Alternate Spelling: Hailey, Hayley, Hailee.