Cat Names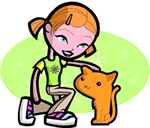 We offer 1,000's of cat names to help you choose the perfect one. Feel free to browse our unique cat names and when you find one you like you can add it to your favorites list to view later. If you have any cute cat names suggestions, please let us know. Enjoy!
Kesara
(Spanish)
Youthful
Shimshon
(Hebrew)
Bright sun
Terrell
(German)
Powerful.
Fawna
(English)
Young deer. The Greek mythological deity of fertility and nature was Fauna. She was famous for her chastity.
Nathanial
(Hebrew)
God has given. One of the 12 biblical apostles.
Frewen
(English)
Noble friend
Natania
(Hebrew)
Gift of God.
Wyligby
(English)
From the willow farm
John-paul
(French)
Variant of the Hebrew John Jehovah has been gracious: has shown favor.
Eadwyn
(English)
Wealthy friend
Adalbert
(German)
Intelligent or noble
Sapphire
(Hebrew)
Beautiful
Joanna
(Hebrew)
Gift from God
Harimanna
(German)
Warrior maiden
Maurine
(French)
Dark skinned
Bemadette
(German)
Has the courage of a bear
Sebastien
(French)
Revered.
Tosha
(English)
Abbreviation of Natasha - the Russian form of the English Natalie Born at Christmas.
Grover
(English)
Lives in the grove
Teodoro
(Spanish)
Spanish form of Theodore gift from God