Cat Names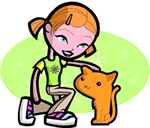 We offer 1,000's of cat names to help you choose the perfect one. Feel free to browse our unique cat names and when you find one you like you can add it to your favorites list to view later. If you have any cute cat names suggestions, please let us know. Enjoy!
Marvella
(French)
Miracle
Gilat
(Hebrew)
Eternal joy
Kirwyn
(Celtic)
Dark skinned
Scelflesh
(English)
From the edge meadow
Norman
(English)
Man of the north. Surname.
Annchi
(Chinese)
Amazing Peace, Angel
Bancroft
(English)
From the bean field
Aegelmaere
(English)
Infamous
Kristopher
(English)
Variant of Christopher. Christ bearer.
Conrad
(German)
Honest advisor Brave: wise.
Joaquina
(Hebrew)
God shall establish
Amani
(African)
African - Peace: Arabic - Wishes, Aspiration