Cat Names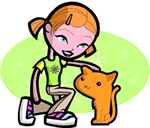 We offer 1,000's of cat names to help you choose the perfect one. Feel free to browse our unique cat names and when you find one you like you can add it to your favorites list to view later. If you have any cute cat names suggestions, please let us know. Enjoy!
Kein
(Scottish)
Ancient. Variant of Cian.
Uriel
(Hebrew)
God is my light
Mealcoluim
(Scottish)
Follower of Saint Columba
Tavion
(Irish)
Variant of the word teeve hillside.
Norwel
(English)
From the north spring
Kaden
(German)
German surname which is derived from a place-name meaning fen (marshy land)
Eriq
(French)
Variant of Scandinavian Eric ever kingly. Actor Eriq La Salle.
Candide
(French)
Bright: glowing white. Also sweet.
Jordan
(Hebrew)
Flowing down
Amaud
(French)
Eagle ruler
Lorimer
(English)
Saddle maker
Judeana
(Hebrew)
From Judea.
Melburn
(English)
From the mill stream