Cat Names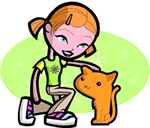 We offer 1,000's of cat names to help you choose the perfect one. Feel free to browse our unique cat names and when you find one you like you can add it to your favorites list to view later. If you have any cute cat names suggestions, please let us know. Enjoy!
Crandell
(English)
From the crane valley
Thabelang Bonolo Mosa
(African)
Be happy, soft and humble
Audrianna
(English)
Nobility: strength.
Scelflesh
(English)
From the edge meadow
Mylnburne
(English)
From the mill stream
Sawyer
(English)
Saws wood
Elspeth
(Scottish)
Variant of Elisabeth.
Evanne
Combination of Eve and Anne.
Maile
(Hawaiian)
A vine that grows in Hawaii that is used in making leis.
Garnet
(English)
A dark-red gemstone named for the pomegranate because of its color.
Miyu
(Japanese)
Beautiful moon
Charlette
(French)
Feminine of Charles meaning manly
Khya
(Australian)
Baby girl. Variant of Kia, Khia.