Cat Names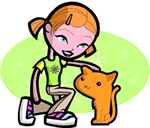 We offer 1,000's of cat names to help you choose the perfect one. Feel free to browse our unique cat names and when you find one you like you can add it to your favorites list to view later. If you have any cute cat names suggestions, please let us know. Enjoy!
Jax
(Spanish)
Masculine form of the Greek name Hyacinth alas.
Jedidiah
(Hebrew)
Beloved of Jehovah. In the bible the blessing name Jedidiah was given King Solomon in infancy.
Vaiveahtoish
Alights on the cloud (Cheyenne)
Kasimira
Command for peace
Tristen
(English)
Tumult: outcry. From the Celtic name Tristan. In Arthurian legend Tristan was a Knight of the Round Table and tragic hero of the medieval tale Tristram and Isolde.
Elmer
(English)
Lives at the elm tree moor Famed: noble.
IyiOluwa
(African)
The honor of the Lord of the universe
Eloy
(German)
Famous fighter
Kinsella
(Irish)
Surname.
Jaymie
(Scottish)
Pet form of James used as a woman's name.
Xavierre
(French)
Owner of a new home