Cat Names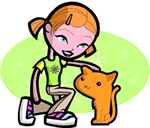 We offer 1,000's of cat names to help you choose the perfect one. Feel free to browse our unique cat names and when you find one you like you can add it to your favorites list to view later. If you have any cute cat names suggestions, please let us know. Enjoy!
Lyra
(French)
Of the Iyre or song
Girflet
Returns Excalibur to the lake
Kenzie
(Scottish)
The fair one. Abbreviation of McKenzie.
Dawnika
(English)
The first appearance of daylight: daybreak.
MacDhuBh
(Scottish)
Son of the blackman
Candi
(Spanish)
Variant of Candida. Bright: glowing white.
Benecroft
(English)
From the bean field
Kevay
(Irish)
Lovely and charming
Erma
(German)
Complete. War goddess
Radburt
(English)
Red haired counselor