Cat Names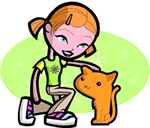 We offer 1,000's of cat names to help you choose the perfect one. Feel free to browse our unique cat names and when you find one you like you can add it to your favorites list to view later. If you have any cute cat names suggestions, please let us know. Enjoy!
Fleming
(English)
Dutchman
Lorian
(English)
Modern variant of Lora and Laurie referring to the laurel tree or sweet bay tree symbolic of honor and victory.
Aesctun
(English)
From the ash tree farm
Patric
(French)
Patrician: noble. Form of Patrick.
Sylvana
(English)
Variant of Latin Sylvia from the forest.
Edelina
(English)
Spoils of war.
Aracely
(Spanish)
Altar of heaven.
Emiko
(Japanese)
Smiling blessed beautiful child.
Teddy
(English)
Abbreviation of Theodore.
Carolan
(Irish)
An Irish surname: variant of Charles meaning manly
Alia
Princess of the academics.
Luvina
(Spanish)
Derived from the Roman given name Levinia.
Cipriano
(Spanish)
From Cyprus
Philippine
(German)
Loves horses