Cat Names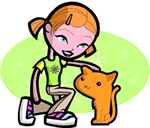 We offer 1,000's of cat names to help you choose the perfect one. Feel free to browse our unique cat names and when you find one you like you can add it to your favorites list to view later. If you have any cute cat names suggestions, please let us know. Enjoy!
Vicente
(Spanish)
Conquering.
Egberta
(English)
Shining sword
Rashad
(Arabic)
Thinker: counselor.
Renshaw
(English)
From the raven forest
Tad
(English)
Abbreviation of Thaddeus who was one of Christ's 12 apostles.
Ariane
(French)
Variant of Greek Mythological Ariadne who aided Theseus to escape from the Cretan labyrinth.
Jeremie
(Hebrew)
Exalted of the Lord
Juliette
(French)
Youthful Variant of Julia. Jove's child.
Hadon
(English)
From the heath
Derebourne
(English)
From the deer brook
Estmund
(English)
Protected by God
Laine
(English)
From the long meadow
Bilagaana
White person (Navajo)
Aneisha
(English)
Variant of Anne or Agnes.
Jasmyne
(French)
A flower name from the older form Jessamine.
Jabulela
(African)
Be happy
Raleigh
Blessing to earth.