Cat Names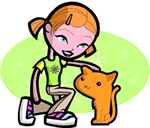 We offer 1,000's of cat names to help you choose the perfect one. Feel free to browse our unique cat names and when you find one you like you can add it to your favorites list to view later. If you have any cute cat names suggestions, please let us know. Enjoy!
Cass
(Irish)
Curly-headed.
Tyger
Alternative spelling of tiger
Luduvico
(German)
Famous fighter
Seafra
(Irish)
Peace from God
Ballindeny
(Irish)
From the town of oak wood
Harkahome
Little robe (Cheyenne)
Newell
(English)
From the new hall
Logestilla
(French)
Legend
Renne
(French)
To rise again.
Ezekiel
(Hebrew)
God strengthens. Biblical Ezekiel was a prophet among the captives taken to Babylon at the first fall of Jerusalem who wrote the Book of Ezekiel in captivity. See also Zeke.
Jennyfer
(Celtic)
White wave
Karoly
(French)
Joyful song
Donnel
(Scottish)
Variant of Donald great chief.
Valencia
Vigorous and strong.
Bryanna
(Celtic)
She ascends. Feminine of Brian.
Dominica
(Irish)
Name of a saint
Marlayne
(German)
Variant of Madeline Woman from Magdala.