Cat Names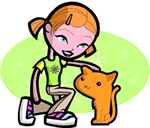 We offer 1,000's of cat names to help you choose the perfect one. Feel free to browse our unique cat names and when you find one you like you can add it to your favorites list to view later. If you have any cute cat names suggestions, please let us know. Enjoy!
Maryon
(English)
Variant of Mary bitter often used as English surname.
Felicity
(French)
Great happiness
Caddaric
(English)
Battle leader
Bardo
(English)
Variant of Bartholomew often used as a surname.
Jessie
(Hebrew)
Wealthy: Variant of Jesse Jehovah exists.
Tashia
(English)
Abbreviation of Natasha - the Russian form of the English Natalie Born at Christmas.
Blaine
(Scottish)
Surname of uncertain meaning.
Torrans
(Irish)
From the knolls
Athena
(Greek)
Greek goddess of wisdom and war.
Chelsie
(English)
Place name: a London district.
Kamlyn
(English)
Variant of names like Kamelia and Kamille.
Apollonia
(Greek)
Gift from Greek god apollo. Strong.
Goddard
(German)
Hard spear
Sofier
(Greek)
Wise. Variant of Sophie.
Aldtun
(English)
From the old manor
Calinda
(English)
Contemporary blend of the Italian/Greek Calandra with Linda
Anbessa
(Spanish)
A Saracen governor of Spain
Colwyn
(Celtic)
A river in Wales.
Idoia
(Spanish)
Reference to the Virgin Mary