Cat Names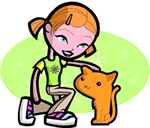 We offer 1,000's of cat names to help you choose the perfect one. Feel free to browse our unique cat names and when you find one you like you can add it to your favorites list to view later. If you have any cute cat names suggestions, please let us know. Enjoy!
Alliss
(Spanish)
Of the nobility.
Tevin
(Scottish)
Variant of Thomas twin.
Morgana
Enchantress half sister of Arthur
Nyke
(Greek)
Victory, speed, and trimuph.
Guendolen
(English)
White
Crompton
(English)
From the winding farm
Gerica
(English)
Blend of Geri plus Erica.
Witter
(English)
Wise wamor
Patrick
(Irish)
Patrician: noble. Romans society was divided into plebeians: (commoners) and patricians: (aristocrats). Saint Patrick - patron saint of Ireland.
MacAlister
(Scottish)
Son of Alasdair
Elyza
(English)
Variation of Elizabeth. My God is bountiful:God of plenty.