Cat Names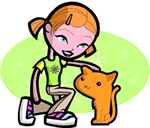 We offer 1,000's of cat names to help you choose the perfect one. Feel free to browse our unique cat names and when you find one you like you can add it to your favorites list to view later. If you have any cute cat names suggestions, please let us know. Enjoy!
Lacene
(French)
Derived from Lacey which is a French Nobleman's surname brought to British Isles after Norman conquest.
Engelbertina
(German)
Bright angel
Monty
(English)
Mountain. Abbreviation of Montague and Montgomery.
Codi
(English)
Cushion. Helpful.
Archard
(French)
Powerful
Viviane
The Lady of the Lake
Jumanah
(Arabic)
A silver pearl
Sidra
Of the stars or star.
Charlette
(French)
Feminine of Charles meaning manly
Elvia
(English)
Elfin. Good elf
Rufford
(English)
From the red ford
Alandra
(Spanish)
Variant of Alexandra defender of mankind.
Kerrick
(English)
King's rule. Surname.