Cat Names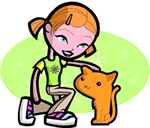 We offer 1,000's of cat names to help you choose the perfect one. Feel free to browse our unique cat names and when you find one you like you can add it to your favorites list to view later. If you have any cute cat names suggestions, please let us know. Enjoy!
Keezheekoni
Burning fire (Chippewa)
Rozomund
(German)
Noted protector
Tihalt
(German)
Prince of the people
Kelula
(Hebrew)
Victorious
Colmcille
(Irish)
Dove of the church
Bello
(Mexican), (Spanish)
Beautiful
Archard
(French)
Powerful
Nolyn
(Irish)
Renowned: noble.
Tucker
(English)
Tucker of doth
Trinetta
(French)
Little innocent
Weslee
(English)
Feminine of Wesley.
Tad
(English)
Abbreviation of Thaddeus who was one of Christ's 12 apostles.
Gilah
(Hebrew)
Eternal joy