Cat Names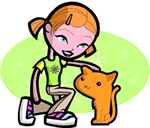 We offer 1,000's of cat names to help you choose the perfect one. Feel free to browse our unique cat names and when you find one you like you can add it to your favorites list to view later. If you have any cute cat names suggestions, please let us know. Enjoy!
Tosha
(English)
Abbreviation of Natasha - the Russian form of the English Natalie Born at Christmas.
Amram
(Hebrew)
Rising nation
Matei
(Hebrew)
Gift from God.
Dalenna
(English)
Small valley. Abbreviation of Madeline.
Hardin
(English)
From the hare's valley
Carson
(Scottish)
Surname.
Jonetta
(English)
Modern feminine of John and Jon.
Faithe
(English)
Faithful
Mirabella
(French)
Of incredible beauty
Janiece
(English)
Variant of Jane.
Noreena
(Irish)
Variant of Nora light:honor
Joceline
(French)
Medieval male name adopted as a feminine name.
Eadward
(English)
Wealthy guardian
Halfrid
(German)
Peaceful heroine
Luduvico
(German)
Famous fighter
Gay
(English)
Variant of Gail. Joyful. Lively Also a modern term denoting homosexuality.
Cohen
(German)
Allternate Spellings: Coen or Koen.Brave.
Kirby
(English)
Church farm.
Kaela
(Hebrew)
Beloved sweetheart.