Cat Names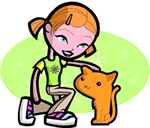 We offer 1,000's of cat names to help you choose the perfect one. Feel free to browse our unique cat names and when you find one you like you can add it to your favorites list to view later. If you have any cute cat names suggestions, please let us know. Enjoy!
Aureliano
(Spanish)
Golden.
Troye
(English)
Troy derives from the ancient Greek city of Troy: also from an Irish surname meaning soldier.
Farrin
(Irish)
The land. Also used for girIS.
Scannalan
(Irish)
Scandal
Zero
The dog from Nightmare Before Christmas.
Bonito
(Mexican), (Spanish)
Pretty
Halley
(English)
From the Hall.
Willis
(German)
Resolute protector: will. Surname.
Masselin
(French)
Little Thomas
Linda
(English)
Lime tree: linden tree.
Marcela
(Spanish)
Warring
Lee
(English)
Meadow. Surname or given name.