Cat Names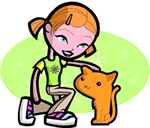 We offer 1,000's of cat names to help you choose the perfect one. Feel free to browse our unique cat names and when you find one you like you can add it to your favorites list to view later. If you have any cute cat names suggestions, please let us know. Enjoy!
Norton
From the north farm
Blaney
(Scottish)
Variant of Blaine.
Torean
(Irish)
Variant of Torrence From the craggy hills. Tor is a name for a craggy hilltop and also may refer to a watchtower.
Devlon
(Irish)
Misfortune.
Blaecleah
(English)
From the dark meadow
Marley
(English)
Marshy meadow. Also Variant of Marlene Woman from Magdala.
Anjanette
(English)
Gift of God's favor. Blend of Ann and Janet.
MacFarlane
(Scottish)
Son of Farlan
Candyce
(English)
Candace was an ancient hereditary title used by Ethiopian queens.
Urbano
(Spanish)
From the city
Jiselle
(English)
Pledge. Phonetic spelling of Giselle.
Taylor
(English)
Tailor. Surname.
Seymour
(French)
From St. Maur