Cat Names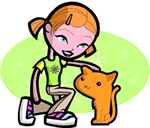 We offer 1,000's of cat names to help you choose the perfect one. Feel free to browse our unique cat names and when you find one you like you can add it to your favorites list to view later. If you have any cute cat names suggestions, please let us know. Enjoy!
Lennard
(French)
Lion-bold.
Brittan
(English)
Brit. A native of Brittany: (France) or Britain: (England).
Maggi
(English)
Abbreviation of Margaret. A pearl.
Ailein
(Scottish)
From the green meadow
Kasa
Dressed in furs (Hopi)
Marcas
(Scottish)
Of Mars. The Roman fertility god Mars for whom March was named.
Hraefnscaga
(English)
From the raven forest
Jenay
(English)
Modern name based on Jane or Jean: Based on Janai meaning God has answered.
Delphine
(French)
A thirteenth-century French saint.
Deylin
(English)
Rhyming variant of Waylon - a historical blacksmith with supernatural powers.
Appollinaris
A cat that belonged to Mark Twain.
Ulrica
(German)
Mistress of all
Gerhard
(German)
Spear strong.
Elishama
(Hebrew)
God hears