Cat Names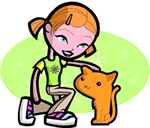 We offer 1,000's of cat names to help you choose the perfect one. Feel free to browse our unique cat names and when you find one you like you can add it to your favorites list to view later. If you have any cute cat names suggestions, please let us know. Enjoy!
Louisane
(German)
Renowned warrior
Joelle
(Hebrew)
Jehovah is God
Brandubh
(Irish)
Black raven
Koen
(German)
Honest advisor
Japheth
(Hebrew)
May He grant ample room. In the bible Japheth was eldest of Noah's three sons.
Kaeli
(English)
Variant of Kay and Kayla keeper of the keys: pure.
Shamus
(Irish)
Supplanter
Louis
(English)
Form of Lawrence.
Loyal
(English)
Faithful: unswerving.
Terrell
(German)
Powerful.
Cliftun
(English)
From the farm near the cliff
Lamorat
Brother of Percival
Burgess
(English)
Lives in town
Gawen
(Scottish)
White hawk