Cat Names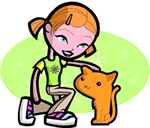 We offer 1,000's of cat names to help you choose the perfect one. Feel free to browse our unique cat names and when you find one you like you can add it to your favorites list to view later. If you have any cute cat names suggestions, please let us know. Enjoy!
Melrone
(Irish)
Serves Saint Ruadhan
Denby
From the Danish settlement
Keezheekoni
Burning fire (Chippewa)
Iain
(Scottish)
Gift from God
Bentley
(English)
From the bent grass meadow
Hardwin
(English)
Brave friend
Lumpy
Covered with lumps.
Faqueza
(Spanish)
Weakness
Lorren
(English)
Variant of Lawrence meaning from Laurentium.
Candide
(French)
Bright: glowing white. Also sweet.
Lilybeth
(English)
Blend of Lily: (the flower: innocence: purity: beauty) and Elizabeth: (My God is bountiful:God of plenty.)
Wallis
(English)
From Wales
Gildas
(Celtic)
Serves God
Walmond
(German)
Mighty protector
Johann
(German)
Variant of the Hebrew John Jehovah has been gracious: has shown favor.