Cat Names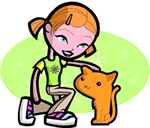 We offer 1,000's of cat names to help you choose the perfect one. Feel free to browse our unique cat names and when you find one you like you can add it to your favorites list to view later. If you have any cute cat names suggestions, please let us know. Enjoy!
Linleah
(English)
From the flax field
Valencia
Vigorous and strong.
Diamond
(English)
Of high value: brilliant. The precious diamond stone.
Dorrance
(Irish)
Variant of Dorran stranger.
Leopoldina
(German)
Of the people
MacPherson
(Scottish)
Son of the parson
Enerstyne
(English)
Serious
Rygeland
(English)
From the rye land
Eveleen
(Irish)
Irish form of Evelina giver of life
Margeaux
(French)
Variant of Margaret. Pearl.
Brissa
(Spanish)
From Briseis the woman Achilles loved in Homer's Iliad.
Gerhard
(German)
Spear strong.
Karmen
(Spanish)
Variant of Carmel - Fruitful orchard as Mount Carmel in Palestine.
Madina
(Spanish)
Woman from Magdala. Variant of Madeleine.