Cat Names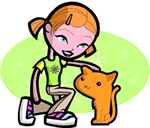 We offer 1,000's of cat names to help you choose the perfect one. Feel free to browse our unique cat names and when you find one you like you can add it to your favorites list to view later. If you have any cute cat names suggestions, please let us know. Enjoy!
Felippe
(Spanish)
Variant of Philip.
Beamard
(Irish)
Brave as a bear
Aliceson
(English)
Son of All
Hollie
(English)
The holly tree. Common name given Christmas girl babies.
Neely
(English)
Feminine of Neil champion.
Palmira
(Spanish)
From the city of palms
Alba
(Spanish)
A place name.
Ciara
(Irish)
Saint or Dark. Feminine of Ciaran.
Jesika
Alternate Spelling: Jessica.
Bentley
(English)
From the bent grass meadow
Courtlyn
(English)
Courtly: courteous.
Arden
(Celtic)
Lofty: eager.
Yaelis
(Spanish)
Combination of Joel and Yoseline. Meaning: strength of God: happy, joyful, celestial.
Gerhard
(German)
Spear strong.
Camelon
Site of Arthur's last battle