Cat Names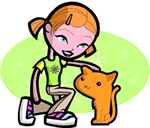 We offer 1,000's of cat names to help you choose the perfect one. Feel free to browse our unique cat names and when you find one you like you can add it to your favorites list to view later. If you have any cute cat names suggestions, please let us know. Enjoy!
Egerton
(English)
From the town on the ridge
Arawn
(Celtic)
Mythical king of the Underworld
Jamile
(Arabic)
Handsome.
Iain
(Scottish)
Gift from God
Janicia
(English)
Variant of Jane.
Parker
(English)
Keeper of the forest: forest ranger. Actor Parker Stevenson.
Kermit
(Celtic)
Son of Diarmaid
Dougal
(Celtic)
Dark stranger
Blair
(Scottish)
Field of battle.
Yannic
(Hebrew)
Gods child.
Garnet
(English)
A dark-red gemstone named for the pomegranate because of its color.
Kein
(Scottish)
Ancient. Variant of Cian.
Chaney
(French)
Oak-hearted.
Yehoshua
(Hebrew)
God's help