Cat Names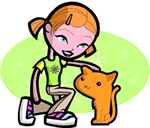 We offer 1,000's of cat names to help you choose the perfect one. Feel free to browse our unique cat names and when you find one you like you can add it to your favorites list to view later. If you have any cute cat names suggestions, please let us know. Enjoy!
Gryfflet
Killed by Lancelot
Dyanna
(French)
Divine. Mythological ancient Roman divinity Diana was noted for beauty and swiftness: often depicted as a huntress. Also Diana Princess of Wales.
Darcy
(French)
From Arcy Dark.
Nyke
(Greek)
Victory, speed, and trimuph.
Penn
(English)
From the enclosure
Corey
(Irish)
Variant of Cory meaning variously - From the round hill: seething pool: ravine. Also means Chosen
Rayce
(English)
Counselor. Variant of Raymond.
Inda
(English)
The country India.
Jennifer
(English)
Fair one. Variant of Guinevere. In Arthurian Mythology Guinevere was Arthur's queen.
Buckley
(English)
Variant of Buck: male goat or deer.
Nico
(English)
Abbreviation of Nicholas. Mythological Nike was Greek goddess of victory and root origin of Nicholas.