Cat Names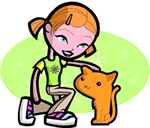 We offer 1,000's of cat names to help you choose the perfect one. Feel free to browse our unique cat names and when you find one you like you can add it to your favorites list to view later. If you have any cute cat names suggestions, please let us know. Enjoy!
Diamond
(English)
Of high value: brilliant. The precious diamond stone.
Phoenix
(Greek)
Mystical Bird, Purple
Wallis
(English)
From Wales
Mollie
(English)
From the Gaelic Maili which is a pet form of Mary bitter.
Gavin
(Scottish)
White hawk
Michel
(Hebrew)
Gift from God
MacPherson
(Scottish)
Son of the parson
Juana
(Hebrew)
Gift from God
Mona
Gathered of the seed of a jimson weed
Denni
(English)
Combination of Deana: (divine) and Dina: (from the valley: avenged).
Francisco
(Spanish)
Variant of Frank Free: a free man.
Jilliann
(English)
Jove's child. Variant of Gillian from the masculine Julian.