Cat Names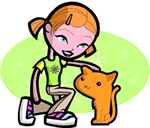 We offer 1,000's of cat names to help you choose the perfect one. Feel free to browse our unique cat names and when you find one you like you can add it to your favorites list to view later. If you have any cute cat names suggestions, please let us know. Enjoy!
Eisa
(Arabic)
Arabic form of Jesus
Chevelle
Bold and beautiful.
Sidell
(English)
From the wide valley
Declan
(Irish)
The name of an Irish saint.
Leona
(French)
Lion: lioness. Feminine of Leon.
Fitzpatrick
(French)
Son of Patrick. Surname.
Lucrece
(French)
From the Latin Lucretia Historically a Roman matron who committed suicide as a public protest against dishonor: from the Renaissance era - Lucrezia Borgia who was sister to Cesare Borgia.
Jenarae
(English)
Variation of Jenny which is a diminutive of Jane and Jennifer.
Ascot
(English)
Lives at the east cottage
Tomkin
(English)
Little Tom
Amaud
(French)
Eagle ruler
Kaylan
(English)
Variant of Kay and Kayla. keeper of the keys: pure.
Samoel
(Hebrew)
Name of God. Biblical prophet and judge who anointed Saul and David as kings of Israel. Sami: (Arabic) honored
Keturah
(Hebrew)
Sacrifice. Abraham's second wife in the bible.
Bathilde
(German)
Heroine
Brodrick
(Scottish)
Brother.