Cat Names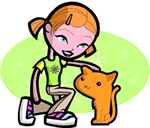 We offer 1,000's of cat names to help you choose the perfect one. Feel free to browse our unique cat names and when you find one you like you can add it to your favorites list to view later. If you have any cute cat names suggestions, please let us know. Enjoy!
Darek
(German)
Gifted ruler. From Theodoric.
Trentin
(English)
Refers to the English river Trent. Surname.
Broden
(Scottish)
Reference to Castle Brodie in Scotland.
PfessSley
(English)
From the priest's meadow
Baylie
(English)
Courtyard within castle walls: steward or public official. Surname or given name.
Aylmer
(English)
Infamous
Humberto
(Spanish)
Intelligent: Big: bright.
Yishai
(Indian)
Gift (father of King David)
Rygeland
(English)
From the rye land
Georgia
(German)
Farmer. Feminine of George.
Maolruadhan
(Irish)
Serves Saint Ruadhan
Jana
(Irish)
Feminine form of John God is gracious
Vincent
(English)
Conquering.