Cat Names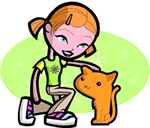 We offer 1,000's of cat names to help you choose the perfect one. Feel free to browse our unique cat names and when you find one you like you can add it to your favorites list to view later. If you have any cute cat names suggestions, please let us know. Enjoy!
Brigidia
(Spanish)
Spanish form of Bridget strong
Tory
(Irish)
From the knolls
Malcolm
(Celtic)
Servant of Saint Columba
Elizabeth
(English)
My God is bountiful:God of plenty. Elizabeth was mother of John the Baptist in the bible. In England Queen Elizabeth I and II.One of the most frequently used names in England.
Jacob
(Hebrew)
Supplanter
Colys
(English)
Son of the dark man
Fridwolf
(English)
Peaceful wolf
Ciara
(Irish)
Saint or Dark. Feminine of Ciaran.
Jaime
(Spanish)
Supplanter
Flynn
(Irish)
Son of a red-haired man. Surname.
Tyronne
(Irish)
From Owen's territory. County Tyrone in Ireland. The late actor Tyrone Power.
Jennah
(English)
Modern variant of Jenny and Jennifer.
Bryceton
(Scottish)
Variant of Bryce.
Federico
(Spanish)
Spanish form of Frederick peaceful ruler
Egerton
(English)
From the town on the ridge
Tyger
Alternative spelling of tiger