Cat Names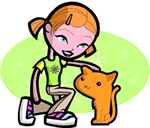 We offer 1,000's of cat names to help you choose the perfect one. Feel free to browse our unique cat names and when you find one you like you can add it to your favorites list to view later. If you have any cute cat names suggestions, please let us know. Enjoy!
Berengaria
(English)
Spearbearer maid
Eward
(German)
Strong as a boar
Dorrance
(Irish)
Variant of Dorran stranger.
Adelita
(German)
Sweet or noble
Kane
(Celtic)
Intelligent
Malleville
(French)
From Malleville
Nastia
(Greek)
Variant of Anastasia.
Barclay
From the birch meadow
Gillivray
(Scottish)
Servant of judgment
Robert
(Scottish)
Famed: bright: shining. 14th-century King Robert the Bruce. Robert Burns the poet.
Andere
(Spanish)
Feminine form of Andrew manly
Rane
(English)
Strong counselor. From the ancient personal name Ragnar.
Eginhard
(German)
Strong with a sword
Channing
(English)
young wolf.