Cat Names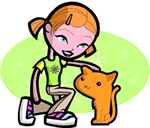 We offer 1,000's of cat names to help you choose the perfect one. Feel free to browse our unique cat names and when you find one you like you can add it to your favorites list to view later. If you have any cute cat names suggestions, please let us know. Enjoy!
Oletha
(English)
Light: nimble.
Phillipe
(French)
Loves horses
Bradon
(Irish)
Broad hillside.
Cassi
(English)
Abbreviation of Cassandra. Unheeded prophetess. In Homer's The Iliad Cassandra's prediction of the fall of Troy was unheeded.
Ezekiel
(Hebrew)
God strengthens. Biblical Ezekiel was a prophet among the captives taken to Babylon at the first fall of Jerusalem who wrote the Book of Ezekiel in captivity. See also Zeke.
Kagen
(Irish)
A thinker: fiery. Form of Hugh.
Mathers
(English)
Son of Mather
Caroline
(Scottish)
Feminine form of Charles manly
Nelwyna
(English)
Bright friend
Connor
(Irish)
Strong willed or wise Hound-lover.
Bailee
(French)
Courtyard within castle walls: steward or public official. Surname or given name.
Nathalia
(French)
Birthday: especially the birthday of Christ.
Chelsey
(English)
Place name: a London district.
Jayar
(English)
Phonetic name based on initials.
Jocelynn
(English)
Medieval male name adopted as a feminine name.