Cat Names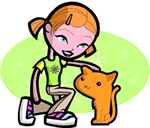 We offer 1,000's of cat names to help you choose the perfect one. Feel free to browse our unique cat names and when you find one you like you can add it to your favorites list to view later. If you have any cute cat names suggestions, please let us know. Enjoy!
Clarisa
(Spanish)
Bright: shining and gentle: famous.
Carey
(Irish)
Of the dark ones.
Alonsa
(Spanish)
Ready or noble
Jacinthe
(French)
Hyacinth.
Arend
(German)
Power of an eagle
Nahcomence
Oldbark antelope (Cheyenne)
Terris
(English)
Son of Terrell
Matunaagd
Fights (Algonquin)
Bemadette
(German)
Has the courage of a bear
Jennis
(English)
Variation of Jenny which is a diminutive of Jane and Jennifer.
Analena
(Spanish)
Grace. favor. Variant of Anna.
Kally
(English)
Modern variant of Callie.
Phillipe
(French)
Loves horses
Leslie
(Celtic)
From the gray fortress