Cat Names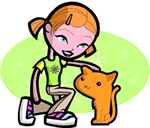 We offer 1,000's of cat names to help you choose the perfect one. Feel free to browse our unique cat names and when you find one you like you can add it to your favorites list to view later. If you have any cute cat names suggestions, please let us know. Enjoy!
Bartoli
(Spanish)
Ploughman
Tiladene
(English)
From the fertile valley
Ella
(English)
Abbreviation of Eleanor and Ellen. Beautiful fairy
Zyana
(Hebrew)
Blessing from Heaven.
Bidelia
(Irish)
Protective
Melisenda
(Spanish)
Sweet
Loleta
(Spanish)
Feminine form of Carlos manly
Ibrahim
(Arabic)
Arabic form of Abraham
Shareef
(Arabic)
Variant of Sharif Illustrious.
Bodicea
A queen of the Iceni Victory
ScIymgeour
(Scottish)
Fighter
Britney
(English)
Originally the ancient duchy of Bretagne in France. Celtic Bretons emigrated from France to become the Bretons of England.
Sterlyn
(German)
of high quality: pure.: Also variant of a name given pre-medieval refiners of silver meaning easterner.
Iratze
(Spanish)
Reference to the Virgin Mary
Jorcina
(English)
Variant of Georgina.