Cat Names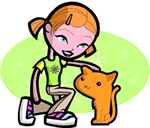 We offer 1,000's of cat names to help you choose the perfect one. Feel free to browse our unique cat names and when you find one you like you can add it to your favorites list to view later. If you have any cute cat names suggestions, please let us know. Enjoy!
Kerrick
(English)
King's rule. Surname.
Hraefnscaga
(English)
From the raven forest
Dunn
(English)
Dark skinned
Leland
(English)
From the meadow land Pasture ground.
Cherelle
(French)
Variant of Cherie Dear one:darling
Hallie
(English)
From the Hall.
Creighton
(English)
Lives at the creek town
Drummond
(Scottish)
At the ridge
Erin
(Irish)
From Ireland
Candyce
(English)
Candace was an ancient hereditary title used by Ethiopian queens.
Constantia
(Spanish)
Constancy: steadfastness.
Manuela
(Hebrew)
God is among us
Gian
(Hebrew)
Gift from God
Faux Pas
(French)
Social blunder
Chisholm
(Scottish)
From Chisolm