Cat Names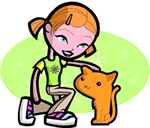 We offer 1,000's of cat names to help you choose the perfect one. Feel free to browse our unique cat names and when you find one you like you can add it to your favorites list to view later. If you have any cute cat names suggestions, please let us know. Enjoy!
Butrus
(Arabic)
Arabic form of Peter
Eoforwic
(English)
From the bear estate
Kevinn
(Irish)
Handsome child. Variant of Kevin.
Tangerine
(English)
From Tangiers
Abigall
(Hebrew)
Fathers joy. Alternate Spellings: Abegale, Abgail, Abigale.
Coolie
(Irish)
Hound of Ulster
Alarica
(German)
All ruler
Hardwin
(English)
Brave friend
Hurit
Beautiful (Algonquin)
Elberta
(English)
Noble or glorious
Meadhbh
(Irish)
Happiness or pearl
Elise
(French)
Consecrated to God Abbreviation of Elisabeth.
Adriene
(French)
From Adria the Adriatic sea region. Also means dark.
Kamdyn
(Scottish)
Valley.
Buckley
(English)
Variant of Buck: male goat or deer.
Appollinaris
A cat that belonged to Mark Twain.
Steathford
(English)
From the landing ford