Cat Names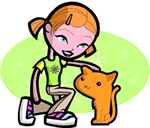 We offer 1,000's of cat names to help you choose the perfect one. Feel free to browse our unique cat names and when you find one you like you can add it to your favorites list to view later. If you have any cute cat names suggestions, please let us know. Enjoy!
Payton
(Irish)
Patrician: noble. Form of Patrick.
Ardala
(Irish)
High honor
Jennalyn
(English)
Modern variant of Jenny and Jennifer.
Jaicee
(English)
Based on the initials J.C. or an abbreviation of Jacinda.
Maitena
(English)
Dearly loved
Amalia
(English)
Industrious. Striving.
Ivie
(English)
A climbing evergreen ornamental plant.
Trumbald
(English)
Strong or bold
Aife
(Celtic)
A great warrior woman of myth
Rafal
(Hebrew)
God's healer
Melburn
(English)
From the mill stream
Mignonette
(French)
Delicate
Drew
(English)
Abbreviation of Andrew manly.
Matthew
(Hebrew)
Gift of Jehovah. In the bible Mathew was one of the 12 apostles. He wrote the first gospel account of the life of Jesus.
Parker
(English)
Keeper of the forest: forest ranger. Actor Parker Stevenson.
Eoforwic
(English)
From the bear estate