Cat Names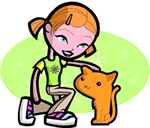 We offer 1,000's of cat names to help you choose the perfect one. Feel free to browse our unique cat names and when you find one you like you can add it to your favorites list to view later. If you have any cute cat names suggestions, please let us know. Enjoy!
Fitzwalter
(English)
Son of Walter
Raimundo
(French)
Guards wisely.
Devonn
(English)
Variant of the English county name Devon.
Jonathen
Variant of Jonathan.
Odelia
Little wealthy one
Guadalupe
(Arabic)
Wolf valley. Biblical Mary is Mexico's Lady of Guadalupe.
Shawnette
Beautiful intellgent flower.
Kalan
(English)
Variant of Kay and Kayla. keeper of the keys: pure.
Pernell
(English)
Little rock
Stilwell
From the tranquil stream
Dympna
(Irish)
Name of a saint
Rayhourne
(English)
From the deer's stream
Ballindeny
(Irish)
From the town of oak wood
Pat
(English)
Patrician: noble. Abbreviation of Patrick.
Liza
(Hebrew)
Devoted to God