Cat Names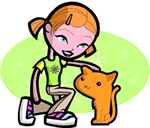 We offer 1,000's of cat names to help you choose the perfect one. Feel free to browse our unique cat names and when you find one you like you can add it to your favorites list to view later. If you have any cute cat names suggestions, please let us know. Enjoy!
Marlowe
(English)
Variant of Marlene Woman from Magdala.
Gryfflet
Killed by Lancelot
Jenetta
(English)
Variation of Jenny which is a diminutive of Jane and Jennifer.
Joka
(Hebrew)
Gift from God
Jessamyn
(Arabic)
A flower name from the older form Jessamine.
Remo
(English)
Abbreviation of Remington.
Nuray
Moonlight, Light of Moon, or Light Moon.
Anselmo
(German)
God's protection.
Ophelie
(French)
Serpentine
Genevie
(German)
Of the race of women.
Kalyn
(English)
Variant of Kay and Kayla. keeper of the keys: pure.
Romeo
(Spanish)
From Rome
Troye
(English)
Troy derives from the ancient Greek city of Troy: also from an Irish surname meaning soldier.
Zabrina
(English)
Forms of Sabrina: a princess
Lacee
(French)
Derived from Lacey which is a French Nobleman's surname brought to British Isles after Norman conquest.
Avraham
(Hebrew)
Father of a multitude
Radolph
(English)
Red wolf
Thorn
(English)
Town of thorns. Thornton variant. Surname.
Luvina
(Spanish)
Derived from the Roman given name Levinia.
Martina
(Spanish)
Feminine of Martin warring.