Cat Names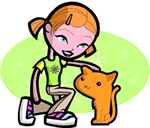 We offer 1,000's of cat names to help you choose the perfect one. Feel free to browse our unique cat names and when you find one you like you can add it to your favorites list to view later. If you have any cute cat names suggestions, please let us know. Enjoy!
Darissa
(Hebrew)
Wise. Dara was a biblical descendant of Judah known for his wisdom.
Rolando
(English)
Renowned in the land. Roland was a legendary hero who served Charlemagne.
Carley
(English)
A free person. A feminine form of Charles, Also see Carla, Carol and Caroline.
Nataleigh
(French)
Born at Christmas.
Fay
(French)
Fairy Variant of Faith. Confidence: trust: belief.
Gardiner
(English)
Gardener
Jorja
(English)
Modern phonetic variant of Georgia.
Blaine
(Scottish)
Surname of uncertain meaning.
Galahalt
Name of a prince
Crispin
(English)
Curly-haired. The 3rd century martyr St. Crispin is known as patron of shoemakers.
Tempest
(English)
Turbulent: stormy.
Alyssia
(English)
Variant of Alice.
Maci
(English)
Derived from medieval male form of Matthew.
Jordanna
(English)
Variant of the Hebrew Jordan. Down flowing. The river in Palestine where Jesus was baptized has been used as a given name since the Crusades.
Minetta
(French)
Form of Williamina
Gilia
(Hebrew)
Eternal joy
Tod
(English)
Fox. Tod is a Scottish nickname meaning a clever or wily person.