Cat Names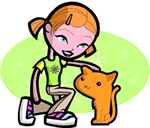 We offer 1,000's of cat names to help you choose the perfect one. Feel free to browse our unique cat names and when you find one you like you can add it to your favorites list to view later. If you have any cute cat names suggestions, please let us know. Enjoy!
Hagley
(English)
From the hedged enclosure
Holwell
(English)
Lives by the holy spring
Burleigh
(English)
Lives at the castle's meadow. Fortified. See also Berlyn.
Caith
(Irish)
From the battlefield
Terrence
(English)
Roman clan name.
Gwyndolin
(Celtic)
Of the white brow
Garson
(German)
Spear-fortified town.
Kalyn
(English)
Variant of Kay and Kayla. keeper of the keys: pure.
Farnham
(English)
From the fern field
Tyronne
(Irish)
From Owen's territory. County Tyrone in Ireland. The late actor Tyrone Power.
Vaiveahtoish
Alights on the cloud (Cheyenne)
Alize
The clouds of heaven
Paolo
(Italian)
Small, a form of Paul