Cat Names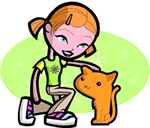 We offer 1,000's of cat names to help you choose the perfect one. Feel free to browse our unique cat names and when you find one you like you can add it to your favorites list to view later. If you have any cute cat names suggestions, please let us know. Enjoy!
Perkinson
(English)
Son of Perkin
Bradon
(Irish)
Broad hillside.
Crispin
(English)
Curly-haired. The 3rd century martyr St. Crispin is known as patron of shoemakers.
Camila
(Spanish)
Attendant
Garan
(German)
Guards: guardian.
Mollie
(English)
From the Gaelic Maili which is a pet form of Mary bitter.
Domenick
(Italian)
Alternate Spelling: Dominick, Dominic, Domenic, Dominik.
Crompton
(English)
From the winding farm
Tunleah
(English)
From the town meadow
Crosly
(English)
From the cross meadow
Aalijah
(Hebrew)
The lord is god. Variant of Elijah.
Gale
(English)
Lively. Joyful. Abbreviation of Abigail. Gael is a term for descendants of the ancient Celts in Scotland: Ireland and the Isle of Man.
Athelward
(English)
Noble protector
Conchobhar
(Irish)
Strong willed or wise
Brady
(English)
From tbe broad island
Osbourne
(English)
Divine warrior