Cat Names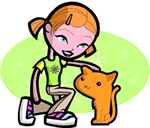 We offer 1,000's of cat names to help you choose the perfect one. Feel free to browse our unique cat names and when you find one you like you can add it to your favorites list to view later. If you have any cute cat names suggestions, please let us know. Enjoy!
Conway
(Irish)
Hound of the plain
Justeene
(English)
Just: upright. Feminine of Justin.
Dior
(French)
Related to D'Or meaning golden.
Jen
(English)
Variation of Jenny which is a diminutive of Jane and Jennifer.
Derrall
(English)
Variant of Darrel open.
Seosamh
(Hebrew)
God will multiply
Daviel
(English)
Variant of David beloved.
Valerie
(English)
Strong: valiant. Feminine of the Roman family clan name Valerius.
Kendyl
(English)
Royal valley referring to Kent in England.
Chrissie
(Irish)
Abbreviation of Christine. Follower of Christ.
Adhamh
(Irish)
Of the earth
Jerric
(English)
Strong: gifted ruler. Blend of Jer- and Derrick.
Brody
(Scottish)
Reference to Castle Brodie in Scotland.
Dalenna
(English)
Small valley. Abbreviation of Madeline.
Bartoli
(Spanish)
Ploughman
Woolcott
(English)
Lives in Wolfe's cottage