Cat Names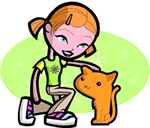 We offer 1,000's of cat names to help you choose the perfect one. Feel free to browse our unique cat names and when you find one you like you can add it to your favorites list to view later. If you have any cute cat names suggestions, please let us know. Enjoy!
Shaddock
(English)
Shad fish
Binga
(German)
From the kettle shaped hollow
Jenna
(English)
Modern variant of Jenny and Jennifer.
Tami
(English)
Abbreviation of Thomasina and Tamara.
Khristian
(Greek)
Anointed, follows Christ.
Elizabeth
(English)
My God is bountiful:God of plenty. Elizabeth was mother of John the Baptist in the bible. In England Queen Elizabeth I and II.One of the most frequently used names in England.
Fredda
(German)
Peaceful ruler. Feminine of Frederick.
Channing
(English)
young wolf.
Merrill
(English)
Shining sea.
Aliceson
(English)
Son of All
Alejandro
(Spanish)
Defends mankind. Spanish form of Alexander.
Winthrop
(English)
From Wine's estate
Jordynn
(Hebrew)
Variant of Jordan.
Chelsie
(English)
Place name: a London district.
Bion
An Alexandrian pastoral poet who wrote of the myths, around 250 B.C.
Ximen
(Hebrew)
God has heard
Jacqueleen
(French)
Feminine of Jacques derived from James and Jacob.
Gilroy
(Celtic)
Serves the red haired lord
Josephina
(French)
Feminine of Joseph.
Redman
(English)
Red haired counselor