Cat Names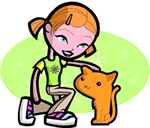 We offer 1,000's of cat names to help you choose the perfect one. Feel free to browse our unique cat names and when you find one you like you can add it to your favorites list to view later. If you have any cute cat names suggestions, please let us know. Enjoy!
Adelina
(German)
Sweet or noble
Grayson
(English)
Son of the reeve or Gray-haired: son of the Gray family: son of Gregory.
Isana
(German)
Strong willed
Walbrydge
(English)
From the Welshman's bridge
Vokivocummast
White antelope (Cheyenne)
Hugo
(Spanish)
Intelligent
Briannon
(English)
She ascends. Feminine of Brian.
Cedrina
(English)
Modern feminine of Cedric.
Lander
(English)
From the grassy plain
Els
(Hebrew)
Devoted to God
Domenick
(Italian)
Alternate Spelling: Dominick, Dominic, Domenic, Dominik.
Kaidan
(English)
rebel/fighter/spirit of battle
Maddalene
(German)
Magnificent
Tibeldie
(German)
Boldest
Churchill
(English)
Lives at the church hill