Cat Names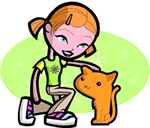 We offer 1,000's of cat names to help you choose the perfect one. Feel free to browse our unique cat names and when you find one you like you can add it to your favorites list to view later. If you have any cute cat names suggestions, please let us know. Enjoy!
Christianna
(Greek)
Same as Christina/Christopher
Jeffrey
(English)
Peaceful. Variant of Geoffrey. The three-syllable spelling alternate Jeffery has been used since medieval times. See also Geoffrey.
Kuno
(German)
Honest advisor
Beceere
(English)
Lives by the beech tree
Churchill
(English)
Lives at the church hill
Tanton
(English)
From the quiet river farm
Donaghy
(Celtic)
Strong fighter
Rosston
(German)
Red. Surname.
Analena
(Spanish)
Grace. favor. Variant of Anna.
Ellis
(English)
Variant of Elias from Elijah My God is Jehovah.
Conchobhar
(Irish)
Strong willed or wise
Rebecca
(Hebrew)
Captivating
Kitlyn
(English)
Medieval English form of the Irish Caitlin. Pure
Raynor
(English)
Strong counselor. From the ancient personal name Ragnar.
Tabitha
(Hebrew)
beauty, grace From the Aramaic word for Gazelle. Biblical - Tabitha of the New Testament (Acts 9:36) was noted for good works.