Cat Names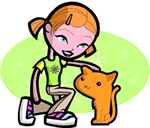 We offer 1,000's of cat names to help you choose the perfect one. Feel free to browse our unique cat names and when you find one you like you can add it to your favorites list to view later. If you have any cute cat names suggestions, please let us know. Enjoy!
Big Girl
For a large female cat.
Suzanna
(English)
Lily. In the apocryphal Book of Tobit Susannah courageously defended herself against wrongful accusation. White lilies grew in the Biblical city of Susa in Persia.
Alize
The clouds of heaven
Caith
(Irish)
From the battlefield
Kathy
(English)
Form of the Greek Catherine meaning pure. Variant of Katherine.
Khristian
(Greek)
Anointed, follows Christ.
Hamlett
(German)
From the little home
Kasper
(German)
A treasured secret.
Gwalchmai
(Celtic)
From Arthurian legend
Yasman
(Arabic)
Jasmine Flower
Dinorah
(Hebrew)
Judged and vindicated. In the bible Dinah was Jacob's only daughter.
Jeran
(English)
Modern variant of Israeli Jaron cry of rejoicing.
Caitrin
(Irish)
Variant of Katherine meaning pure
Tami
(English)
Abbreviation of Thomasina and Tamara.