Cat Names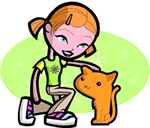 We offer 1,000's of cat names to help you choose the perfect one. Feel free to browse our unique cat names and when you find one you like you can add it to your favorites list to view later. If you have any cute cat names suggestions, please let us know. Enjoy!
Christianna
(Greek)
Same as Christina/Christopher
Stancliff
(English)
From the rocky diff
Cullen
(Irish)
Good-looking lad. Surname.
Afrodille
(French)
Daffodil
Dior
(French)
Related to D'Or meaning golden.
Lucrece
(French)
From the Latin Lucretia Historically a Roman matron who committed suicide as a public protest against dishonor: from the Renaissance era - Lucrezia Borgia who was sister to Cesare Borgia.
John-paul
(French)
Variant of the Hebrew John Jehovah has been gracious: has shown favor.
Tammie
(English)
Abbreviation of Thomasina and Tamara.
Radolph
(English)
Red wolf
Derebourne
(English)
From the deer brook
Brodrick
(Scottish)
Brother.
Shaddock
(English)
Shad fish
Barret
(German)
Mighty as a bear
Aalijah
(Hebrew)
The lord is god. Variant of Elijah.
Atalia
(Hebrew)
God is great
Nicole
Victory of the people
Jaye
(English)
Variant of names like Jason and Jacob.
GOlding
(English)
Son Of Gold