Cat Names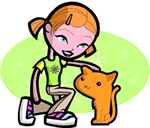 We offer 1,000's of cat names to help you choose the perfect one. Feel free to browse our unique cat names and when you find one you like you can add it to your favorites list to view later. If you have any cute cat names suggestions, please let us know. Enjoy!
Jorge
(Spanish)
Spanish form of George farmer
Dannon
(English)
Feminine variant of Daniel God will judge.
Federico
(Spanish)
Spanish form of Frederick peaceful ruler
Maddy-Rose
Quest and beautiful.
Eginhard
(German)
Strong with a sword
Chalmer
(Scottish)
Rules the home
Paien
(French)
Name of a nobleman
Daelan
(English)
Rhyming variant of Waylon - a historical blacksmith with supernatural powers.
Destinie
(English)
Certain fortune: fate. The mythological Greek god of fate.
Tahra
(Celtic)
Earth or growth.
Korbin
(English)
Raven-haired.