Cat Names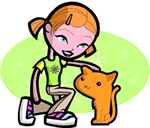 We offer 1,000's of cat names to help you choose the perfect one. Feel free to browse our unique cat names and when you find one you like you can add it to your favorites list to view later. If you have any cute cat names suggestions, please let us know. Enjoy!
Maxwell
From Maccus's pool
Haye
(Scottish)
From the stockade
Lyndsey
(English)
A lake: a place of linden trees.
Keannen
(English)
Ancient.
Blaine
(Scottish)
Surname of uncertain meaning.
Steele
(English)
Hard: durable.
Telford
(French)
Works in iron
Wynfrith
(English)
Friend of peace
Lancelot
(French)
Servant
Josefina
(Spanish)
Spanish form of Josephine God shall add Feminine of Joseph.
Jory
(Hebrew)
God will uplift
Casen
Alternate Spelling: Cason.
Forester
(English)
forest-ranger Surname.
Amichai
(Hebrew)
My parents are alive
Jayne
(English)
Jehovah has been gracious: has shown favor. Variant of Joan.