Cat Names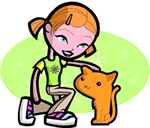 We offer 1,000's of cat names to help you choose the perfect one. Feel free to browse our unique cat names and when you find one you like you can add it to your favorites list to view later. If you have any cute cat names suggestions, please let us know. Enjoy!
Meryl
(French)
Blackbird.
Daney
(English)
From Denmark. Also a variant of Daniel.
Heaven-Leigh
One with life meaning holy and Heaven sent
Jabba The Hut
Large creature from Star Wars
Innes
(Scottish)
From Innes
Brentley
(English)
Hilltop. Variant of Brent.
Melinda
(English)
Blend of Melissa and Linda.
Ear
(Scottish)
From the east
Leilah
(Arabic)
Born at night.
Nechemya
(Hebrew)
Comforted by God
Crissie
(Scottish)
Abbreviation of Christine. Follower of Christ.
Fraser
(Scottish)
Strawberry flowers: Of the forest men. A major Scottish clan.
Martina
(Spanish)
Feminine of Martin warring.
Dawnika
(English)
The first appearance of daylight: daybreak.
Freman
(French)
Free man: a man freed from bound servitude to an overlord. Surname.
Nate
(Hebrew)
Given. Form of Nathan.