Cat Names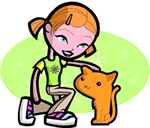 We offer 1,000's of cat names to help you choose the perfect one. Feel free to browse our unique cat names and when you find one you like you can add it to your favorites list to view later. If you have any cute cat names suggestions, please let us know. Enjoy!
Grizel
(Scottish)
Scottish form of Grizelda gray haired
Emilee
Variant of Emily. Hard worker.
Shaine
(Irish)
Variant of Shaun from John.
Jacob
(Hebrew)
Supplanter
Donzel
(Spanish)
Abbreviation of Donatello gift from God.
Linda
(English)
Lime tree: linden tree.
Audie
(English)
Noble strength
Elishia
(French)
Abbreviation of Elisabeth.
Cathie
(English)
Form of the Greek Catherine meaning pure.
Jacey
(English)
Based on the initials J.C. or an abbreviation of Jacinda.
Bryleigh
Gracious and strong.
Prestin
(English)
From the Priest's farm
Amery
(Irish)
Ridge: long hill
Sinclair
(French)
St. Clair.
Loleta
(Spanish)
Feminine form of Carlos manly