Cat Names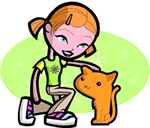 We offer 1,000's of cat names to help you choose the perfect one. Feel free to browse our unique cat names and when you find one you like you can add it to your favorites list to view later. If you have any cute cat names suggestions, please let us know. Enjoy!
Margeaux
(French)
Variant of Margaret. Pearl.
Uriel
(Hebrew)
God is my light
ScIymgeour
(Scottish)
Fighter
Virgilio
(Spanish)
Spanish form of Virgil profiting
Heallfrith
(English)
Peaceful home
Mansi
Plucked flower (Hopi)
Nechemya
(Hebrew)
Comforted by God
Daliyah
(Hebrew)
Tree branch
Connah
(Celtic)
Contented
Jamie
(Hebrew)
Supplanter
Kaelynn
(English)
Variant of Kay and Kayla. keeper of the keys: pure.
Patrick
(Irish)
Patrician: noble. Romans society was divided into plebeians: (commoners) and patricians: (aristocrats). Saint Patrick - patron saint of Ireland.
Charlita
(French)
Feminine of Charles meaning manly
Tohy
(Hebrew)
Goodness of God