Cat Names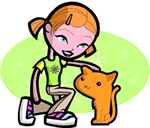 We offer 1,000's of cat names to help you choose the perfect one. Feel free to browse our unique cat names and when you find one you like you can add it to your favorites list to view later. If you have any cute cat names suggestions, please let us know. Enjoy!
Lear
(English)
Shakespearian king
Jessie
(Hebrew)
Wealthy: Variant of Jesse Jehovah exists.
Janene
(English)
Variant of Jeannine.
Marybell
(English)
Derived from Mary Bitter. Mary was the biblical mother of Christ. Names like Dolores and Mercedes have been created to express aspects of Mary's life and worship.
Perceval
(English)
Valley piercer
Brioni
(English)
The name of a flowering vine used in folk medicine.
Aubrin
Combination of Aubrey and Brin.
Brochan
(Scottish)
Broken
Coralee
(English)
Maiden.
Bobbie
(English)
Abbreviation of Robert.
Joaquina
(Hebrew)
God shall establish
Averill
(English)
Wild boar
Amalur
(Arabic), (Spanish)
Homeland