Cat Names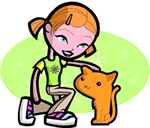 We offer 1,000's of cat names to help you choose the perfect one. Feel free to browse our unique cat names and when you find one you like you can add it to your favorites list to view later. If you have any cute cat names suggestions, please let us know. Enjoy!
Hweolere
(English)
Wheel maker
Aubree
(English)
Rules with elf-wisdom.
Odanda
(Spanish)
Famous land
Marsden
(English)
From the marsh valley
Melinda
(English)
Blend of Melissa and Linda.
Daviel
(English)
Variant of David beloved.
Roswell
(German)
Horse mighty
Devry
(English)
Derived from place-name Deverel.
Trude
(German)
Fighting woman
Chaney
(French)
Oak-hearted.
Heathcliff
(English)
From the heath cliff
Tzion
(Hebrew)
Sunny mountain
Bairrfhionn
(Celtic)
Marksman
Earie
(Scottish)
From the east
Carter
(English)
Drives a cart
Finella
(Irish)
White shouldered
Hagaleah
(English)
From the hedged meadow