Cat Names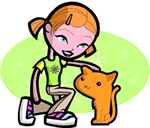 We offer 1,000's of cat names to help you choose the perfect one. Feel free to browse our unique cat names and when you find one you like you can add it to your favorites list to view later. If you have any cute cat names suggestions, please let us know. Enjoy!
Snowden
(English)
From the snowy hill
Gardiner
(English)
Gardener
Marvella
(French)
Miracle
Tony
(English)
highly praiseworthy. Abbreviation of Anthony and its variants used since medieval times as an independent name.
ScIymgeour
(Scottish)
Fighter
Teamhair
(Irish)
Where the kings met
Dita
(Spanish)
Abreviation of Edith.
Skyler
(English)
Phonetic spelling of Schuyler.
Jourdaine
(English)
Variant of Hebrew Jordan down flowing.
Cullen
(Irish)
Good-looking lad. Surname.