Cat Names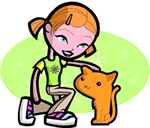 We offer 1,000's of cat names to help you choose the perfect one. Feel free to browse our unique cat names and when you find one you like you can add it to your favorites list to view later. If you have any cute cat names suggestions, please let us know. Enjoy!
Aine
(Celtic)
Fire or joy
Laurelle
(English)
The laurel tree or sweet bay tree symbolic of honor and victory.
Boudicea
A queen of the Iceni Victory
Deke
(English)
Dusty one: servant.
Ariel
(Hebrew)
Lioness of God. Biblical name for Jerusalem. Used by Shakespeare for a mischevious spirit in The Tempest.
Terrill
(German)
Powerful.
Taicligh
(Irish)
Peaceful
Hadon
(English)
From the heath
Burcet
(French)
From the little stronghold
Leana
(English)
Derived from an Irish Gaelic of Helen: (light:beautiful woman): variant of Liana: (youthful:bond).
Janey
(English)
Jehovah has been gracious: has shown favor. Variant of Joan.
Maxwell
From Maccus's pool
Burkett
(French)
From the little stronghold
Rabah
(Hebrew)
Fourth born
Adelita
(German)
Sweet or noble
Charmain
(French)
One of Cleopatra's attendants in Shakespeare's Antony and Cleopatra was named Charmian.
Ashby
(English)
From the ash tree farm
Kippie
(English)
From the pointed hill