Cat Names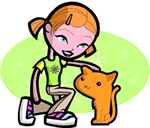 We offer 1,000's of cat names to help you choose the perfect one. Feel free to browse our unique cat names and when you find one you like you can add it to your favorites list to view later. If you have any cute cat names suggestions, please let us know. Enjoy!
Madelena
(English)
Woman from Magdala. Variant of Madeleine. Madeleine: (English/French) Woman from Magdala.
Cynburleigh
(English)
From the royal meadow
Trevonn
(English)
Fair town. Abbreviation of Trevelyan.
Carol
(French)
Song of happiness
Annamarie
(English)
Variant of Anne. Biblical: devout woman who saw infant Jesus presented at the temple in Jerusalem.
Felippe
(Spanish)
Variant of Philip.
Akeila
(Russian)
From the Arabic name Akilah meaning Wise: Bright: smart.
Dalziel
(Scottish)
From the little field
Brody
(Scottish)
Reference to Castle Brodie in Scotland.
Debby
(Hebrew)
Bee. Deborah was the Biblical prophetess who summoned Barak to battle against an army of invaders. After the battle she wrote a victory song which is part of the Book of Judges.
Anjanette
(English)
Gift of God's favor. Blend of Ann and Janet.
Shad
(English)
Short form of the Biblical Shadrach: one of three young Hebrew men who survived being cast into a fiery furnace.
Rinna
(Hebrew)
Joyous song
Grizel
(Scottish)
Scottish form of Grizelda gray haired
Big Ben
Large clock tower in England