Cat Names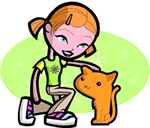 We offer 1,000's of cat names to help you choose the perfect one. Feel free to browse our unique cat names and when you find one you like you can add it to your favorites list to view later. If you have any cute cat names suggestions, please let us know. Enjoy!
Branhard
(English)
Bold raven
Tyfiell
(Irish)
Derivative of the Scandinavian god of battle Tyr. Tuesday was named for Tyr.
MacLean
(Scottish)
Son of the servant of John
Peregrine
(English)
The peregrine falcon is the bird most favored in the ancient sport of falconry.
Murtaugh
(Irish)
Surname.
Brendon
(Irish)
Prince. Variant of Brendan.
Davina
(Hebrew)
Cherished
Udell
(English)
From the yew tree valley
May
(Scottish)
Scottish form of Margaret pearl
Edlin
(German)
Abbreviation of names beginning with Ed-
Mairead
(Irish)
Name of a saint
Coletta
(French)
Victorious. Variant of Nicolette.
Jakoba
(German)
Feminine form of Jakoh
Eliot
(Hebrew)
Jehovah is God
Oldwyn
(English)
Special friend