Cat Names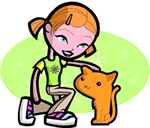 We offer 1,000's of cat names to help you choose the perfect one. Feel free to browse our unique cat names and when you find one you like you can add it to your favorites list to view later. If you have any cute cat names suggestions, please let us know. Enjoy!
Codi
(English)
Cushion. Helpful.
Ferryn
(English)
Adventurous.
Mikhail
(Hebrew)
Gift from God
Shoemowetochawcawe
High backed wolf (Cheyenne)
Zacharias
(Hebrew)
Variant of Vechariah Jehovah has remembered.
Audrick
(German)
Noble friend
Ashley
Dwells at the ash tree meadow
Philippine
(German)
Loves horses
Aldrick
(French)
Old or wise ruler
Lynnette
(French)
Little lion
Darton
(English)
From the deer park
Lizann
(English)
Modern blend of Liz and Ann.
Emory
(German)
Joint ruler