Cat Names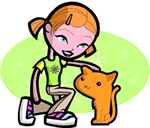 We offer 1,000's of cat names to help you choose the perfect one. Feel free to browse our unique cat names and when you find one you like you can add it to your favorites list to view later. If you have any cute cat names suggestions, please let us know. Enjoy!
Joanna
(Hebrew)
Gift from God
Perro
(Mexican), (Spanish)
Dog
Tupper
(English)
Ram herder
Lynnette
(French)
Little lion
Arielle
(French)
Lion of God.
Nella
(English)
Abbreviation of Eleanor shining light.
Elmore
(English)
Lives at the elm tree moor
Napayshni
Strong or courageous (Sioux)
Jeannelle
(French)
Comes from the name Jean and elle meaning girl
Donelle
(Irish)
Feminine form of Donal rules the world
Koby
(German)
Dark: dark-haired.
Herne
(Celtic)
Mythical hunter god
Charlette
(French)
Feminine of Charles meaning manly
Apryl
(English)
The month April: symbolizes spring.