Cat Names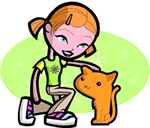 We offer 1,000's of cat names to help you choose the perfect one. Feel free to browse our unique cat names and when you find one you like you can add it to your favorites list to view later. If you have any cute cat names suggestions, please let us know. Enjoy!
Jayar
(English)
Phonetic name based on initials.
Connie
(Irish)
Strong willed or wise
Efrain
(Spanish)
Doubly fruitful. Form of Hebrew Ephraim
Maralyn
(English)
Blend of Marie or Mary and Lyn.
Fibh
(Scottish)
From Fifeshire
Gwenhwyfach
Guinevere's sister
Pernell
(English)
Little rock
Audrick
(German)
Noble friend
Hurit
Beautiful (Algonquin)
Weslee
(English)
Feminine of Wesley.
Tyrese
(African)
Talented leader of the well being.
Emmanuelle
(Hebrew)
Faith
Iov
(Hebrew)
God will estahlish
Derek
(German)
Gifted ruler. From Theodoric.
Jaeden
(English)
God has heard.
Kaci
(English)
Modern Kacie and variants are phonetic forms of the initials K.C. or variants of the Irish name Casey alert: vigorous.
Shimshon
(Hebrew)
Bright sun
Barday
(Scottish)
From Berkeley
Kaylee
(English)
Variant of Katherine. Pure. Variant of Kay and Kayla keeper of the keys: pure.
Elvina
Friend of the elves