Cat Names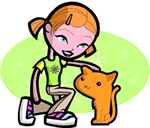 We offer 1,000's of cat names to help you choose the perfect one. Feel free to browse our unique cat names and when you find one you like you can add it to your favorites list to view later. If you have any cute cat names suggestions, please let us know. Enjoy!
Easter
(English)
Born at Easter
Riston
(English)
From the brushwood farm
Haele
(English)
Lives in the hall
Kylie
(Australian)
Boomerang. Feminine form of Kyle.
Malinda
(English)
Blend of Melissa and Linda.
Thornley
(English)
From the thorny meadow
Niko
(English)
Abbreviation of Nicholas. Mythological Nike was Greek goddess of victory and root origin of Nicholas.
Austine
(English)
Variant of Augustine.
Hobard
(German)
High or bright
Gwalchmai
(Celtic)
From Arthurian legend
SutcIyf
(English)
From the south cliff
Daganya
(Hebrew)
Ceremonial grain
Deidre
(Irish)
Melancholy. A variant of the older name Deirdre In Celtic legend Deirdre died of a broken heart.
Kermichil
(Scottish)
From Michael's fortress
Goodwyn
(English)
Good friend
Kasa
Dressed in furs (Hopi)