Cat Names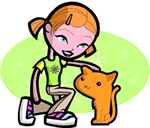 We offer 1,000's of cat names to help you choose the perfect one. Feel free to browse our unique cat names and when you find one you like you can add it to your favorites list to view later. If you have any cute cat names suggestions, please let us know. Enjoy!
Menassah
(Hebrew)
Forgetful
Erving
(English)
Friend. Variant of Irving.
Terrill
(German)
Powerful.
Louis
(English)
Form of Lawrence.
Lonzo
(Spanish)
Ready: eager. Abbreviation of Alonzo.
Kayah
Wise child. (Japanese meaning: a resting place). Variant of Kaya (Philippino for ability, power, aptitude or capable)
Fe Fe
Fe Fe means feline in Cuba.
Erma
(German)
Complete. War goddess
Elwell
(English)
From the old spring
Kathy
(English)
Form of the Greek Catherine meaning pure. Variant of Katherine.
Calantha
(French)
Beautiful flower
Kippie
(English)
From the pointed hill
Laycie
(French)
Derived from Lacey which is a French Nobleman's surname brought to British Isles after Norman conquest.
Takara
(Japanese)
Precious stones or treasure.
Yoana
(Spanish)
God's gift
Alyson
(French)
Variation of Alice.
Jacey
(English)
Based on the initials J.C. or an abbreviation of Jacinda.
Alena
(Celtic)
Fair: good-looking. Feminine of Allen or variant of Helen.
Farren
(English)
Adventurous.