Cat Names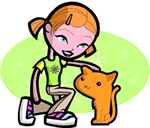 We offer 1,000's of cat names to help you choose the perfect one. Feel free to browse our unique cat names and when you find one you like you can add it to your favorites list to view later. If you have any cute cat names suggestions, please let us know. Enjoy!
Santon
(English)
From the sandy farm
Bosworth
(English)
Lives at the cattle enclosure
Fahey
(Irish)
From the green field
Cruadhlaoich
(Irish)
Hunch backed
Elwyna
Friend of the elves
Sarita
(Spanish)
Princess
Rowan
(Irish)
Red haired Surname.
Corwyn
(English)
Friend of the heart
Von
(German)
The prefex Von is equivalent of Van in Dutch names and of de in French names.
Chaunce
(French)
fortune: a gamble. Variant of Chauncey.
Bevis
(French)
From Beauvais
Sanders
(English)
Alexander's son
Killdaire
(Irish)
From county Kildare