Cat Names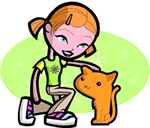 We offer 1,000's of cat names to help you choose the perfect one. Feel free to browse our unique cat names and when you find one you like you can add it to your favorites list to view later. If you have any cute cat names suggestions, please let us know. Enjoy!
Wiccum
(English)
From the village meadow
Amy
(French)
Dearly loved: Beloved.
Ertha
(German)
The earth.
Kaela
(Hebrew)
Beloved sweetheart.
Davis
(Scottish)
David's son
Carree
(English)
Abbreviation of Carol and Caroline from the masculine Charles meaning manly
Christianna
(Greek)
Same as Christina/Christopher
Genevieve
(German)
Of the race of women. White wave
Archard
(French)
Powerful
Kianna
(Irish)
Variant of Kian. Ancient.
Fyuree
Fiery, fiesty, passionate
Geraldina
(English)
Rules by the spear. Feminine of Gerald.
Sheply
From the sheep meadow
Connah
(Celtic)
Contented
Armen
(Hebrew)
High place.
Appollinaris
A cat that belonged to Mark Twain.
Othomann
(German)
Wealthy