Cat Names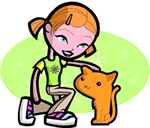 We offer 1,000's of cat names to help you choose the perfect one. Feel free to browse our unique cat names and when you find one you like you can add it to your favorites list to view later. If you have any cute cat names suggestions, please let us know. Enjoy!
Janicia
(English)
Variant of Jane.
Emeraude
(French)
Emerald
Joleigh
(French)
Cheerful: pretty.
Kadi
(English)
Rhyming variant of Katy or Cady.
Charmain
(French)
One of Cleopatra's attendants in Shakespeare's Antony and Cleopatra was named Charmian.
Darerca
(Irish)
Name of a saint
Nora
(English)
Abbreviation of Eleanora light and Honora honor.
Manfried
(German)
Peaceful
Kerrigan
(Irish)
Dusky: dark A surname.
Moina
(Celtic)
Mild or tender
Jesika
Alternate Spelling: Jessica.
Big Bertha
Comic book character. Large gun.
Lochness
In reference to the Loch Ness monster.
Alo
Spiritual guide (Hopi)
Constanza
(Spanish)
Constant