Cat Names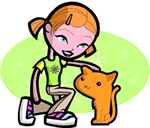 We offer 1,000's of cat names to help you choose the perfect one. Feel free to browse our unique cat names and when you find one you like you can add it to your favorites list to view later. If you have any cute cat names suggestions, please let us know. Enjoy!
SulliMn
(Irish)
Black eyed
Nelwyna
(English)
Bright friend
Dannah
(English)
A Biblical place name: variant of Daniel God will judge.
Ariel
(Hebrew)
Lioness of God. Biblical name for Jerusalem. Used by Shakespeare for a mischevious spirit in The Tempest.
Eva
(Hebrew)
Life. Living one. Variant of Eve. In the bible Eve was Adam's wife and the first woman.
Benson
(Hebrew)
Son of Benjamin
Tyfiell
(Irish)
Derivative of the Scandinavian god of battle Tyr. Tuesday was named for Tyr.
Blakemore
(English)
From the dark moor
Mitchel
(Irish)
Form of Michael Who is like God?
Jesika
Alternate Spelling: Jessica.
Reynolds
(Irish)
Surname.
Delanie
(Irish)
Challenger
Spangler
(German)
Tinsmith
Diederich
(German)
People's ruler