Cat Names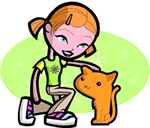 We offer 1,000's of cat names to help you choose the perfect one. Feel free to browse our unique cat names and when you find one you like you can add it to your favorites list to view later. If you have any cute cat names suggestions, please let us know. Enjoy!
Tyger
Alternative spelling of tiger
Morgana
Enchantress half sister of Arthur
Dionna
(English)
From the sacred spring. The mythological Dione was wife to Zeus and mother of Aphrodite.
Spenser
(English)
Dispenser: provider.
Johannah
(Hebrew)
Variant of Joan
Maile
(Hawaiian)
A vine that grows in Hawaii that is used in making leis.
Kailene
(English)
Variant of Kay and Kayla. keeper of the keys: pure.
Avraham
(Hebrew)
Father of a multitude
Doron
(English)
Variant of Dorran stranger.
Susannah
(Hebrew)
Graceful lily In the apocryphal Book of Tobit Susannah courageously defended herself against wrongful accusation. White lilies grew in the Biblical city of Susa in Persia.
Harmen
(French)
Variant of Herman.
Marisela
(Spanish)
Variant of Marcella Of Mars. Mars was mythological Roman god of fertility for whom the month March was named: mythologically identified with the Greek war god Ares.