Cat Names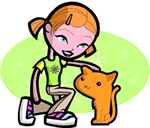 We offer 1,000's of cat names to help you choose the perfect one. Feel free to browse our unique cat names and when you find one you like you can add it to your favorites list to view later. If you have any cute cat names suggestions, please let us know. Enjoy!
Adrianne
(French)
From Adria the Adriatic sea region. Also means dark.
Clarice
(English)
Variant of Claire or Clarice. Bright: shining and gentle: famous.
Alvis
(English)
All-knowing.
Tupper
(English)
Ram herder
Noelle
(French)
Birthday. Feminine of Noel. Commonly refers to Christ's birth and Christmas festival.
Burney
(English)
Lives on the brook island
Evette
(Hebrew)
Living one. Variant of Eve. In the bible Eve was Adam's wife and the first woman.
Chaya
(Spanish)
Abbreviation for people with names ending in -ario.
Vaiveahtoish
Alights on the cloud (Cheyenne)
Palmira
(Spanish)
From the city of palms
Goddard
(German)
Hard spear
Huldiberaht
(German)
Graceful
Danila
(Hebrew)
God will judge