Cat Names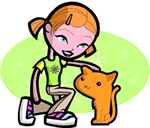 We offer 1,000's of cat names to help you choose the perfect one. Feel free to browse our unique cat names and when you find one you like you can add it to your favorites list to view later. If you have any cute cat names suggestions, please let us know. Enjoy!
ScIymgeour
(Scottish)
Fighter
Gottfried
(German)
Peaceful god
Fallon
(Irish)
In charge.
Matthew
(Hebrew)
Gift of Jehovah. In the bible Mathew was one of the 12 apostles. He wrote the first gospel account of the life of Jesus.
Carla
(Spanish)
Feminine form of Charles manly
Analena
(Spanish)
Grace. favor. Variant of Anna.
Kaylee
(English)
Variant of Katherine. Pure. Variant of Kay and Kayla keeper of the keys: pure.
Toft
(English)
From the small farm
Hamilton
(French)
From the mountain town
Halifrid
(German)
Peaceful heroine
Treoweman
(English)
Loyal
Joyelle
(French)
Rejoicing.
Wendall
(German)
Traveler: wanderer.
Amd
(German)
Power of an eagle