Cat Names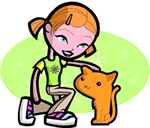 We offer 1,000's of cat names to help you choose the perfect one. Feel free to browse our unique cat names and when you find one you like you can add it to your favorites list to view later. If you have any cute cat names suggestions, please let us know. Enjoy!
Kaleb
(Hebrew)
Bold and faithful
Audel
(English)
Old friend.
Ike
(Hebrew)
Variant of Hebrew Isaac Laughter.
Amabelle
(French)
Lovable
Jozlyn
(French)
Medieval male name adopted as a feminine name.
Vania
(Hebrew)
God's gift
Tedrick
(German)
Variant of the old German name Theodoric ruler of the people.
Ophelie
(French)
Serpentine
Rosana
(Hebrew)
Graceful rose
Alandra
(Spanish)
Variant of Alexandra defender of mankind.
Lynessa
(English)
Variant of ancient Welsh given name. In Arthurian legend Lynette accompanied Sir Gareth on a knightly quest.
Cheney
(French)
From the oak wood
Scelflesh
(English)
From the edge meadow
Corrissa
(English)
Maiden.