Cat Names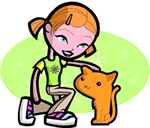 We offer 1,000's of cat names to help you choose the perfect one. Feel free to browse our unique cat names and when you find one you like you can add it to your favorites list to view later. If you have any cute cat names suggestions, please let us know. Enjoy!
Eljin
(Celtic)
Noble: white.
Germain
(French)
From Germany
Forba
(Scottish)
Headstrong
Hecate
(Greek)
Greek goddess of fertility who later became associated with Persephone as goddess of the underworld and protector of witches
Buchanan
(Scottish)
From the cannon's seat
Ygraine
In Arthurian legend Igrayne is mother of Arthur.
Letitia
(English)
Modern form of medieval name Letitia. Joyful:happy.
Dagmar
(German)
Glorious day
Aghna
(Irish)
Irish form of Agnes
Ansel
(German)
God's protection.
Damiean
(English)
Calm and tame.
Delma
(German)
Noble protector.
Farrin
(Irish)
The land. Also used for girIS.
Harkahome
Little robe (Cheyenne)
Hilda
(German)
Noble: Warfare. In Scandinavian mythology Hildegard was a Valkyrie sent by Odin to escort battle heroes to Valhalla.
Jazlynn
(English)
Modern variant of Jasmine: combination of Jocelyn and the musical term jazz.