Cat Names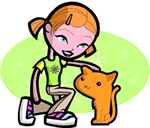 We offer 1,000's of cat names to help you choose the perfect one. Feel free to browse our unique cat names and when you find one you like you can add it to your favorites list to view later. If you have any cute cat names suggestions, please let us know. Enjoy!
Bion
An Alexandrian pastoral poet who wrote of the myths, around 250 B.C.
Steathford
(English)
From the landing ford
Ivie
(English)
A climbing evergreen ornamental plant.
Emmaline
(German)
Hardworking. Variant of Emily.
Marlayne
(German)
Variant of Madeline Woman from Magdala.
Krynn
(English)
Caring and loving
Muhammed
(Arabic)
Variant used for Mohammad - founder of Islamic religion. praiseworthy: glorified.
Benecroft
(English)
From the bean field
Edina
(English)
Wealthy friend
Fulaton
(English)
From the people's estate
Brienna
(Celtic)
She ascends. Feminine of Brian.
Williamon
(German)
German form of William
Karlin
(German)
Womanly: strength. Feminine of Karl.
Jakeem
(Arabic)
Raised up.
Erzsebet
(Hebrew)
Devoted to God
Brittany
(Celtic)
From Britain