Cat Names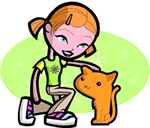 We offer 1,000's of cat names to help you choose the perfect one. Feel free to browse our unique cat names and when you find one you like you can add it to your favorites list to view later. If you have any cute cat names suggestions, please let us know. Enjoy!
Cord
(English)
Variant of Cordell cordmaker.
Tyrell
(Irish)
Derivative of the Scandinavian god of battle Tyr. Tuesday was named for Tyr.
Jonas
(Hebrew)
Gift from God
Otoahhastis
Tall bull (Cheyenne)
Candi
(Spanish)
Variant of Candida. Bright: glowing white.
Gwenyver
(Celtic)
White lady
Reynald
(German)
Counselor-ruler.
Dadu
Brahman sage of Ahmedabad, rejected the Vedas and Qoran; thought of Siva, Vishnu and Brahma as deified men; denounced caste and priestcraft and taught worship of One God, the Creator Preserver of all.
Lunete
Servant of Laudine
Beall
(English)
Handsome.
Gerdie
(German)
Protected
Carnation
(French)
Flesh - colored
Sara
(Arabic)
Arabic form of Sarah
Dagmar
(German)
Glorious day
Kelven
(Celtic)
River man.
Eginhard
(German)
Strong with a sword
Barron
(English)
Warrior: Variant of the title Baron.
Egberta
(English)
Shining sword
Jeremie
(Hebrew)
Exalted of the Lord
Ephraim
(Hebrew)
Fruitful