Cat Names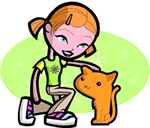 We offer 1,000's of cat names to help you choose the perfect one. Feel free to browse our unique cat names and when you find one you like you can add it to your favorites list to view later. If you have any cute cat names suggestions, please let us know. Enjoy!
Carew
(Celtic)
From the fortress
Elwyna
Friend of the elves
Tyrell
(Irish)
Derivative of the Scandinavian god of battle Tyr. Tuesday was named for Tyr.
Rush
(English)
Form of Rufus Red-haired.
Darneil
(English)
Hidden.
Leondrea
(French)
Lion: lioness. Feminine of Leon.
Diondra
(English)
From the sacred spring. The mythological Dione was wife to Zeus and mother of Aphrodite.
Lyra
(French)
Of the Iyre or song
Falk
(German)
Surname relating to falconry.
Deana
(English)
From the valley. Variant of Diana meaning divine.
Kerwin
(Irish)
Little dark one.
Hardwin
(English)
Brave friend
Amoldo
(Spanish)
The eagle rules.
Arielle
(French)
Lion of God.
Eorland
(English)
From the noblemsn's land
Scandleah
(English)
From the loud meadow