Cat Names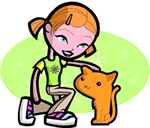 We offer 1,000's of cat names to help you choose the perfect one. Feel free to browse our unique cat names and when you find one you like you can add it to your favorites list to view later. If you have any cute cat names suggestions, please let us know. Enjoy!
Murrough
(Irish)
Fighter of the sea
Muata
Yellow jackets inside a nest (Miwok)
Maurice
(French)
Dark-skinned: A Moor.
Lael
(Hebrew)
Belonging to God. Traditional male Biblical name.
Trude
(German)
Fighting woman
Kellie
Warrior or Defender
Avniel
(Hebrew)
Father or strong
Charlette
(French)
Feminine of Charles meaning manly
Jensine
(Hebrew)
God has blessed
Donavon
(Irish)
Brown-haired chieftain.
Guinevere
Fair one. Guinevere was King Arthur's mythological queen. Jennifer derives from this name.
Bienvenida
(Spanish)
Welcome
Cristina
(Spanish)
Follower of Christ.
Koen
(German)
Honest advisor
Dealbeorht
(English)
Proud
Jarrel
(English)
Blend of Jar and Darell. See also Jerrell.
Corren
(Irish)
Spear-bearer.