Cat Names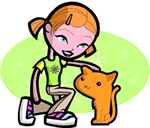 We offer 1,000's of cat names to help you choose the perfect one. Feel free to browse our unique cat names and when you find one you like you can add it to your favorites list to view later. If you have any cute cat names suggestions, please let us know. Enjoy!
Guilbert
(English)
Trusted
Neliah
(African)
Storng willed and a vigrous spirit with a leveled mind.
Marleene
(English)
Variant of Madeline Woman from Magdala.
Tormey
(Irish)
Thunder spirit
Devery
(English)
Derived from place-name Deverel.
Akim
(Hebrew)
God will establish
Jeovana
(English)
Feminine of Giovanni: variant of Jovana.
Hettie
(French)
From Henrietta. Rules her household.
Leandre
(French)
Form of Leander. Lionlike man.
Tonia-Javae
(French)
Worthy of praise. Beauty.
Justeene
(English)
Just: upright. Feminine of Justin.
Barry
(Irish)
Fair-haired.
Zali
(Australian)
Special
Bello
(Mexican), (Spanish)
Beautiful
Hwitloc
(English)
From the white fortress
Ibrahim
(Arabic)
Arabic form of Abraham
Mikhail
(Hebrew)
Gift from God
Gibson
(English)
Gilbert's Son
Radolph
(English)
Red wolf