Cat Names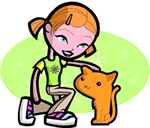 We offer 1,000's of cat names to help you choose the perfect one. Feel free to browse our unique cat names and when you find one you like you can add it to your favorites list to view later. If you have any cute cat names suggestions, please let us know. Enjoy!
Levi
(Hebrew)
Joined. A brand of jean.
Jose
(Spanish)
May God give increase.
Marcas
(Scottish)
Of Mars. The Roman fertility god Mars for whom March was named.
Cynburleigh
(English)
From the royal meadow
Ullock
(English)
Wolf sport
Williamon
(German)
German form of William
Jacquelyn
(French)
Feminine of Jacques derived from James and Jacob.
Gorsedd
(Celtic)
From Arbeth
Karolina
(German)
Feminine form of Karl
Florence
(English)
Flowering.
Daelan
(English)
Rhyming variant of Waylon - a historical blacksmith with supernatural powers.
Odelia
Little wealthy one
Gwalchmai
(Celtic)
From Arthurian legend
Hagley
(English)
From the hedged enclosure
Tibault
(French)
Rule of the peop]e
Almund
Defender of the temple
Davina
(Hebrew)
Cherished