Cat Names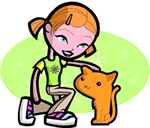 We offer 1,000's of cat names to help you choose the perfect one. Feel free to browse our unique cat names and when you find one you like you can add it to your favorites list to view later. If you have any cute cat names suggestions, please let us know. Enjoy!
Tabbart
(German)
Brilliant
Dallon
(Irish)
Variant of Dallin blind.
Kamryn
(Scottish)
Variant of Cameron
Nicolette
(French)
People's victory
Chardae
(French)
Feminine of Charles meaning manly
Ria
(Spanish)
From the river's mouth
Nolyn
(Irish)
Renowned: noble.
Angelino
(Spanish)
Messenger. Biblical name for spirit messengers God sends men.
Stewart
(Scottish)
Steward. A medieval steward was charged with the care of castle and estate affairs. Surname.
Belen
(Spanish)
Bethlehem.
Laurenz
(German)
From the place of the laurel trees.
Brun
(English)
Dark skinned
Kaidan
(English)
rebel/fighter/spirit of battle
Mathew
(Hebrew)
Gift from God
Eskama
(Spanish)
Merciful
Juanita
(Spanish)
God's gift
Torean
(Irish)
Variant of Torrence From the craggy hills. Tor is a name for a craggy hilltop and also may refer to a watchtower.
Arama
(Spanish)
Reference to the Virgin Mary