Cat Names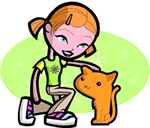 We offer 1,000's of cat names to help you choose the perfect one. Feel free to browse our unique cat names and when you find one you like you can add it to your favorites list to view later. If you have any cute cat names suggestions, please let us know. Enjoy!
Shareef
(Arabic)
Variant of Sharif Illustrious.
Aurkena
(Spanish)
Present
Evie
(Hebrew)
Living one. Variant of Eve. In the bible Eve was Adam's wife and the first woman.
Freowine
(English)
Noble friend
Jazlynn
(English)
Modern variant of Jasmine: combination of Jocelyn and the musical term jazz.
Japheth
(Hebrew)
May He grant ample room. In the bible Japheth was eldest of Noah's three sons.
Elayne
Mother of Lancelot
Kuwanyauma
Butterfly showing beautiful wings (Hopi)
Macayle
(Scottish)
Strong-willed, fiery.
Amarissa
(Hebrew)
Given by God
Dolores
(Spanish)
Sorrows. A reference to the Virgin Mary as Mary of the sorrows.
Hild
(English)
Battle maid
Seymour
(French)
From St. Maur
Angelino
(Spanish)
Messenger. Biblical name for spirit messengers God sends men.
Chantay
(French)
Singer:to sing
Oswald
(English)
Divinely powerful