Cat Names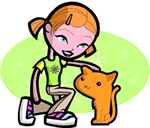 We offer 1,000's of cat names to help you choose the perfect one. Feel free to browse our unique cat names and when you find one you like you can add it to your favorites list to view later. If you have any cute cat names suggestions, please let us know. Enjoy!
Cormack
(Irish)
Variant of Cormac raven's son.
Elswyth
Elf from the willow trees
Sheelah
(Irish)
Irish form of Cecilia blind
Radolph
(English)
Red wolf
Laurelle
(English)
The laurel tree or sweet bay tree symbolic of honor and victory.
Caoimhghin
(Celtic)
Gentle
Gertruda
(German)
From the protected farm
Shareef
(Arabic)
Variant of Sharif Illustrious.
Welsie
(English)
From the west
Kennedy
(Scottish)
Ugly head
Cadee
(Irish)
Variant of Cady meaning a rhythmic flow of sounds.
Garet
(English)
Brave with a spear
Lincoln
(Celtic)
From the settlement by the pool
Skyrah
(English)
Eternal life, strength, love, and beauty.
Mick
(English)
Abbreviation of Michael and Micah Who is like God?