Cat Names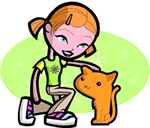 We offer 1,000's of cat names to help you choose the perfect one. Feel free to browse our unique cat names and when you find one you like you can add it to your favorites list to view later. If you have any cute cat names suggestions, please let us know. Enjoy!
Gwenaelle
(French)
Blessed and generous.
Jackie
(English), (Scottish)
God has been gracious: has shown favor. Based on John or Jacques. Used more for girls than boys.
Toran
(Scottish)
Variant of Torrence From the craggy hills. Tor is a name for a craggy hilltop and also may refer to a watchtower.
Logestilla
(French)
Legend
Lynessa
(English)
Variant of ancient Welsh given name. In Arthurian legend Lynette accompanied Sir Gareth on a knightly quest.
Carla
(Spanish)
Feminine form of Charles manly
Ertha
(German)
The earth.
Roderic
(English)
Famous ruler.
Amara
(Spanish)
Imperishable.
Gofraidh
(Irish)
Peace from God
Amarissa
(Hebrew)
Given by God
Brianna
(Celtic)
She ascends. Feminine of Brian.
Watelford
(English)
From the hurdle ford
Nolyn
(Irish)
Renowned: noble.
Josue
(Hebrew)
God is salvation