Cat Names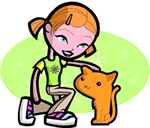 We offer 1,000's of cat names to help you choose the perfect one. Feel free to browse our unique cat names and when you find one you like you can add it to your favorites list to view later. If you have any cute cat names suggestions, please let us know. Enjoy!
Jerel
(English)
Strong: open-minded. Blend of Jerold and Darell.
Maurine
(French)
Dark skinned
Ardkill
(Irish)
From the high church
Cundry
Woman who condemns Percival
Ulfred
(English)
Wolf of peace
Kaeli
(English)
Variant of Kay and Kayla keeper of the keys: pure.
Blagden
(English)
From the dark valley
Madina
(Spanish)
Woman from Magdala. Variant of Madeleine.
Nickolette
(English)
Serenity
Albertine
(Spanish)
Noble
Gustava
(Spanish)
Staff of the gods
Worrell
(English)
From the true man's manor
Herman
(German)
Soldier. See also Harmon.