Cat Names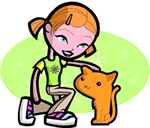 We offer 1,000's of cat names to help you choose the perfect one. Feel free to browse our unique cat names and when you find one you like you can add it to your favorites list to view later. If you have any cute cat names suggestions, please let us know. Enjoy!
Adelina
(German)
Sweet or noble
Jodie
(English)
Feminine of nickname for Joseph and Jude.
Ami
(French)
Dearly loved
Coletta
(French)
Victorious. Variant of Nicolette.
Waleis
(English)
From Wales
Chatlie
(English)
Modern form of Charles meaning manly
Howie
(English)
Nichname for Howard noble watchman.
Marybell
(English)
Derived from Mary Bitter. Mary was the biblical mother of Christ. Names like Dolores and Mercedes have been created to express aspects of Mary's life and worship.
Fletcher
(Scottish)
Maker of arrows
Egberta
(English)
Shining sword
Rosston
(German)
Red. Surname.
Edsel
(German)
Noble: bright.
Tannere
(English)
Leather maker
Dawnika
(English)
The first appearance of daylight: daybreak.
Riccardo
(German)
Powerful ruler