Cat Names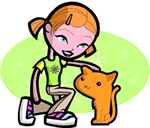 We offer 1,000's of cat names to help you choose the perfect one. Feel free to browse our unique cat names and when you find one you like you can add it to your favorites list to view later. If you have any cute cat names suggestions, please let us know. Enjoy!
Whitney
From the white island
Wacleah
(English)
From Wake's meadow
Fachnan
(Irish)
Name of a saint
Ardene
(English)
Warm:. Eager: Lofty.
Carson
(Scottish)
Surname.
Colbey
(French)
Dark: dark-haired.
Perkinson
(English)
Son of Perkin
Diederich
(German)
People's ruler
Amd
(German)
Power of an eagle
Kagen
(Irish)
A thinker: fiery. Form of Hugh.
Roman
(Spanish)
From Rome
Edlen
(English)
Noble waterfall
Awenasa
My home (Cherokee)