Cat Names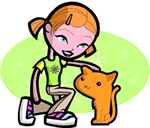 We offer 1,000's of cat names to help you choose the perfect one. Feel free to browse our unique cat names and when you find one you like you can add it to your favorites list to view later. If you have any cute cat names suggestions, please let us know. Enjoy!
Hurit
Beautiful (Algonquin)
Shaylon
(Irish)
Variant of Shea courteous.
Rygeland
(English)
From the rye land
Geralynn
(German)
Rules by the spear. Feminine of Gerald.
Sheila
(Irish)
Irish form of Cecilia blind
Zoa
(Greek)
Life. Variant of Zoe.
Derwan
(English)
Friend of the deer
Lisabeth
(English)
Abbreviation of Elizabeth.
Willard
(German)
Bold: resolute.
Eloy
(German)
Famous fighter
Aethelflaed
Sister of King Edward
Adalwine
(German)
Noble friend
Oswald
(English)
Divinely powerful
Evert
(English)
Strong as a boar
Coralee
(English)
Maiden.
Carter
(English)
Drives a cart