Cat Names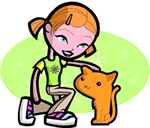 We offer 1,000's of cat names to help you choose the perfect one. Feel free to browse our unique cat names and when you find one you like you can add it to your favorites list to view later. If you have any cute cat names suggestions, please let us know. Enjoy!
Dorien
(English)
Descendant of Dorus. Dorian was a character in Oscar Wilde's novel The Picture of Dorian Gray who was given his wish that his portrait would age while he remained young and handsome.
Rick
(English)
Abbreviation of Richard powerful: strong ruler.
Herbert
(German)
Illustrious warrior.
Freowine
(English)
Noble friend
Annabel
(Scottish)
Beautiful grace
Natuche
(French)
Born at Christmas
Encarnacion
(Spanish)
Reference to the Incarnation
Hulk
Comic book character that could become large and green.
Kieran
(Celtic)
Dark skinned
Marcia
Variant of Mark. Mars, Greek God.
Hide
(English)
From the hide
Kevyn
(Irish)
Handsome child. Variant of Kevin.
Bilagaana
White person (Navajo)
Erma
(German)
Complete. War goddess
Willow
(English)
Slender:graceful. From the willow tree noted for slender graceful branches and leaves.