Cat Names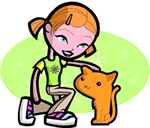 We offer 1,000's of cat names to help you choose the perfect one. Feel free to browse our unique cat names and when you find one you like you can add it to your favorites list to view later. If you have any cute cat names suggestions, please let us know. Enjoy!
Fachnan
(Irish)
Name of a saint
Florinda
(French)
Flower.
Dubhglas
(Scottish)
From the darkwater
Giannes
(Hebrew)
Gift from God
Teri
(English)
Abbreviation of Teresa which is a popular saint's name of uncertain meaning.
Govannon
God of the forge
Daylan
(English)
Rhyming variant of Waylon - a historical blacksmith with supernatural powers.
Tyronne
(Irish)
From Owen's territory. County Tyrone in Ireland. The late actor Tyrone Power.
Kevinn
(Irish)
Handsome child. Variant of Kevin.
Dace
(French)
Of the nobility.
Hecate
(Greek)
Greek goddess of fertility who later became associated with Persephone as goddess of the underworld and protector of witches
Marcos
(Spanish)
Of Mars. The Roman fertility god Mars for whom March was named.
Cayleigh
(English), (Greek), (Scottish)
Pure Meadow: party: slender: