Cat Names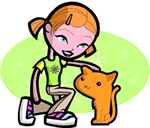 We offer 1,000's of cat names to help you choose the perfect one. Feel free to browse our unique cat names and when you find one you like you can add it to your favorites list to view later. If you have any cute cat names suggestions, please let us know. Enjoy!
Herman
(German)
Soldier. See also Harmon.
Dalan
(Irish)
Variant of Dallin blind.
Joyelle
(French)
Rejoicing.
Maude
(French)
Strong in war
Barrie
(French)
Lives at the barrier
Lillian
(English)
Variant of Lillian derived from the flower name Lily. Symbol of innocence: purity: beauty.
Rob
(French)
Abbreviation of Robert Famed: bright: shining.
Kendrick
(Scottish)
Royal chieftain. Surname.
Burdett
(French)
Surname used as a given name.
Laria
(Scottish)
Serves Lawrence
Bion
An Alexandrian pastoral poet who wrote of the myths, around 250 B.C.
Burnell
(German)
Variant of Bernard strong as a bear.
Jilliann
(English)
Jove's child. Variant of Gillian from the masculine Julian.
Launder
(English)
From the grassy plain