Cat Names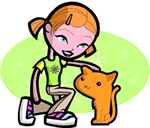 We offer 1,000's of cat names to help you choose the perfect one. Feel free to browse our unique cat names and when you find one you like you can add it to your favorites list to view later. If you have any cute cat names suggestions, please let us know. Enjoy!
Aeccestane
(English)
Swordsman's stone
Tawnia
(Irish)
A green field: the warm sandy color of a lion's coat.
Vern
(English)
Surname related to Vernon alder tree grove. Also used as abbreviations of Vernon or Lavern.
Noelene
(English)
Feminine pet form of NOEL
Montie
(English)
Mountain. Abbreviation of Montague and Montgomery.
Veniamin
(Hebrew)
Son of the right hand
Brenius
A supposed king of Britain
Armstrong
(English)
Strong armed
Arnett
(English)
Little eagle
Batya
(Hebrew)
Daughter of God
Larry
(English)
Abbreviation of Lawrence or Laurence often used as an independent name.
Stocwiella
(English)
From the tree stump spring
Jeremie
(Hebrew)
Exalted of the Lord
Hernandez
(Spanish)
Adventurous. Variant of Ferdinand.
Lancelot
(French)
Servant