Cat Names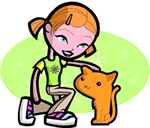 We offer 1,000's of cat names to help you choose the perfect one. Feel free to browse our unique cat names and when you find one you like you can add it to your favorites list to view later. If you have any cute cat names suggestions, please let us know. Enjoy!
Michaela
(English)
Feminine of Michael gift from God.
Vokivocummast
White antelope (Cheyenne)
Celestiel
(French)
Heavenly.
Amberlyn
(Arabic)
A jewel-quality fossilized resin: as a color the name refers to a warm honey shade.
Otto
(German)
Born eighth or wealthy
Graeme
(English)
Farm home.
Cordelia
(Celtic)
Of the sea
Abigall
(Hebrew)
Fathers joy. Alternate Spellings: Abegale, Abgail, Abigale.
MacColl
(Scottish)
Son of Coll
Laurenz
(German)
From the place of the laurel trees.
Justine
(English)
Just: upright. Feminine of Justin.
Madalene
(French)
Woman from Magdala. Variant of Madeleine. Madeleine: (English/French) Woman from Magdala.
Kevinn
(Irish)
Handsome child. Variant of Kevin.
Josepha
(Hebrew)
God will add