Cat Names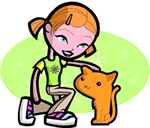 We offer 1,000's of cat names to help you choose the perfect one. Feel free to browse our unique cat names and when you find one you like you can add it to your favorites list to view later. If you have any cute cat names suggestions, please let us know. Enjoy!
Ocelfa
(English)
From the high plain
Demasone
(English)
Judge's son
Gearoid
(Irish)
Spearbrave
Mylnburne
(English)
From the mill stream
Muireadhach
(Irish)
Lord of the sea
Konrad
(German)
Bold adviser.
Alyson
(French)
Variation of Alice.
Wilbert
(German)
Resolute or brilliant
Carilynne
(English)
Feminine variant of Charles meaning manly
Kaity
Variant of Cathrine.
Dunley
(English)
From the hill meadow
Travon
(English)
Fair town. Abbreviation of Trevelyan.
Simson
(Hebrew)
Son of Simon