Cat Names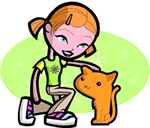 We offer 1,000's of cat names to help you choose the perfect one. Feel free to browse our unique cat names and when you find one you like you can add it to your favorites list to view later. If you have any cute cat names suggestions, please let us know. Enjoy!
Kesegowaase
Swift (Algonquin)
Moukib
(Arabic)
Last of the prophets
Dian
(French)
Divine. Mythological ancient Roman divinity Diana was noted for beauty and swiftness: often depicted as a huntress. Also Diana Princess of Wales.
Sanders
(English)
Alexander's son
Morogh
(Scottish)
Man of the sea
Sigfrieda
(German)
Victorious
Bernadea
(French)
Feminine of Bernard. St. Bernadette was canonized in 1933.
Harimanna
(German)
Warrior maiden
Carla
(Spanish)
Feminine form of Charles manly
Aliceson
(English)
Son of All
Graine
Taken from Igraine
Gerhard
(German)
Spear strong.
Talbot
(English)
Variant of Tal tall. Surname.