Cat Names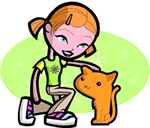 We offer 1,000's of cat names to help you choose the perfect one. Feel free to browse our unique cat names and when you find one you like you can add it to your favorites list to view later. If you have any cute cat names suggestions, please let us know. Enjoy!
Pendragon
From the dragon's enclosed land
Quenton
(English)
Variant of Quentin fifth. Surname.
Izaan
(Arabic)
Obedience.
Ernestine
(German)
Serious: determined. Feminine of Emest
Chalmer
(Scottish)
Rules the home
Brayden
(English)
Broad hillside.
Sterling
(English)
of high quality: pure.: Also variant of a name given pre-medieval refiners of silver meaning easterner. Surname.
Celyddon
(Celtic)
Mythical father of Culhwch
Arndell
(English)
From the eagle's dell
Abramo
(Hebrew)
Father of a multitude
Janicia
(English)
Variant of Jane.
Cinda
(English)
Abbreviation of Cynthia and Lucinda.
Jamia
(Scottish)
Pet form of James used as a woman's name.
Barnet
(English)
Of honorable birth.
Joelle
(Hebrew)
Jehovah is God
Annabella
(Latin)
Grace and beauty, also can mean one favored of God. The name of given to several actresses and the name of King James I's daughter.