Cat Names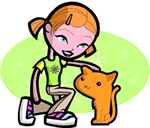 We offer 1,000's of cat names to help you choose the perfect one. Feel free to browse our unique cat names and when you find one you like you can add it to your favorites list to view later. If you have any cute cat names suggestions, please let us know. Enjoy!
Alliss
(Spanish)
Of the nobility.
Braeden
(Irish)
Broad hillside.
Leilany
Heavenly Flower. Alternate Spelling: Leilani.
Whitney
From the white island
Randel
(English)
Variants of Randolph Wolf's shield. Surname.
Maslin
(French)
Little Thomas
Alec
(Scottish)
Defender of mankind. Variant of Alexander
Madelon
(French)
Woman from Magdala. Variant of Madeleine.
Sedgeley
(English)
From the swordsman's meadow
Delmon
(French)
Of the mountain.
Cathair
(Scottish)
From the broken mossy ground
Holbrook
(English)
From the brook
Paolo
(Italian)
Small, a form of Paul
Kendyl
(English)
Royal valley referring to Kent in England.
Auberta
(French)
Feminine variant of Albert.
Estmund
(English)
Protected by God
Darwin
(English)
Dear friend. Nineteenth-century naturalist Charles Darwin was the first major exponent of human evolution.
Erroll
(German)
Earl: nobleman.