Cat Names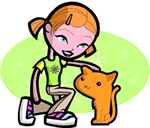 We offer 1,000's of cat names to help you choose the perfect one. Feel free to browse our unique cat names and when you find one you like you can add it to your favorites list to view later. If you have any cute cat names suggestions, please let us know. Enjoy!
Michele
(Hebrew)
Gift from God
Archard
(French)
Powerful
Barrak
(Hebrew)
Flash of lightning. In the bible the valiant fighting man Barak cooperated with the prophetess Deborah to win victory in battle against overwhelming odds.
Crosly
(English)
From the cross meadow
Zanetta
(Spanish)
God's gift. A saint's name.
Maelisa
(Irish)
Serves Christ
La Verne
(French)
Born in the spring
Aegelmaere
(English)
Infamous
Bradlee
(English)
English surnames related to Bradley Broad clearing in the wood
Cheyenne
(French)
An Algonquian tribe of the Great Plains. Capital city of Wyoming.
Utkarsh
(Indian)
Advancement -- to rise
Jennifer
(English)
Fair one. Variant of Guinevere. In Arthurian Mythology Guinevere was Arthur's queen.
Idetta
(German)
Hard working
Leona
(French)
Lion: lioness. Feminine of Leon.