Cat Names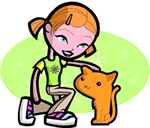 We offer 1,000's of cat names to help you choose the perfect one. Feel free to browse our unique cat names and when you find one you like you can add it to your favorites list to view later. If you have any cute cat names suggestions, please let us know. Enjoy!
Walter
(German)
Powerful ruler
ScIymgeour
(Scottish)
Fighter
Rodric
(Scottish)
Famous ruler.
Radburt
(English)
Red haired counselor
Alsandair
(Irish)
Defender of man
Kamryn
(Scottish)
Variant of Cameron
Cayleigh
(English), (Greek), (Scottish)
Pure Meadow: party: slender:
Nathalia
(French)
Birthday: especially the birthday of Christ.
Giovanni
(Hebrew)
Gift from God
Tamarah
(Hebrew)
Palm tree
Tibault
(French)
Rule of the peop]e
Lindell
(English)
Lives by the linden tree valley
Tannere
(English)
Leather maker