Cat Names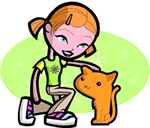 We offer 1,000's of cat names to help you choose the perfect one. Feel free to browse our unique cat names and when you find one you like you can add it to your favorites list to view later. If you have any cute cat names suggestions, please let us know. Enjoy!
Starbuck
(English)
Star deer
Lizann
(English)
Modern blend of Liz and Ann.
Delphine
(French)
A thirteenth-century French saint.
Lucius
(English)
Form of Luke. Light: illumination.
Otoahhastis
Tall bull (Cheyenne)
Helaine
(French)
Variant of Helen. In mythology the abduction of Zeus's mortal daughter Helen sparked the Trojan War.
Thoraldtun
(English)
From the thunder estate
Athena
(Greek)
Greek goddess of wisdom and war.
Charline
(French)
Feminine of Charles meaning manly
Wilbur
(English)
From the strong fortress Willful: bright.
Bredbeddle
The Green Knight
Ocelfa
(English)
From the high plain
Chetwyn
(English)
From the cottage on the winding path
Aelfric
(English)
Elf ruler
Blagden
(English)
From the dark valley