Cat Names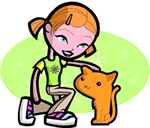 We offer 1,000's of cat names to help you choose the perfect one. Feel free to browse our unique cat names and when you find one you like you can add it to your favorites list to view later. If you have any cute cat names suggestions, please let us know. Enjoy!
Mansi
Plucked flower (Hopi)
Tonia-Javae
(French)
Worthy of praise. Beauty.
Gariland
(English)
From the spear land
Atkinsone
(English)
Son of Aiken
Faelen
(Irish)
Faelen is irish gaelic and means wolf
Tallia
(Greek)
Joyful, blooming. Pronunced Tall-yuh or Tall-ee-uh. Traditional spelling Thalia, also seen as Talia and Talya.
Tearlach
(Scottish)
Strong
Seldon
(English)
From the willow valley
Shaniyah
Pretty as a blooming blossom.
Rourke
(Irish)
An ancient given name adopted as an Irish clan name. Surname.
Loraina
(French)
Derived from Lorraine which is the name of a province in France and a family name of French royalty.
Derrall
(English)
Variant of Darrel open.