Cat Names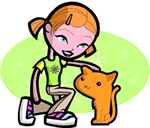 We offer 1,000's of cat names to help you choose the perfect one. Feel free to browse our unique cat names and when you find one you like you can add it to your favorites list to view later. If you have any cute cat names suggestions, please let us know. Enjoy!
Jerrilyn
(English)
Modern blend of Jerry and Marilyn.
Riva
(French)
From the shore
Rollo
(German)
Renowned in the land. Roland was a legendary hero who served Charlemagne.
Dionna
(English)
From the sacred spring. The mythological Dione was wife to Zeus and mother of Aphrodite.
Esmond
(English)
Protected by God
Larry
(English)
Abbreviation of Lawrence or Laurence often used as an independent name.
Lilian
(English)
Variant of Lillian derived from the flower name Lily. Symbol of innocence: purity: beauty.
Ridgely
(English)
Lives at the meadow's ridge
Bryan
(English)
Popular variant of Brian.
Jayson
(Greek)
Healer. Alternate spelling of Jason.