Cat Names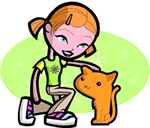 We offer 1,000's of cat names to help you choose the perfect one. Feel free to browse our unique cat names and when you find one you like you can add it to your favorites list to view later. If you have any cute cat names suggestions, please let us know. Enjoy!
Southwell
(English)
From the south spring
Filicia
(French)
Great happiness
Cleveland
(English)
From the cliff land
Terrill
(German)
Powerful.
Maleah
(Hawaiian)
Hawaiian for Mary/Maria: also means pretty little girl or unique young lady
Kirkly
(English)
From the church's meadow
Pierson
(Irish)
Form of Piers from Peter.
Gertrut
(German)
From the protected farm
Teddy
(English)
Abbreviation of Theodore.
Tannere
(English)
Leather maker
Bailee
(French)
Courtyard within castle walls: steward or public official. Surname or given name.