Cat Names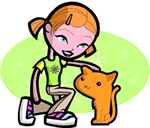 We offer 1,000's of cat names to help you choose the perfect one. Feel free to browse our unique cat names and when you find one you like you can add it to your favorites list to view later. If you have any cute cat names suggestions, please let us know. Enjoy!
Kedric
(English)
Gift of splendor. Form of Cedric.
Candi
(Spanish)
Variant of Candida. Bright: glowing white.
Estmund
(English)
Protected by God
Avah
(English)
Variant of medieval given names Avis and Aveline
Mei-Yin
(Chinese)
Very beautiful or beauty.
Zakari
(English)
Variant of Zachariah and Zachary.
Barclay
From the birch meadow
Warley
(English)
From the weir meadow
Kathleen
(Irish)
Innocent
Rigby
(English)
Lives in the ruler
Ivan
(Hebrew)
Gift from God
Tariq
(Arabic)
Morning star. An 8th century Islamic military leader who conquered Spain for the Moors.