Cat Names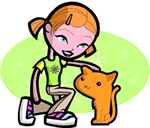 We offer 1,000's of cat names to help you choose the perfect one. Feel free to browse our unique cat names and when you find one you like you can add it to your favorites list to view later. If you have any cute cat names suggestions, please let us know. Enjoy!
Kenly
(English)
From the king's meadow
Gilmer
(Scottish)
Sword bearer.
Geneva
(German)
Of the race of women.
Chelsie
(English)
Place name: a London district.
Corrie
(Irish)
Variant of Cory meaning variously - From the round hill: seething pool: ravine
Wynfrith
(English)
Friend of peace
Roane
(Irish)
Red-haired: red.
Cenewyg
(English)
Bold warrior
Jarrett
(English)
Spear strong. Surname. Variant of Garrett.
Casey
(Irish)
Alert: vigorous.
Austine
(English)
Variant of Augustine.
Chaunce
(French)
fortune: a gamble. Variant of Chauncey.
Kamilla
(Arabic)
Perfection.
Aballach
Father of Modron
Wincel
(English)
From the bend in the road