Cat Names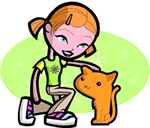 We offer 1,000's of cat names to help you choose the perfect one. Feel free to browse our unique cat names and when you find one you like you can add it to your favorites list to view later. If you have any cute cat names suggestions, please let us know. Enjoy!
Kieli
(Hawaiian)
Heavenly garden.
Tammie
(English)
Abbreviation of Thomasina and Tamara.
Nicole
Victory of the people
Neely
(English)
Feminine of Neil champion.
Irwyn
(English)
Sea friend
Declan
(Irish)
The name of an Irish saint.
Elivina
(English)
Good elf
Slaton
(English)
From the valley farm
Gale
(English)
Lively. Joyful. Abbreviation of Abigail. Gael is a term for descendants of the ancient Celts in Scotland: Ireland and the Isle of Man.
Mick
(English)
Abbreviation of Michael and Micah Who is like God?
Carlton
(English)
Free men's town.
Edsel
(German)
Noble: bright.
Danelle
(Hebrew)
God is my judge