Cat Names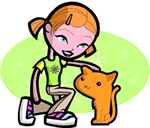 We offer 1,000's of cat names to help you choose the perfect one. Feel free to browse our unique cat names and when you find one you like you can add it to your favorites list to view later. If you have any cute cat names suggestions, please let us know. Enjoy!
Daniel-Sean
The Lord alone is my judge.
Amberlee
(English)
A jewel-quality fossilized resin: as a color the name refers to a warm honey shade.
Jeremie
(Hebrew)
Exalted of the Lord
Bronson
(English)
Brown's son.
Latesha
(English)
Modern form of medieval name Letitia. Joyful:happy.
Bryssa
(Spanish)
From Briseis the woman Achilles loved in Homer's Iliad.
Antfortas
Keeper of the grail
Lothair
(German)
Famous in battle
Alia
Princess of the academics.
Jacee
(English)
Based on the initials J.C. or an abbreviation of Jacinda.
Huxford
(English)
From Hugh's ford
Jayne
(English)
Jehovah has been gracious: has shown favor. Variant of Joan.
Gottfried
(German)
Peaceful god
Kealsea
(Irish)
Brave. Alternate Spelling: Kelsey.
Gino
(Italian)
Born Noble.
Hisolda
(Irish)
Irish form of Isolda
Tohy
(Hebrew)
Goodness of God
Kaylee
(English)
Variant of Katherine. Pure. Variant of Kay and Kayla keeper of the keys: pure.