Cat Names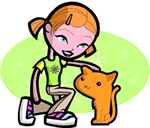 We offer 1,000's of cat names to help you choose the perfect one. Feel free to browse our unique cat names and when you find one you like you can add it to your favorites list to view later. If you have any cute cat names suggestions, please let us know. Enjoy!
Fachnan
(Irish)
Name of a saint
Rosemunda
(German)
Noted protector
Heallfrith
(English)
Peaceful home
Big Girl
For a large female cat.
Cadillac
Brand of luxury car.
Kaycee
(English)
Modern Kacie and variants are phonetic forms of the initials K.C. or variants of the Irish name Casey alert: vigorous.
Gaby
(English)
Variant of Gabriela. God's able-bodied one.
Sedgeley
(English)
From the swordsman's meadow
Aubrin
Combination of Aubrey and Brin.
Myeshia
(Arabic)
Woman: life. Variant of Aisha.
Josiah
(Hebrew)
Jehovah has healed. Biblical Josiah became king of Judah at eight after his father was assassinated. He ruled 31 years.
Joelle
(Hebrew)
Jehovah is God
Deziree
(French)
Variant of Desiree meaning The one desired.
Donn
(Irish)
Brown: In mythology the Irish Donn was known as king of the underworld.