Cat Names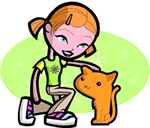 We offer 1,000's of cat names to help you choose the perfect one. Feel free to browse our unique cat names and when you find one you like you can add it to your favorites list to view later. If you have any cute cat names suggestions, please let us know. Enjoy!
Dina
(Hebrew)
Avenged Judged and vindicated. In the bible Dinah was Jacob's only daughter.
Marlowe
(English)
Variant of Marlene Woman from Magdala.
Aurick
(English)
Noble valor
Skyrah
(English)
Eternal life, strength, love, and beauty.
Estrellita
(Spanish)
Star.
Chiquita
(Spanish)
Pet name meaning little girl.
Tamarah
(Hebrew)
Palm tree
Zackary
(English)
Variant of Zachariah and Zachary.
Rorke
(Irish)
Famous ruler
Edmondo
(English)
Happy defender
Christofor
(French)
With Christ inside.
Irvine
(English)
Friend. See also Ervin.
Bernard
(English)
Strong as a bear. See also Bjorn.