Cat Names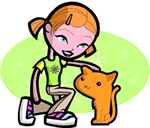 We offer 1,000's of cat names to help you choose the perfect one. Feel free to browse our unique cat names and when you find one you like you can add it to your favorites list to view later. If you have any cute cat names suggestions, please let us know. Enjoy!
Feldon
(English)
From the field estate
Townly
(English)
From the town meadow
Trahern
(Celtic)
Strong as iron
Delmer
(French)
Mariner Of the sea.
Osric
(English)
Divine ruler
Worrell
(English)
From the true man's manor
Buchanan
(Scottish)
From the cannon's seat
Corren
(Irish)
Spear-bearer.
Birdie
(English)
Contemporary name meaning Little bird: birdlike.
Kenryk
(English)
Royal ruler
Jarrel
(English)
Blend of Jar and Darell. See also Jerrell.