Cat Names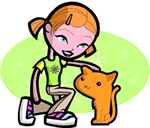 We offer 1,000's of cat names to help you choose the perfect one. Feel free to browse our unique cat names and when you find one you like you can add it to your favorites list to view later. If you have any cute cat names suggestions, please let us know. Enjoy!
Marleene
(English)
Variant of Madeline Woman from Magdala.
Bernon
(German)
Brave as a bear
Dunn
(English)
Dark skinned
Gherardo
(English)
Spear hard
Lyndee
(English)
Variant of Linda. lime tree: linden tree: beautiful.
Circehyll
(English)
Lives at the church hill
Farleigh
(English)
From the bull pasture. Surname.
Lumpy
Covered with lumps.
Edlen
(English)
Noble waterfall
Telford
(French)
Works in iron
Eriq
(French)
Variant of Scandinavian Eric ever kingly. Actor Eriq La Salle.
Stantun
(English)
From the stony farm
Bardan
(English)
Lives near the boar's den