Cat Names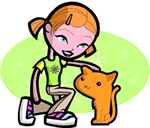 We offer 1,000's of cat names to help you choose the perfect one. Feel free to browse our unique cat names and when you find one you like you can add it to your favorites list to view later. If you have any cute cat names suggestions, please let us know. Enjoy!
Inoceneia
(Spanish)
Innocent
Benon
(English)
Variant of Bert - industrious.
Corey
(Irish)
Variant of Cory meaning variously - From the round hill: seething pool: ravine. Also means Chosen
Gibson
(English)
Gilbert's Son
Ria
(Spanish)
From the river's mouth
Huldiberaht
(German)
Graceful
Burgtun
(English)
From the fortress town
Hazell
(English)
The hazel tree:nut.
Efrem
(Hebrew)
Doubly fruitful. Form of Hebrew Ephraim
Ladde
(English)
Attendant
Kellie
Warrior or Defender
Priour
(French)
Head of a priory
Gerold
(English)
Form of Gerald rules by the spear.
Jemimah
(Arabic)
Little dove. In the bible one of Job's three daughters known as the most beautiful women of their time: (the other two were Keziah and Keren)
Bellangere
Son of Alexandre
Evonna
(French)
Variant of Yvonne from Yves. Archer.