Cat Names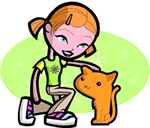 We offer 1,000's of cat names to help you choose the perfect one. Feel free to browse our unique cat names and when you find one you like you can add it to your favorites list to view later. If you have any cute cat names suggestions, please let us know. Enjoy!
Rush
(English)
Form of Rufus Red-haired.
Kaitlyn
(Irish)
Modern phonetic form of the Irish name Caitlin from Catherine meaning pure.
Ygraine
In Arthurian legend Igrayne is mother of Arthur.
Meridel
(English)
Mirthful: joyous. Also an abbreviation of Meredith.
Melinda
(English)
Blend of Melissa and Linda.
Keyon
(English)
Guiding, leading. Alternate Spellings: Kieon, Key.
Hettie
(French)
From Henrietta. Rules her household.
Mattie
(French)
Strong in war
Gerold
(English)
Form of Gerald rules by the spear.
Atwell
(English)
Lives by the spring
Othili
Little wealthy one
Elke
(German)
Noble. Variant of Alice.
Nadetta
(German)
The courage of a bear
Konner
Alternate Spelling: Conner.