Cat Names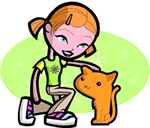 We offer 1,000's of cat names to help you choose the perfect one. Feel free to browse our unique cat names and when you find one you like you can add it to your favorites list to view later. If you have any cute cat names suggestions, please let us know. Enjoy!
Deegan
(Irish)
Black-haired.
Shamus
(Irish)
Supplanter
Gilleabart
(Scottish)
Pledge
Osmond
(English)
Divine protector
Kristopher
(English)
Variant of Christopher. Christ bearer.
Denny
(English)
Variant of Dionysius. Dionysius is the mythological Greek god of wine responsible for growth of the vines and the originator of winemaking: (equivalent to the Roman god Bacchus.)
Elvina
Friend of the elves
Berke
(Irish)
The birch tree meadow. Also see Barclay and Burke.
Caddaric
(English)
Battle leader
Lancelot
(French)
Servant
Huxford
(English)
From Hugh's ford
Cherokee
People of a different speech. One of the largest American Indian tribes.
Harrietta
(French)
Rules the home
Josina
(English)
Diminutive form of Josephine.
Carter
(English)
Drives a cart
Maryanna
(English)
Derived from Mary Bitter. Mary was the biblical mother of Christ. Names like Dolores and Mercedes have been created to express aspects of Mary's life and worship.
Spenser
(English)
Dispenser: provider.
Raleigh
Blessing to earth.