Cat Names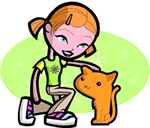 We offer 1,000's of cat names to help you choose the perfect one. Feel free to browse our unique cat names and when you find one you like you can add it to your favorites list to view later. If you have any cute cat names suggestions, please let us know. Enjoy!
Bryanne
(English)
She ascends. Feminine of Brian.
Chianna
(French)
Variant of Cheyanne - an Algonquian tribe of the Great Plains and Capital city of Wyoming.
Penarddun
(Celtic)
Mythical daughter of Beli
Allred
(English)
Wise or red haired man
Priour
(French)
Head of a priory
Shelly
From the ledge meadow
Apollonia
(Greek)
Gift from Greek god apollo. Strong.
Sankalp
(Indian)
Taking a pledge. related to worship
Laurena
(English)
The laurel tree or sweet bay tree symbolic of honor and victory. Old name with many variants.
Rosemarie
(French)
Bitter
Corrissa
(English)
Maiden.
Pit
(English)
From the Pit
Flynn
(Irish)
Son of a red-haired man. Surname.
Emilee
Variant of Emily. Hard worker.
Chevelle
Bold and beautiful.