Cat Names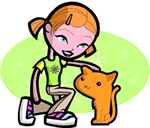 We offer 1,000's of cat names to help you choose the perfect one. Feel free to browse our unique cat names and when you find one you like you can add it to your favorites list to view later. If you have any cute cat names suggestions, please let us know. Enjoy!
Maolruadhan
(Irish)
Serves Saint Ruadhan
Lochness
In reference to the Loch Ness monster.
Zulema
(Hebrew)
peace:tranquility. Variant of Salome or Solomon.
Kameron
(English)
Modern variant of Cameron used for girls.
Lambart
(German)
Light of land
Seldon
(English)
From the willow valley
Audie
(English)
Noble strength
Cristina
(Spanish)
Follower of Christ.
Luvina
(Spanish)
Derived from the Roman given name Levinia.
Darryll
(English)
Variations of Daryl meaning Dearly loved.
Estevon
(Spanish)
Variant of Stephen.
Valicia
Combination of Val and Alicia.
Romina
(Arabic)
From the Christian land
Othomann
(German)
Wealthy