Cat Names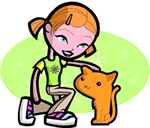 We offer 1,000's of cat names to help you choose the perfect one. Feel free to browse our unique cat names and when you find one you like you can add it to your favorites list to view later. If you have any cute cat names suggestions, please let us know. Enjoy!
Rawley
(English)
From the roe deer meadow
Yaelis
(Spanish)
Combination of Joel and Yoseline. Meaning: strength of God: happy, joyful, celestial.
Masselin
(French)
Little Thomas
Dany
(English)
Feminine variant of Daniel God will judge.
Alden
(English)
Wise friend or from the old manor
Dior
(French)
Related to D'Or meaning golden.
Chantelle
(French)
Singer.
Valicia
Combination of Val and Alicia.
Watson
(English)
Son of Walter
Calvex
(English)
Shepherd
Lizbeth
(Hebrew)
Devoted to God
Shad
(English)
Short form of the Biblical Shadrach: one of three young Hebrew men who survived being cast into a fiery furnace.
Casen
Alternate Spelling: Cason.
Gay
(English)
Variant of Gail. Joyful. Lively Also a modern term denoting homosexuality.