Cat Names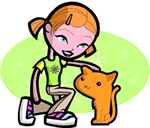 We offer 1,000's of cat names to help you choose the perfect one. Feel free to browse our unique cat names and when you find one you like you can add it to your favorites list to view later. If you have any cute cat names suggestions, please let us know. Enjoy!
Claudette
(German)
Feminine of Claude.
Susannah
(Hebrew)
Graceful lily In the apocryphal Book of Tobit Susannah courageously defended herself against wrongful accusation. White lilies grew in the Biblical city of Susa in Persia.
Anarosa
(Spanish)
Grace. favor. Variant of Anna.
Katriane
(French)
Variant of Katherine. Pure.
Wattesone
(English)
Son of Walter
Lilian
(English)
Variant of Lillian derived from the flower name Lily. Symbol of innocence: purity: beauty.
Kennedy
(Scottish)
Ugly head
Josetta
(Hebrew)
God will add
Caith
(Irish)
From the battlefield
Uriel
(Hebrew)
God is my light
Dominica
(Irish)
Name of a saint
Erich
(German)
German form of Eric
Aethelflaed
Sister of King Edward
Kaycee
(English)
Modern Kacie and variants are phonetic forms of the initials K.C. or variants of the Irish name Casey alert: vigorous.
Alyssia
(English)
Variant of Alice.
Varden
(Celtic)
From the green hill
Alisanne
(English)
Variation of Alice.
Leonor
(Spanish)
Spanish form of Eleanor light