Cat Names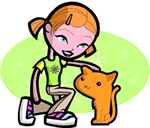 We offer 1,000's of cat names to help you choose the perfect one. Feel free to browse our unique cat names and when you find one you like you can add it to your favorites list to view later. If you have any cute cat names suggestions, please let us know. Enjoy!
Dayne
(English)
From Denmark. Also a variant of Daniel.
Dervin
(English)
Gifted friend.
Ascot
(English)
Lives at the east cottage
Eloy
(German)
Famous fighter
Dolores
(Spanish)
Sorrows. A reference to the Virgin Mary as Mary of the sorrows.
Edison
(English)
Son of Edward
Philippine
(German)
Loves horses
Tristin
(Celtic)
Tumult: outcry. From the Celtic name Tristan. In Arthurian legend Tristan was a Knight of the Round Table and tragic hero of the medieval tale Tristram and Isolde.
Barhloew
(English)
Lives on the bare hill
Cohen
(German)
Allternate Spellings: Coen or Koen.Brave.
Constanza
(Spanish)
Constant
Gerri
(English)
Modern form of Gerry.
Rylan
(Irish)
Island meadow.
Farleigh
(English)
From the bull pasture. Surname.
Gaspara
(Spanish)
Treasure