Cat Names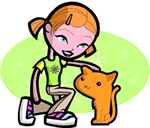 We offer 1,000's of cat names to help you choose the perfect one. Feel free to browse our unique cat names and when you find one you like you can add it to your favorites list to view later. If you have any cute cat names suggestions, please let us know. Enjoy!
Blyss
(English)
Joy: cheer. Used from medieval times.
Ralston
(English)
Ralph's town Surname.
Dino
(English)
From the dene
Huxford
(English)
From Hugh's ford
Hugette
(French)
Feminine form of Hugh
Maeret
(English)
Little famous one
Borden
(English)
From the boar valley
Tedrick
(German)
Variant of the old German name Theodoric ruler of the people.
Southwell
(English)
From the south spring
Desiderio
(Spanish)
Desired
Nicolette
(French)
People's victory
Kenneth
(Scottish)
Good-looking: fair.