Cat Names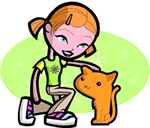 We offer 1,000's of cat names to help you choose the perfect one. Feel free to browse our unique cat names and when you find one you like you can add it to your favorites list to view later. If you have any cute cat names suggestions, please let us know. Enjoy!
Franky
(English)
Diminutive of Frank Free: a free man. Frankie is occasionally used for girls.
Talora
(Hebrew)
Morning's dew
Falyn
Iris. Variant of Fallon.
Mariner
(Celtic)
Lives by the sea
Chan
(Spanish)
Nickname for John.
Deon
(English), (French)
Abbreviation of Dionysius.
Corrie
(Irish)
Variant of Cory meaning variously - From the round hill: seething pool: ravine
Gwalchmai
(Celtic)
From Arthurian legend
Winston
(English)
From Wine's farm
Amber
(Arabic)
Jewel. A jewel-quality fossilized resin: as a color the name refers to a warm honey shade.
Elmer
(English)
Lives at the elm tree moor Famed: noble.
Manolito
(Spanish)
A form of Emmanuel God is with us
Tabbart
(German)
Brilliant
Brandyce
(English)
Variation of the beverage brandy used as a given name.