Cat Names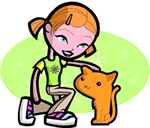 We offer 1,000's of cat names to help you choose the perfect one. Feel free to browse our unique cat names and when you find one you like you can add it to your favorites list to view later. If you have any cute cat names suggestions, please let us know. Enjoy!
Christen
(English)
Variant of Christiana. Follower of Christ.
Talbot
(English)
Variant of Tal tall. Surname.
Luighseach
(Irish)
Torch bringer
Sakura
(Japanese)
Cherry Blossom.
Johnnie
(French)
Variant of the Hebrew John Jehovah has been gracious: has shown favor.
Coburn
(Scottish)
Surname and place name.
Brandie
(English)
Variation of the beverage brandy used as a given name.
Carvell
(English)
From the villa by the march
Darryll
(English)
Variations of Daryl meaning Dearly loved.
Cheryll
(English)
Variant of the French Cherie dear one: darling. Rhyming variant of names like Meryl and Beryl: originated early twentieth century.
Narolie
Very sure of something or its true. Usually given when one wished for a baby girl and has given birth to a girl. Its like saying really its true or has come true.
Trevyn
(English)
Fair town. Abbreviation of Trevelyan.
Cort
(English)
Courtier: court attendant.
Galilahi
Attractive (Cherokee)
Yannic
(Hebrew)
Gods child.
Isadoro
(Spanish)
strong gift.
Heathcliff
(English)
From the heath cliff
Gertrut
(German)
From the protected farm