Cat Names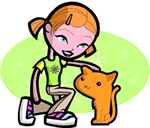 We offer 1,000's of cat names to help you choose the perfect one. Feel free to browse our unique cat names and when you find one you like you can add it to your favorites list to view later. If you have any cute cat names suggestions, please let us know. Enjoy!
MacPherson
(Scottish)
Son of the parson
Maitane
(English)
Dearly loved
Brandyce
(English)
Variation of the beverage brandy used as a given name.
Holwell
(English)
Lives by the holy spring
Stocwiella
(English)
From the tree stump spring
Arleigh
(English)
Meadow of the hare.
Tony
(English)
highly praiseworthy. Abbreviation of Anthony and its variants used since medieval times as an independent name.
Ulfred
(English)
Wolf of peace
Darton
(English)
From the deer park
Anjanette
(English)
Gift of God's favor. Blend of Ann and Janet.
Clarissant
Sister of Gawain
Calvex
(English)
Shepherd
Norman
(English)
Man of the north. Surname.
Kiona
(Irish)
Variant of Kian. Ancient.
Leonela
(French)
Lion: lioness. Feminine of Leon.
Brienna
(Celtic)
She ascends. Feminine of Brian.