Cat Names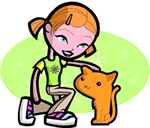 We offer 1,000's of cat names to help you choose the perfect one. Feel free to browse our unique cat names and when you find one you like you can add it to your favorites list to view later. If you have any cute cat names suggestions, please let us know. Enjoy!
Guilbert
(English)
Trusted
Minnie
(French)
Form of Williamina
Beldane
(English)
Lives in the beautiful glen
Ormond
(English)
Spear defender
Britney
(English)
Originally the ancient duchy of Bretagne in France. Celtic Bretons emigrated from France to become the Bretons of England.
Randolph
(English)
House wolf: protector. Mythological wolf was esteemed for courage.
Skipton
(English)
From the sheep estate
Taneli
(Hebrew)
Judged by God
Mercer
(French)
Merchant.
Kierstyn
Variant of Christina, Cristina, Krystina.
Cheney
(French)
From the oak wood
Kristen
(English)
Variant of Christiana. Follower of Christ.
Westleah
(English)
From the west meadow