Cat Names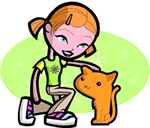 We offer 1,000's of cat names to help you choose the perfect one. Feel free to browse our unique cat names and when you find one you like you can add it to your favorites list to view later. If you have any cute cat names suggestions, please let us know. Enjoy!
Blythe
(English)
Blithe: lighthearted: cheerful
Amalia
(English)
Industrious. Striving.
Nycole
(French)
Same as Nicole or Nichole
Ashleen
(English)
Meadow of ash trees.
Jeanna
(French)
Variant of John.
Carrots
(English)
Orange vegetable
Mada
(Irish)
From Mathilda
Minetta
(French)
Form of Williamina
Prydwyn
Name of Arthur's ship
Ordwald
(English)
Spear strength
Sherwin
Quick as the wind
Godfrey
(Irish)
Peace from God
Egon
(German)
Strong with a sword