Cat Names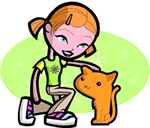 We offer 1,000's of cat names to help you choose the perfect one. Feel free to browse our unique cat names and when you find one you like you can add it to your favorites list to view later. If you have any cute cat names suggestions, please let us know. Enjoy!
Jennah
(English)
Modern variant of Jenny and Jennifer.
Matz
(Hebrew)
Gift from God
Barrak
(Hebrew)
Flash of lightning. In the bible the valiant fighting man Barak cooperated with the prophetess Deborah to win victory in battle against overwhelming odds.
Jyl
(English)
Abbreviation of Jillian or Gillian. Jove's child.
Adelita
(German)
Sweet or noble
Brennon
(Irish)
Prince. Variant of Brendan.
Amarissa
(Hebrew)
Given by God
Abedabun
Sight of day (Chippewa)
Bemadette
(German)
Has the courage of a bear
Leonela
(French)
Lion: lioness. Feminine of Leon.
Cary
(Irish)
Of the dark ones.
Coriann
(English)
Variant of Cory meaning variously - From the round hill: seething pool: ravine
Cherry
(English)
The fruit-bearing cherry tree.
Kacee
(English)
Modern Kacie and variants are phonetic forms of the initials K.C. or variants of the Irish name Casey alert: vigorous.
Yaelis
(Spanish)
Combination of Joel and Yoseline. Meaning: strength of God: happy, joyful, celestial.
Fanny
(English)
Pet name meaning free: variant of Frances.