Cat Names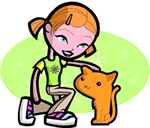 We offer 1,000's of cat names to help you choose the perfect one. Feel free to browse our unique cat names and when you find one you like you can add it to your favorites list to view later. If you have any cute cat names suggestions, please let us know. Enjoy!
Lochlann
(Irish)
Home of the Norse
Marley
(English)
Marshy meadow. Also Variant of Marlene Woman from Magdala.
Arlene
(English)
Variant of Carlene and Charlene.
Alanna
(Irish)
Beautiful. Dear child.
Burnell
(German)
Variant of Bernard strong as a bear.
Jaran
(English)
Modern variant of Israeli Jaron cry of rejoicing.
Ashtyn
(English)
Town of ash trees.
Alric
(German)
Rules all. The historical Gothic king who plundered Rome in A.D. 410.
Kay
(English)
Keeper of the keys:also an abbreviation of Katherine Pure. Sir Kay was one of King Arthur's knights.
Gunther
(German)
Battler: warrior.
Mindy
(English)
Abbreviation of Melinda.
Melinda
(English)
Blend of Melissa and Linda.
Calysta
(Greek)
Most beautiful. Alternate Spelling: Calista.
Prydwyn
Name of Arthur's ship