Cat Names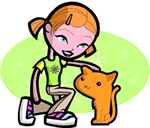 We offer 1,000's of cat names to help you choose the perfect one. Feel free to browse our unique cat names and when you find one you like you can add it to your favorites list to view later. If you have any cute cat names suggestions, please let us know. Enjoy!
Carree
(English)
Abbreviation of Carol and Caroline from the masculine Charles meaning manly
Emmett
(English)
Male variant of Emma: a premedieval girl's given name.
Rabah
(Hebrew)
Fourth born
Ardkill
(Irish)
From the high church
Ila
(French)
From the island
Toby
(English)
Abbreviation of the Hebrew name Tobiah meaning Jah is good.
Gay
(English)
Variant of Gail. Joyful. Lively Also a modern term denoting homosexuality.
Walker
(English)
Worker in cloth.
Eskama
(Spanish)
Merciful
Deerward
(English)
Guardian of the deer
Kaydience
Variant of Cadence.
Alexandre
(French)
French form of Alexander