Cat Names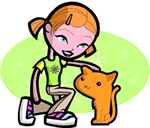 We offer 1,000's of cat names to help you choose the perfect one. Feel free to browse our unique cat names and when you find one you like you can add it to your favorites list to view later. If you have any cute cat names suggestions, please let us know. Enjoy!
Carson
(Scottish)
Surname.
Flair
(English)
Style: verve.
Traci
(English)
Variant of Tracy from Thracia.
Toft
(English)
From the small farm
Lacina
(French)
Derived from Lacey which is a French Nobleman's surname brought to British Isles after Norman conquest.
Kinleigh
(English)
Kings meadow.
Jenene
(English)
Variation of Jenny which is a diminutive of Jane and Jennifer.
Cort
(English)
Courtier: court attendant.
Clarissant
Sister of Gawain
Mariner
(Celtic)
Lives by the sea
Cullen
(Irish)
Good-looking lad. Surname.
Teetonka
Talks too much (Sioux)
Genisa
(Hebrew)
Origin: birth. Genisis is the name of the first book in the Bible. Genisia - the Virgin Mary of Turin - is a protectress invoked against drought in Catholic tradition.
Beau/Belle
(French)
Handsome/Beautiful