Cat Names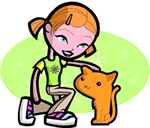 We offer 1,000's of cat names to help you choose the perfect one. Feel free to browse our unique cat names and when you find one you like you can add it to your favorites list to view later. If you have any cute cat names suggestions, please let us know. Enjoy!
Ceolbeorht
(English)
Seaman
Shaylon
(Irish)
Variant of Shea courteous.
Sharon
(Hebrew)
From the land of Sharon
Lindberg
(German)
From the linden tree hill
Willard
(German)
Bold: resolute.
Aalijah
(Hebrew)
The lord is god. Variant of Elijah.
Felicity
(French)
Great happiness
Kaleb
(Hebrew)
Bold and faithful
Iain
(Scottish)
Gift from God
Lacina
(French)
Derived from Lacey which is a French Nobleman's surname brought to British Isles after Norman conquest.
Govannon
God of the forge
Carey
(Irish)
Of the dark ones.
Jenarae
(English)
Variation of Jenny which is a diminutive of Jane and Jennifer.
Talford
(English)
Variant of Tal tall. Surname.
Christien
(French)
Christian
Friedrick
(German)
Nickname variant of Frederick peaceful ruler.
Gene
(English)
Abbreviation of Eugene Wellborn.