Cat Names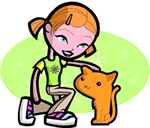 We offer 1,000's of cat names to help you choose the perfect one. Feel free to browse our unique cat names and when you find one you like you can add it to your favorites list to view later. If you have any cute cat names suggestions, please let us know. Enjoy!
Deerward
(English)
Guardian of the deer
Torence
(Scottish)
Variant of Torrence From the craggy hills. Tor is a name for a craggy hilltop and also may refer to a watchtower.
Willis
(German)
Resolute protector: will. Surname.
Raynor
(English)
Strong counselor. From the ancient personal name Ragnar.
Kandiss
(English)
Modern variant of Candace - ancient hereditary title used by Ethiopian queens.
Bryan
(English)
Popular variant of Brian.
Andie
(English)
Feminine of Andrea.
Duayna
(Irish)
Feminine of Duane.
Daney
(English)
From Denmark. Also a variant of Daniel.
Kaylan
(English)
Variant of Kay and Kayla. keeper of the keys: pure.
Candy
(English)
Sweet stuff
Sha-Mia
(African)
To be of high spirit.
Gurion
(Hebrew)
My lion cub
Aelfric
(English)
Elf ruler
Jeannelle
(French)
Comes from the name Jean and elle meaning girl
Donzel
(Spanish)
Abbreviation of Donatello gift from God.
Walden
(English)
From the Welshman's valley