Cat Names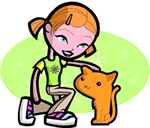 We offer 1,000's of cat names to help you choose the perfect one. Feel free to browse our unique cat names and when you find one you like you can add it to your favorites list to view later. If you have any cute cat names suggestions, please let us know. Enjoy!
Charmain
(French)
One of Cleopatra's attendants in Shakespeare's Antony and Cleopatra was named Charmian.
Lindberg
(German)
From the linden tree hill
Darick
(Irish)
Strong: oak-hearted. See also Derek.
Beaton
(English)
From the warrior's estate
Mattie
(French)
Strong in war
Larry
(English)
Abbreviation of Lawrence or Laurence often used as an independent name.
Felicity
(French)
Great happiness
Muriel
(Celtic)
Shining sea.
Drygedene
(English)
From the dry valley
Jacob
(Hebrew)
Supplanter
Aphra
(Hebrew)
Dust. Biblical place name.
Aengus
(Scottish)
Unnaturally strong