Cat Names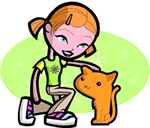 We offer 1,000's of cat names to help you choose the perfect one. Feel free to browse our unique cat names and when you find one you like you can add it to your favorites list to view later. If you have any cute cat names suggestions, please let us know. Enjoy!
Sooleawa
Silver (Algonquin)
Joaquina
(Hebrew)
God shall establish
Laurita
(Spanish)
The laurel tree or sweet bay tree symbolic of honor and victory.
Lamorat
Brother of Percival
Yaelis
(Spanish)
Combination of Joel and Yoseline. Meaning: strength of God: happy, joyful, celestial.
Skyrah
(English)
Eternal life, strength, love, and beauty.
Garet
(English)
Brave with a spear
Suffield
(English)
From the south field
Gobinet
(Irish)
Irish form of Abigail bringsjoy
Jenralyn
(English)
Modern blend of Jerry and Marilyn.
Ross
(German)
Red. Surname.
Nico
(English)
Abbreviation of Nicholas. Mythological Nike was Greek goddess of victory and root origin of Nicholas.
Maolruadhan
(Irish)
Serves Saint Ruadhan