Cat Names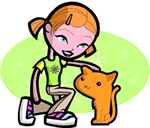 We offer 1,000's of cat names to help you choose the perfect one. Feel free to browse our unique cat names and when you find one you like you can add it to your favorites list to view later. If you have any cute cat names suggestions, please let us know. Enjoy!
Jarrett
(English)
Spear strong. Surname. Variant of Garrett.
Korbin
(English)
Raven-haired.
Sandor
Defender of mankind.
Harkahome
Little robe (Cheyenne)
Dyre
A dear or precious one.
Leilah
(Arabic)
Born at night.
Sean
(Irish)
Gift from God. Form of John from the French Jean.
SutcIyf
(English)
From the south cliff
Kedric
(English)
Gift of splendor. Form of Cedric.
Davina
(Hebrew)
Cherished
Colby
(English)
From the black farm
Eunice
(Hebrew)
Good Victory
Brooklynne
(English)
Water: stream.
Vernell
(French)
Green: flourishing.
Noelene
(English)
Feminine pet form of NOEL
Cherise
(English)
Blend of Cherie and Cerise. Dear one: darling