Cat Names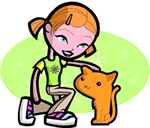 We offer 1,000's of cat names to help you choose the perfect one. Feel free to browse our unique cat names and when you find one you like you can add it to your favorites list to view later. If you have any cute cat names suggestions, please let us know. Enjoy!
Bemadette
(German)
Has the courage of a bear
Kerra
(Irish)
Dusky: dark.
Deerward
(English)
Guardian of the deer
Lynessa
(English)
Variant of ancient Welsh given name. In Arthurian legend Lynette accompanied Sir Gareth on a knightly quest.
Rafal
(Hebrew)
God's healer
Jayden
(English)
Heard by God.
Maude
(French)
Strong in war
Orford
(English)
From the cattle ford
Darby
(English)
Without envy.
Lornell
(Scottish)
Form of Lawrence.
Arawn
(Celtic)
Mythical king of the Underworld
Westleah
(English)
From the west meadow
Sandy
(Scottish)
Abbreviation of Alexander defender of man.
Saadya
(Hebrew)
God's helper