Cat Names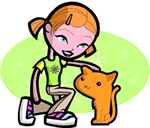 We offer 1,000's of cat names to help you choose the perfect one. Feel free to browse our unique cat names and when you find one you like you can add it to your favorites list to view later. If you have any cute cat names suggestions, please let us know. Enjoy!
LaKinzi
(English)
The special one: A gift from god.
Armand
(German)
Protective
Jaimi
(Scottish)
Pet form of James used as a woman's name.
Viviane
The Lady of the Lake
Mayme
(English)
Abbreviation of Mary and Miriam.
Tallia
(Greek)
Joyful, blooming. Pronunced Tall-yuh or Tall-ee-uh. Traditional spelling Thalia, also seen as Talia and Talya.
Washburn
(English)
From the flooding brook
Gubnat
(Irish)
Irish form of Abigail bringsjoy
Gofraidh
(Irish)
Peace from God
Lumpy
Covered with lumps.
Taron
(English)
Terran means Earthman. Variants are contemporary rhyming blends of Ter- plus Darin.
Kaydience
Variant of Cadence.
Doron
(English)
Variant of Dorran stranger.