Cat Names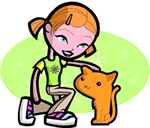 We offer 1,000's of cat names to help you choose the perfect one. Feel free to browse our unique cat names and when you find one you like you can add it to your favorites list to view later. If you have any cute cat names suggestions, please let us know. Enjoy!
Cartimandua
Name of a queen of Brigantes
Monte
(English)
From the wealthy man's mountain
Tabor
(Hebrew)
In the bible Mt. Tabor is a landmark mountain near Nazareth.
Jumanah
(Arabic)
A silver pearl
Cailym
(Irish)
Pillar of the church.
Braeden
(Irish)
Broad hillside.
Mathilde
(German)
Mighty battle maiden
Aethelweard
(English)
Noble protector
Charmain
(French)
One of Cleopatra's attendants in Shakespeare's Antony and Cleopatra was named Charmian.
Dillion
(Celtic)
Faithful
Barry
(Irish)
Fair-haired.