Cat Names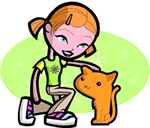 We offer 1,000's of cat names to help you choose the perfect one. Feel free to browse our unique cat names and when you find one you like you can add it to your favorites list to view later. If you have any cute cat names suggestions, please let us know. Enjoy!
Myleen
(English)
Merciful. Feminine of Myles.
Cristofor
(Spanish)
With Christ inside.
Maile
(Hawaiian)
A vine that grows in Hawaii that is used in making leis.
Ionnes
(Hebrew)
Gift from God
Nico
(English)
Abbreviation of Nicholas. Mythological Nike was Greek goddess of victory and root origin of Nicholas.
Trumbald
(English)
Strong or bold
Malcolm
(Celtic)
Servant of Saint Columba
Terciero
(Spanish)
Born third
Dannelle
(English)
Feminine variant of Daniel God will judge.
WyIfrid
(English)
Friend of peace
Haille
Alternate Spelling: Hailey, Hayley, Hailee.
Leianna
(English)
Derived from an Irish Gaelic of Helen: (light:beautiful woman): variant of Liana: (youthful:bond).
Burleigh
(English)
Lives at the castle's meadow. Fortified. See also Berlyn.
Sigfrieda
(German)
Victorious
Harrietta
(French)
Rules the home
Loleta
(Spanish)
Feminine form of Carlos manly
Darton
(English)
From the deer park
Quincey
(French)
From the place owned by the fifth son Fifth: derived from Roman clan name.