Cat Names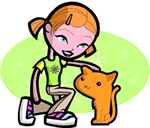 We offer 1,000's of cat names to help you choose the perfect one. Feel free to browse our unique cat names and when you find one you like you can add it to your favorites list to view later. If you have any cute cat names suggestions, please let us know. Enjoy!
Jennay
(English)
Modern name based on Jane or Jean: Based on Janai meaning God has answered.
Athalia
(Spanish)
Guardtower
Krynn
(English)
Caring and loving
Ailsa
(Hebrew)
Devoted to God
Orlin
(German)
Renowned in the land. Form of Roland.
Marilynn
(English)
Blend of Marie or Mary and Lyn.
Corley
(Irish)
Variant of Corey Hill hollow.
Bhreac
(Scottish)
Speckled
Mercer
(French)
Merchant.
Darwin
(English)
Dear friend. Nineteenth-century naturalist Charles Darwin was the first major exponent of human evolution.
Murchadh
(Irish)
Fighter of the sea