Cat Names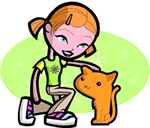 We offer 1,000's of cat names to help you choose the perfect one. Feel free to browse our unique cat names and when you find one you like you can add it to your favorites list to view later. If you have any cute cat names suggestions, please let us know. Enjoy!
Cherise
(English)
Blend of Cherie and Cerise. Dear one: darling
Lailie
(Hebrew)
Nightfall
Addie
(French)
Variant of Adela.
Lionell
(French)
Young lion.
Noelle
(French)
Birthday. Feminine of Noel. Commonly refers to Christ's birth and Christmas festival.
Varden
(Celtic)
From the green hill
Paco
(Mexican), (Spanish)
Daniel
(Hebrew)
God is my Judge. The biblical prophet and writer of Book of Daniel was a teenager when taken to Babylon after the destruction of Jerusalem in 607 BC. He survived two death sentences: (a lions' den and a fiery furnace.): Frontiersman Daniel Boone.
Jakeem
(Arabic)
Raised up.
Raydon
(French)
Counselor. Variant of Raymond.
Marleen
(German)
Variant of Madeline Woman from Magdala.
Leslie
(Celtic)
From the gray fortress
Garrson
(English)
Son of Gar
Ogelsby
(English)
Fearsome
Evony
(German)
Variant of Yvonne from Yves. Archer.