Cat Names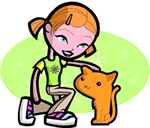 We offer 1,000's of cat names to help you choose the perfect one. Feel free to browse our unique cat names and when you find one you like you can add it to your favorites list to view later. If you have any cute cat names suggestions, please let us know. Enjoy!
Gavrila
(Hebrew)
God gives strength
Andrian
(English)
Manly: brave. Modern variant of Andrew.
Winifrid
(German)
Peaceful friend
Earwyn
(English)
Friend of the sea
Hampton
(English)
Place-name and surname.
Chanel
(French)
canal: channel. The popular perfume Chanel
Kayne
(Celtic)
Intelligent
Jana
(Irish)
Feminine form of John God is gracious
Rickey
(English)
Abbreviation of Richard powerful: strong ruler.
Erendira
(Spanish)
Name of a princess
Nastia
(Greek)
Variant of Anastasia.
Bevis
(French)
From Beauvais
Brenius
A supposed king of Britain
Oldwyn
(English)
Special friend
Amd
(German)
Power of an eagle