Cat Names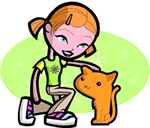 We offer 1,000's of cat names to help you choose the perfect one. Feel free to browse our unique cat names and when you find one you like you can add it to your favorites list to view later. If you have any cute cat names suggestions, please let us know. Enjoy!
Ellyce
(English)
Variant of Elias which is the Greek form of Elijah.
Artegal
(Irish)
High honor
Boell
(German)
Hill dweller.
Shipley
(English)
From the sheep meadow
Snowden
(English)
From the snowy hill
Tatum
(English)
Brings joy
Big Bertha
Comic book character. Large gun.
Magdalen
(Hebrew)
From the tower
Estrellita
(Spanish)
Star.
Shaw
(English)
From the shady grove
Billie
(English)
Nickname for William resolute protector - often used as an independent name.
Ena
(Irish)
Feminine form of Aidan fire
Gaukroger
(English)
Roger the clumsy
Tory
(Irish)
From the knolls