Cat Names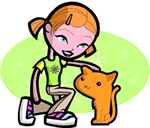 We offer 1,000's of cat names to help you choose the perfect one. Feel free to browse our unique cat names and when you find one you like you can add it to your favorites list to view later. If you have any cute cat names suggestions, please let us know. Enjoy!
Tangerine
(English)
From Tangiers
May
(Scottish)
Scottish form of Margaret pearl
Diederich
(German)
People's ruler
Thunder
(English)
Stormy tempered
Salomeaexl
(Hebrew)
Tranquil
Tabbart
(German)
Brilliant
Colin
(French)
Abbreviation of Nicholas people's victory.
Farren
(English)
Adventurous.
Gardiner
(English)
Gardener
Wattesone
(English)
Son of Walter
Krynn
(English)
Caring and loving
Sooleawa
Silver (Algonquin)
Adron
(English)
From Adria.: (Adriatic sea region.)