Siamese Cat Names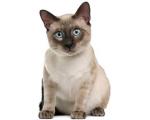 FunCatNames.com offers many Siamese cat names to choose from when naming your own cat. You can sort these Siamese cat names by gender and you can view their full meanings by clicking on the name. You may also rate the cat names that you like dislike most. Feel free to browse all our Siamese cat names and add the ones you want to save for later to your own favorites list.
Howie
(English)
Nichname for Howard noble watchman.
Rodwell
(English)
Lives by the spring near the road
Andie
(English)
Feminine of Andrea.
Tannere
(English)
Leather maker
Kuno
(German)
Honest advisor
Braleah
(English)
From the hillslope meadow
Barry
(Irish)
Fair-haired.
Briannon
(English)
She ascends. Feminine of Brian.
Franky
(English)
Diminutive of Frank Free: a free man. Frankie is occasionally used for girls.
Darolyn
(English)
Variations of Daryl meaning Dearly loved.
Allyssa
(English)
Nobel. Derived from the name of the alyssum flower.
Arik
(English)
Sacred ruler
Fawna
(English)
Young deer. The Greek mythological deity of fertility and nature was Fauna. She was famous for her chastity.
Samoel
(Hebrew)
Name of God. Biblical prophet and judge who anointed Saul and David as kings of Israel. Sami: (Arabic) honored
Melvon
(English)
Meaning uncertain but possibly friend of Michael.
Vohkinne
Roman nose (Cheyenne)
Hernandez
(Spanish)
Adventurous. Variant of Ferdinand.