Siamese Cat Names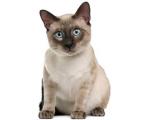 FunCatNames.com offers many Siamese cat names to choose from when naming your own cat. You can sort these Siamese cat names by gender and you can view their full meanings by clicking on the name. You may also rate the cat names that you like dislike most. Feel free to browse all our Siamese cat names and add the ones you want to save for later to your own favorites list.
Audie
(English)
Noble strength
Osryd
(English)
Divine counselor
Dunn
(English)
Dark skinned
Tearlach
(Scottish)
Strong
Bocleah
(English)
Lives at the buck meadow
Donelle
(Irish)
Feminine form of Donal rules the world
Ramsey
(English)
Ram's island.
Albertyna
(English)
Noble
Sterlyn
(German)
of high quality: pure.: Also variant of a name given pre-medieval refiners of silver meaning easterner.
Bairrfhionn
(Celtic)
Marksman
Hardin
(English)
From the hare's valley
Joyann
(French)
Rejoicing.
Edina
(English)
Wealthy friend
Merrick
(English)
Strong ruler. Ruler of sea
Kermit
(Celtic)
Son of Diarmaid