Siamese Cat Names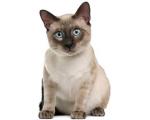 FunCatNames.com offers many Siamese cat names to choose from when naming your own cat. You can sort these Siamese cat names by gender and you can view their full meanings by clicking on the name. You may also rate the cat names that you like dislike most. Feel free to browse all our Siamese cat names and add the ones you want to save for later to your own favorites list.
Ellee
(English)
Abbreviation of Eleanor and Ellen.
Anjanette
(English)
Gift of God's favor. Blend of Ann and Janet.
Calantha
(French)
Beautiful flower
Alexandrine
(French)
Feminine form Alexandre
Darby
(English)
Without envy.
Liza
(Hebrew)
Devoted to God
Latimer
(French)
Interprets Latin
Davis
(Scottish)
David's son
Maeret
(English)
Little famous one
Faelen
(Irish)
Faelen is irish gaelic and means wolf
Garreth
Gentle. Modest and brave Sir Gareth was a legendary knight of King Arthur's Round Table.
Izaan
(Arabic)
Obedience.
Edmond
(English)
Prosperous protector.
Lizbeth
(Hebrew)
Devoted to God
Vayle
(English)
Lives in the valley