Siamese Cat Names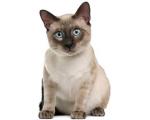 FunCatNames.com offers many Siamese cat names to choose from when naming your own cat. You can sort these Siamese cat names by gender and you can view their full meanings by clicking on the name. You may also rate the cat names that you like dislike most. Feel free to browse all our Siamese cat names and add the ones you want to save for later to your own favorites list.
Cesar
(Spanish)
Long haired
Tangerine
(English)
From Tangiers
Audie
(English)
Noble strength
Reynald
(German)
Counselor-ruler.
Erin
(Irish)
From Ireland
Aesctun
(English)
From the ash tree farm
Irmigard
(German)
War goddess
Enoch
(Hebrew)
Trained and dedicated. In the bible Enoch was father of Methuselah: the oldest living man named in the Bible.
Kaeli
(English)
Variant of Kay and Kayla keeper of the keys: pure.
Briza
(Spanish)
From Briseis the woman Achilles loved in Homer's Iliad.
Franky
(English)
Diminutive of Frank Free: a free man. Frankie is occasionally used for girls.
Penton
(English)
From the enclosed farm
Delisha
(English)
Variant of Latin Delicia meaning Gives pleasure.
Marque
(French)
Of Mars: the god of war.
Adron
(English)
From Adria.: (Adriatic sea region.)
Othomann
(German)
Wealthy
Magdalene
(Hebrew)
From the tower
Kirby
(English)
Church farm.