Siamese Cat Names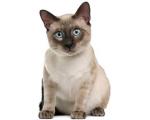 FunCatNames.com offers many Siamese cat names to choose from when naming your own cat. You can sort these Siamese cat names by gender and you can view their full meanings by clicking on the name. You may also rate the cat names that you like dislike most. Feel free to browse all our Siamese cat names and add the ones you want to save for later to your own favorites list.
Oswald
(English)
Divinely powerful
Jeran
(English)
Modern variant of Israeli Jaron cry of rejoicing.
Haylee
From the hay meadow.
Heaven-Leigh
One with life meaning holy and Heaven sent
Elwell
(English)
From the old spring
Kay
(English)
Keeper of the keys:also an abbreviation of Katherine Pure. Sir Kay was one of King Arthur's knights.
Cory
(Irish)
From the round hill
Tobiah
(English)
Jah is good.
Linsey
(English)
A lake: a place of linden trees.
Genisa
(Hebrew)
Origin: birth. Genisis is the name of the first book in the Bible. Genisia - the Virgin Mary of Turin - is a protectress invoked against drought in Catholic tradition.
Aahan
(Indian)
Dawn / Morning