Siamese Cat Names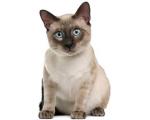 FunCatNames.com offers many Siamese cat names to choose from when naming your own cat. You can sort these Siamese cat names by gender and you can view their full meanings by clicking on the name. You may also rate the cat names that you like dislike most. Feel free to browse all our Siamese cat names and add the ones you want to save for later to your own favorites list.
Norville
From the north state
Anabella
Grace and Beauty. Variant of Annabelle.
Katrina
(German)
Variant of Katherine. Pure.
Derwyn
(English)
Friend of the deer
Kassie
(English)
Abbreviation of Cassandra. Unheeded prophetess. In Homer's The Iliad Cassandra's prediction of the fall of Troy was unheeded.
Alaska
Largest state in the U.S.
Bamey
(German)
Brave as a bear
Gulliver
(English)
In reference to "Gulliver's Travels"
Leilah
(Arabic)
Born at night.
Alverna
(Hebrew)
Feminine of Alvin meaning wise friend.
Elyza
(English)
Variation of Elizabeth. My God is bountiful:God of plenty.
Milani
(Hawaiian)
Gentle Caress
Tiladene
(English)
From the fertile valley
Gabriel
(Spanish)
God is my strength