Siamese Cat Names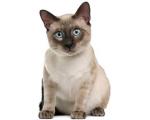 FunCatNames.com offers many Siamese cat names to choose from when naming your own cat. You can sort these Siamese cat names by gender and you can view their full meanings by clicking on the name. You may also rate the cat names that you like dislike most. Feel free to browse all our Siamese cat names and add the ones you want to save for later to your own favorites list.
Dacian
(French)
Of the nobility.
Zacharias
(Hebrew)
Variant of Vechariah Jehovah has remembered.
Tessa
(English)
Abbreviation of Teresa which is a popular saint's name of uncertain meaning.
Suzette
(French)
Lily. Variant of Hebrew Susannah. In the apocryphal Book of Tobit Susannah courageously defended herself against wrongful accusation. White lilies grew in the Biblical city of Susa in Persia.
Nicolai
Variant of Nicholas.
Burnell
(German)
Variant of Bernard strong as a bear.
Hanford
(English)
From the high ford
Rozomund
(German)
Noted protector
Tahra
(Celtic)
Earth or growth.
Iov
(Hebrew)
God will estahlish
Sidra
Of the stars or star.
Cyrano
(French)
Cyrano de Bergerac was a seventeenth-century soldier and science-fiction writer.
Terciero
(Spanish)
Born third
Jacob
(Hebrew)
Supplanter
Hans
(Hebrew)
Gift from God
Inda
(English)
The country India.