Siamese Cat Names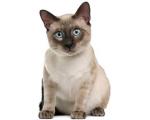 FunCatNames.com offers many Siamese cat names to choose from when naming your own cat. You can sort these Siamese cat names by gender and you can view their full meanings by clicking on the name. You may also rate the cat names that you like dislike most. Feel free to browse all our Siamese cat names and add the ones you want to save for later to your own favorites list.
Derebourne
(English)
From the deer brook
Timmy
(English)
Variant of Timothy one who honors God.
Mynogan
(Celtic)
Mythical father of Beli
Trowhridge
(English)
From the tree bridge
Baird
(Scottish)
From Baird
Joka
(Hebrew)
Gift from God
Brunelle
(French)
Dark haired
Deeandra
(English)
Blend of Deanne: (divine) plus variants of Andrea: (masculine) and Sandra: (protector of man.)
Talya
(Hebrew)
Dew of heaven
Joan
(English)
Feminine of John.
Sylvana
(English)
Variant of Latin Sylvia from the forest.
Jordanna
(English)
Variant of the Hebrew Jordan. Down flowing. The river in Palestine where Jesus was baptized has been used as a given name since the Crusades.