Siamese Cat Names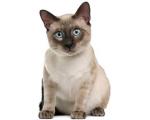 FunCatNames.com offers many Siamese cat names to choose from when naming your own cat. You can sort these Siamese cat names by gender and you can view their full meanings by clicking on the name. You may also rate the cat names that you like dislike most. Feel free to browse all our Siamese cat names and add the ones you want to save for later to your own favorites list.
Magnild
(German)
Strong battle maiden
Loryn
(English)
Variant of Lawrence meaning from Laurentium.
Monte
(English)
From the wealthy man's mountain
Skipton
(English)
From the sheep estate
Aethelisdun
(English)
From the noble's hill
Mehetabel
(Hebrew)
God's favor
Keiji
(Japanese)
Cautious ruler.
Kermichil
(Scottish)
From Michael's fortress
Erma
(German)
Complete. War goddess
Misha
(French)
Variant of Michael.
Wetherby
(English)
From the wether sheep farm
Kein
(Scottish)
Ancient. Variant of Cian.
Jaimi
(Scottish)
Pet form of James used as a woman's name.
Shikyna
(Hebrew)
Presence of God.
Leona
(French)
Lion: lioness. Feminine of Leon.
Kandiss
(English)
Modern variant of Candace - ancient hereditary title used by Ethiopian queens.