Siamese Cat Names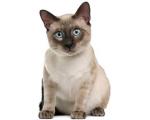 FunCatNames.com offers many Siamese cat names to choose from when naming your own cat. You can sort these Siamese cat names by gender and you can view their full meanings by clicking on the name. You may also rate the cat names that you like dislike most. Feel free to browse all our Siamese cat names and add the ones you want to save for later to your own favorites list.
Nathraichean
(Scottish)
Snake
Brun
(English)
Dark skinned
SulliMn
(Irish)
Black eyed
Hisolda
(Irish)
Irish form of Isolda
Coletta
(French)
Victorious. Variant of Nicolette.
Garadyn
(English)
From the three cornered hill
Kassie
(English)
Abbreviation of Cassandra. Unheeded prophetess. In Homer's The Iliad Cassandra's prediction of the fall of Troy was unheeded.
Kaity
Variant of Cathrine.
Alandra
(Spanish)
Variant of Alexandra defender of mankind.
Kayah
Wise child. (Japanese meaning: a resting place). Variant of Kaya (Philippino for ability, power, aptitude or capable)
Loralei
(German)
Variant of Lorelei meaning she whose singing lures men to destruction.
May
(Scottish)
Scottish form of Margaret pearl
Jodie
(English)
Feminine of nickname for Joseph and Jude.
Corissa
(English)
Maiden.
Kathlynn
(Irish)
Variant of Caitlin derived from Katherine. Pure.
Faeryn
(English)
From the fairies.
Janet
(Hebrew)
Gift from God