Siamese Cat Names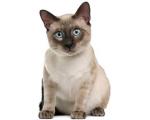 FunCatNames.com offers many Siamese cat names to choose from when naming your own cat. You can sort these Siamese cat names by gender and you can view their full meanings by clicking on the name. You may also rate the cat names that you like dislike most. Feel free to browse all our Siamese cat names and add the ones you want to save for later to your own favorites list.
Phillipe
(French)
Loves horses
Destinie
(English)
Certain fortune: fate. The mythological Greek god of fate.
Neakail
(Scottish)
Victorious people
Cleveland
(English)
From the cliff land
Fernando
(Spanish)
Adventurer. See also Hernando. Ferdinand: (Spanish/German) Adventurer.
Codi
(English)
Cushion. Helpful.
Riston
(English)
From the brushwood farm
Pachua
Feathered water snake (Hopi)
Elivina
(English)
Good elf
Barron
(English)
Warrior: Variant of the title Baron.
Travers
(French)
From the crossroads
Hobo
(English)
Wandering one
Perro
(Mexican), (Spanish)
Dog
Edwardson
(English)
Son of Edward
Danita
(English)
Feminine variant of Daniel God will judge.
Birley
(English)
From the cattle shed on the meadow
Art
(English)
Abbreviation of Arthur - noble: courageous.