Siamese Cat Names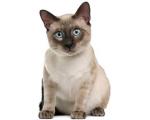 FunCatNames.com offers many Siamese cat names to choose from when naming your own cat. You can sort these Siamese cat names by gender and you can view their full meanings by clicking on the name. You may also rate the cat names that you like dislike most. Feel free to browse all our Siamese cat names and add the ones you want to save for later to your own favorites list.
Marty
(English)
Warrior of Mars.
Caellum
(Celtic)
Brave Warrior
Wilbert
(German)
Resolute or brilliant
Harlon
(English)
Meadow of the hares. Variant of Harley. Surname.
Lumpy
Covered with lumps.
Alo
Spiritual guide (Hopi)
Talora
(Hebrew)
Morning's dew
Farrin
(Irish)
The land. Also used for girIS.
Gerardo
(Spanish)
Spanish form of Gerard spear courageous
Denni
(English)
Combination of Deana: (divine) and Dina: (from the valley: avenged).
Jose
(Spanish)
May God give increase.
Rosana
(Hebrew)
Graceful rose
Guiseppie
(Hebrew)
He shall add
Keaira
(Celtic)
Little dark one
Abra
(Arabic), (Hebrew)
Arabic: Lesson. Hebrew: Mother of many.
Lisabeth
(English)
Abbreviation of Elizabeth.