Siamese Cat Names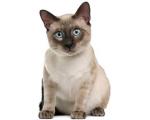 FunCatNames.com offers many Siamese cat names to choose from when naming your own cat. You can sort these Siamese cat names by gender and you can view their full meanings by clicking on the name. You may also rate the cat names that you like dislike most. Feel free to browse all our Siamese cat names and add the ones you want to save for later to your own favorites list.
Karren
(English)
Abbreviation of Katherine. Pure.
Volker
(German)
People's guard
Deonna
(English)
Variant of Diana meaning divine.
Rollie
(French)
Renowned in the land. Roland was a legendary hero who served Charlemagne.
Evette
(Hebrew)
Living one. Variant of Eve. In the bible Eve was Adam's wife and the first woman.
Gulliver
(English)
In reference to "Gulliver's Travels"
Mikhail
(Hebrew)
Gift from God
Bubba
(English)
Nickname often given to brothers.
Mehetabel
(Hebrew)
God's favor
Tyler
(English)
Tile layer or a variant of Taylor. An English surname frequently used as a given name.
Sinclair
(French)
St. Clair.
Sidell
(English)
From the wide valley
Jopie
(Hebrew)
God will multiply
Eadger
(English)
Wealthy spear
Makaylyn
Heaven in mommys eyes
Nella
(English)
Abbreviation of Eleanor shining light.
Geela
(Hebrew)
Eternal joy