Siamese Cat Names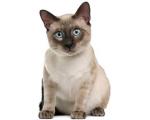 FunCatNames.com offers many Siamese cat names to choose from when naming your own cat. You can sort these Siamese cat names by gender and you can view their full meanings by clicking on the name. You may also rate the cat names that you like dislike most. Feel free to browse all our Siamese cat names and add the ones you want to save for later to your own favorites list.
Greta
(German)
Pearl. Abbreviation of Margaret.
Jaleel
(Arabic)
Greatness: Godlike
Natuche
(French)
Born at Christmas
Kaela
(Hebrew)
Beloved sweetheart.
Rydia
(Greek)
Rose pettles on still water.
Rafal
(Hebrew)
God's healer
Frimunt
(German)
Noble protector
Robinette
(French)
Small robin
Bertie
(English)
Variant of Bert - industrious.
Treoweman
(English)
Loyal
Barhloew
(English)
Lives on the bare hill
Jose
(Spanish)
May God give increase.
Parsefal
(English)
Valley piercer
Tevin
(Scottish)
Variant of Thomas twin.
Kailynne
(English)
Variant of Kay and Kayla. keeper of the keys: pure.