Siamese Cat Names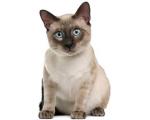 FunCatNames.com offers many Siamese cat names to choose from when naming your own cat. You can sort these Siamese cat names by gender and you can view their full meanings by clicking on the name. You may also rate the cat names that you like dislike most. Feel free to browse all our Siamese cat names and add the ones you want to save for later to your own favorites list.
Yerik
(Hebrew)
Appointed by God
Josina
(English)
Diminutive form of Josephine.
Kylie
(Australian)
Boomerang. Feminine form of Kyle.
Kandiss
(English)
Modern variant of Candace - ancient hereditary title used by Ethiopian queens.
Peer
(German)
A rock. Form of Peter.
Govannon
God of the forge
Harrell
(Hebrew)
Mountain of God
Bartram
(German)
Glorious raven.
Sean
(Irish)
Gift from God. Form of John from the French Jean.
Olwen
(Celtic)
Mythical daughter of Yspaddaden
Jamie
(Hebrew)
Supplanter
Muireadhach
(Irish)
Lord of the sea
Cathie
(English)
Form of the Greek Catherine meaning pure.
Odahingum
Rippling water (Chippewa)
Pinochos
(Hebrew)
Dark skinned
Teagan
(English)
Good-looking.
Big Ben
Large clock tower in England
Norwyn
(English)
Friend of the north
Haylee
From the hay meadow.
Deryk
(English)
Gifted ruler. From Theodoric.