Siamese Cat Names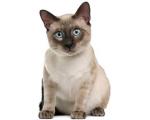 FunCatNames.com offers many Siamese cat names to choose from when naming your own cat. You can sort these Siamese cat names by gender and you can view their full meanings by clicking on the name. You may also rate the cat names that you like dislike most. Feel free to browse all our Siamese cat names and add the ones you want to save for later to your own favorites list.
Lonnell
(English)
Young lion.
Bernardo
(Spanish)
Strong as a bear.
Amery
(Irish)
Ridge: long hill
Maximillian
(English)
The greatest.
Gurion
(Hebrew)
My lion cub
Chardae
(French)
Feminine of Charles meaning manly
Rickward
(English)
Strong guardian
Gwenhwyfach
Guinevere's sister
Jeanna
(French)
Variant of John.
Sanersone
(English)
Alexander's son
Whitley
(English)
From the white meadow
Makaylyn
Heaven in mommys eyes
Minnie
(French)
Form of Williamina
Byme
(Irish)
Bear: brown.
Caith
(Irish)
From the battlefield
Corrie
(Irish)
Variant of Cory meaning variously - From the round hill: seething pool: ravine
Rob
(French)
Abbreviation of Robert Famed: bright: shining.
Kitlyn
(English)
Medieval English form of the Irish Caitlin. Pure
Geela
(Hebrew)
Eternal joy
Terran
(English)
Terran means Earthman. Variants are contemporary rhyming blends of Ter- plus Darin.
Rayne
(English)
Strong counselor. From the ancient personal name Ragnar.