Siamese Cat Names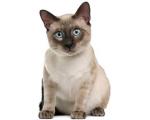 FunCatNames.com offers many Siamese cat names to choose from when naming your own cat. You can sort these Siamese cat names by gender and you can view their full meanings by clicking on the name. You may also rate the cat names that you like dislike most. Feel free to browse all our Siamese cat names and add the ones you want to save for later to your own favorites list.
Basil
(English)
Royal: kingly.
Derwan
(English)
Friend of the deer
Beaton
(English)
From the warrior's estate
Leesa
(Hebrew)
Variant of Lisa, Lise, Lisetta: A familiar form of Elisabeth: Consecrated to God
Broden
(Scottish)
Reference to Castle Brodie in Scotland.
Ellee
(English)
Abbreviation of Eleanor and Ellen.
Hampton
(English)
Place-name and surname.
McCloud
(Scottish)
Son of the ugly man
Mundy
(Irish)
From Reamon
Denny
(English)
Variant of Dionysius. Dionysius is the mythological Greek god of wine responsible for growth of the vines and the originator of winemaking: (equivalent to the Roman god Bacchus.)
Yago
(Spanish)
Supplanter
Xavierre
(French)
Owner of a new home
Rebecca
(Hebrew)
Captivating
Karalan
Combination of Karen and Allan
Evonna
(French)
Variant of Yvonne from Yves. Archer.
Murchadh
(Irish)
Fighter of the sea