Siamese Cat Names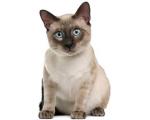 FunCatNames.com offers many Siamese cat names to choose from when naming your own cat. You can sort these Siamese cat names by gender and you can view their full meanings by clicking on the name. You may also rate the cat names that you like dislike most. Feel free to browse all our Siamese cat names and add the ones you want to save for later to your own favorites list.
Gretel
(German)
Pearl. Abbreviation of Margaret.
Jaryl
(English)
Blend of Jar and Darell. See also Jerrell.
Bernard
(English)
Strong as a bear. See also Bjorn.
Darryll
(English)
Variations of Daryl meaning Dearly loved.
Anniah
(Hebrew)
Gracious God.
Joyelle
(French)
Rejoicing.
Colton
(English)
From the dark town
Ansel
(German)
God's protection.
Chalmer
(Scottish)
Rules the home
Merrill
(English)
Shining sea.
Radeliffe
(English)
From the red cliff
Katrina
(German)
Variant of Katherine. Pure.
Hide
(English)
From the hide
Sagirah
(Arabic)
Little one