Siamese Cat Names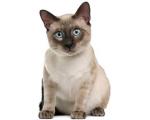 FunCatNames.com offers many Siamese cat names to choose from when naming your own cat. You can sort these Siamese cat names by gender and you can view their full meanings by clicking on the name. You may also rate the cat names that you like dislike most. Feel free to browse all our Siamese cat names and add the ones you want to save for later to your own favorites list.
Kadience
Variant of Cadence.
Hoireabard
(Irish)
Soldier
Lizann
(English)
Modern blend of Liz and Ann.
Ginerva
(Celtic)
White as foam
Dace
(French)
Of the nobility.
Kassia
(English)
Variant of Katherine. Pure.
Vareck
(English)
From the fortress
Tohy
(Hebrew)
Goodness of God
Taron
(English)
Terran means Earthman. Variants are contemporary rhyming blends of Ter- plus Darin.
Alandra
(Spanish)
Variant of Alexandra defender of mankind.
Greyson
(English)
Gray-haired: son of the Gray family: son of Gregory.
Adhamh
(Irish)
Of the earth
Eloy
(German)
Famous fighter
Rico
(Spanish)
Strong ruler
Balfour
(Scottish)
From the pastureland
Crimson
Full of love. Leader in things that need to be done.
Angelino
(Spanish)
Messenger. Biblical name for spirit messengers God sends men.