Siamese Cat Names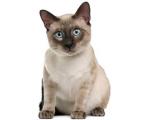 FunCatNames.com offers many Siamese cat names to choose from when naming your own cat. You can sort these Siamese cat names by gender and you can view their full meanings by clicking on the name. You may also rate the cat names that you like dislike most. Feel free to browse all our Siamese cat names and add the ones you want to save for later to your own favorites list.
Oliphant
(Scottish)
Great strength
Campbell
(Scottish)
Crooked mouth
Wyndham
(English)
From the windy viIlage
Riikka
Variant of Fredrica, Fredric. Peaceful ruler.
Stilwell
From the tranquil stream
Oswald
(English)
Divinely powerful
Jemal
(Arabic)
Handsome. Variant of Jamal. JERALD: (English) Variant and surname form of Gerald Rules by the spear.
Beaton
(English)
From the warrior's estate
Mimi
(French)
Form of Williamina
Nerthus
Name of a goddess
Gillivray
(Scottish)
Servant of judgment
Ruhdugeard
(English)
From the rough enclosure
Avraham
(Hebrew)
Father of a multitude
Jenene
(English)
Variation of Jenny which is a diminutive of Jane and Jennifer.
Britney
(English)
Originally the ancient duchy of Bretagne in France. Celtic Bretons emigrated from France to become the Bretons of England.
Elise
(French)
Consecrated to God Abbreviation of Elisabeth.