Siamese Cat Names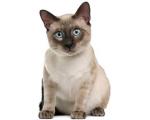 FunCatNames.com offers many Siamese cat names to choose from when naming your own cat. You can sort these Siamese cat names by gender and you can view their full meanings by clicking on the name. You may also rate the cat names that you like dislike most. Feel free to browse all our Siamese cat names and add the ones you want to save for later to your own favorites list.
Korbin
(English)
Raven-haired.
Herta
(German)
Of the earth
Edwardson
(English)
Son of Edward
Gilmer
(Scottish)
Sword bearer.
Wagner
(German)
Wagon maker
Kaden
(German)
German surname which is derived from a place-name meaning fen (marshy land)
Severne
(English)
Strict: restrained. Surname.
Chaney
(French)
Oak-hearted.
Priestly
(English)
From the priest's meadow
Cayleigh
(English), (Greek), (Scottish)
Pure Meadow: party: slender:
Bion
An Alexandrian pastoral poet who wrote of the myths, around 250 B.C.
Hartley
(English)
From the stag's meadow
Cherokee
People of a different speech. One of the largest American Indian tribes.
Marvin
(Celtic)
Lives by the sea
Averil
(English)
Opening buds of spring: born in April.
Jean Baptiste
(French)
French form of John the Baptist
Bryan
(English)
Popular variant of Brian.