Siamese Cat Names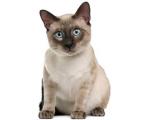 FunCatNames.com offers many Siamese cat names to choose from when naming your own cat. You can sort these Siamese cat names by gender and you can view their full meanings by clicking on the name. You may also rate the cat names that you like dislike most. Feel free to browse all our Siamese cat names and add the ones you want to save for later to your own favorites list.
Vohkinne
Roman nose (Cheyenne)
Binga
(German)
From the kettle shaped hollow
Heardwine
(English)
Brave friend
Thressa
(German)
Variant of Therese.
Richael
(Irish)
Name of a saint
Gawen
(Scottish)
White hawk
Luc
(French)
Light: illumination. Form of Luke.
Muna
Overflowing spring (Hopi)
Zoelie
(Greek)
Alive. Alternate Spellings: Zoe, Zoelie, Zoelle, Zoel, Zoya, Zoia
Akeila
(Russian)
From the Arabic name Akilah meaning Wise: Bright: smart.
Eadwiella
(English)
From the old spring
Anarosa
(Spanish)
Grace. favor. Variant of Anna.
Nella
(English)
Abbreviation of Eleanor shining light.
Jarlath
(Irish)
Tributary lord
Randolph
(English)
House wolf: protector. Mythological wolf was esteemed for courage.
Bentley
(English)
From the bent grass meadow
Jeane
(French)
Variant of John.
Menassah
(Hebrew)
Forgetful
Linette
(French)
Little lion