Siamese Cat Names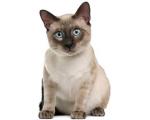 FunCatNames.com offers many Siamese cat names to choose from when naming your own cat. You can sort these Siamese cat names by gender and you can view their full meanings by clicking on the name. You may also rate the cat names that you like dislike most. Feel free to browse all our Siamese cat names and add the ones you want to save for later to your own favorites list.
Burcet
(French)
From the little stronghold
Michaelyn
(Hebrew)
Variant of Michal Who is like God?
Jess
(Hebrew)
Variant of Jesse Jehovah exists.
Dina
(Hebrew)
Avenged Judged and vindicated. In the bible Dinah was Jacob's only daughter.
Thressa
(German)
Variant of Therese.
Dalziel
(Scottish)
From the little field
Helene
(French)
Variant of Helen. In mythology the abduction of Zeus's mortal daughter Helen sparked the Trojan War.
Charlene
(English)
Feminine variant of Charles meaning manly
Aloha
(Hawaiian)
Hello, or Goodbye
Josephina
(French)
Feminine of Joseph.
Chewy
Nickname given to Chewbacca from Star Wars.
Eva
(Hebrew)
Life. Living one. Variant of Eve. In the bible Eve was Adam's wife and the first woman.
Starbuck
(English)
Star deer
Yasman
(Arabic)
Jasmine Flower
Adolfo
(German)
Noble wolf.