Siamese Cat Names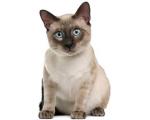 FunCatNames.com offers many Siamese cat names to choose from when naming your own cat. You can sort these Siamese cat names by gender and you can view their full meanings by clicking on the name. You may also rate the cat names that you like dislike most. Feel free to browse all our Siamese cat names and add the ones you want to save for later to your own favorites list.
Lear
(English)
Shakespearian king
Braleah
(English)
From the hillslope meadow
Ellis
(English)
Variant of Elias from Elijah My God is Jehovah.
Katelinn
(English)
Medieval English form of the Irish Caitlin. Pure
Diahna
(French)
Divine. Mythological ancient Roman divinity Diana was noted for beauty and swiftness: often depicted as a huntress. Also Diana Princess of Wales.
Corissa
(English)
Maiden.
Shelly
From the ledge meadow
Spenser
(English)
Dispenser: provider.
Brittni
(English)
Originally the ancient duchy of Bretagne in France. Celtic Bretons emigrated from France to become the Bretons of England.
Cruadhlaoich
(Irish)
Hunch backed
Clarice
(English)
Variant of Claire or Clarice. Bright: shining and gentle: famous.
Jumanah
(Arabic)
A silver pearl
Briannon
(English)
She ascends. Feminine of Brian.
Kameron
(English)
Modern variant of Cameron used for girls.