Siamese Cat Names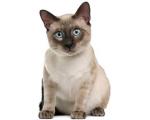 FunCatNames.com offers many Siamese cat names to choose from when naming your own cat. You can sort these Siamese cat names by gender and you can view their full meanings by clicking on the name. You may also rate the cat names that you like dislike most. Feel free to browse all our Siamese cat names and add the ones you want to save for later to your own favorites list.
Carley
(English)
A free person. A feminine form of Charles, Also see Carla, Carol and Caroline.
Bourne
(English)
From the brook
Kaela
(Hebrew)
Beloved sweetheart.
Chaya
(Spanish)
Abbreviation for people with names ending in -ario.
Luduvico
(German)
Famous fighter
Jeane
(French)
Variant of John.
Philip
(French)
Loves horses
Mariela
Beloved and illuminated.
Trevian
(English)
Fair town. Abbreviation of Trevelyan.
Tavion
(Irish)
Variant of the word teeve hillside.
Connell
(Celtic)
Strong in battle
Chatlie
(English)
Modern form of Charles meaning manly
Winfrith
(English)
Friend of peace
Reeford
(English)
Surname. The medieval castle or landholding reeve oversaw all feudal obligations.
Montgomery
(Scottish)
From Montgomerie