Siamese Cat Names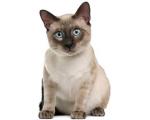 FunCatNames.com offers many Siamese cat names to choose from when naming your own cat. You can sort these Siamese cat names by gender and you can view their full meanings by clicking on the name. You may also rate the cat names that you like dislike most. Feel free to browse all our Siamese cat names and add the ones you want to save for later to your own favorites list.
Jenetta
(English)
Variation of Jenny which is a diminutive of Jane and Jennifer.
Cherry
(English)
The fruit-bearing cherry tree.
Josie
(Hebrew)
God will add
Emmy
(German)
Hardworking. Variant of Emily.
Madelena
(English)
Woman from Magdala. Variant of Madeleine. Madeleine: (English/French) Woman from Magdala.
Appollinaris
A cat that belonged to Mark Twain.
Koen
(German)
Honest advisor
Abiram
(Hebrew)
Father of heights
Evert
(English)
Strong as a boar
Cortland
(French)
Courtier: court attendant.
Jacee
(English)
Based on the initials J.C. or an abbreviation of Jacinda.
Radburt
(English)
Red haired counselor
Karlyn
(German)
Womanly: strength. Feminine of Karl.
Sylvester
From Looney Tunes
Kortniey
Caring and honest.
Gorsedd
(Celtic)
From Arbeth
Avery
(English)
Elf ruler or from the old ford
Lali
(Spanish)
Abbreviation of Eulalie well-spoken.