Siamese Cat Names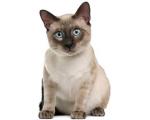 FunCatNames.com offers many Siamese cat names to choose from when naming your own cat. You can sort these Siamese cat names by gender and you can view their full meanings by clicking on the name. You may also rate the cat names that you like dislike most. Feel free to browse all our Siamese cat names and add the ones you want to save for later to your own favorites list.
Wiccum
(English)
From the village meadow
Graeghamm
(English)
From the gray home
Cayden
(Scottish)
Fighter. Spirt of Battle.
Jackson
(Scottish)
God has been gracious: has shown favor. Based on John or Jacques.
Clovis
(French)
Name of a king
Reynard
(German)
Mighty and brave Strong counselor.
Hart
(English)
Stag Strong: brave. Surname.
Maci
(English)
Derived from medieval male form of Matthew.
Misha
(French)
Variant of Michael.
Will
(English)
Diminutive of William Resolute protector: will.
Aesctun
(English)
From the ash tree farm
Bartram
(German)
Glorious raven.
Jocelina
(French)
Medieval male name adopted as a feminine name.
Eila
(Irish)
Variant of Evelyn.