Siamese Cat Names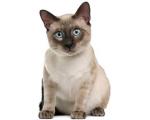 FunCatNames.com offers many Siamese cat names to choose from when naming your own cat. You can sort these Siamese cat names by gender and you can view their full meanings by clicking on the name. You may also rate the cat names that you like dislike most. Feel free to browse all our Siamese cat names and add the ones you want to save for later to your own favorites list.
Wayne
(English)
Craftsman
Elisa
(Spanish)
Spanish form of Elizabeth consecrated to God
Kaylee
(English)
Variant of Katherine. Pure. Variant of Kay and Kayla keeper of the keys: pure.
Chewy
Nickname given to Chewbacca from Star Wars.
Hann
(German)
Gift from God
Prescott
(English)
From the Priest's dwelling
Jiselle
(English)
Pledge. Phonetic spelling of Giselle.
Domenick
(Italian)
Alternate Spelling: Dominick, Dominic, Domenic, Dominik.
Barrak
(Hebrew)
Flash of lightning. In the bible the valiant fighting man Barak cooperated with the prophetess Deborah to win victory in battle against overwhelming odds.
Trentin
(English)
Refers to the English river Trent. Surname.
Ibrahim
(Arabic)
Arabic form of Abraham
Jordell
(Hebrew)
Variant of Hebrew Jordan down flowing.
Ximen
(Hebrew)
God has heard
Picford
(English)
From the woodcutter's ford
Nicole
Victory of the people