Siamese Cat Names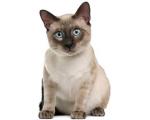 FunCatNames.com offers many Siamese cat names to choose from when naming your own cat. You can sort these Siamese cat names by gender and you can view their full meanings by clicking on the name. You may also rate the cat names that you like dislike most. Feel free to browse all our Siamese cat names and add the ones you want to save for later to your own favorites list.
Lin
Dwells by the torrent
Aeccestane
(English)
Swordsman's stone
Orvil
(English)
Spear strength
Lumpy
Covered with lumps.
Alayne
(Irish)
Beautiful: Dear child.
Teri
(English)
Abbreviation of Teresa which is a popular saint's name of uncertain meaning.
Alena
(Celtic)
Fair: good-looking. Feminine of Allen or variant of Helen.
Caitrin
(Irish)
Variant of Katherine meaning pure
Elia
(Hebrew)
Jehovah is God
Niall
(Scottish)
Champion
Newell
(English)
From the new hall
Nikkie
(English)
Abbreviation of Nicole. Victory.
Burhford
(English)
Lives at the castle ford
Mackenna
(Scottish)
Child of the handsome one.
Jozlyn
(French)
Medieval male name adopted as a feminine name.