Siamese Cat Names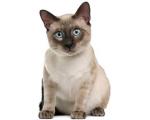 FunCatNames.com offers many Siamese cat names to choose from when naming your own cat. You can sort these Siamese cat names by gender and you can view their full meanings by clicking on the name. You may also rate the cat names that you like dislike most. Feel free to browse all our Siamese cat names and add the ones you want to save for later to your own favorites list.
Kirwyn
(Celtic)
Dark skinned
Eadwiella
(English)
From the old spring
Emmaline
(German)
Hardworking. Variant of Emily.
Erzsebet
(Hebrew)
Devoted to God
Darissa
(Hebrew)
Wise. Dara was a biblical descendant of Judah known for his wisdom.
Jakinda
(Spanish)
Hyacinth
Burn
(English)
From the brook
Micaela
(English)
Feminine of Michael gift from God.
Bardo
(English)
Variant of Bartholomew often used as a surname.
Rayce
(English)
Counselor. Variant of Raymond.
Jasper
(English)
Master of the treasure
Helene
(French)
Variant of Helen. In mythology the abduction of Zeus's mortal daughter Helen sparked the Trojan War.
Joslyn
(English)
Medieval male name adopted as a feminine name.
Lalla
(Spanish)
Abbreviation of Eulalie well-spoken.