Siamese Cat Names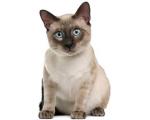 FunCatNames.com offers many Siamese cat names to choose from when naming your own cat. You can sort these Siamese cat names by gender and you can view their full meanings by clicking on the name. You may also rate the cat names that you like dislike most. Feel free to browse all our Siamese cat names and add the ones you want to save for later to your own favorites list.
Kaylene
(English)
Variant of Kay and Kayla keeper of the keys: pure.
Villetta
(French)
From the countly estate
Heammawihio
Wise one above (Cheyenne)
Varney
(Celtic)
From the alder grove
Brissa
(Spanish)
From Briseis the woman Achilles loved in Homer's Iliad.
Tavin
(German)
A nickname for Gustav royal staff.
Tibault
(French)
Rule of the peop]e
Francesca
(Italian)
Free spirit.
Niallan
(Celtic)
Champion
Maelisa
(Irish)
Serves Christ
Tawnia
(Irish)
A green field: the warm sandy color of a lion's coat.
Jae
(English)
Variant of names like Jason and Jacob.
Leota
(German)
Of the people
Brienna
(Celtic)
She ascends. Feminine of Brian.