Siamese Cat Names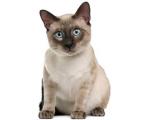 FunCatNames.com offers many Siamese cat names to choose from when naming your own cat. You can sort these Siamese cat names by gender and you can view their full meanings by clicking on the name. You may also rate the cat names that you like dislike most. Feel free to browse all our Siamese cat names and add the ones you want to save for later to your own favorites list.
Bohannon
(Irish)
Son of Owen.
Daviel
(English)
Variant of David beloved.
Elgine
(Celtic)
Noble: white.
Oswell
(English)
Divinely powerful
Cherokee
People of a different speech. One of the largest American Indian tribes.
Hagley
(English)
From the hedged enclosure
Lamorat
Brother of Percival
Jenalee
(English)
Variation of Jenny which is a diminutive of Jane and Jennifer.
Avniel
(Hebrew)
Father or strong
Alima
(Arabic)
Knows dance and music: sea maiden.
Kingston
(English)
From the king's village or estate King's field. King is one of several titles occasionally used as given names.
Blake
(English)
Black or white
Avraham
(Hebrew)
Father of a multitude
Malmuira
(Scottish)
Dark skinned
Corrie
(Irish)
Variant of Cory meaning variously - From the round hill: seething pool: ravine