Himalayan Cat Names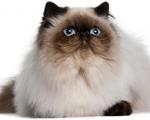 FunCatNames.com offers many Himalayan cat names to choose from when naming your own cat. You can sort these Himalayan cat names by gender and you can view their full meanings by clicking on the name. You may also rate the cat names that you like dislike most. Feel free to browse all our Himalayan cat names and add the ones you want to save for later to your own favorites list.
Warfield
(English)
From the field by the weir
Helaine
(French)
Variant of Helen. In mythology the abduction of Zeus's mortal daughter Helen sparked the Trojan War.
Aksel
(Hebrew)
Father of peace
Marvella
(French)
Miracle
Hide
(English)
From the hide
Arwen
(Celtic)
Variant of Arwenna. Muse.
Baird
(Scottish)
From Baird
Lindisfarne
(English)
From Lindisfarne
Murtaugh
(Irish)
Surname.
Dyre
A dear or precious one.
Josalynn
(French)
Medieval male name adopted as a feminine name.
Harmen
(French)
Variant of Herman.
Howie
(English)
Nichname for Howard noble watchman.
Zulima
(African), (Arabic)
peace:tranquility. Variant of Salome or Solomon.
MacNeill
(Scottish)
Son of the champion
Friedrick
(German)
Nickname variant of Frederick peaceful ruler.