Himalayan Cat Names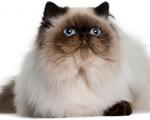 FunCatNames.com offers many Himalayan cat names to choose from when naming your own cat. You can sort these Himalayan cat names by gender and you can view their full meanings by clicking on the name. You may also rate the cat names that you like dislike most. Feel free to browse all our Himalayan cat names and add the ones you want to save for later to your own favorites list.
Candi
(Spanish)
Variant of Candida. Bright: glowing white.
Zion
(Hebrew)
The presence of God. Alternate Spelling: Zhion.
Galenka
(Hebrew)
God shall redeem
Matteha
Gift from God. Variant of Matthew.
Jaliyiah
Sweet and loving.
Terence
(English)
Old form of the Roman clan name Terrance.
Oxnatun
(English)
From the ox farm
Setanta
(Celtic)
Mythical son of Sualtam
Lutz
(German)
Famous fighter
Timmy
(English)
Variant of Timothy one who honors God.
Franky
(English)
Diminutive of Frank Free: a free man. Frankie is occasionally used for girls.
Kip
(English)
From the pointed hill
Ansel
(German)
God's protection.
Bienvenida
(Spanish)
Welcome
Mel
(English)
Meaning uncertain but possibly friend of Michael.