Himalayan Cat Names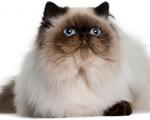 FunCatNames.com offers many Himalayan cat names to choose from when naming your own cat. You can sort these Himalayan cat names by gender and you can view their full meanings by clicking on the name. You may also rate the cat names that you like dislike most. Feel free to browse all our Himalayan cat names and add the ones you want to save for later to your own favorites list.
Shaniyah
Pretty as a blooming blossom.
Adolfo
(German)
Noble wolf.
Nathraichean
(Scottish)
Snake
Roddy
(English)
Variant of Roderick famous ruler.
Zulema
(Hebrew)
peace:tranquility. Variant of Salome or Solomon.
Stanley
(English)
Lives by the stony grove
Naalyehe ya sidahi
Trader (Navajo)
Jory
(Hebrew)
God will uplift
Japheth
(Hebrew)
May He grant ample room. In the bible Japheth was eldest of Noah's three sons.
Rousskin
(French)
Red haired
Shauntia
(Arabic)
She walks with the sun.
Chubby Bunny
Game to see how many marshmallows can fit in your mouth.
Amalasand
(German)
Industrious
Luci
(English)
light: illumination.
Wayne
(English)
Craftsman
Apolline
(French)
Gift from Apollo
Marque
(French)
Of Mars: the god of war.
Udell
(English)
From the yew tree valley