Himalayan Cat Names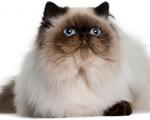 FunCatNames.com offers many Himalayan cat names to choose from when naming your own cat. You can sort these Himalayan cat names by gender and you can view their full meanings by clicking on the name. You may also rate the cat names that you like dislike most. Feel free to browse all our Himalayan cat names and add the ones you want to save for later to your own favorites list.
Emiko
(Japanese)
Smiling blessed beautiful child.
Kristalena
(English)
Variant of Crystal. Sparkling. K from the Greek spelling of krystallos.
Irwyn
(English)
Sea friend
Terran
(English)
Terran means Earthman. Variants are contemporary rhyming blends of Ter- plus Darin.
Marwin
(English)
Form of Mervin.
Adeline
(French)
Variant of Adela.
Gunther
(German)
Battler: warrior.
Gamaliel
(Hebrew)
God's reward
Nelwyna
(English)
Bright friend
Hurit
Beautiful (Algonquin)
Moriel
(Hebrew)
God teaches
Radley
(English)
From the red meadow
Nate
(Hebrew)
Given. Form of Nathan.
Daniel
(Hebrew)
God is my Judge. The biblical prophet and writer of Book of Daniel was a teenager when taken to Babylon after the destruction of Jerusalem in 607 BC. He survived two death sentences: (a lions' den and a fiery furnace.): Frontiersman Daniel Boone.
Lacee
(French)
Derived from Lacey which is a French Nobleman's surname brought to British Isles after Norman conquest.
Govannon
God of the forge
Tyeis
(French)
Son of a German
Colwyn
(Celtic)
A river in Wales.