Himalayan Cat Names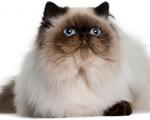 FunCatNames.com offers many Himalayan cat names to choose from when naming your own cat. You can sort these Himalayan cat names by gender and you can view their full meanings by clicking on the name. You may also rate the cat names that you like dislike most. Feel free to browse all our Himalayan cat names and add the ones you want to save for later to your own favorites list.
Albert
(German)
Intelligent or noble
Varden
(Celtic)
From the green hill
Broden
(Scottish)
Reference to Castle Brodie in Scotland.
Jeremyah
Variant of Jeremiah.
Dakota
Friend: ally. Tribal name.
Swain
(English)
Knight's attendant
Audra
(English)
Noble strength
Gerold
(English)
Form of Gerald rules by the spear.
Renae
(German)
Renae: To be born again
Alexandre
(French)
French form of Alexander
Heathcliff
(English)
From the heath cliff
Bonnibelle
(Scottish)
From the French bon meaning good. In Scottish usage bonnie means pretty or charming.
Dorrell
(Irish)
Variant of Dorran stranger.
Clodagh
(Irish)
From Clodagh
Raynor
(English)
Strong counselor. From the ancient personal name Ragnar.
Jemal
(Arabic)
Handsome. Variant of Jamal. JERALD: (English) Variant and surname form of Gerald Rules by the spear.