Himalayan Cat Names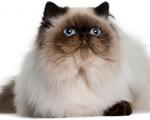 FunCatNames.com offers many Himalayan cat names to choose from when naming your own cat. You can sort these Himalayan cat names by gender and you can view their full meanings by clicking on the name. You may also rate the cat names that you like dislike most. Feel free to browse all our Himalayan cat names and add the ones you want to save for later to your own favorites list.
Denver
(French)
Variant of the surname Danvers meaning from Anvers. Capital city of the state of Colorado in the USA.
Quincey
(French)
From the place owned by the fifth son Fifth: derived from Roman clan name.
Bennett
(English)
Variant of Benedict.
Avivi
(Hebrew)
Innocent: Springtime.
Lorence
(English)
Modern usage. From the place of the laurel trees.
Rafal
(Hebrew)
God's healer
Donnel
(Scottish)
Variant of Donald great chief.
Dalenna
(English)
Small valley. Abbreviation of Madeline.
Jory
(Hebrew)
God will uplift
Erving
(English)
Friend. Variant of Irving.
Charline
(French)
Feminine of Charles meaning manly
Amiera
(Arabic)
Princess, leader.
Skyrah
(English)
Eternal life, strength, love, and beauty.
Ashlan
(Australian)
Unknown
Jennay
(English)
Modern name based on Jane or Jean: Based on Janai meaning God has answered.