Himalayan Cat Names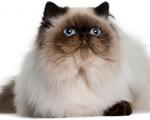 FunCatNames.com offers many Himalayan cat names to choose from when naming your own cat. You can sort these Himalayan cat names by gender and you can view their full meanings by clicking on the name. You may also rate the cat names that you like dislike most. Feel free to browse all our Himalayan cat names and add the ones you want to save for later to your own favorites list.
Hwitloc
(English)
From the white fortress
Leesa
(Hebrew)
Variant of Lisa, Lise, Lisetta: A familiar form of Elisabeth: Consecrated to God
Barret
(German)
Mighty as a bear
Jesus
(Spanish)
Named for Jesus
Gaspara
(Spanish)
Treasure
Eduard
(French)
Prosperous guardian.
Lali
(Spanish)
Abbreviation of Eulalie well-spoken.
Fonteyne
(French)
Fountain: water source.
Corey
(Irish)
Variant of Cory meaning variously - From the round hill: seething pool: ravine. Also means Chosen
Camryn
(Celtic)
Bent Nose
Gallagher
(Irish)
Surname.
Conchobhar
(Irish)
Strong willed or wise
Cherilynn
(English)
Rhyming variant of Marilyn.