Himalayan Cat Names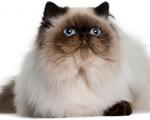 FunCatNames.com offers many Himalayan cat names to choose from when naming your own cat. You can sort these Himalayan cat names by gender and you can view their full meanings by clicking on the name. You may also rate the cat names that you like dislike most. Feel free to browse all our Himalayan cat names and add the ones you want to save for later to your own favorites list.
Therese
(French)
Variant of Theresa which is the name of two popular saints Teresa of Avila and Therese of Lisieux. Meaning uncertain although possibly a Greek place name.
Braylie
Strong willed and independent.
Delton
(English)
From the town in the valley.
Letitia
(English)
Modern form of medieval name Letitia. Joyful:happy.
Deziree
(French)
Variant of Desiree meaning The one desired.
Nicolette
(French)
People's victory
Dillion
(Celtic)
Faithful
Bettine
(Hebrew)
Devoted to God
Ede
(English)
Wealthy guardian
Jamille
(Arabic)
Variant of Jameelah. Beautiful
Vohkinne
Roman nose (Cheyenne)
Aghna
(Irish)
Irish form of Agnes
Susannah
(Hebrew)
Graceful lily In the apocryphal Book of Tobit Susannah courageously defended herself against wrongful accusation. White lilies grew in the Biblical city of Susa in Persia.
Hwitloc
(English)
From the white fortress
Rangford
(English)
From the raven's ford
Genevieve
(German)
Of the race of women. White wave
Lise
(Hebrew)
Devoted to God
Bryceton
(Scottish)
Variant of Bryce.