Himalayan Cat Names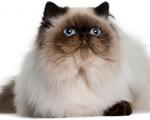 FunCatNames.com offers many Himalayan cat names to choose from when naming your own cat. You can sort these Himalayan cat names by gender and you can view their full meanings by clicking on the name. You may also rate the cat names that you like dislike most. Feel free to browse all our Himalayan cat names and add the ones you want to save for later to your own favorites list.
Makenna
(African)
Happiness
Burdett
(French)
Surname used as a given name.
Calibome
Various names for Arthur's sword
Rollo
(German)
Renowned in the land. Roland was a legendary hero who served Charlemagne.
Penn
(English)
From the enclosure
Marleina
(English)
Variant of Madeline Woman from Magdala.
Erwyna
(English)
Friend of the sea
Ramsey
(English)
Ram's island.
Giflet
Returns Excalibur to the lake
Steele
(English)
Hard: durable.
Zain
(English)
Variant of Zane or John.
Charmayne
(French)
One of Cleopatra's attendants in Shakespeare's Antony and Cleopatra was named Charmian.
Frimunt
(German)
Noble protector
Athalia
(Spanish)
Guardtower
Alhena
(Arabic)
The rings, (a star in the constillation Gemini)
Nairne
(Scottish)
From the alder - tree river
Sara
(Arabic)
Arabic form of Sarah