Himalayan Cat Names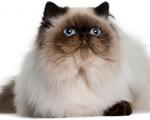 FunCatNames.com offers many Himalayan cat names to choose from when naming your own cat. You can sort these Himalayan cat names by gender and you can view their full meanings by clicking on the name. You may also rate the cat names that you like dislike most. Feel free to browse all our Himalayan cat names and add the ones you want to save for later to your own favorites list.
Dillan
(Celtic)
Sea God. Variant of Dylan
Leota
(German)
Of the people
Jayar
(English)
Phonetic name based on initials.
Stanwick
(English)
From the stony village
Haye
(Scottish)
From the stockade
Bevan
(Celtic)
Young soldier
Teetonka
Talks too much (Sioux)
Grizel
(Scottish)
Scottish form of Grizelda gray haired
Goldwyn
(English)
Golden friend
Paul
(English)
Little. Biblical apostle and evangelist Paul's letters to early Christians comprise many New Testament books.
Rufford
(English)
From the red ford
Zyana
(Hebrew)
Blessing from Heaven.
Colemann
(English)
Dark skinned
Kylie
(Australian)
Boomerang. Feminine form of Kyle.
Kaelynn
(English)
Variant of Kay and Kayla. keeper of the keys: pure.
Susie
(English)
Lily. Variant of Hebrew Susannah. In the apocryphal Book of Tobit Susannah courageously defended herself against wrongful accusation. White lilies grew in the Biblical city of Susa in Persia.
Muira
(Scottish)
From the moor
Fe Fe
Fe Fe means feline in Cuba.