Himalayan Cat Names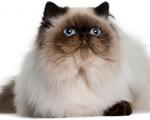 FunCatNames.com offers many Himalayan cat names to choose from when naming your own cat. You can sort these Himalayan cat names by gender and you can view their full meanings by clicking on the name. You may also rate the cat names that you like dislike most. Feel free to browse all our Himalayan cat names and add the ones you want to save for later to your own favorites list.
Caitrin
(Irish)
Variant of Katherine meaning pure
Ciara
(Irish)
Saint or Dark. Feminine of Ciaran.
Halifrid
(German)
Peaceful heroine
Webbeleah
(English)
From the weaver's meadow
Alyse
(English)
Variant of Alice.
Briannon
(English)
She ascends. Feminine of Brian.
Nastia
(Greek)
Variant of Anastasia.
Vern
(English)
Surname related to Vernon alder tree grove. Also used as abbreviations of Vernon or Lavern.
Brentley
(English)
Hilltop. Variant of Brent.
Flannagan
(Irish)
Surname.
Gedaliah
(Hebrew)
God has made great
Tosha
(English)
Abbreviation of Natasha - the Russian form of the English Natalie Born at Christmas.
Dillan
(Celtic)
Sea God. Variant of Dylan
Eadwyn
(English)
Wealthy friend
Spangler
(German)
Tinsmith
Nicole
Victory of the people