Himalayan Cat Names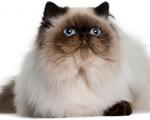 FunCatNames.com offers many Himalayan cat names to choose from when naming your own cat. You can sort these Himalayan cat names by gender and you can view their full meanings by clicking on the name. You may also rate the cat names that you like dislike most. Feel free to browse all our Himalayan cat names and add the ones you want to save for later to your own favorites list.
Ward
(Irish)
Bard. Surname.
Dikesone
(English)
Son of Dick
Jillesa
(English)
Jove's child. Variant of Gillian from the masculine Julian.
Darolyn
(English)
Variations of Daryl meaning Dearly loved.
Alvis
(English)
All-knowing.
Sidonia
(Hebrew)
Captivates
Latimer
(French)
Interprets Latin
Beceere
(English)
Lives by the beech tree
Jeremyah
Variant of Jeremiah.
Shaylon
(Irish)
Variant of Shea courteous.
Shad
(English)
Short form of the Biblical Shadrach: one of three young Hebrew men who survived being cast into a fiery furnace.
Audrey
(English)
Noble strength: Nobility: strength.
MaeAdam
(Scottish)
Son of Adam
Feldon
(English)
From the field estate
Jerel
(English)
Strong: open-minded. Blend of Jerold and Darell.
Jonnie
(French)
Variant of John or abbreviation of Jonathan Jehovah has been gracious: has shown favor.