Himalayan Cat Names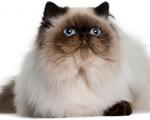 FunCatNames.com offers many Himalayan cat names to choose from when naming your own cat. You can sort these Himalayan cat names by gender and you can view their full meanings by clicking on the name. You may also rate the cat names that you like dislike most. Feel free to browse all our Himalayan cat names and add the ones you want to save for later to your own favorites list.
Lucina
(German)
Illumination. Mythological Roman goddess of childbirth and giver of first light to newborns. Also refers to Mary as Lady of the Light.
Anyssa
(English)
Variant of Anne or Agnes.
Penarddun
(Celtic)
Mythical daughter of Beli
Leonardo
(Spanish)
Lion-bold. Leonardo da Vinci is considered by many to be the most brilliant and creative men who ever lived.
Eduard
(French)
Prosperous guardian.
Kasa
Dressed in furs (Hopi)
Lorelei
(German)
Temptress: A rocky cliff on the Rhine river dangerous to boat passage: the Lorelei whose singing lures men to destruction.
Alba
(Spanish)
A place name.
Rousskin
(French)
Red haired
Chrissie
(Irish)
Abbreviation of Christine. Follower of Christ.
Maitane
(English)
Dearly loved
Appollinaris
A cat that belonged to Mark Twain.
Ilena
(English)
Variant of Eileen.