Himalayan Cat Names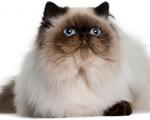 FunCatNames.com offers many Himalayan cat names to choose from when naming your own cat. You can sort these Himalayan cat names by gender and you can view their full meanings by clicking on the name. You may also rate the cat names that you like dislike most. Feel free to browse all our Himalayan cat names and add the ones you want to save for later to your own favorites list.
Bahira
(Arabic)
Sparkling
Gillermo
(Spanish)
Variant of William Resolute protector.
Burn
(English)
From the brook
Ramone
(Spanish)
Form of Raymond Guards wisely.
Laurena
(English)
The laurel tree or sweet bay tree symbolic of honor and victory. Old name with many variants.
Glaedwine
(English)
Happy friend
Wynthrop
(English)
From Wine's estate
Lanice
(English)
Variant of Lana Fair: good-looking.
Armon
(Hebrew)
High place.
Jenarae
(English)
Variation of Jenny which is a diminutive of Jane and Jennifer.
Payton
(Irish)
Patrician: noble. Form of Patrick.
Zulema
(Hebrew)
peace:tranquility. Variant of Salome or Solomon.
Ariane
(French)
Variant of Greek Mythological Ariadne who aided Theseus to escape from the Cretan labyrinth.
Robertson
(Scottish)
Son of Robert
Spangler
(German)
Tinsmith
Ygraine
In Arthurian legend Igrayne is mother of Arthur.
Micaela
(English)
Feminine of Michael gift from God.