Himalayan Cat Names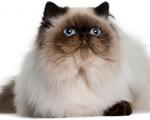 FunCatNames.com offers many Himalayan cat names to choose from when naming your own cat. You can sort these Himalayan cat names by gender and you can view their full meanings by clicking on the name. You may also rate the cat names that you like dislike most. Feel free to browse all our Himalayan cat names and add the ones you want to save for later to your own favorites list.
Alaska
Largest state in the U.S.
Kacee
(English)
Modern Kacie and variants are phonetic forms of the initials K.C. or variants of the Irish name Casey alert: vigorous.
Donavon
(Irish)
Brown-haired chieftain.
Candy
(English)
Sweet stuff
Lucca
(Italian)
Bringer of light.
Gariland
(English)
From the spear land
Thibaud
(French)
Rule of the peop]e
Brioni
(English)
The name of a flowering vine used in folk medicine.
Daney
(English)
From Denmark. Also a variant of Daniel.
Moriel
(Hebrew)
God teaches
Jyl
(English)
Abbreviation of Jillian or Gillian. Jove's child.