Himalayan Cat Names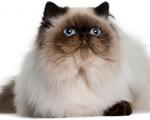 FunCatNames.com offers many Himalayan cat names to choose from when naming your own cat. You can sort these Himalayan cat names by gender and you can view their full meanings by clicking on the name. You may also rate the cat names that you like dislike most. Feel free to browse all our Himalayan cat names and add the ones you want to save for later to your own favorites list.
Chione
Daughter of the Nile.
Willis
(German)
Resolute protector: will. Surname.
Hubbard
(German)
Graceful
Watelford
(English)
From the hurdle ford
Devinee
(Irish)
Dark-haired.
Paco
(Mexican), (Spanish)
Bidelia
(Irish)
Protective
Aubree
(English)
Rules with elf-wisdom.
Tibault
(French)
Rule of the peop]e
Shimshon
(Hebrew)
Bright sun
Deziree
(French)
Variant of Desiree meaning The one desired.
Oakley
(English)
From the oak - tree meadow
Wattson
(English)
Son of Walter
Baylie
(English)
Courtyard within castle walls: steward or public official. Surname or given name.
Cortland
(French)
Courtier: court attendant.
Dominique
(French)
Of the Lord. Variant of Dominic.
Kord
(English)
Cordmaker. Surname.
Jory
(Hebrew)
God will uplift
Marisela
(Spanish)
Variant of Marcella Of Mars. Mars was mythological Roman god of fertility for whom the month March was named: mythologically identified with the Greek war god Ares.