Himalayan Cat Names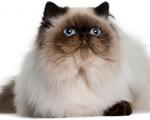 FunCatNames.com offers many Himalayan cat names to choose from when naming your own cat. You can sort these Himalayan cat names by gender and you can view their full meanings by clicking on the name. You may also rate the cat names that you like dislike most. Feel free to browse all our Himalayan cat names and add the ones you want to save for later to your own favorites list.
Jakome
(Hebrew)
Supplanter
Mathew
(Hebrew)
Gift from God
Burgtun
(English)
From the fortress town
Lornell
(Scottish)
Form of Lawrence.
Mathers
(English)
Son of Mather
Tobey
(English)
Abbreviation of the Hebrew name Tobiah meaning Jah is good.
Eginhard
(German)
Strong with a sword
Kaelynn
(English)
Variant of Kay and Kayla. keeper of the keys: pure.
Bannan
(German)
Commander
Luell
(English)
Famous elf
Bredbeddle
The Green Knight
Fachnan
(Irish)
Name of a saint
Hugo
(Spanish)
Intelligent
Maralyn
(English)
Blend of Marie or Mary and Lyn.
Deirdra
(Irish)
Melancholy. A variant of the older name Deirdre In Celtic legend Deirdre died of a broken heart.
Amaud
(French)
Eagle ruler
Maridith
(Celtic)
Protector of the sea.
Kein
(Scottish)
Ancient. Variant of Cian.