Himalayan Cat Names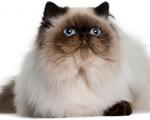 FunCatNames.com offers many Himalayan cat names to choose from when naming your own cat. You can sort these Himalayan cat names by gender and you can view their full meanings by clicking on the name. You may also rate the cat names that you like dislike most. Feel free to browse all our Himalayan cat names and add the ones you want to save for later to your own favorites list.
Seabroc
(English)
From the brook by the sea
Delaine
(French)
From the elder tree grove.
Gian
(Hebrew)
Gift from God
Rayne
(English)
Strong counselor. From the ancient personal name Ragnar.
Averill
(English)
Wild boar
Cavana
(Irish)
From Cavan
Jerardo
(Spanish)
Variant of Gerard Rules by the spear.
Nelda
(English)
By the alder tree
Hugo
(Spanish)
Intelligent
Kamdyn
(Scottish)
Valley.
Micaela
(English)
Feminine of Michael gift from God.
Bothan
(Scottish)
From the stone house
Juliet
(French)
Youthful: Variant of Julia. Jove's child. Star crossed lover in the Shakespearian tragedy Romeo and Juliet.
Aldis
(English)
From the old house
Jaymie
(Scottish)
Pet form of James used as a woman's name.