Himalayan Cat Names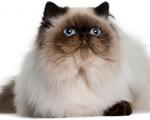 FunCatNames.com offers many Himalayan cat names to choose from when naming your own cat. You can sort these Himalayan cat names by gender and you can view their full meanings by clicking on the name. You may also rate the cat names that you like dislike most. Feel free to browse all our Himalayan cat names and add the ones you want to save for later to your own favorites list.
Ami
(French)
Dearly loved
Chanel
(French)
canal: channel. The popular perfume Chanel
Carleigh
(German)
Freeholder (dignity for life)
Cadi
(Irish)
Variant of Cady meaning a rhythmic flow of sounds.
Jaleel
(Arabic)
Greatness: Godlike
Montaigu
(French)
From the pointed hill
Vern
(English)
Surname related to Vernon alder tree grove. Also used as abbreviations of Vernon or Lavern.
Lutz
(German)
Famous fighter
Mada
(Irish)
From Mathilda
Phoenix
(Greek)
Mystical Bird, Purple
Leilany
Heavenly Flower. Alternate Spelling: Leilani.
Gerri
(English)
Modern form of Gerry.
Marilla
(Irish)
Shining sea. Variant of Muriel.
Jerrilyn
(English)
Modern blend of Jerry and Marilyn.
Kaleikaumaka
(Hawaiian)
Beloved child to looked upon with pride and love
Aenedleah
(English)
From the awe inspiring one's meadow
Joyceanne
(English)
Cheerful: merry.