Himalayan Cat Names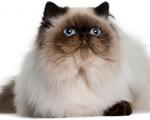 FunCatNames.com offers many Himalayan cat names to choose from when naming your own cat. You can sort these Himalayan cat names by gender and you can view their full meanings by clicking on the name. You may also rate the cat names that you like dislike most. Feel free to browse all our Himalayan cat names and add the ones you want to save for later to your own favorites list.
Alva
(German)
Army of elves
Kharmen
(German)
Proud and sensitive.
Mead
(English)
From the meadow
Williamon
(German)
German form of William
Troye
(English)
Troy derives from the ancient Greek city of Troy: also from an Irish surname meaning soldier.
Rosana
(Hebrew)
Graceful rose
Piers
(French)
A rock. Form of Peter.
Elke
(German)
Noble. Variant of Alice.
Mercia
(English)
From Mercia: Compassion: forbearance.
Jannina
(English)
Variant of Jeannine.
Joed
(Hebrew)
Jehovah is witness. A Biblical name.
Fonteyne
(French)
Fountain: water source.
Daracha
(Scottish)
From the oak
Gilah
(Hebrew)
Eternal joy
Kelven
(Celtic)
River man.
Big N'
In reference to the Big N' Tasty hamburger.