Himalayan Cat Names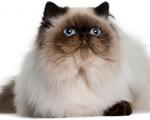 FunCatNames.com offers many Himalayan cat names to choose from when naming your own cat. You can sort these Himalayan cat names by gender and you can view their full meanings by clicking on the name. You may also rate the cat names that you like dislike most. Feel free to browse all our Himalayan cat names and add the ones you want to save for later to your own favorites list.
Clodagh
(Irish)
From Clodagh
Mignonette
(French)
Delicate
Vania
(Hebrew)
God's gift
Georg
(German)
German form of George
Jarrad
(English)
Variant of the French name Gervaise spearman.
Burcet
(French)
From the little stronghold
Mayme
(English)
Abbreviation of Mary and Miriam.
Nahcomence
Oldbark antelope (Cheyenne)
Meinrad
(German)
Strong advisor
Aubry
(English)
Rules with elf-wisdom.
Lilian
(English)
Variant of Lillian derived from the flower name Lily. Symbol of innocence: purity: beauty.
Jose
(Spanish)
May God give increase.
Tangerine
(English)
From Tangiers
Eadward
(English)
Wealthy guardian
Abra
(Arabic), (Hebrew)
Arabic: Lesson. Hebrew: Mother of many.
Ramon
(Spanish)
Form of Raymond Guards wisely.