Himalayan Cat Names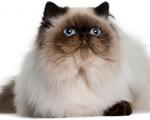 FunCatNames.com offers many Himalayan cat names to choose from when naming your own cat. You can sort these Himalayan cat names by gender and you can view their full meanings by clicking on the name. You may also rate the cat names that you like dislike most. Feel free to browse all our Himalayan cat names and add the ones you want to save for later to your own favorites list.
Azarious
(Hebrew)
God helps
Crandell
(English)
From the crane valley
Faux Pas
(French)
Social blunder
Sidell
(English)
From the wide valley
Meryl
(French)
Blackbird.
Erin
(Irish)
From Ireland
Coretta
(French)
Little maiden
Nicole
Victory of the people
Duayna
(Irish)
Feminine of Duane.
Christianna
(Greek)
Same as Christina/Christopher
Verdell
(French)
Green: flourishing.
Tariq
(Arabic)
Morning star. An 8th century Islamic military leader who conquered Spain for the Moors.
Broden
(Scottish)
Reference to Castle Brodie in Scotland.
Gene
(English)
Abbreviation of Eugene Wellborn.
Nastia
(Greek)
Variant of Anastasia.
Marty
(English)
Warrior of Mars.
Naalyehe ya sidahi
Trader (Navajo)
Rollie
(French)
Renowned in the land. Roland was a legendary hero who served Charlemagne.
Nanine
(French)
Favor: grace. Variant of Anne.