Himalayan Cat Names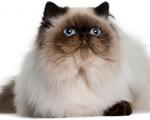 FunCatNames.com offers many Himalayan cat names to choose from when naming your own cat. You can sort these Himalayan cat names by gender and you can view their full meanings by clicking on the name. You may also rate the cat names that you like dislike most. Feel free to browse all our Himalayan cat names and add the ones you want to save for later to your own favorites list.
Farrin
(Irish)
The land. Also used for girIS.
Forba
(Scottish)
Headstrong
Margarita
(Spanish)
Pearl.
Luduvico
(German)
Famous fighter
Lacee
(French)
Derived from Lacey which is a French Nobleman's surname brought to British Isles after Norman conquest.
Gawen
(Scottish)
White hawk
Pit
(English)
From the Pit
Keriann
(Irish)
Dusky: dark.
Colby
(English)
From the black farm
Abbott
(English), (Hebrew)
Father
Alese
(German)
Beautiful soul.
Savannah
(Spanish)
From the open plain
Ominotago
Beautiful voice (Chippewa)
Barric
(English)
Grain farm.
Charmayne
(French)
One of Cleopatra's attendants in Shakespeare's Antony and Cleopatra was named Charmian.