Himalayan Cat Names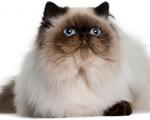 FunCatNames.com offers many Himalayan cat names to choose from when naming your own cat. You can sort these Himalayan cat names by gender and you can view their full meanings by clicking on the name. You may also rate the cat names that you like dislike most. Feel free to browse all our Himalayan cat names and add the ones you want to save for later to your own favorites list.
Tessa
(English)
Abbreviation of Teresa which is a popular saint's name of uncertain meaning.
Ami
(French)
Dearly loved
Dacian
(French)
Of the nobility.
Blagden
(English)
From the dark valley
Wetherby
(English)
From the wether sheep farm
Guinevere
Fair one. Guinevere was King Arthur's mythological queen. Jennifer derives from this name.
Kaleb
(Hebrew)
Bold and faithful
Walmond
(German)
Mighty protector
Jessie
(Hebrew)
Wealthy: Variant of Jesse Jehovah exists.
Rinna
(Hebrew)
Joyous song
Ocelfa
(English)
From the high plain