Himalayan Cat Names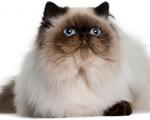 FunCatNames.com offers many Himalayan cat names to choose from when naming your own cat. You can sort these Himalayan cat names by gender and you can view their full meanings by clicking on the name. You may also rate the cat names that you like dislike most. Feel free to browse all our Himalayan cat names and add the ones you want to save for later to your own favorites list.
Di
(French)
Divine. Mythological ancient Roman divinity Diana was noted for beauty and swiftness: often depicted as a huntress. Also Diana Princess of Wales.
Wilford
(German)
Desires peace.
Lumpy
Covered with lumps.
Eunice
(Hebrew)
Good Victory
Aethelweard
(English)
Noble protector
Adelheid
(German)
Sweet or noble
Beceere
(English)
Lives by the beech tree
Marilynn
(English)
Blend of Marie or Mary and Lyn.
Aziza
(Arabic)
Cherished: Beloved
Blayze
(French)
Lisp: stutter. Blaise Pascal was a brilliant seventeenth century child prodigy: mathematician: scientist and philosopher who invented the calculating machine and hydraulic press before dying at age thirty-nine.
Bretton
(Scottish)
Brit. A native of Brittany: (France) or Britain: (England).
Riccardo
(German)
Powerful ruler
Lynne
(English)
Abbreviation of Lynnette who accompanied Sir Gareth on a knightly quest in Arthurian legend: variant of the Irish Gaelic word lann meaning house: church.
Caden
(Celtic)
Spirit of Battle.
Ronell
(English)
Rules with counsel. Form of Ronald from Reynold.