Himalayan Cat Names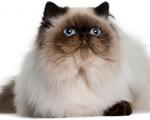 FunCatNames.com offers many Himalayan cat names to choose from when naming your own cat. You can sort these Himalayan cat names by gender and you can view their full meanings by clicking on the name. You may also rate the cat names that you like dislike most. Feel free to browse all our Himalayan cat names and add the ones you want to save for later to your own favorites list.
Annalisa
(Hebrew)
Grace or devoted to God
Jimmy
(Hebrew)
Supplanter
Birdie
(English)
Contemporary name meaning Little bird: birdlike.
Ashlyn
(English)
Meadow of ash trees.
Woodrow
(English)
From the cottages in the wood. Woody: (English) Variant of Woodrow From the cottages in the wood.
Kristalena
(English)
Variant of Crystal. Sparkling. K from the Greek spelling of krystallos.
Lyonesse
(Celtic)
Little lion
Gilmer
(Scottish)
Sword bearer.
Muira
(Scottish)
From the moor
Abequa
Stays at home (Chippewa)
Enoch
(Hebrew)
Trained and dedicated. In the bible Enoch was father of Methuselah: the oldest living man named in the Bible.
Matei
(Hebrew)
Gift from God.
Enide
Faithful or abused wife