Himalayan Cat Names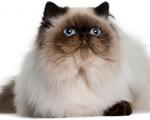 FunCatNames.com offers many Himalayan cat names to choose from when naming your own cat. You can sort these Himalayan cat names by gender and you can view their full meanings by clicking on the name. You may also rate the cat names that you like dislike most. Feel free to browse all our Himalayan cat names and add the ones you want to save for later to your own favorites list.
Gawen
(Scottish)
White hawk
Ogelsby
(English)
Fearsome
Meadhbh
(Irish)
Happiness or pearl
Colan
(English)
Abbreviation of Nicholas people's victory.
Pinochos
(Hebrew)
Dark skinned
Tyrese
(African)
Talented leader of the well being.
Mariquita
(Spanish)
Bitter
Brody
(Scottish)
Reference to Castle Brodie in Scotland.
Bardon
(Celtic)
Minstrel: a singer-poet.
Coletta
(French)
Victorious. Variant of Nicolette.
Ida
(English)
Diligent. A Greek mythological nymph who cared for the infant Zeus on Mt. Ida.
Sankalp
(Indian)
Taking a pledge. related to worship
Bemelle
(German)
Variant of Bernard - strong as a bear.
Jaiden
Variant of Jayden (God has heard)
Garred
(English)
Variant of Garret from Gerald rules by the spear.
Raylen
(English)
Counselor. Variant of Raymond.
Faux Pas
(French)
Social blunder