Himalayan Cat Names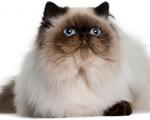 FunCatNames.com offers many Himalayan cat names to choose from when naming your own cat. You can sort these Himalayan cat names by gender and you can view their full meanings by clicking on the name. You may also rate the cat names that you like dislike most. Feel free to browse all our Himalayan cat names and add the ones you want to save for later to your own favorites list.
Earvin
(English)
Friend. Variant of Irving.
Edsel
(German)
Noble: bright.
Akim
(Hebrew)
God will establish
Stantun
(English)
From the stony farm
Kasimira
Command for peace
Garion
(German)
Guards: guardian.
Sabirah
(Arabic)
Of great patience
Gardiner
(English)
Gardener
Chan
(Spanish)
Nickname for John.
Marquisa
(French)
Variant of Marquise. royalty: French royalty title.
Cumin
(Scottish)
From Comines
Orland
(Spanish)
Renowned in the land. Form of Roland.
Tristen
(English)
Tumult: outcry. From the Celtic name Tristan. In Arthurian legend Tristan was a Knight of the Round Table and tragic hero of the medieval tale Tristram and Isolde.
Ivor
(English)
Archer's bow.
Morgana
Enchantress half sister of Arthur
Kaden
(German)
German surname which is derived from a place-name meaning fen (marshy land)
Egberta
(English)
Shining sword