Cat Names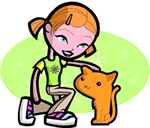 We offer 1,000's of cat names to help you choose the perfect one. Feel free to browse our unique cat names and when you find one you like you can add it to your favorites list to view later. If you have any cute cat names suggestions, please let us know. Enjoy!
Ben
(English)
Abbreviation of Benjamin and Benedict.
Darwin
(English)
Dear friend. Nineteenth-century naturalist Charles Darwin was the first major exponent of human evolution.
Fat Albert
Character from cartoon produced by Bill Cosby
Brianne
(Celtic)
She ascends. Feminine of Brian.
Irwyn
(English)
Sea friend
Kestrel
(French)
Little hawk.
Samoel
(Hebrew)
Name of God. Biblical prophet and judge who anointed Saul and David as kings of Israel. Sami: (Arabic) honored
Cadyna
(English)
Rhythmic
Audris
(English)
Nobility: strength.
Bethanna
(Arabic)
From the house of Gods grace.
Jonni
(English)
Modern feminine of John and Jon.
Yerik
(Hebrew)
Appointed by God