Cat Names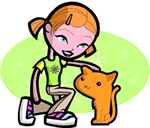 We offer 1,000's of cat names to help you choose the perfect one. Feel free to browse our unique cat names and when you find one you like you can add it to your favorites list to view later. If you have any cute cat names suggestions, please let us know. Enjoy!
Tessa
(English)
Abbreviation of Teresa which is a popular saint's name of uncertain meaning.
Kirwyn
(Celtic)
Dark skinned
Gedaliah
(Hebrew)
God has made great
Connah
(Celtic)
Contented
Ayasha
Little one (Chippewa)
Makaylyn
Heaven in mommys eyes
Michele
(Hebrew)
Gift from God
Devinee
(Irish)
Dark-haired.
Binga
(German)
From the kettle shaped hollow
Clyfland
(English)
From the cliff land
Jaymie
(Scottish)
Pet form of James used as a woman's name.
Jesika
Alternate Spelling: Jessica.
Evita
(Spanish)
Spanish form of Eve
Circehyll
(English)
Lives at the church hill
Ilena
(English)
Variant of Eileen.
Arielle
(French)
Lion of God.
Elia
(Hebrew)
Jehovah is God