Cat Names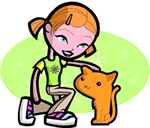 We offer 1,000's of cat names to help you choose the perfect one. Feel free to browse our unique cat names and when you find one you like you can add it to your favorites list to view later. If you have any cute cat names suggestions, please let us know. Enjoy!
Yardley
(English)
From the enclosed meadow
Generosa
(Spanish)
Generous
Carter
(English)
Drives a cart
Harkahome
Little robe (Cheyenne)
Khristian
(Greek)
Anointed, follows Christ.
Xavier
(Spanish)
Owns a new house
Nuttah
My heart (Algonquin)
Goodwyn
(English)
Good friend
Shawn
(Irish)
Variant of John from Sean.
Carvell
(English)
From the villa by the march
Zulema
(Hebrew)
peace:tranquility. Variant of Salome or Solomon.
Sandor
Defender of mankind.
Rebecca
(Hebrew)
Captivating
Bannan
(German)
Commander
Loring
(German)
Famous in battle
MacMurra
(Irish)
Son of Murray